When Katharine Hepburn first arrived in Hollywood, she rented this hacienda on a quiet street in Coldwater Canyon. She moved out five years later, claiming it was haunted by a mischievous ghost who liked to rearrange the furniture.
It's on the market for $7.395 million, so let's take a look!
It was built in 1927, so it was fairly new when Hepburn moved in. After she moved out, actor Boris Karloff bought it. He's best known for his horror movies, including his iconic role as Frankenstein's monster in the 1930s.
He reportedly loved the property and called it his "little farm," keeping a veritable zoo of animals on it, including turkeys and a 400-pound pig named Violet:
The book Bela Lugosi and Boris Karloff by Gregory William Mank describes the house as Karloff's "Mexican farmhouse — a bizarre aerie, high amidst the oak trees and honeysuckle of Coldwater Canyon, in the mountains above Beverly Hills."
The book talks about Hepburn's run-ins with a ghost in this house:
"She sincerely believed a ghost haunted the house, moving the furniture, jiggling the latch on her bedroom door and looming over the guest bed — so terrifying Hepburn's brother Richard that he couldn't sleep 'one single night' during his visit.
"After Kate's friend Laura Harding tried to have her dogs ferret out the ghost — to no avail — Hepburn vacated, and Boris and Dorothy had moved into the haunted hacienda in the spring of 1934."
Laura Harding is quoted in the book saying they felt kind of sorry for the ghost. "After all, the spirit had likely met its match in the star who'd played Frankenstein's Monster!"
Home Office:
Dining Room:
I love the swinging door with the porthole window — not to mention the corner fireplace!
The Kitchen:
Tiled Staircase:
There are 5 beds & 5.5 baths
Sunroom:
Patio with Fireplace:
Interior Courtyard with Pizza Oven:
The Pool:
The book Bela Lugosi and Boris Karloff by Gregory William Mank reports this story about the house that cracked me up:
"A recent owner relates that a late-in-life Katharine Hepburn (who died in 2003) suddenly appeared one day without warning, mysteriously dressed in black and inspecting the house and grounds. 'Well,' said Hepburn to the owner, 'I'm glad to see you haven't f**ed the place up!"
I love learning about houses that have Hollywood history! For more information, check the listing with Edward Fitz at The Agency (photography credit: John Chimon) and the book by Gregory William Mank.
Katharine Hepburn's Connecticut Estate Today
This charming stone house called Owls Cote is for sale in Rhode Island "minutes from downtown Newport and the harbor," but it looks like a cottage plucked straight out…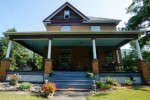 This Victorian in Pennsylvania is where the serial killer "Buffalo Bill" lived in the 1991 movie The Silence of the Lambs. It's on the market for…