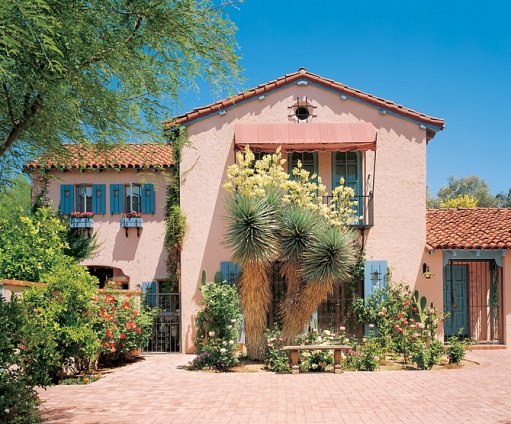 Singer Linda Ronstadt, who was recently inducted into the Rock and Roll Hall of Fame, is selling her charming 1929 Mediterranean-style home in Arizona.
It was designed by the architect Roy Place with a clay-tile roof and balconies overlooking the Catalina Mountains.
Ronstadt, who is a Tucson native, bought the house in 1994 and it was featured in Architectural Digest (photo above).
She lived here with her two children. She now has Parkinson' Disease, and is sadly no longer able to sing. She has retired to San Francisco near her family.
Her sister told the Arizona Daily Star "Now with her illness, she cannot keep up with two houses. I know she is going to miss this house. She thinks of how beautiful the sunlight is when it comes in through the windows in the morning."
I'm always happy when I see kitchens in older houses that weren't updated so much that they no longer look like they belong in them, and this green one fits the bill.
"The iron hardware in the house is original, including the doorknobs and latches. The style of the house represents the late 1920s period with the use of tile, pink plaster, wrought-iron touches, arched doors and windows," her sister says.
She told me the pink bathroom may look vintage and original to the house, but it's actually a new addition.
The gardens on the property feature roses, bougainvillea, citrus and palo verde trees.
 The house was painted the same pink as the Benedictine Monastery in Tucson.
"Linda loved that color and that church. We would go with our grandmother to pray at the monastery's chapel as young girls," her sister, Suzy O'Brien, says.
The house has 5 bedrooms, 5 baths, and nearly 5,000 square feet.

For more photos and information, check the listing with Christine and Russell Long

at Long Realty, as well as the articles in the Arizona Daily Star