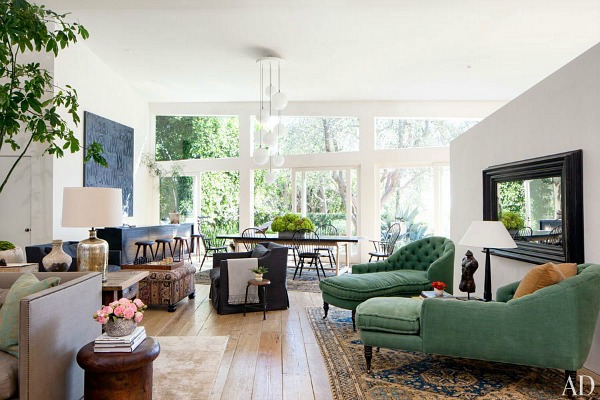 A lot of us swooned when we saw Patrick and Jillian Dempsey's warm and laid-back Malibu home in Architectural Digest last year.
Since then, they announced that they're divorcing and selling their Frank Gehry-designed "Tin House."
Take a look!

Patrick Dempsey's "Tin House"
The article in AD says Gehry designed the "rhomboidal corrugated-metal-clad" house in 1968 as a combination studio and residence for artist Ron Davis.
Speaking of Gehry, he just designed Facebook's new headquarters in Menlo Park. It's being called "the largest open floor plan in the world" with 430,000 square feet. You can see photos of it at Arch Daily.
Dempsey said, "We were looking for a little land and space, and a house with some architectural significance. The exterior's simplicity appealed to me, and the inside felt very expansive and calming."
The house has 3 bedrooms, 3.5 baths, and 5,547 square feet.
It sits on over 3 acres with ocean views: "It's geared for family fun and entertainment, with a pool surrounded by a recycled-wood deck, a large seating area around a fire pit, a climbing wall and a pizza oven."
The property surrounding the house is pretty amazing itself, especially when you consider the house once sat on "an undeveloped dirt parcel, with an asphalt drive and no proper outdoor living spaces."
Patrick and Jillian were photographed for AD
with their daughter Talula and twin sons Darby and Sullivan:
For more photos and information about the Tin House:

Photography by Roger Davies; styling by Carlos Mota.

Dempsey just bought a modern beach house: Variety.
2018 UPDATE:

Sid Bass purchased this house from Dempsey for $15 million.

Real estate blog Yolanda's Little Black Book is reporting that the "Tin House" was destroyed

by the Woolsey Fire, along with hundreds of other properties in the area.