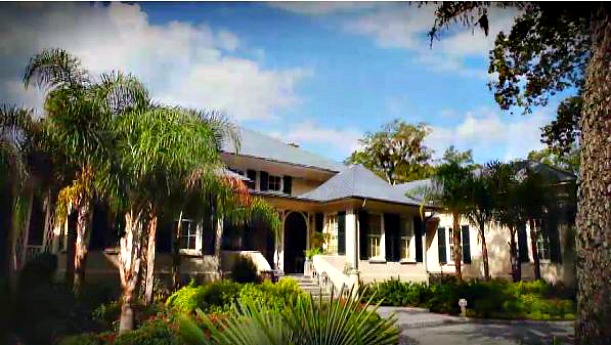 Queen of Southern Cuisine Paula Deen is selling her French Caribbean-style house known as "Riverbend" in Georgia.
It's a private waterfront resort with over 5 acres that includes two charming guest cottages, a dock house, and a barn.
The listing says:
Paula Deen's "Riverbend" is its own private resort with 300 ft. on deep water. Property offers a French Caribbean main house, 2 guest cottages, a dock house, a barn with an 8 car garage and 3 bedroom guest quarters.
Grounds boast a pool with dive-in theatre, outdoor kitchen, stocked pond.
The most significant offering in Savannah, Georgia, this estate is aptly named Riverbend for its panoramic views over the Wilmington River. This world-class property is sited on a high bluff with 300 feet of deep water frontage.
Private and secluded, the estate is accessed through a secured gated entrance with a beautiful drive enhanced with lush landscaping.
For photos and information about Riverbend, check the listing held by

Screenshot via video tour on Oprah.com.