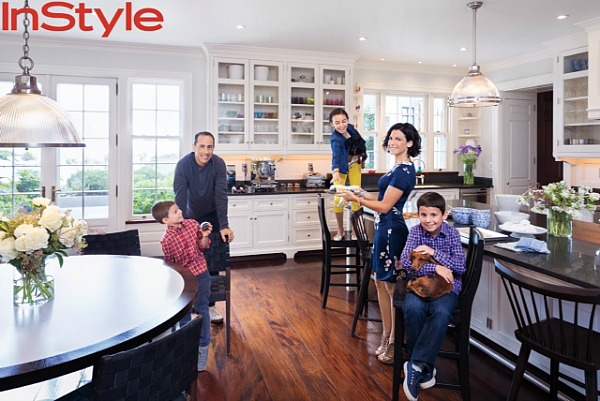 We've got every single season of Seinfeld on DVD and have probably watched them all a million times (not that there's anything wrong with that).
I've read Jessica's cookbooks and enjoy Jerry's new web series "Comedians in Cars Getting Coffee" (favorite ep: Tina Fey's).
So of course I was curious to see their "summer place" when it was featured in InStyle magazine.
Jessica told the mag, "When it came to decorating, I wanted to avoid any feeling of fussiness—Jerry and I are the least formal people."
It looks almost undecorated in some of the rooms, which is kind of refreshing for a celebrity home.
They bought the 12-acre East Hampton estate from Billy Joel for $32 million. Joel then bought a Sagaponack beach house with his ex Katie Lee and hired Nate Berkus to remodel it.
I wanted to see more of the Seinfeld kitchen but couldn't find any more pics of it. I did, however, come across their guest-house kitchen on the Food Network's website.
They had a Colorado ski chalet in Telluride that they sold a couple years ago, as well.
Visit InStyle to read about the Seinfeld family's summer home in the Hamptons.

Photography credit: Dean Kaufman.