This is what happens when you get way behind on your magazine reading — you realize that Jerry and Jessica Seinfeld's Hamptons house was featured in InStyle months after the rest of the world. Did you see it?
We've got every single season of Seinfeld on DVD and have probably watched them all a million times (not that there's anything wrong with that). I've read Jessica's cookbooks and enjoy Jerry's new web series "Comedians in Cars Getting Coffee" (favorite ep: Tina Fey's). So of course I was curious to see their "summer place."
It's all very laid-back and casual. Jessica told the mag, "When it came to decorating, I wanted to avoid any feeling of fussiness—Jerry and I are the least formal people." It looks almost undecorated in some of the rooms, which is kind of refreshing for a celebrity home.
They bought the 12-acre East Hampton estate from Billy Joel for $32 million. Joel then bought a Sagaponack beach house with his ex Katie Lee and hired Nate Berkus to remodel it:
(It's still on the market, so you can see Billy Joel's Hamptons house here.)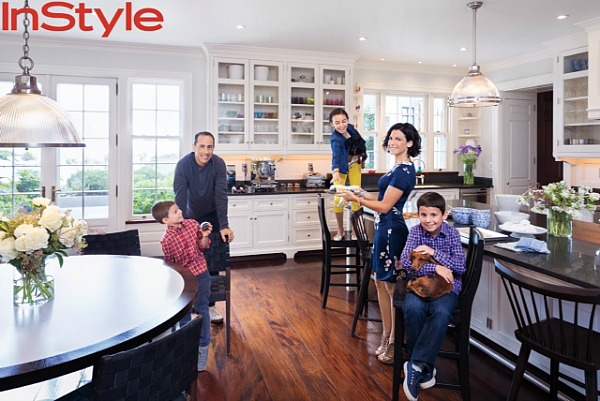 I wanted to see more of the Seinfeld kitchen but couldn't find any more pics of it. I did, however, come across their guest-house kitchen on the Food Network's website, which I think I like even more:
Jessica told them they spend their summers in the Hamptons with her parents and "all my friends," who stay in the three-bedroom guest house on the property. (Wonder how I can get on that guest list?)
The guest house is only 10 years old, but Jessica wanted it to have the feeling of an 18th-century farmhouse down to the old pine floors, which are unfinished with mismatched planks:
They had a Colorado ski chalet in Telluride that they sold a couple years ago. Here's what that kitchen looked like:
Which of the Seinfeld kitchens do you like best? Or maybe you prefer this one…
Visit InStyle to see the rest of the photos of their Hamptons house (taken by Dean Kaufman) and to read more about it.
P.S. Visit Celebrity Houses to see more, including…
(Visited 815 times, 1 visits today)