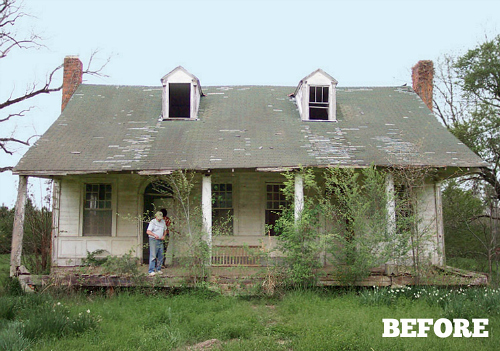 When the Thomas family bought the old Laurietta plantation in Fayette, Mississippi, the house that came with it wasn't exactly a selling point. It had been built in the 1820s and was on the National Register of Historic Places, but after years of neglect, it was a shell of its former self. After an intense, three-year renovation project, here's how it looks now…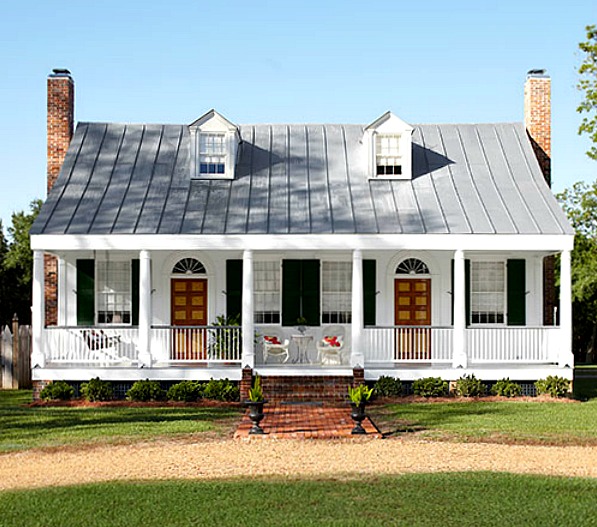 They were determined to do it right, and that meant hiring a crane to lift the 2,770-square-foot house onto supports, "where it sat for more than a year during repairs to its foundation and the installation of new insulation, plumbing, and electricity."
The staircase has come a long way since the "before" photo was taken:
They tracked down and were able to restore Laurietta's original fanlights, banister, a porch column, and a couple of its mantels that had been removed over the years.
Country Living reports: "Each wallboard was removed and numbered, then put back in place after the electrical updates. Scraping away decades of paint revealed original artistic details, including marbleized baseboards and faux bird's-eye maple panels, which a restoration painter was able to revive."
Here's how the living room looks now:
An old journal from the 1800s described what the interiors had looked like at the time, and they recreated as much of the white and wood palette as possible. The heart pine floors were lightly sanded so you can still see scars and burn marks in places. "Those imperfections are part of the story," Tere Thomas says. "Besides, Laurietta's not a grand house."
They created sleeping quarters for their grandchildren upstairs:
I'd love to see more of this kitchen. The cabinets are painted Benjamin Moore's Gentle Cream. The island was repurposed from cypress wood found elsewhere in the house. Their dog Buck looks right at home in here, doesn't he?
The couple transformed Laurietta "from a dilapidated buzzard's nest into a roost where their extended family could come together for weekends and holidays." Visit Country Living to read the story by Beth Ann Fennelly and photos by Bjorn Wallander.
It's always heartening to see a house like this restored and loved again, don't you think?
P.S. Visit Before & After to see more, including…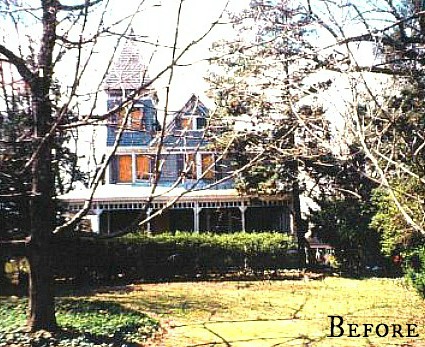 Restoring a Victorian Home After a Fire
(Visited 76 times, 1 visits today)