Elizabeth Gilbert, the Oprah-approved bestselling author of Eat, Pray, Love, lives in a yellow Italianate Victorian in Frenchtown, New Jersey. She calls it her "beautiful, perfect" house and asks, "Why would anyone ever leave this place??"

Why Elizabeth Gilbert is Selling Her Victorian
Gilbert has a website about it called Eat, Pray, Crib: "One woman's journey to sell her house."
On it, she writes, "Dear Ones, I'm selling my beautiful, perfect house. Why? Because I'm a restless person and I need to move all the time. Otherwise, there is no sane reason to sell this exquisite and lovingly renovated 'four-over-four' Italianate Victorian house that was built in 1869 by the great-grandson of John Reading (the first governor of New Jersey and a hero of the Revolutionary War)."
She posted a video tour of the wonderful old house. This is the dining room:
Pocket doors separate the dining room from the first-floor study:
There are two reasons Ms. Gilbert and her husband, José Nunes (the Brazil-born importer she met in Bali on her "East, Pray, Love" odyssey and married in 2007), have decided to sell their house and move, with their dog, Rocky, to a smaller Victorian in the heart of Frenchtown near Two Buttons, the Pan-Asian emporium they own.
The article quotes her:
"The rational explanation is that we're downsizing, that this lovely house is bigger than we need, especially because we travel so much," she said.
"The irrational but accurate explanation is that I have to move after I finish a book. We poured a lot of work and love into this house as if we were going to stay forever, but the truth is, neither of us stay anyplace for very long. Now that we've made everything perfect inside and outside, it's time to go."
There are 4 bedrooms and 2 baths. The clawfoot tub has a view of the Delaware River Valley:
The Skybrary
One of the most enchanting and surprising things about the three-story house is the attic-turned-library, called the "Skybrary," where she wrote The Signature of All Things.
The staircase leading up to the space is painted with words from the poet Emily Dickinson: "The soul selects her own society—then shuts the door."
The Skybrary is 1,400 square feet and lined with hand-carved bookshelves created by master carpenter Michael Flood to look "organic, like vines." It's "on the tallest hill in town, on the highest floor in the house, so you feel like you're in a treehouse."
She writes on a desk carved out of an 15-foot-long acacia tree:
There are lots of hidden compartments and secret drawers built into this room. In the video tour of the space she says, "People tell me I shouldn't tell everyone where my secret drawers are, but I'm a memoirist. All I know how to do is reveal."
She told the NYT, "I'm ready to write a new book and I can't do it in the 'Skybrary' because I feel like that room belongs to Alma" (the protagonist of The Signature of All Things).
There's even a "napping nook" with a king-sized bed tucked in the corner:
She says the kitchen "was all dark 1970s paneling when we moved in." Now it has tin ceilings, marble counters, a cozy window seat overlooking the garden, and a painted brick fireplace:
It's hard to tell in this screenshot, but during the video tour she shows how a section of kitchen cabinets is actually a door leading to a hidden back staircase. Very cool.
In an article on Oprah.com, Katie Arnold Ratliff describes a visit to the house:
Her home is strewn with tchotchkes (a wooden horse puppet, a painting of a TV hung beneath the TV, four dried purple allium blooms in an old milk bottle). The kitchen's window seat is carpeted with dog hair (it's a favorite hangout of her doe-eyed mutt, Rocky), and the floorboards groan."
They're open to selling the home fully furnished, saying, "All we really need to take is our dog, my husband's cooking spices and the paintings."
The screened porch looks like a lovely spot to sit in, surrounded by the gardens:
She writes, "This property is a piece of heaven. It is a house that breathes light, air, space and tranquility. Summer parties on the lawn are just as appealing as cozy winter evenings alone by the woodstove. This is a home for readers, writers, artists, creatives, collectors, inventors, gardeners, dreamers, imaginative children, lovers of beauty."
"We've spent six years making every inch of this special place absolutely perfect and gorgeous, but now we are now moving on to the next chapter of our lives!"
They're moving to a smaller place down the road, so you'd be neighbors!
She has clearly devoted a lot of time to the gardens, including a perennial wildflower meadow. There's "a one-in-a-kind large stone wall carved with images of the Buddha's life, imported from Indonesia and re-crafted in the gardens" that will remain:
You can learn more about her and her books on her website. She and her husband own a store called Two Buttons, so named because "a priest in Laos told us that we had so much love for life that we needed nothing more than two buttons in our pockets to get by in this world."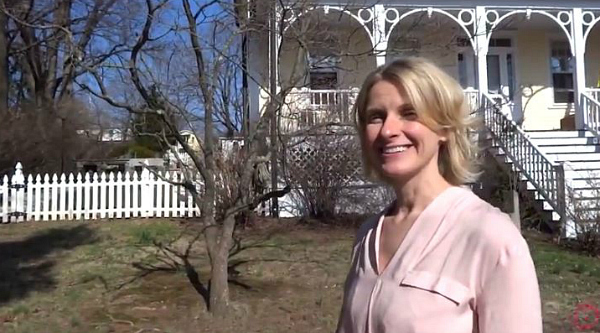 For more photos and information about the property, which is on the market for $999,000: The NYT article (which has a slideshow of house photos), the house site Eat, Pray, Crib with the video tour that these screenshots were taken from, and the listing at Owners.com.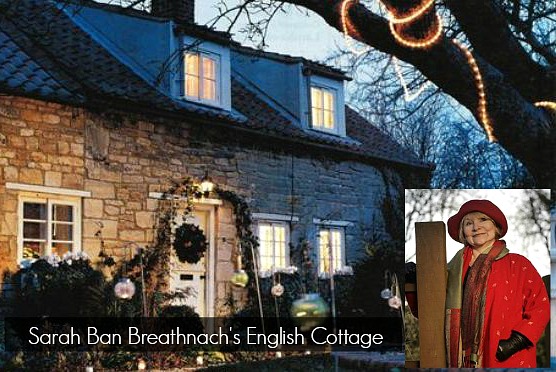 (Visited 23 times, 4 visits today)