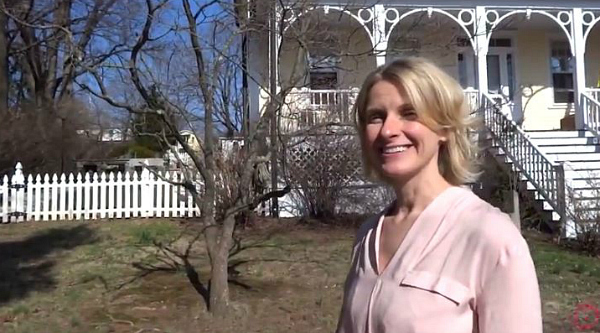 Elizabeth Gilbert, the Oprah-approved bestselling author of Eat, Pray, Love, lives in a yellow Italianate Victorian in Frenchtown, New Jersey.
She calls it her "beautiful, perfect" house and asks, "Why would anyone ever leave this place??"
But she's doing just that, as she explains in a video she posted on her website. (I took these screenshots from it.)
Gilbert created a website about it called Eat, Pray, Crib: "One woman's journey to sell her house."
On it, she writes, "Dear Ones, I'm selling my beautiful, perfect house. Why? Because I'm a restless person and I need to move all the time. Otherwise, there is no sane reason to sell this exquisite and lovingly renovated 'four-over-four' Italianate Victorian house that was built in 1869 by the great-grandson of John Reading (the first governor of New Jersey and a hero of the Revolutionary War)."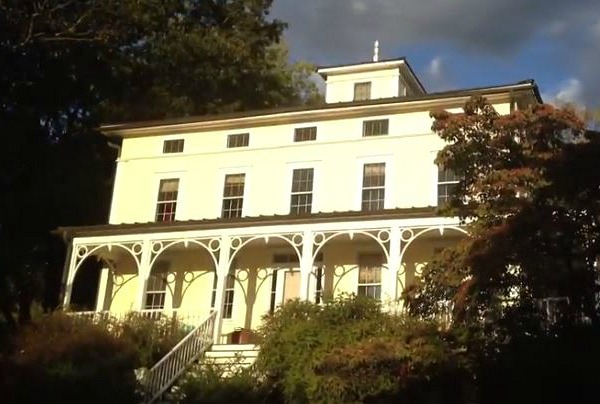 There are two reasons Ms. Gilbert and her husband, José Nunes (the Brazil-born importer she met in Bali on her "East, Pray, Love" odyssey and married in 2007), have decided to sell their house and move, with their dog, Rocky, to a smaller Victorian in the heart of Frenchtown near Two Buttons, the Pan-Asian emporium they own.
"The rational explanation is that we're downsizing, that this lovely house is bigger than we need, especially because we travel so much," she said.
"The irrational but accurate explanation is that I have to move after I finish a book. We poured a lot of work and love into this house as if we were going to stay forever, but the truth is, neither of us stay anyplace for very long. Now that we've made everything perfect inside and outside, it's time to go."
They're moving to a smaller place down the road, so you'd be neighbors!

For photos and information about the property,

You can learn more about Gilbert and her books on

her website

.