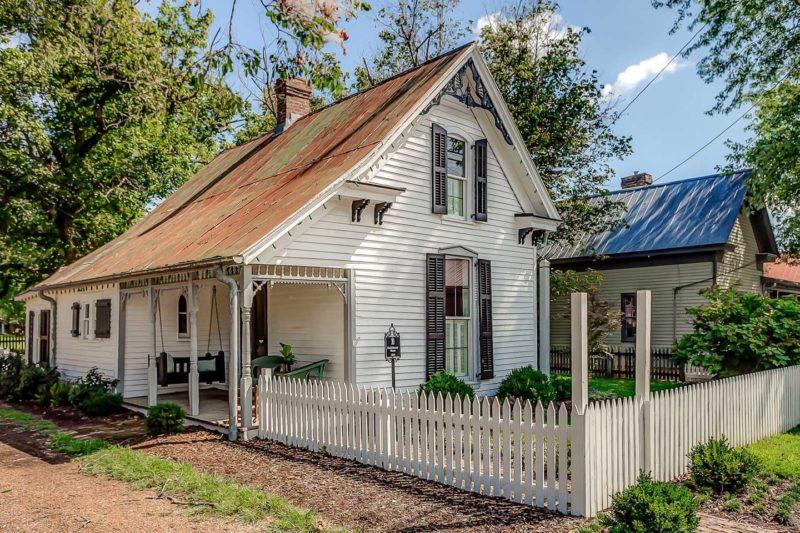 Not only am I a fan of Holly Williams' music, but I love her style, as well. So when I heard about this historic little house in Leiper's Fork that she decorated called Sweeney Cottage, I was eager to see what she did with it.
Her website says: "She may be from a famous family – country legend Hank Williams Jr. is her father – but don't expect rhinestones and cowboy hats. Holly's style embodies a modern-day chic simplicity."
It's a vacation rental that you can visit on your next trip to Tennessee. Come on in and look around…

Historic Sweeney Cottage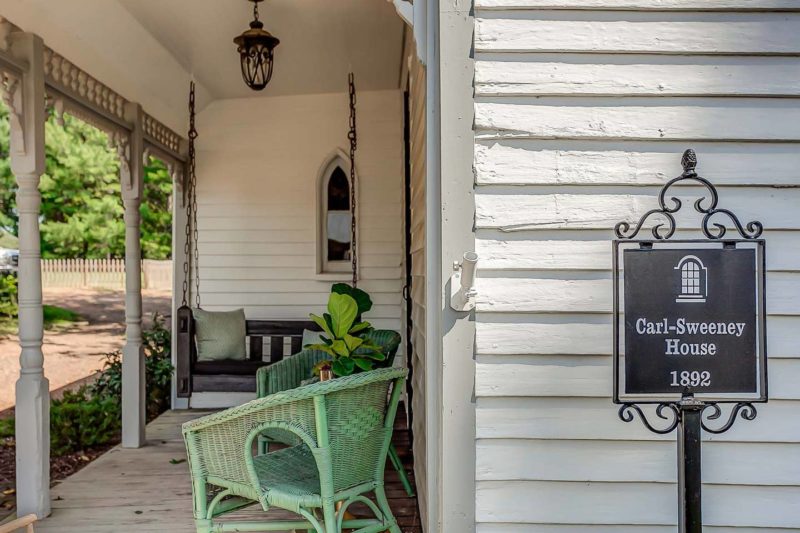 Holly Williams wrote about the Sweeney Cottage:
Built in 1892 for the Carl Sweeney family, these walls and rooms are brimming with stories. Happiness and tragedy, laughter and tears; generations who loved and lost there.
I have truly enjoyed working on the redemption of this home, renovating where needed, and always preserving where I can to let the history shine through.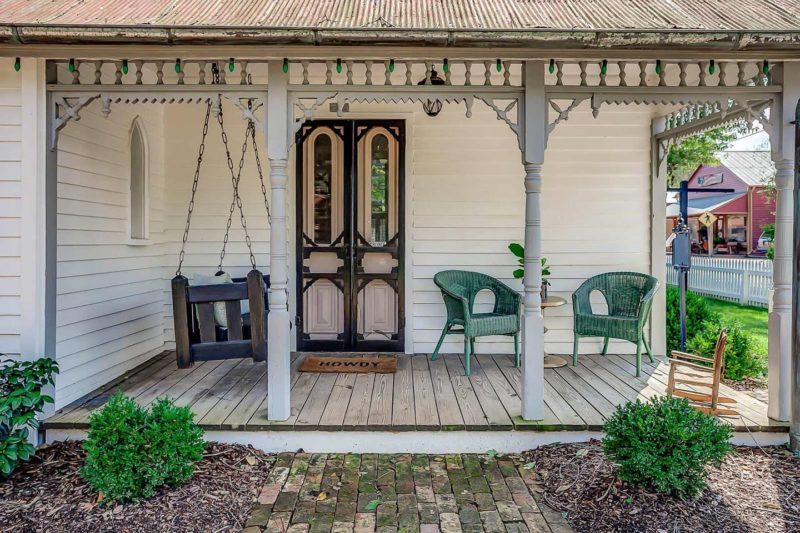 The pale pink double doors greet you with a "Howdy" welcome mat on the front porch.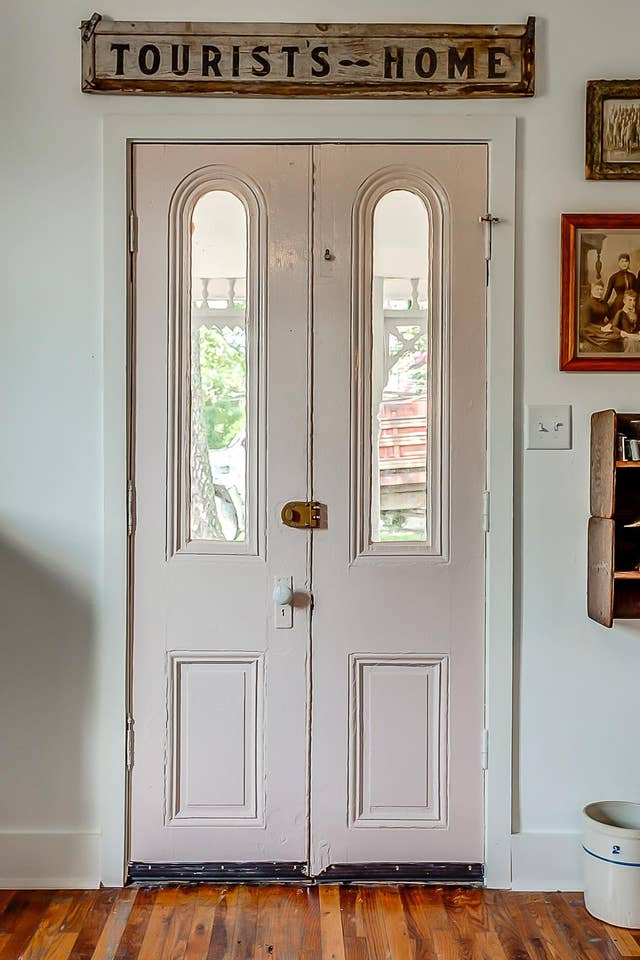 "The original 1892 entry doors are painted a calming pink
in contrast to the original black screen doors."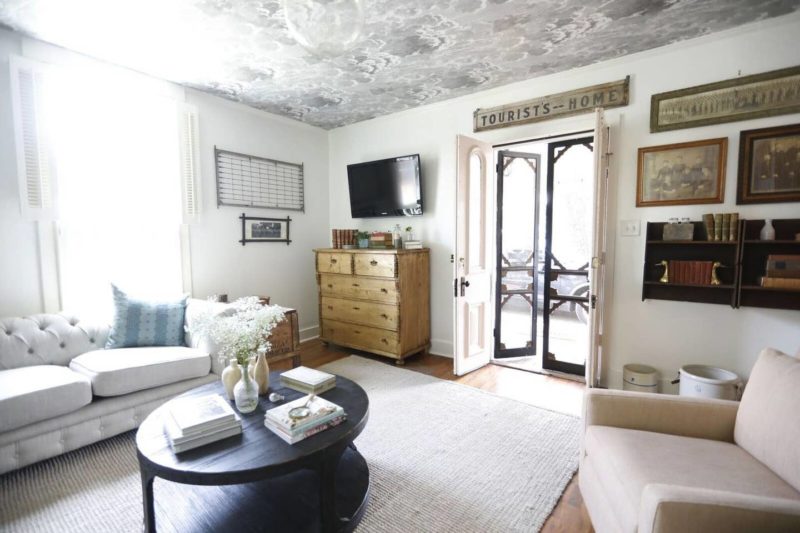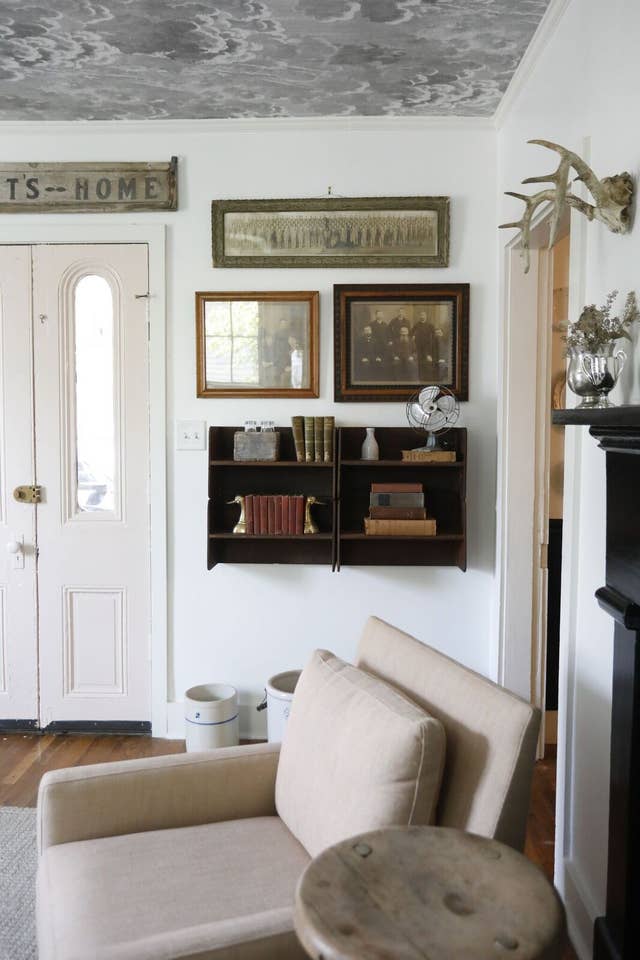 On the website White's Room and Board, Holly writes that Sweeney Cottage has "a firepit for s'mores and gathering, soaking tub to drown away stress, gourmet kitchen and appliances to feed your inner Julia Child, luxury linens for the ultimate in relaxation, Chris Coleman artwork (my husband is insanely talented!), cozy fireplaces, Howdy doormats, curated coffee table books, stemless wine glasses and other best-selling items from my general store White's Mercantile."
How soon can I get there? 🙂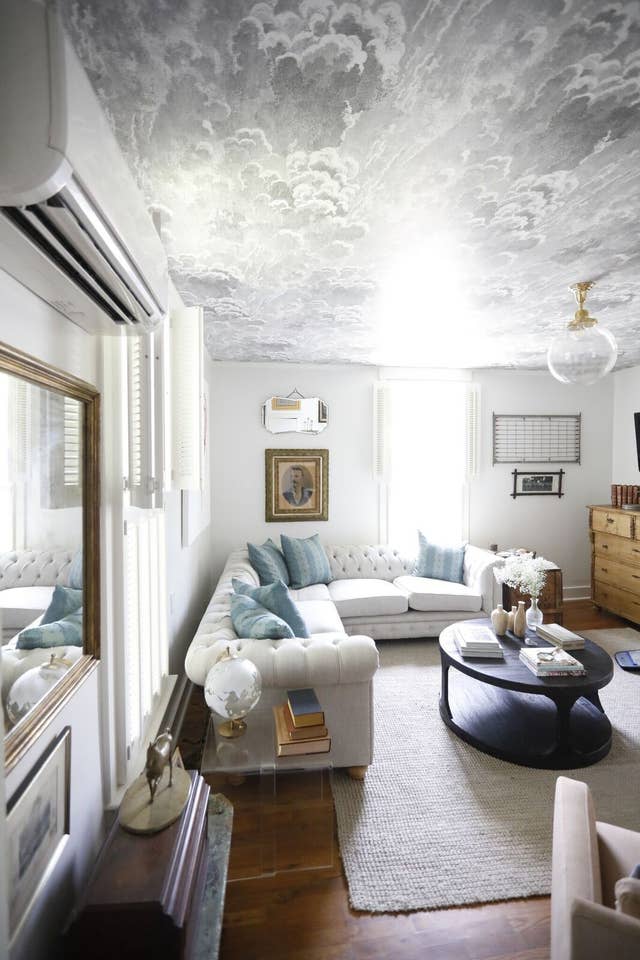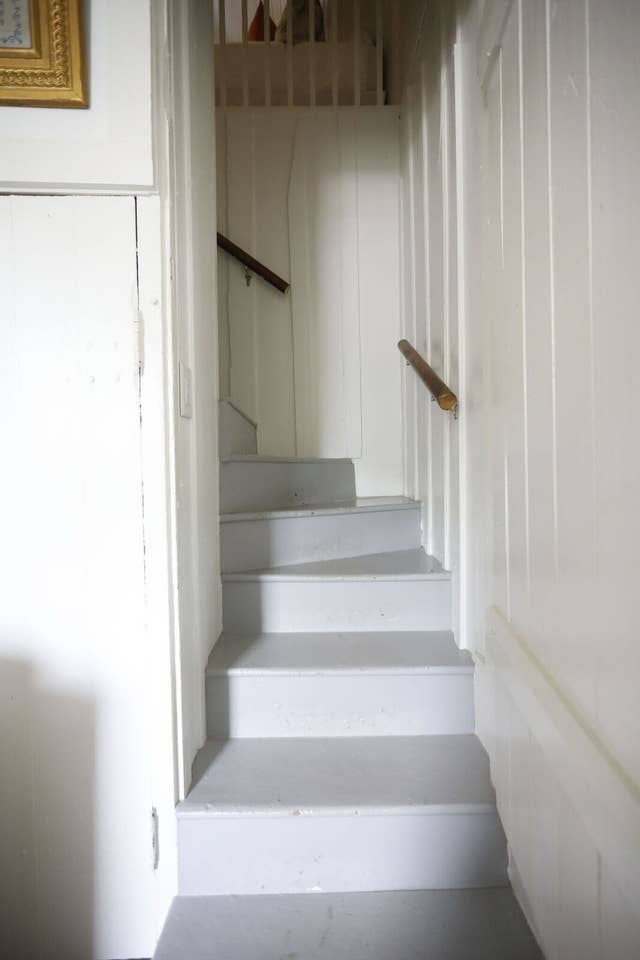 There are 2 bedrooms + 1 bath, and the house sleeps up to 6 guests.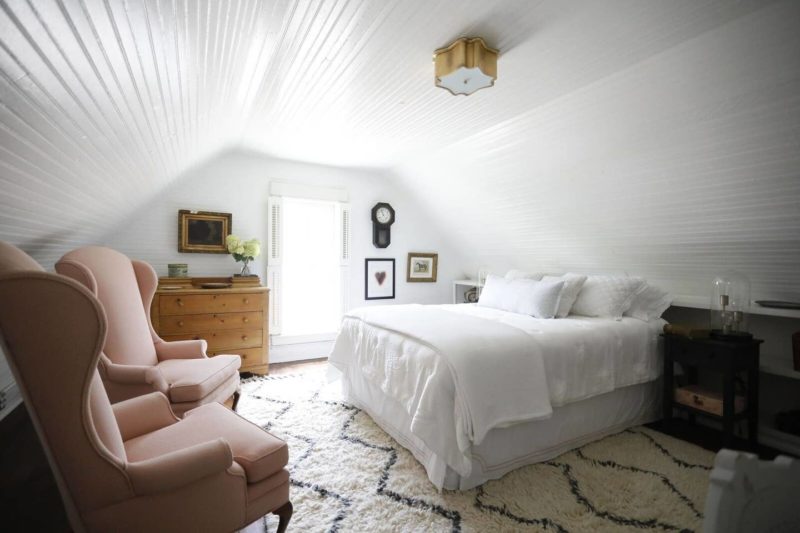 The listing says:
Featuring a queen bed upstairs in the master, another queen bed in a smaller adjacent room separated by a single original historic door, and a trundle bed downstairs that accommodates 2 twin mattresses for side by side sleeping, up to 6 people can sleep here!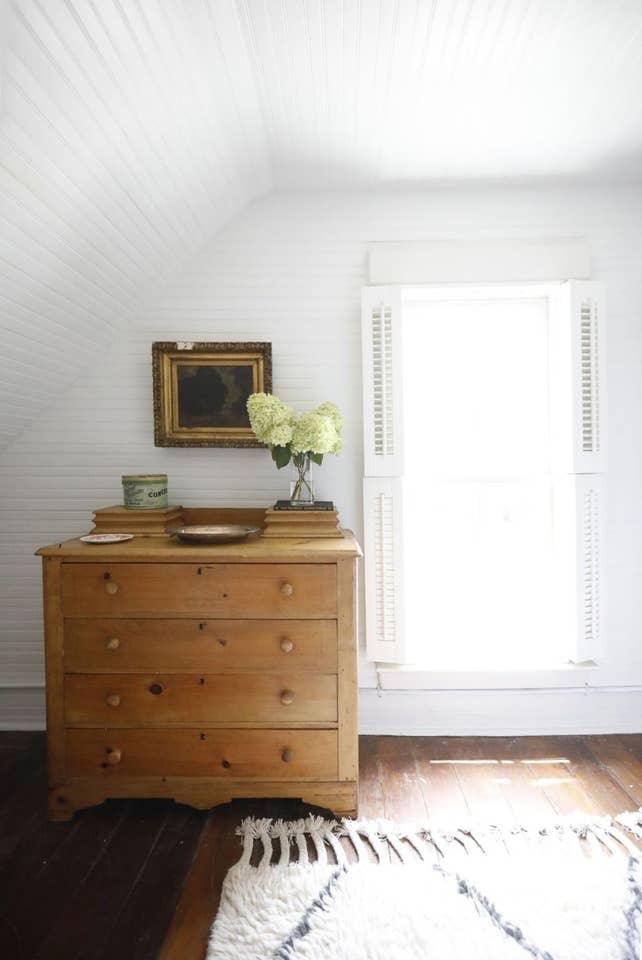 "The bathroom features a tub deep enough to soak in, and a handheld shower kit,
along with a fabulous brass console sink and faucet."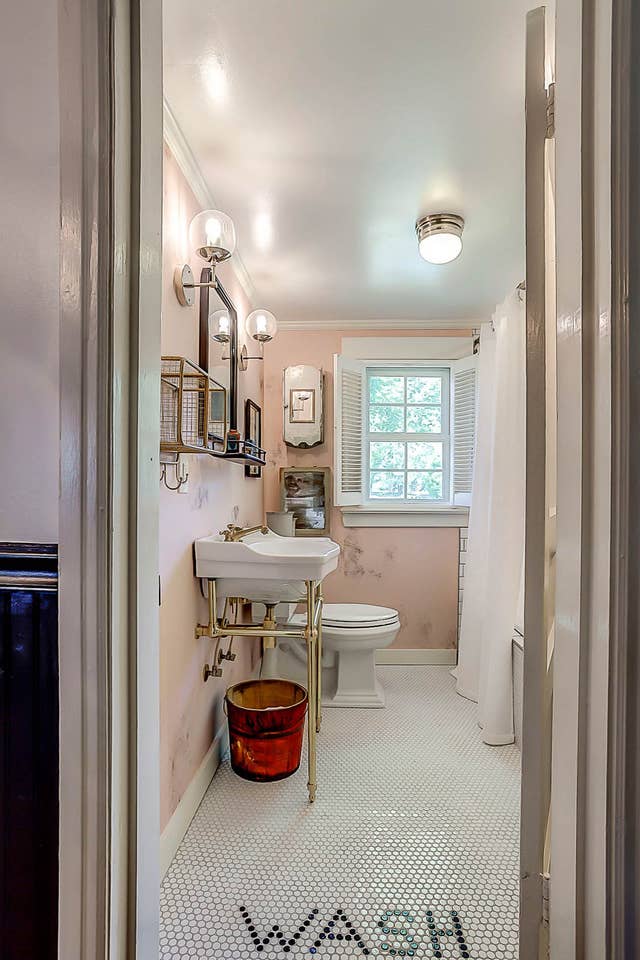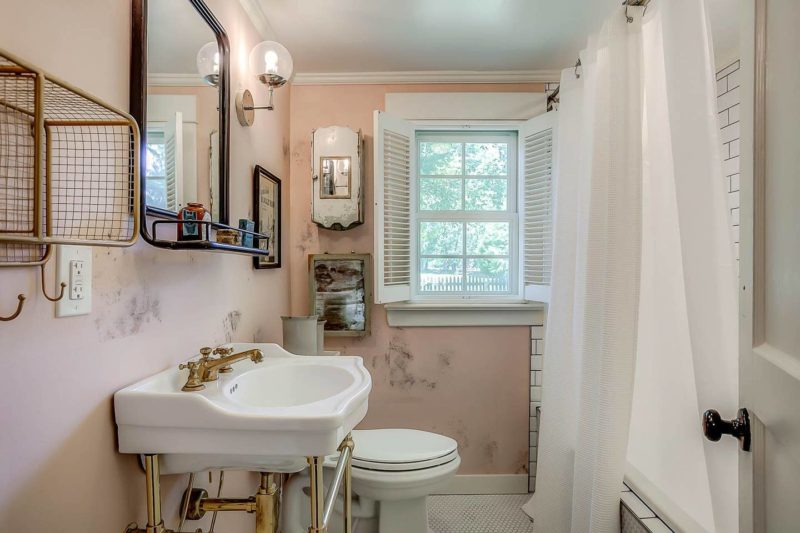 A guest to the cottage named Lindsey left the following review:
The cottage is perfectly appointed with thoughtful details in every corner. My favorite things were actually the smallest details; antique photos to browse, an aqua SMEG refrigerator, gently foiled wallpaper in the bathroom, beautiful sink fixtures, cozy linens. I could go on and on.
The house is full of yummy goodness from Meyer's laundry detergent to local soap in the shower. Plenty of fluffy towels and necessities.
The house is literally next door to adorable shops filled with local goodies.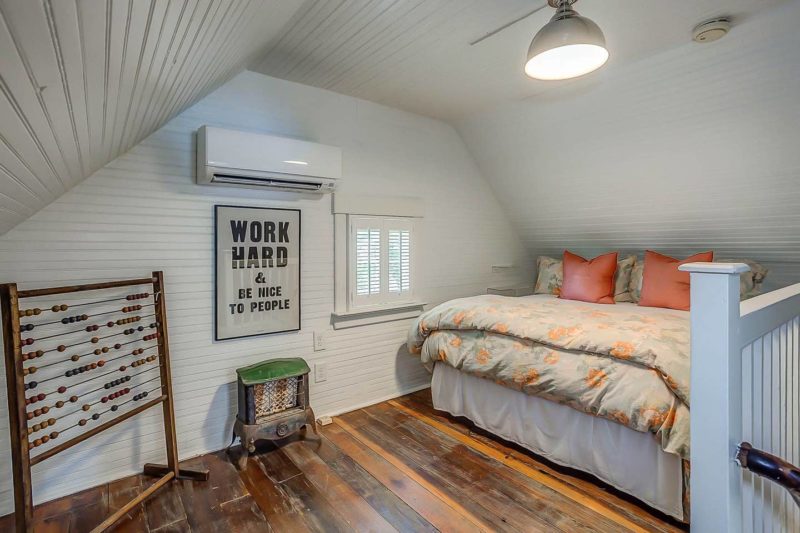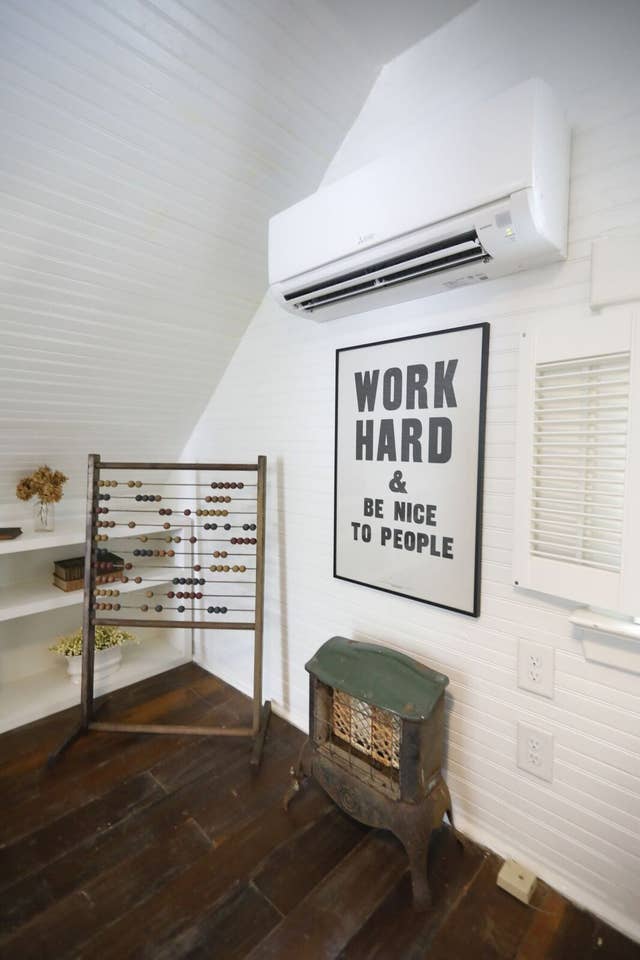 "The farm table seats up to 8 in the dining room clad with antique plates and mirrors."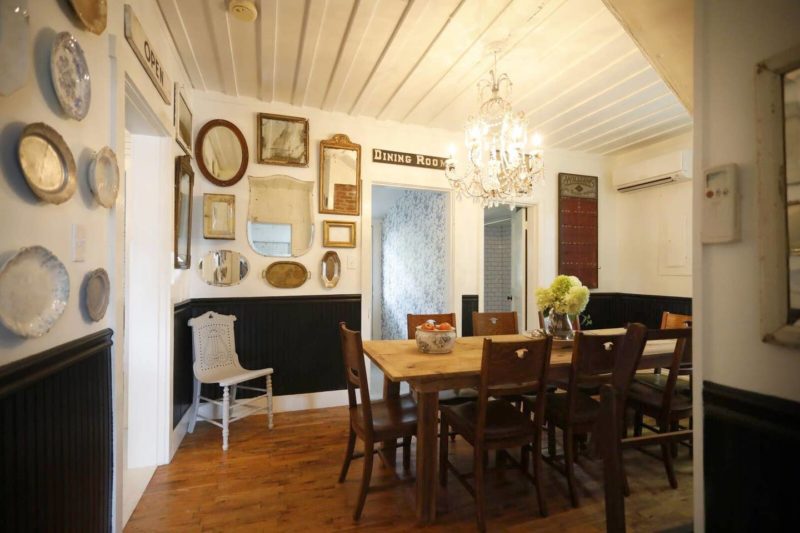 The Kitchen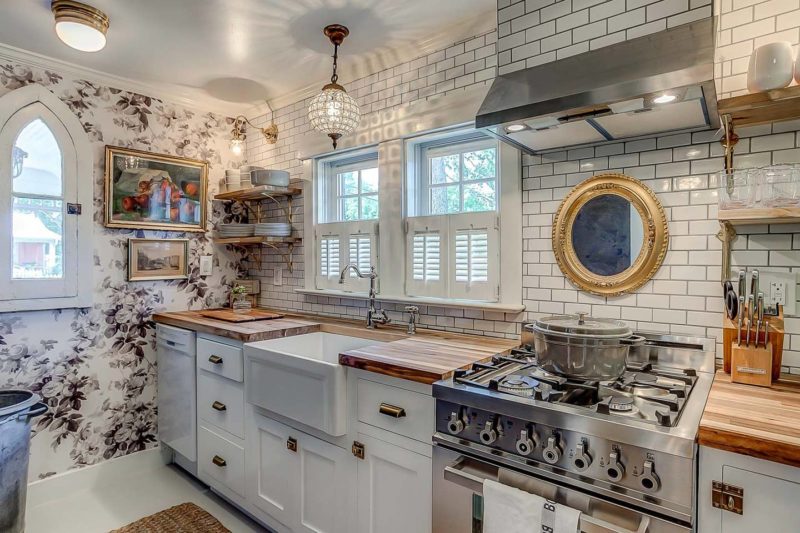 "The tiny,
chic kitchen features a fabulous mint green Smeg
refrigerator and a bertazzoni stove, a cook's dream!"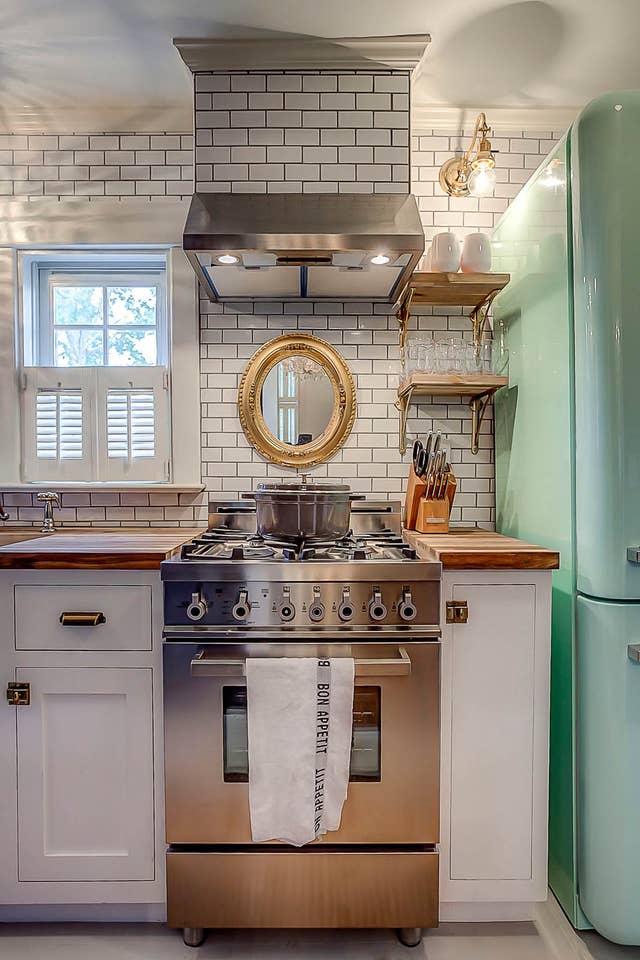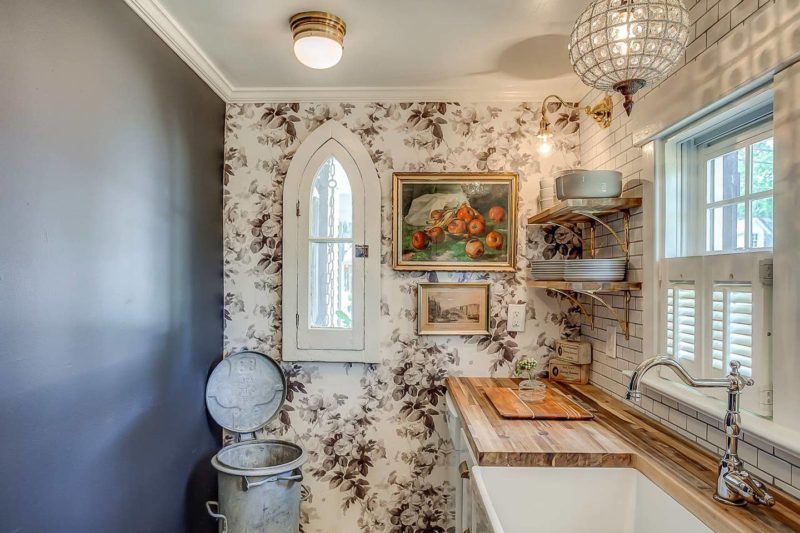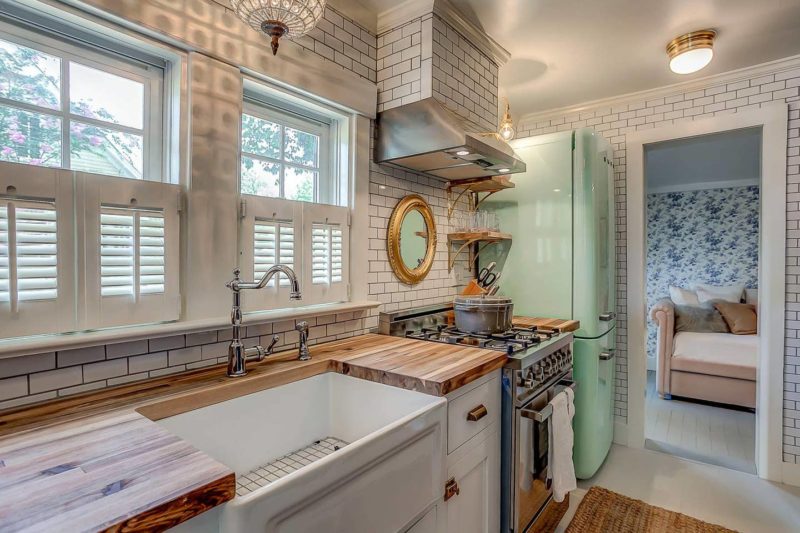 Holly's website says:
Feel free to bring your furry friend. Harry Barker dog beds which are available at my general store (White's Mercantile) are in the living room for them to get their zzz's!
Two Gibson guitars are inside awaiting your musical skills, and the fire pit in the back is the perfect place for s'mores or star gazing.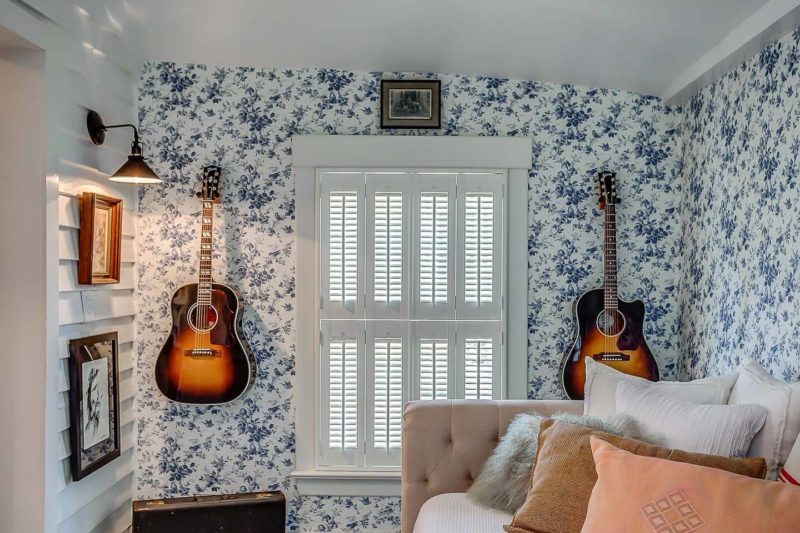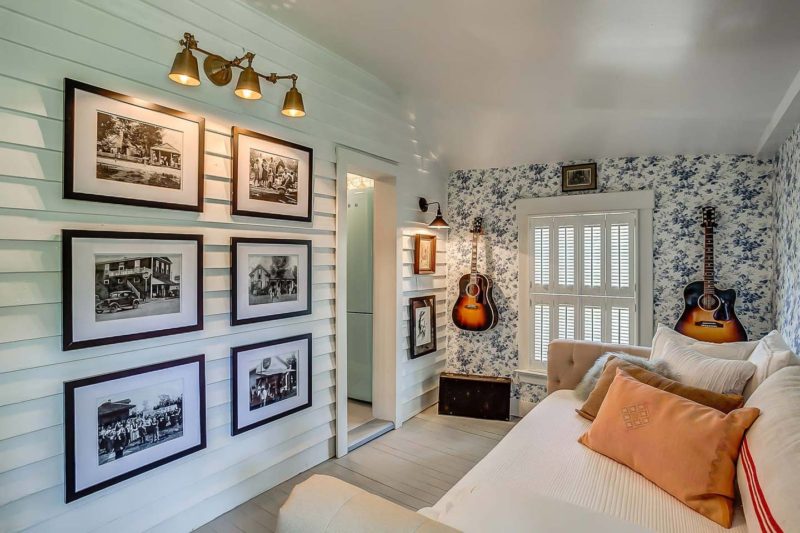 Holly Williams explains her vision for the house:
I want to welcome songwriters searching for a creative getaway, families and couples craving quiet and restorative time for themselves, artists needing new inspirations, and anyone wanting to escape inside a warm, curated and welcoming space to find a little peace and clarity.
I hope you will make truly amazing memories here that will stay close to your heart…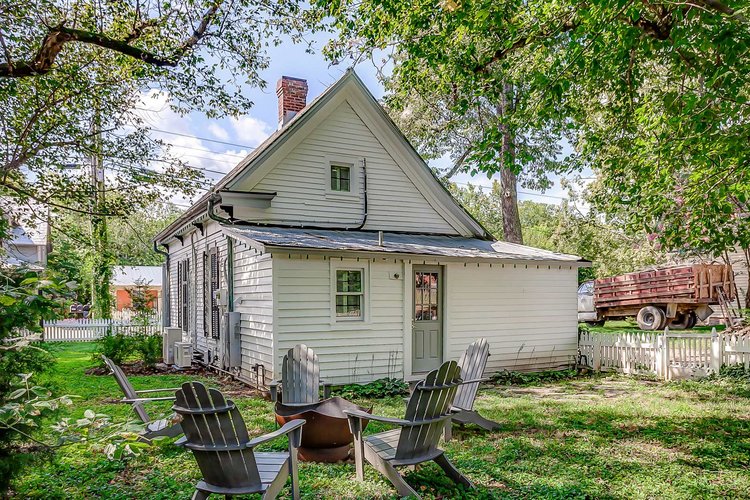 "This is the only nightly rental available in the heart of Leiper's Fork village.
Walk to everything!"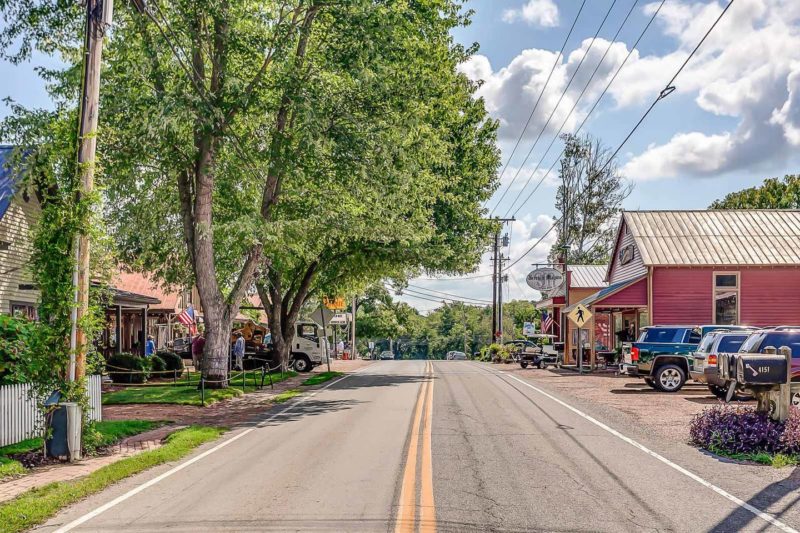 Last year I had the chance to visit her store in historic downtown Franklin.
It's called White's Mercantile, and snapped a few pics of it: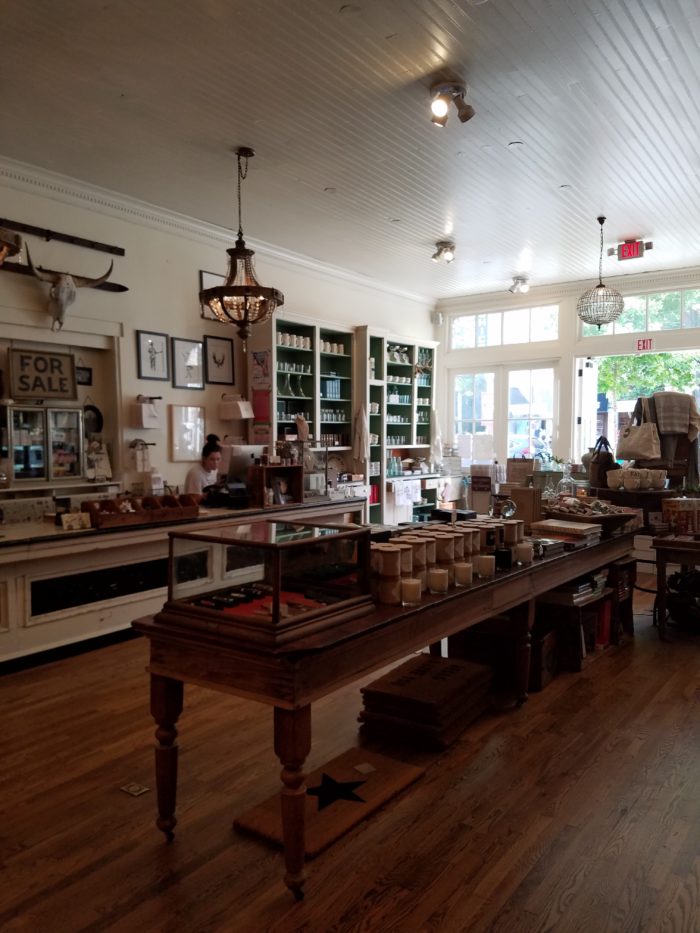 The listing for Sweeney Cottage says, "Pray for rain to sing you to sleep
on the original tin roof of this unbelievably charming home!"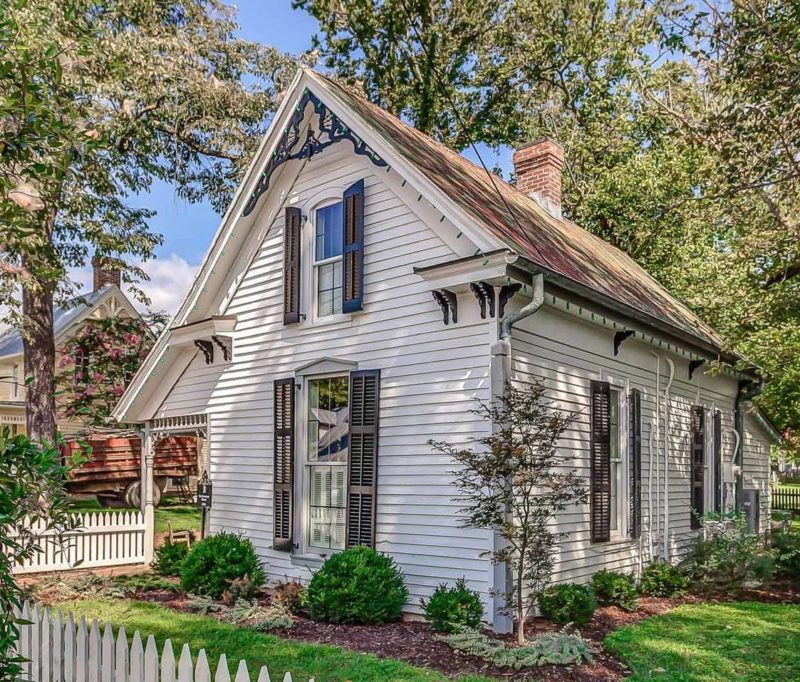 Many thanks to Sarah for telling me about this cottage, which she manages through House + Sanctuary. If you have a house you think my readers would like to know about, send it to me!
For rental information about Sweeney Cottage visit House + Sanctuary

and White's Room and Board. Photo credit: Jay Winter / HomePix Media.