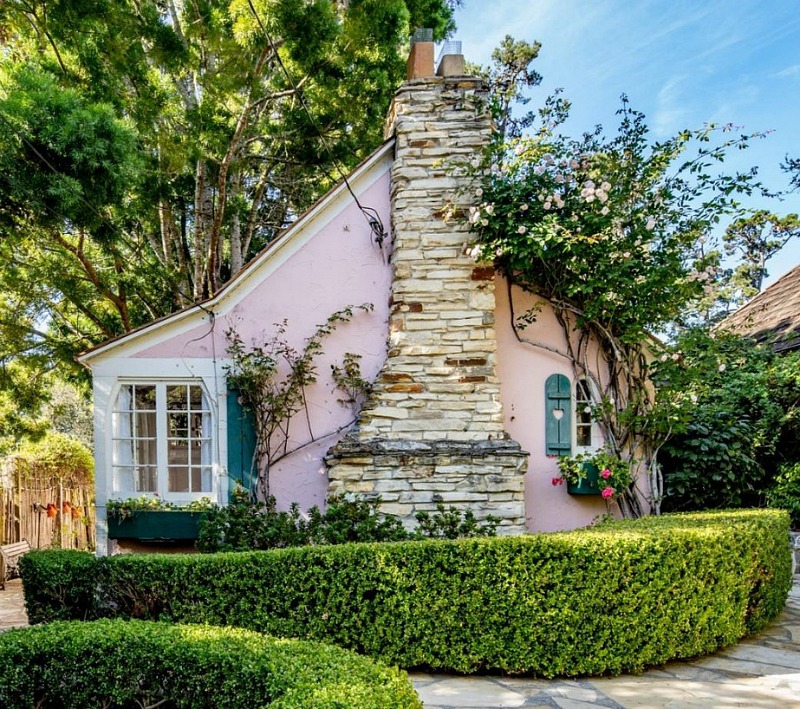 For a lot of us, the cottages of Carmel-by-the-Sea are the stuff that dreams are made of. I was excited to see that this charmingly quirky pink house with window boxes is for sale, giving us a chance to peek inside. It hasn't been photographed very often because it's difficult to see much of it from the street.
This was the 5th cottage built by Hugh Comstock, who was known for building small houses that looked like something out of a fairy tale. The cottages in Carmel are known by their names rather than by typical street addresses, and this one is called "Our House."
It looks much the same as it must have when it was built in the 1920s, although the main house was connected to the guest house by an addition in 1958.
Take a look!

"Our House" Cottage in Carmel-by-the-Sea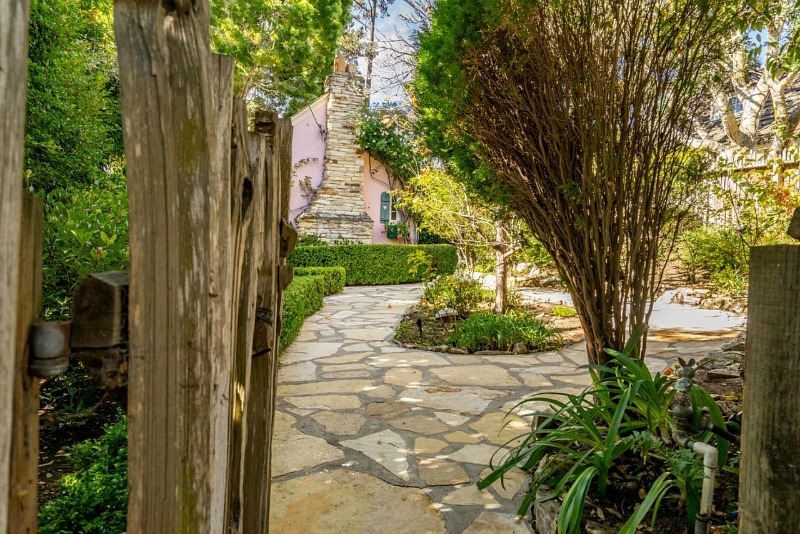 I came across this romantic description of Carmel in Enchanted Living Magazine:
On the shores of a briny deep, under skies so blue and clear they resemble tears, there perches a village with the magical name of Carmel-by-the-Sea. It's peaceful here, the loudest sound the boom of the ocean, which the little town slopes inexorably, if gently, toward.
Everywhere, sprouting from window boxes in the jewel-like downtown and around the tiny, perfect houses, are flowers. As if under a spell, they all appear to be blooming at once.
And then around a corner, like a gift, sits a wee cottage. It's half-timbered and bright with whimsy, its roofline pitched toward the heavens, the stone chimney haphazardly stacked as if by mischievous elves.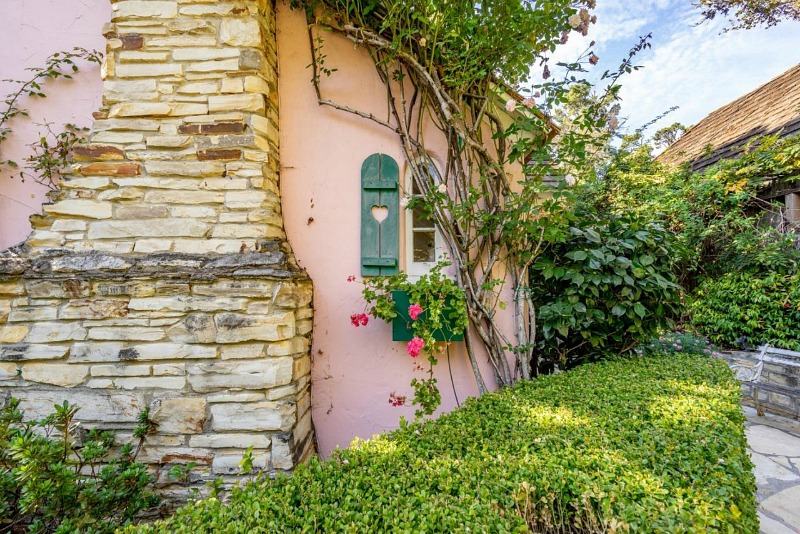 Our House cottage was designed by Hugh Comstock in 1928 for Elizabeth Armstrong and built for $1,900. From Santa Fe depending on the time of year you will be able to see different parts of this cottage over the grape-stake fence and high shrubs.
But one window always seems to be visible, winter, spring, summer or fall, the narrow arched three-light casement window with braced wood shutter of the same shape with heart-shaped cut out. Spot this and you will know you have the correct house (shown above).
Comstock's architectural signature can be seen in the steeply pitched roof and Carmel stone fireplace. The exterior wall cladding is textured stucco over felt, instead of burlap. The front entrance to Our House is positioned on the side of the property.
A "twin" to Our House was built by Comstock in 1929 on Casanova and Palou named Sunwise Turn.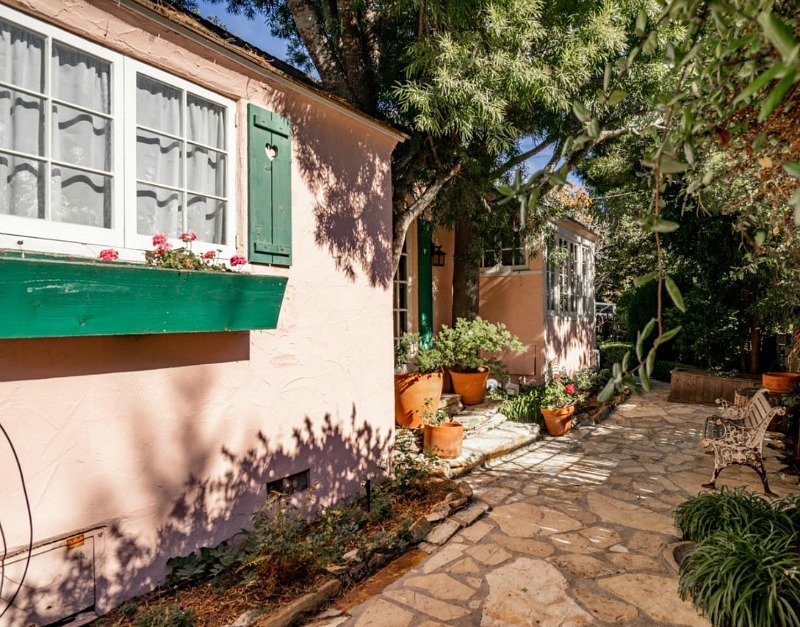 The entry is on the side of the house: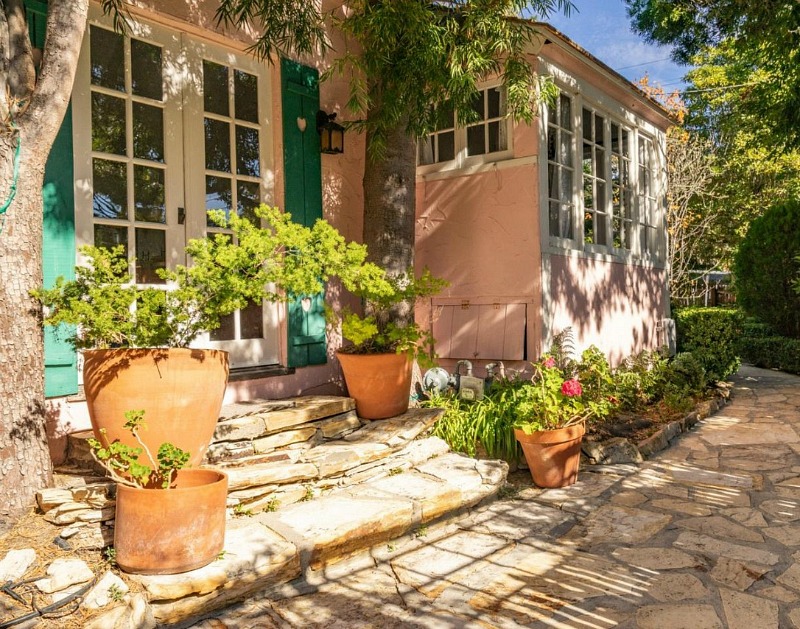 The cottage has 2 fireplaces, including this one in the living room: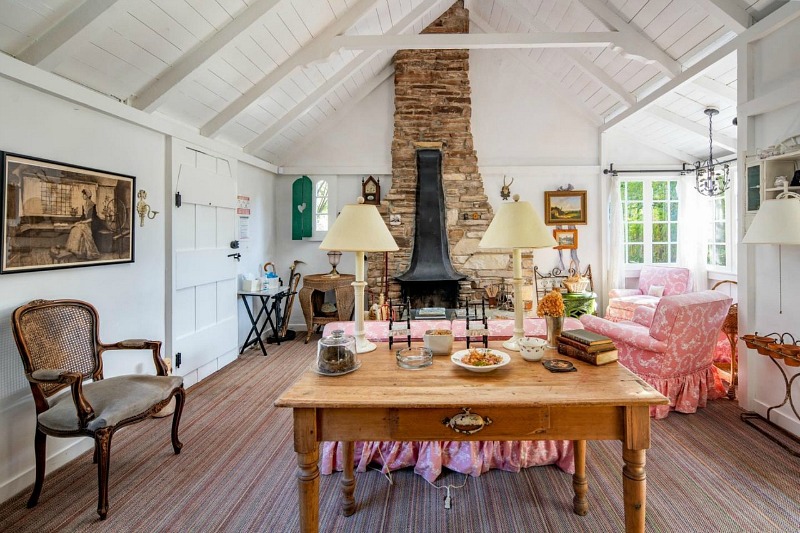 Hugh Comstock wasn't trained as an architect or drawing, but he had natural artistic talent.
When he was 31, he traveled to Carmel to visit his sister and fell in love with Mayotta Browne, who had created a popular doll called the Otsy-Totsy.
The first cottage Hugh built was a store where his new wife could display her dolls. She requested "a fairy house in the woods."
You can see it and read more about the tiny "Hansel Cottage" at Tales from Carmel.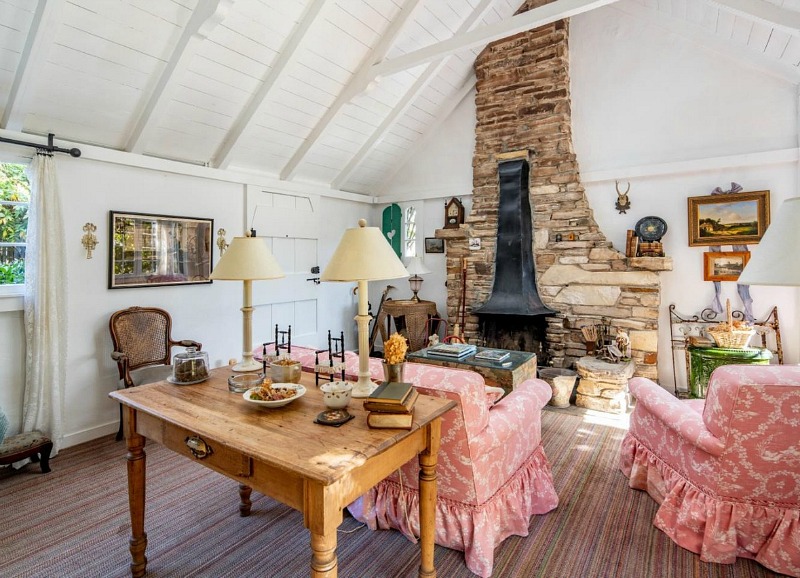 As tourists visited Carmel they were drawn to the newest attraction in this charming town, the enchanted doll house in the woods, with high pitched gable roof, hand-whittled trim, stone fireplace, and mullioned windows. And everyone wanted one.
Hugh's experiment in building blossomed into a career, as orders for more fairy tale cottages were requested.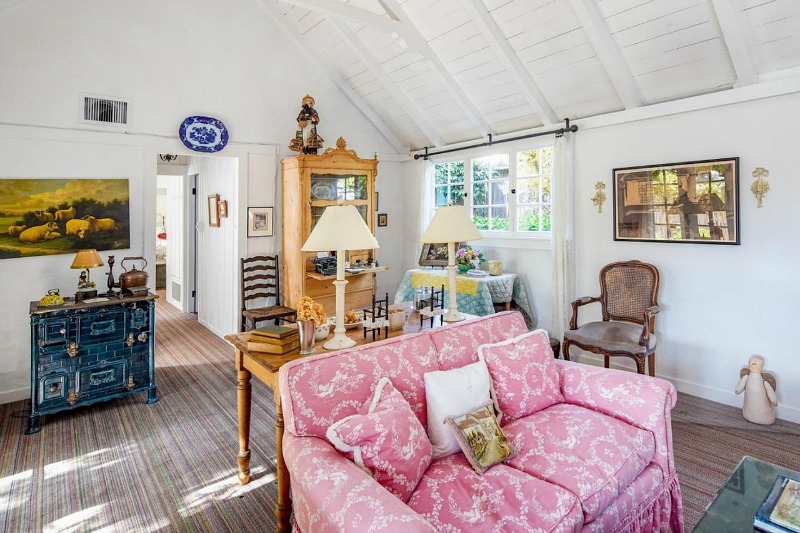 21 of the houses Comstock built in Carmel are still standing, including this one.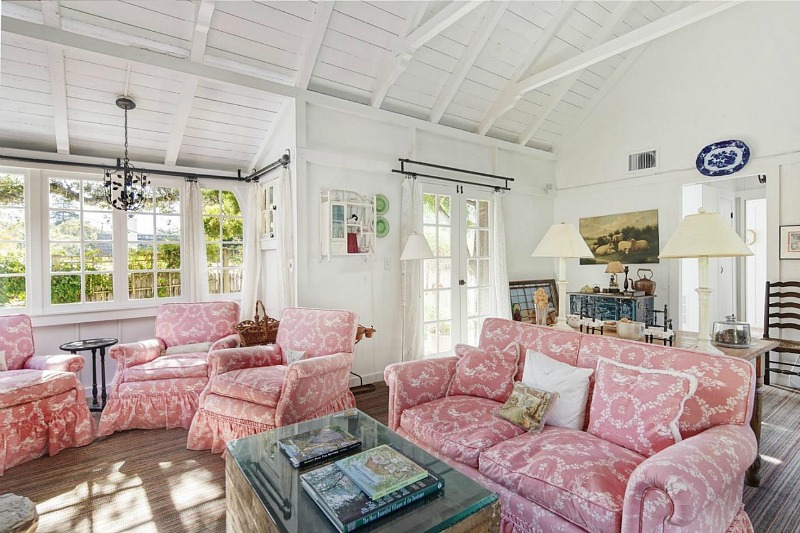 The Cottage Kitchen: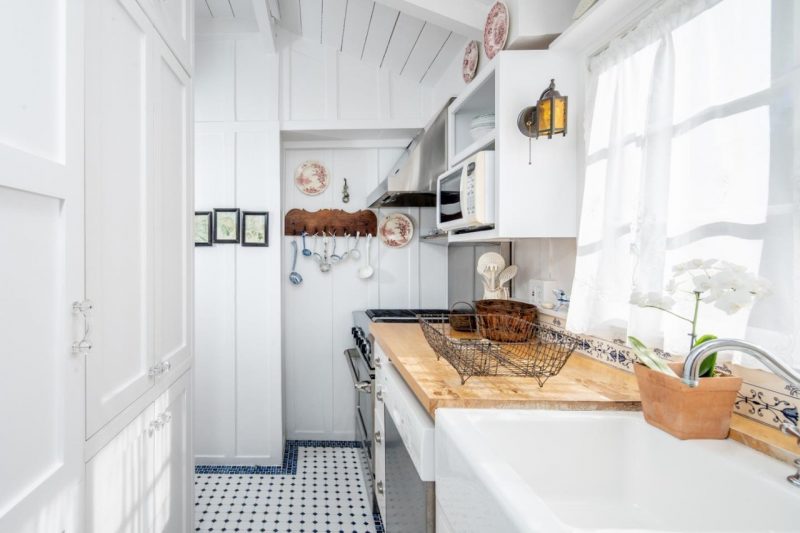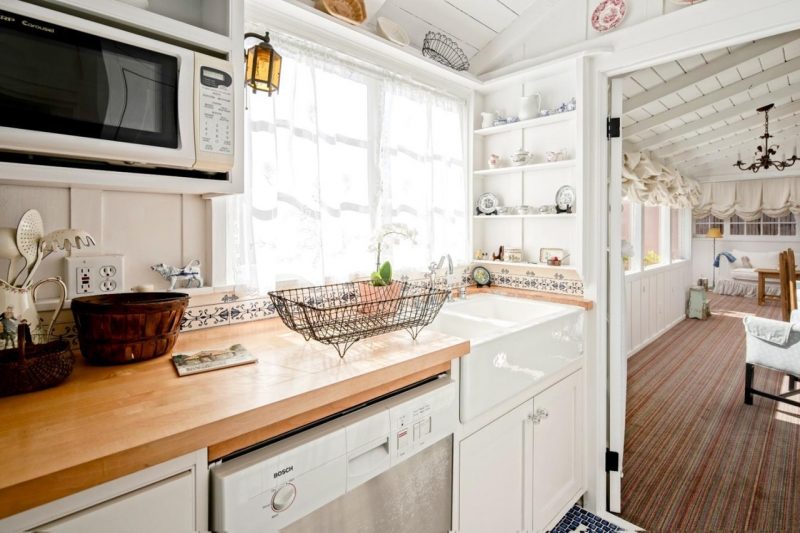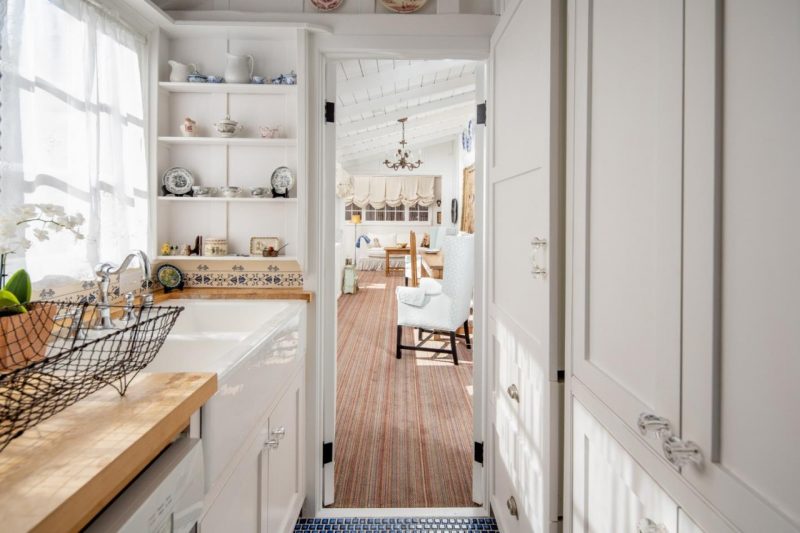 If I had to guess, the long room below was the extension/addition built in the 1950s
to connect the main house to the guest cottage in back.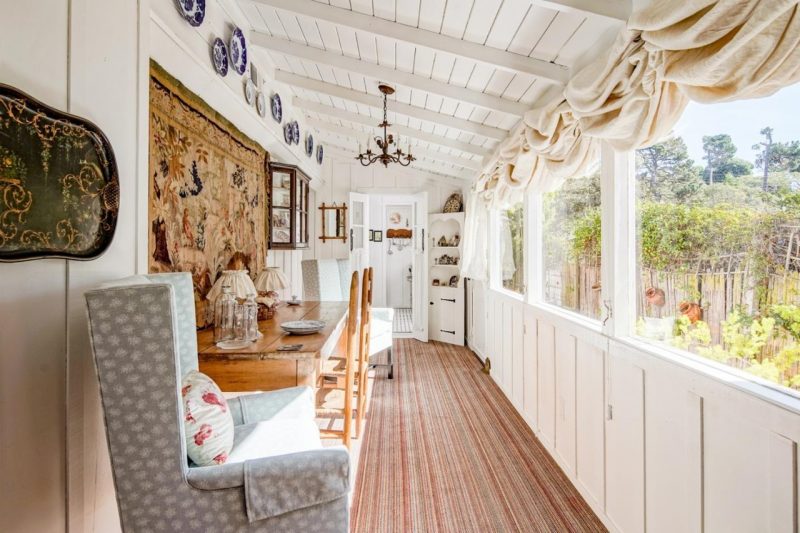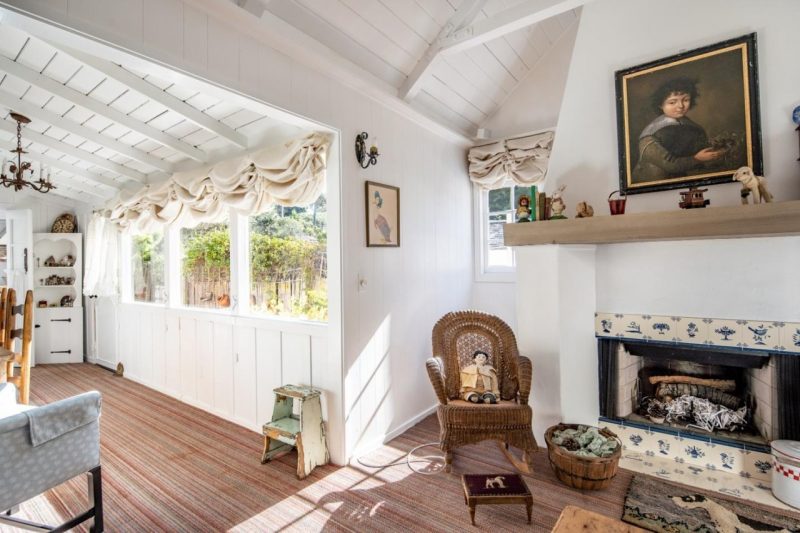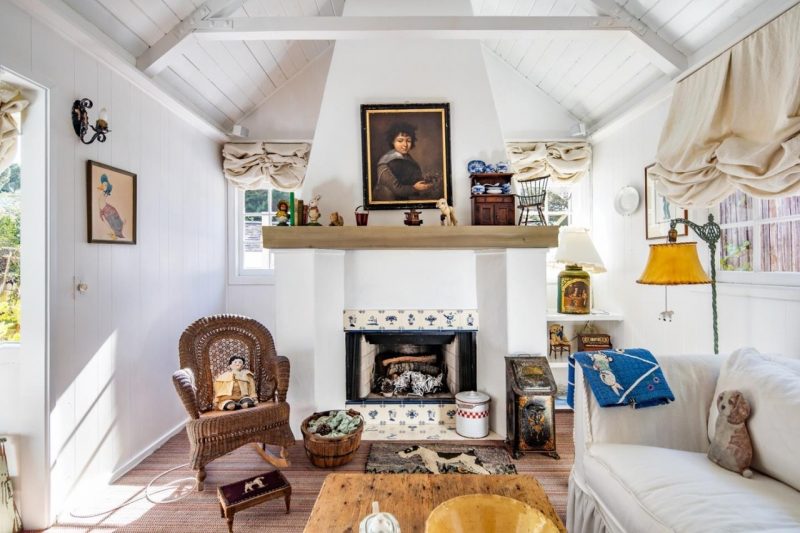 The cottage has 2 bedrooms + 2 baths, with 1,229 square feet.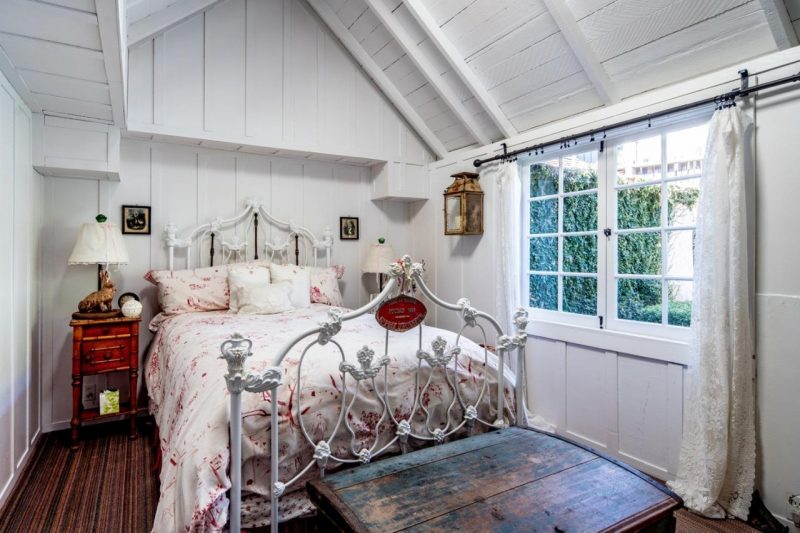 The listing says:
"You will be utterly delighted by this enchanting storybook cottage! Secluded behind a charming grape stake fence & beautiful rose gardens you'll discover this magical place. It is the epitome of old world charm & character.
"It is the 5th cottage built by the legendary Hugh Comstock & considered to be one of his most delightful homes.
"A walk through the cottage is like unwrapping a treasure from a bygone era from it's original Carmel stone fireplace with its niches, the picture pane windows, cozy alcoves, high pitched rooflines, hand carved heart shutters & so much more.
"There are many wonderful iconic details of this home that point out the iconic details to the Comstock legacy and architecture that are bewitching. Come fall in love!"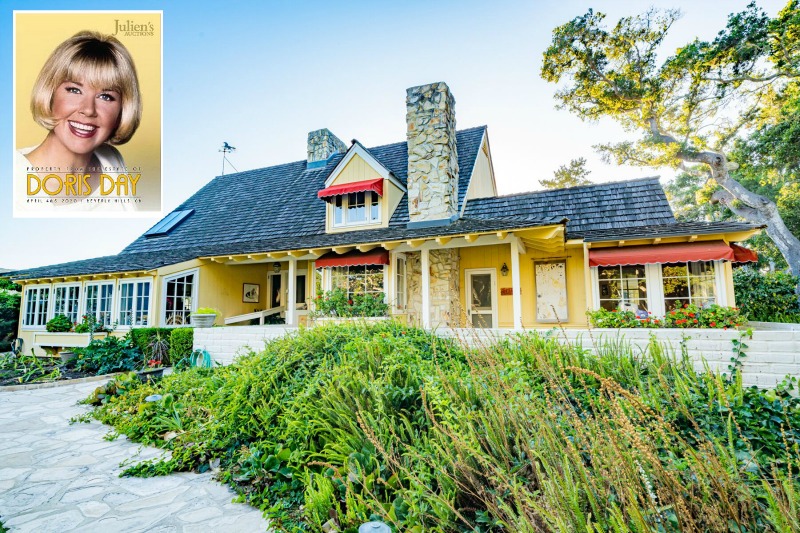 Gael Gallagher, a local area guide and naturalist, says:
"People like Carmel's quaintness and I think part of that is its architecture. The lots are small, and even if it's not a Comstock, it's still a little cottage. It's small-town America in a very delightful way, on a sloping hill to the ocean. It's a happy place, a place to get out of your head and go into your own fairy tale. All is right with the world in Carmel-by-the Sea."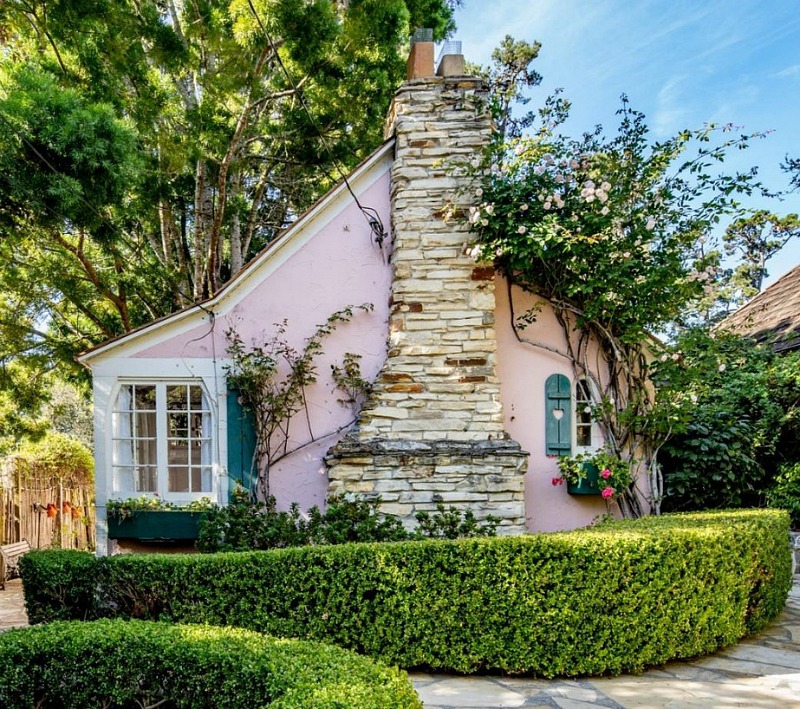 They're asking $1.75 million for the cottage, which gives you an idea of how much demand there is for houses like this in Carmel.
Thanks to Lisa Steiny and Doug Steiny of Sotheby's International Realty for providing the photos and information. Photography credit: Wayne Capelli.
If you have a listing you think my readers would like to see, send it to me! Check my Real Estate page to see the kinds of houses that are popular on the blog right now.
For more information about "Our House" cottage at

Visit my Cottages page to see more I've featured, including