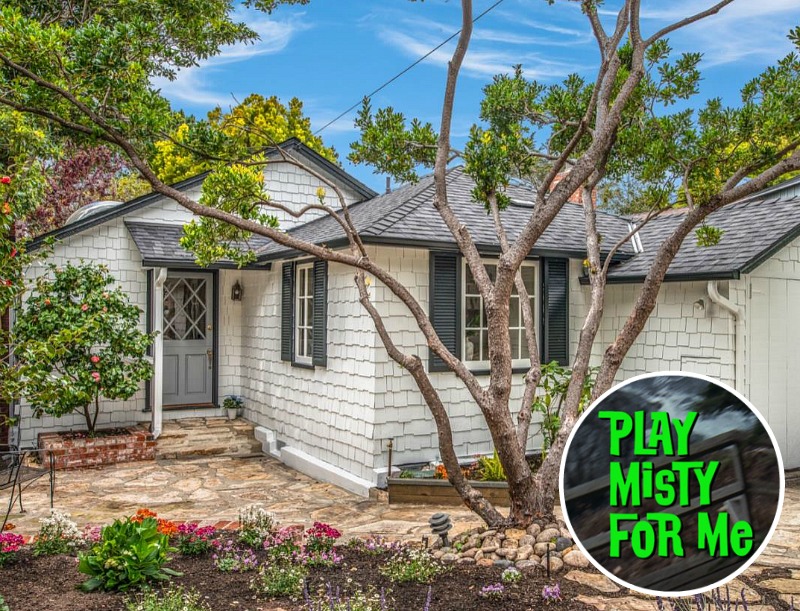 This charming cottage in Carmel, California, is on the market for the first time in 20 years. Its claim to fame is an appearance it made in the 1971 thriller Play Misty for Me, starring Clint Eastwood as a DJ named Dave. Unfortunately for Dave, he has a female fan who becomes just a little too eager to get close to him (that's an understatement, ha).
It's not cheap to buy a house in Carmel (another understatement!), which is famous for cute little cottages like this one. The asking price is $1.895 million, but it won't be on the market for long, I imagine.
Eastwood's house in the movie was on the market recently, too. Take a look!
Note: There are Amazon affiliate links in this post.

The Carmel Cottage from "Play Misty for Me"
The listing says:
Bright and cheery is this ideally located cottage in the highly coveted Golden Rectangle. Set back on a quiet street just 300 steps to Carmel Beach or a short stroll to town, the home features two bedrooms, two bathrooms, family room, dining room and a living room with open ceilings, skylights, two wood burning fireplaces and vibrant oak floors.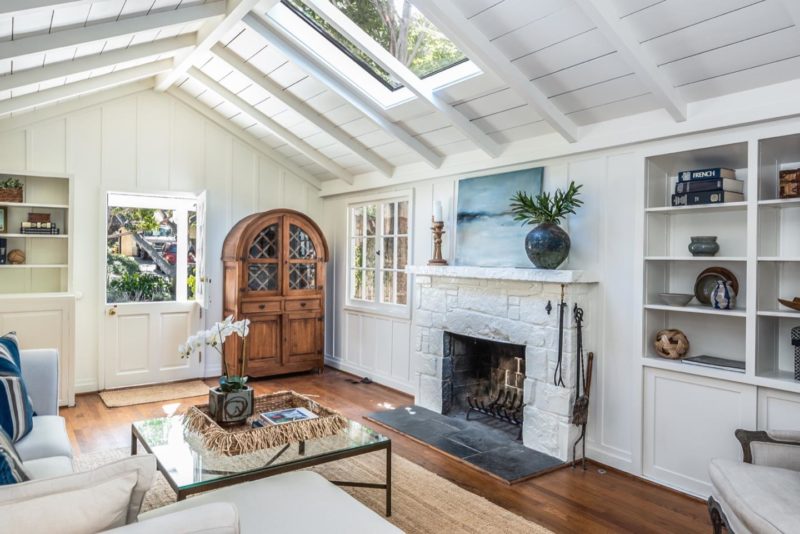 In this shot from the movie you can see Clint Eastwood and his stalker Evelyn,
played by Jessica Walter, in her cottage living room: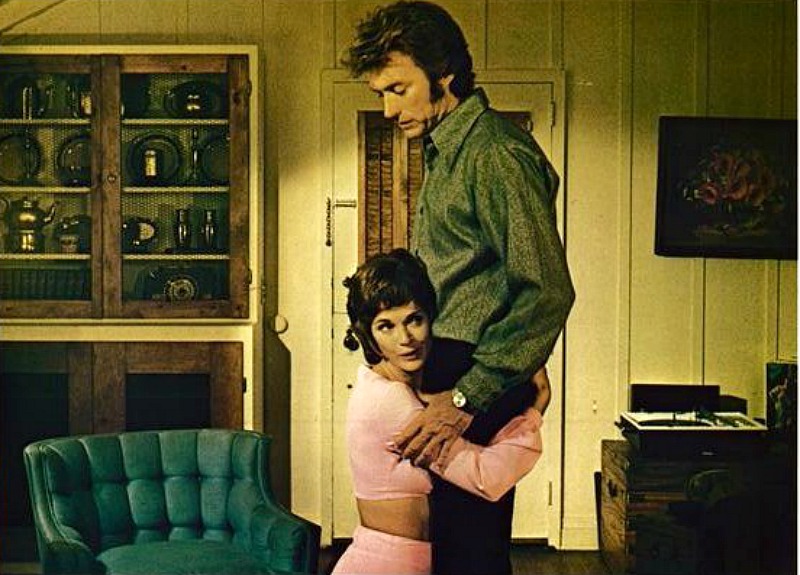 Jessica Walter was nominated for a Golden Globe for her performance as Evelyn.
These days she's better known for her role as Lucille Bluth in "Arrested Development:"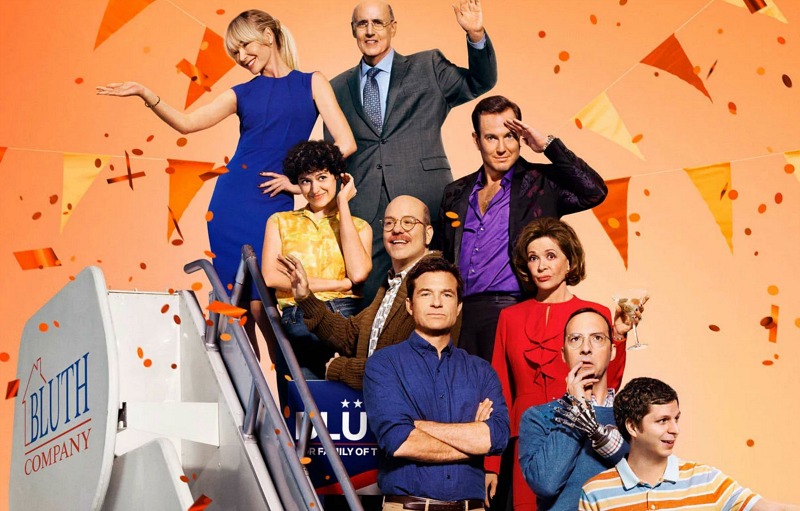 The cottage may be small, but it feels open and and airy with the
raised ceilings, skylights, and white board-and-batten walls: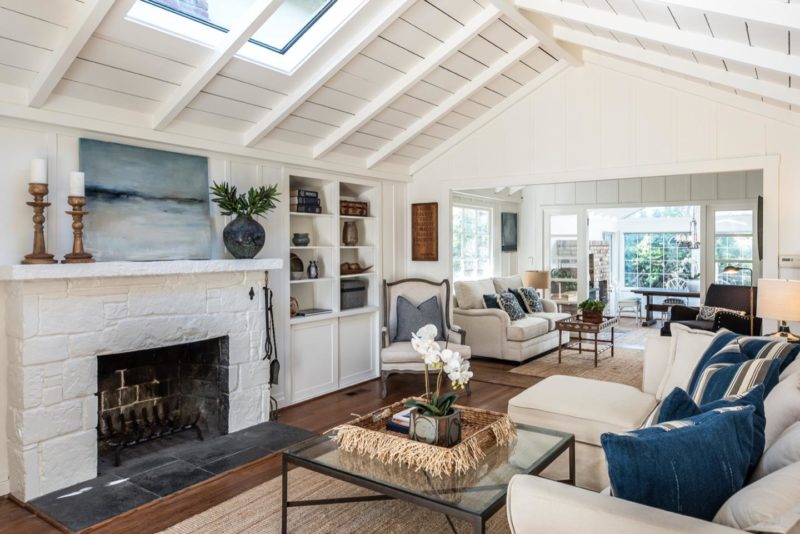 The simple blue and white decor keeps things beachy and fresh, too.
The listing acknowledges that the kitchen may need some updating, but even it has charming details:
The cottage has 2 bedrooms, 2 baths, + 1,335 square feet.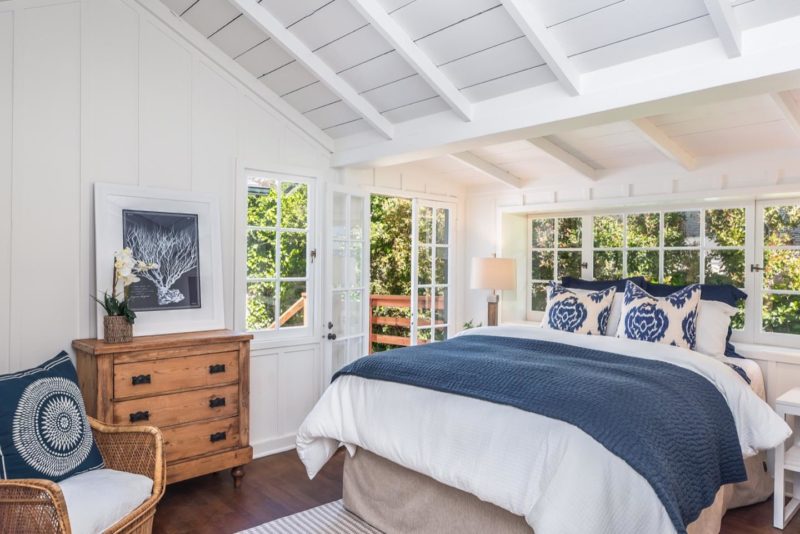 With a price tag of $1.895 million, that means it's $1,419/square foot. Whew.
That's why they always say "location, location, location!"
One of my favorite spaces is this sunroom at the back of the cottage:
The movie featured two popular songs from the 1970s: Erroll Garner's Misty, which Evelyn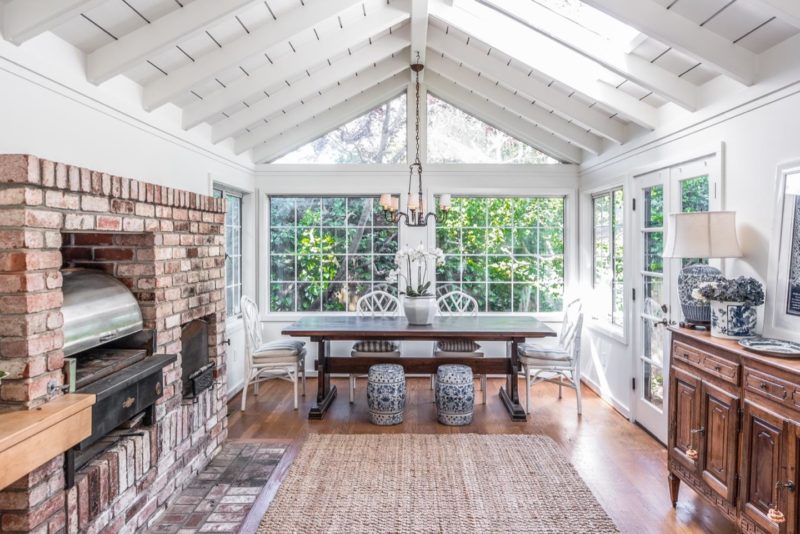 Some fun facts about Carmel-by-the-Sea in California:
The municipal code of Carmel bans wearing high-heeled shoes without a permit.
There are no street addresses, so the names of cottages are usually given, such as "Hansel" or "Sea Urchin."
It's considered bad luck to change the name of a Carmel cottage.
There are no parking meters, street lights, or sidewalks outside of downtown Carmel.
There are no chain restaurants or fast-food places in town.
Ice cream was not permitted to be sold or eaten on public streets until the law was overturned in the 1980s.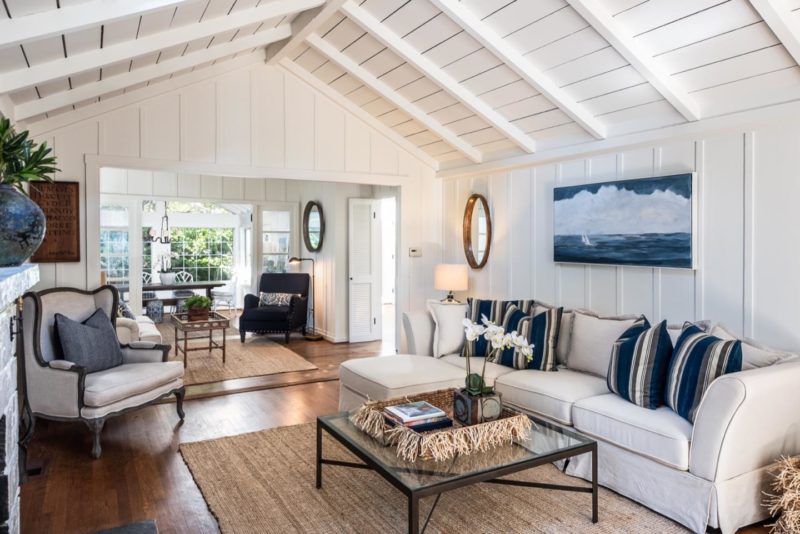 French doors in the sunroom lead to the brick patio:
This is how close it is to the ocean:
I found Play Misty for Me streaming on Amazon (affiliate link):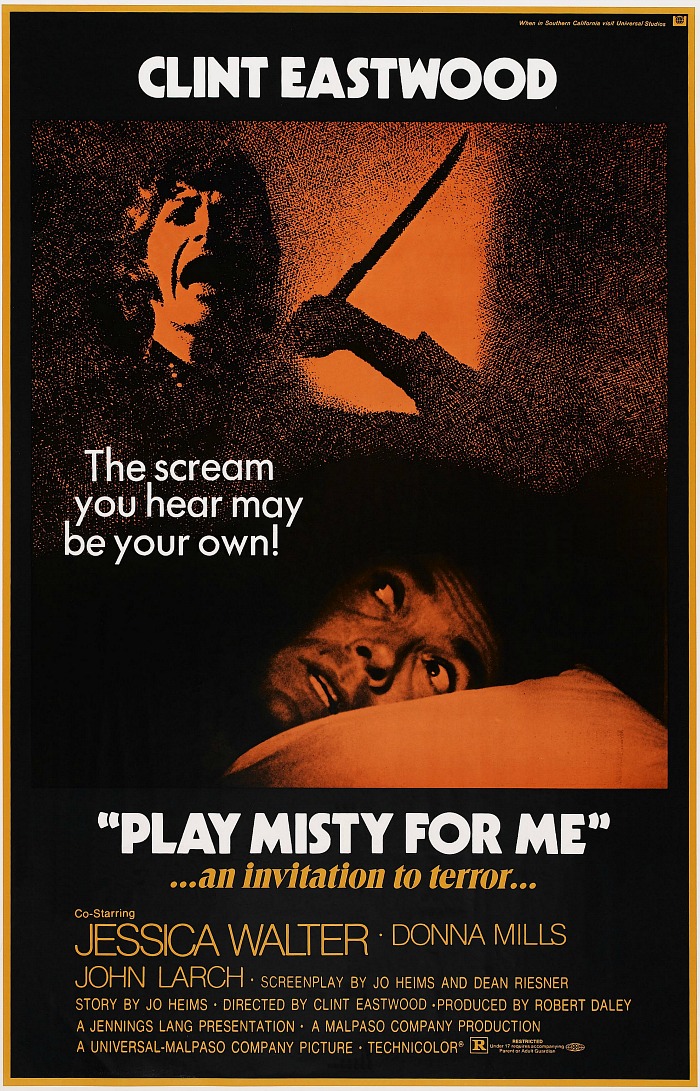 Yikes. Watch it if you dare to accept the "invitation to terror." 😉
Donna Mills played Dave's girlfriend Tobie in the movie: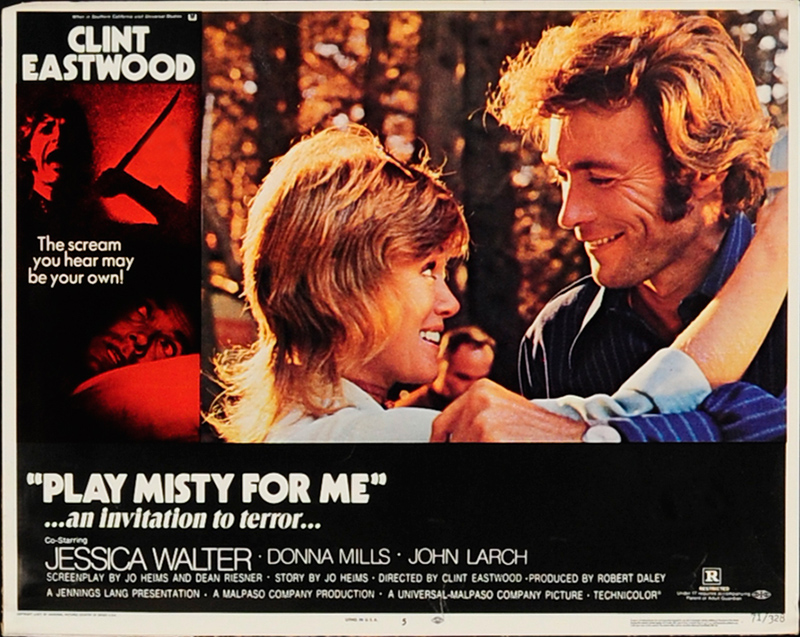 Evelyn did not approve…

Ten years later Mills was cast as Abby Ewing on "Knots Landing."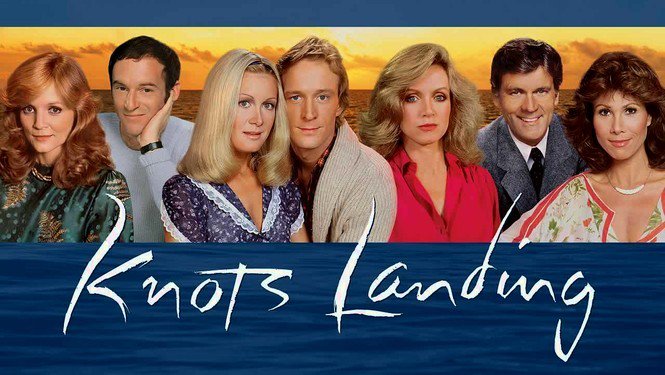 Clint Eastwood's house from the movie went on the market recently, too:
That one sold for $8.75 million last year.
According to the listing for 162 Spendrift:
Perched on the cliff above the wild and beautiful Carmel coast, this 1.25-acre compound features a completely remodeled three-bedroom, three-bath residence and one-bedroom guest house. From the living room, kitchen, and two of the bedrooms, you can see the ocean in all of its moods. The turquoise and blue water crashing on the rocks below add drama to this serene property, which is completely fenced and private.
"Contemporary in style but warm in atmosphere, there are fireplaces in both the main residence and the guest house with a chefs "galley style" kitchen in the main residence. A truly unique and beautiful property in a very exclusive part of the Carmel coast. There are few homes that afford this kind of view and setting this close to the ocean!"
It had some pretty incredible views.
If you saw the movie, you probably remember this back deck:
Note: a reader says she thinks this actually may have been Tobie's house in the movie and not Dave's as was reported on the various filming location sites I found. I'm not sure but wanted to mention it just in case! 🙂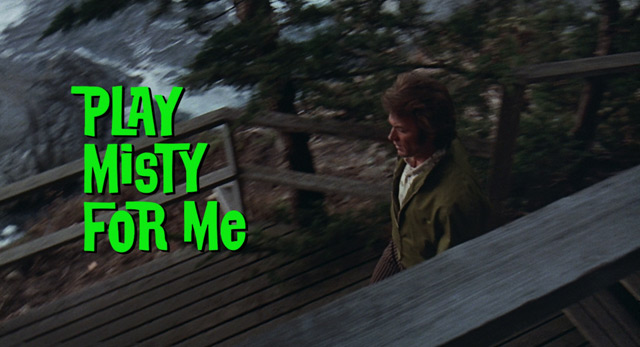 The movie is notable for being Clint Eastwood's directorial debut.
It was supposed to take place in L.A. but he moved much of the filming
to his hometown of Carmel, where he later became mayor for one term in the 1980s.
For more information: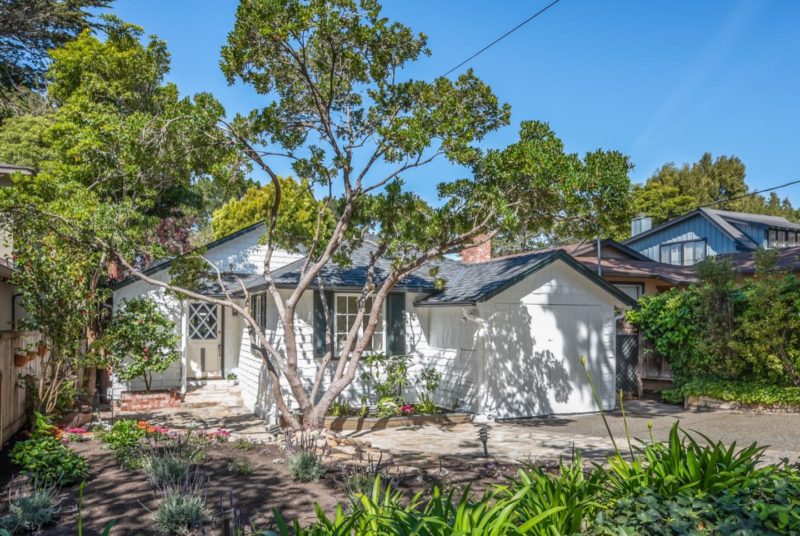 I had never seen Play Misty for Me, so I looked up clips of it online and came across one on YouTube that inserted a laugh track into the movie that turned it into a "comedy." Pretty funny.
I hope you'll join the conversations about posts like this on my Facebook and Instagram pages. Be sure to sign up for my newsletter, too, so you don't miss anything! 🙂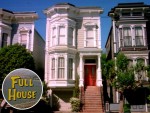 The family-favorite sitcom "Full House" hit airwaves back in 1987 with this shot of the iconic Victorian where the Tanner clan lived. It became such…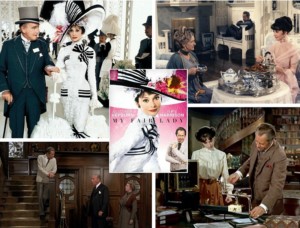 I recently had the chance to see the classic Audrey Hepburn-Rex Harrison musical My Fair Lady in our local movie theater, and I fell in love with…