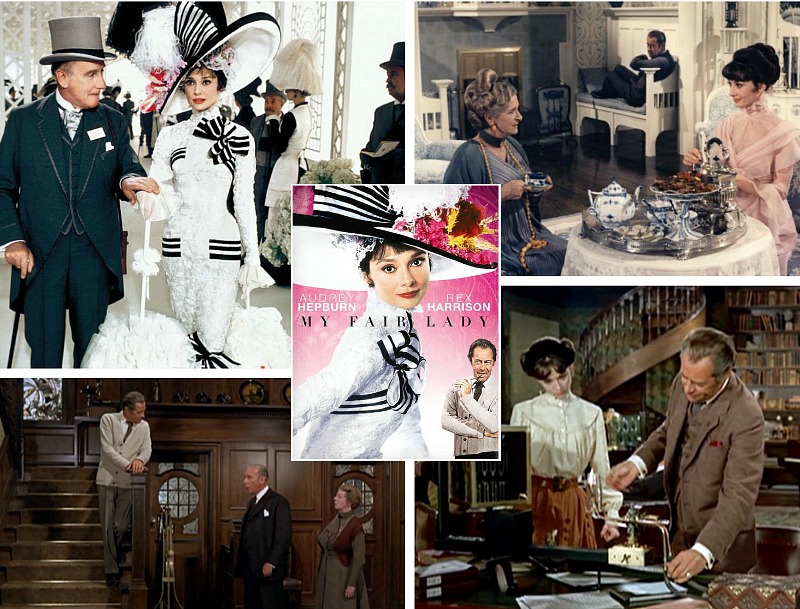 I recently had the chance to see the classic Audrey Hepburn-Rex Harrison musical My Fair Lady in our local movie theater, and I fell in love with it all over again. It had been years since I'd seen it, and I was surprised to realize I still remembered most of the words to the songs. Amazing how tunes like Wouldn't It Be Loverly, I Could Have Danced All Night, and Get Me to the Church on Time stick with you.
What really made an impression on me while watching it on the big screen was how fabulous the sets were. By the intermission I knew I was going to have to start writing a post about them as soon as I got home!
The movie, about a poor Cockney flower seller named Eliza Doolittle who hires pompous phonetics professor Henry Higgins to help her improve her speech, premiered in 1964. Let's take a look back at beautifully designed houses in the musical, starting with Henry's traditional townhouse on Wimpole Street.
*Note: There are Amazon affiliate links in this post that may earn me commission.

The Sets from "My Fair Lady"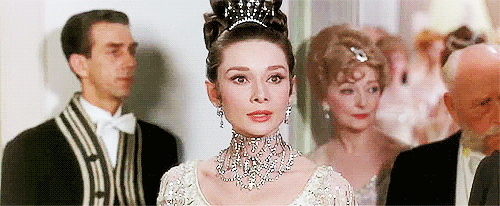 My Fair Lady filmed entirely on sound stages in Hollywood, including outdoor scenes.
The DVD has special features showing how they made the movie, starting with detailed models of the sets: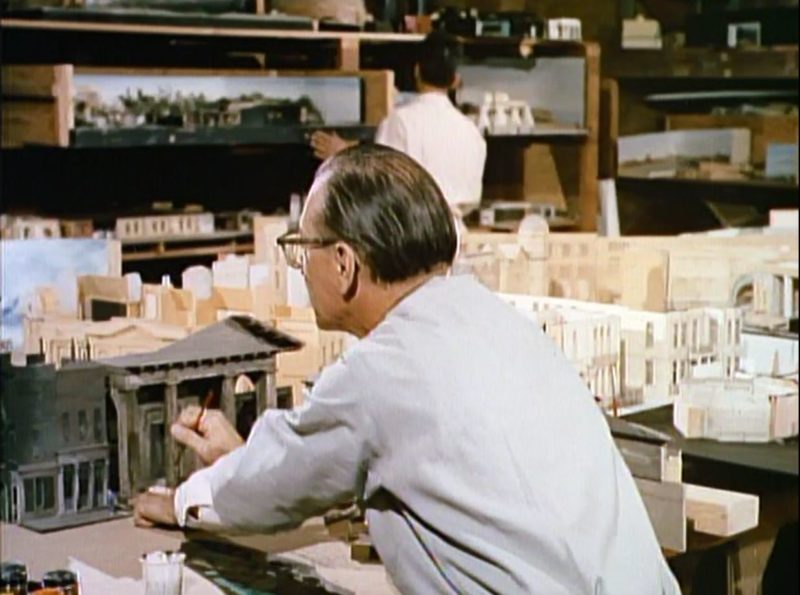 There was reportedly a nearly unlimited budget allotted for the sets on this film.
Much of the action takes place inside Henry Higgins' townhouse, 27A Wimpole Street: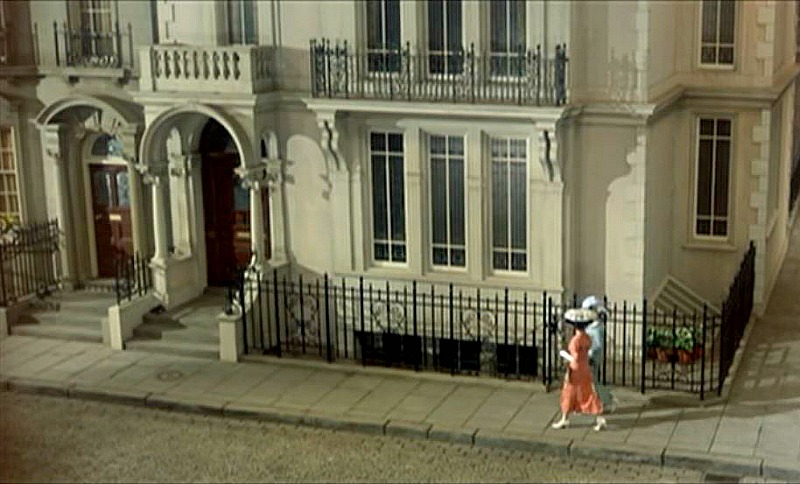 There's no 27A Wimpole, but there is a real 27 Wimpole Street in Marylebone.
The Telegraph wrote an article about the house on Wimpole Street that inspired the one in Pygmalion, the 1913 George Bernard Shaw play My Fair Lady was based on. A linguistics professor named Horace Wilson lived in a 6-story, 8,500-square-foot Georgian townhouse.
You can see how it looked when it was on the market in 2016 for £14.95 million.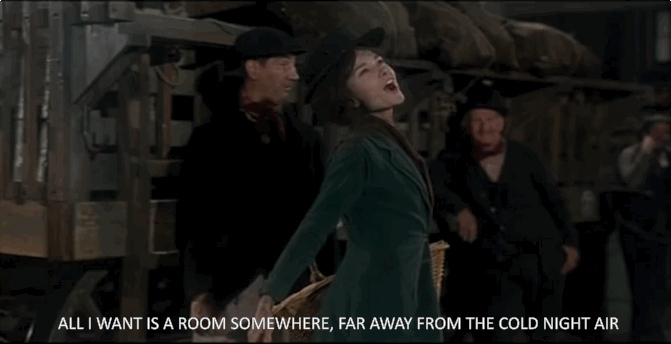 The main real-life academic "model" for Higgins was a crotchety early 20th century Oxford professor of phonetics named Henry Sweet – name-checked in the preface to Pygmalion, written in 1913.
But the basis of Higgins' grand lifestyle and home was Prof Wilson of Wimpole Street and his surroundings. He was such an eminent academic in his own right that Shaw would have been well aware of him, and where he lived.
The property is dotted with ornate ceiling mouldings and cornices, marble flooring, and Georgian fireplaces. There are two courtyards which fill the six-floor late-Georgian Grade II listed house with light in every room, and an extra 1,520 sq ft two-bedroom mews house at the end of the garden, handy for housing any Eliza Doolittle types."
Back to the movie version of Henry Higgins' House, which was built on the Warner Bros. backlot: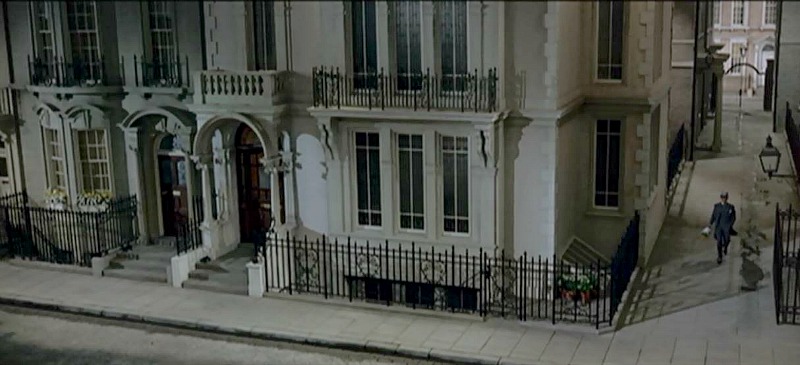 The Entry Hall of Higgins' house at 27A Wimpole Street: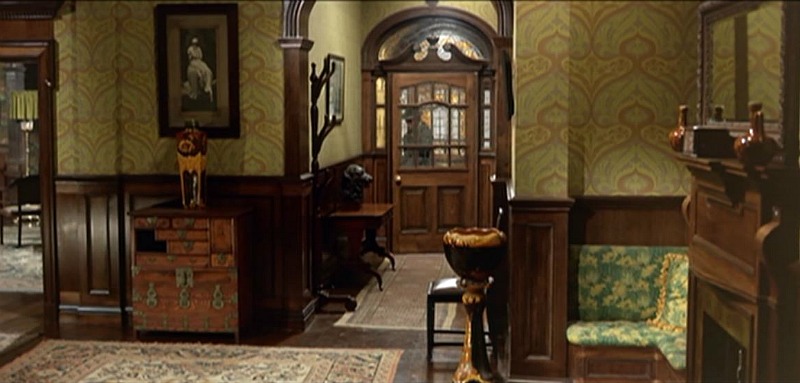 It was the most realistic set in the film. Other locations are a little more fanciful,
"suggesting" the backgrounds of the settings, such as during the Ascot Races.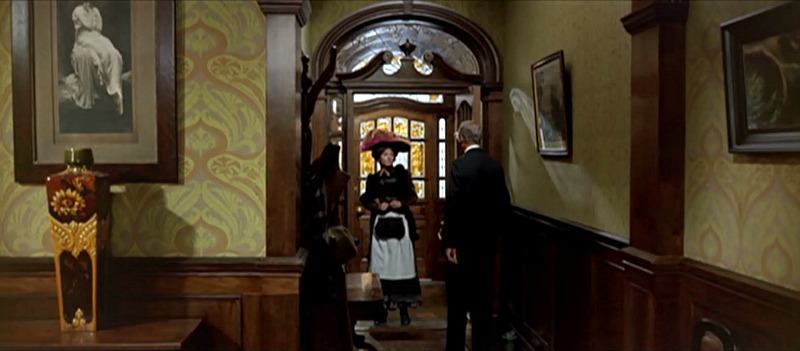 The wallpaper in his townhouse was specially designed for the movie.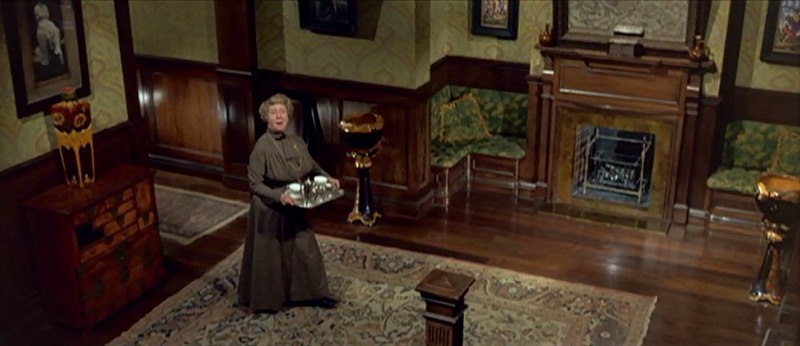 Eliza's Practice Room: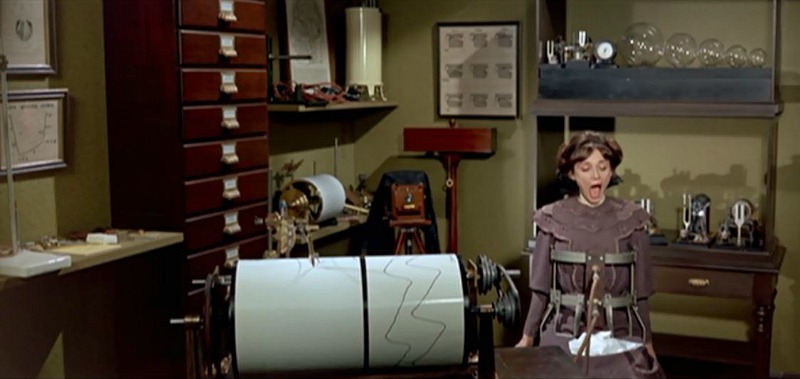 My Fair Lady is the best and most unlikely of musicals, during which I cannot decide if I am happier when the characters are talking or when they are singing. The songs are literate and beloved; some romantic, some comic, some nonsense, some surprisingly philosophical, every single one wonderful. –Roger Ebert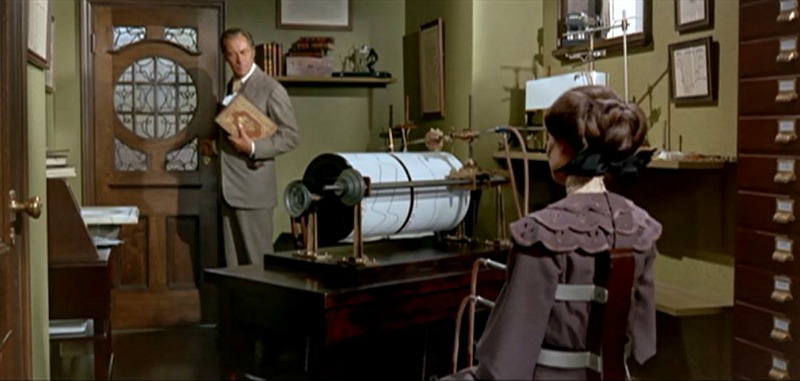 The Staircase: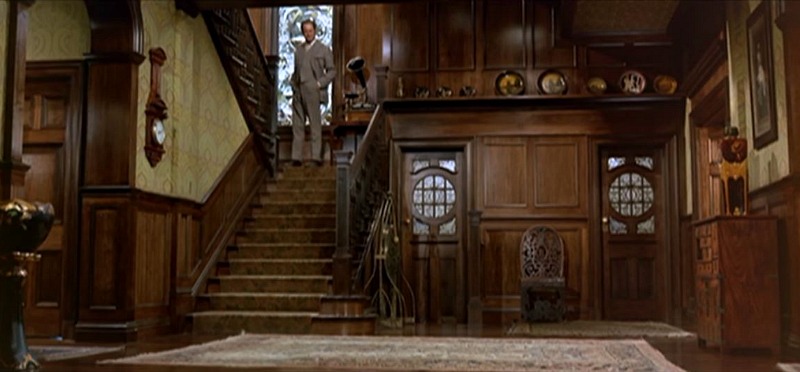 The woodwork is dark and masculine, which suited the character of a life-long bachelor like Higgins.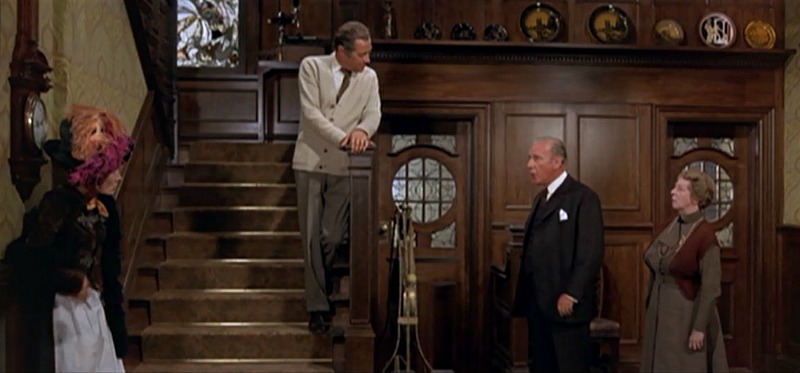 They say that when Hepburn came down the stairs for the first time wearing
Eliza's stunning white gown for the ball, the cast and crew applauded.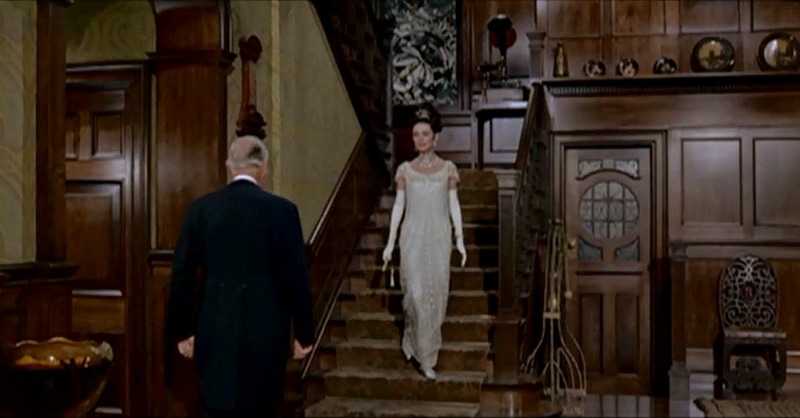 Although Cecil Beaton is credited as the Production Designer as well as Costume Designer,
he reportedly only designed the clothes and had no part in the actual designs of the sets.
Gene Allen is considered to be the real, but uncredited, Production Designer for the film.
The sets get lighter on the upper floors where the servants (and Eliza) live,
with painted woodwork and more feminine wallpaper: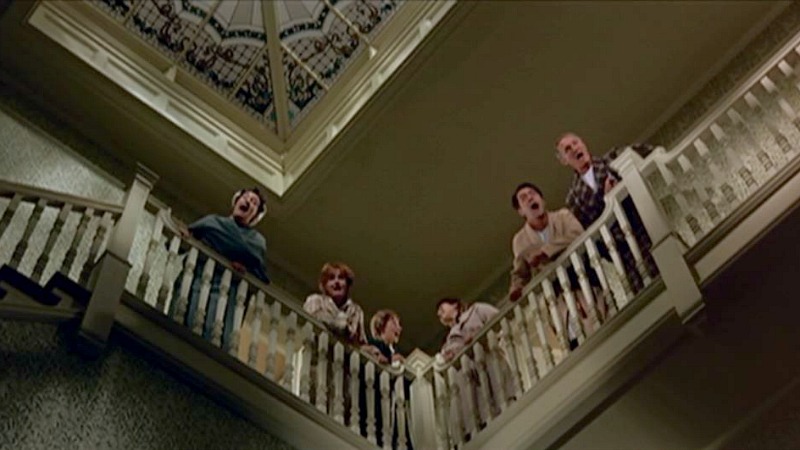 Eliza Doolittle's Bedroom: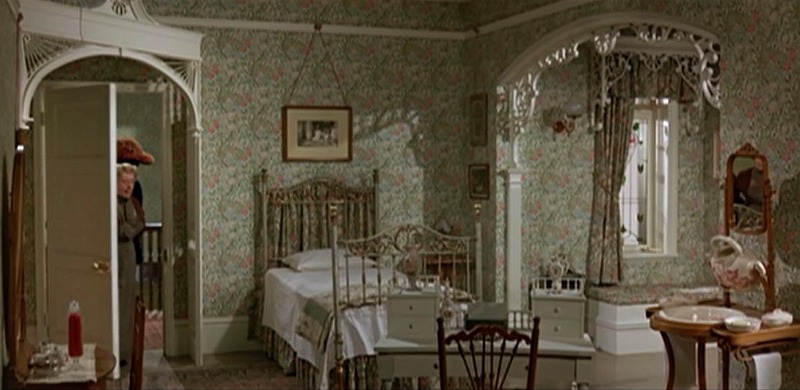 She could've danced all night…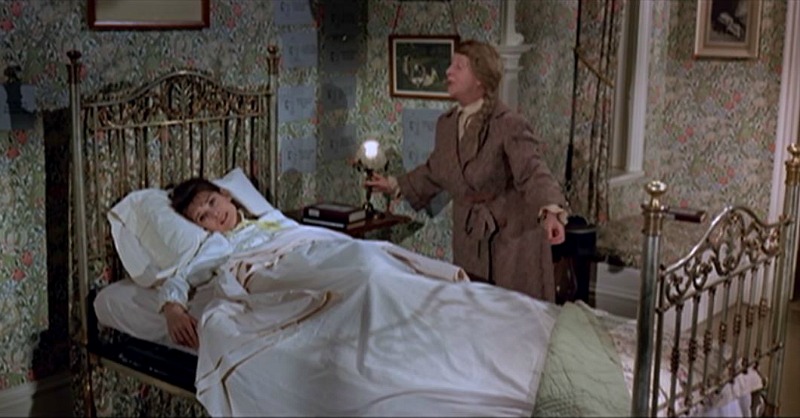 Eliza Doolittle's Bathroom: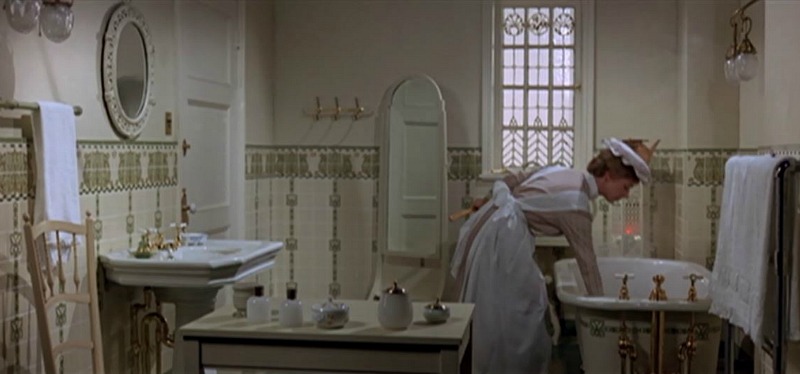 The shoot was so physically exhausting for Hepburn that she reportedly lost eight pounds during filming.
Director George Cukor had to shoot around her for a week so she could take a break and get her health back.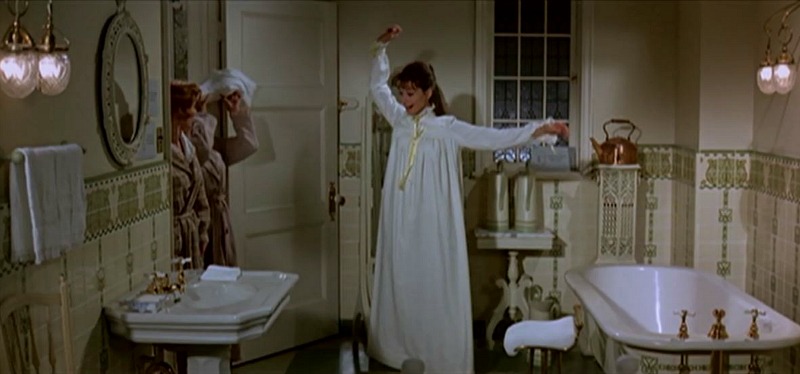 Henry Higgins' Two-Story Library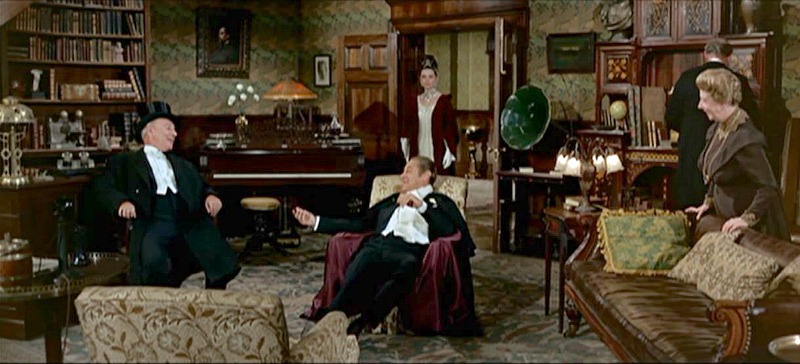 Julie Andrews played Eliza Doolittle on Broadway, and there was an outcry when Audrey Hepburn was cast
in the movie instead. Some fans still insist the movie would've been better with her as the lead.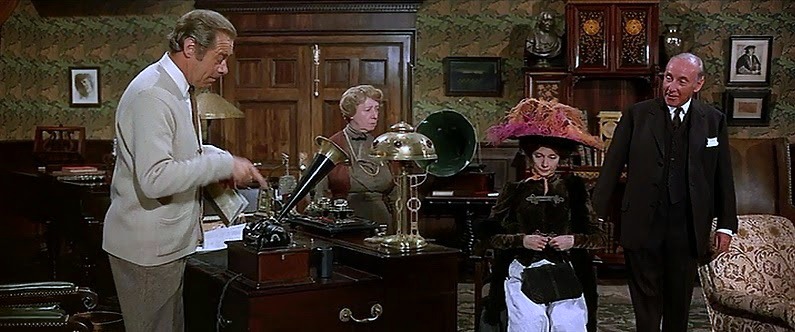 Rex Harrison didn't approve, either, saying Hepburn was miscast: "Eliza Doolittle is supposed to be ill at ease in European ballrooms. Bloody Audrey has never spent a day in her life out of European ballrooms."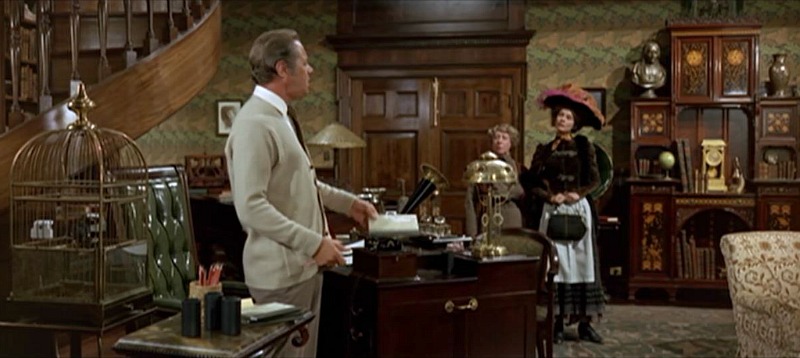 Despite the casting snub, Andrews got a bit of revenge by winning Best Actress at the 37th Academy Awards for Mary Poppins, whereas Hepburn wasn't even nominated My Fair Lady.
Despite his initial reservations about Hepburn being cast as Eliza instead of Julie Andrews, when Rex Harrison
accepted the Academy Award for his role as Henry Higgins, he dedicated it to his "two fair ladies."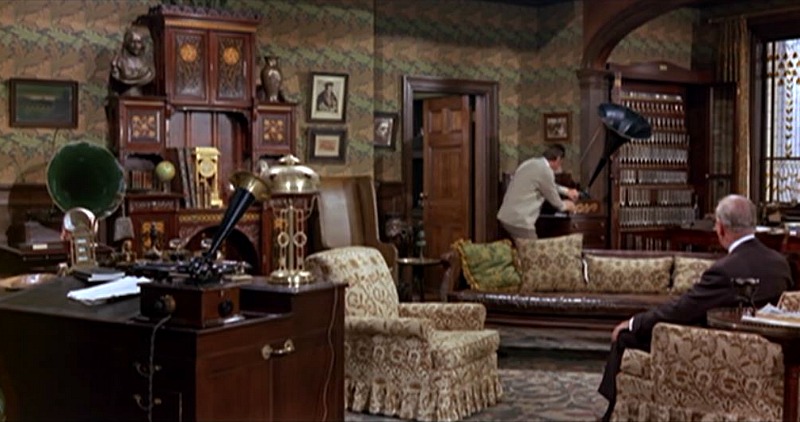 According to IMDb, Hepburn's voice may have been dubbed, but she did sing a bit in the movie:
Most of Audrey Hepburn's singing was dubbed by Marni Nixon, despite Hepburn's lengthy vocal preparation for the role. A dubber was required because Eliza Doolittle's songs were not transposed down to accommodate Hepburn's "low-mezzo voice" (as Nixon referred to it).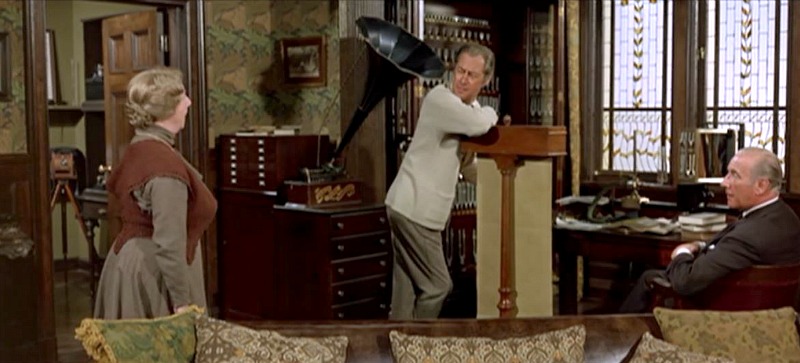 "Hepburn sang most of "Just You Wait", as well as the reprise to the song, herself, showcasing her ability to sing perfectly at ease when the songs were set in a reasonable tessitura. Audrey also sang one or two lines, elsewhere in the score, such as 'Sleep, sleep, I couldn't sleep tonight!' in "I Could Have Danced All Night."
"Thus, the claim that Nixon dubbed all of Hepburn's singing (as asserted by such people as syndicated columnist Hedda Hopper) is false."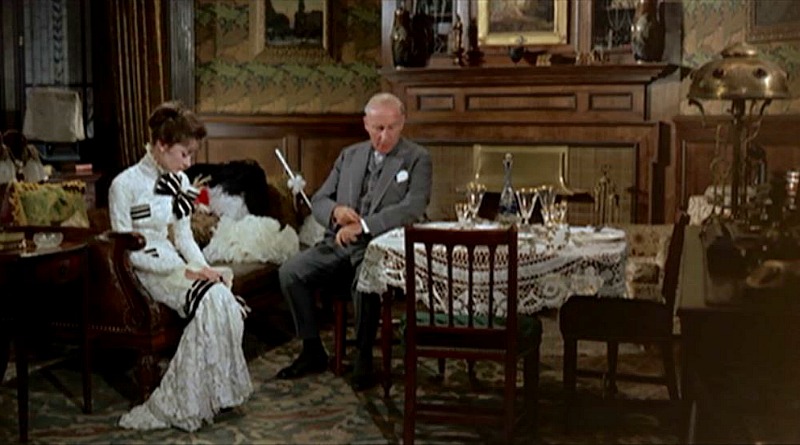 Hepburn later insisted she wouldn't have taken the role if she had known producer
Jack Warner was going to have most of her singing dubbed.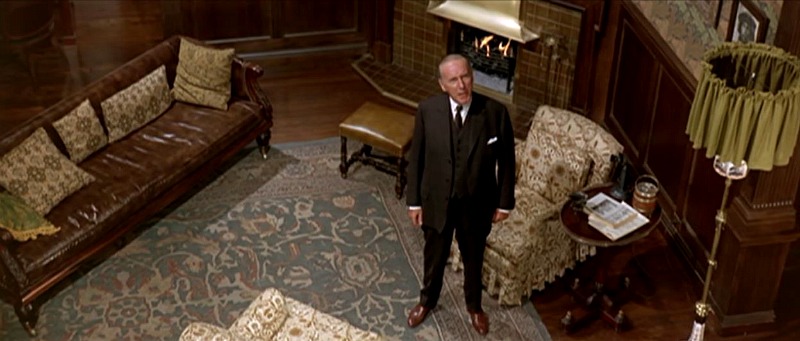 Wilfrid Hyde-White played Colonel Pickering, who is one of my favorite characters in My Fair Lady.
Oddly, after he leaves the house to find the missing Eliza, he's never seen onscreen again.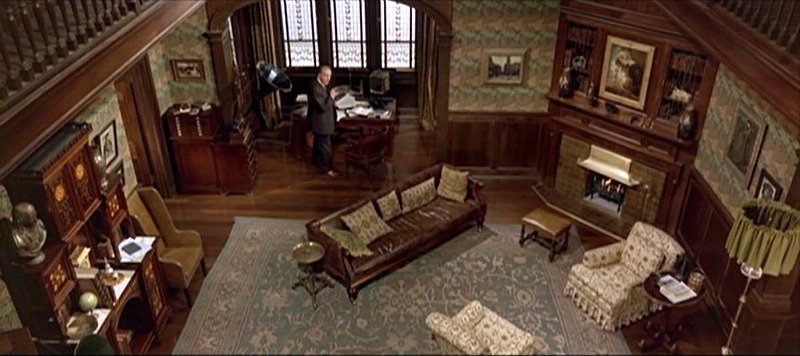 You can definitely see the similarities, spiral staircases and all: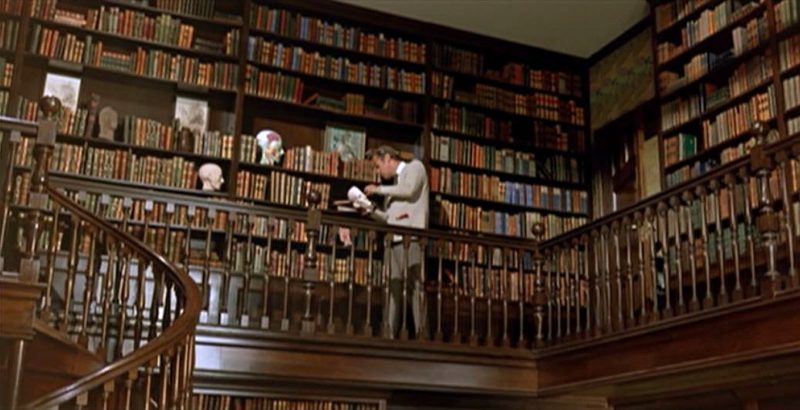 The marbles Henry put in Eliza's mouth were really just grapes,
but that scene always makes me nervous anyway: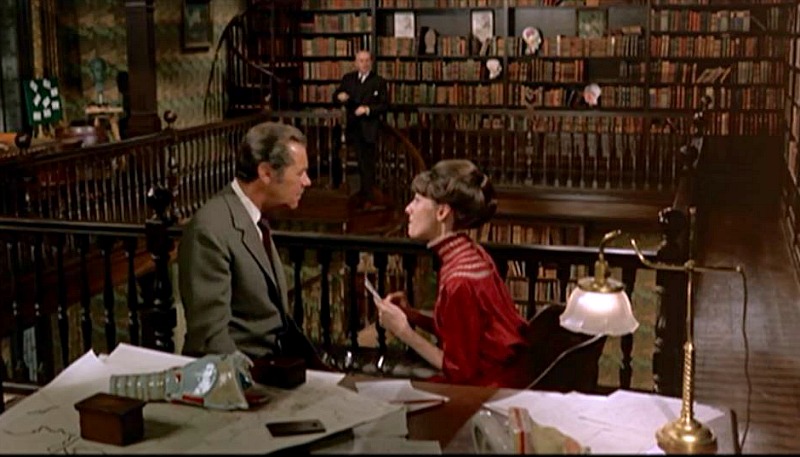 According to IMDb:
Musical theater writers Richard Rodgers and Oscar Hammerstein II had attempted to adapt George Bernard Shaw's "Pygmalion" as a musical long before Alan Jay Lerner and Frederick Loewe, but had abandoned the project as unadaptable. Rodgers and Hammerstein felt that Shaw's style of writing intellectual dialog and the emotionless character of Henry Higgins did not lend themselves to a musical.
Lerner and Lowe overcame these problems by leaving Shaw's dialogue largely intact, and working under the notion that Higgins must be played by a great actor, not a great singer. Thus, they wrote the role especially for Rex Harrison, and adopted the idea that Higgins should not sing outright, but talk on pitch, less an expression of emotions than ideas.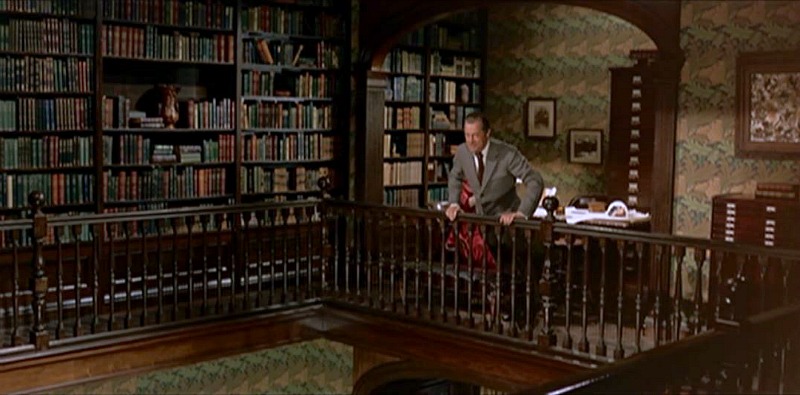 Eliza Doolittle was supposed to be 19, but Hepburn was 35 when she played her.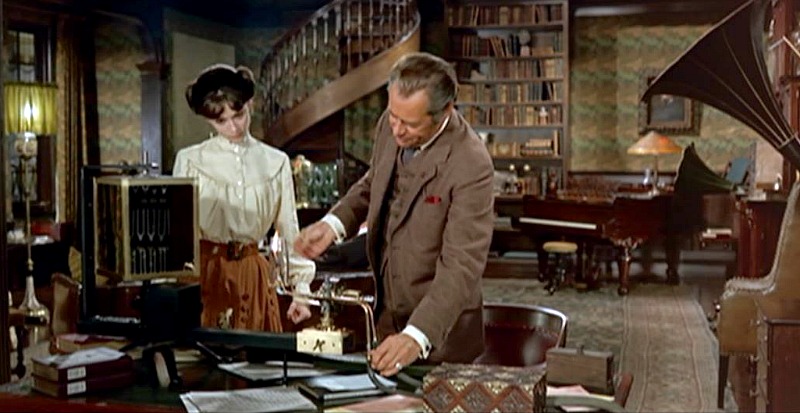 Here's a photo via the DVD Special Features taken behind the scenes during filming on the library set: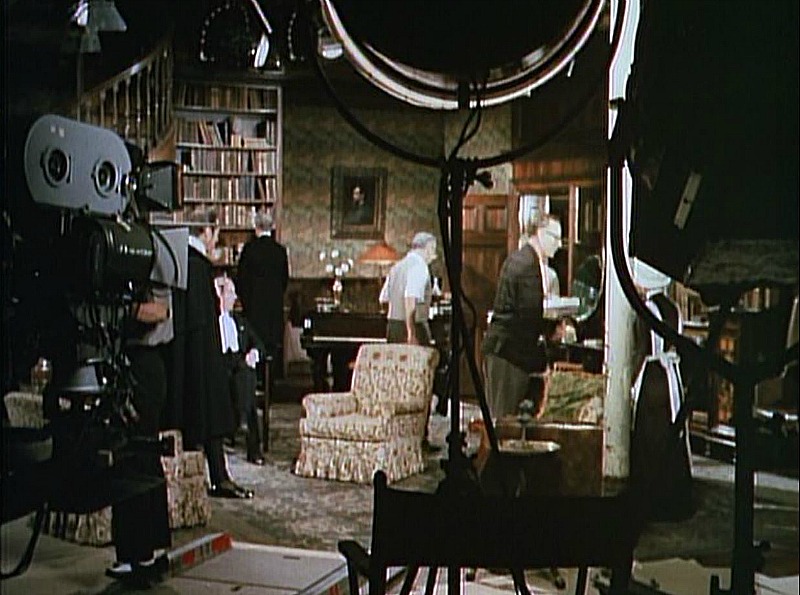 Mrs. Higgins' House: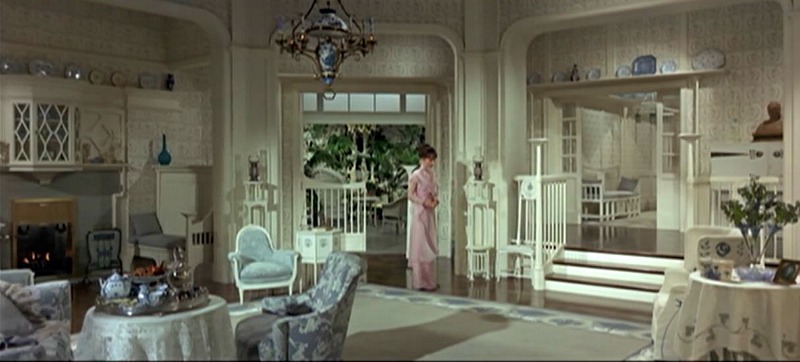 Henry's mother (Gladys Cooper) is never given a first name in the movie, and is credited as "Mrs. Higgins."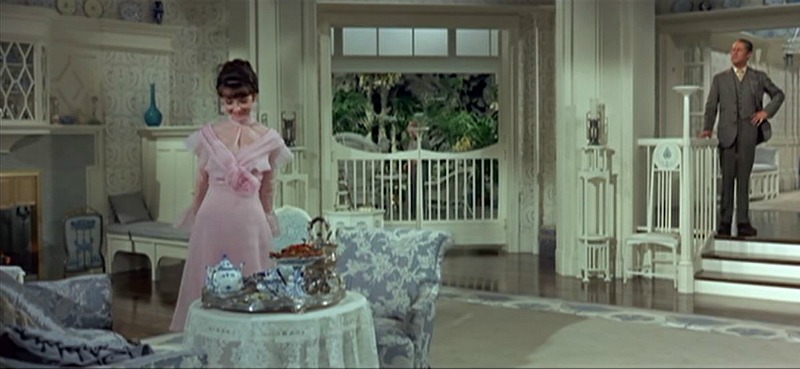 Her house is about as different from her son's as possible,
very light and feminine with soft blue accents and white painted woodwork.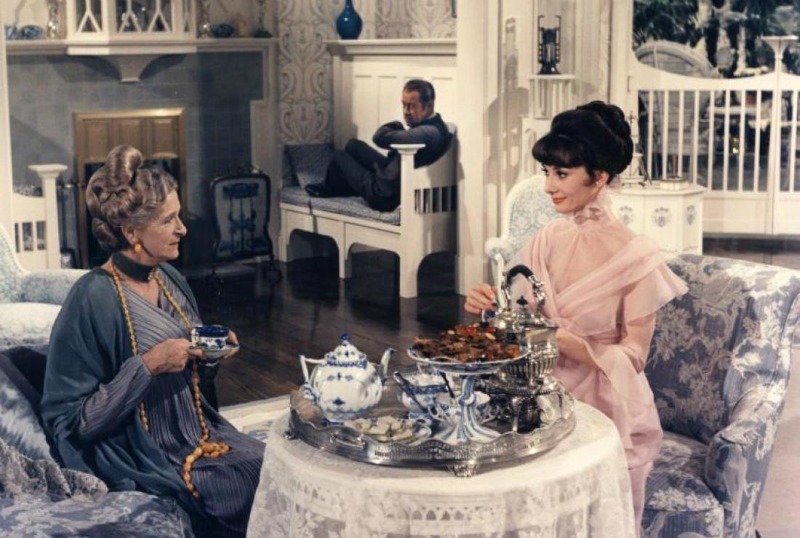 At $17 million, My Fair Lady was the most expensive Warner Brothers film produced
at the time, but it was also one of the highest grossing films of 1964.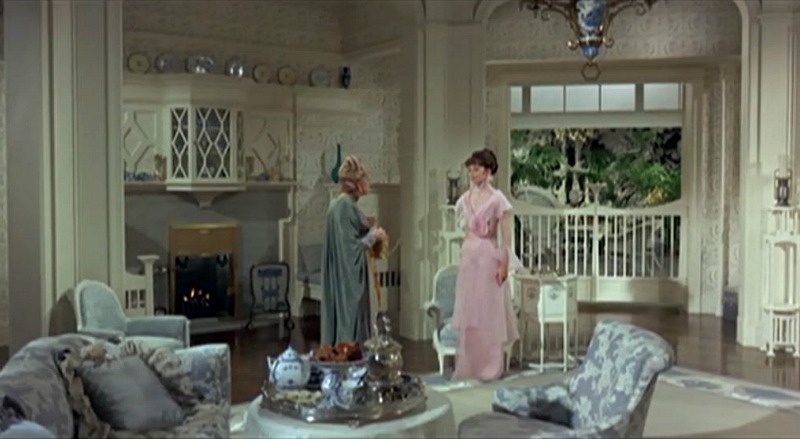 Costume Designer Cecil Beaton created 1,500 costumes for this movie.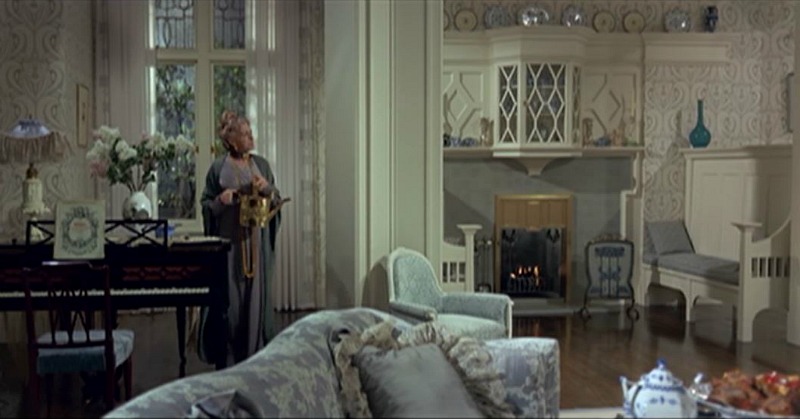 In the DVD Special Features they say the wardrobe and makeup areas required
for the film were "the largest in motion picture history:"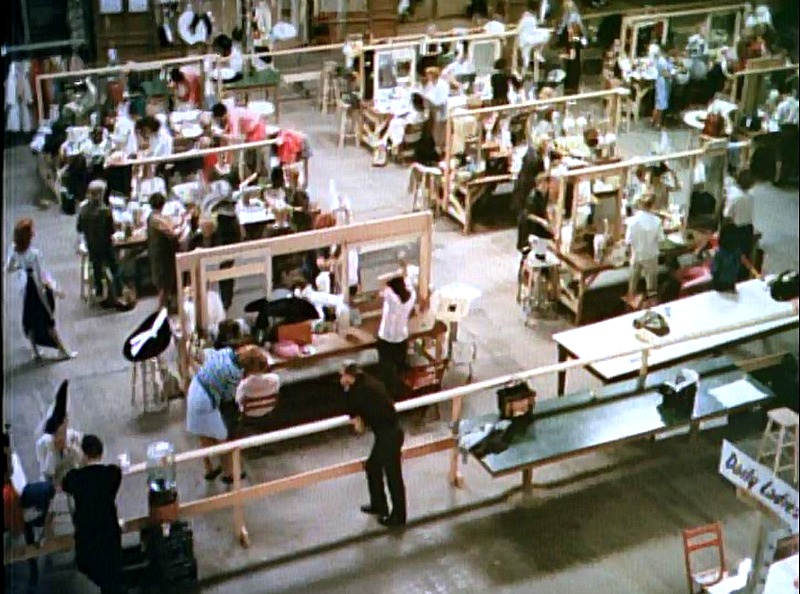 It took an entire soundstage to get the actors through hair and makeup before the Ascot race scenes,
in which they were all dressed in black, white, and shades of gray: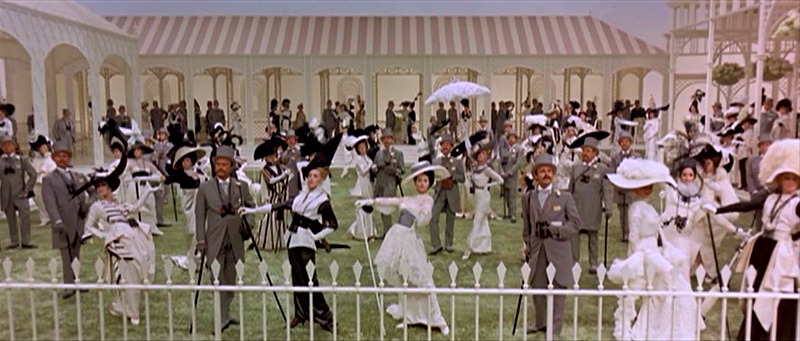 Many of the actors in the "Ascot Gavotte" scene also appeared in the "I'm Getting Married in the Morning" number.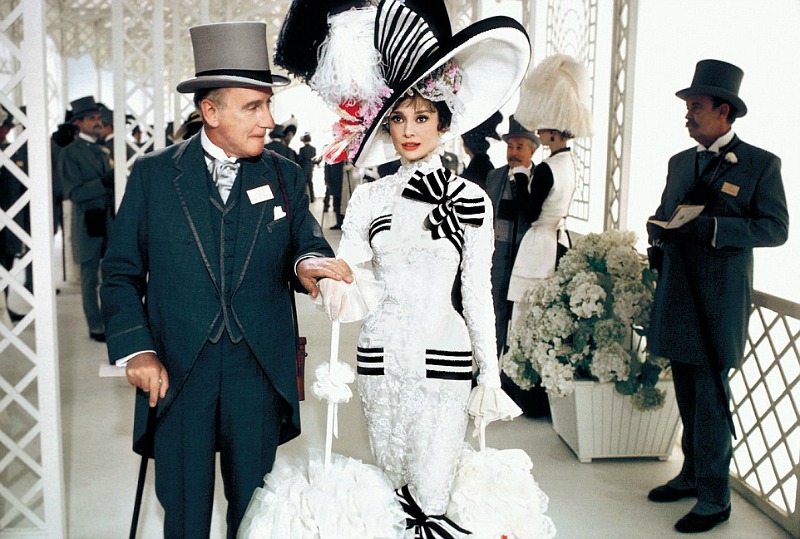 The ending isn't exactly romantic (no kiss!), and is actually a little problematic.
The last line in the film is when Henry barks at Eliza, "Where the Devil are my slippers?"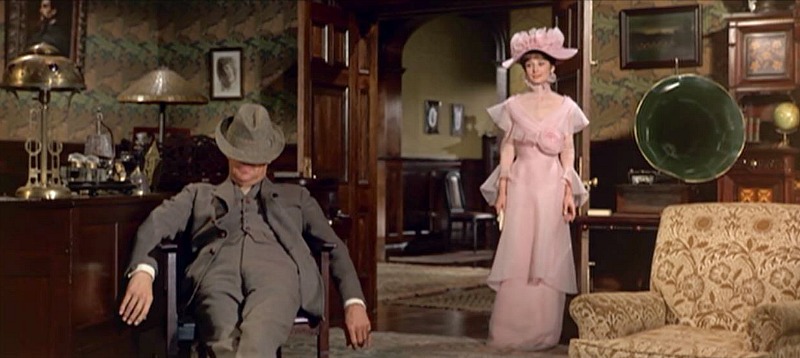 George Bernard Shaw, who wrote the original play "Pygmalion," which My Fair Lady was based on, insisted that Henry and Eliza would never fall in love or get married. He believed she should liberate herself from the men in her life, including both Higgins and her father.
In fact, he wrote that Eliza would've married Freddy eventually and opened a flower shop with funds from the kind-hearted Colonel Pickering.
For the 1938 film version of Pygmalion, Shaw compromised by having Eliza and Henry reconcile, but Eliza still leaves to marry Freddy.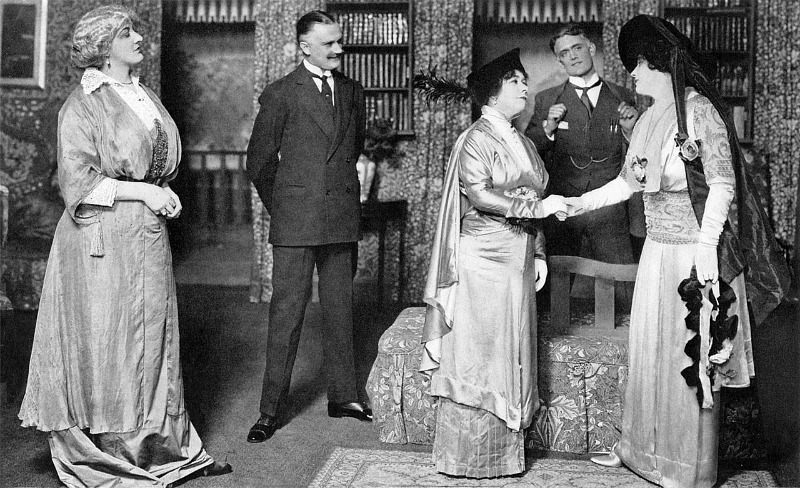 It's showing at the Vivian Beaumont Theater in Lincoln Center, and I snapped this pic outside: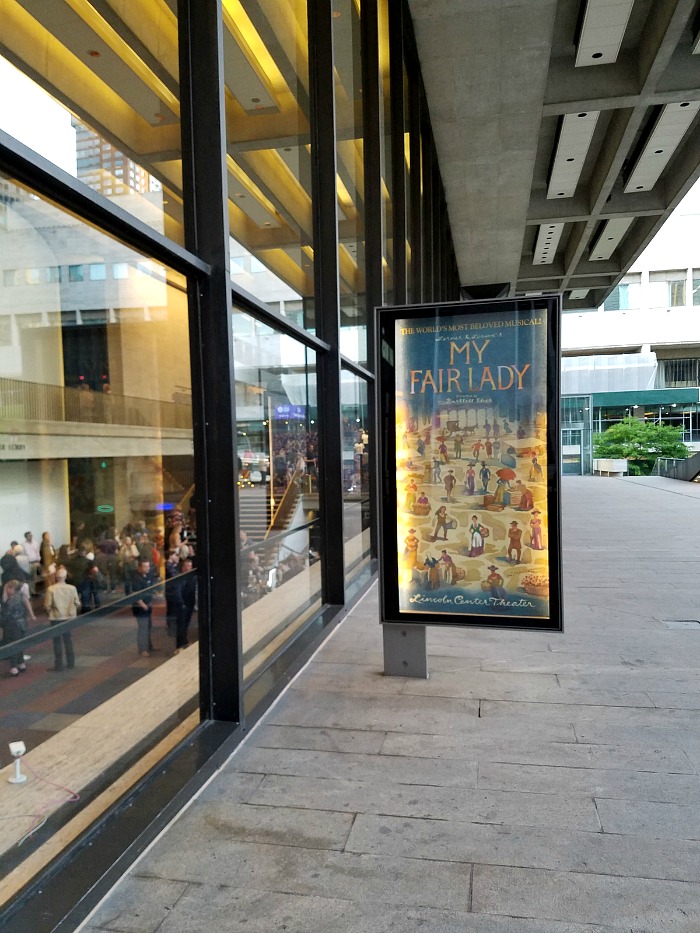 The enormous rotating sets and beautiful costumes alone were worth the price of admission. For the Ascot scene, they went with shades of lavender and gray instead of black and white, which surprised me but were really gorgeous onstage.
I was also surprised by the way they altered the ending in the show without changing any of the dialogue, having Eliza walk out and leave Henry after he asks for his slippers. The audience cheered!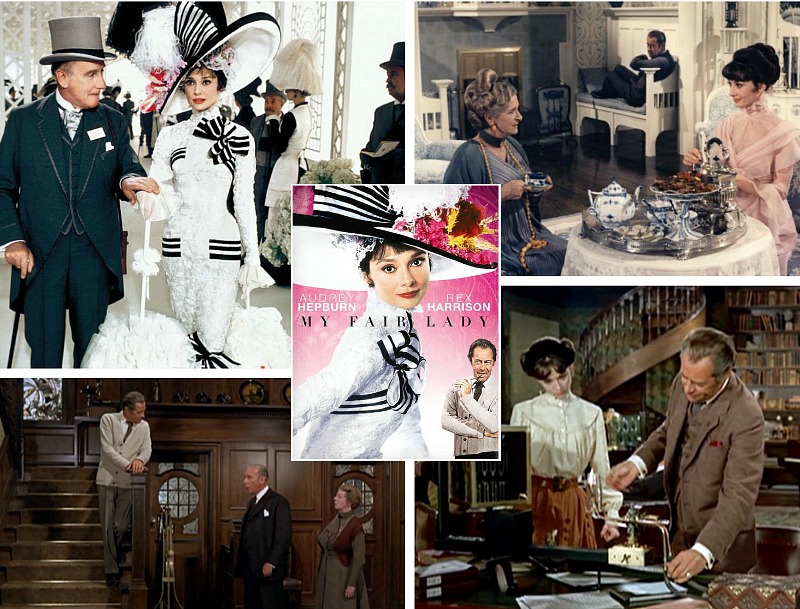 For more information about My Fair Lady:
Visit my Movie Houses page for a list of the others I've featured,