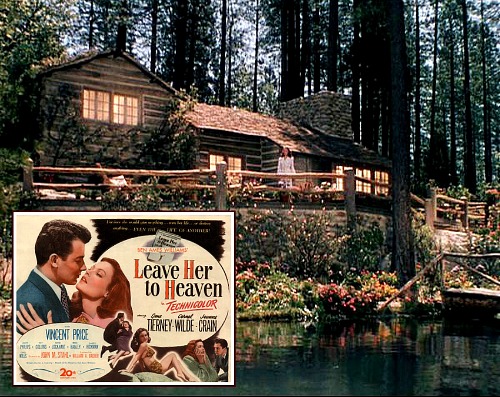 Don't let the parade of beautiful houses in the classic 1940s movie Leave Her to Heaven fool you into thinking this is just a "pretty movie."
And it isn't a romantic love story, either. Let's just say when Gene Tierney's Ellen proposes to a man she just met on a train, you should definitely feel a chill when she tells him, "I will never let you go. Never, never, never."
I've heard from so many of you that you love the houses from this film that today I thought we'd take a closer look at all the sumptuous sets that were featured in it, from the train car where Ellen and Richard first meet to the Back of the Moon Lodge in Maine.

The Sets in the Movie "Leave Her to Heaven"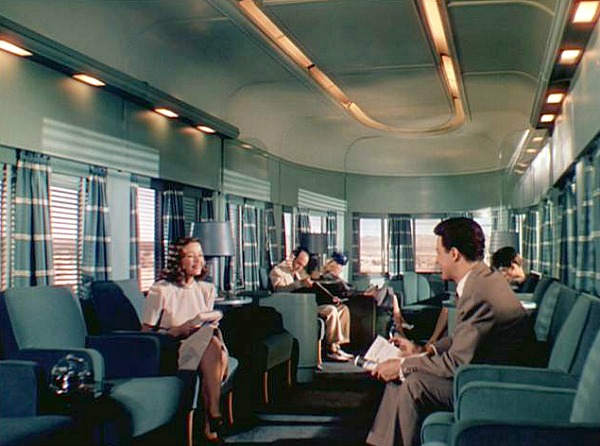 The movie begins with novelist Richard Harland and wealthy socialite Ellen Berent meeting in a train car on their way to New Mexico. Ellen happens to be reading one of Richard's books. She can't stop staring at him and says he looks a lot like her recently departed father.
Rancho Jacinto in Taos, New Mexico:
This sprawling Southwestern ranch in Taos is the first in a series of amazing houses in the movie.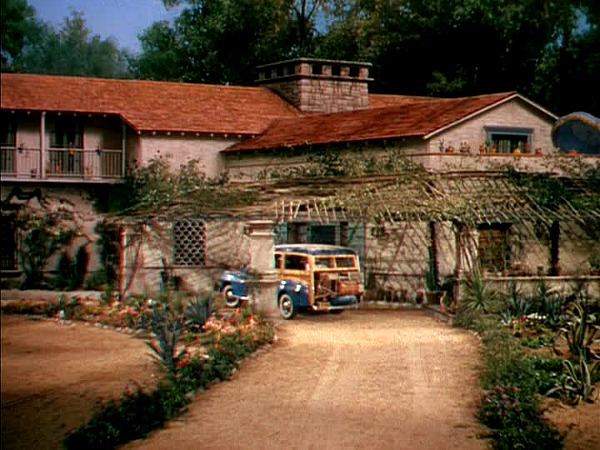 The ranch exteriors were a combination of matte paintings and false fronts.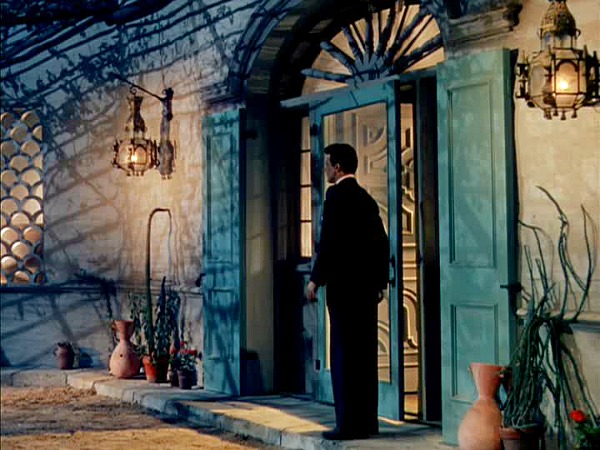 The interiors were built on a soundstage at 20th Century Fox studio in Los Angeles.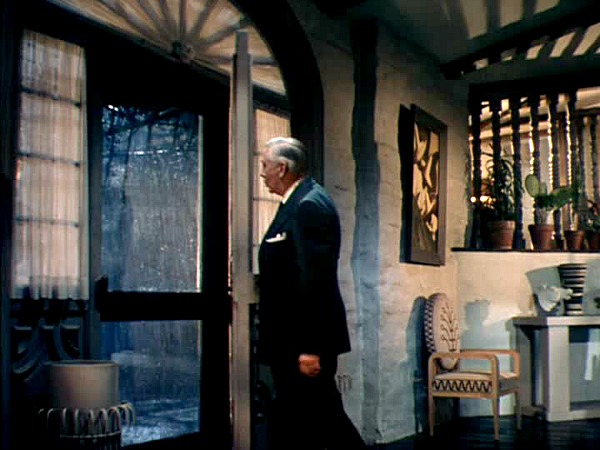 Glen Robie (played by Ray Collins, above) is Richard's attorney and the story's narrator.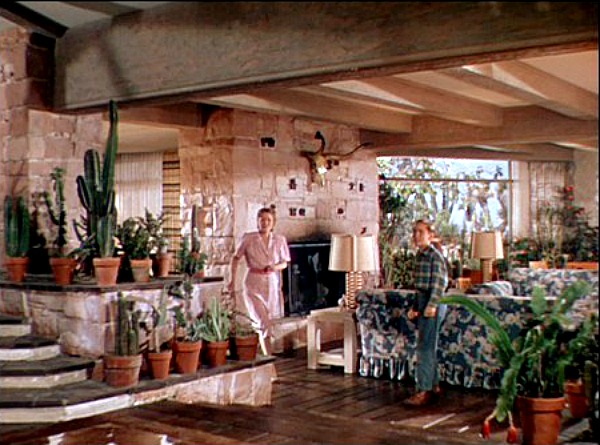 The movie was based on a bestselling novel by Ben Ames Williams.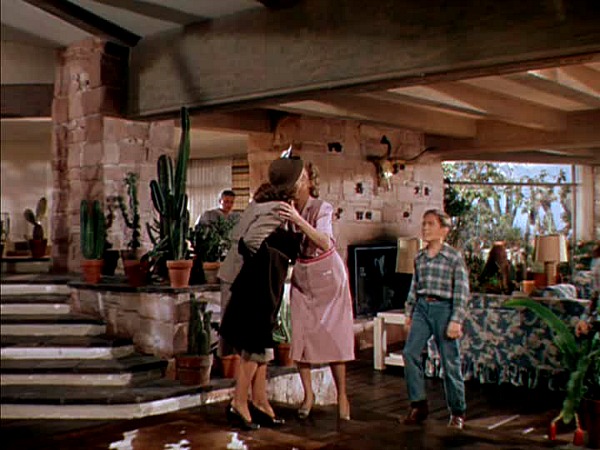 In case you haven't seen the movie, this is a good chance for me to warn you there may be spoilers in this post!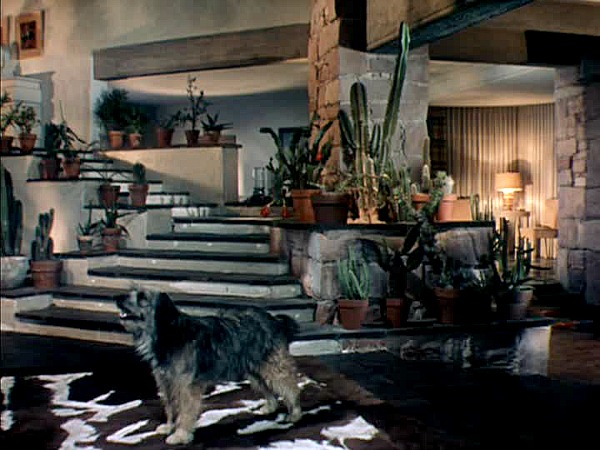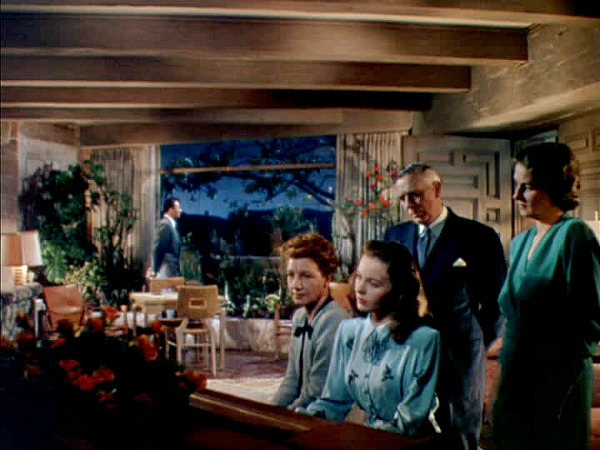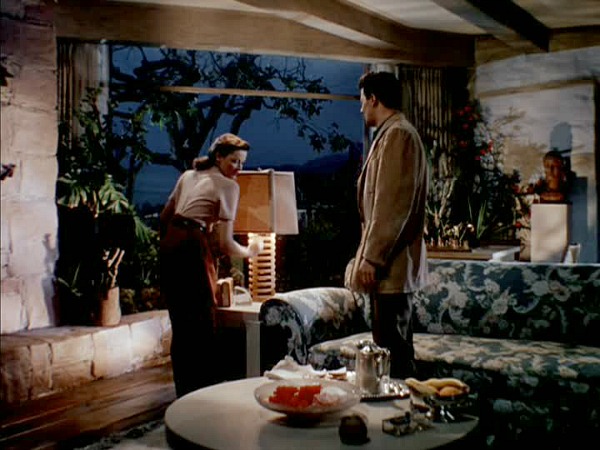 "Rancho Jacinto is an American paradise…and in fact, the only dangerous animal around is Gene Tierney."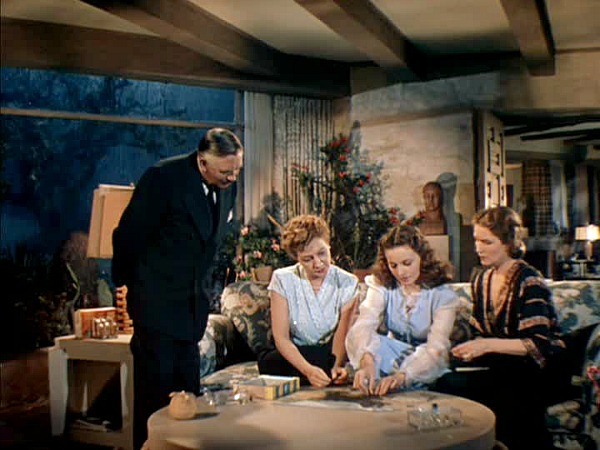 Jeanne Craine played Ellen's adopted sister Ruth.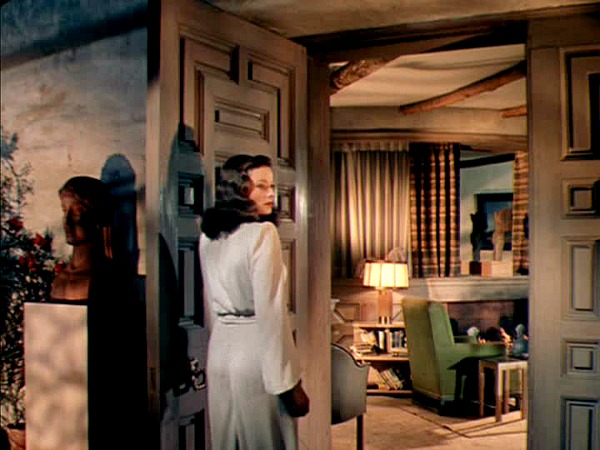 Ellen's wardrobe was designed by then-husband Oleg Cassini.
He gave her a white pantsuit to wear with her character's monogram on it: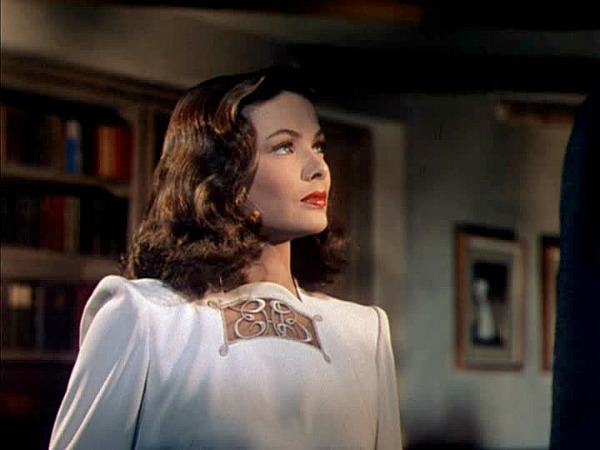 In this scene she coldly dumps her fiancé, a politician named Russell Quinton (played by a young Vincent Price). She met someone she likes better on the train, she explains, and they're going to be married right away. Tomorrow, if possible!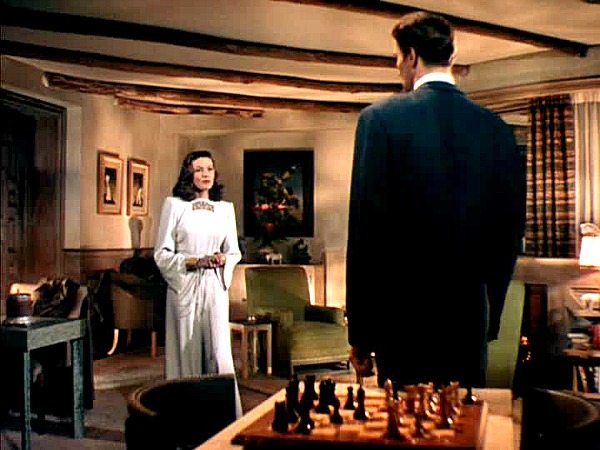 She then asks Richard to marry her and vows to "never, never, never" let him go, which sounds a little bit like a threat… (stay tuned!)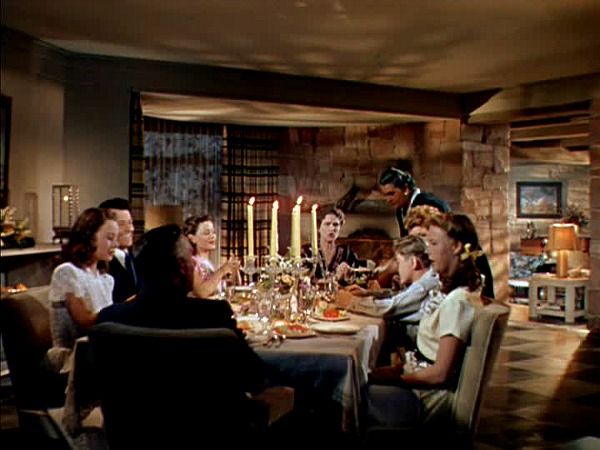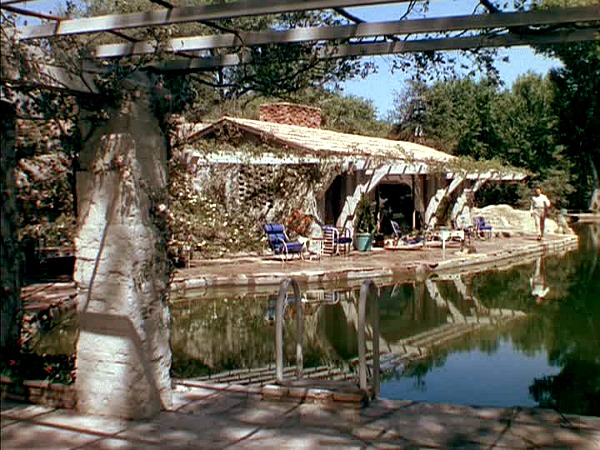 The Georgia House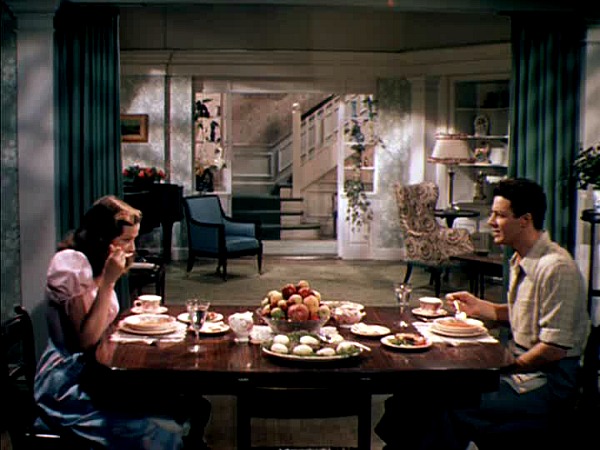 The newlyweds move to Warm Springs, Georgia, so that Richard can be close to his younger brother Danny, who's getting therapy for polio, but we don't see much more than in that shot above.
Back of the Moon Lodge in Deer Lake, Maine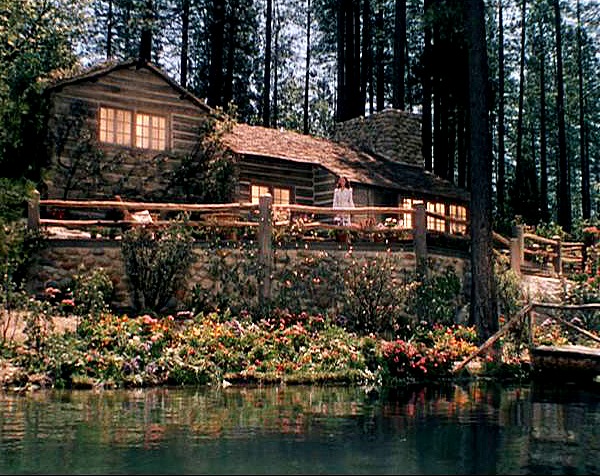 Young Danny wants to go with them to Deer Lake in Maine where Richard keeps a writing cabin. Ellen is not happy. She wants her husband all to herself.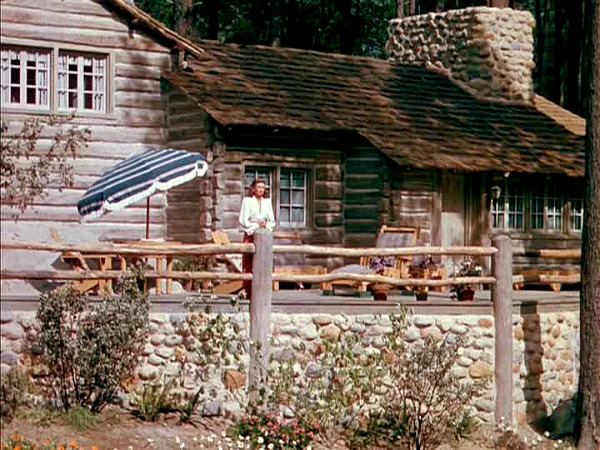 Richard says his lodge is called "Back of the Moon" because the lake is shaped like a crescent.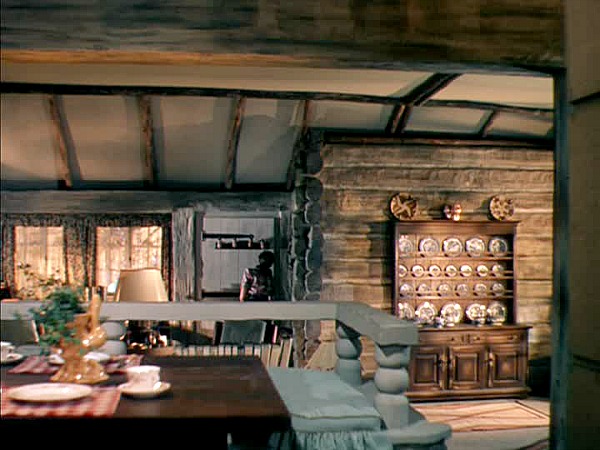 Richard, mistaking her unhappiness for loneliness while he spends his hours writing, surprises Ellen by inviting her family to visit. But she's furious. She barely speaks to them.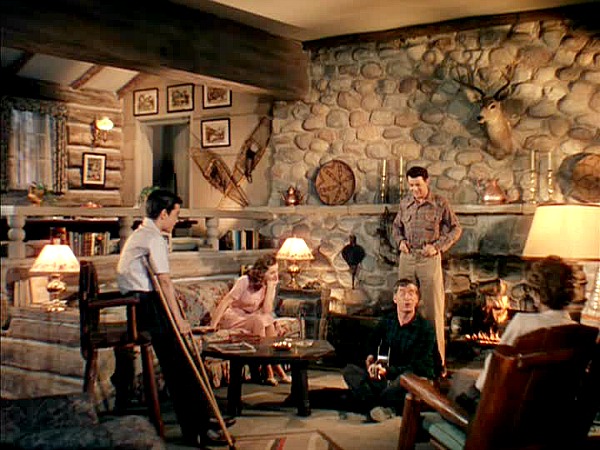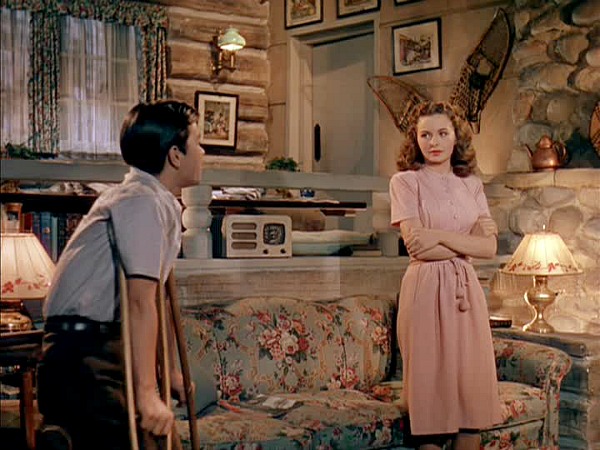 The Dining Table Overlooking the Living Room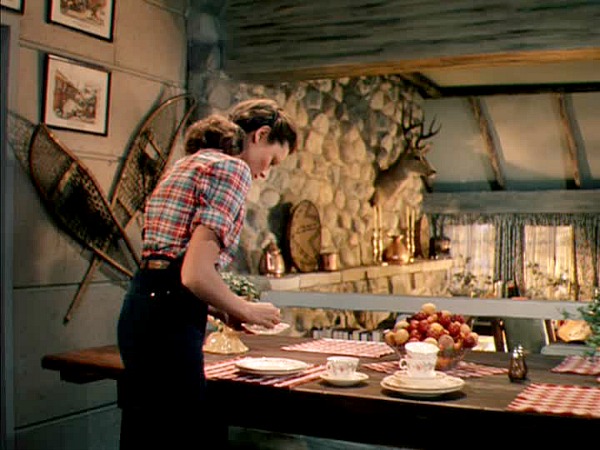 The Kitchen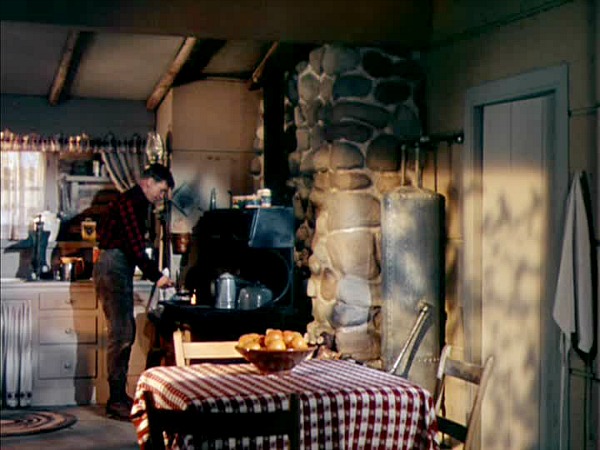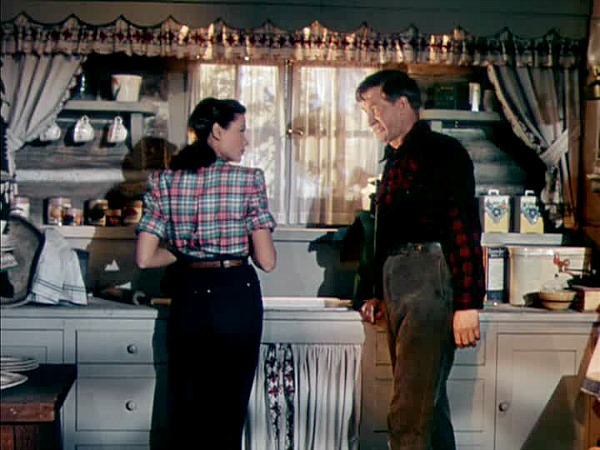 Staircase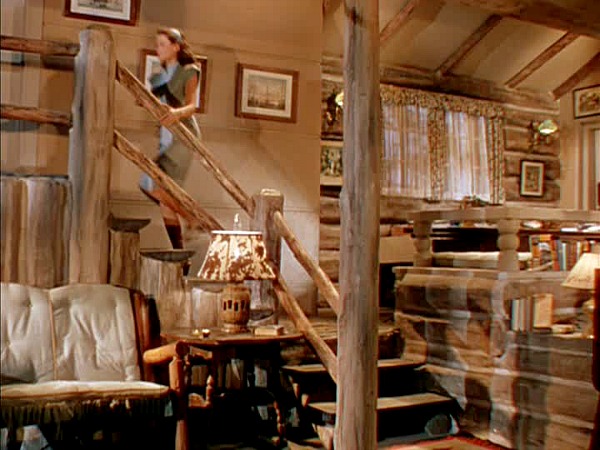 Guest Bedroom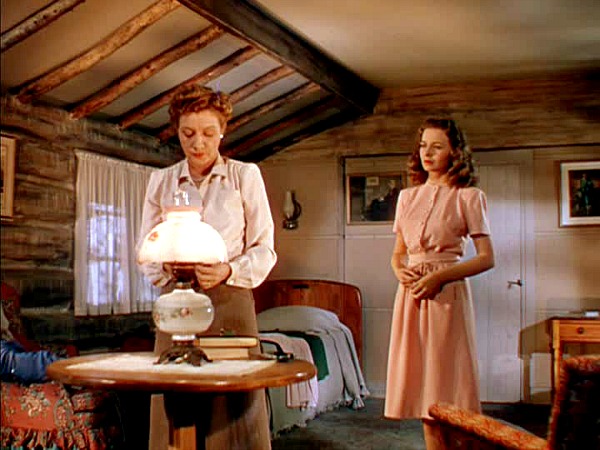 Ellen and Richard's Room: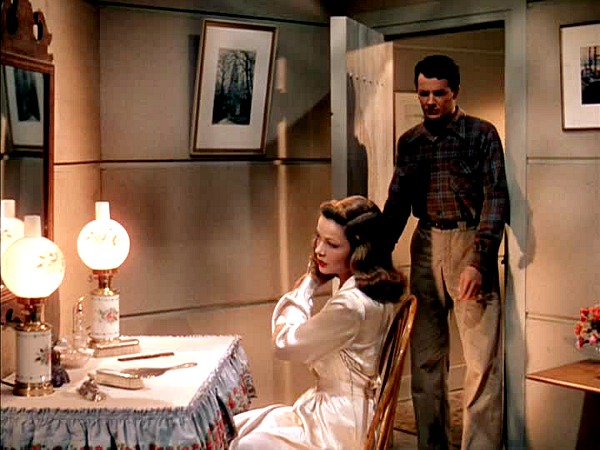 Some of the movie's scenes were filmed at Bass Lake in California in 1945.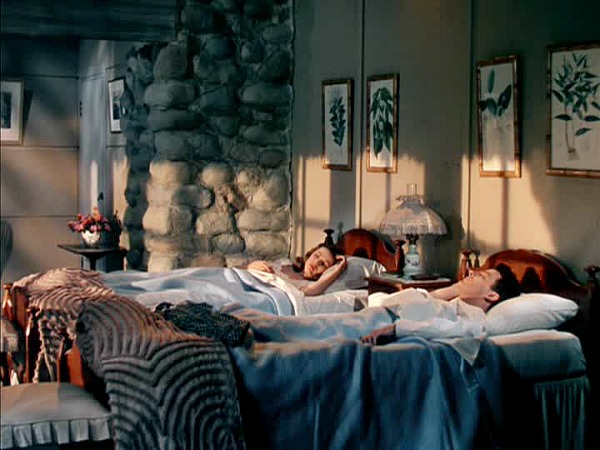 A temporary "house facade set" was built on the shore for the movie, according to the resort.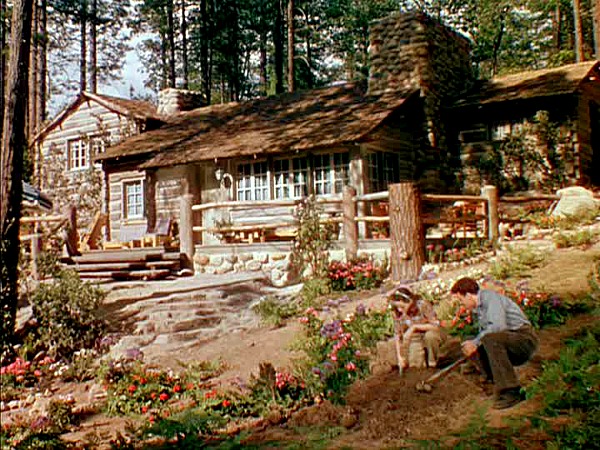 Richard's Writing Cabin: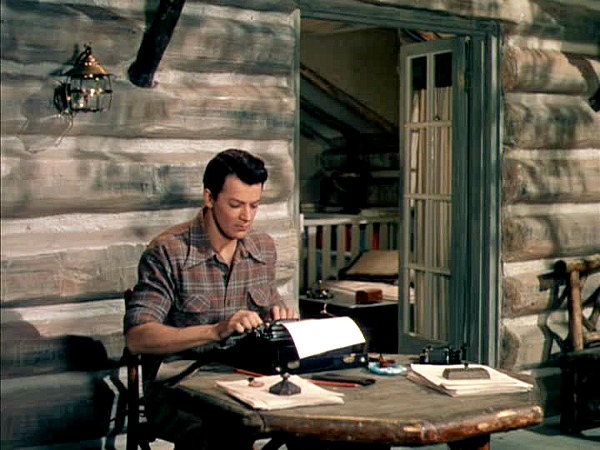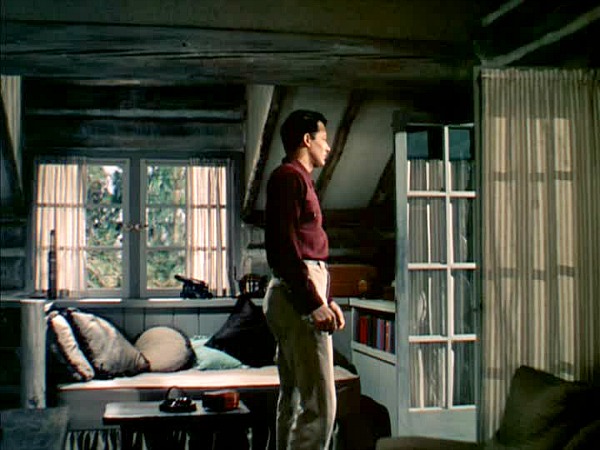 It looks peaceful out there on the lake, but appearances can be deceiving…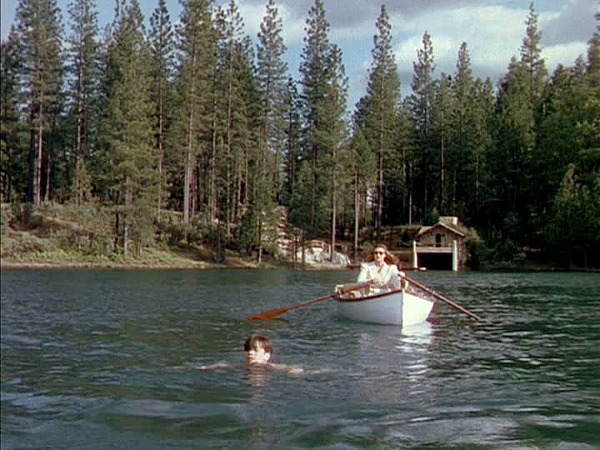 "According to Daryl Hickman, who played the part of Danny, the studio boss Darryl F. Zanuck was so impressed that when he viewed the rushes, he proclaimed the lake scene to be the greatest in all film. For 1945, it certainly pushed a moral button. As Danny struggles in the cold waters of the lake, cries for help, Ellen sits motionless in the boat like a Vogue Magazine sphinx, eyeless behind her sunglasses."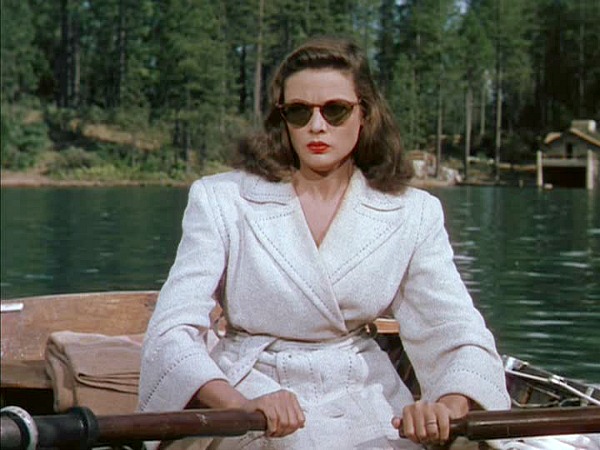 The Bar Harbor House
Richard and Ellen then move into her family home at Bar Harbor, on the coast of Maine.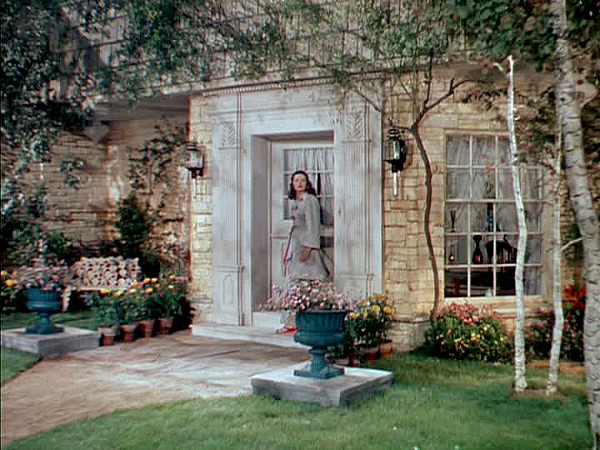 Again, the exteriors are a mix of matte paintings for distance shots and false fronts for close-ups.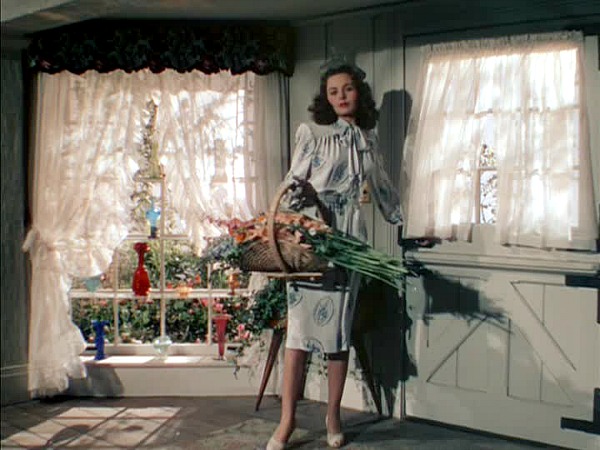 According to Celebrity Cafe:
"What really sets this movie apart is that it was filmed in Technicolor at a time when most dramas were made in black and white. Fox head Daryl Zanuck produced Leave Her To Heaven himself, making sure that no expense was spared."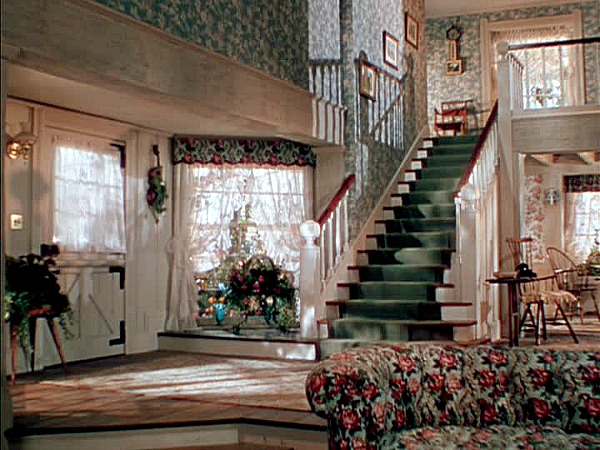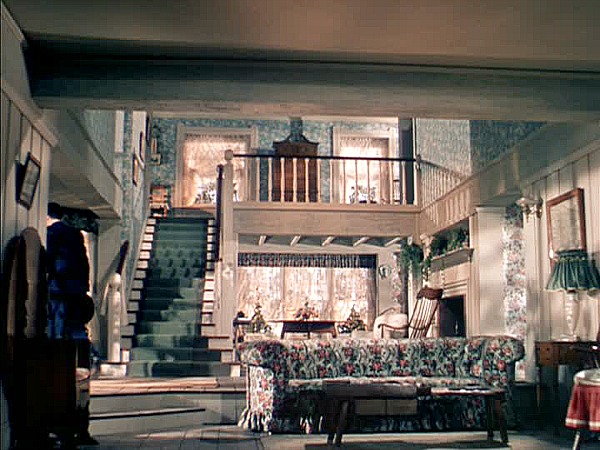 Mrs. Berent tells Richard, "There's nothing wrong with Ellen. She just loves too much."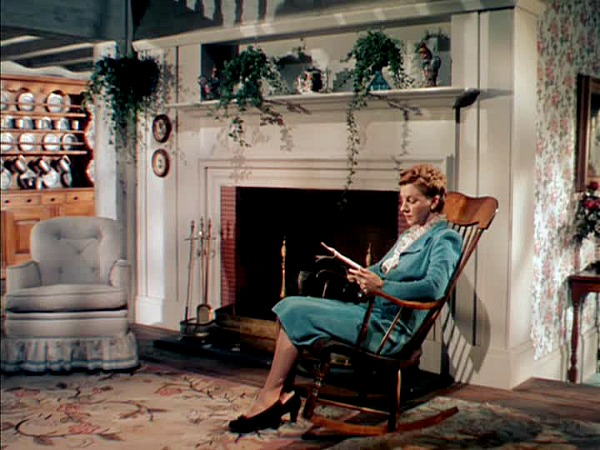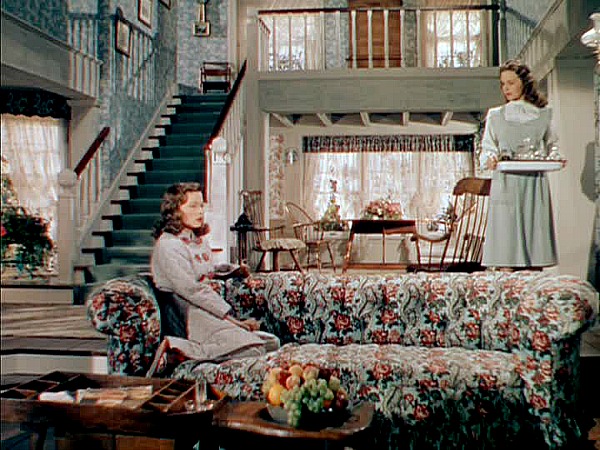 When they're decorating the nursery, Richard asks what kind of rug they should put down. "You don't put rugs in children's playrooms," the women tell him. "You use linoleum. It cleans easier."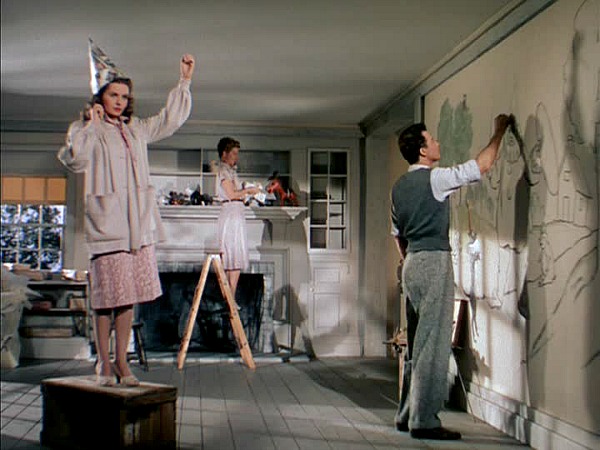 Ellen's Bedroom: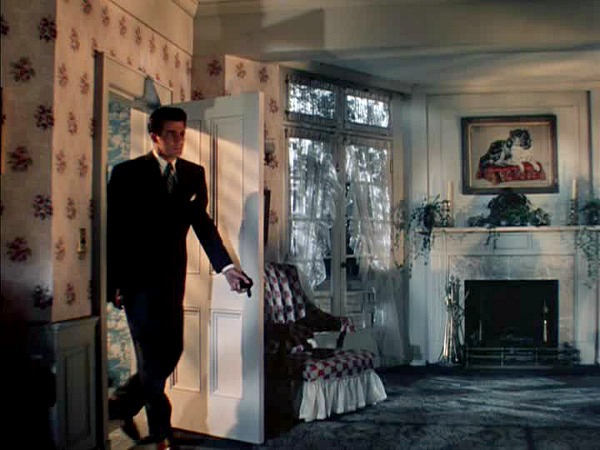 Ellen got pregnant to take her husband's mind off his brother and make him happy again, but then she resents that it's already coming between them.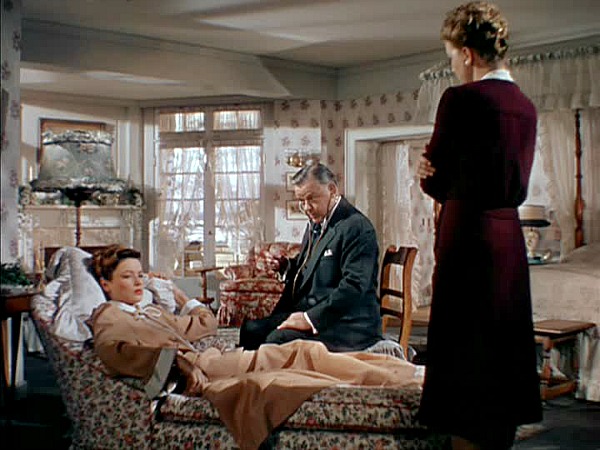 While the doctor orders her to continue to rest, her husband's spending way too much time with her sister Ruth.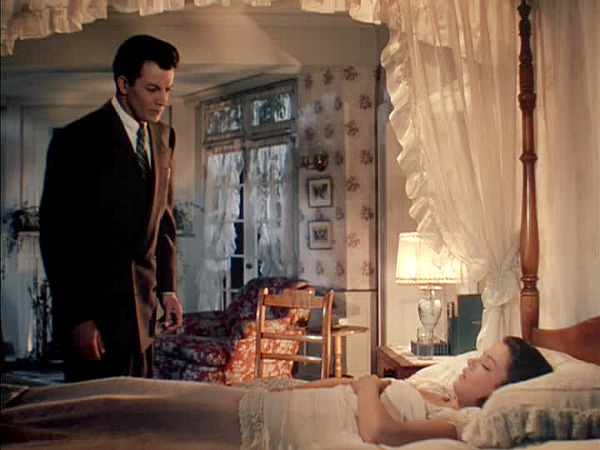 "The designs of art directors Lyle Wheeler and Maurice Ransford (not to mention the set decorations by Thomas Little and Ernest Lancing) give cinematographer Leon Shamroy wonderful material to work with." Shamroy won an Oscar for his work on this film.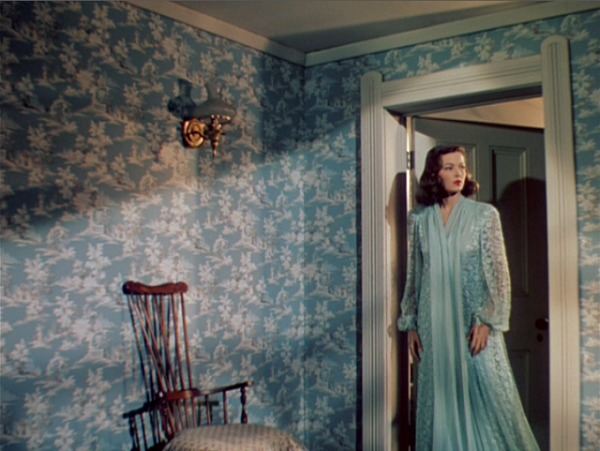 The movie title is a quote from Hamlet. The Ghost urges Hamlet not to seek vengeance against Queen Gertrude, but rather to "leave her to heaven, and to those thorns that in her bosom lodge to prick and sting her."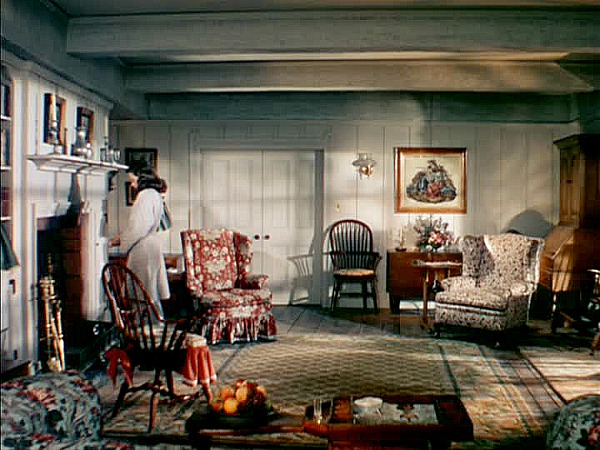 It was Fox's highest-grossing picture of the 1940s. Tierney earned an Oscar nomination for her role but lost to Joan Crawford, who won for Mildred Pierce that year (I featured that movie, too. You can see the pics of those sets here).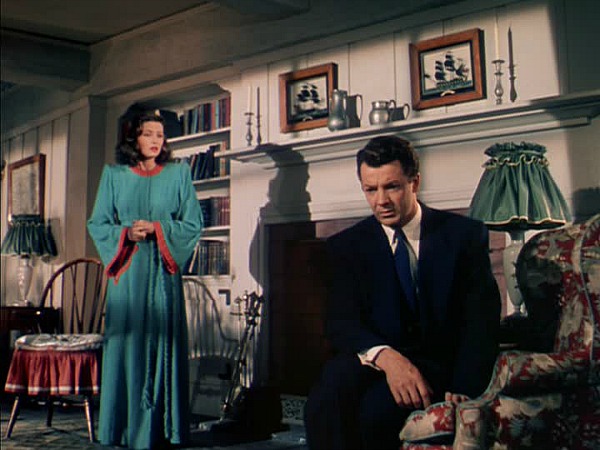 It's amazing the number of requests I get for house plans from this movie from readers who want to replicate them. Wish I had them!
Tierney starred in another favorite I've featured: Gull Cottage from The Ghost and Mrs Muir.

Visit my Houses Onscreen page to see other movies I've featured, listed A-Z.