I've gotta hand it to you guys — when there's a house you want me to feature, you're persistent about it! I got so many requests to see Reese Witherspoon's house from the movie "Home Again" that I'm coming back from my month-long blog break with photos of it for you (did you miss me?). 🙂
The rom-com was filmed on location inside a sweet 1929 Spanish-style hacienda in Brentwood, California. It was already accustomed to a certain amount of fame, having been formerly owned by celebs like Cindy Crawford and Jennifer Garner. Let's take a look inside!

"Home Again" Was Filmed on Location in This Spanish-Style Home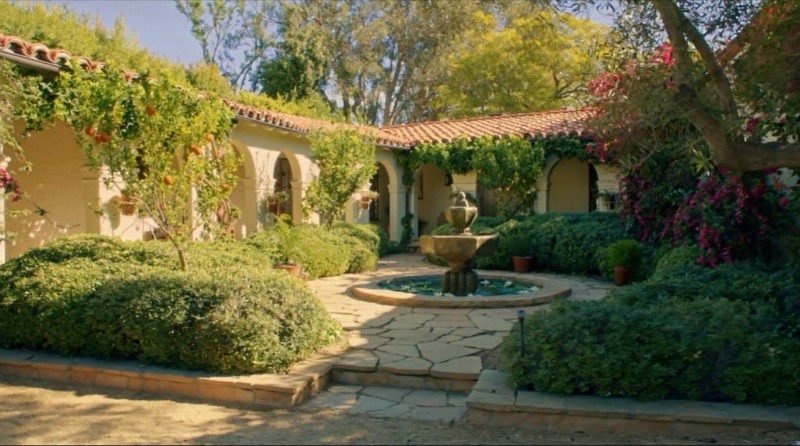 At the beginning of the movie is a flashback to the 70s, indicated by the sepia tones and peacock chairs (below):

We later see those same "Morticia Addams chairs" in the present-day scenes outside Alice's bedroom: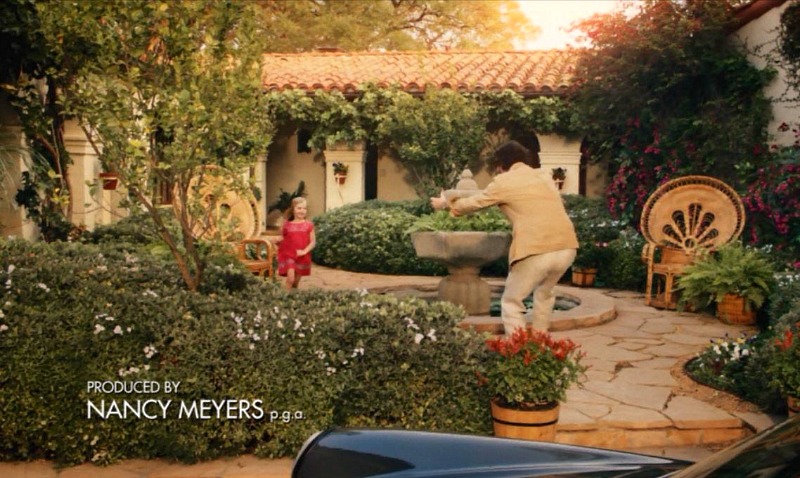 "Home Again" was produced by Nancy Meyers, so you know the sets are going to be good! We have her to thank for some of our favorite movie houses, from Something's Gotta Give to Father of the Bride. Her daughter Hallie Meyers-Shyer wrote and directed it.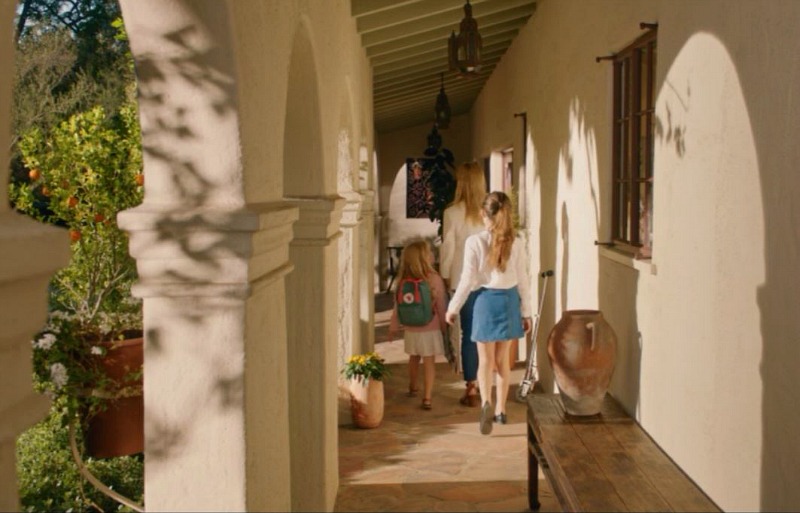 The Entry Hall: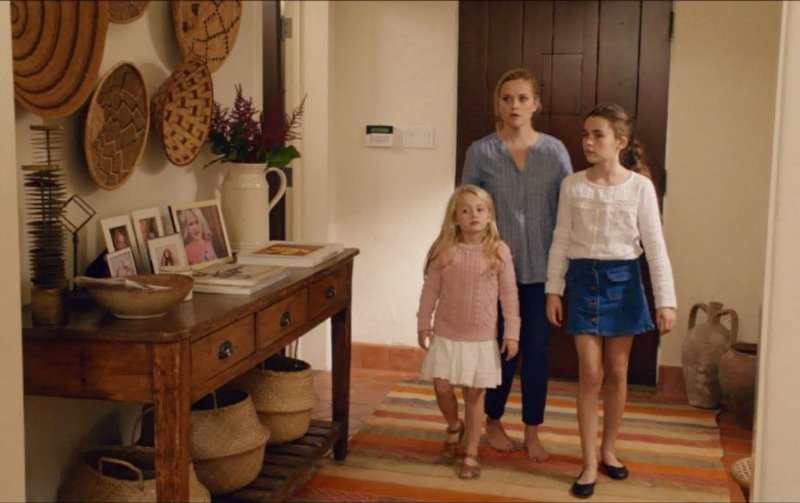 I found some fab photos of the house taken by home stager Meridith Baer. She posted them on her Facebook page and wrote: "We were thrilled to donate select MBH furnishings for the set of Home Again Movie, the directorial debut from Hallie Myers-Shyer, and starring Reese Witherspoon. This home is the definition of California cool!"
The Living Room: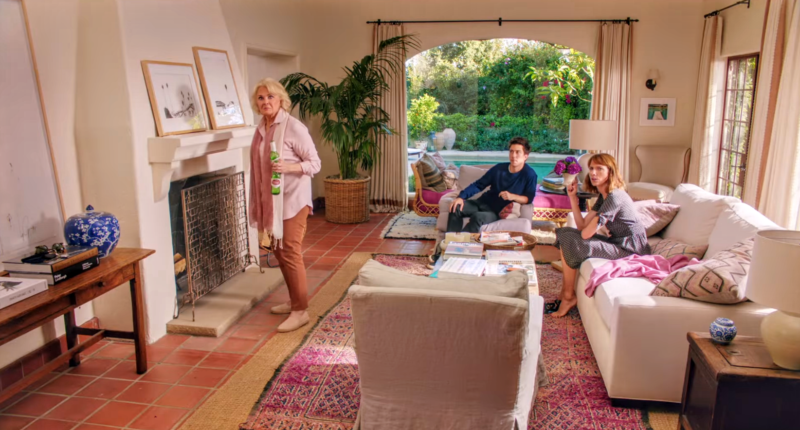 The movie's about Alice (Witherspoon), who recently left her husband and moved into her late father's home with her girls.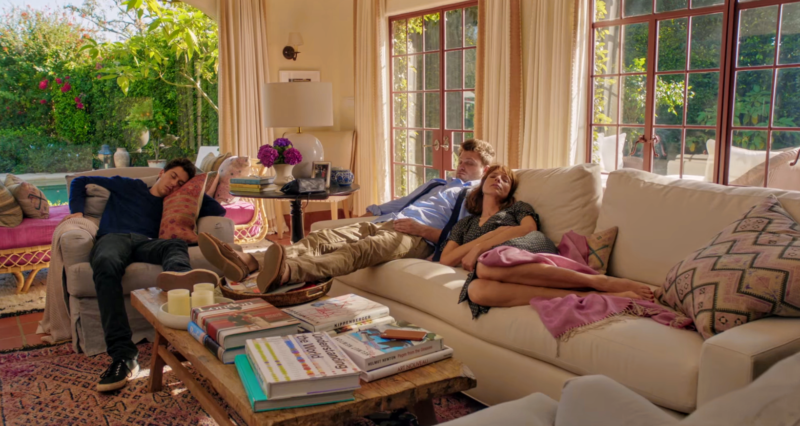 On her 40th birthday, she meets three aspiring filmmakers who need a place to stay.
 With a little arm-twisting (and plot twisting), she agrees to let them live in her guest house.
She starts an affair with one of the young men (played by Pico Alexander, who was 25 when he filmed this, but only looked about 18 to me), and another one falls hard for her, too. Things get even more complicated when her ex (Michael Sheen) shows up to win her back.
There's a pink theme running through the house, which emphasizes the idea that Alice and her girls are living here on their own. At least that was the plan, until the three young guys moved into the guest house and the ex showed up with his suitcase… Don't you hate when that happens? 😉
I found photos of the house from when it was listed in 2013. Here's how the living room looked then:
The window treatments looked the same in 2013, but the room had a totally different vibe with the red furniture.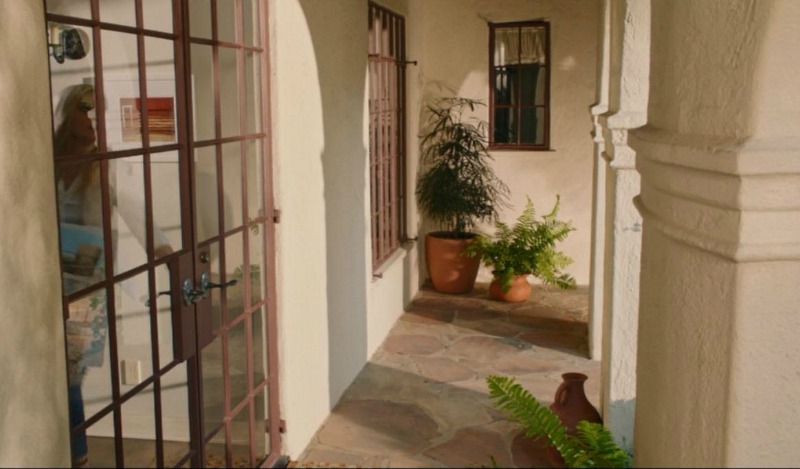 These glass doors off the kitchen look great. As someone who ducks and covers whenever someone unexpected rings the doorbell, though, they wouldn't work for me, ha.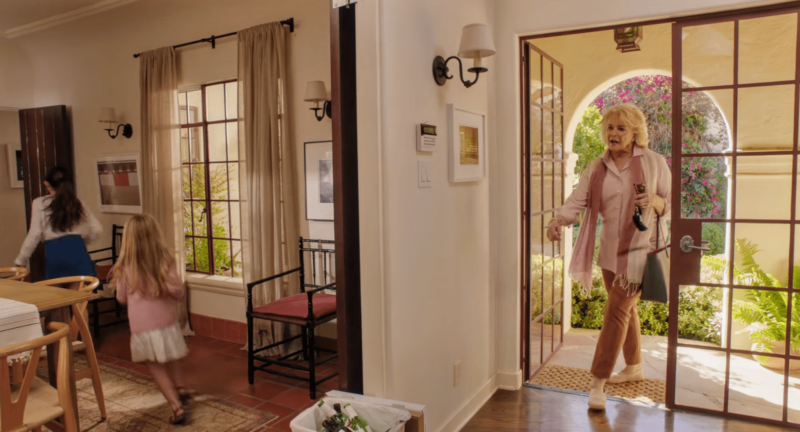 The Kitchen: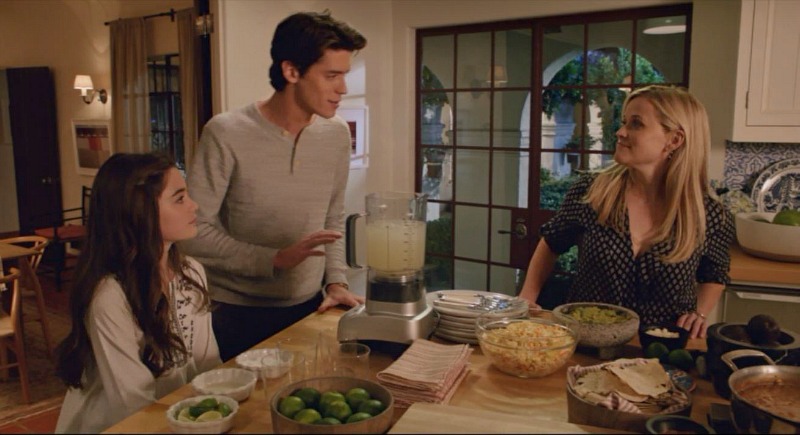 The countertops aren't really wood. They just put contact paper on them to look like butcher block.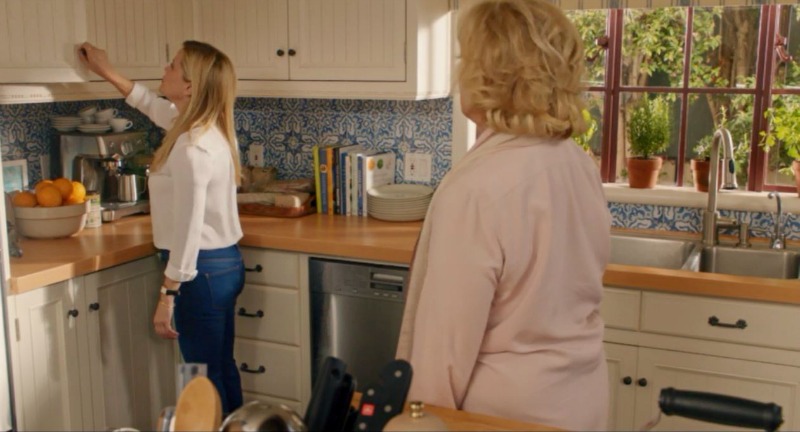 For the flashback to the 1970s we see the kitchen looking very retro with different tile and curtains: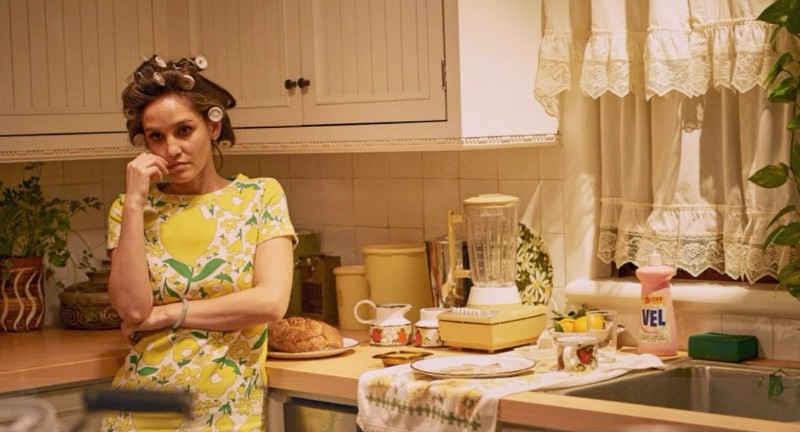 They used stick-on vinyl tile for the back splash in the movie.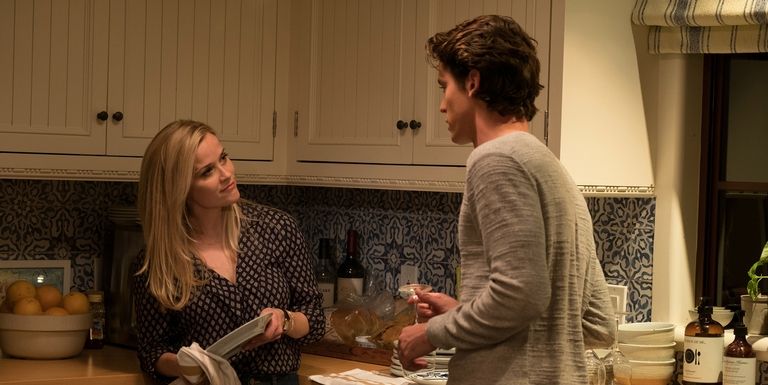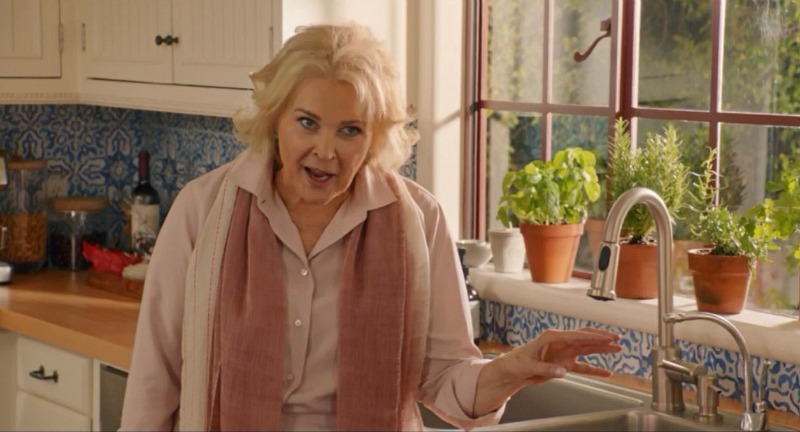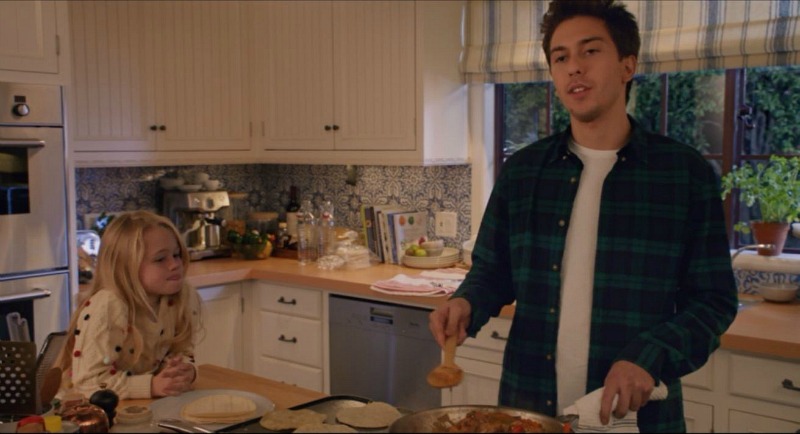 I took as many screenshots of the house as I could while watching the movie. There weren't a lot of wide shots of the rooms, unfortunately, so you have to kind of mentally piece together how the spaces connect.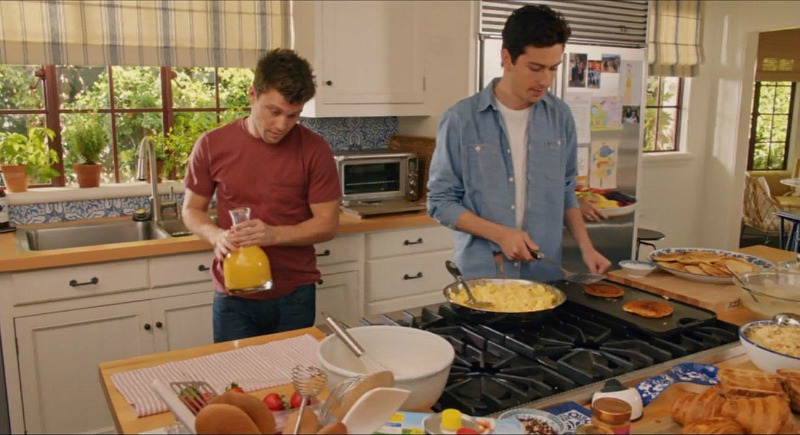 For instance, you get glimpses of the breakfast room and dining room through the doorways behind them: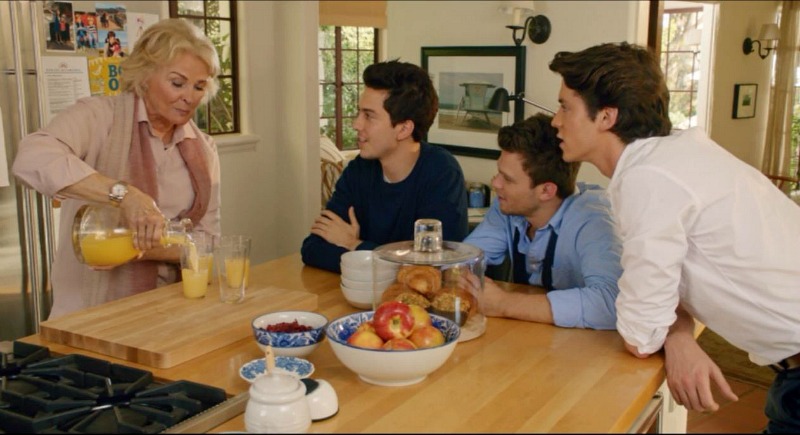 Although the tile was blue and white in the 2013 listing, it was a different pattern:
Kitchen Eating Area:
The Dining Room: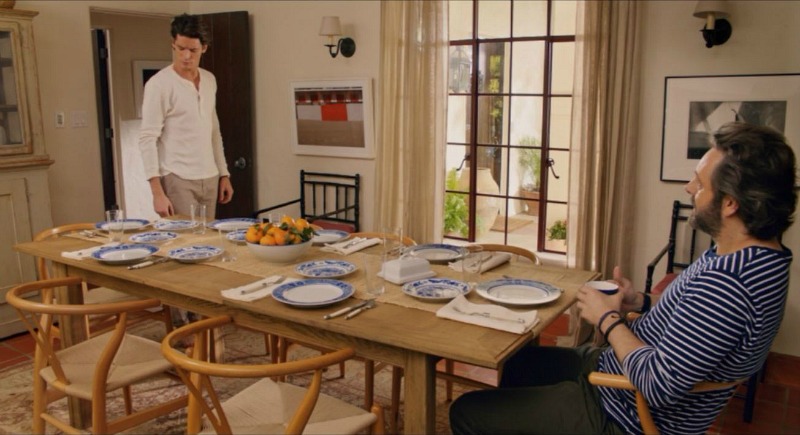 I really like the classic blue and white scheme they went with in the kitchen and dining room.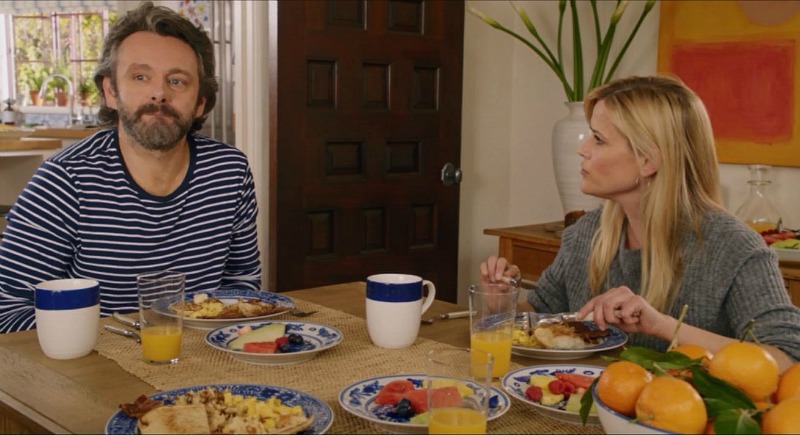 Production Designer Ellen Brill says, "We didn't put a lot of dark things in the house."
The house is like a character in the film. That's what happens in Nancy Meyers movies. We were on a limited budget, but Hallie knew that she wanted a very light and bright feel to the place. She wanted it to feel very much like California. Antiques with a good patina always work.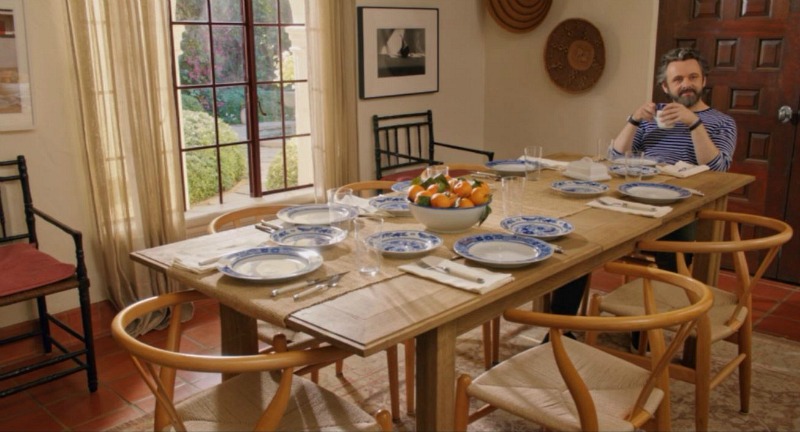 The Hallway: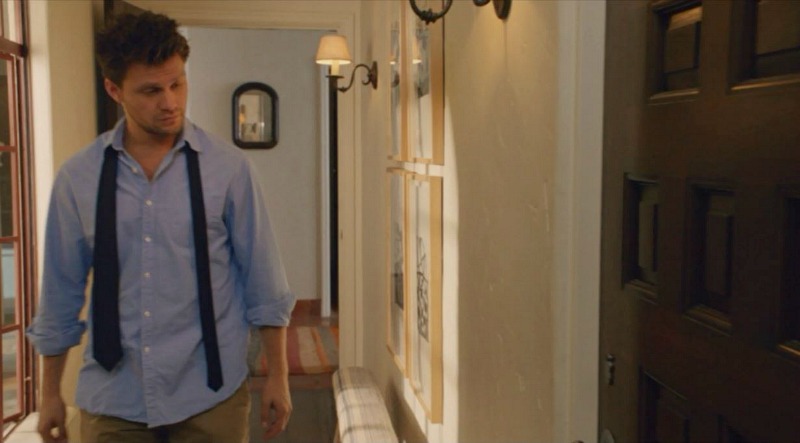 Alice's dad was a filmmaker named John Kinney, and that connection draws Harry, George, and Teddy into her life.
John Kinney's Old Office with Memorabilia: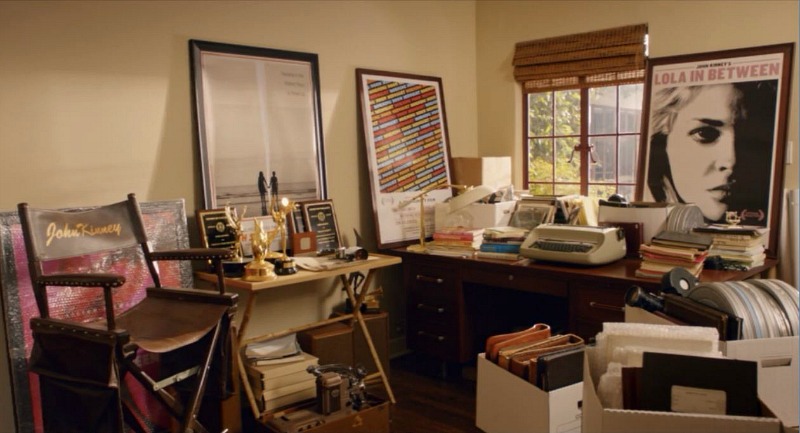 Alice's Bedroom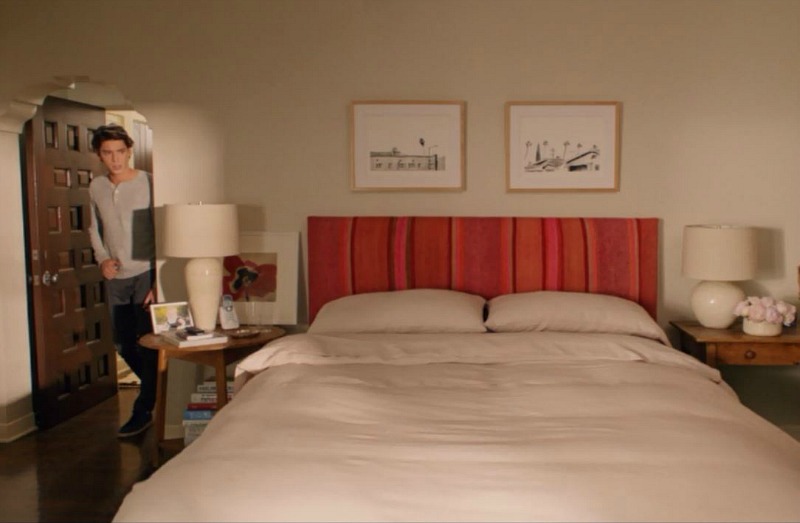 Brill created the colorful headboard in the master bedroom with two rugs from Raoul Textiles.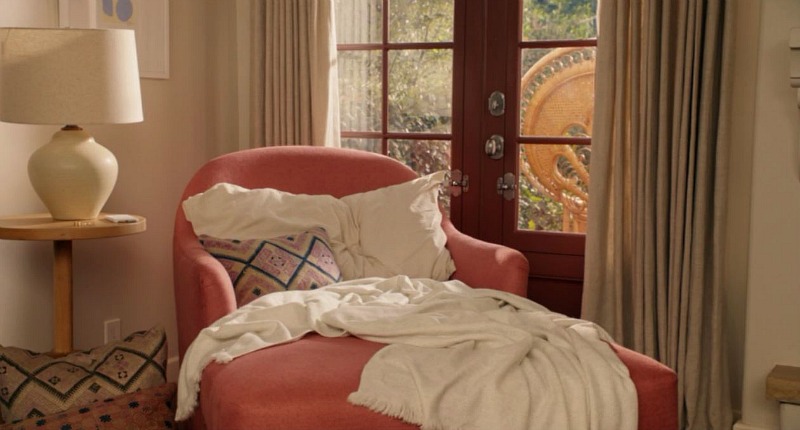 Alice's Home Office: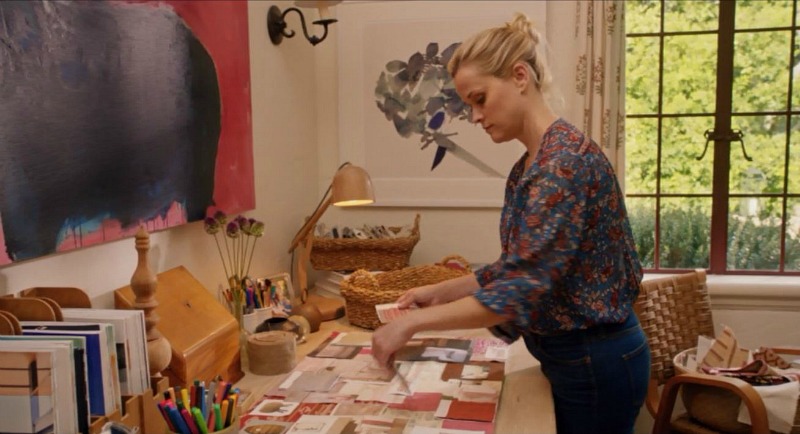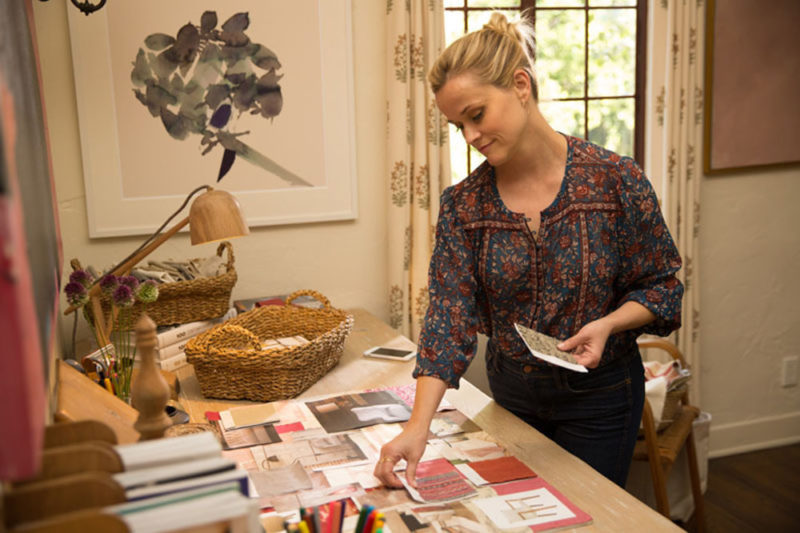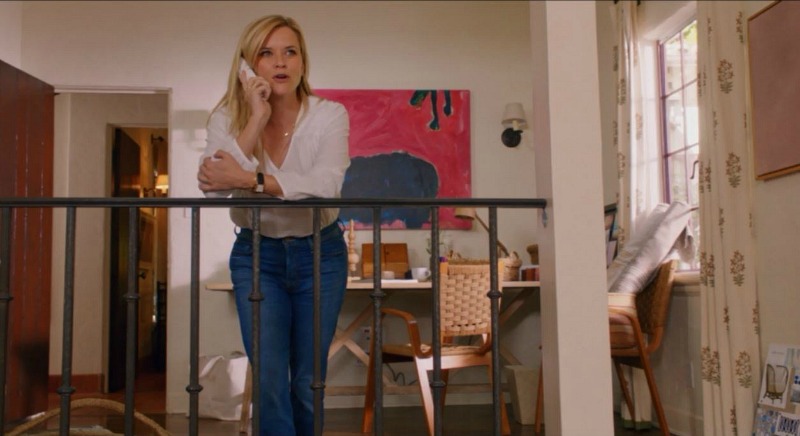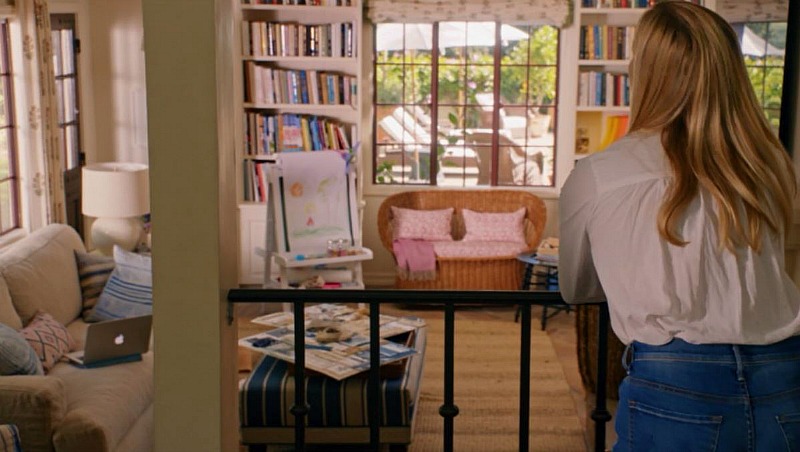 The Family Room: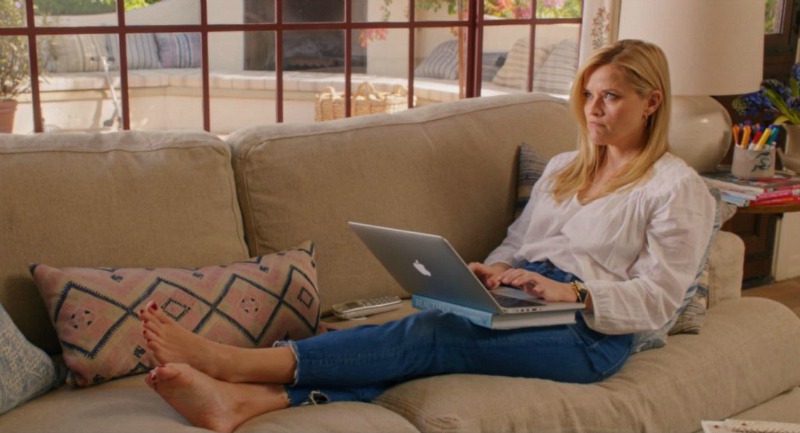 They wanted the "Home Again" interiors to have a mix of rustic, Midcentury and bohemian influences.
Here's how it looked in 2013, with the same window treatments:
The Guest House in the Backyard: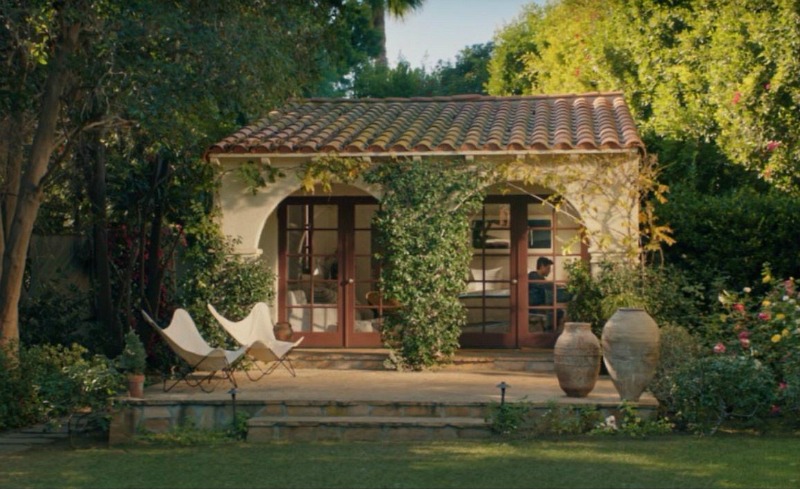 The producers needed a property that came with a guest house, so this one fit the bill!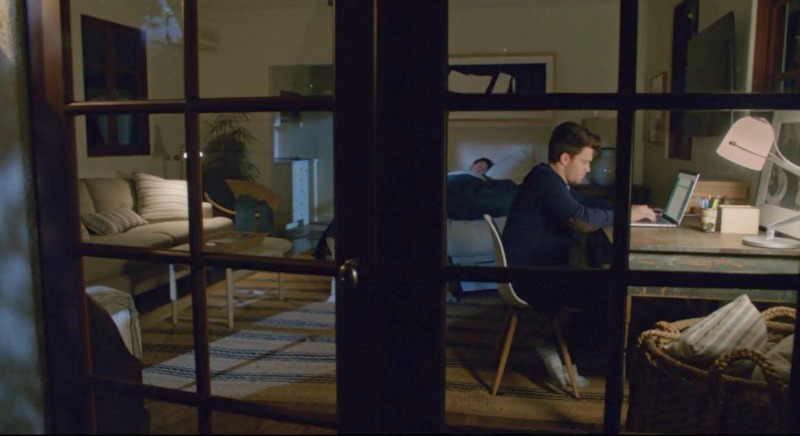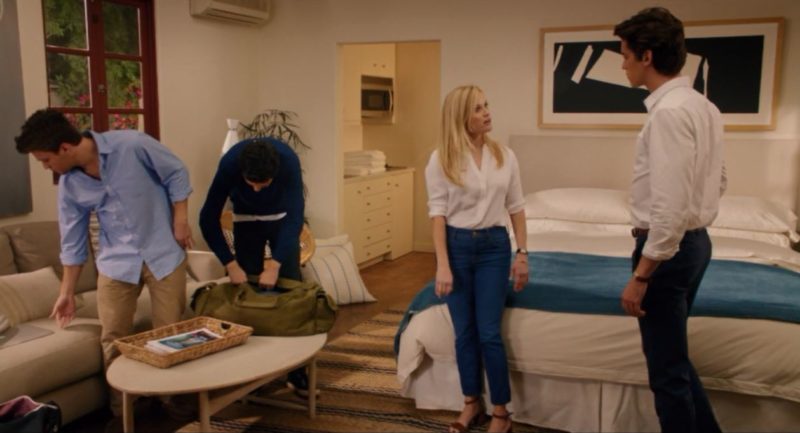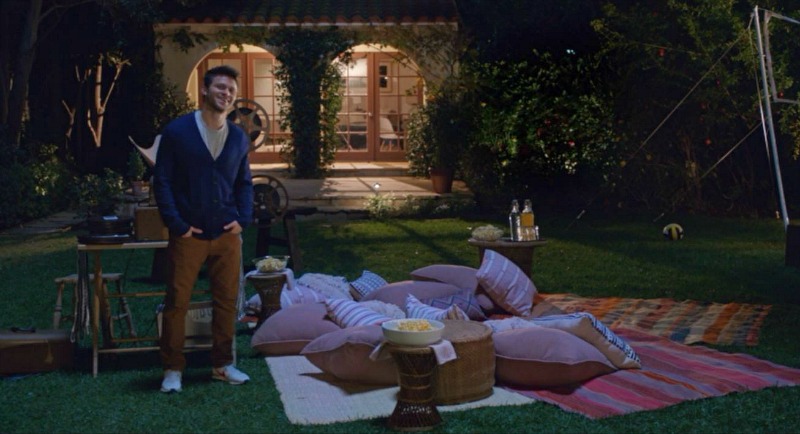 In the distance are the two chairs we saw in the 1970s flashback: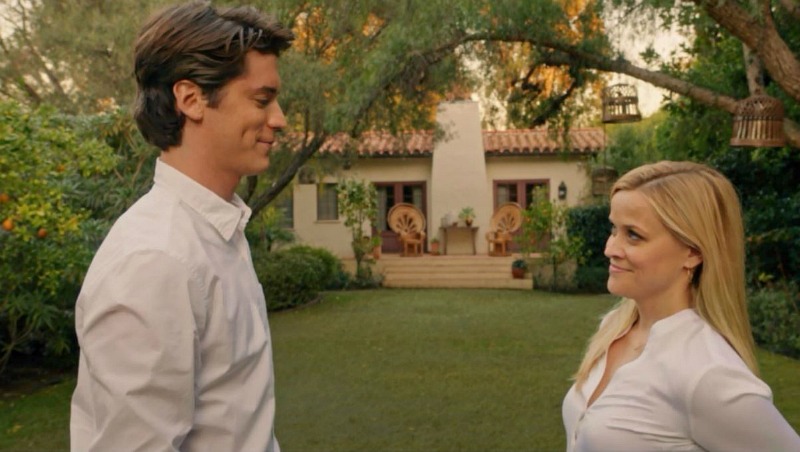 Patio with Fireplace:
This brick patio with the fireplace and built-in seating created one of my favorite "rooms" in the movie.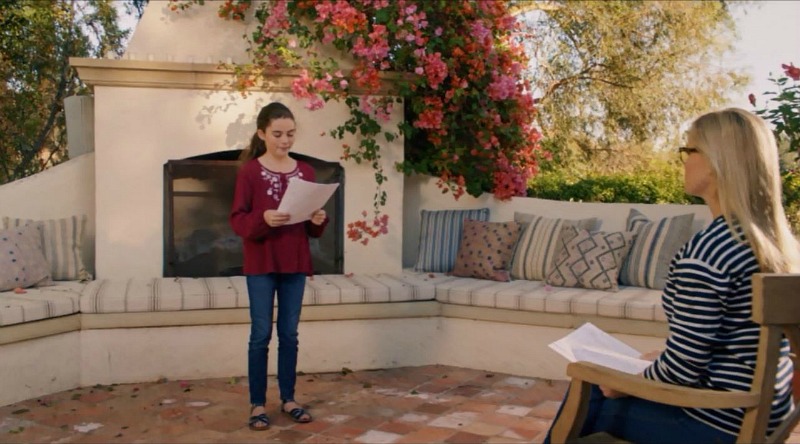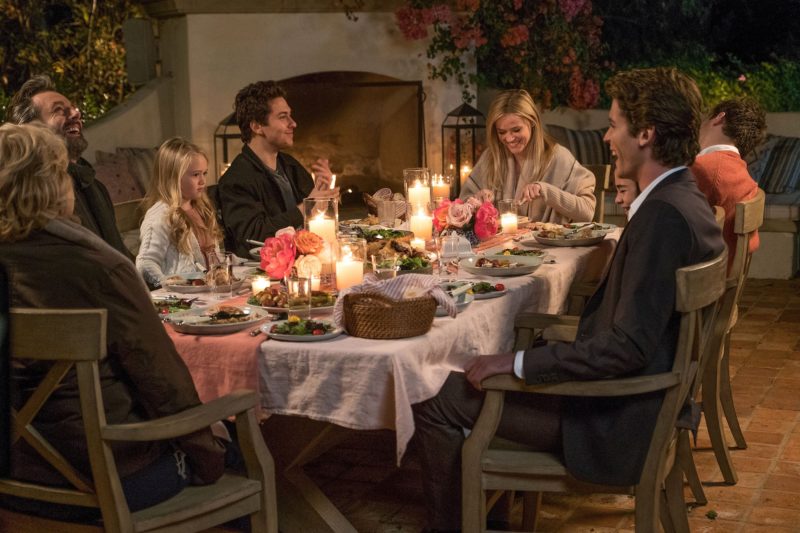 The House at Night: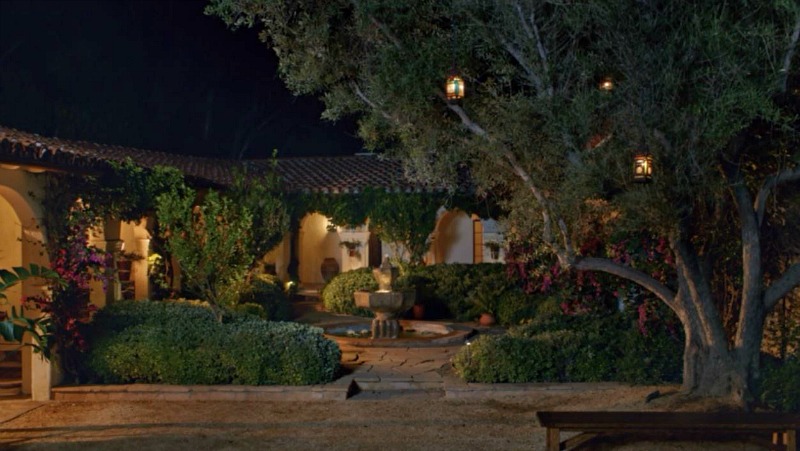 Photo sources, credits, and additional info:
Karen Ballard, Open Road Films, Meridith Baer, L.A. Times, Cote de Texas, Period Media, Elizabeth Street Post, Ellen Brill, Trisha Troutz (2013 listing photos), and Inside Houses.
The movie was cute and had some funny moments, but the house was the star of the show for me. With the Spanish architecture, it reminded me of the country home Reese used to own in Ojai called Libbey Ranch. I loved that one and couldn't believe it when she sold it. 
Okay, I just checked and it's already been 6 years since she sold that house, so I guess I should get over it! 🙂
BTW: This month I switched newsletter companies, and I'm hoping I didn't lose any of you in the transition! If you didn't get a newsletter today and think you should be on my list, click here to sign up again. Thanks!

P.S. Visit Houses Onscreen to see more, including everything you ever wanted to know about the SGG house: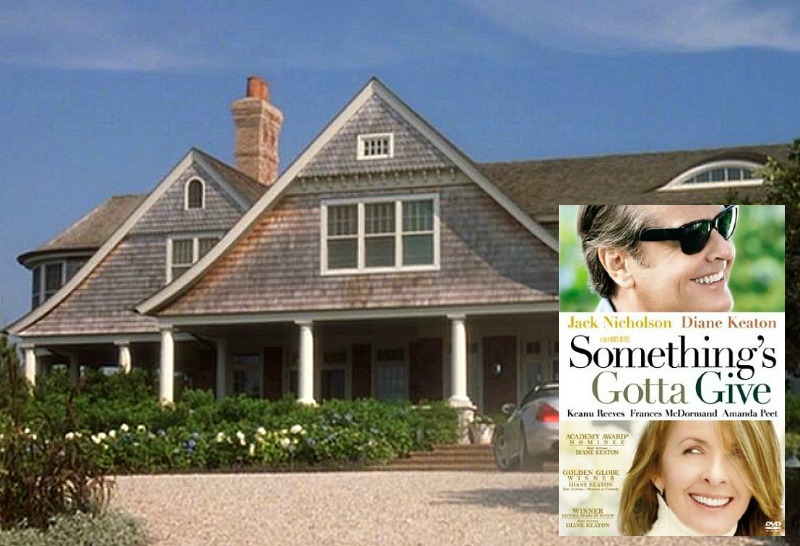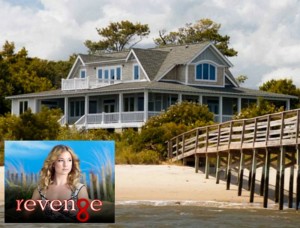 This is your chance to own the beach house where Emily Thorne (aka Amanda Clarke) lived on the soapy nighttime drama "Revenge." It's not really…
In the romantic comedy Under the Tuscan Sun, Diane Lane played Frances Mayes, a woman who impulsively decided to buy and restore an old house in Italy…