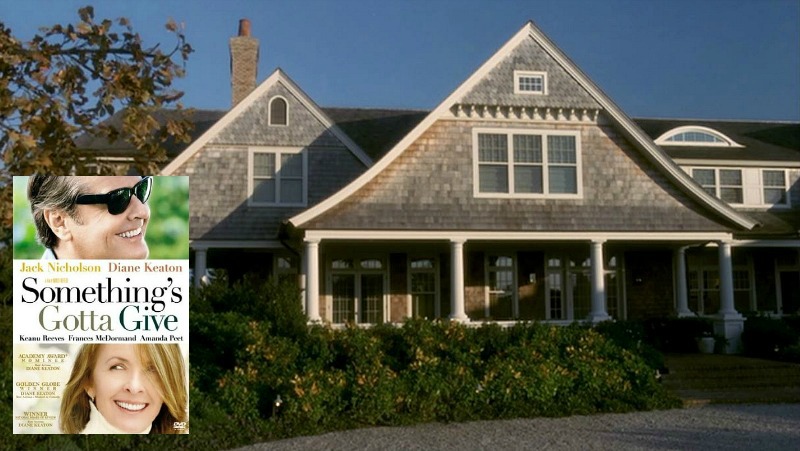 It's been nearly 10 years since I first featured Diane Keaton's classic beach house from Something's Gotta Give. And even though it's been 15 years since the movie came out, it continues to be one of my most popular posts, week after week. Clearly, I'm not the only one who still loves it!
I took a look back at that post recently and wished it had bigger, better photos, along with more details about the sets, and realized it was time for an update. Along with tons of new photos, I've got a fun look at the sets behind the scenes and scoop on the real house where the exteriors were shot.
If you're a die-hard SGG House Fanatic, then this one's for you!
Note: This post has affiliate links that may earn me commission.

The "Something's Gotta Give" Beach House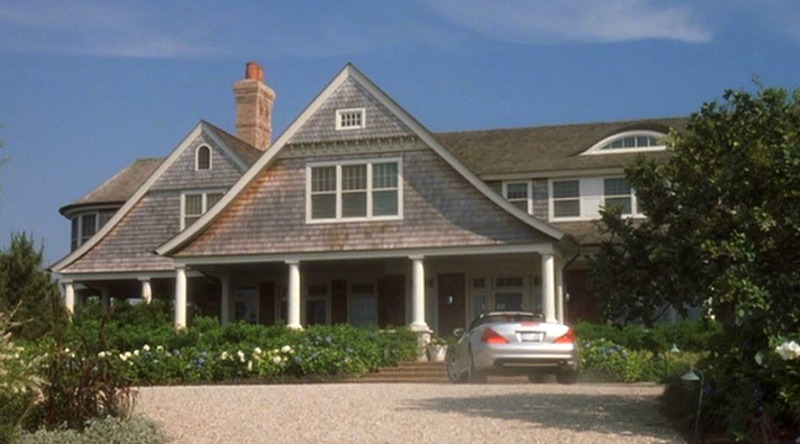 First up, let's take a look at how the beach house looked onscreen.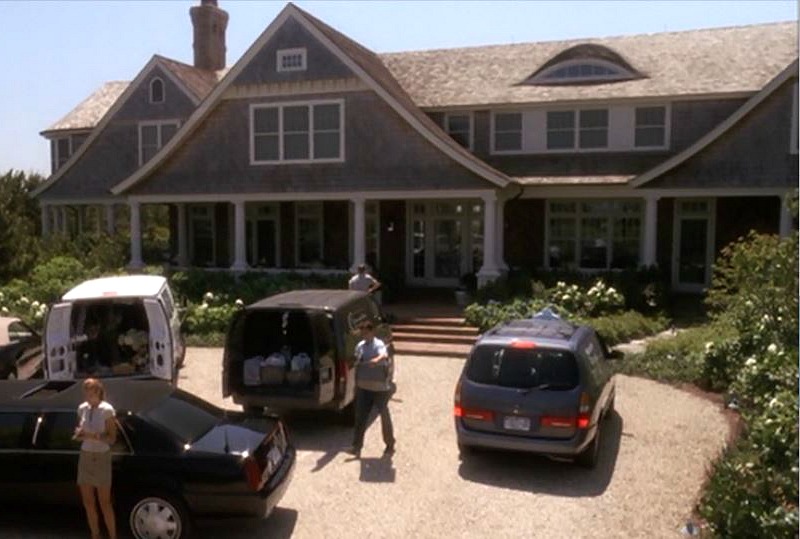 This overhead shot gives us a better look at the porch, surrounded by hydrangeas: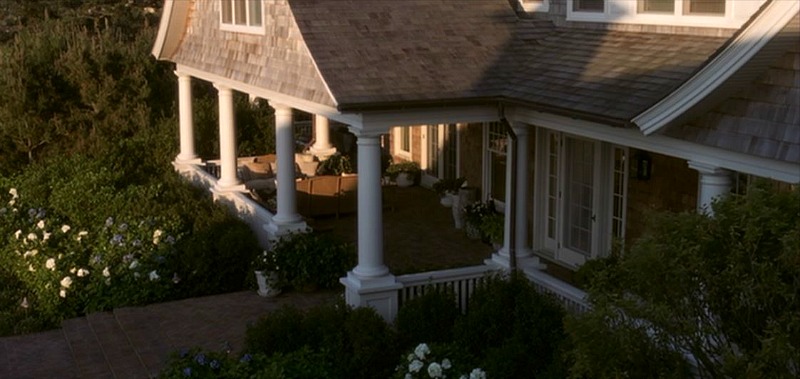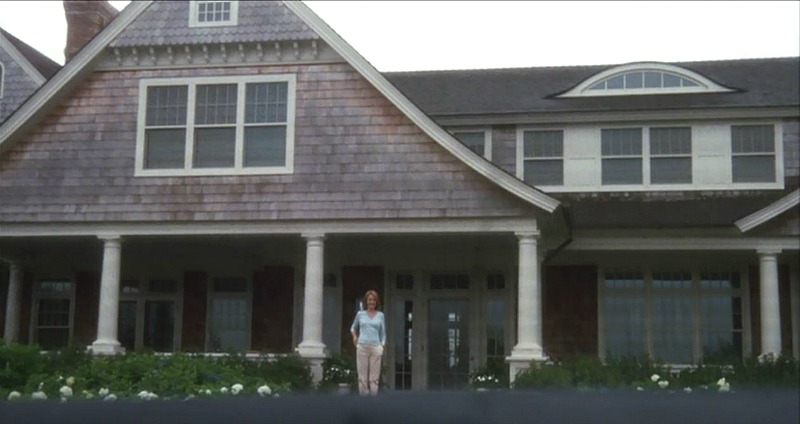 In the next photo you can see the porch wraps around the side, too: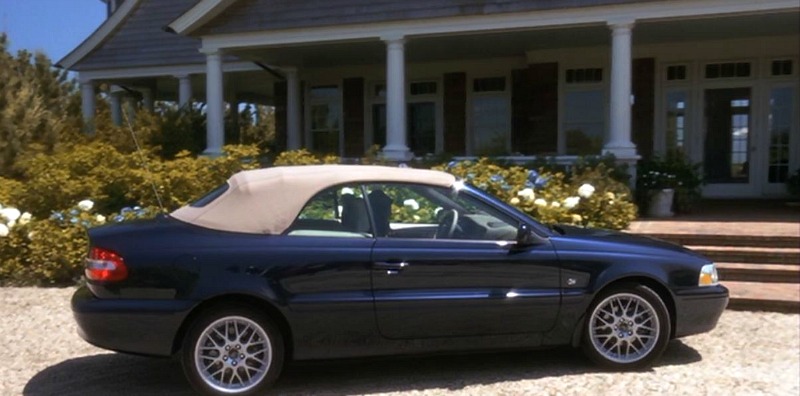 The Entry Hall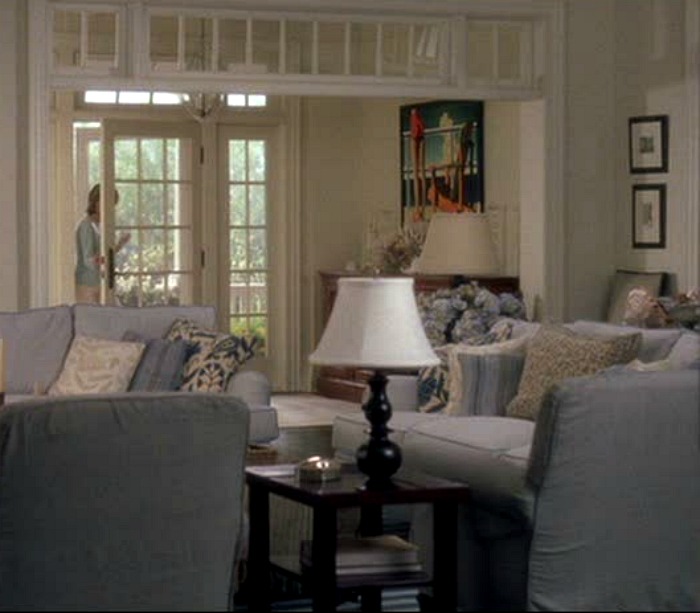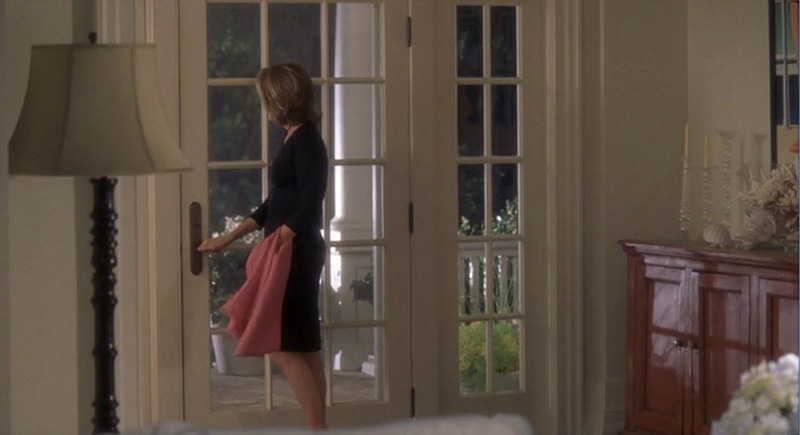 In the DVD commentary (Amazon affiliate link) they talk about how cold and rainy it was
during filming, but you'd never know it.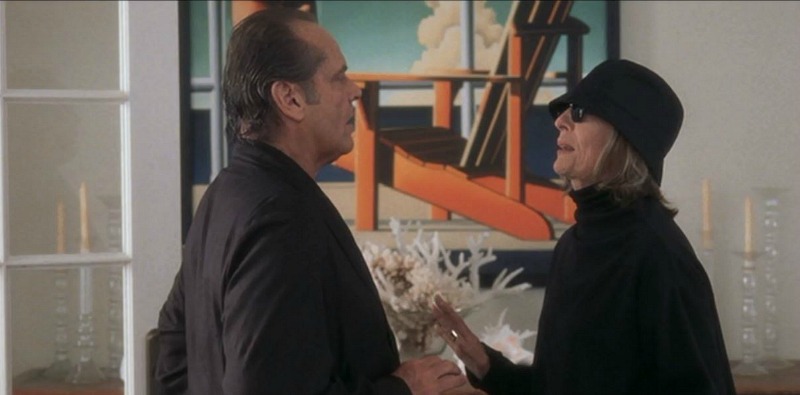 The painting behind them is by artist Kenton Nelson.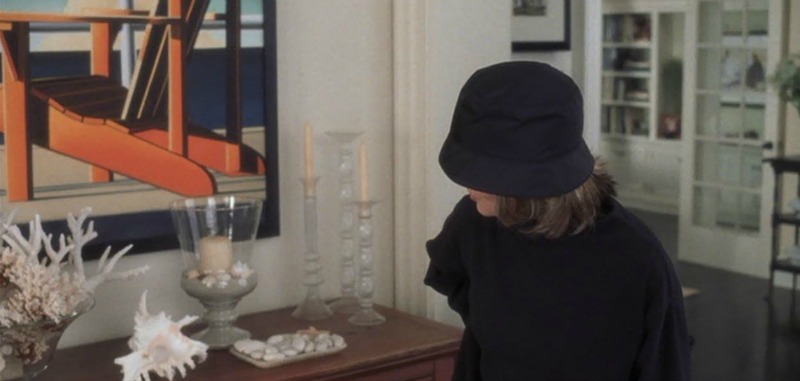 You can buy some of Nelson's posters and limited edition giclee prints here, but even those aren't cheap!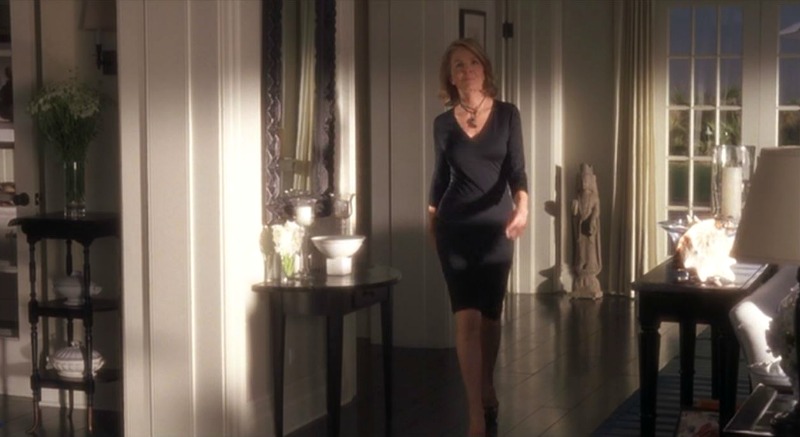 The "Something's Gotta Give" Living Room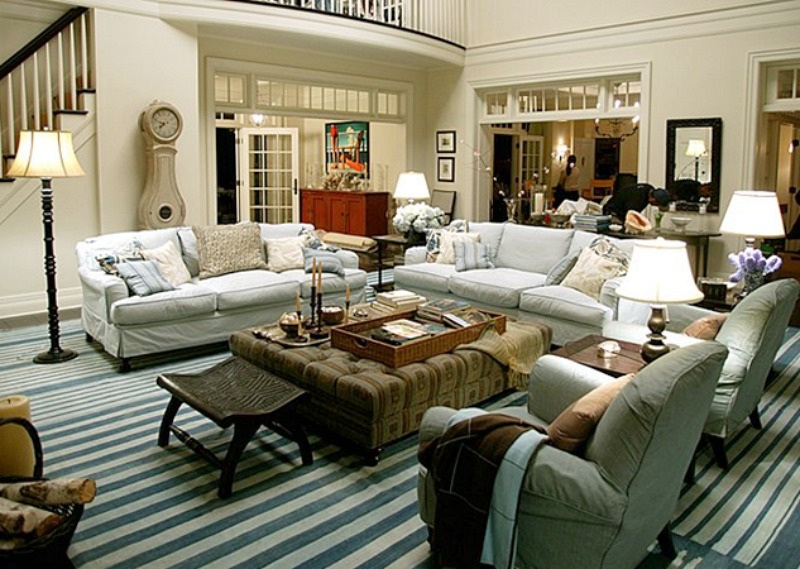 The house was featured in Architectural Digest, which provided us
with some great stills of the sets like the one above.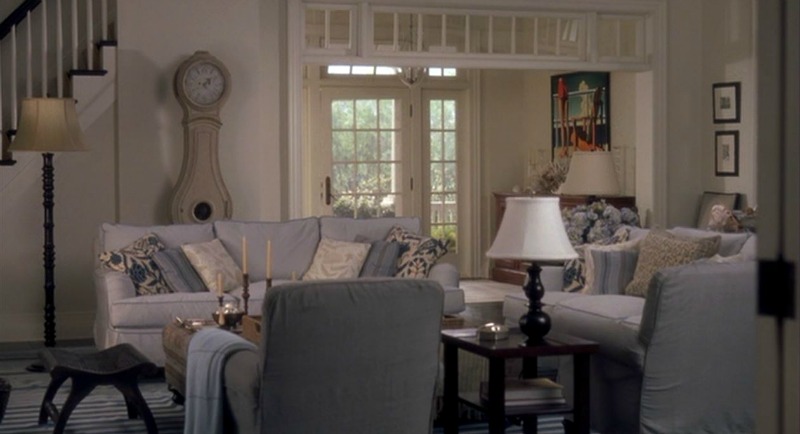 Nancy Meyers, who is known for turning houses into the stars of her movies, wrote and directed SGG.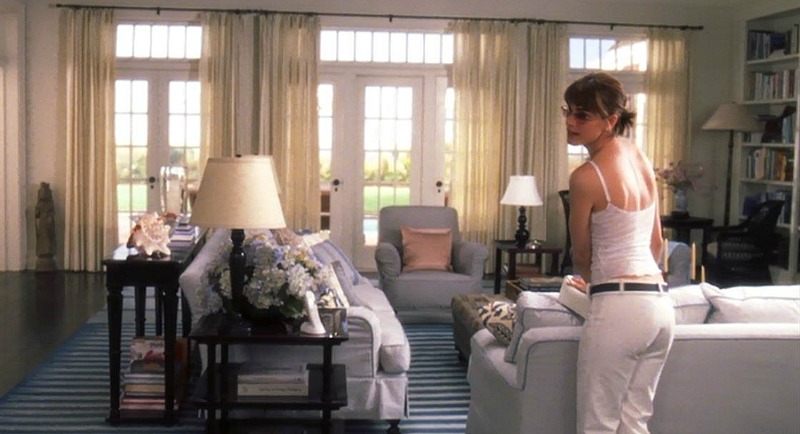 She described this one as "Every woman's dream house." Yep, pretty much.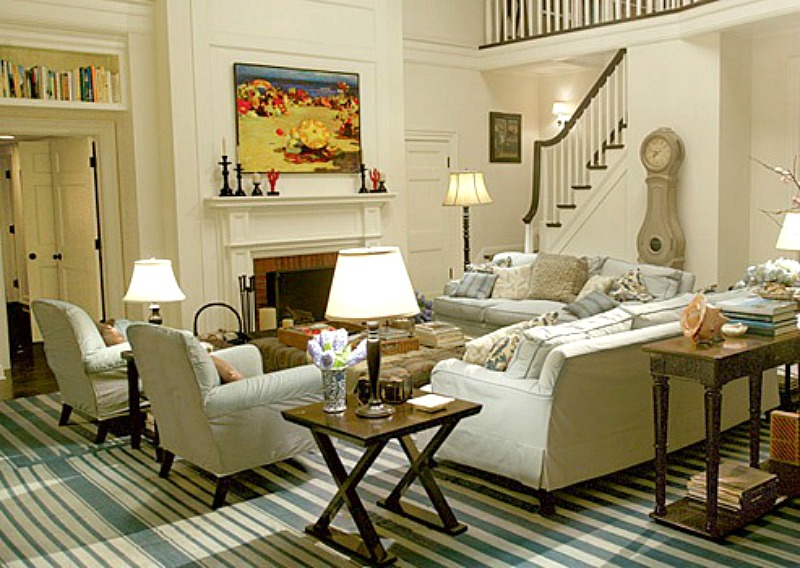 Jack Nicholson collects and appreciates art, and he suggested they look into the "beach art" of Edward Henry Potthast. A reproduction/version of his Rockaway Beach painting shown above "is the centerpiece of the room. You don't see it much, but its presence is felt," Meyers says.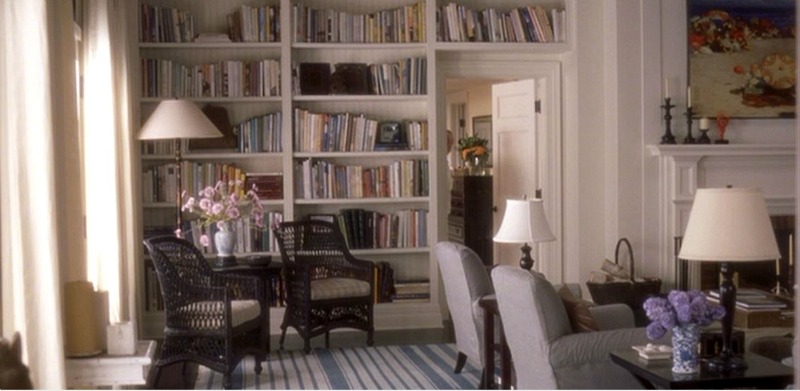 The sofas looks white with blue trim in some shots, but they were actually a "delicate eggshell blue linen."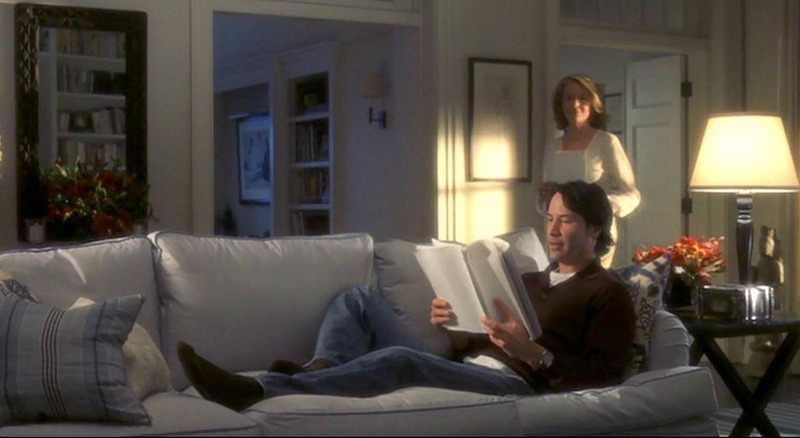 Joni of Cote de Texas said of the famous striped rug in this room:
"Nothing quite says Something's Gotta Give more than the blue and white striped rug. To duplicate this look in your space, there would have to be a blue and white dhurrie — otherwise, it would just be a pretty room."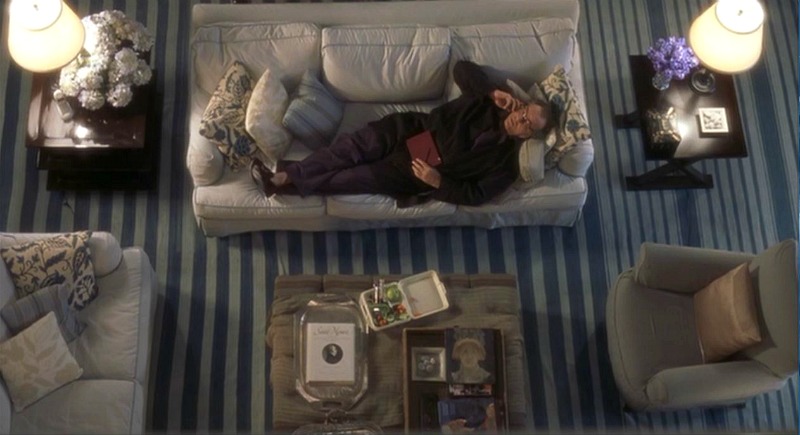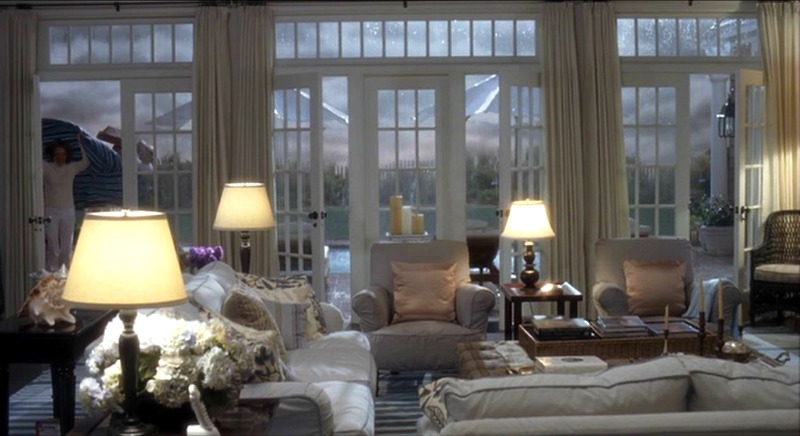 The original rug was reportedly an antique that was too large for the room, so they cut it in half and sewed it together to fit. If you look closely in some of the photos you can see the seams where the stripes don't match up.
One lucky blogger bought the rug at an auction, and you can see how it looks in her house today.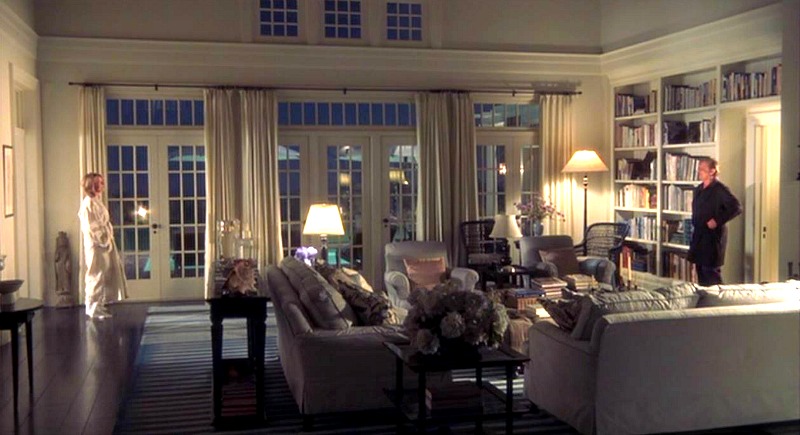 The Guest Room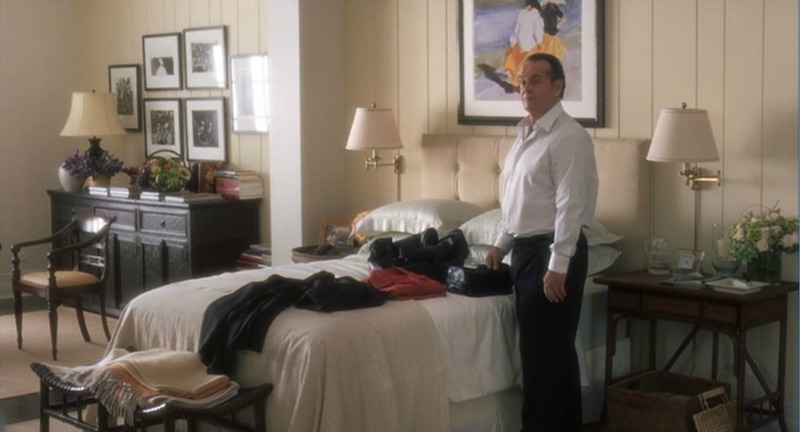 Jack Nicholson plays Harry Sanborn, who has to recover in Erica's guest room after a heart attack.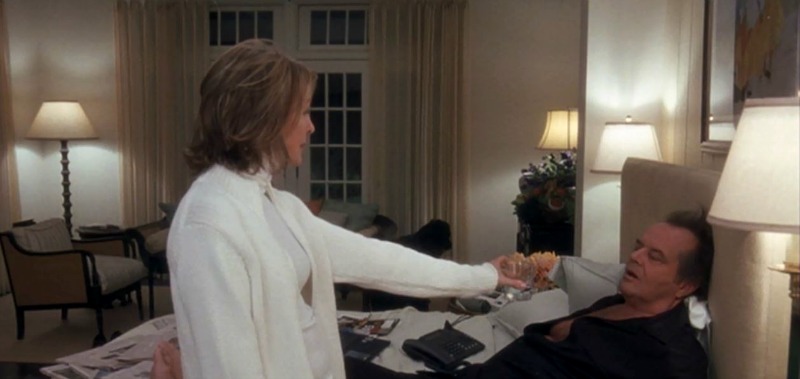 He was originally dating her daughter Marin (Amanda Peet).
Nancy Meyers says it was important to make it clear to audiences that the two of them had just started dating and hadn't "done anything" yet.
Marin clears out pretty quickly after he has his heart attack and leaves her mom alone in the house with him.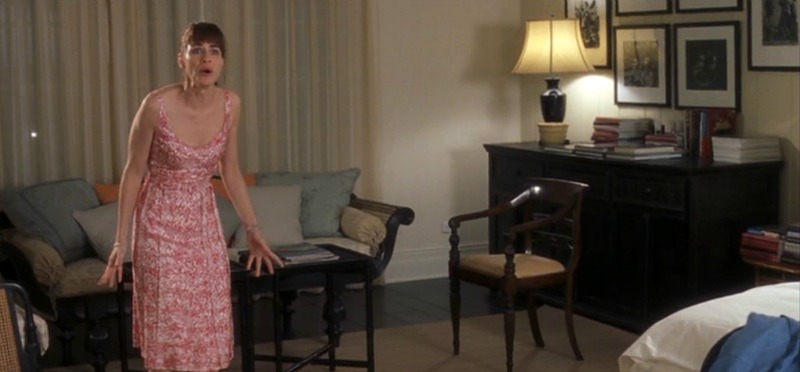 Erica's Bedroom and Writing Space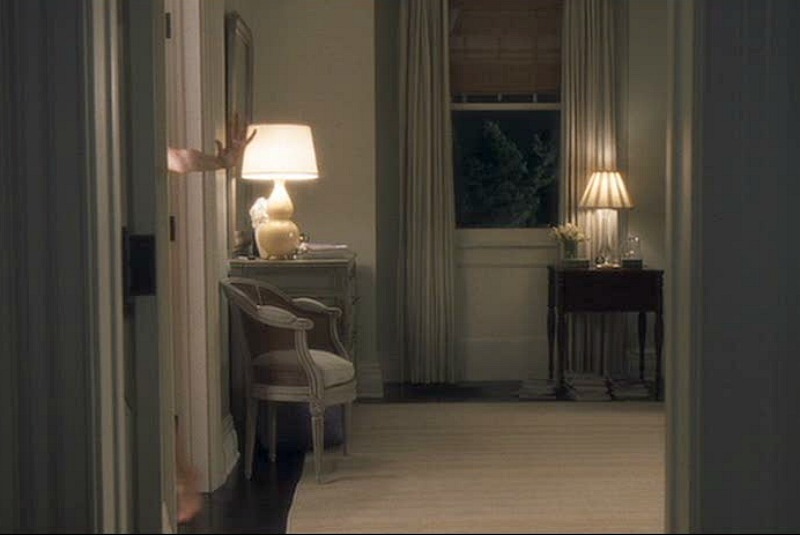 In the DVD commentary, Nancy Meyers talks about the set:
"There's not a lot of room for other people in the house. There's only one guest room. It's a big kitchen because she likes to cook. Even though I don't show her bathroom, it was important to me that it not have two sinks. And her desk was in her bedroom because it wasn't a place for romance."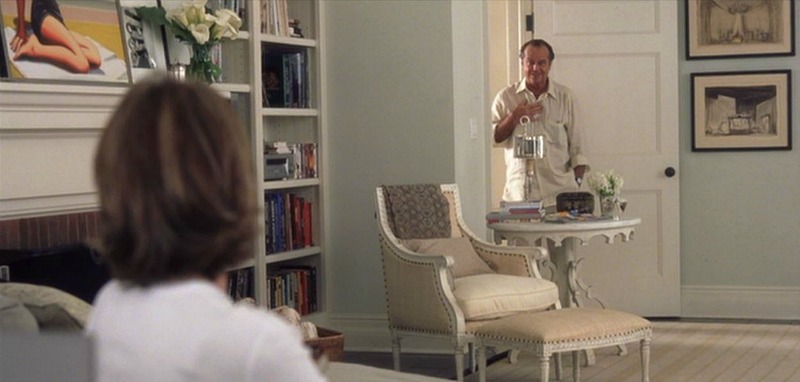 Linda Merrill tracked down source info on some things like that pretty little table by the door you can find here.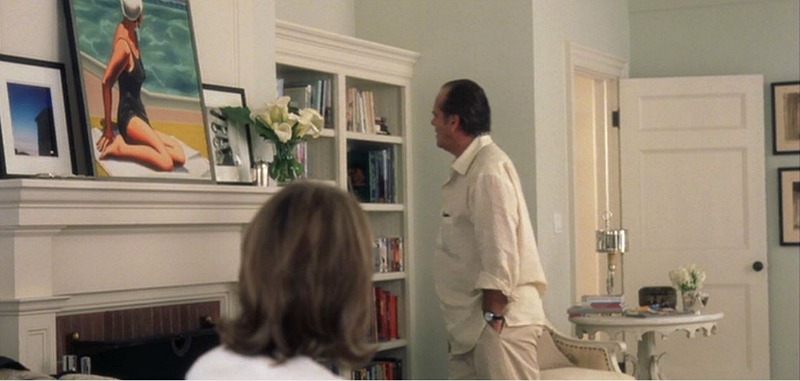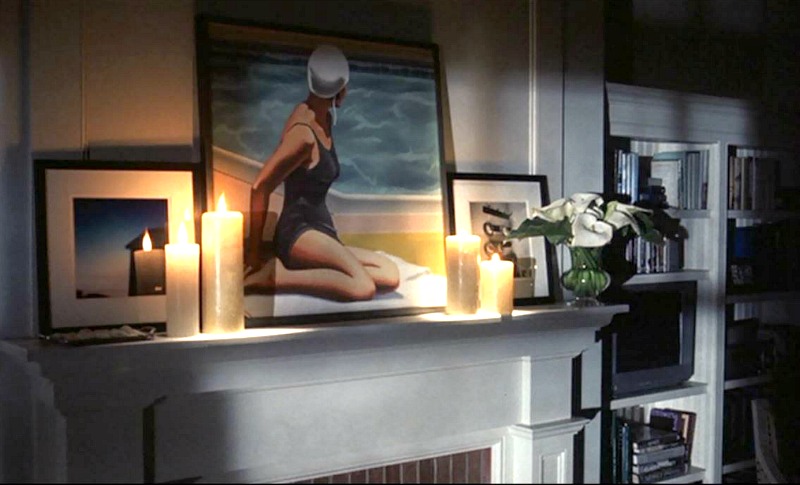 Curious about the paint colors?
I've lost track of the number of questions I've gotten about them over the years.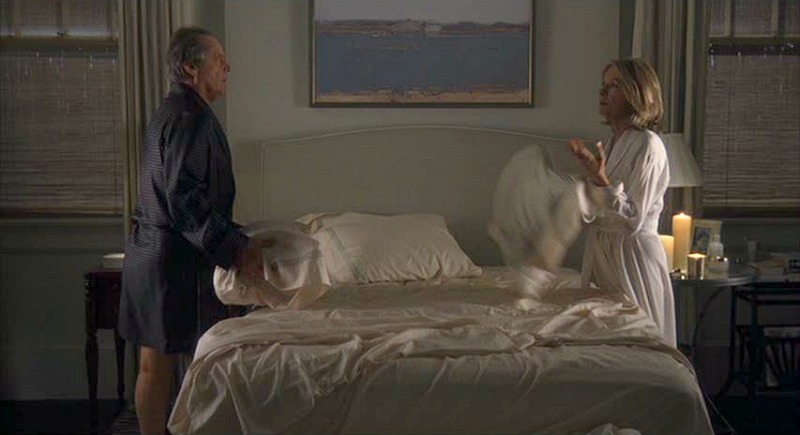 Set Decorator Beth Rubino says the colors aren't anything you could buy from a paint store, though.
They were custom-mixed colors that were designed to look good onscreen.
The lighting is different on a set than it is in a house, so even we used the same paint, she says, it wouldn't look the same.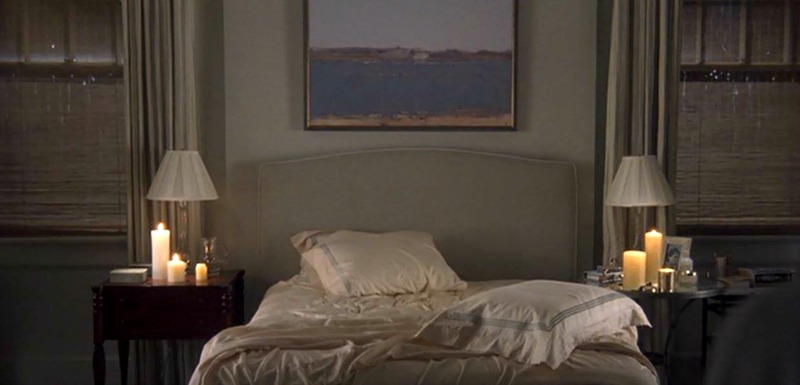 You can listen to an interview with Rubino about the sets on The Skirted Roundtable.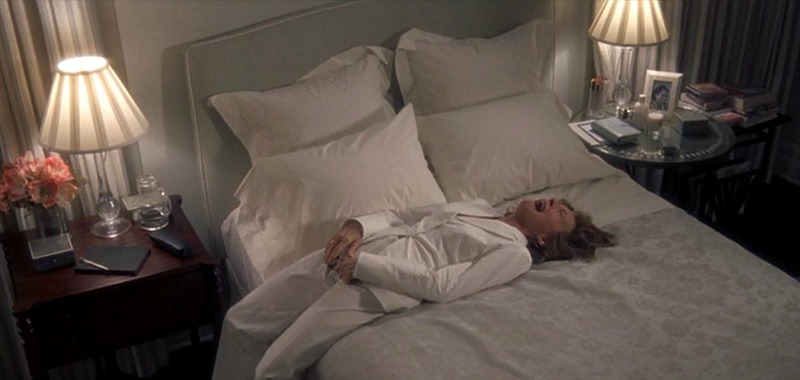 Erica is a playwright who has her desk in the big, windowed alcove of the bedroom: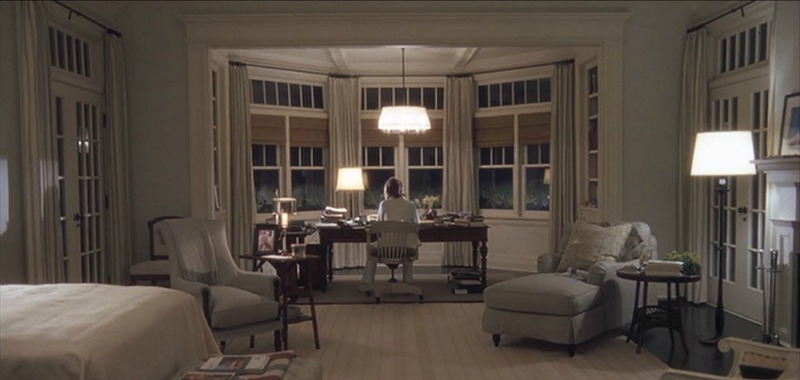 A writer's room wouldn't be complete without bookshelves — and lots of books.
Rubino ordered 3,000 of them for the sets from New York's Strand Book Store.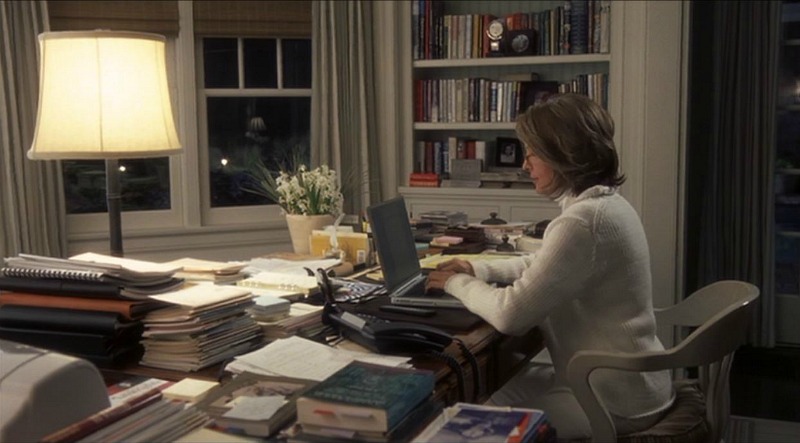 To get the details right, Meyers contacted playwright
Donald Margulies and asked him to list everything he has on his desk.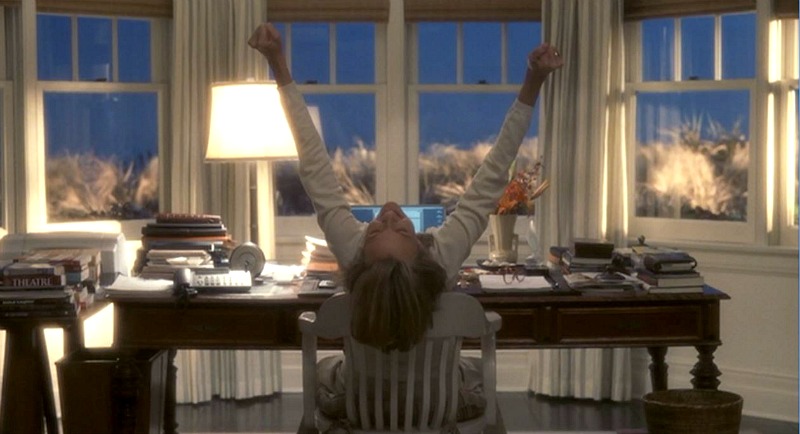 Production Design was by Jon Hutman (The Holiday).
Set Decoration was by Beth Rubino (It's Complicated).
Amanda Peet said she wished she could live in this set after filming, she loved it so much.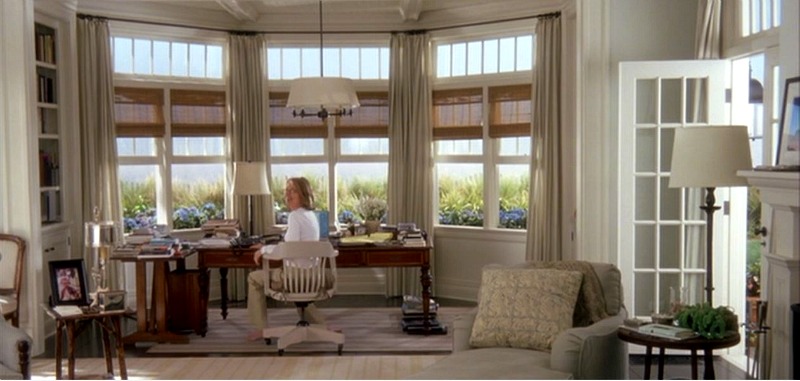 The "Something's Gotta Give" Dining Room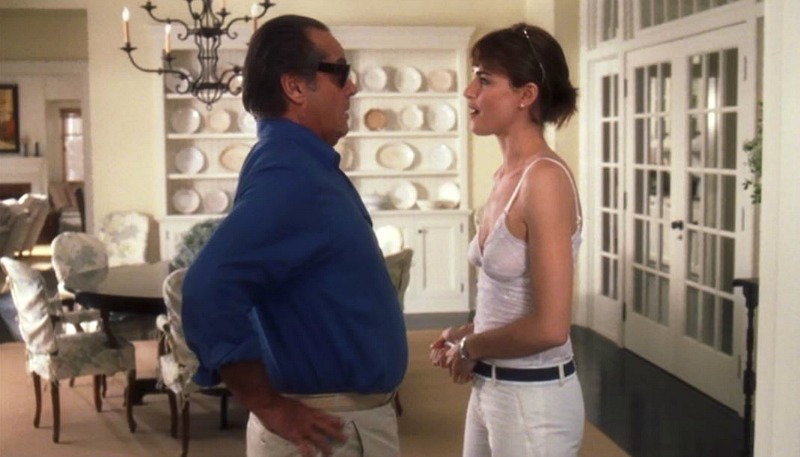 The dining room has a sisal or seagrass rug, which became a big trend.
The slipcovers for the dining room chairs were made with Lee Jofa's Bordeaux Toile (now discontinued).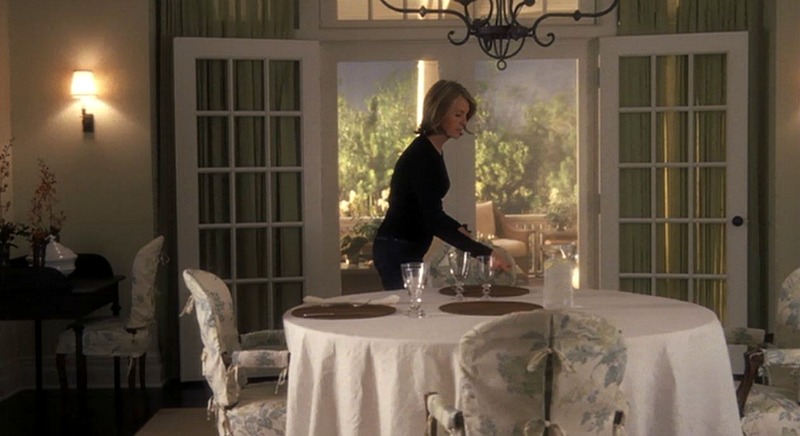 Set Decorator Beth Rubino saw built-ins like these in a friend's dining room and duplicated them for the movie.
Also love that swinging door with the round window that separates the dining room from the kitchen: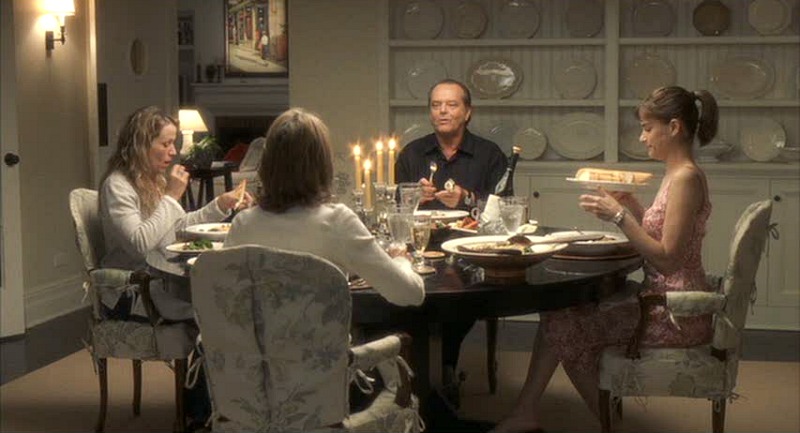 It inspired a lot of people to collect and display their own ironstone.
The "Something's Gotta Give" Kitchen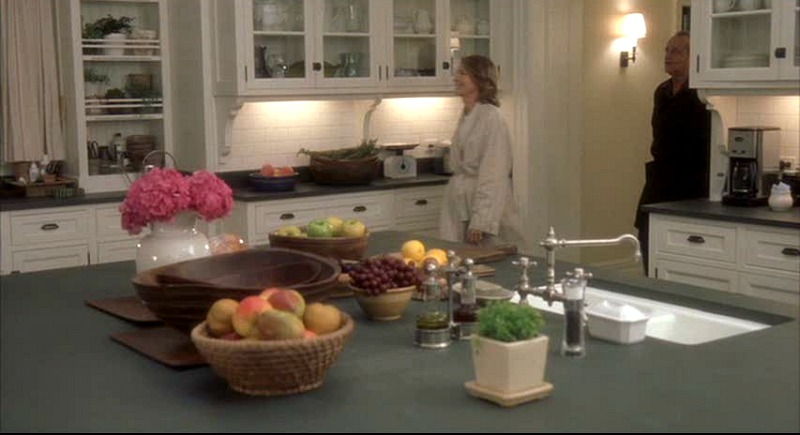 Nancy Meyers said that since so much of the movie's action takes place inside the beach house, she knew the design would have to be interesting enough to hold our attention and keep us from feeling claustrophobic.
I'd say since we're still talking about it 15 years later, mission accomplished!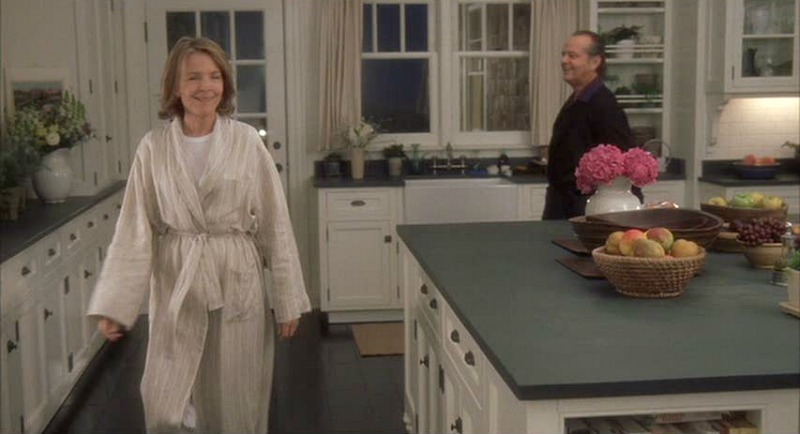 How many white kitchens with hardwood floors, subway tile, and black countertops do you think this one inspired?
It seemed like such a new look at the time. Those soapstone countertops! Those retro drawer pulls!
Fifteen years later, all you have to do is scroll through Pinterest to see the lingering effects this set had on our kitchens.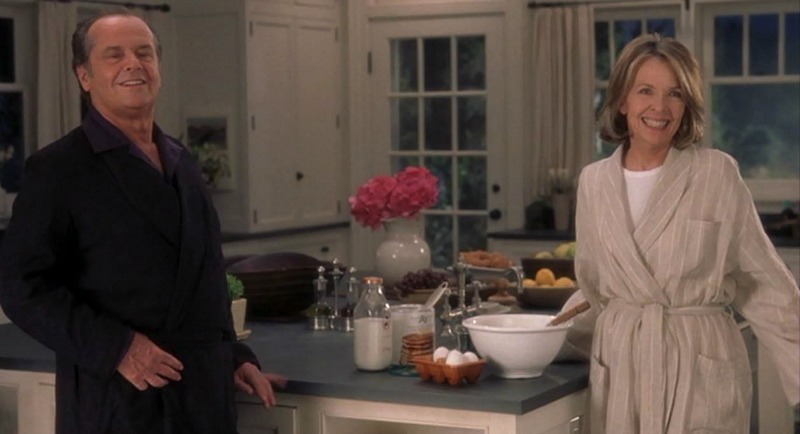 They faked the look of greenish-black soapstone by painting MDF
and faux-painted the floors to look like dark wood.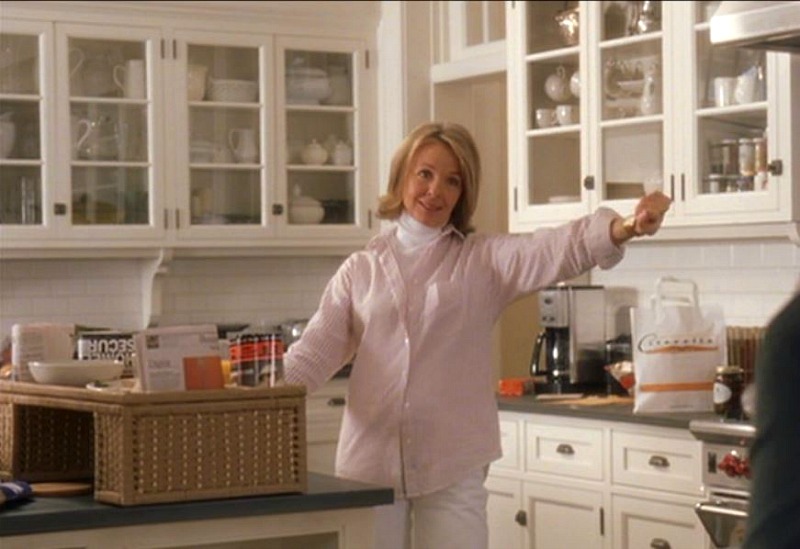 Keanu Reeves was charming as her younger love interest.
He's on the movie poster in Japan because he's so popular there.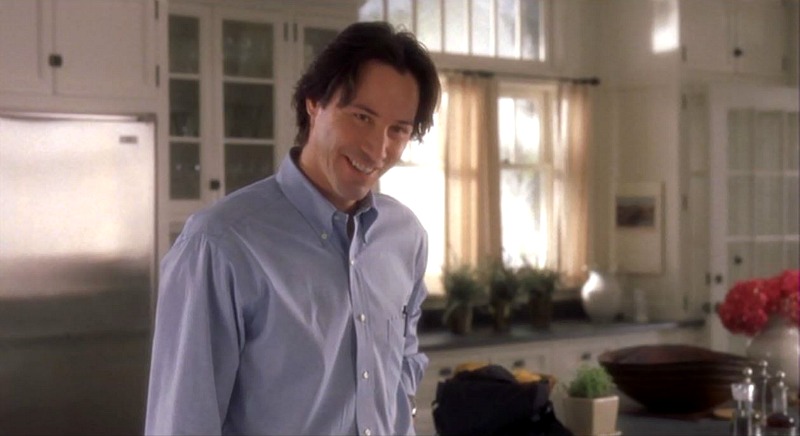 Apologies to Diane for this weird screenshot, but I was determined to get a pic of that kitchen wall: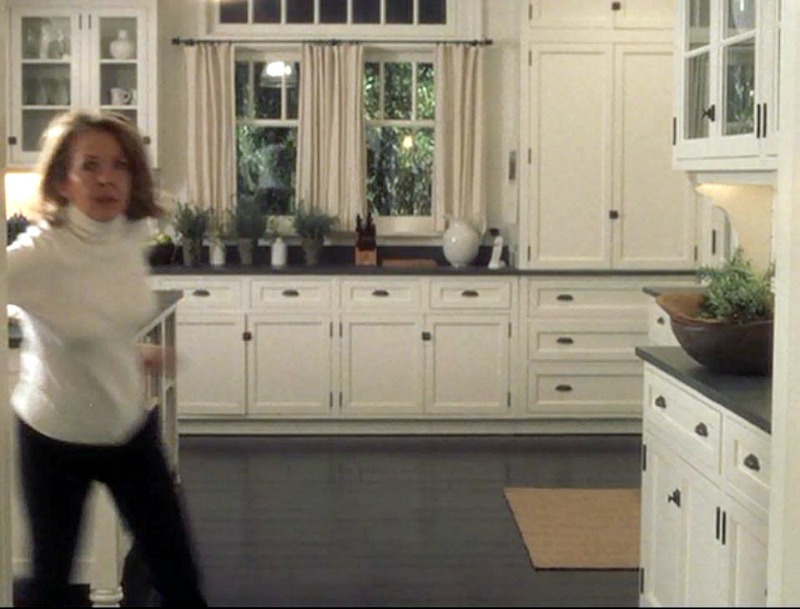 Frances McDormand had a small but memorable role as Erica's sister: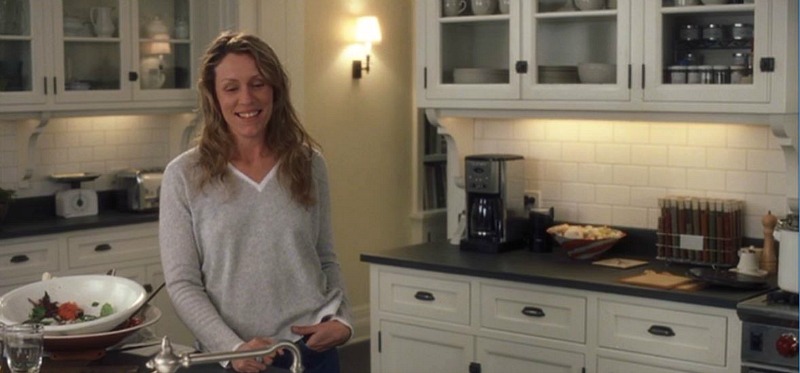 I've heard people say they've taken screenshots like this of Jack Nicholson in his underwear to show kitchen designers what they wanted. Little did he know when he filmed this scene that he'd be appearing on design blogs in his boxers for years to come!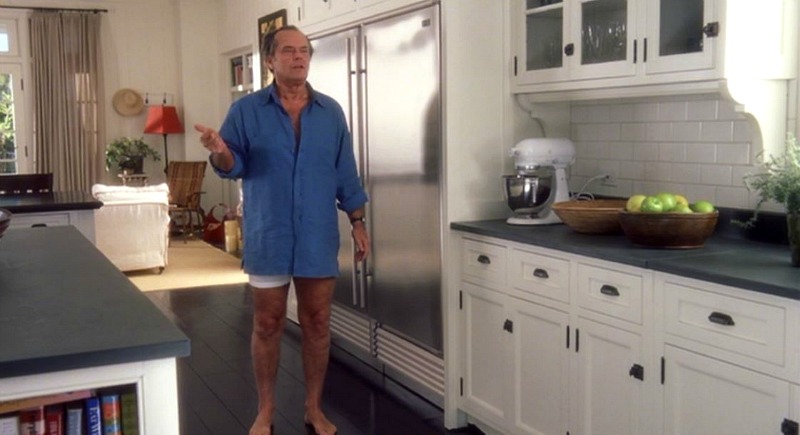 They outfitted the kitchen with a stainless-steel Sub-Zero refrigerator and a Wolf range.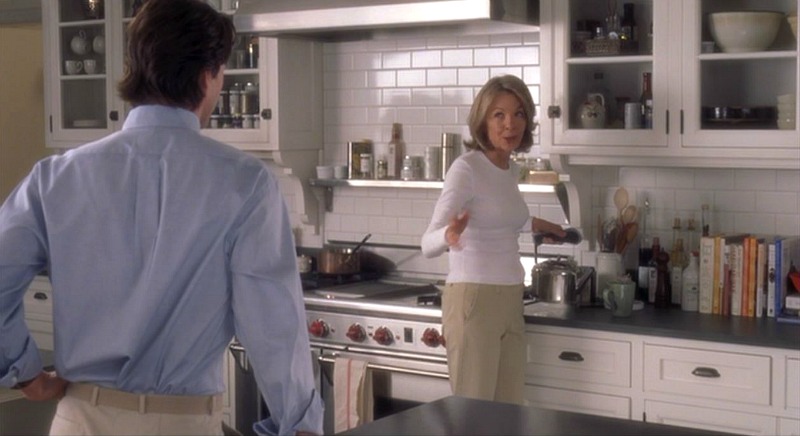 Meyers told AD, "The house had to reflect Diane's character,
who is a very successful, accomplished New York playwright in her mid-50s."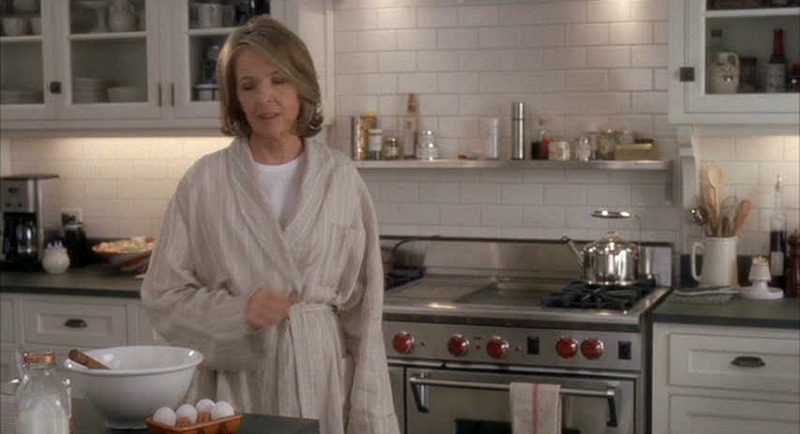 "She is also a divorcée, following a 20-year marriage, who built her Hamptons house as a gift to herself — no compromises — just her total vision of a peaceful life."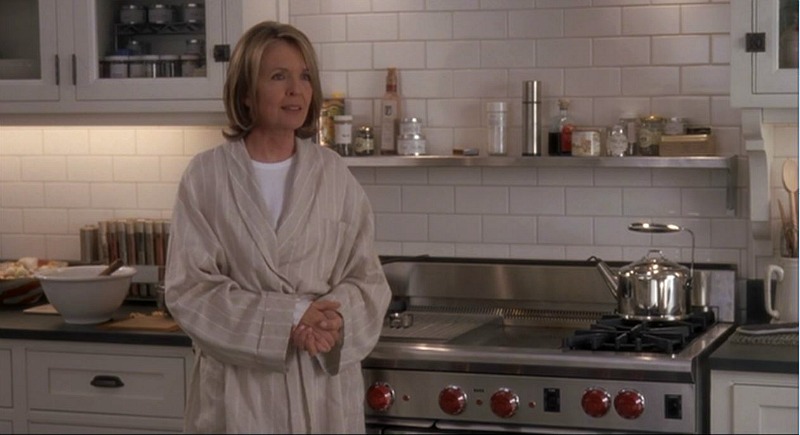 Jon Hutman received a well-deserved Oscar nomination for Production Design for his work here.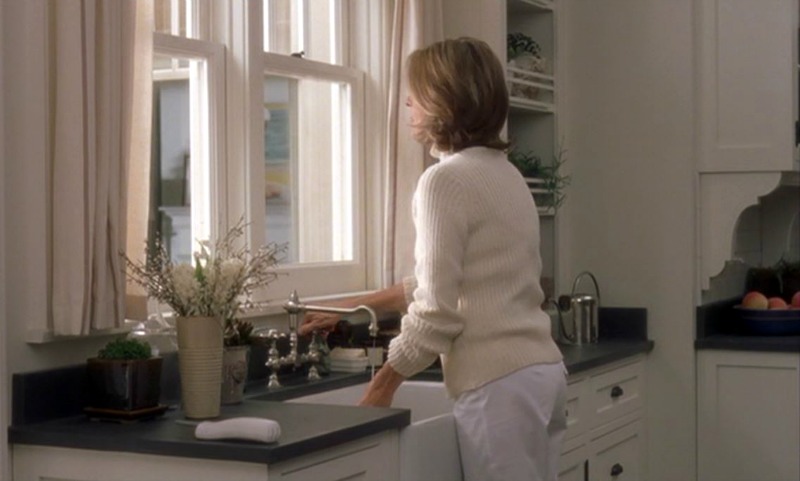 The DVD is worth buying if you're a fan for all the special features, including a deleted scene with Harry singing "La Vie En Rose" to Erica in a karaoke bar. Part of the scene was used in the trailer, and he sings the same song during the end credits. (Amazon affiliate links.)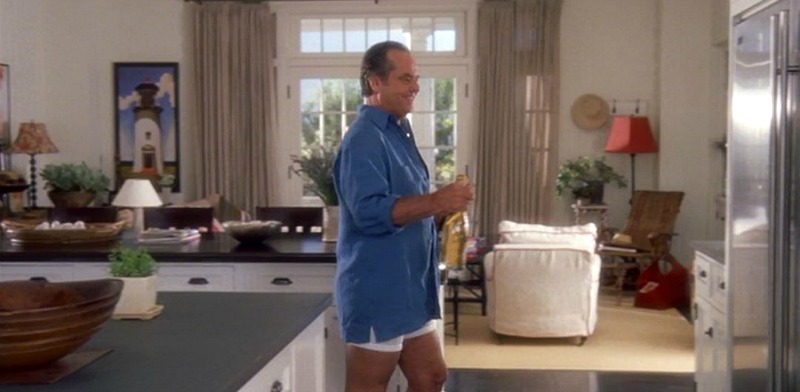 Diane Keaton scored an Oscar nom for Best Actress for her role as Erica Barry and won a Golden Globe.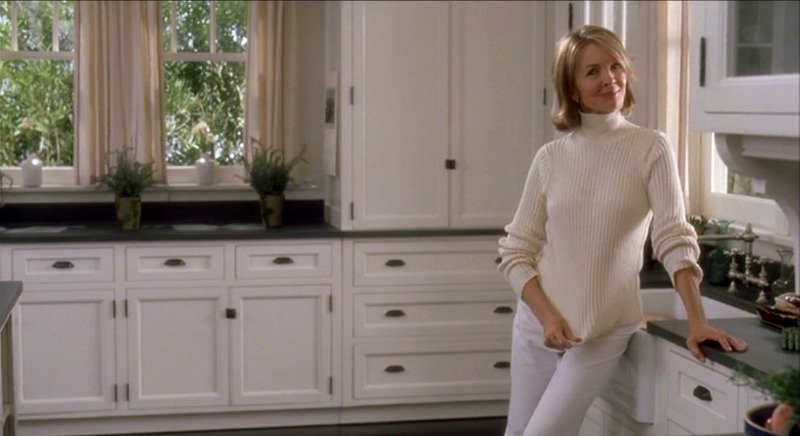 The Pool Set Behind the Scenes (via DVD Special Features)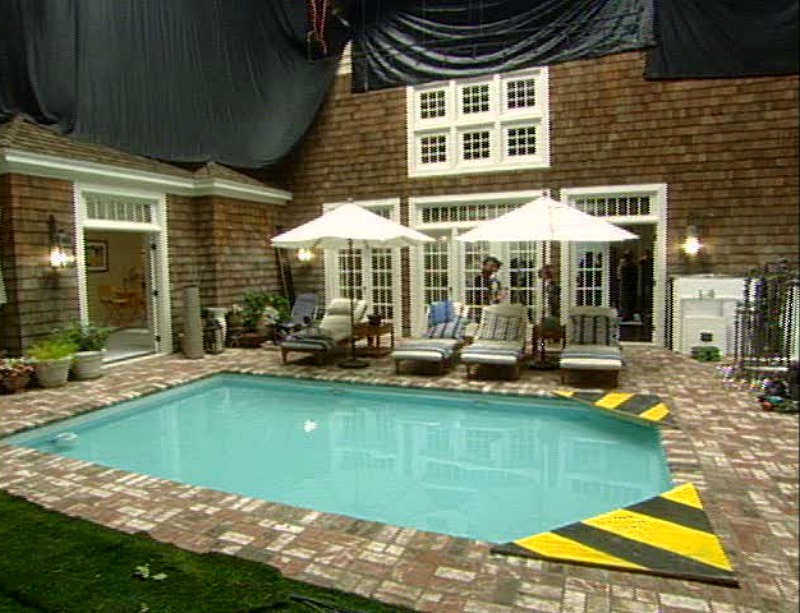 Nancy Meyers's most pressing conundrum was how to keep her film, an hour of which takes place in five rooms, from feeling like a stage play.
"It's about depth of field, constantly looking from room to room, out a window, believing the beach is beyond," Meyers explains.
"In one scene, where Jack is in the bedroom and Diane stands in the doorway, you see past her into the living room and kitchen. You shouldn't feel claustrophobic."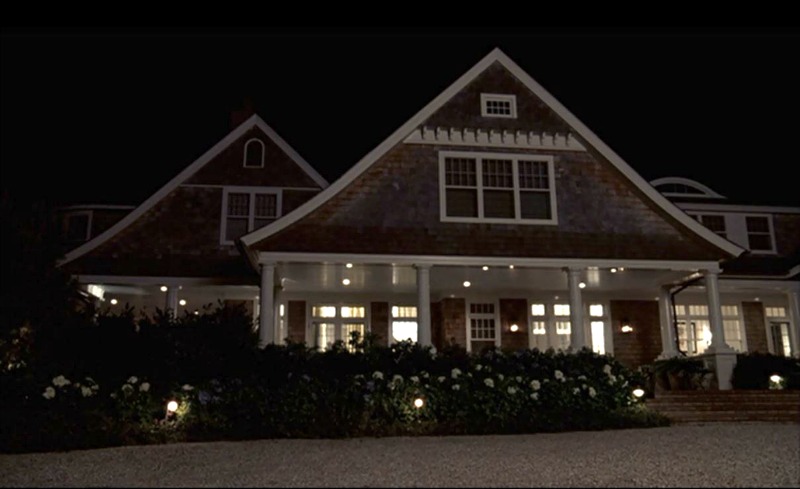 Harry's Townhouse in "Something's Gotta Give"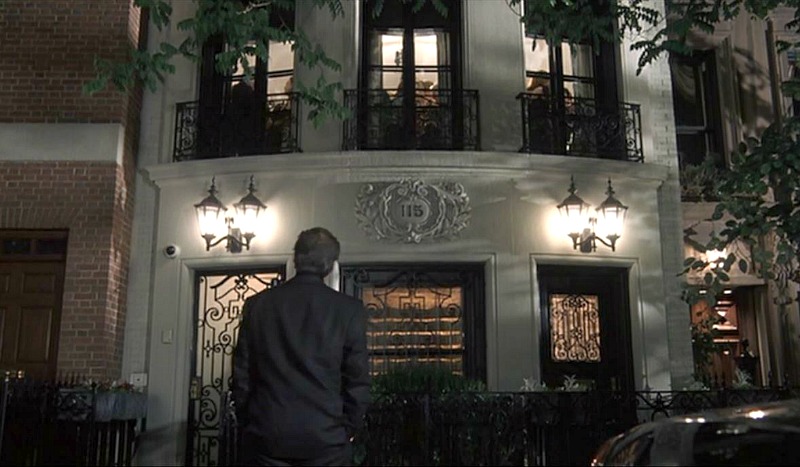 We get a glimpse inside Harry's bachelor pad in the city, a 19th-century townhouse on East 78th St.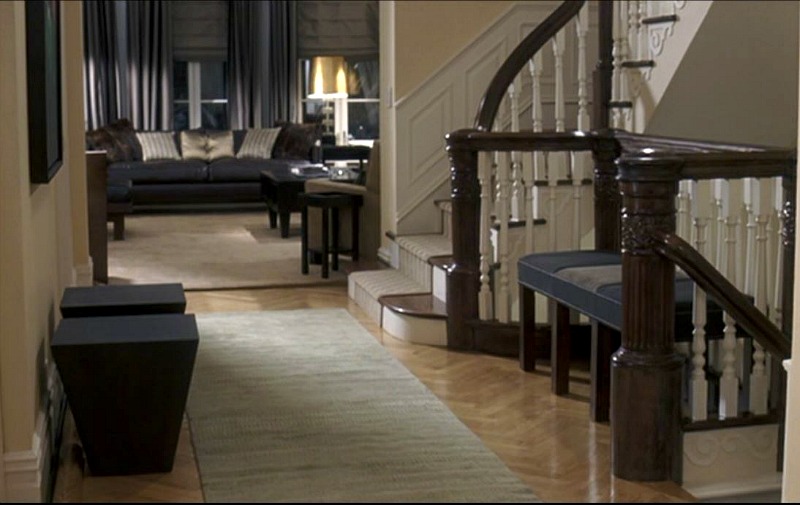 According to IMDb, Miranda Priestly (Meryl Streep) also lived here in The Devil Wears Prada.
Here's a screenshot from that one: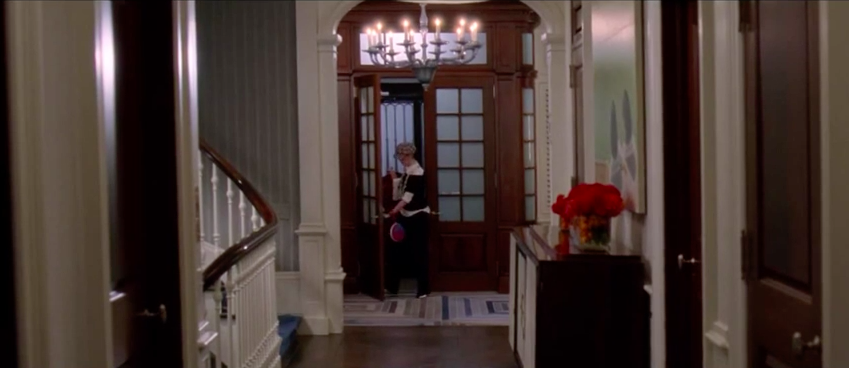 Harry brags he was once engaged to Diane Sawyer.
Meyers says they got her permission before including it.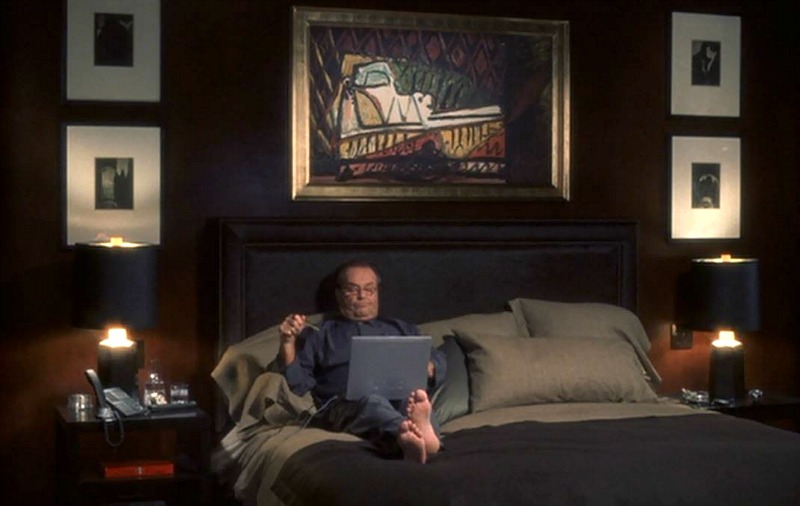 "Something's Gotta Give" Set Tour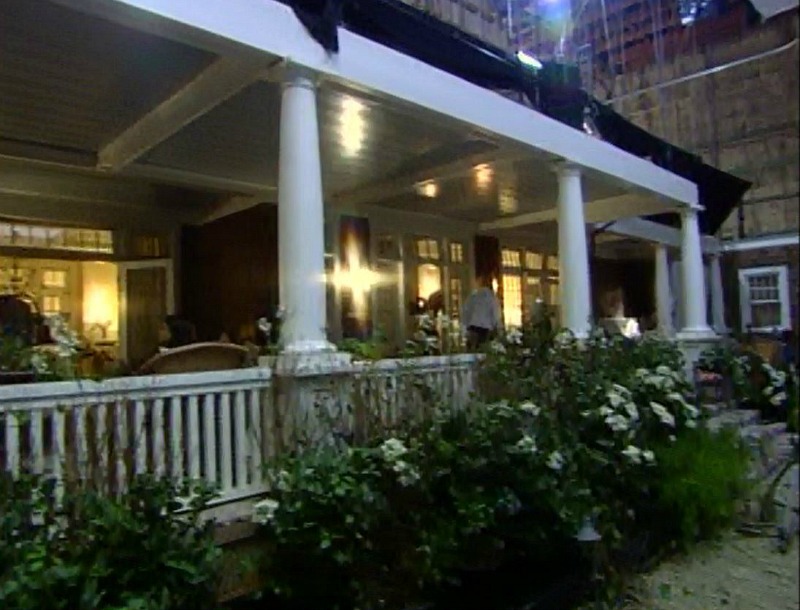 They built a fake front porch on the soundstage for close-ups.
Here you can see the track that allowed the camera to circle the round table (below):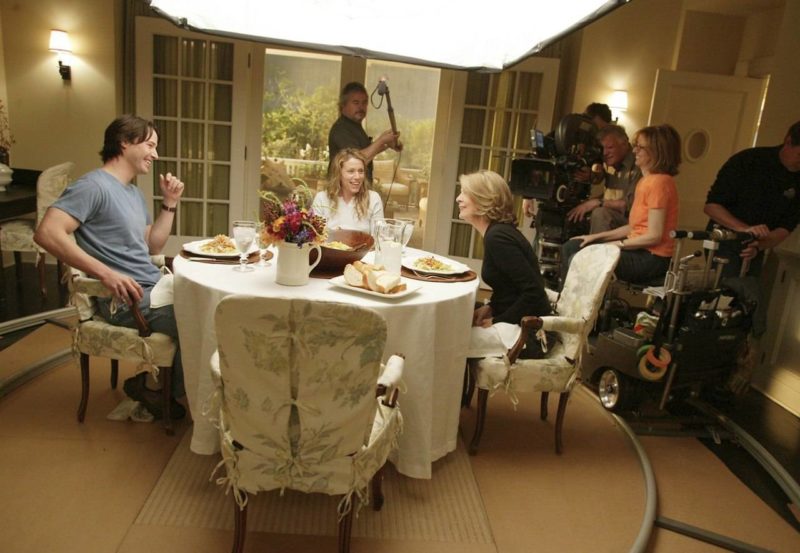 Rubino says, "Diane's character loves to cook, so we had to have a practical, functional kitchen."
In the video tour (found here), Peet introduces us to the people in charge of the props. (Affiliate link.)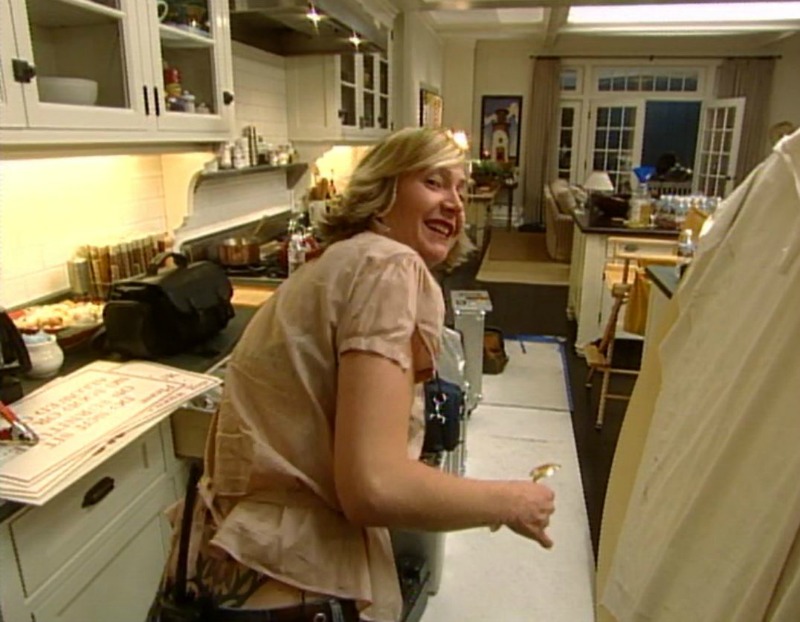 Meyers says that as fun as it was to create this house for the movie, it was "horrible" knowing it had to be demolished after filming. She wasn't able to watch them do it.
When Rubino told AD that Nancy Meyers was "very involved in the visual process," approving every fabric and detail, Meyers laughed and said, "That's code for 'She's a pain in the butt.'"
"But if you've spent a chunk of your life writing a character and someone puts them in the wrong clothes, or in a bed with sheets you know she would never own, it's as if someone's written dialogue. Sometimes you pick up more from what you're seeing than hearing."

The Real "Something's Gotta Give" House in the Hamptons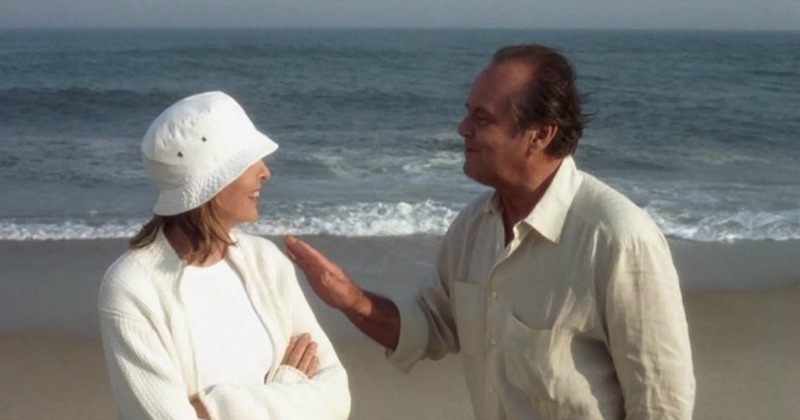 According to Curbed:
The gorgeous Shingle Style house at 576 Meadow Lane in Southampton, whose exteriors were featured in the 2003 movie "Something's Gotta Give," has been sold to James Tisch, CEO of Loews Corporation, for $41M.
The house was built in 2000 by Mediabistro.com founder Alan Meckler.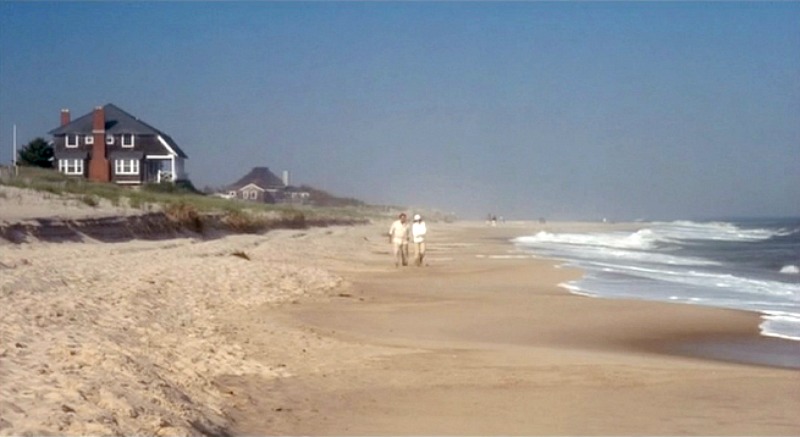 It sits on nearly 2 acres of oceanfront property.
The beach scenes were filmed elsewhere, though, at the Flying Point Beach in Water Mill.
You can see the entrance to the the real house where exteriors were shot at Locations Hub.
According to the former listing on Zillow, the house has 9 bedrooms and 9,625 square feet, so it's bigger than it looks onscreen.

I hope you enjoyed revisiting the "Something's Gotta Give" beach house with me.
If you're still here, 2 billion photos later, then I think you've earned your status as an "SGG Superfan!"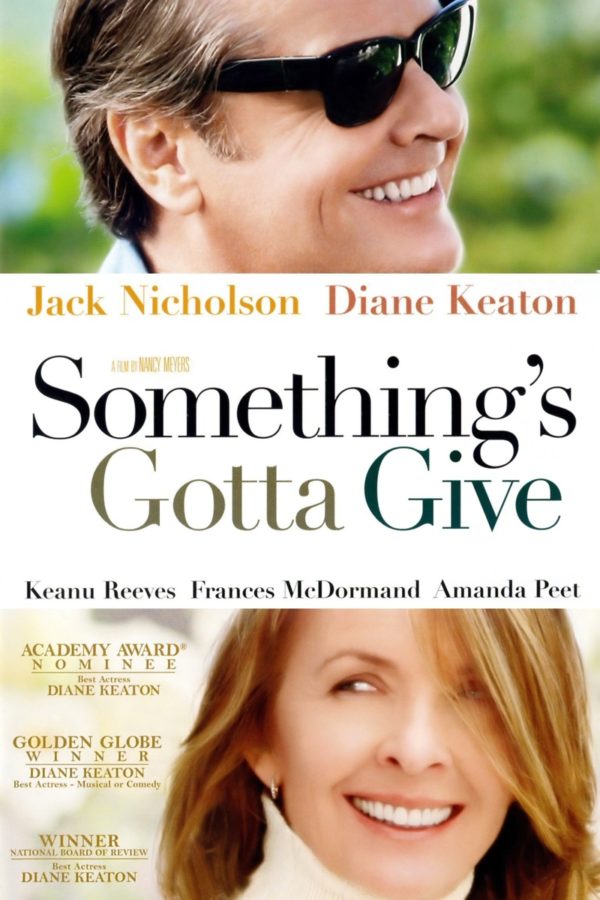 You can stream the movie on Amazon (affiliate link).

Visit Architectural Digest to see their slideshow of SGG set photos.

Photography credits: Bob Marshak, Architectural Digest and Columbia Pictures.

For more information about 576 Meadow Lane in Southampton, check Zillow.

Visit my Houses Onscreen page to see the others I've featured, listed A-Z.