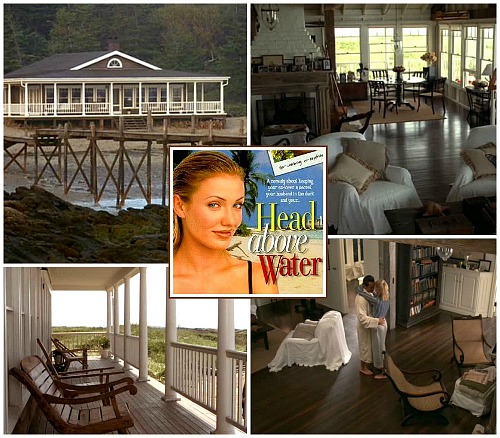 One of the movie houses that I've gotten the most requests to see photos of is Cameron Diaz's beach house from Head Above Water. After a reader told me she loved it even more than the one from SGG, I broke down and bought the DVD last week so I could see it for myself. The minute this waterfront cottage in Maine appeared onscreen, I knew it was worth the $17 I spent on it…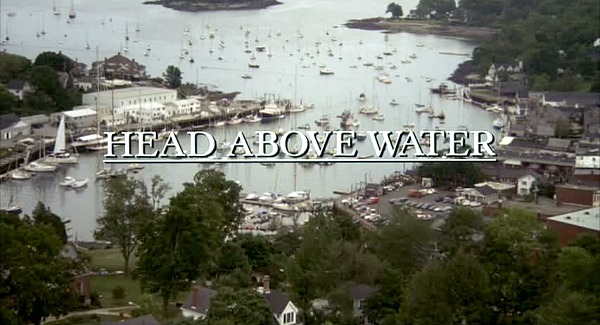 The movie was filmed entirely in Phippsburg, Maine.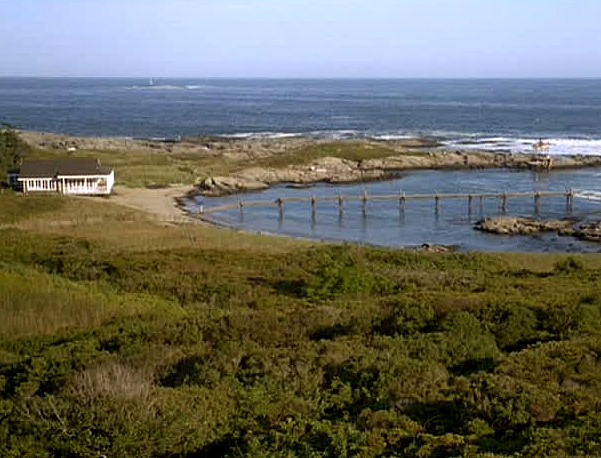 They did an amazing job making it look like it had been sitting there for years, but the beach house was actually built for the movie on a private island near Lincoln Beach.
Cameron Diaz plays Nathalie, whose family owns the cottage.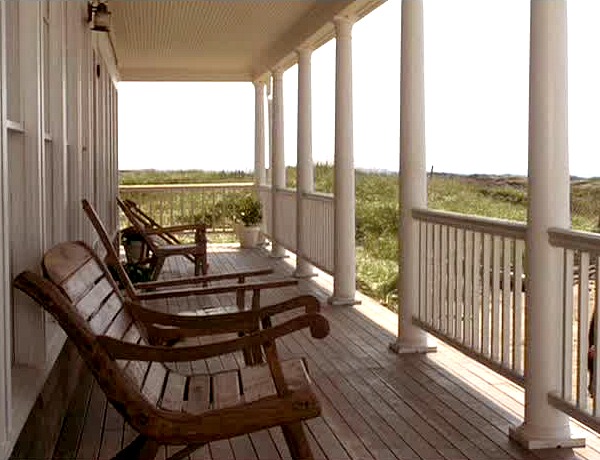 Craig Sheffer plays her childhood friend Lance who lives in the cottage next door.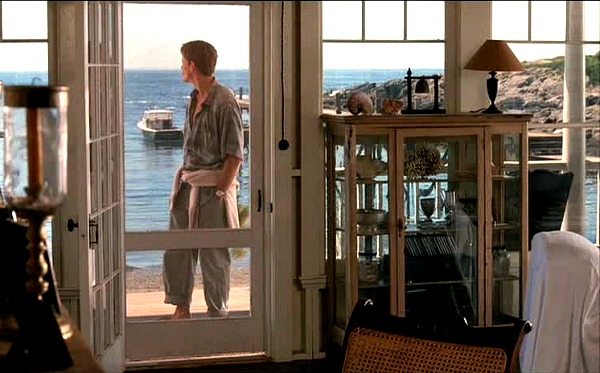 Harvey Keitel plays a judge and Nathalie's husband. They make an odd couple, for sure.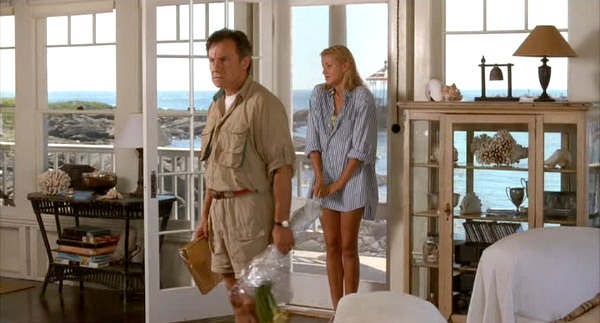 The movie was filmed in 1996, but the interiors don't look dated at all.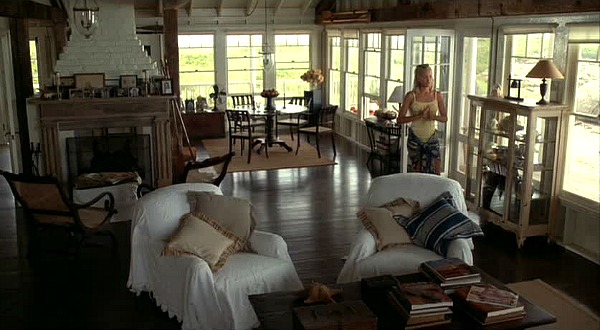 Head Above Water was a remake of a Norwegian film.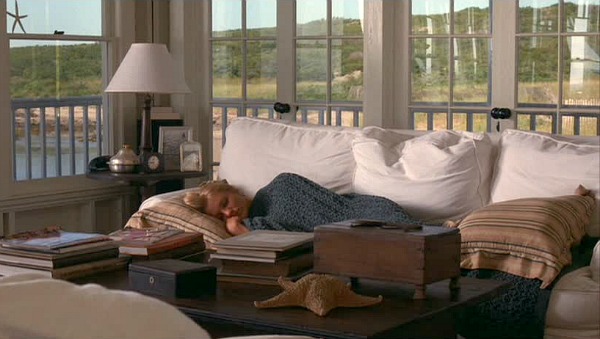 I guess I should mention for those of you who haven't seen the movie that I might mention some things you'd consider "spoilers" in this post, but I'll try not to give anything major away. 🙂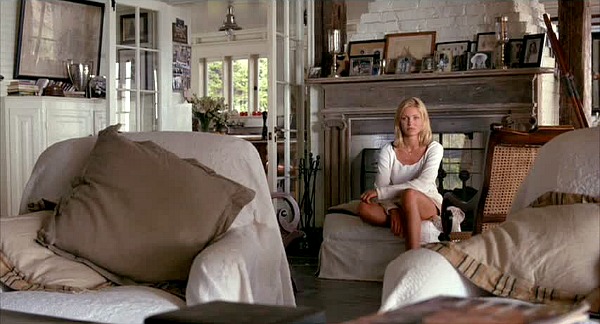 We only get glimpses of the bedroom and bath…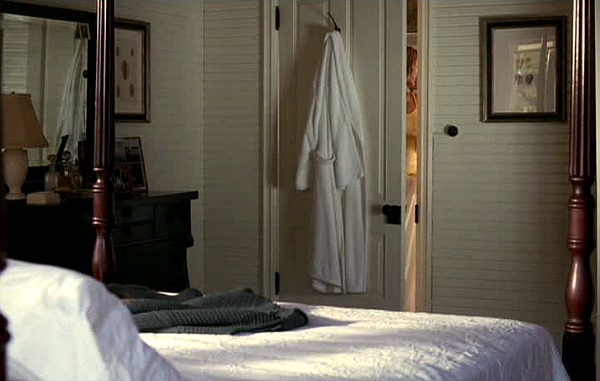 When George and Lance leave on an overnight fishing trip, Nathalie gets a visit from former boyfriend Kent (Billy Zane), who arrives on a stolen boat bearing flowers.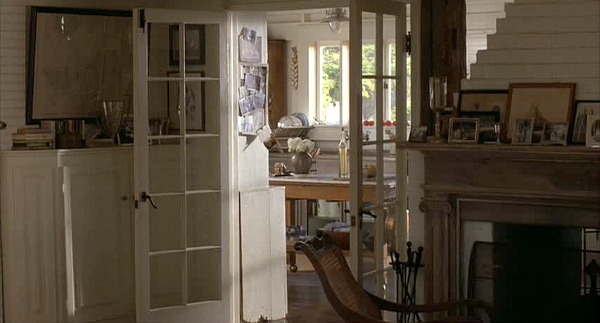 Kent tells Nathalie that he sent her a postcard telling her he was coming, but she never got it. It makes her wonder if her husband intercepted it.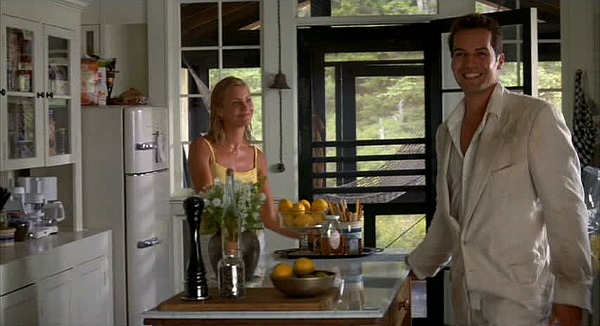 I kept hoping they'd let us see the screened porch behind the kitchen, but no dice.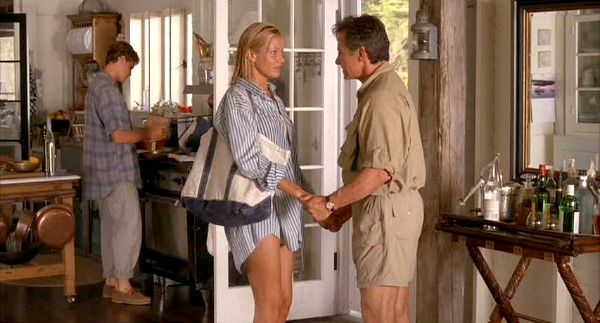 We see Nathalie and Kent drinking and dancing in the cottage together. The next morning she finds him dead in her bed, just as her husband is coming home. Hide-the-body antics ensue.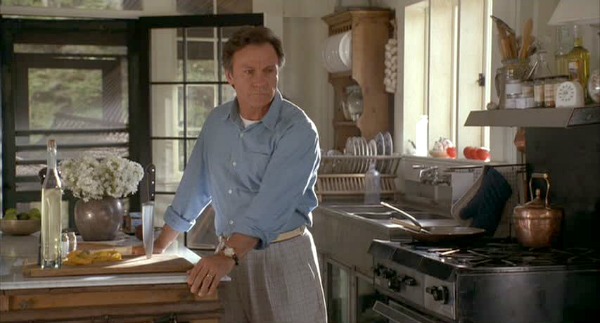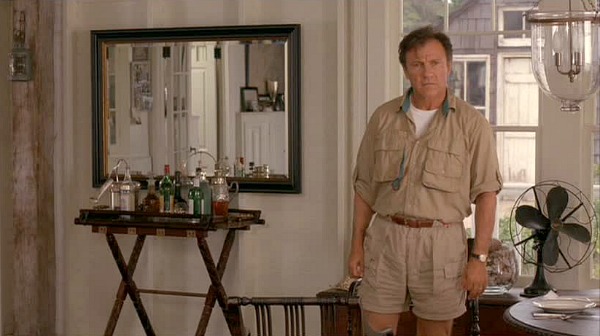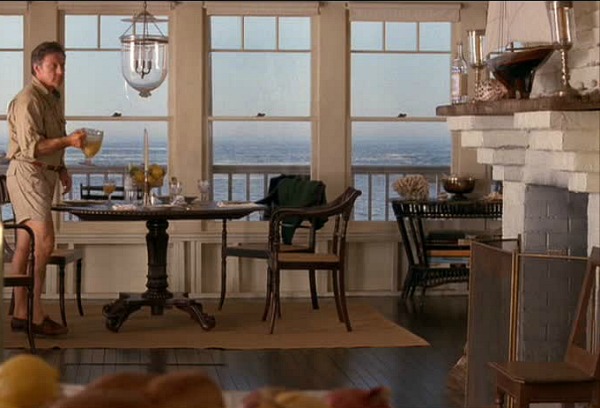 Nathalie finally confesses to George about Kent, who says they have to get rid of the body. As a judge, he doesn't think it will look good if the story gets out about what happened.
George is worried that Nathalie will tell the authorities about Kent's death and he'll be arrested for murder, so he locks her in the cellar overnight. (Again, this is a "comedy.")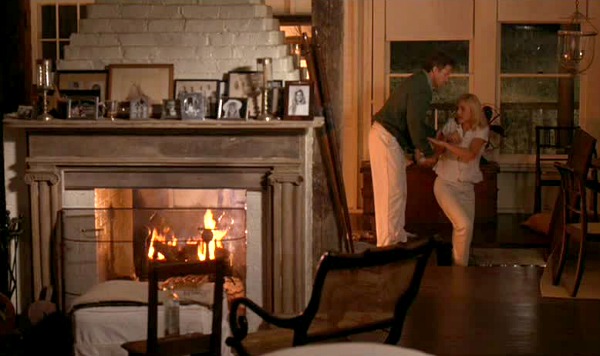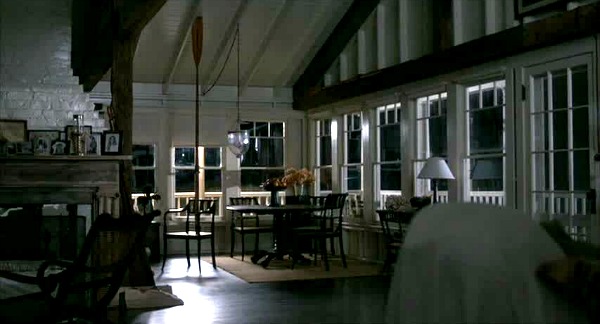 I love that brick fireplace in the center of the cottage: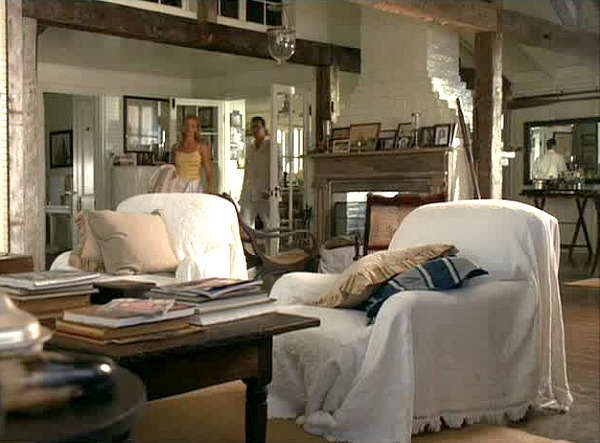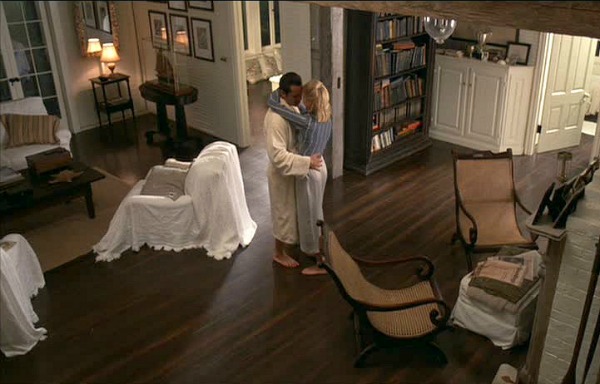 Jeffrey Beecroft provided the production design of the couple's bungalow and surrounding structures.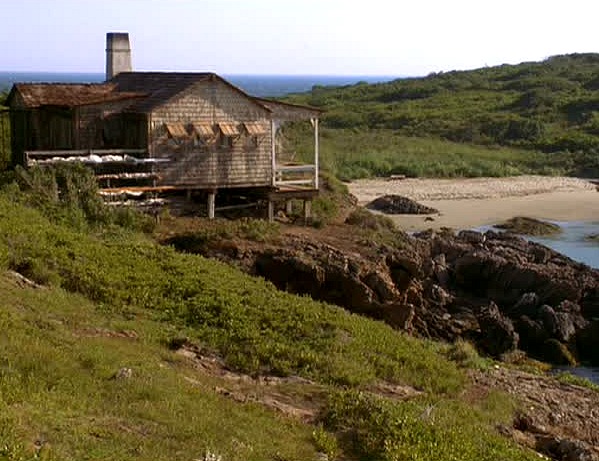 The storage shed: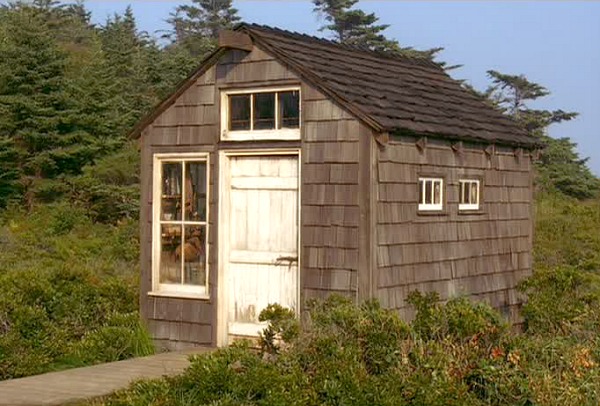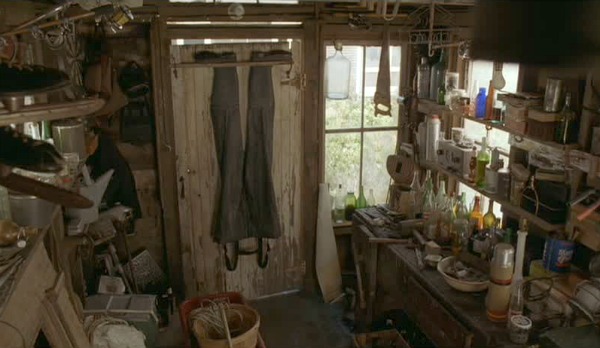 One of George's projects has been to build a gazebo: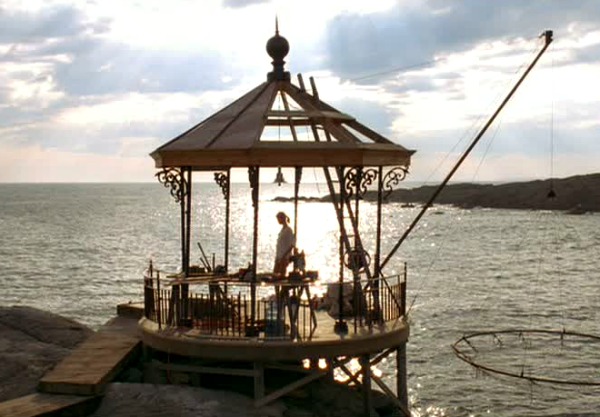 The cottage next door where Lance lives: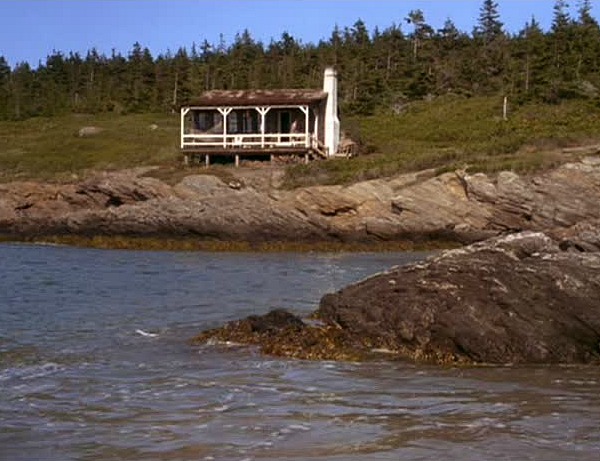 Later in the movie, Nathalie suspects that Craig offed Kent and goes to his cottage to investigate.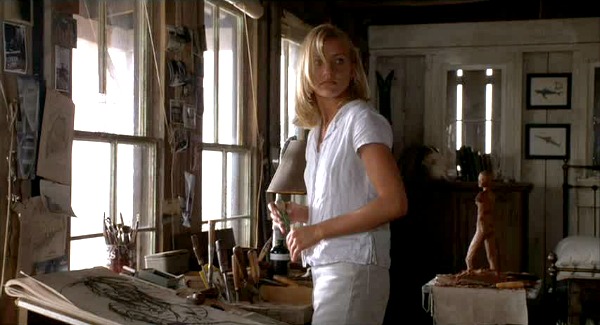 Everything I read said that these beach houses were torn down after filming (just like they did with that charming stone cottage in The Holiday, another movie Diaz was in).
However, a couple of readers tell me they weren't torn down — just moved to another location. Barb says: "If you check Small Point Maine cottage rentals you can see that there are vacancies sometimes in Windsong and Driftwood. Sometimes we still call them the 'movie houses.'" Sure enough, you can see photos of them on their Facebook page!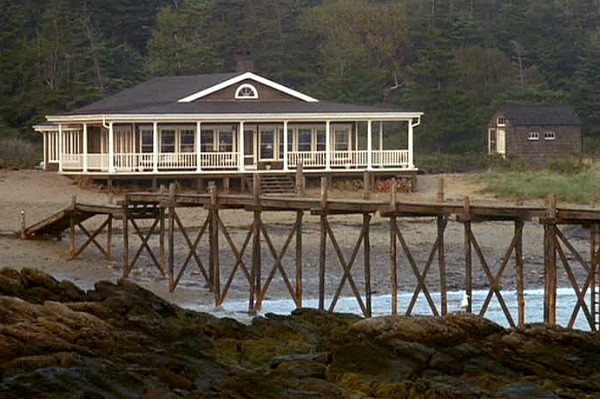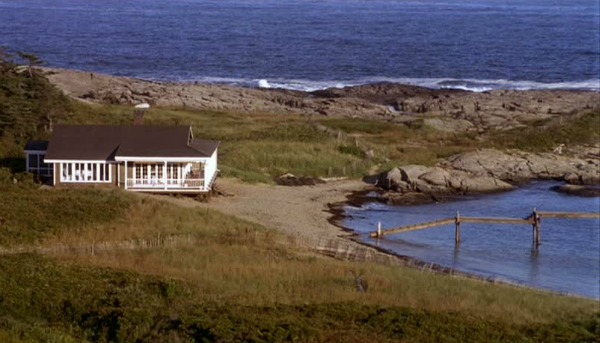 Thanks to everyone who told me to check this one out. I'm glad I listened to you! I couldn't find any photos of the cottage online (and Netflix doesn't have it), so I took these screenshots while watching the DVD.

BTW, Message in a Bottle — was filmed nearby in Phippsburg, Maine, too:
(Visited 144 times, 1 visits today)