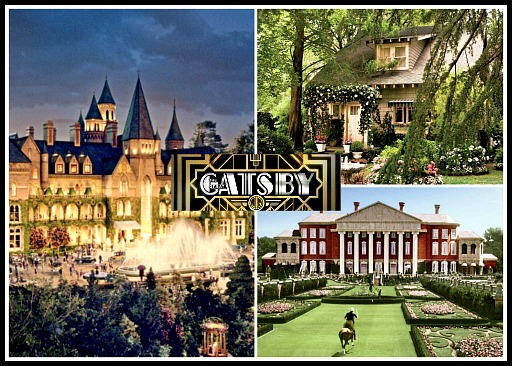 The sets in Baz Luhrmann's new movie version of The Great Gatsby dazzled me.
Jay Gatsby's mansion was suitably castle-like. Daisy Buchanan's red-brick Georgian had the classic look of old money. And Nick Carraway's cottage was small but so charming I wanted to move into it myself.
Let's take a closer look at all three…

Daisy's House in "The Great Gatsby"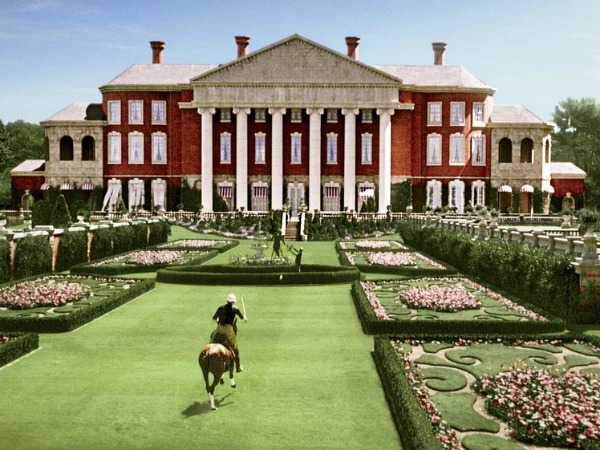 F. Scott Fitzgerald's classic Jazz Age novel was set on the Gold Coast of Long Island.
Tom and Daisy Buchanan live in the (fictional) East Egg, known for its "old money" estates.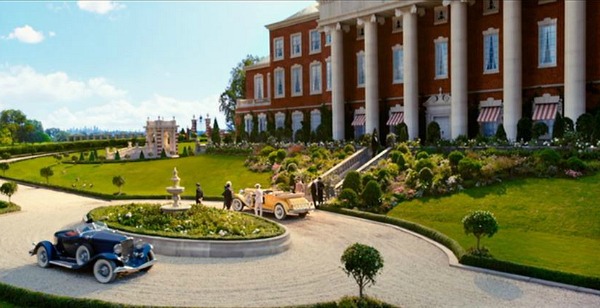 An article in Architectural Digest written by Brad Goldfarb says, "Luhrmann may take liberties with musical conventions in Gatsby, but he and his wife, designer Catherine Martin, strove for greater period authenticity—a dazzling version, to be sure—in the lavish sets."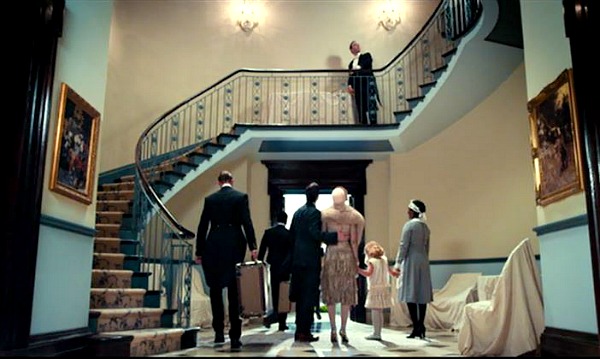 Tom Buchanan and Daisy's cousin Nick went to Yale together. He shows Nick his "hall of fame:"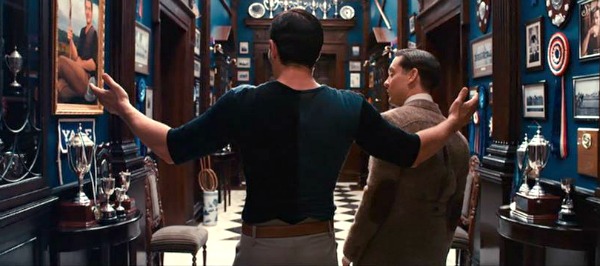 When Nick enters Daisy's sitting room, the French doors
are standing open and the curtains are billowing: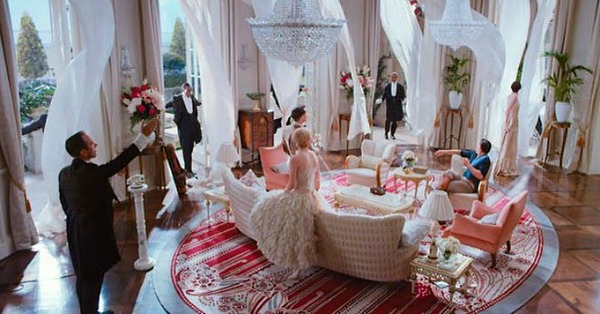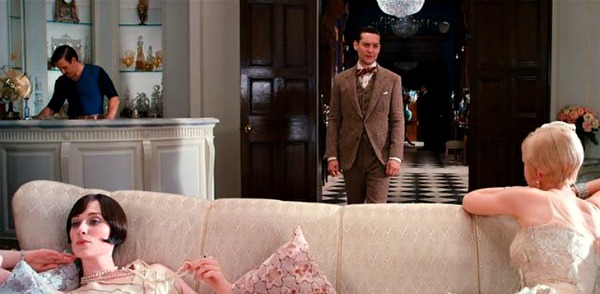 Catherine Martin has been in charge of production and costume design for most of Luhrmann's movies and won two Oscars for her work on Moulin Rouge.
British actress Carey Mulligan played Daisy Buchanan.
Doctor Who fans probably remember her as Sally Sparrow from the creepy "Blink" episode. I think of it every time I see her!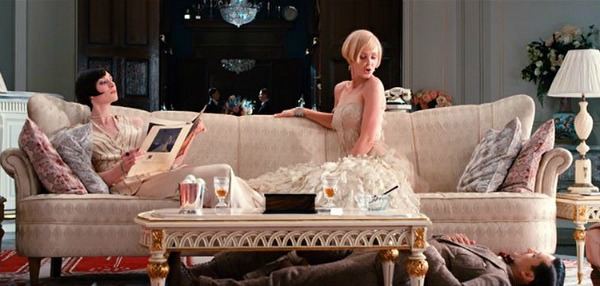 Electric fans are seen around the house to combat the (pre-AC) summer heat: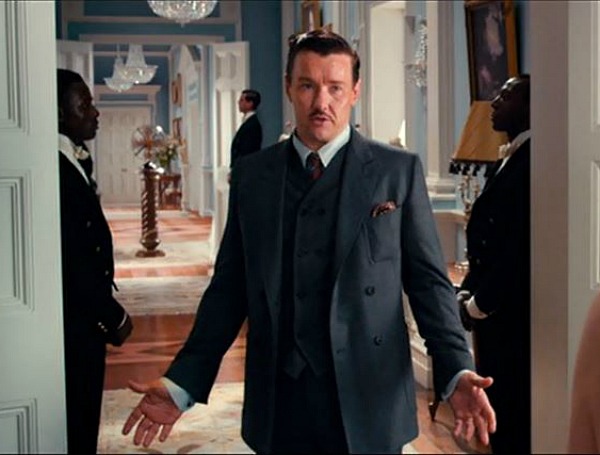 Daisy's Dining Room: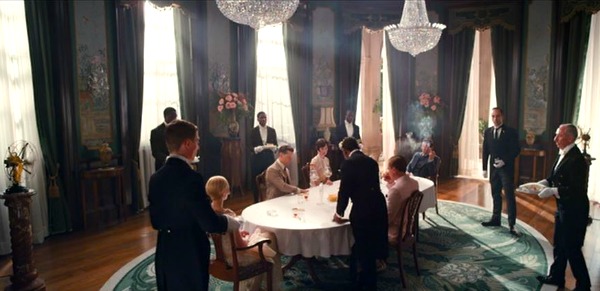 "The luxurious Hollywood Regency– and Deco-inflected furnishings in the sitting room, the contemporary art, and the formal gardens are all intended, Martin says, 'to contrast Daisy with the new-money fantasist that is Gatsby.'" —AD.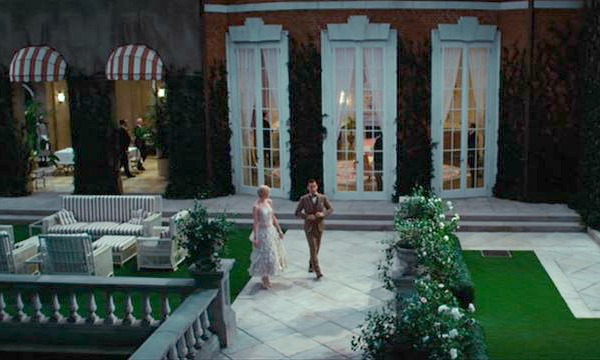 Daisy's house was inspired by Old Westbury Gardens on Long Island.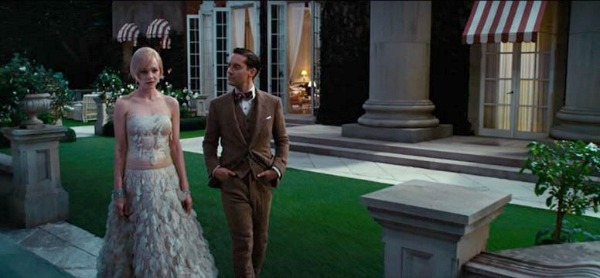 The exterior was built on a soundstage, with "enhancements added digitally."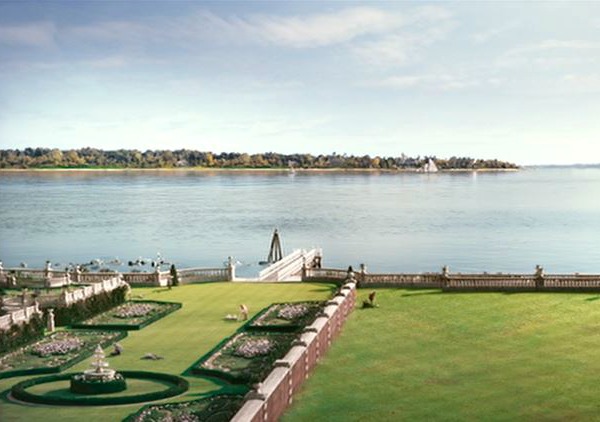 Nick's Cottage in West Egg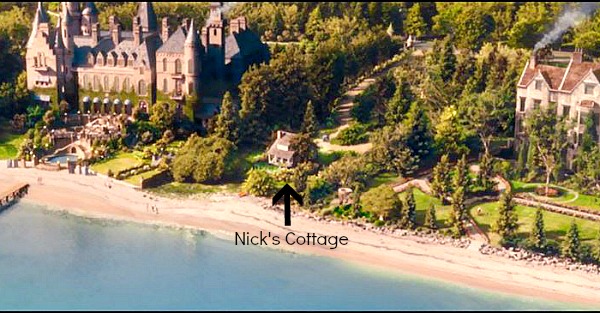 Nick rented "a forgotten groundskeeper's cottage squeezed among the mansions of the newly rich" on Long Island's West Egg for $80 a month.
It sits in the shadow of Gatsby's "colossal castle," as Nick calls it.
Gatsby's servants deliver a truckload of flowers in anticipation of Daisy's arrival: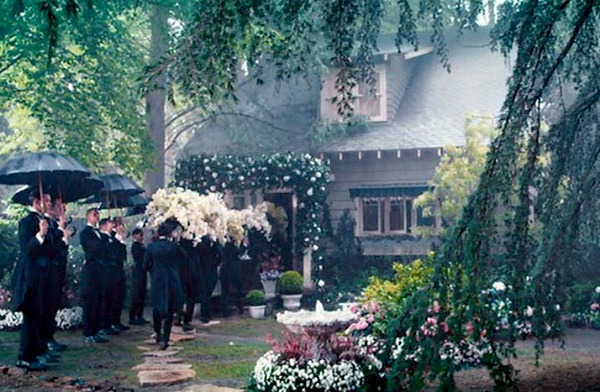 In an interview, Tobey Maguire (Nick) said, "Baz and his team built this spectacular world that brings you back to a version of the 1920s — one that also kind of contemporizes it. It's the '20s as the characters might have experienced them."
He continued: "Visually, it's absolutely amazing. There was certainly a kind of grandeur and beauty on the set that was appropriate for the story. There were also elements that were not physically built out but were added through animation. Watching it all come together has been really cool."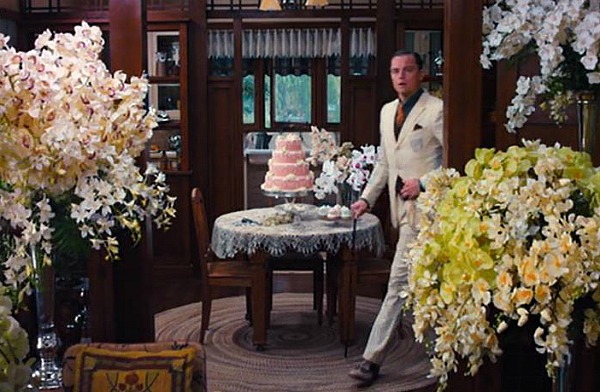 I saw a segment on an entertainment show that aired while they were still working on the film that showed the actors working in front of a lot of green screens. It's amazing to see how they filled in so much of the sets afterward.
There's a fascinating video that shows the scenes with green screen and then how they looked with the CGI. You can watch it here.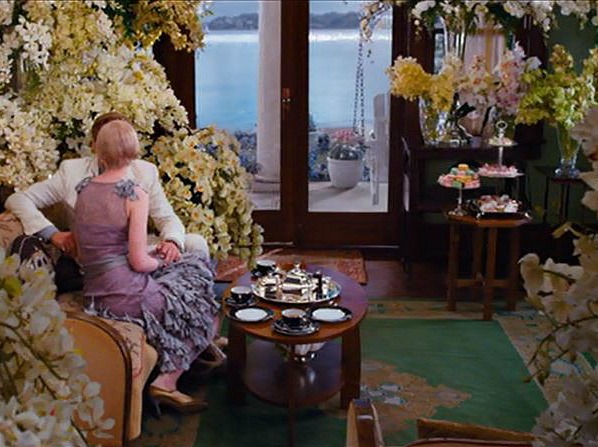 Because so much of it was digitally animated, it gives the movie a dream-like quality and resembles a lot of the classic old movies where they often used paintings of houses instead of the real thing.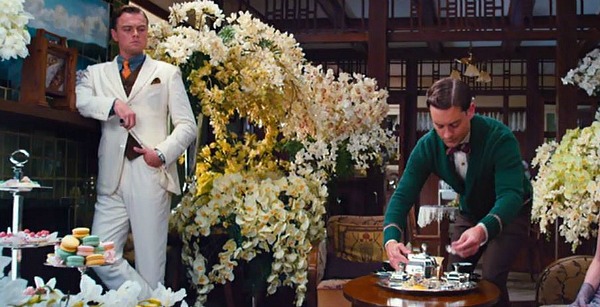 AD says, "Stickley-esque furniture, quartersawn oak beams, and moss-green tiles conjure an Arts and Crafts vibe inside. 'It was all about finding what we thought were quintessential Long Island motifs,' explains Martin. And materials that reflect Nick's innocent nature."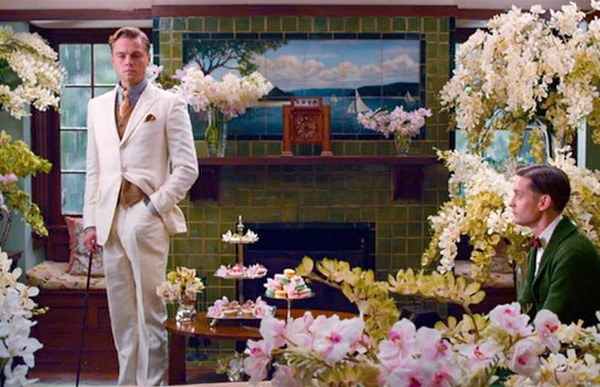 The kitchen is tiny: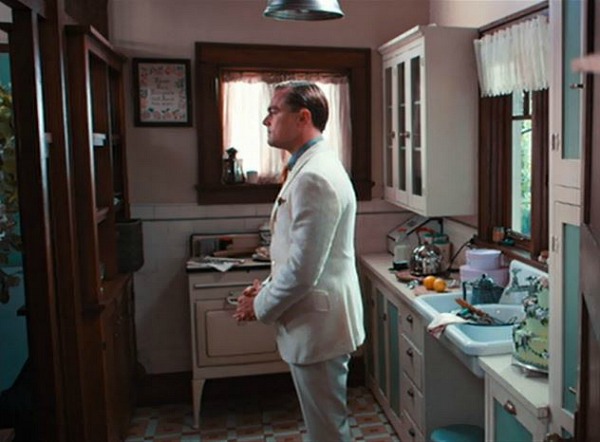 Daisy and Gatsby on the side porch, looking toward his mansion next door: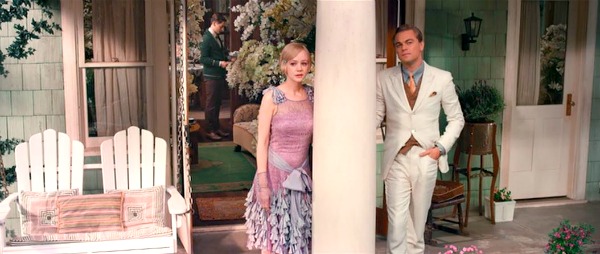 Jay Gatsby's "Colossal Castle" in West Egg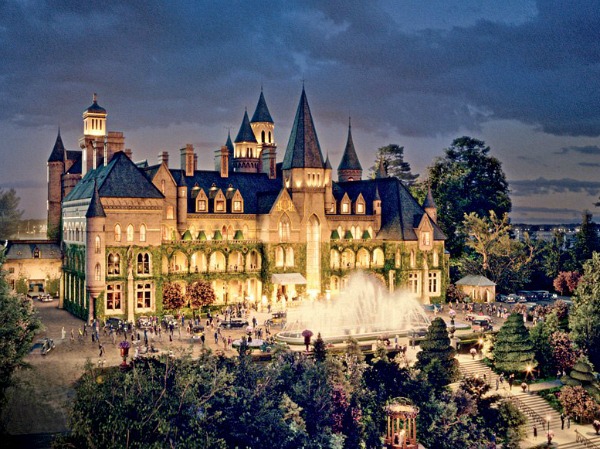 Gatsby's house was inspired by places like Oheka Castle, La Selva, and Beacon Towers:
"Looking at images of Beacon Towers, there's something that gives it the feel of the Disneyland castle, and Baz referenced that—the idea that Gatsby was building a fantasy," Martin told AD.
No expense was spared. Gatsby tells Daisy, "I had these gates brought in from a castle in Normandy."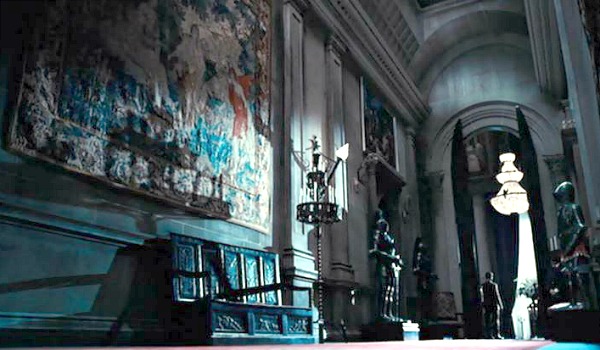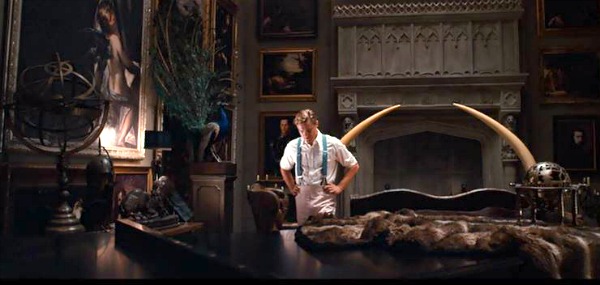 When Nick and Jordan explore the mansion in search of Gatsby, they meet an old man in the library who says, "You won't find him. This house and everything in it are part of an elaborate disguise."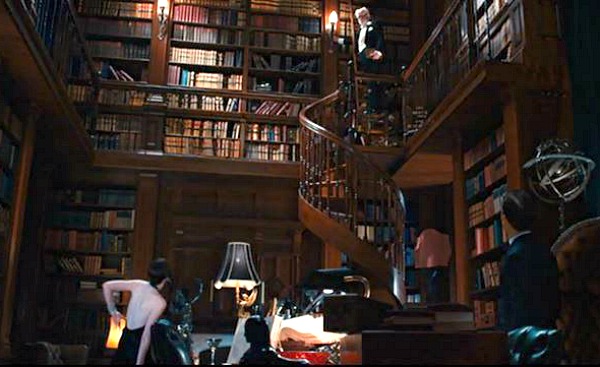 Like the library, the master suite is two-stories tall: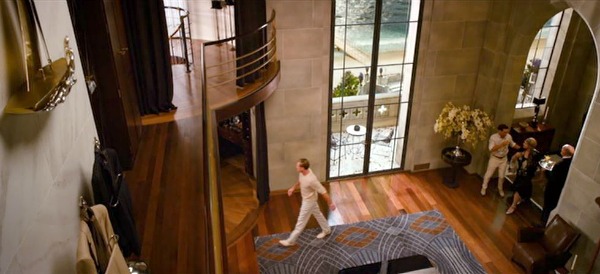 Catherine Martin oversaw the creation of 42 different sets in Sydney.
Some were on location and others were built on soundstages.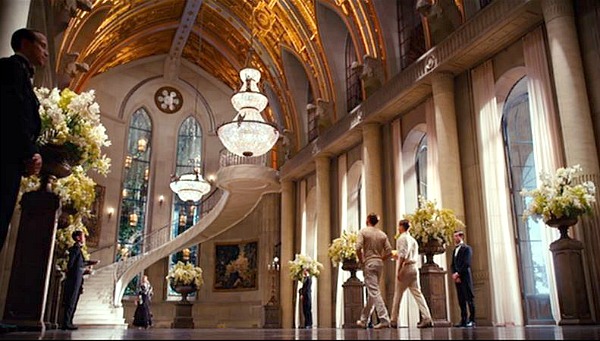 AD reports: "It took her team 14 weeks just to build, paint, and decorate Gatsby's mansion, which called for a grand ballroom, library, master bedroom, entrance hall, and terrace, as well as a garden."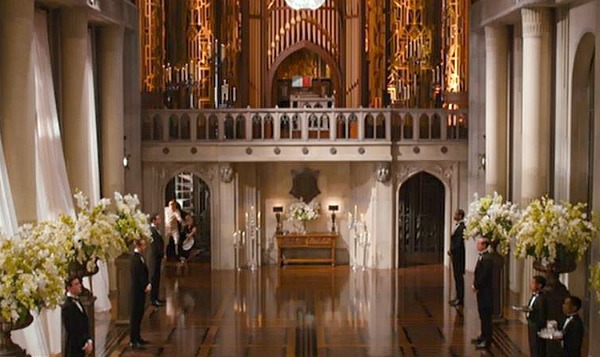 He not only has his own Wurlitzer pipe organ,
but an in-house musician to play it for him: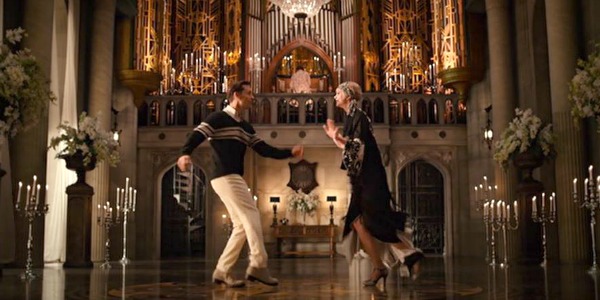 Martin told Vanity Fair, "You get this sense of excess — of someone overreaching. This is conveyed in the Neo-Gothic style of Gatsby's house and the almost Versailles-sized fountain in the front."
A Vanity Fair article reports: "During an extensive location scout of houses in Long Island, Martin says, she, Luhrmann, and their crew stumbled upon their inspiration for the pool at Eagle's Nest, a Spanish Revival–style mansion that William K. Vanderbilt II began building in 1910."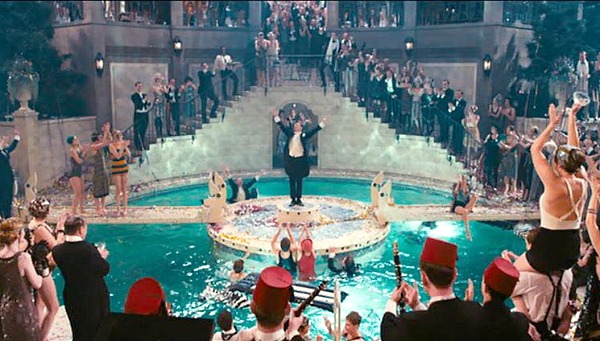 For the exterior shots of Gatsby's estate, Architectural Digest reports that the Gothic Revival building that used to be St. Patrick's Seminary in Sydney was used. They hung faux ivy on the first two floors and installed a temporary fountain in the courtyard.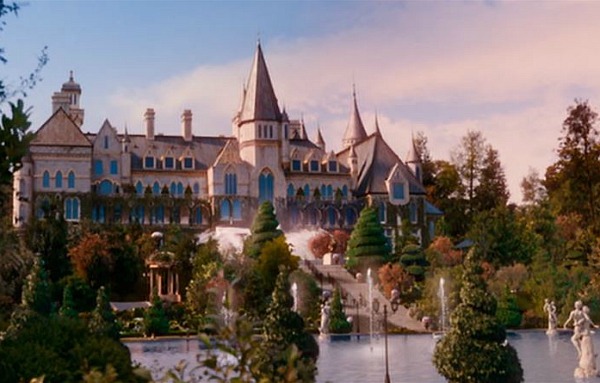 Soaring turrets were digitally added in post-production so it looks, as Catherine Martin puts it, "like he lives in an adult Disney World."
I took most of these screenshots, but official set photos were by Daniel Smith for Warner Bros.

Read the article in Architectural Digest for more photos and information.