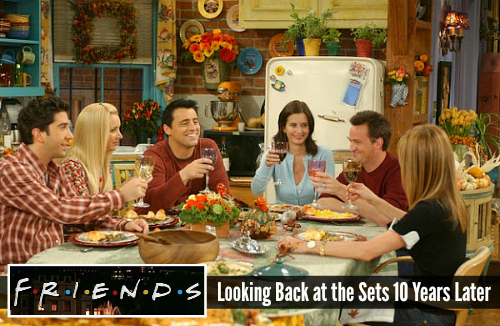 Can you believe it's been 10 years since "Friends" took its final bow and said goodbye to Monica, Chandler, Joey, Phoebe, Ross and Rachel? In honor of the anniversary, here are 25 things you may not know about the sitcom's iconic sets.

Central Perk on "Friends"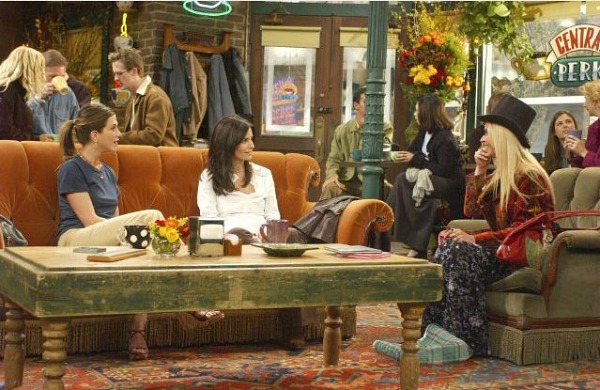 The sets on "Friends" were almost like another character on the show. Did you know…
#1. In the first season, the street outside Central Perk was just a painted backdrop.
#2. The artwork on the walls of the coffee house was always changing.
#3. The famous orange velvet sofa was pulled out of the Warner Bros. Studios basement storage.
Phoebe's Apartment
#4. Phoebe's address was 5 Morton Street, Apartment #14 in New York.
#5. The show took some heat over the episode that featured prominent Pottery Barn product placement: "The One with the Apothecary Table."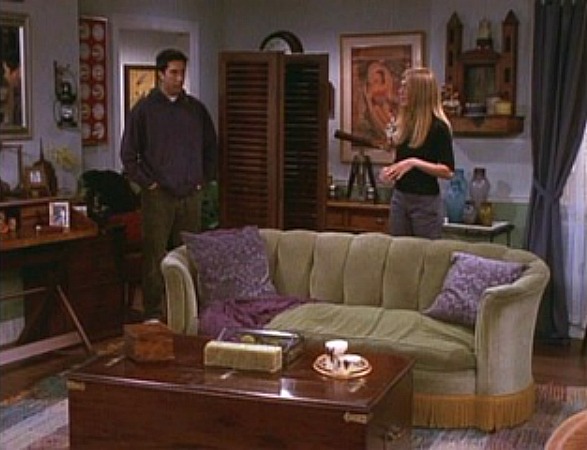 In the episode, Rachel tricks Phoebe into believing that it's a one-of-a-kind antique, but the jig is up when Ross buys one just like it for his apartment.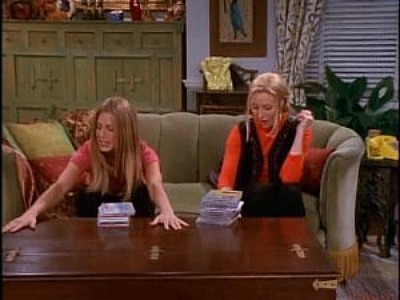 Until I saw that episode, I always assumed Pottery Barn was just a place that sold, you know, pottery. We didn't have any of their stores in our area back then, so in my case, the product placement worked. After that I knew they sold things like apothecary tables that even flea-market shoppers like Phoebe would love!
Ross's Apartment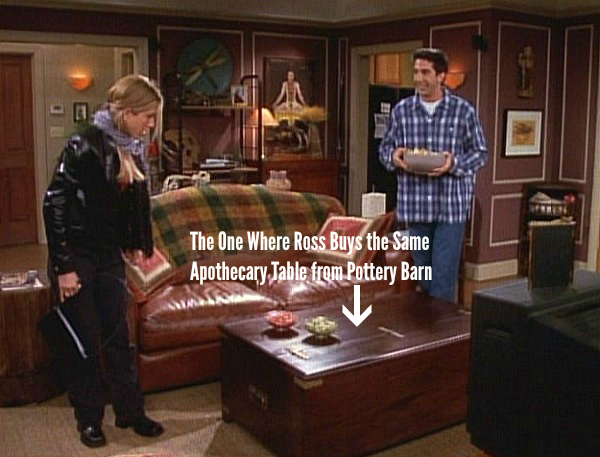 #6. When asked about the product placement in the episode, Peter Roth of Warner Bros. said it "offset the high cost of production." It was a good deal for Pottery Barn, too. A rep reports that "the phones still light up every time that episode airs."
#7. Even though the gang lives in NYC, we rarely see them lock their doors. One of the times was when Ross and Rachel accidentally locked baby Emma in his apartment, so maybe it was safer to just leave them open!
#8. Monica, Chandler, and Joey live at 90 Bedford Street in New York. This is the exterior that was used for their apartment building:
Joey's Apartment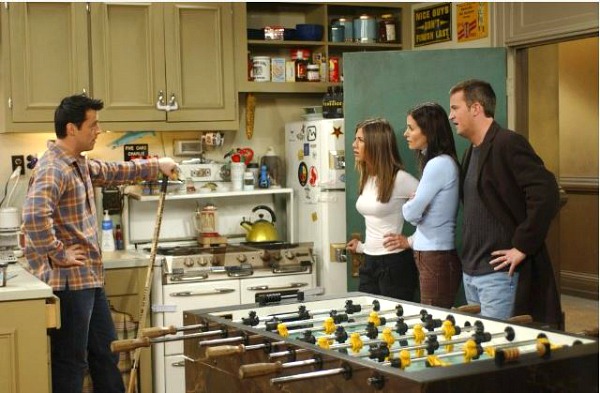 #9. The Magna Doodle hanging on the door had a different drawing on for every episode.

#10. Courteney Cox reportedly said in an interview that Joey's big white dog statue belonged to her husband David Arquette. But some trivia sites claim it was a "good luck gift" someone gave to Jennifer Aniston on her first day on set.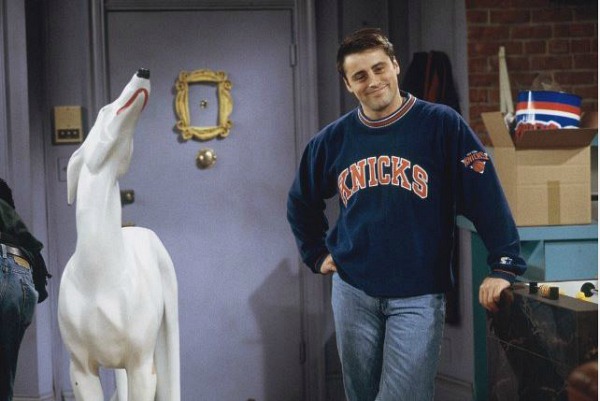 #11. Joey bought the statue when his Days of Our Lives money started pouring in and named it Pat. After he had to sell it, Ross bought it back for him.
#12. When Rachel goes back home to visit her dad in the final season, they used the exterior of a traditional brick house that had already been made famous in the Steve Martin movie Planes, Trains, and Automobiles.
Monica & Chandler's Apartment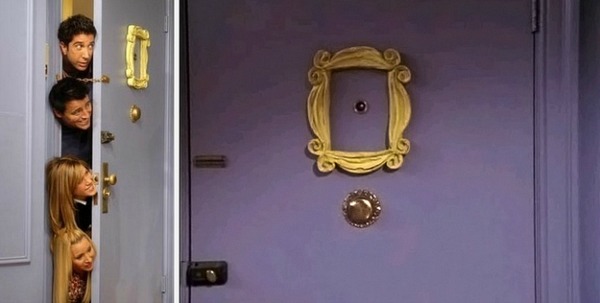 #13. The quirky gold frame on Monica's purple door was originally a mirror that broke, so they used it as a frame around the peephole instead.
#14. In the first season, Monica lived in apartment number 5. It was later changed to 20 to reflect the fact that she lived on a higher floor.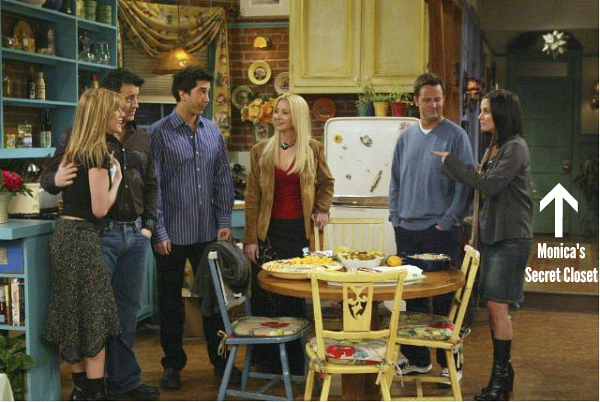 #15. In "The One With the Secret Closet," the locked door where Monica supposedly stashed all her junk really just led to the area backstage.
#16. The Set Designer for the show was Greg Grande, who's worked on other shows with great sets like Joey and Switched at Birth.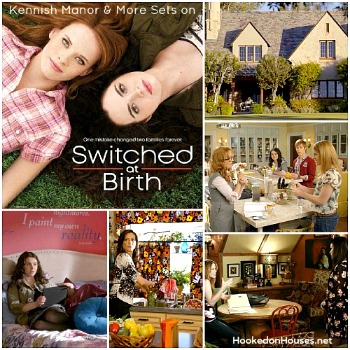 (You can see my post about the Kennish Manor on Switched at Birth here).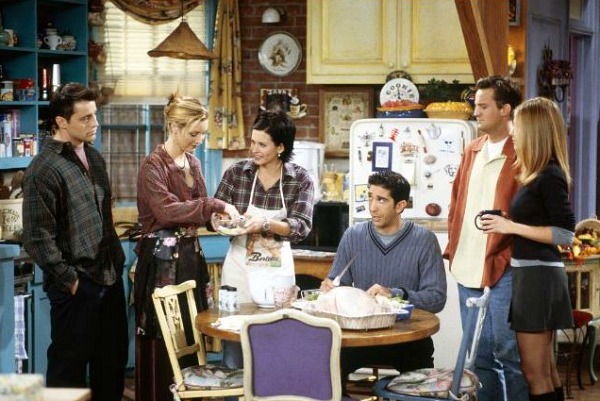 #17. When it came to Monica's apartment, Grande wanted to develop "a whole new kind of eclectic taste with a flea-market, whimsical, and anything-goes style."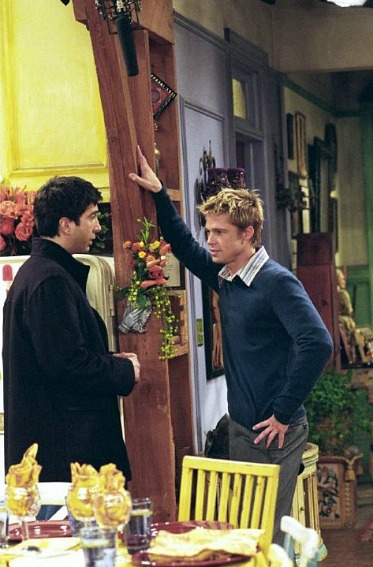 (Remember when Brad Pitt came for Thanksgiving dinner, back when he was married to Jen?)
#18. The mix of chairs around Monica's kitchen table varied over the seasons.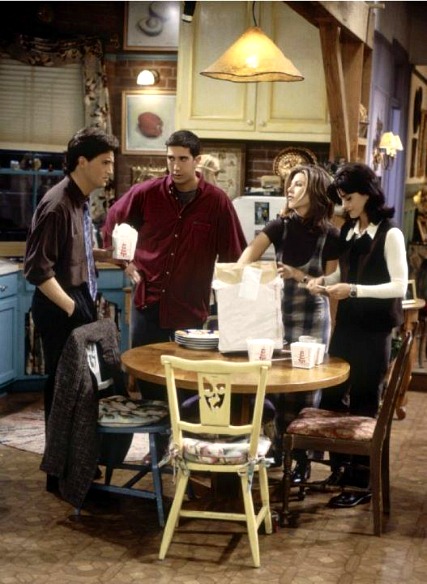 Courteney Cox was pregnant with her daughter Coco during the final season, which is why she was wearing lots of scarves and baggy clothes toward the end of their run.
#19. The vintage refrigerator in Monica's apartment actually worked and was kept stocked for the cast and crew.
#20. In some of the early episodes there was a beam going from the ceiling to the floor in between the kitchen and the living room. The beam later disappears but was reinstalled by the stage crew whenever James Burrows directed an episode as a kind of inside joke.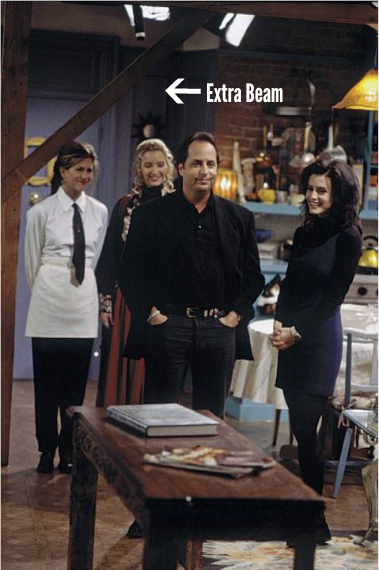 #21. The purpose of the poster behind Monica's TV set was to hide a hole in the wall that cameras often filmed through.
#22. The doors to Monica's bedroom and guest room were fake entries. The Central Perk set was on the other side of that wall. The bedrooms were only put together when needed for a scene.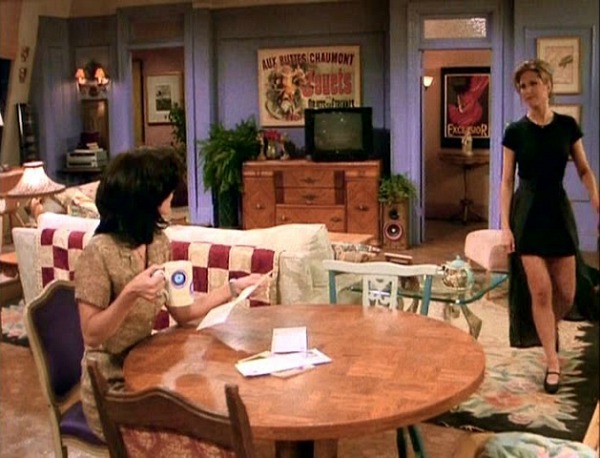 (Remember when Monica dated Tom Selleck? The studio audience went so wild every time he entered a scene that they had to re-tape some of them on an empty set.)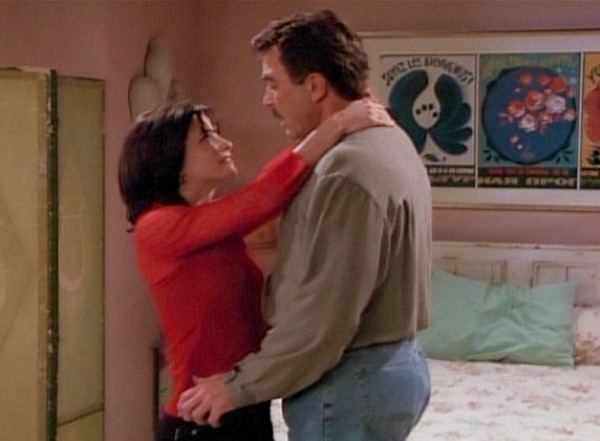 #23. The flower poster above Monica's bed was from the 1980 Summer Olympics.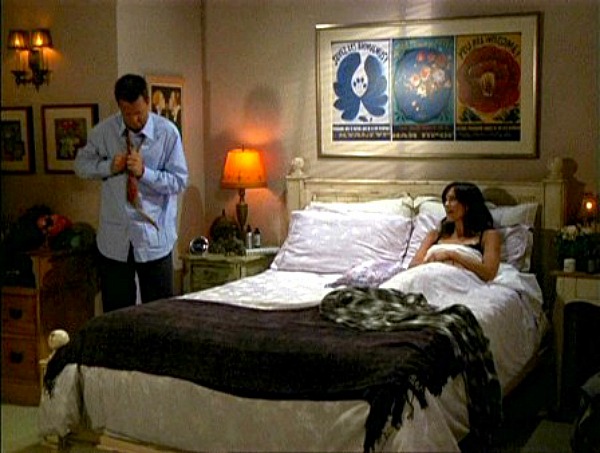 #24. Monica had 11 different categories for towels, including "everyday use," "fancy," "guest," and "fancy-guest."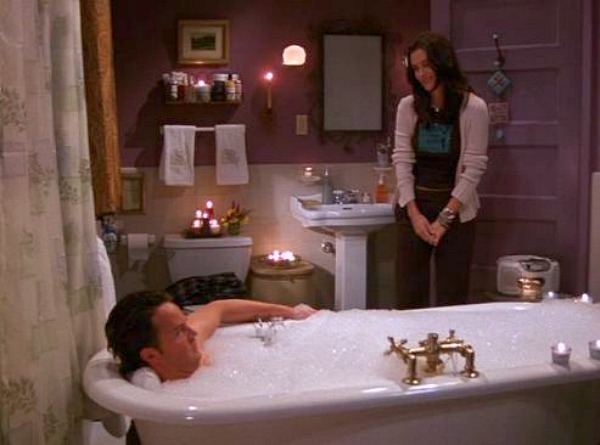 #25. The layout of Monica's bathroom was a little different in different episodes.
I just finished re-watching the final season on DVD, so it literally feels like yesterday that the gang said goodbye.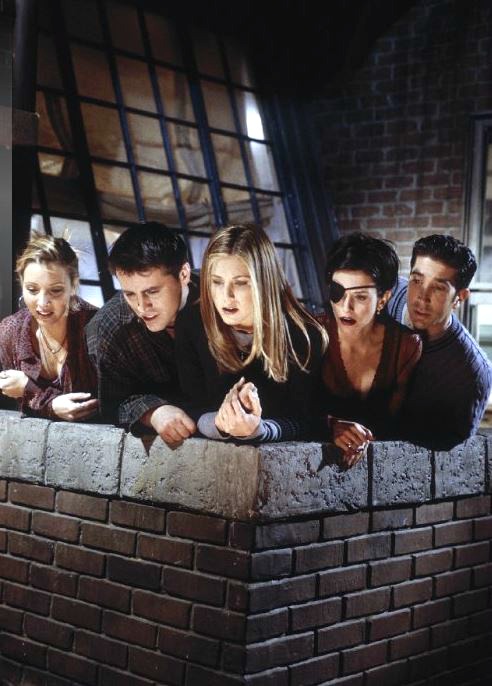 I always love their '80s flashbacks, so I can't resist throwing this one in: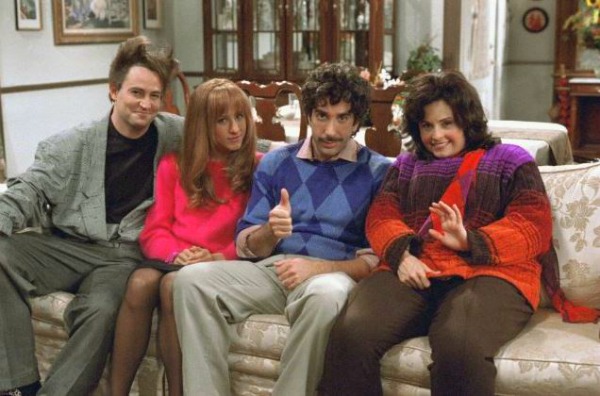 If you know any other facts about the sets, fill us in! I found these photos and Friends facts on Grande Design, Friends TV, Buzzfeed, Movie Mistakes, Chasing Props, and IMDb.com.
There's lots of fun "Friends" swag you can score, including a "You're My Lobster" Mug: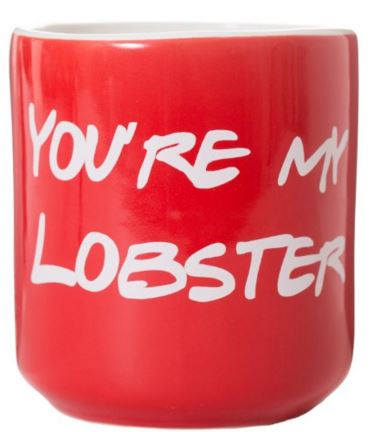 A Jouets poster like the one over Monica's TV: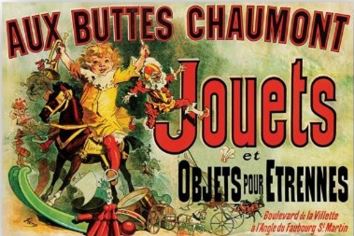 A yellow frame like the one on Monica's apartment door: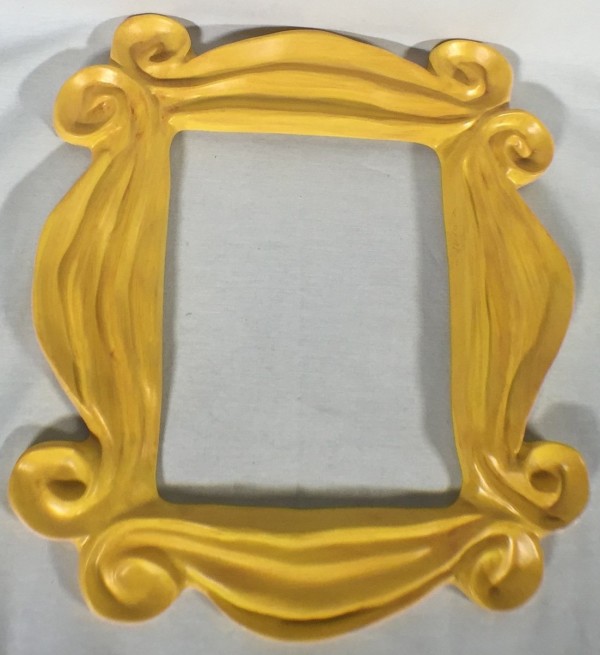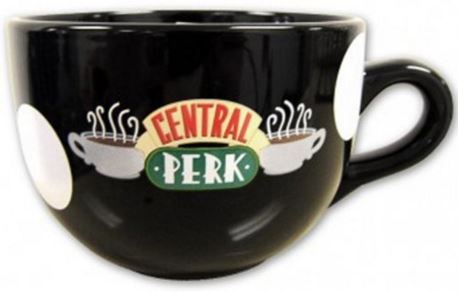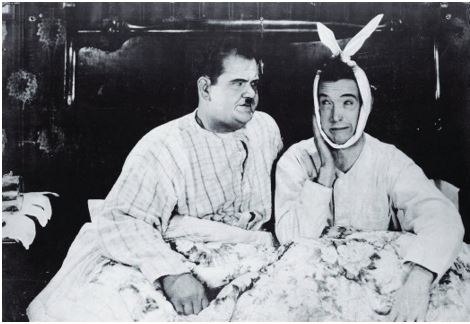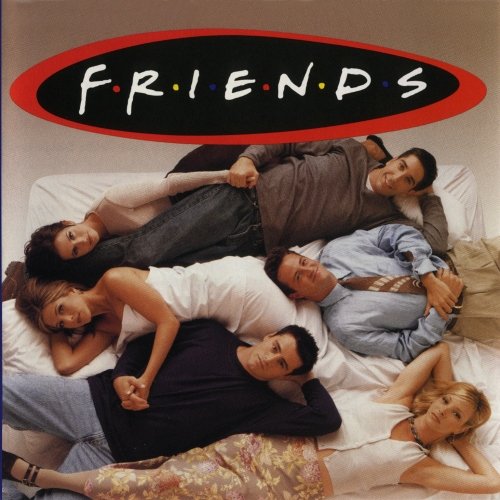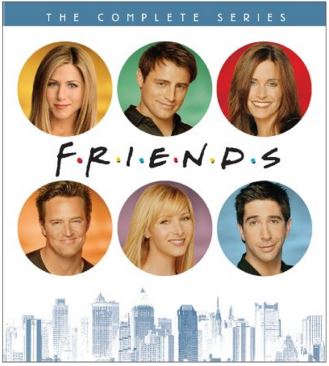 The final episode aired in May of 2004 and was watched by over 52 million viewers. Were you one of them? I know it still has a lot of fans out there because two of the most popular Celebrity Houses I've featured belong to Jennifer Aniston and Matthew Perry.

P.S. Visit my Houses Onscreen page to see more I've featured, including…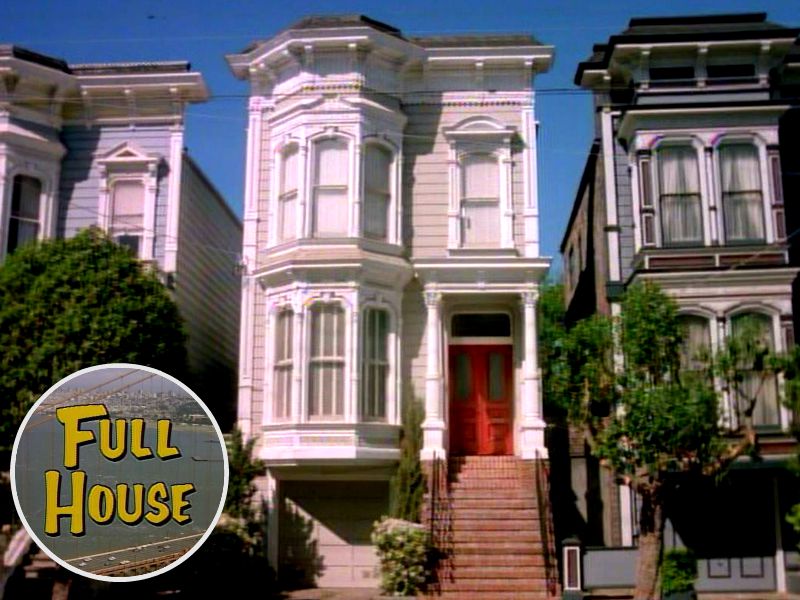 *Post includes affiliate links
(Visited 6,912 times, 5 visits today)