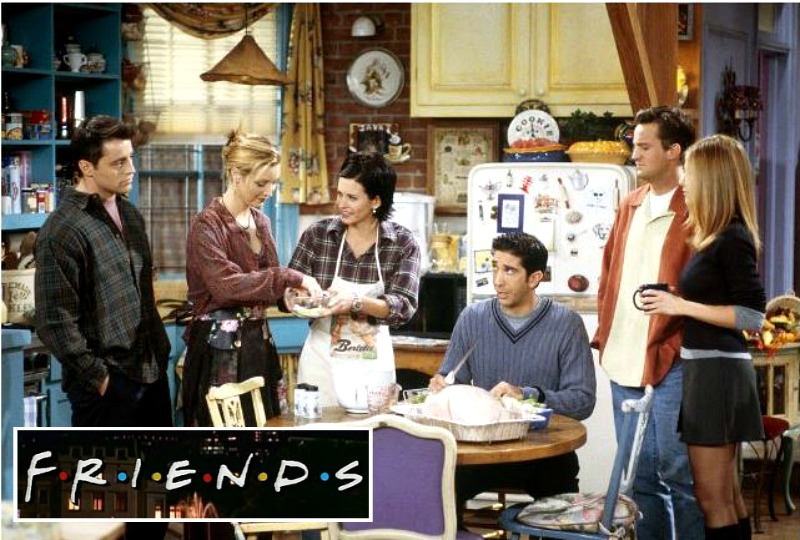 Can you believe it's been 10 years since the sitcom "Friends" took its final bow and said goodbye to Monica, Chandler, Joey, Phoebe, Ross and Rachel?
In honor of the show's tenth anniversary, here are 25 fun facts about the sitcom's iconic sets.
How many of these things did you know? Take a look and see!
Note: This post includes Amazon affiliate links that may earn commission.

25 Fun Facts About the Sets on "Friends"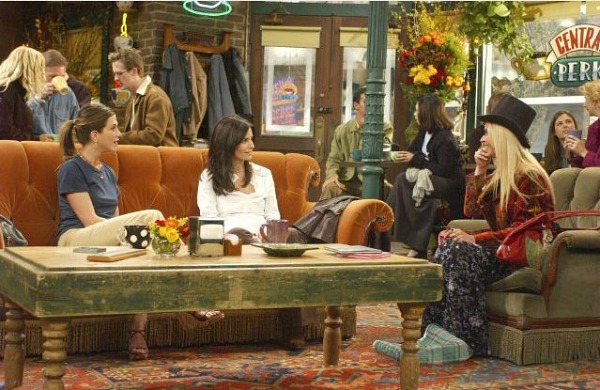 1. In the first season, the street outside Central Perk was just a painted backdrop.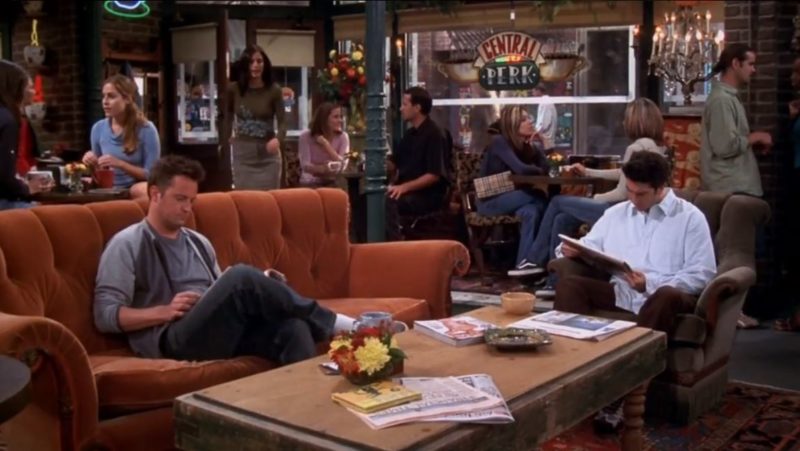 2. The artwork on the walls of the coffee house was always changing.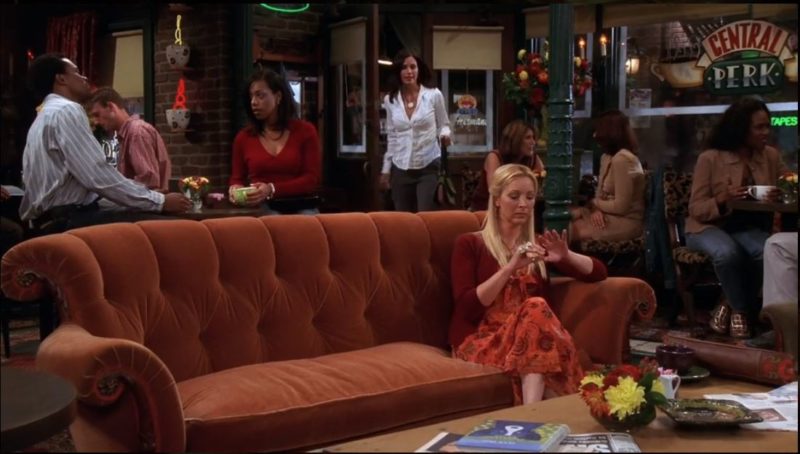 3. The famous orange velvet sofa was pulled out of the Warner Bros. Studios basement storage.

Phoebe's Apartment on "Friends"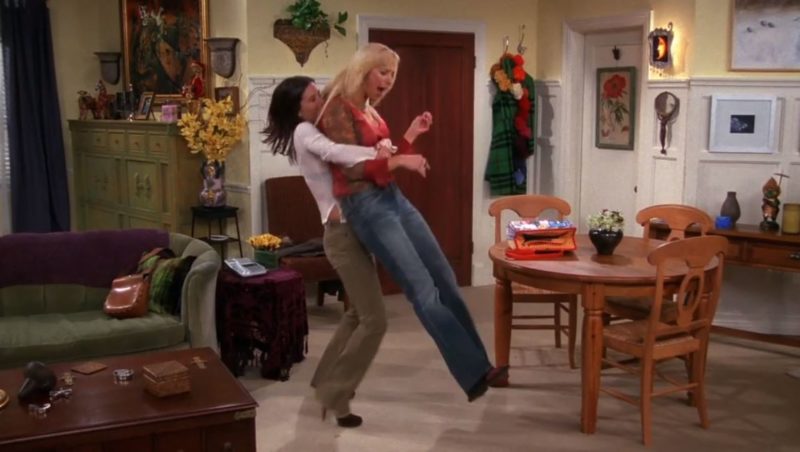 4. Phoebe's address was 5 Morton Street, Apartment #14 in New York City.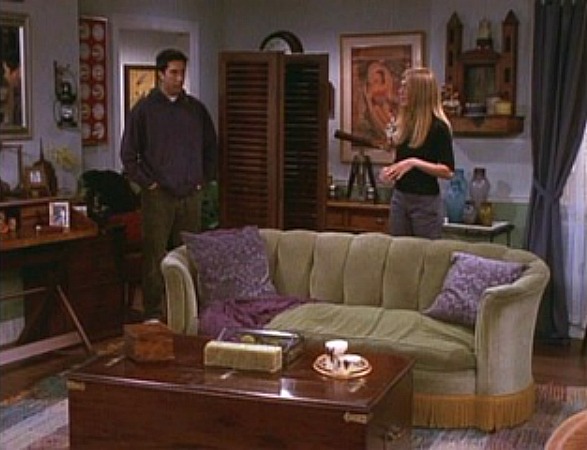 5. The show took some heat over the episode that featured prominent Pottery Barn product placement.
In "The One with the Apothecary Table," Rachel tricks Phoebe into believing that it's a one-of-a-kind antique, but the jig is up when Ross buys one just like it for his apartment.

Ross Geller's Apartment on "Friends"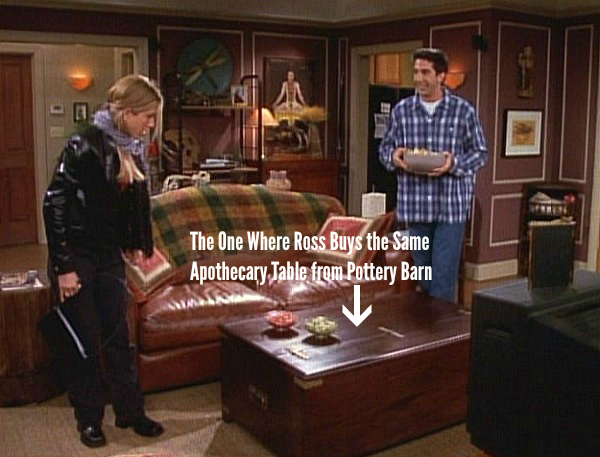 6. When asked about the product placement in the episode, Peter Roth of Warner Bros.
said it "offset the high cost of production."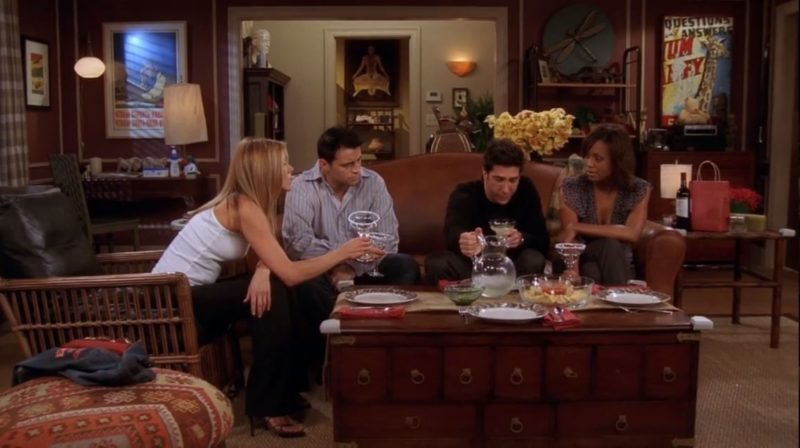 It was a good deal for Pottery Barn, too. A rep reports that "the phones still light up every time that episode airs."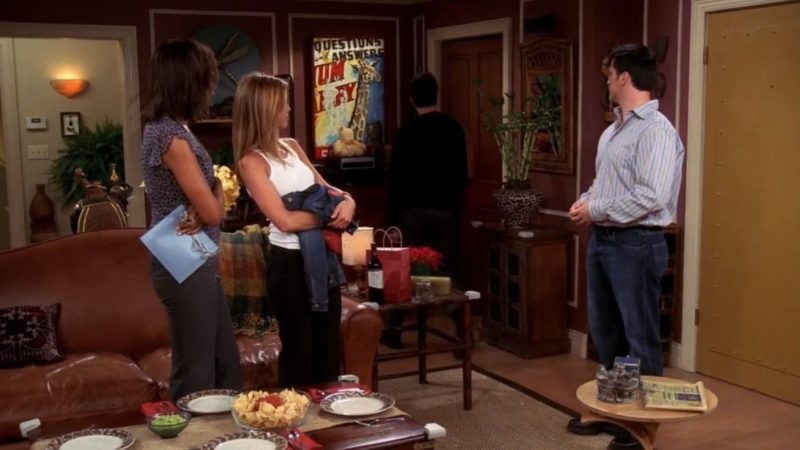 7. Even though the gang lives in NYC, we rarely see them lock their doors.
One of the times was when Ross and Rachel accidentally locked baby Emma in his apartment, so maybe it was safer to just leave them open!

The "Friends" Apartment Building in the West Village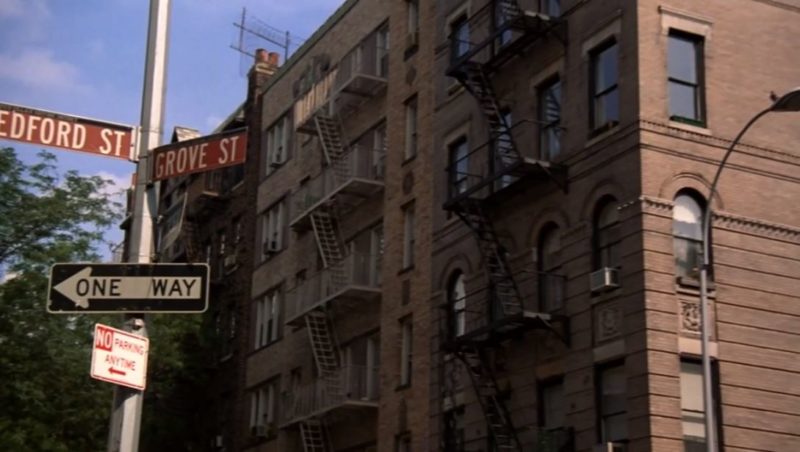 It's in Greenwich Village on the corner of Bedford and Grove Streets.
You can see how it looks today on Streetview.

Joey's Apartment on "Friends"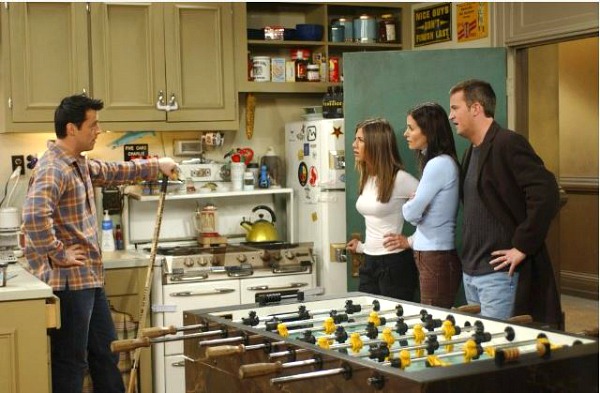 9. The Magna Doodle hanging on the door had a different
message or drawing written on it for each episode (affiliate link).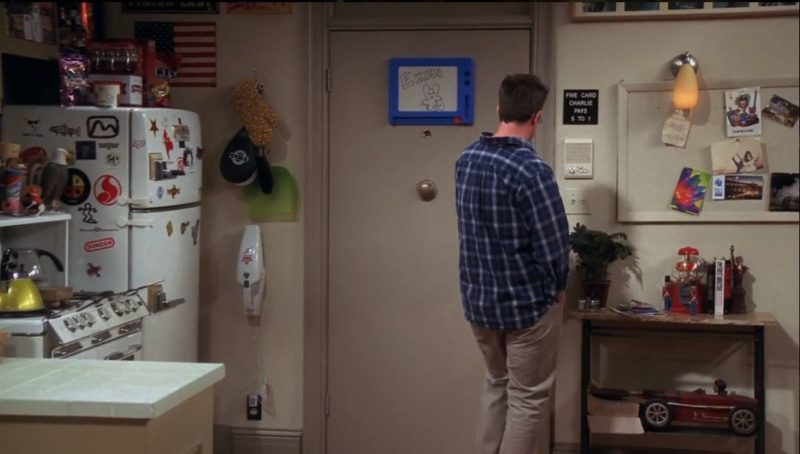 Roommates Chandler and Joey put a Foosball table in their small kitchen.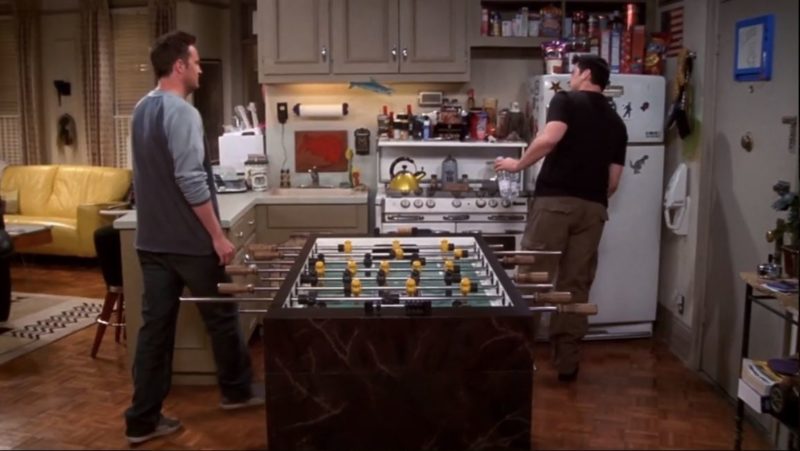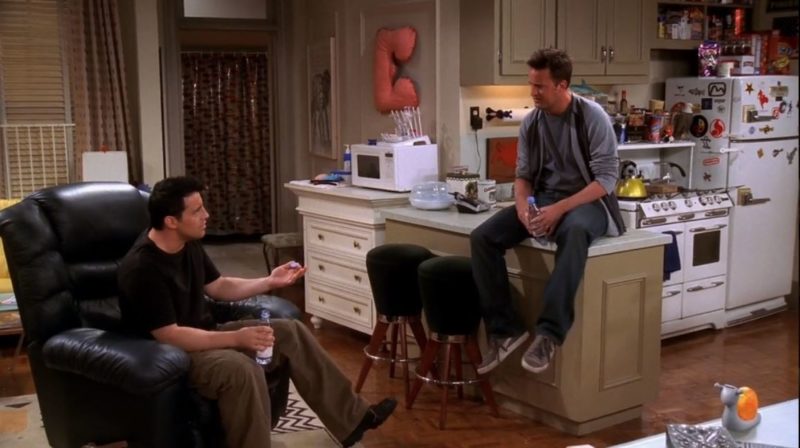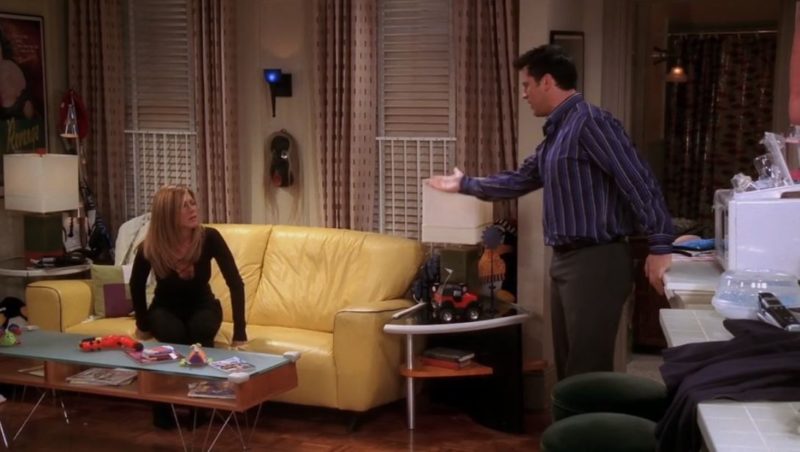 Monica's Apartment on "Friends"
10. Monica's two-bedroom, one-bath apartment was about 1,500 square feet.

12. The quirky gold frame on Monica's purple door was originally a mirror
that broke, so they used it as a frame around the peephole instead.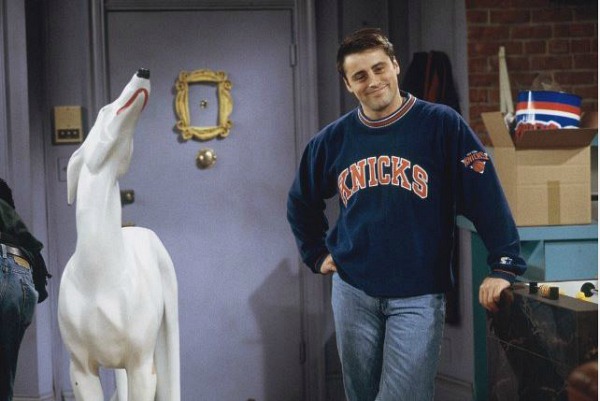 13. In the first season, Monica lived in apartment number 5.
It was later changed to 20 to reflect the fact that she lived on a higher floor.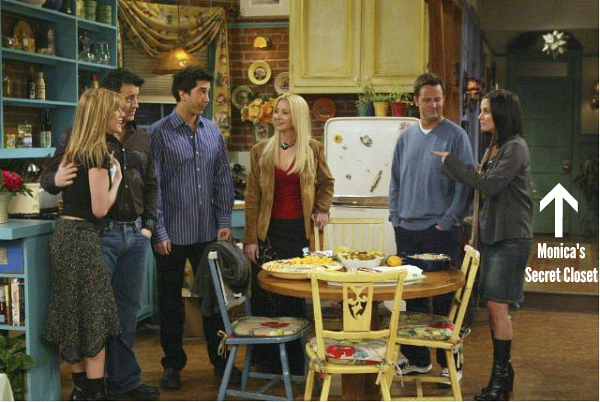 14. In "The One With the Secret Closet," the locked door where Monica
supposedly stashed all her junk really just led to the area backstage.
15. Set Designer Greg Grande has worked on other shows with great sets like "Switched at Birth."
 16. When it came to Monica's apartment, Grande wanted to develop
"a whole new kind of eclectic taste with a flea-market, whimsical, and anything-goes style."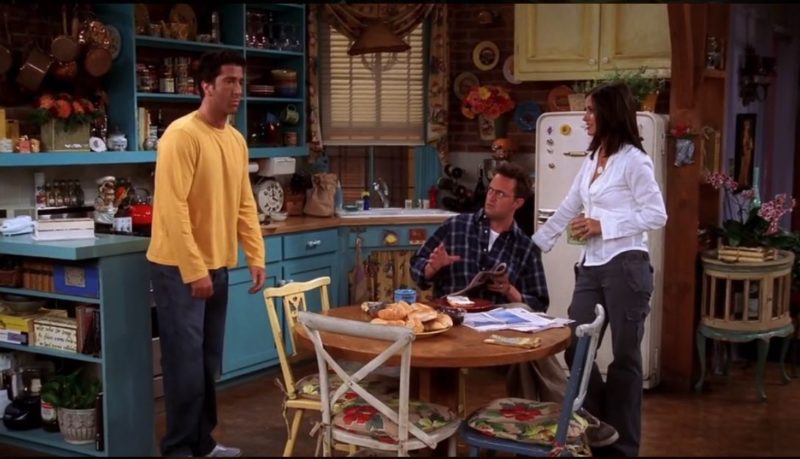 17. The mix of chairs around Monica's kitchen table changed throughout the seasons.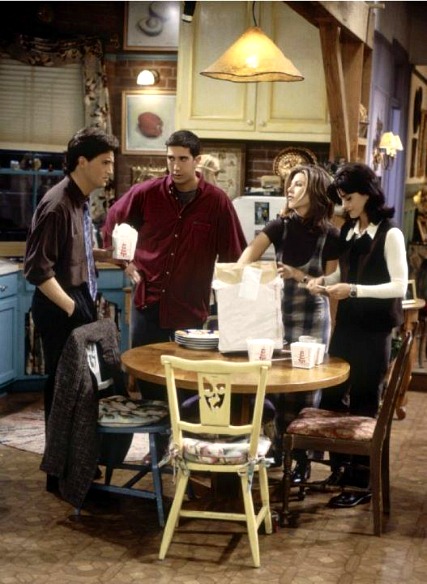 18. The vintage refrigerator in Monica's apartment actually worked
and was kept stocked for the cast and crew.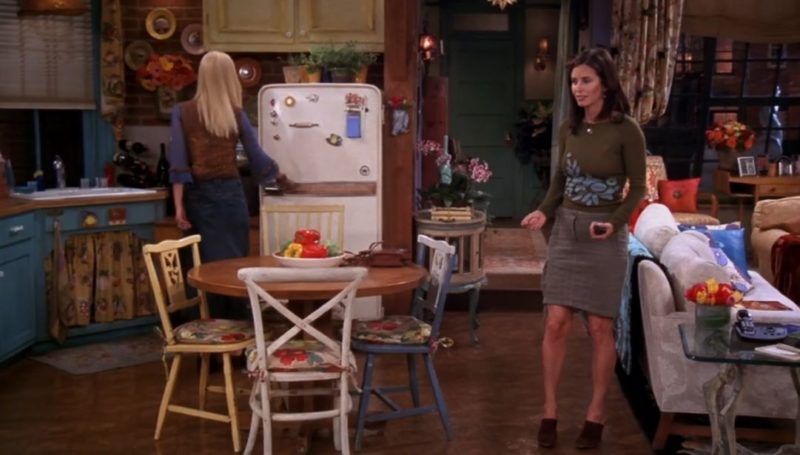 19. In early episodes there was a beam between the kitchen and the living room.
It later disappeared but was reinstalled whenever James Burrows directed an episode as a kind of inside joke.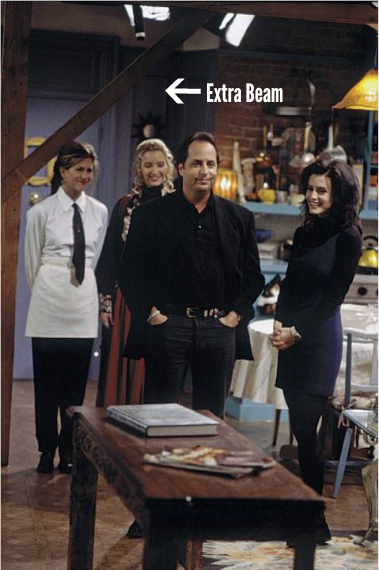 20. The purpose of the poster behind Monica's TV set was to hide a hole
in the wall that cameras could film through.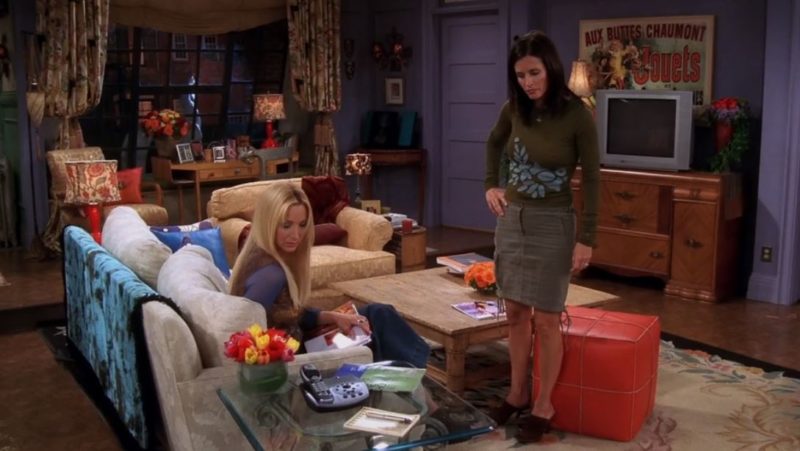 21. The doors to Monica's bedroom and guest room were fake entries.
The Central Perk set was on the other side of that wall.
The bedrooms were only put together when needed for a scene.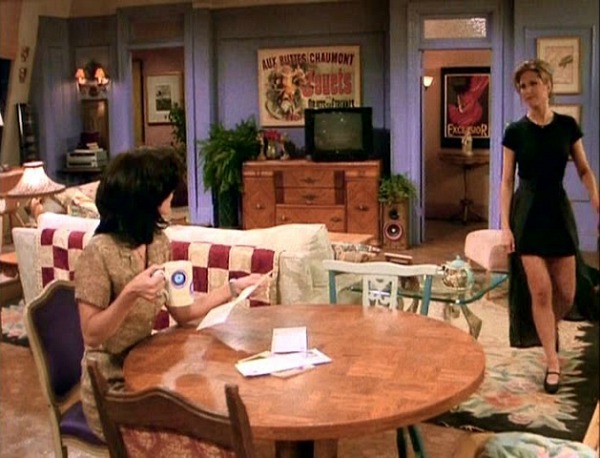 22. The studio audience went so crazy every time that
Tom Selleck entered a scene that they had to re-tape some of them on an empty set.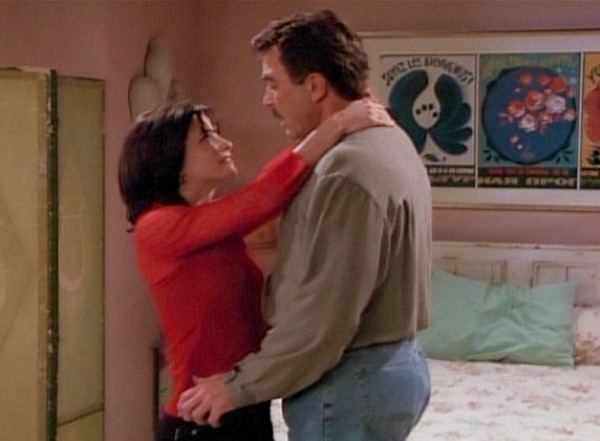 23. The flower poster above Monica's bed was from the 1980 Summer Olympics.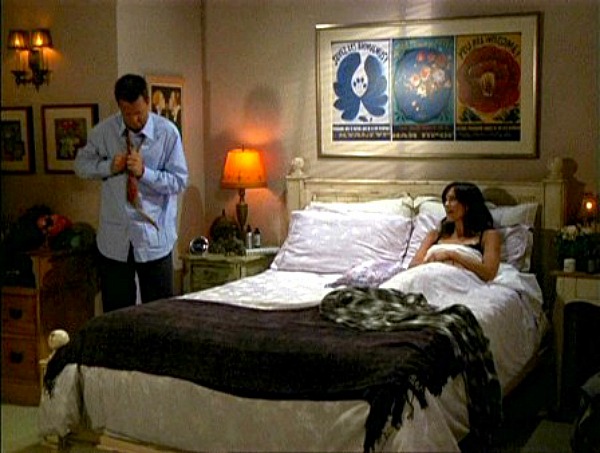 24. Monica had 11 different categories for towels, including "everyday use," "fancy," "guest," and "fancy-guest."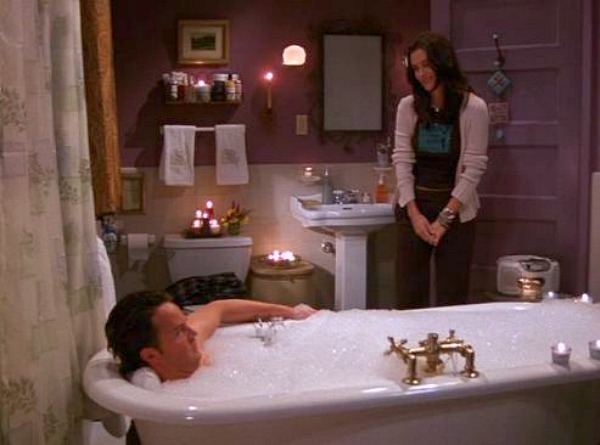 In the final episode, we see the apartment empty as Chandler and Monica move out.
Joey asks, "Has it always been purple?"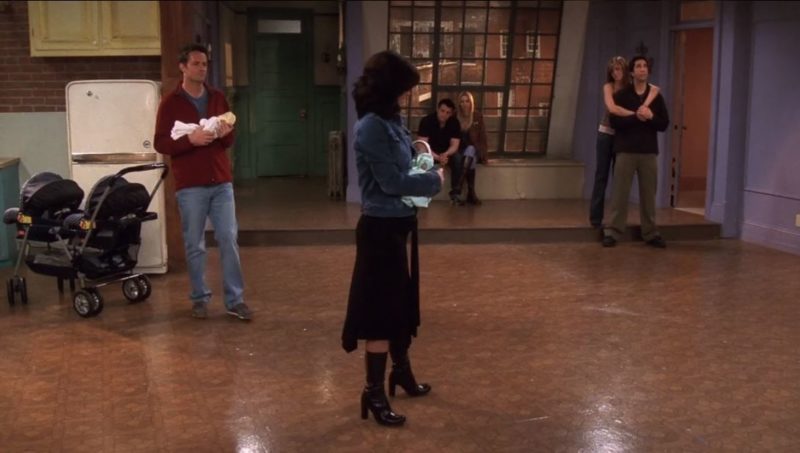 25. When Rachel goes back home to visit her dad in the final season,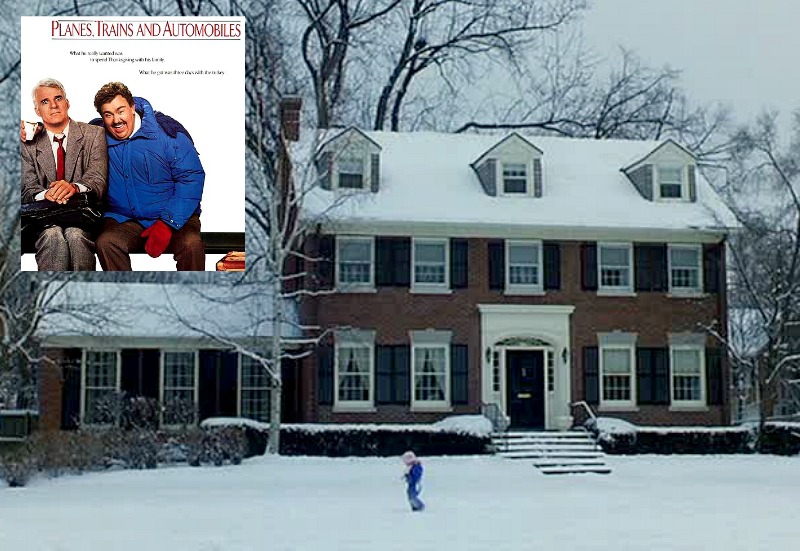 I always love their '80s flashbacks, so I can't resist throwing this screenshot in: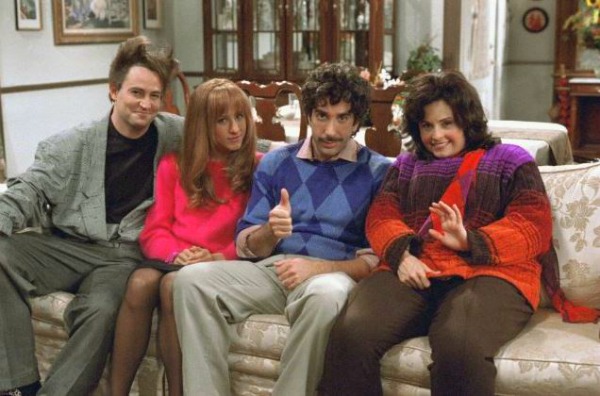 The final episode aired in May of 2004 and was watched by over 52 million viewers.
Were you one of them?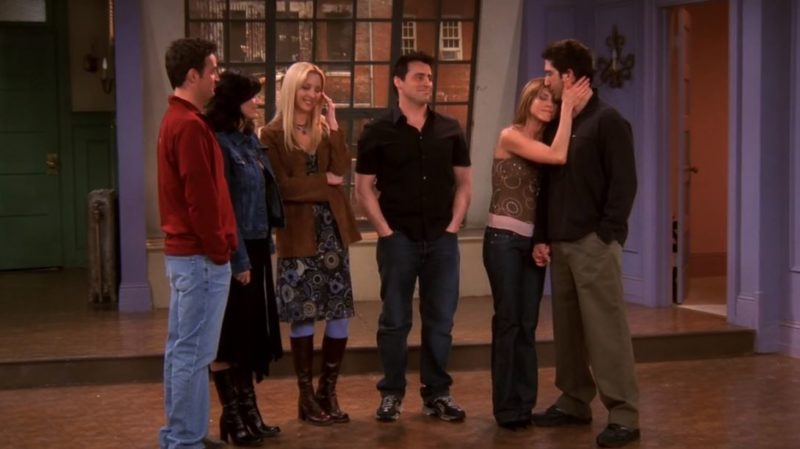 There's lots of fun "Friends" swag fans can score: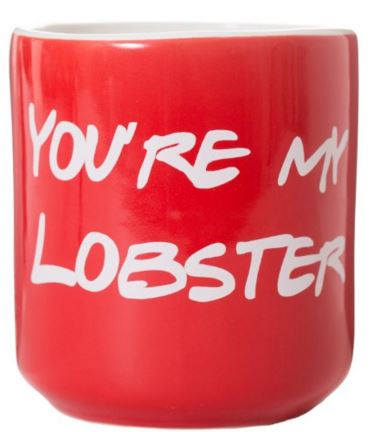 A Jouets poster like the one over Monica's TV: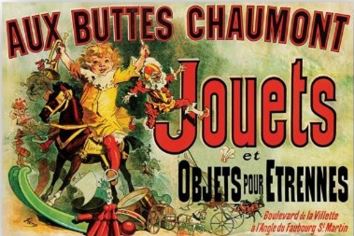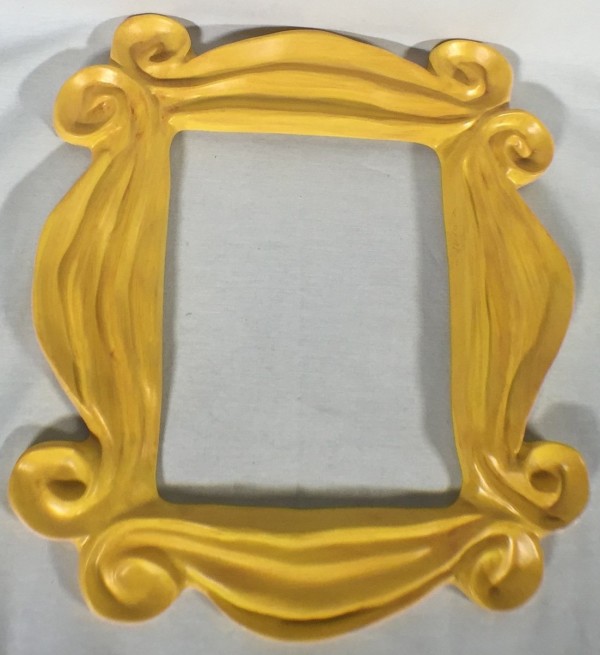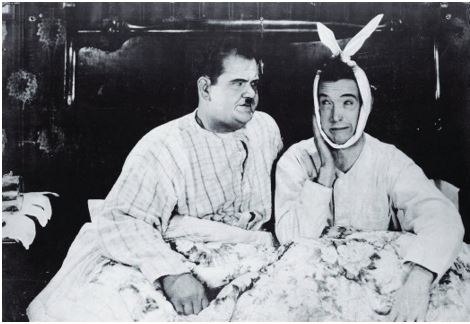 And, of course, the must-have Series on DVD now that it's no longer on Netflix: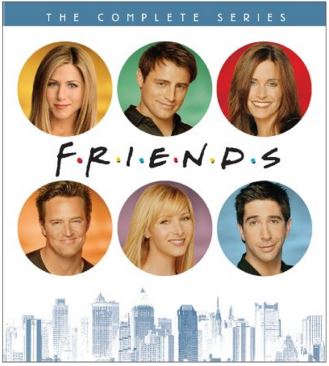 I took most of these screenshots while watching the show.

It's no longer on Netflix but you can stream it on HBO Max.

Now head to my TV Houses page to see more I've featured!