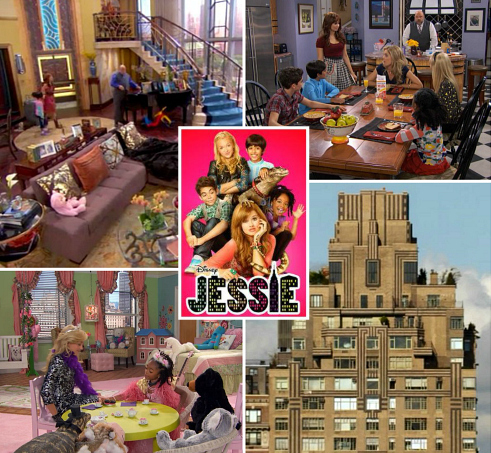 My daughter Lily told me about this show, saying, "You've got to see the penthouse on Jessie, Mom. It's so cool. One of the kids even has a trampoline bed!"
So I checked it out and she was right. The sets really are fun and colorful.
Take a look!

The Penthouse on "Jessie"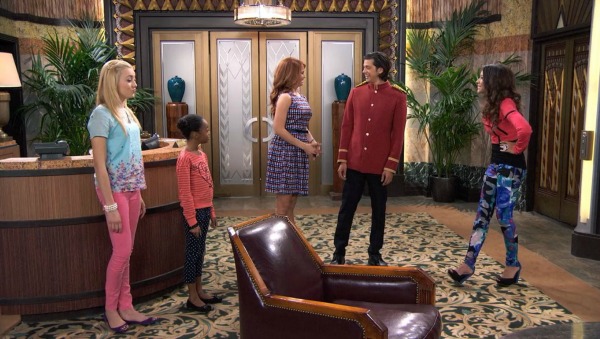 Jessie Prescott moves to NYC to follow her acting dreams but ends up working as a nanny for a famous showbiz couple instead (think Brangelina).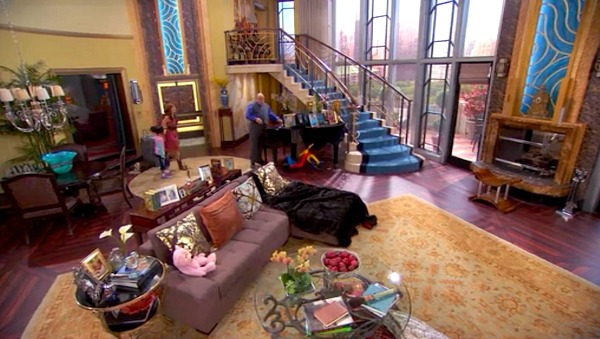 Movie producer Morgan Ross and his supermodel-slash-actress wife Christina live in a huge, jaw-dropping penthouse on the Upper West Side.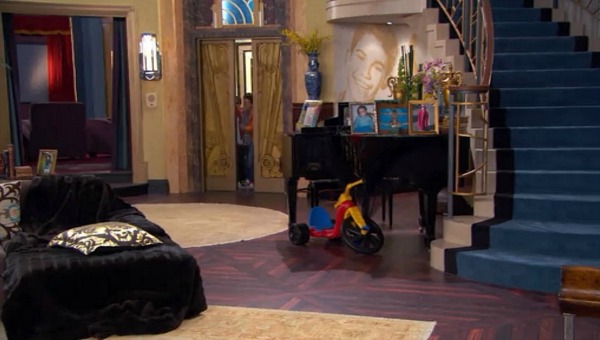 They have four kids Jessie's in charge of while they're off making movies around the world: a teenager named Emma, Ravi (adopted from India), Luke (from Detroit), and Zuri (from Uganda).
In this shot of them singing on the stairs, you can see photos of their faces that cover the wall below: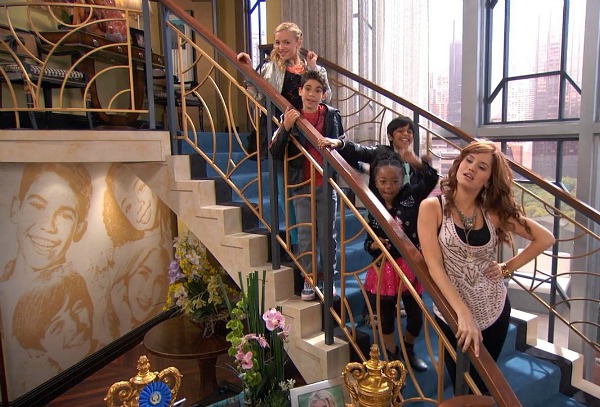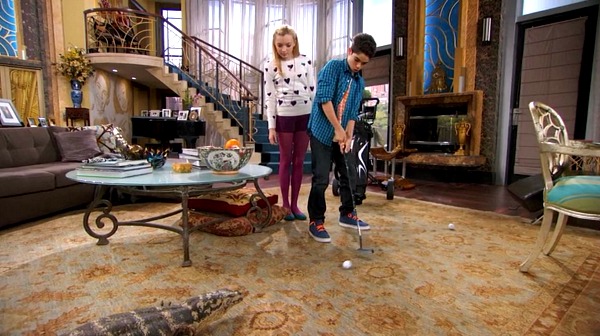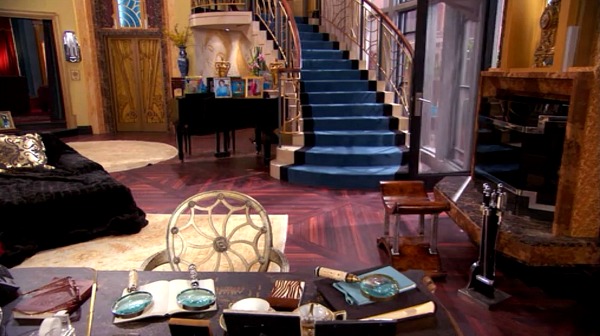 We got to see how they decorated the penthouse for Christmas in one episode: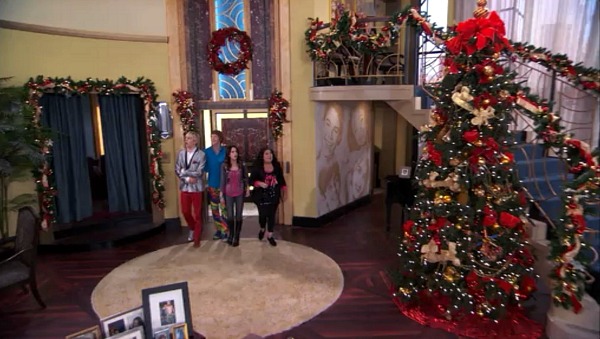 When Jessie dreamed she was being chased by a giant lizard, we got a good look at the fireplace: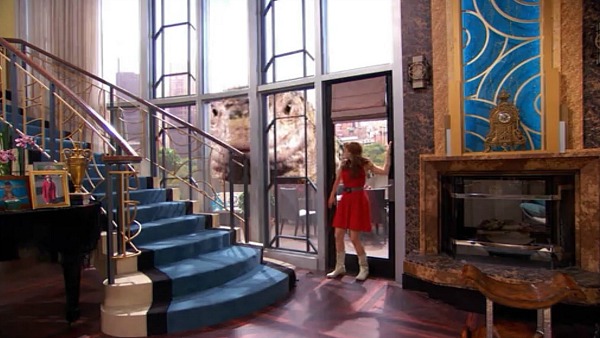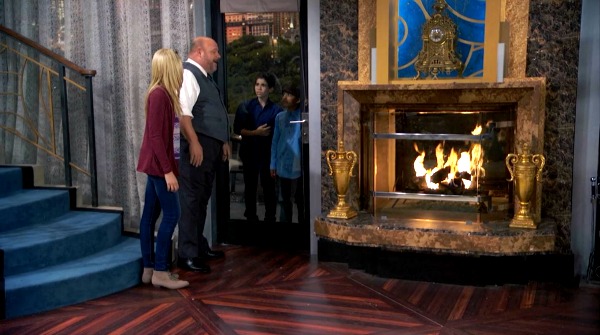 The elevator doors that open into the penthouse look like something out of a classic movie: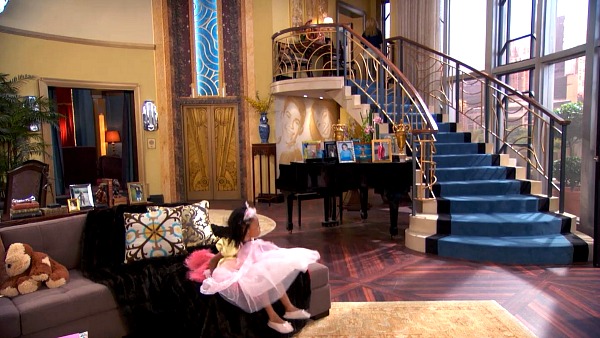 We rarely see their parents Morgan and Christina Ross, who are played by Charles Esten (who's probably too busy playing tortured Deacon Claybourne on Nashville) and Christina Moore.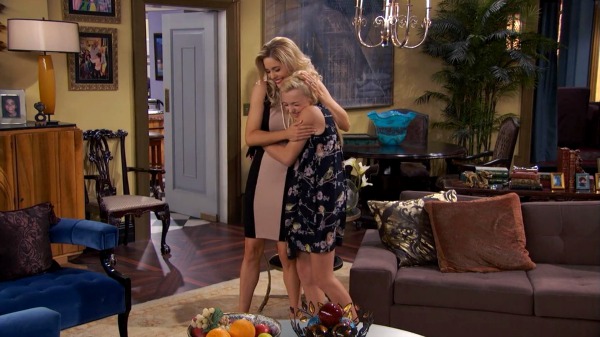 The kids are basically being raised by the butler Bertram (played by Kevin Chamberlin, a Tony-nominated actor) and their good-natured nanny Jessie (played by Debby Ryan, who you may remember from The Suite Life on Deck).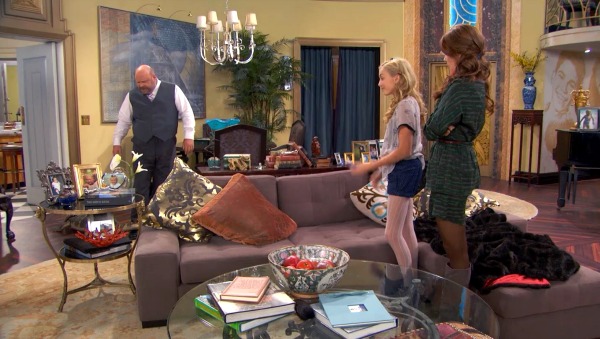 The Screening Room: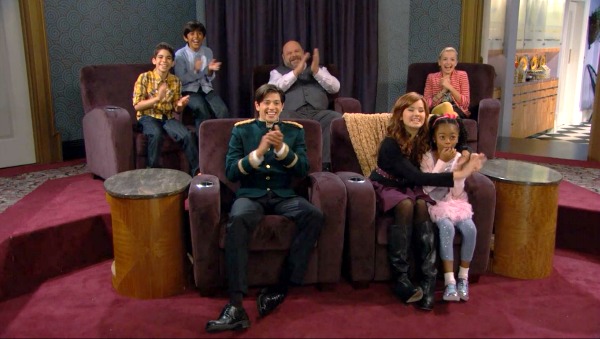 Upstairs Bedroom Hallway: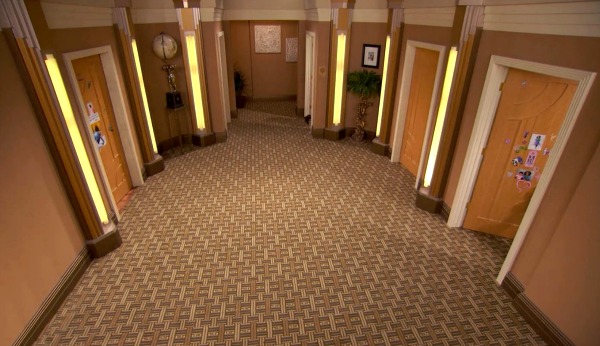 Even the hallway is big!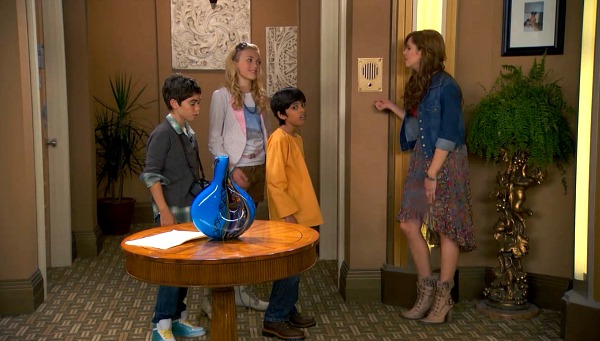 Emma's Bedroom: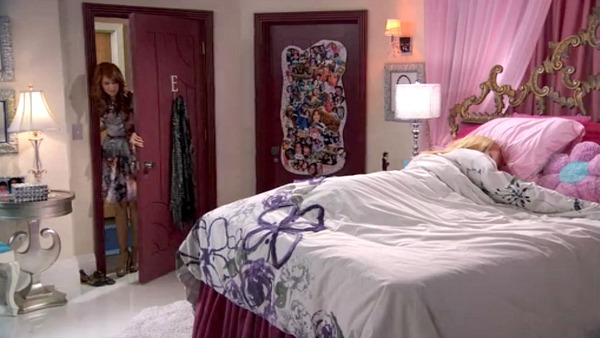 Emma, played by Peyton List, is a fashionista who blogs anonymously as "Kitty Couture."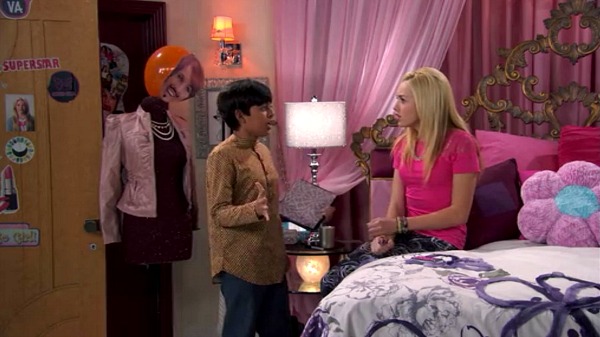 Ravi's Bedroom: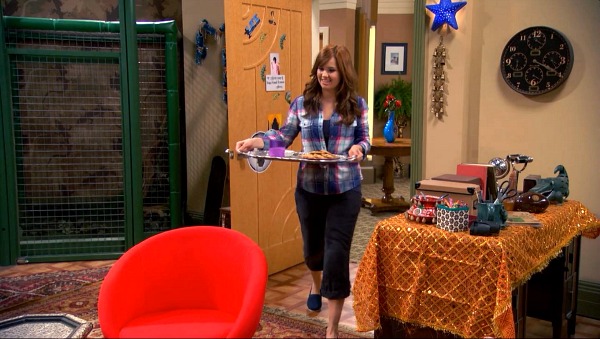 Ravi has an unusual pet — an Asian water monitor named Mrs. Kipling that he found as an egg in a swamp.
A large caged play area for it the lizard surrounds Ravi's bed: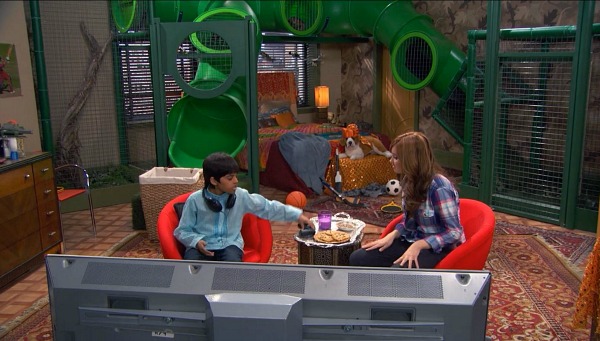 Karan Brar, the actor who plays Ravi, was born in the States.
He worked with a dialect coach to learn the Indian accent he uses on the show.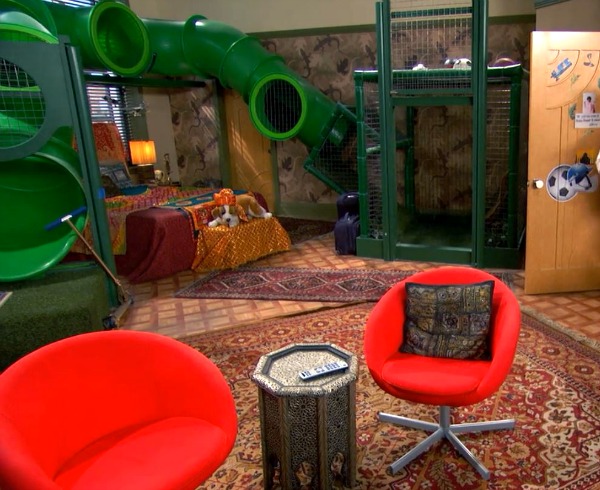 Zuri's Bedroom: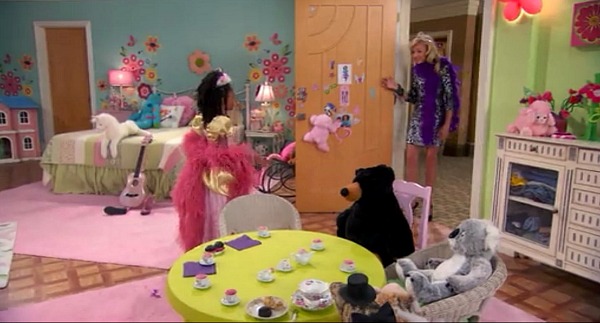 The lizard joins Zuri's tea party in her room: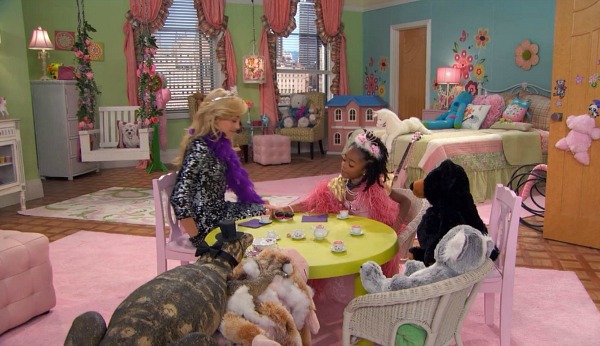 She has a sweet little swing in her room. What little girl wouldn't love that?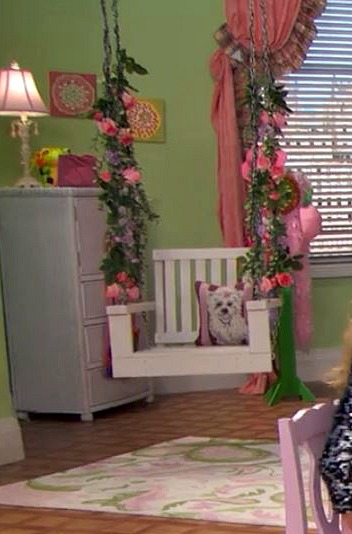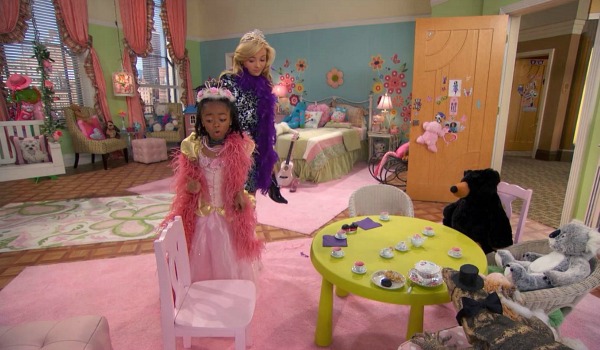 Luke's Bedroom: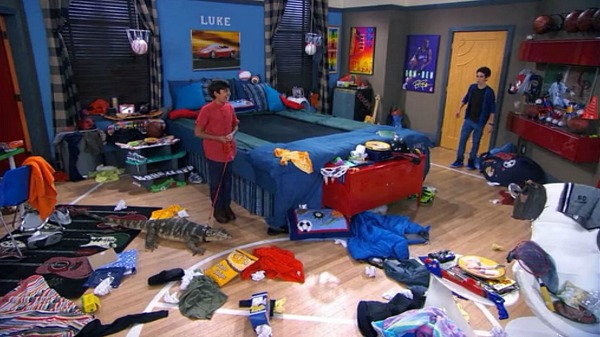 No rules against jumping on the bed in this house.
Luke's doubles as a trampoline: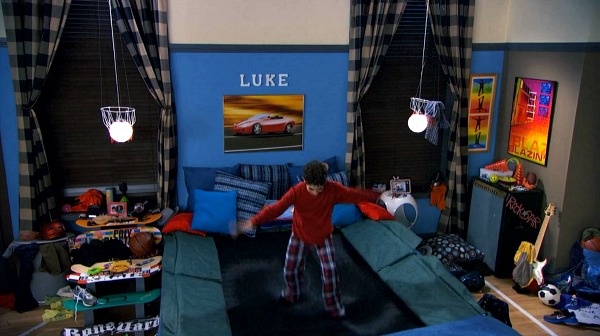 Luke loves sports and his room is decorated accordingly.
When Ravi moved in with him for a few days and cleaned it up, we could see that the floors are painted to look like a basketball court: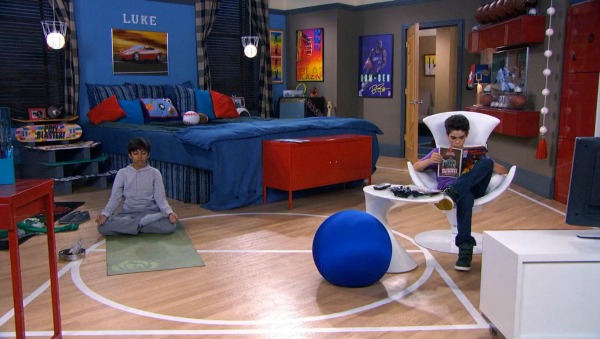 The Terrace: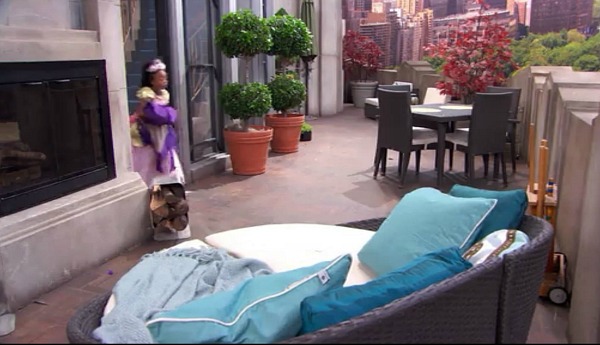 They made the terrace floor more colorful in this episode: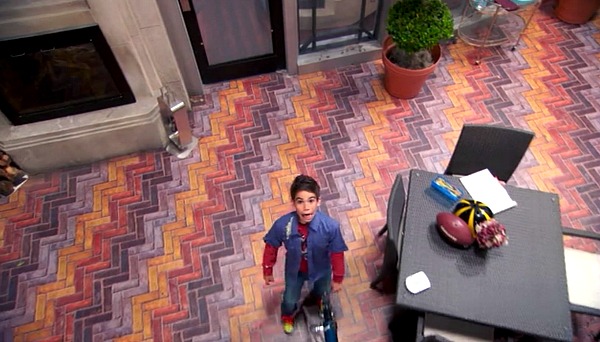 Watching their parents' helicopter coming in for a landing on the roof: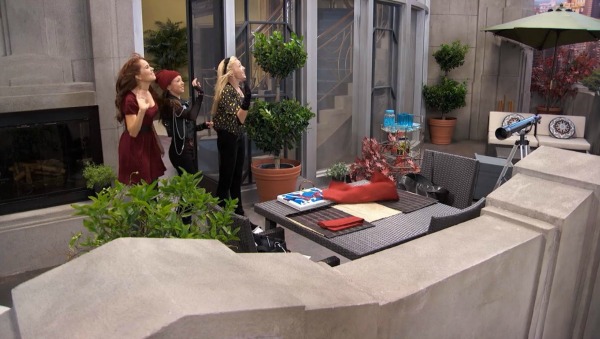 The Purple Kitchen: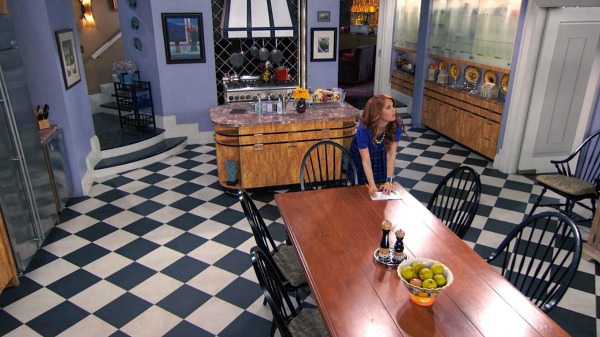 Production Designer Michael Hynes also worked on sets for "Wizards of Waverly Place" and "Hot in Cleveland."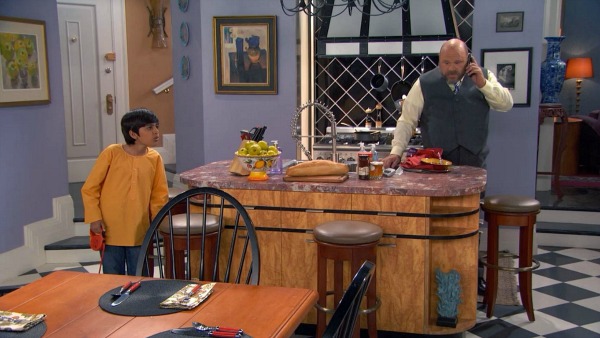 There's a cool dumbwaiter that you can see on the far left in the photo below that Zuri is often popping up in: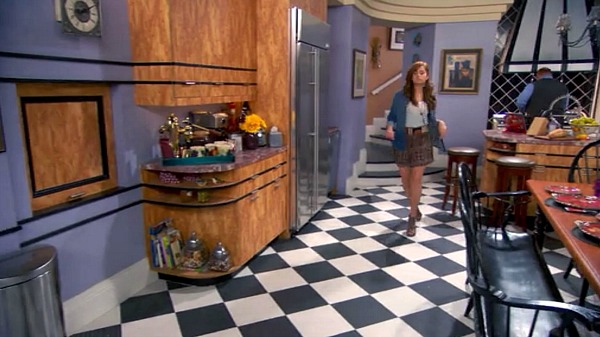 They put a traditional wood table with Windsor chairs in a purple kitchen that has contemporary and Art Deco details, but somehow it all works (at least as a set — not sure I'd try it at home!).
I watched the first two seasons of the show while taking these screenshots, and now the catchy Jessie theme song is stuck in my head!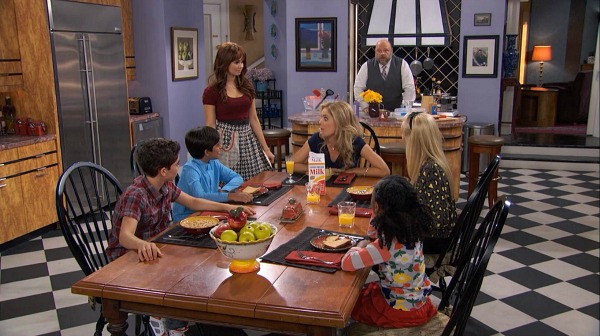 Visit my Houses Onscreen page to see other shows I've featured, listed A-Z.