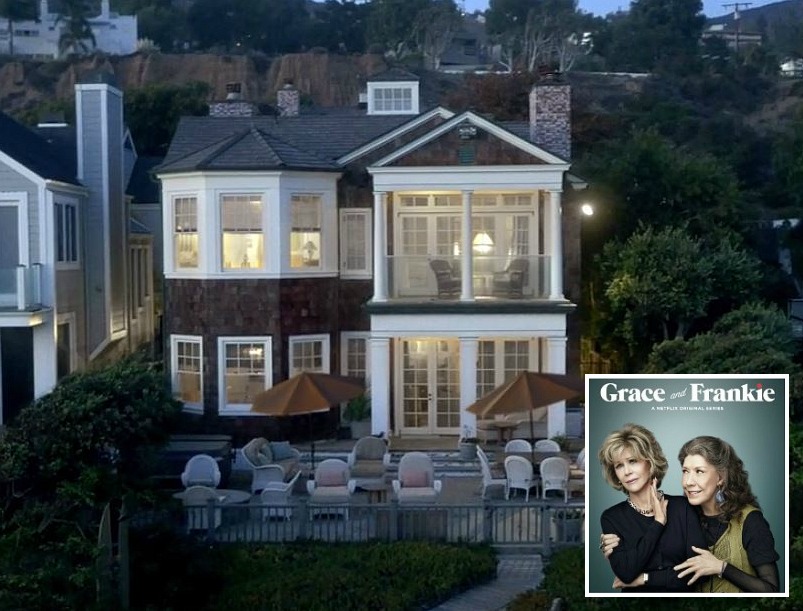 I binge-watched the new Netflix series "Grace and Frankie" this week and couldn't get enough of their beach house. Judging by the number of emails I've gotten from readers asking me to feature it, I'm guessing I'm not the only one who's a little obsessed!
According to IMDb.com, the real beach house where they filmed the exteriors is on Broad Beach Road in Malibu (not La Jolla like they mention on the show). I looked it up on Google Maps and found the side that faces the street.
Let's take a closer look at the sets they designed for it!

Grace & Frankie's Beach House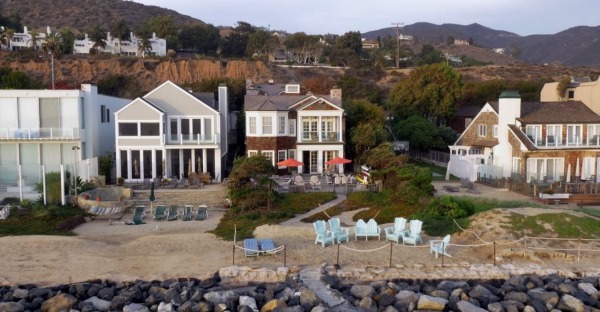 "Grace and Frankie" reunites Jane Fonda and Lily Tomlin, who co-starred in the movie Nine to Five back in 1980. (I keep hoping Dolly Parton will make an appearance, but so far, no such luck.)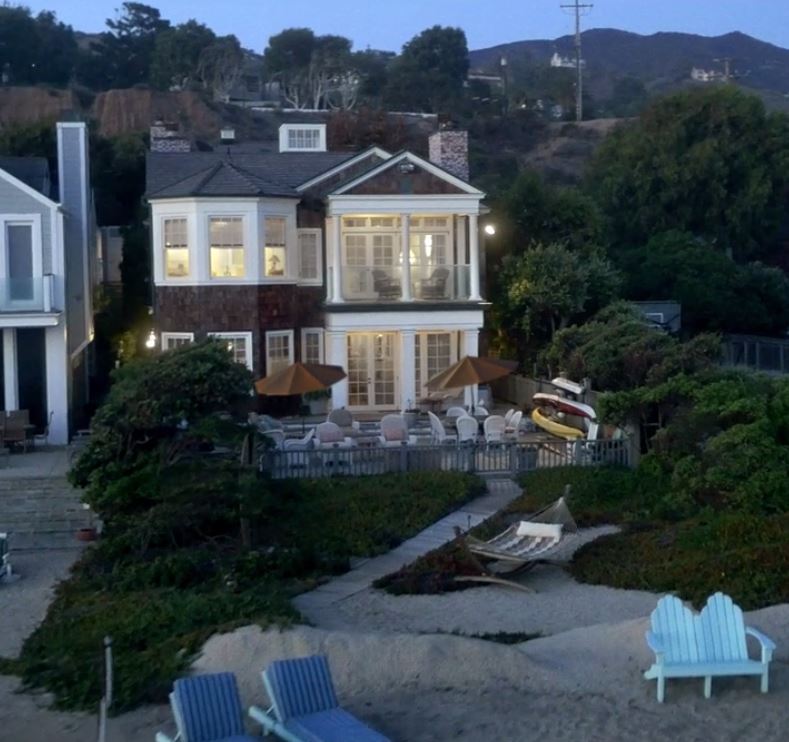 The beach house was co-owned by Fonda's character Grace and husband Robert (Martin Sheen) and Tomlin's Frankie and her husband Sol (Sam Waterston).
They bought it as a shared vacation home.
When Robert and Sol leave Grace and Frankie for each other, both women retreat to the beach and try to lay claim to it.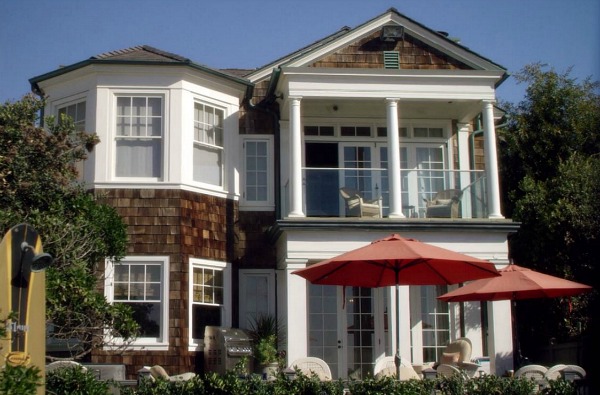 When Grace finds Frankie already in the house, she calls Robert and cries, "I want this house!"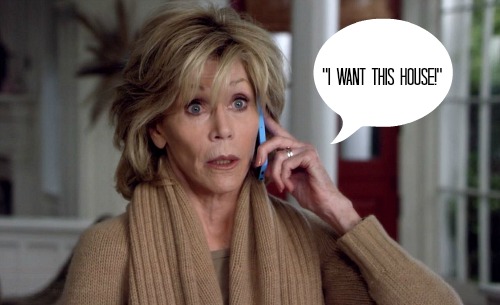 I couldn't blame her. I did, too! 🙂

The shuttered doors over the fireplace open to reveal a flat-screen TV: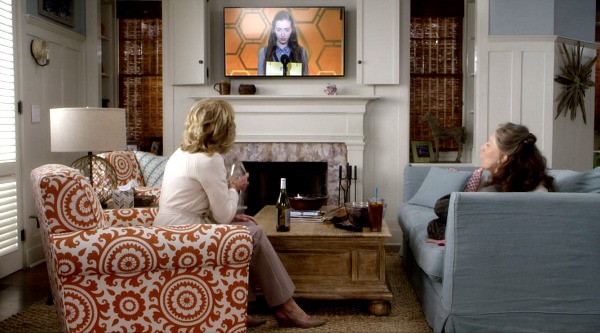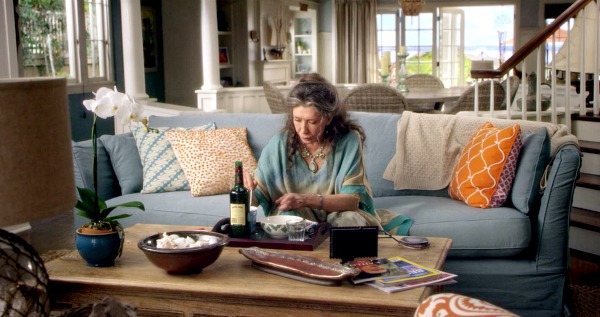 Set decorator Beauchamp Fontaine told Houzz she believes that Grace would have had the larger say over the interior design decisions: "I think the only way that Grace would have been comfortable with the arrangement was if she had control over the decor."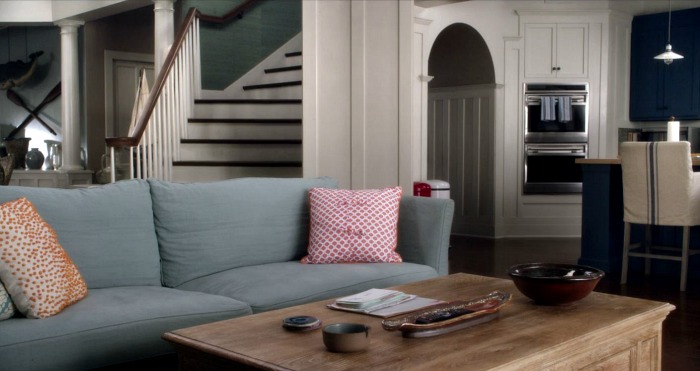 It definitely does look more like Grace's style than Frankie's.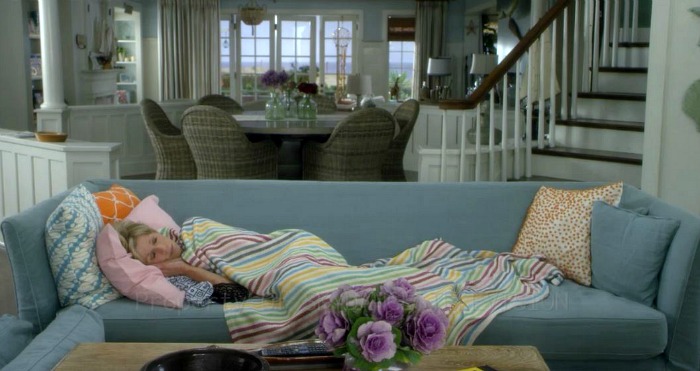 Fontaine says she wanted the beach house to have coastal chic: "It needed to be a place that could handle people tracking in sand from the beach and plopping down on furniture with wet swimwear. Therefore, a lot of slipcovered furniture and sisal rugs made sense."
(BTW, she also did the set decoration for the movie Nebraska. If you saw that one, then you know she has amazing range when it comes to design! The houses could hardly be more different.)
The blue cabinets in the kitchen are very on-trend: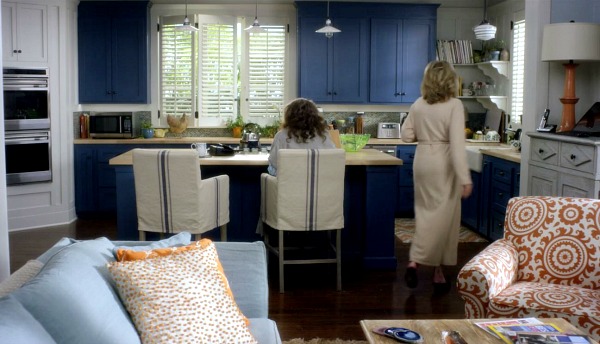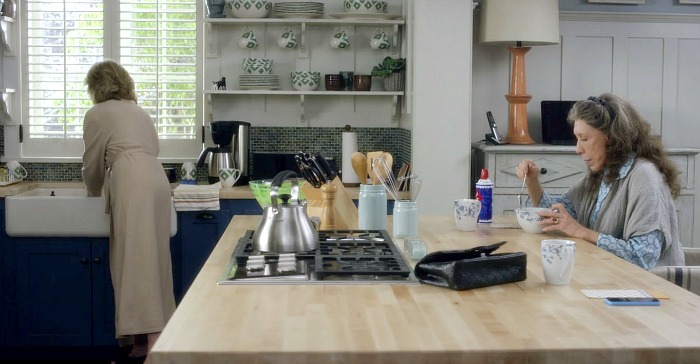 The green and white dishes are part of the Lenox AERIN Emerald Mist collection: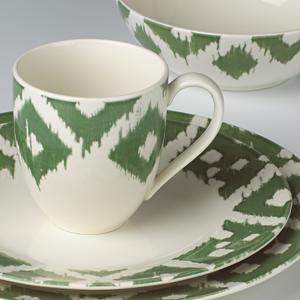 Even the hallway that connects the kitchen to the entry door knows how to frame a shot: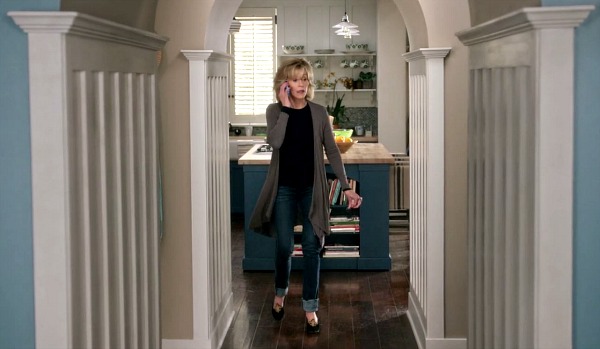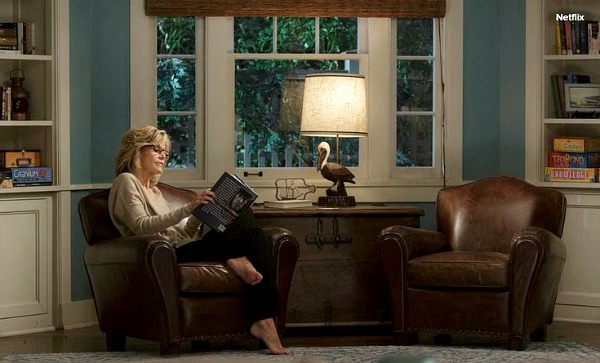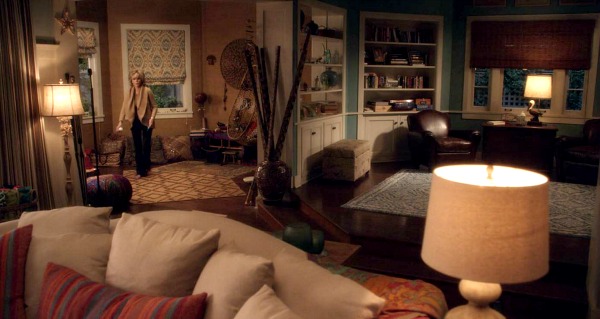 Frankie has a little meditation room with a swing and lots of floor pillows: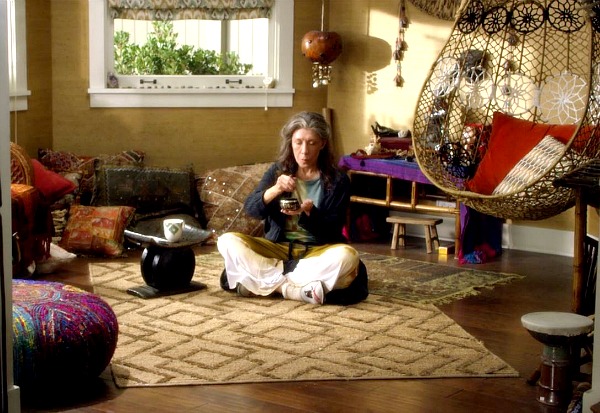 In a flashback episode, there are different chairs, as well as a few other changes it's fun to look for: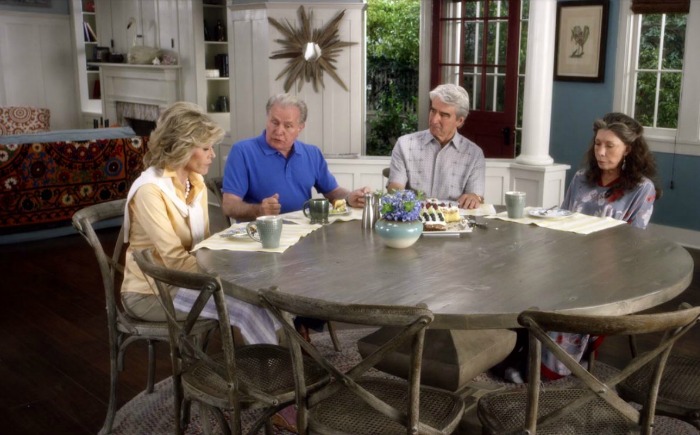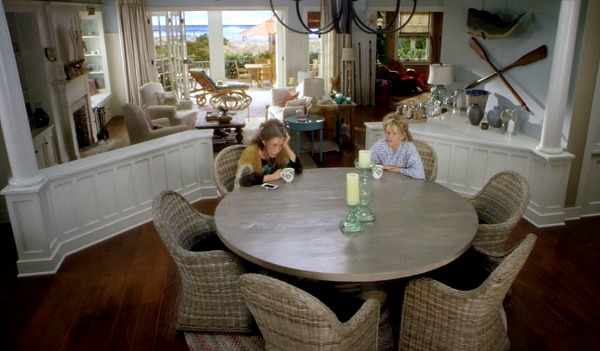 "Grace and Frankie" creator Marta Kauffman was also a creator of "Friends."
You can see my post about those sets here: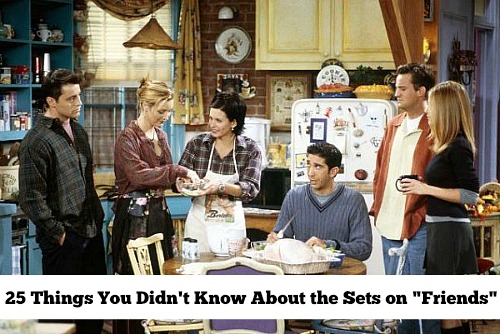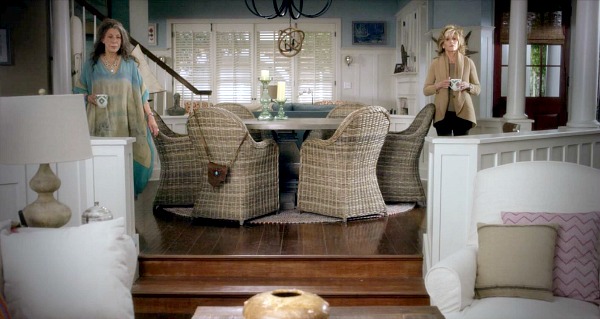 There are two main living areas. One with the TV off the kitchen and this larger one: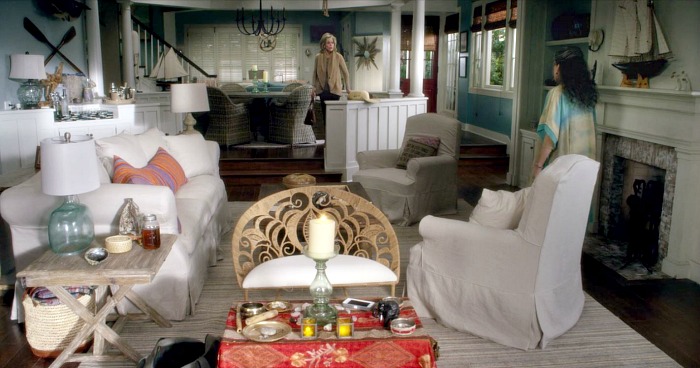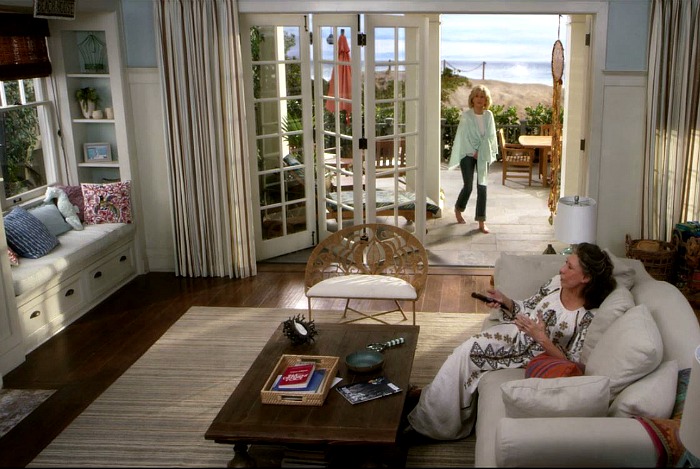 Grace's daughter Brianna is played by June Diane Raphael.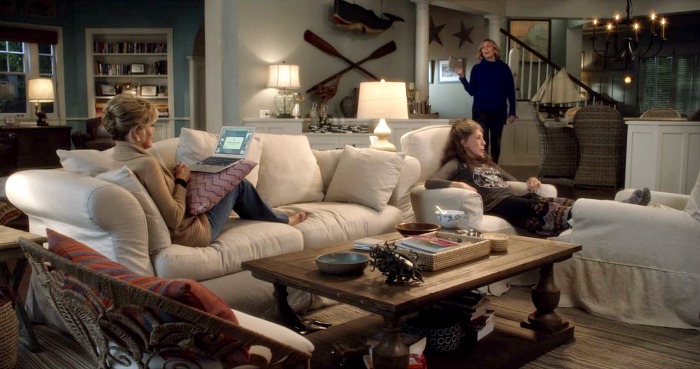 The show started kind of slow and a little sad, but the more episodes I watched, the more I liked it.
Fonda and Tomlin are great together. Some of their conversations had me laughing out loud.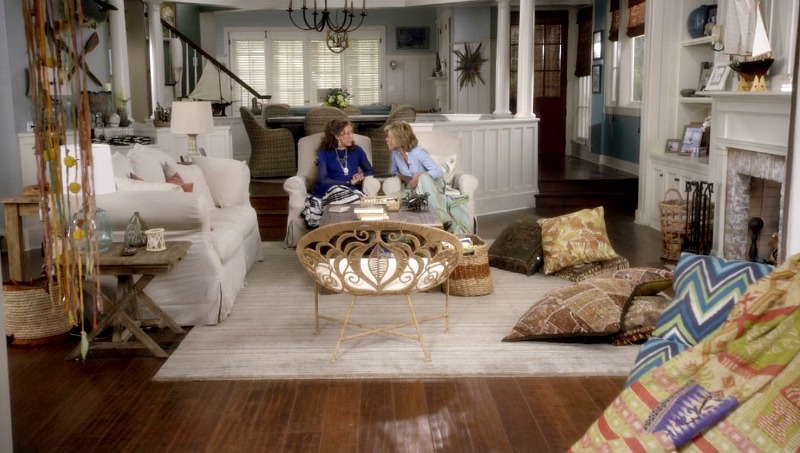 I found an exterior photo of Frankie's art studio at Pierre Steel's Photography Studio site (click over to see it) that describes it as "the backyard poolhouse."
The Poolhouse: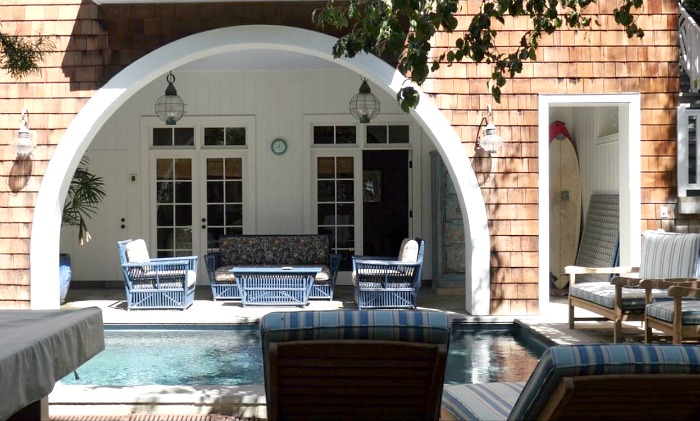 When the camera pans up we see it has two more stories above ground level:
Frankie's Art Studio:
This is the back of the pool house, and the main house is closer to the beach: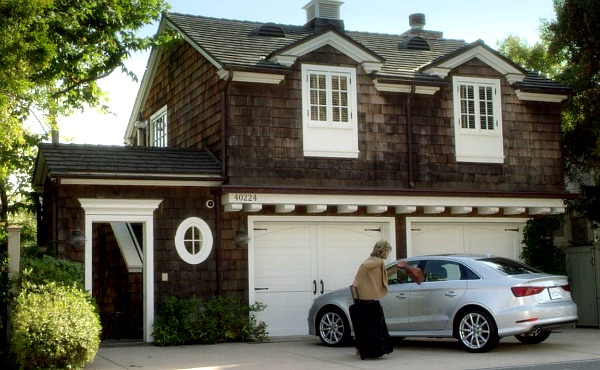 The former listing says it has 4 bedrooms, 4 baths, and 3,896 square feet.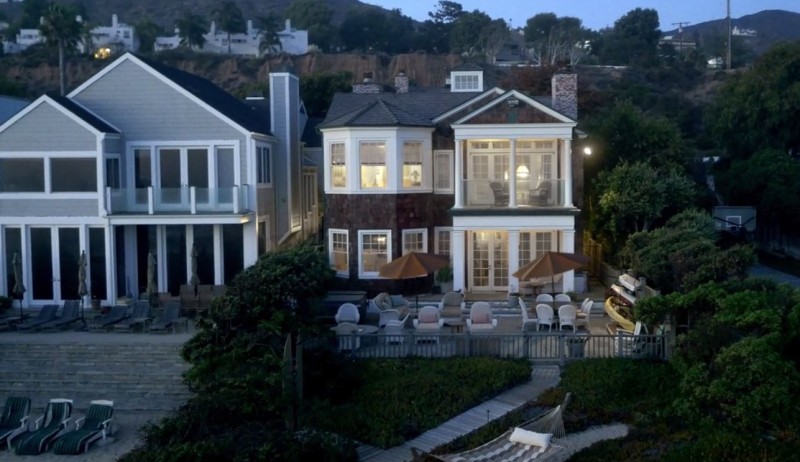 You can watch "Grace and Frankie" on Netflix.
I took these screenshots while watching the show.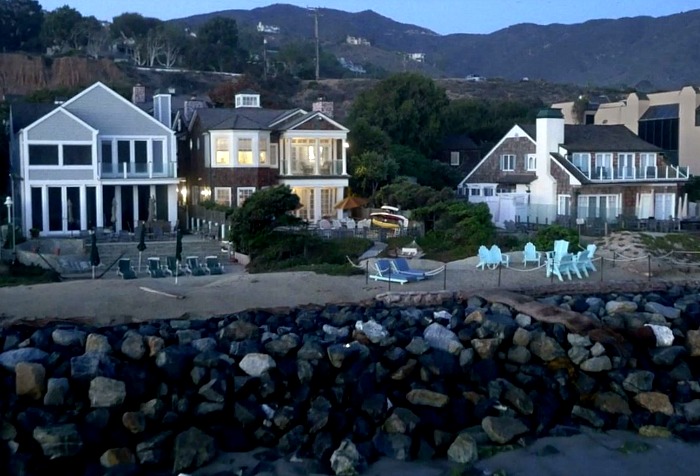 For more photos and information about the sets: