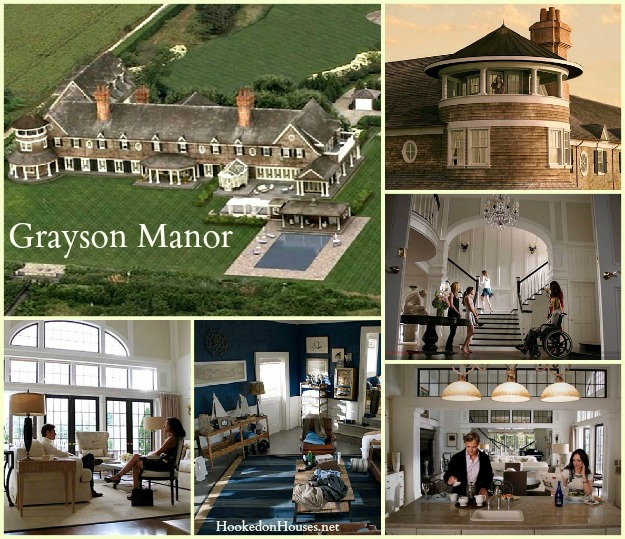 Have you been watching the new season of Revenge? I've been on the edge of my seat every Sunday night.
Not only has the drama been just as juicy, but they introduced a few new sets at Grayson Manor.
For one thing, Lydia's room has been turned into a cozy living room. And did you notice the changes to the grand foyer?
Last week we took a closer look at Emily's beach house and Nolan's contemporary bachelor pad. Today it's time to visit Grayson Manor and the pool house that Daniel lives in.

Grayson Manor on "Revenge"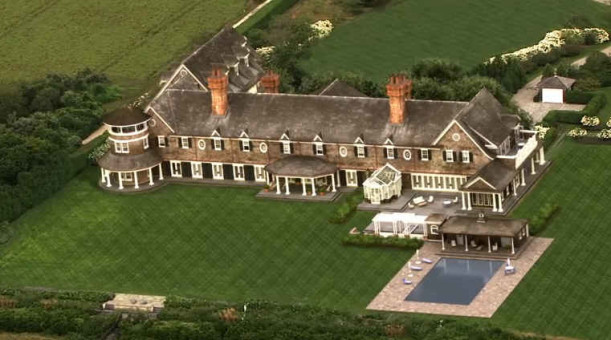 The Grayson house takes up an entire soundstage, it's so big.
*Spoiler Alert*
Let me just start by saying that I may mention a few things that have happened on the show, so avert your eyes if you haven't watched yet and don't want to know!
The Grand Foyer: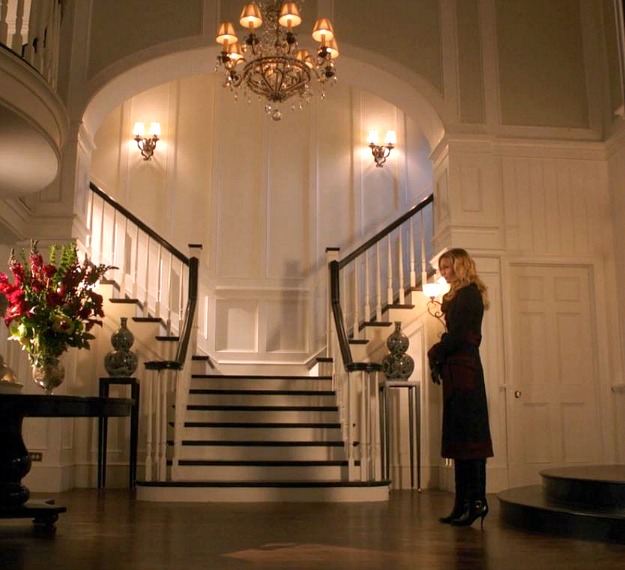 Madeleine Stowe, who plays Victoria Grayson, said the sets have "lots of little nooks and balconies that we can spy on each other from on the show."
At the beginning of this season, that balcony played a role in a shocking plot point (*spoiler alert!*) when poor pregnant Amanda fell backwards off it, onto the floor below.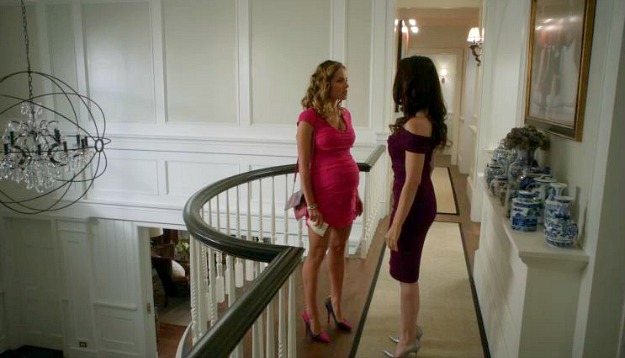 I actually gasped so loudly when that happened that my husband called down the hall to see if I was okay. Well, I was, but Amanda sure wasn't.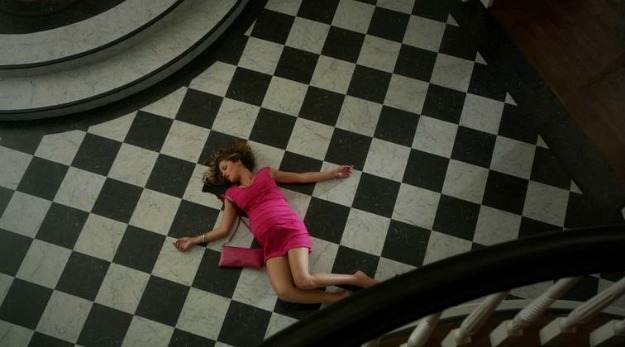 I have to wonder if they changed the floor because they knew they'd be filming this scene and it would look more dramatic with the checkerboard marble. All the blood that poor Martha the Maid had to mop up stood out much more against it than it would have on the dark wood of last season: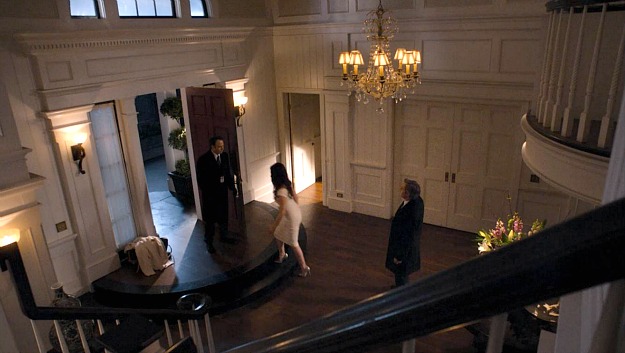 You'll notice the chandelier looked more traditional last season, too. Looks like they just altered the original one by adding the rings around it (and removed the shades) to make it look a little more modern (scroll back up to see how it looks now).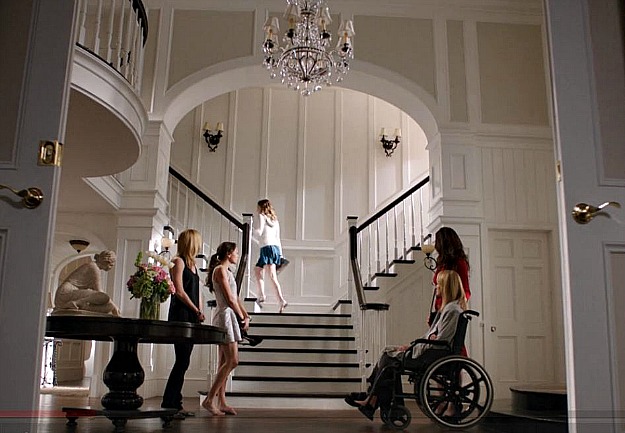 I've got to give a shout-out to the brilliant Production Designer Bruce Alan Miller and Set Decorator Christopher Marsteller, as well as all the other creative people involved.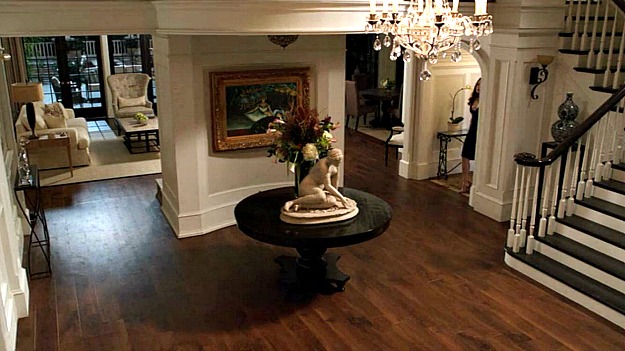 The Great Room: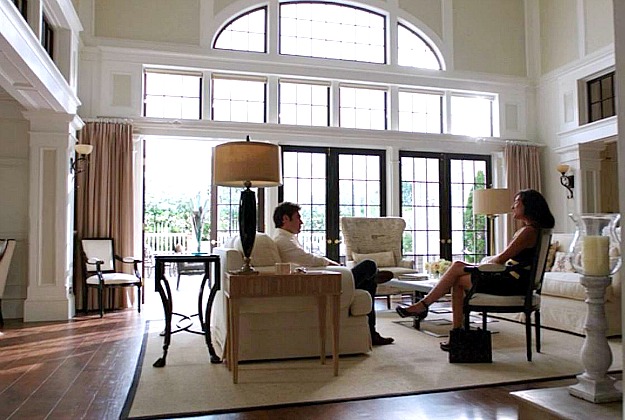 For the pilot episode, they filmed inside a real house in Landfall,
a community on the Intracoastal Waterway in Wilmington, North Carolina.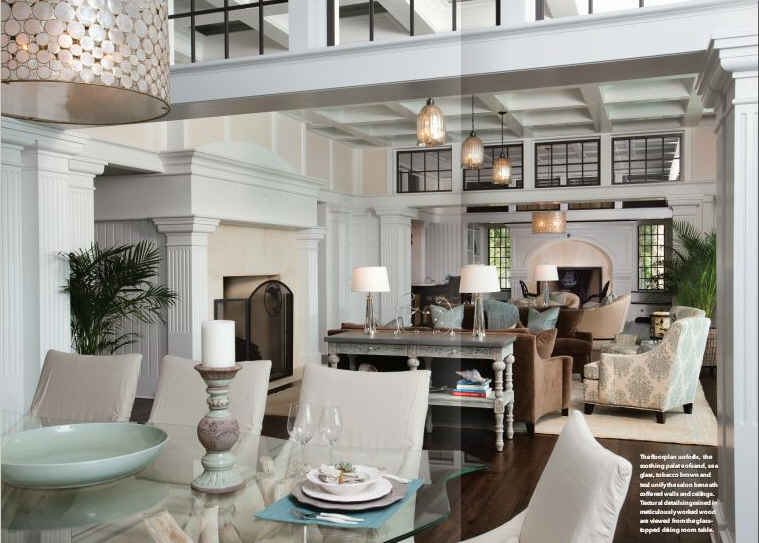 The article called the house "West Indies-inspired."
Here's how it looked on TV in Season One: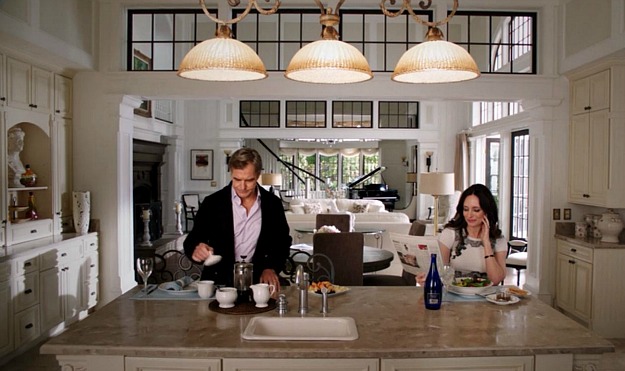 When the show got picked up, they recreated the look of the rooms on a soundstage in California.
It's fun to see what they changed for the show, like the wood on the fireplace.
They also ditched the second fireplace for a wall of windows and a back staircase: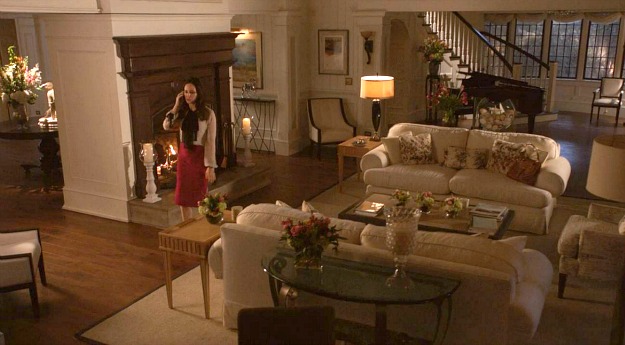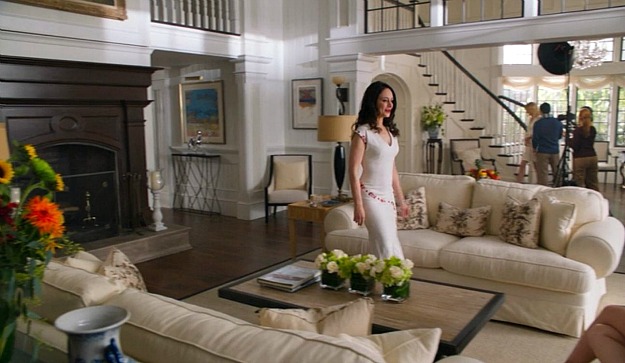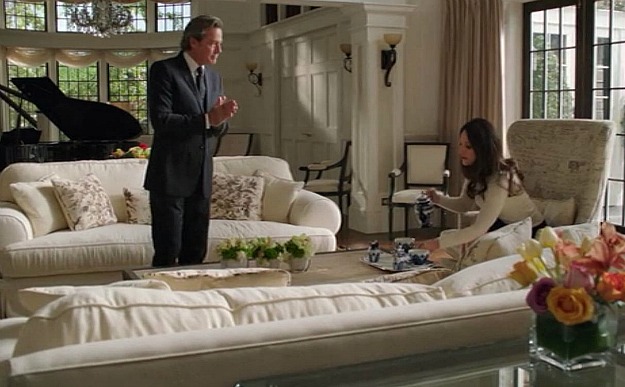 "I've always been amazed by how you can make 20,000 square feet

feel warm and inviting." -Mason Treadwell.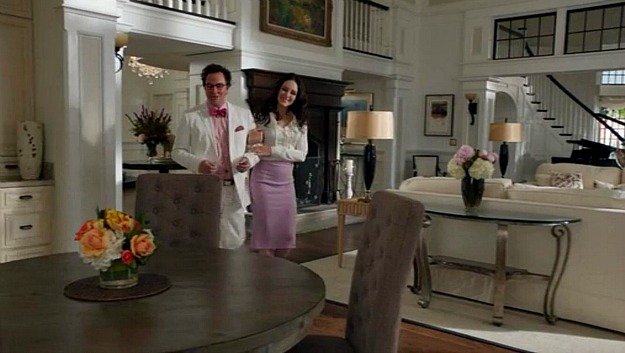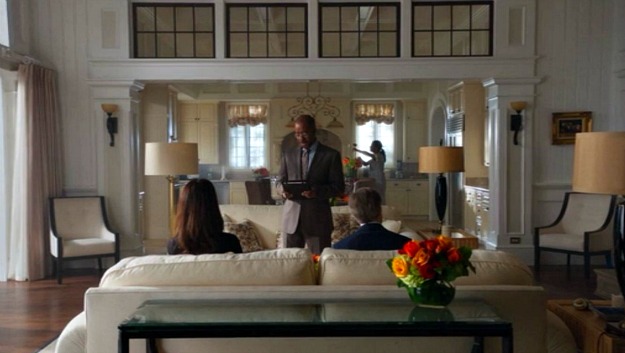 The Kitchen: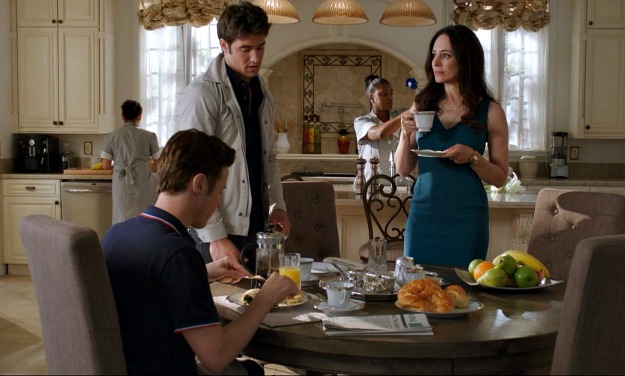 This season they replaced the round table and island with a more formal dining table: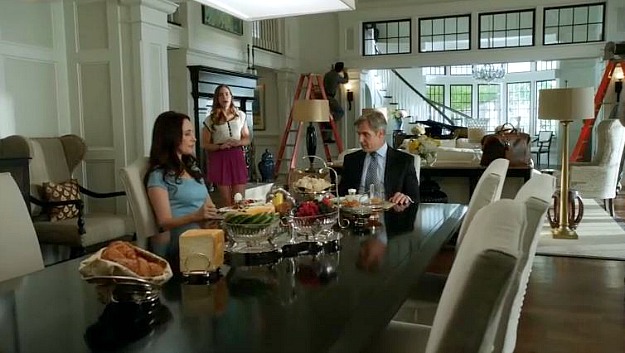 Not sure where the kitchen went. Maybe it's more hidden now.
It's not like Victoria needs access to it anyway. That's what her team of household assistants is for!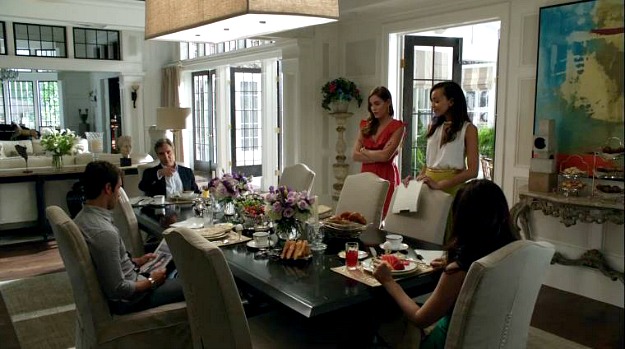 The Conservatory: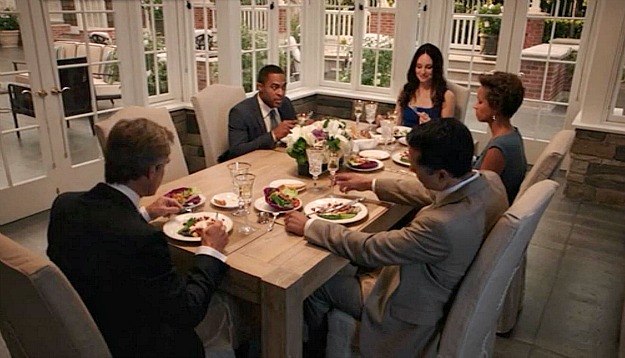 One of my favorite rooms in Grayson Manor is the Conservatory, where all kinds of drama-filled conversations and meals have taken place: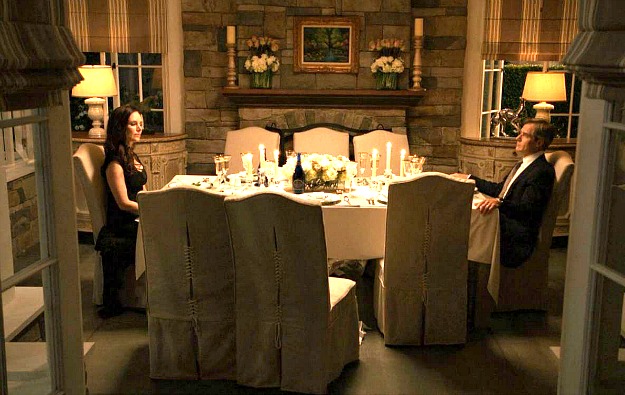 This season they took the dining table out of there, though, and replaced it with wicker and what looks like a small desk: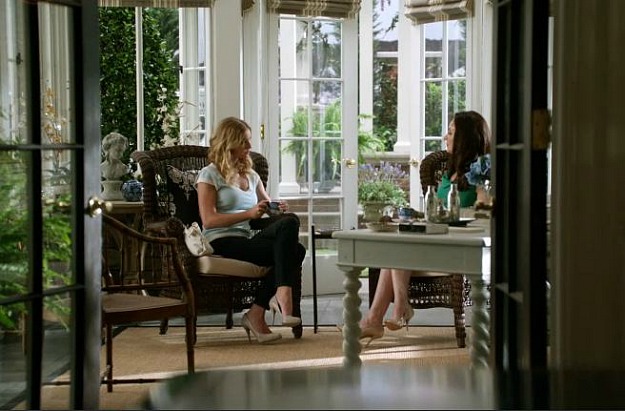 Conrad Grayson's Study: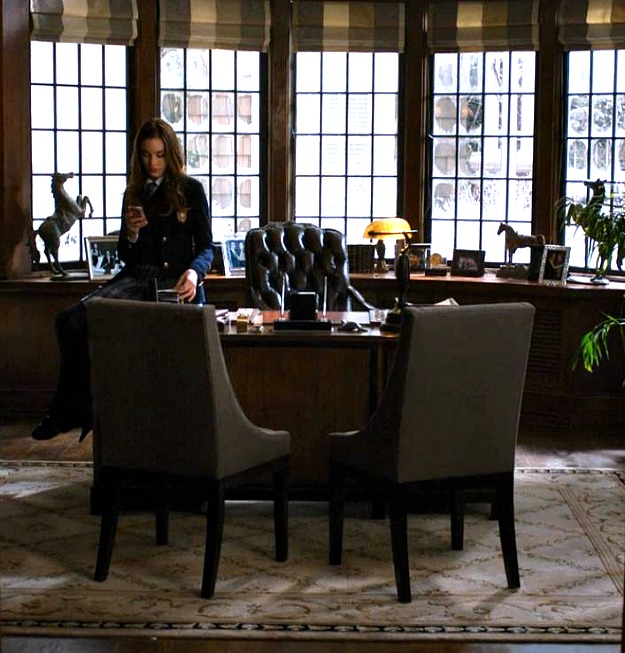 The office is very dark and masculine.
Henry Czerny who plays Conrad says it's easy to get into character when he steps on this set.
The Guest Bedroom: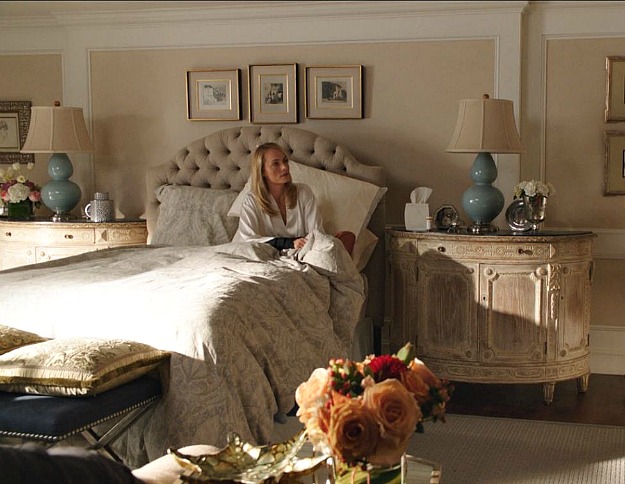 When Lydia was recovering from her fall last season, Victoria and Conrad graciously took her in and cared for her.
Or, you know, kept her prisoner until they could ascertain how much she remembered from the night of her "accident."
You say tomato…
New Living Room Set: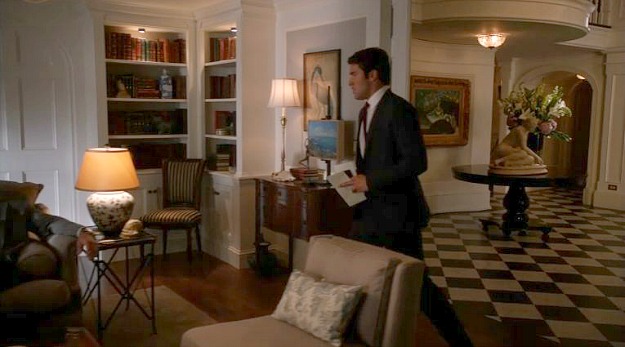 This season, with Lydia (presumably) dead, the guest bedroom was freed up and turned into a cozy sitting/living room with a fireplace and built-in bookshelves.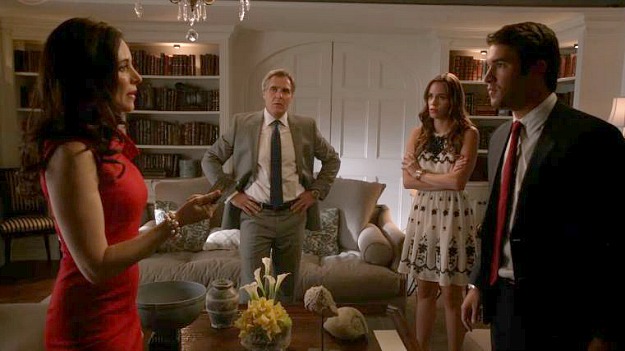 There are double doors that open to both the entry hall on one side and the Great Room (where the piano and back staircase are) on the other.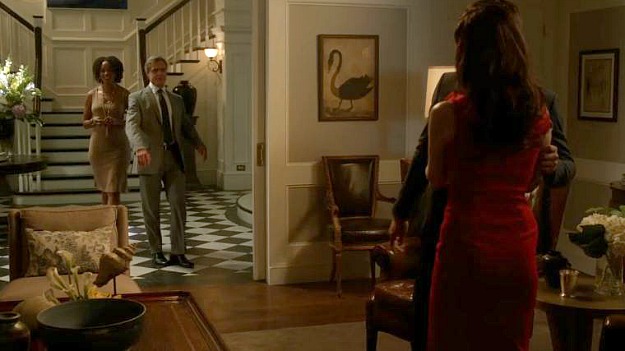 All the fireplaces in the house come in handy considering how many papers (and general evidence) the family needs to burn on a regular basis…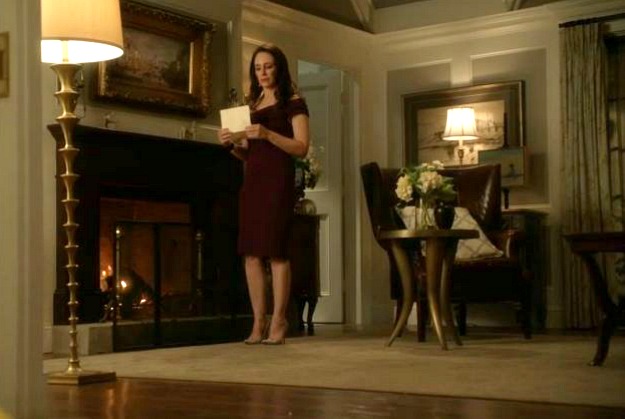 Powder Room: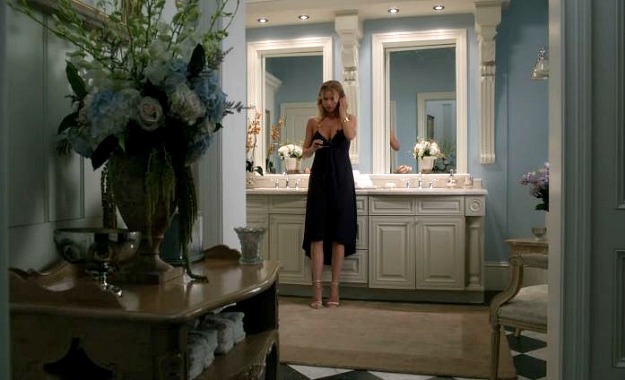 They added a powder room off the new living room for Season 2 also, which has the same marble flooring as in the foyer.
Charlotte's Bedroom: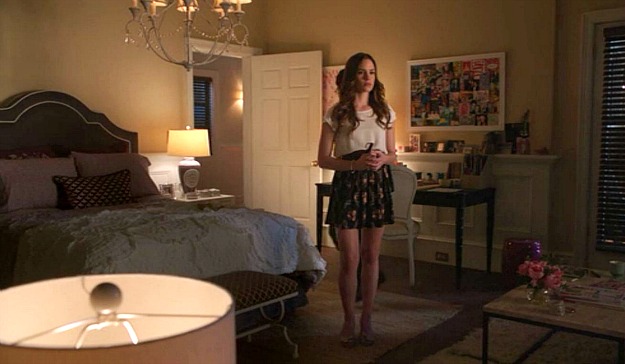 Charlotte's room evolved during the first season.
In early episodes the room was white with an antique wood headboard.
Then it became a trendy Pottery Barn-teen paradise with an upholstered headboard.
And later, the walls were painted blue.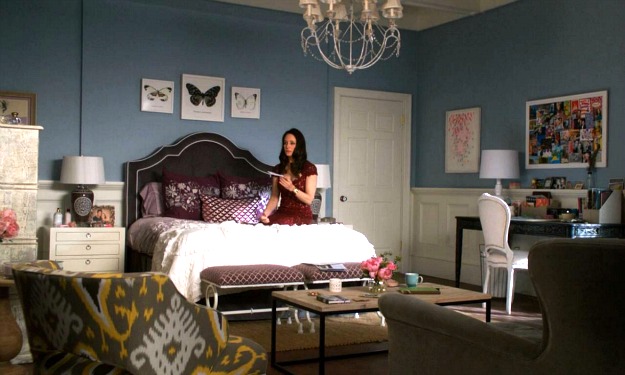 I swear I have to rewind and watch every scene two or three times because I get so caught up in looking for changes in each of the sets that I forget to pay attention to what's going on.
And this is the kind of show where if you miss one significant glance, you miss a lot.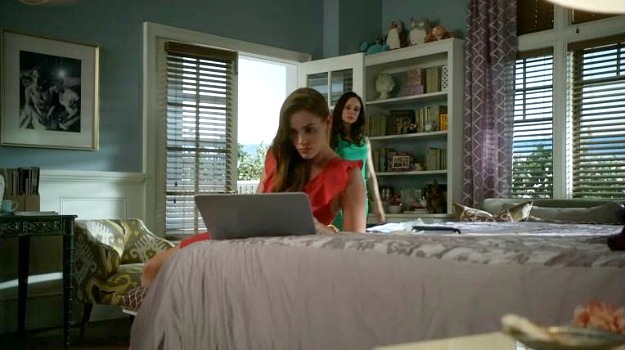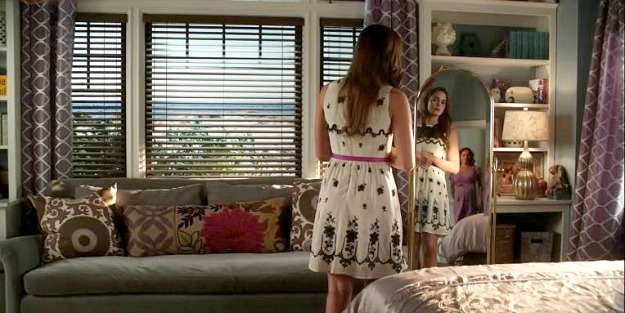 Victoria's Bedroom: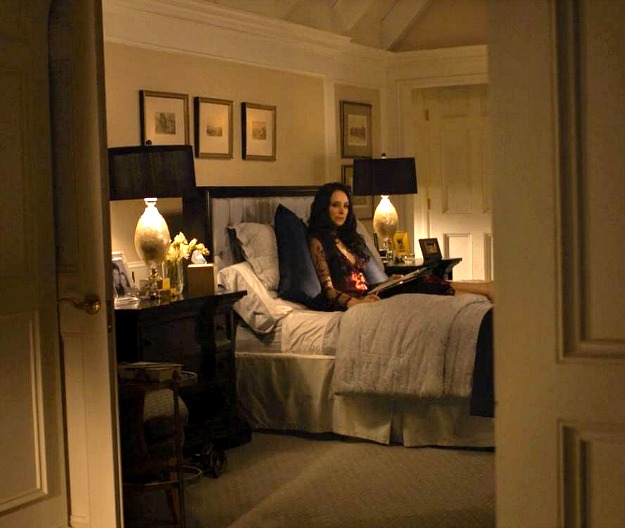 Off the turret, where she likes to stand and keep tabs
on Emily's beach house below, is Victoria's bedroom.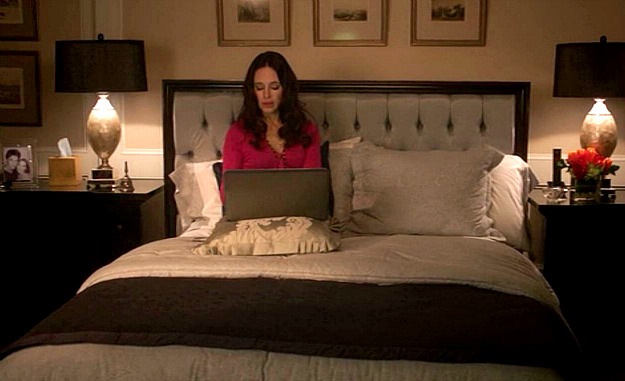 Her dressing room off the bedroom: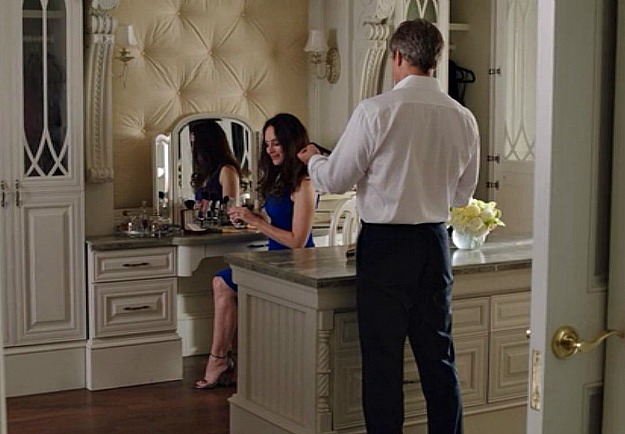 The Patio:
There are always lots of events happening on the patio, which is also part of the indoor set.
They use wind machines to make it look like they're outside.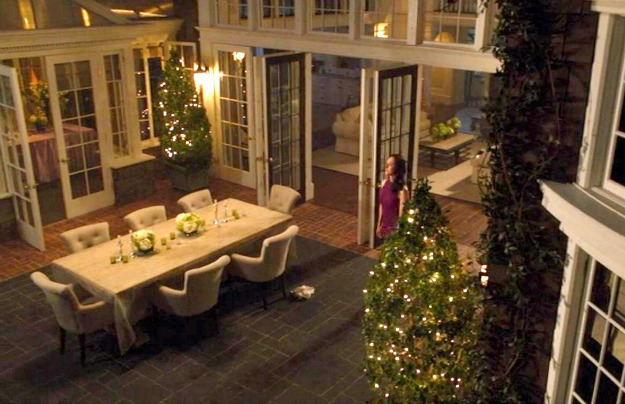 Victoria's turret is a set that actually sits on the ground.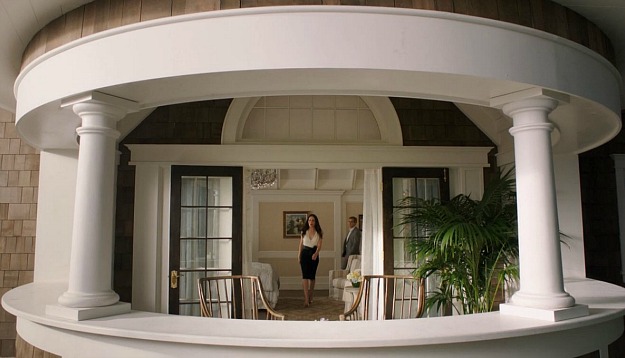 With a little "TV magic," the turret looks like this: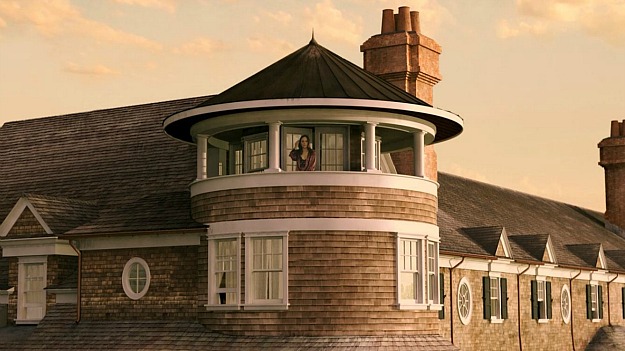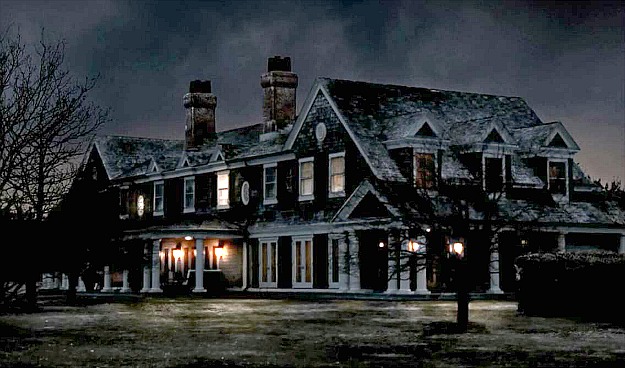 The Pool: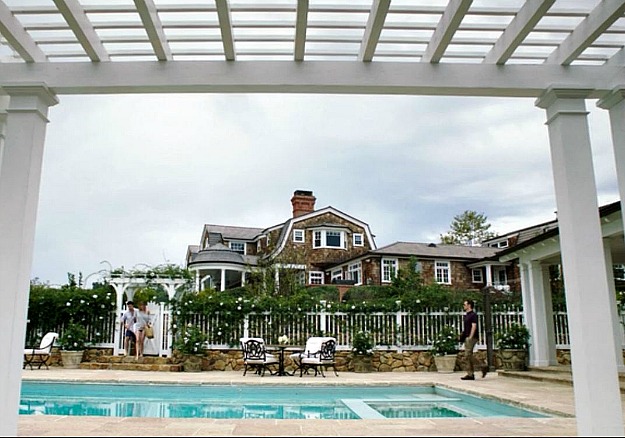 When they were shooting outdoor scenes by the pool,
they used a different house in Malibu on Winding Way.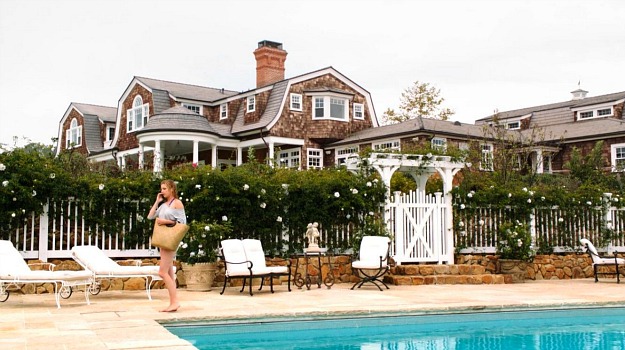 The Pool House: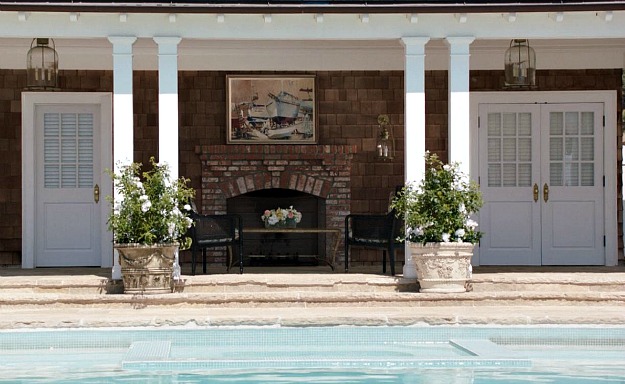 At the beginning of the first season, the interiors of the pool house were painted a pale blue: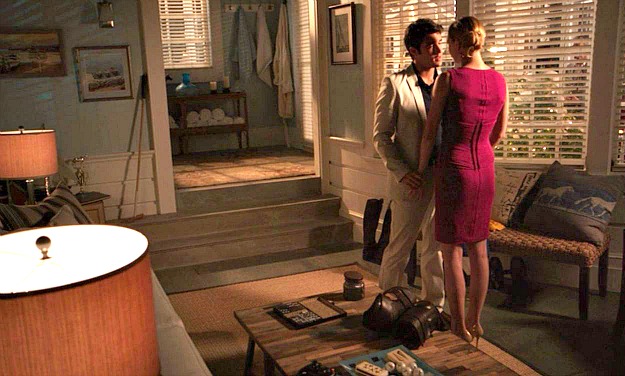 I was excited when I tuned in one night and saw they had repainted them a dark navy, which is much more masculine and better suits Daniel, who lives there: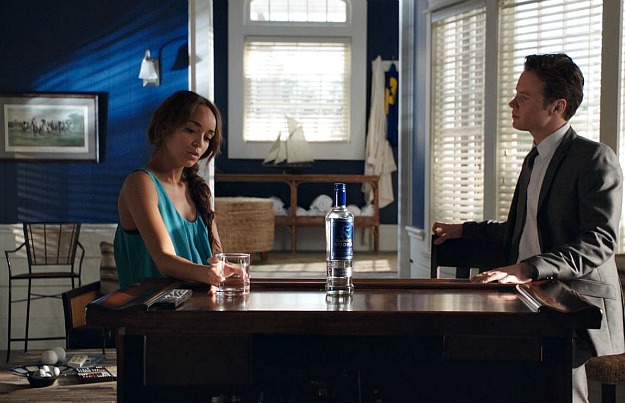 Ashley and Daniel are a couple now and living in the pool house together.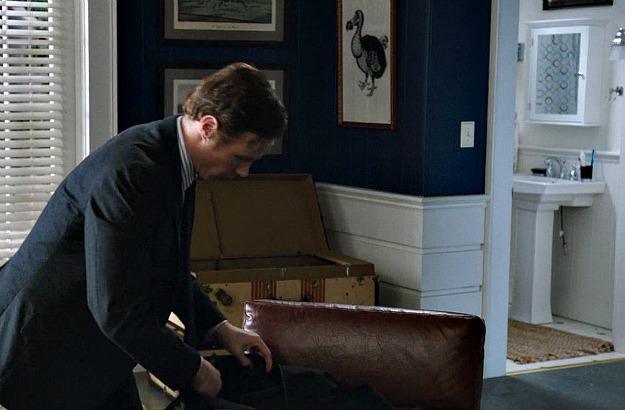 Tyler was such a great (deranged) character, I was almost sad to see him get killed off last season.
Of course, on a soapy drama like this, you never know when someone will turn up again, do you?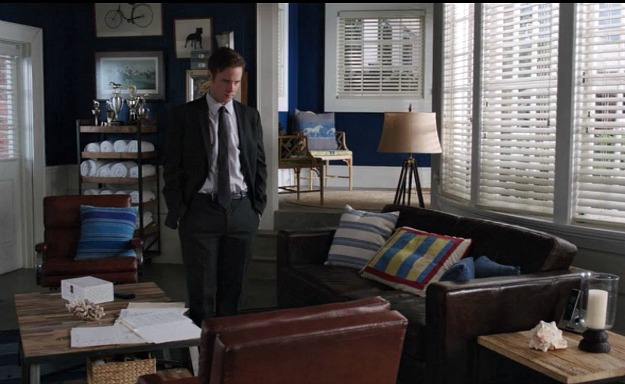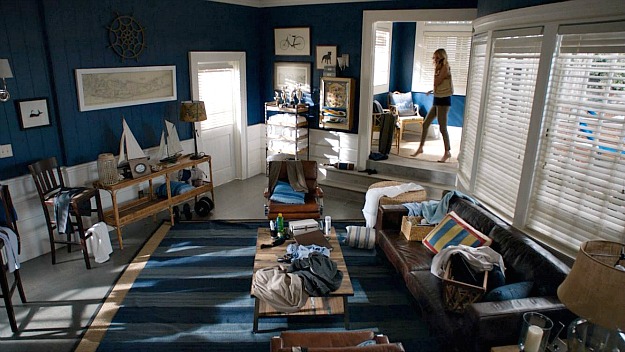 Wrightsville Beach Magazine featured the real Grayson Manor (photo credit: Joshua Curry).