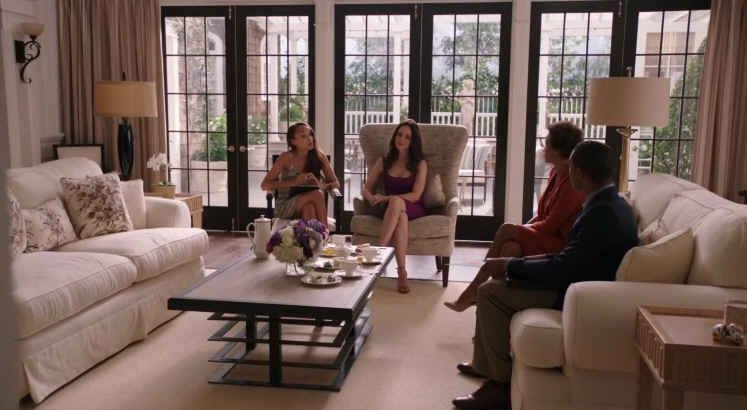 Ever since I posted photos of those fabulous Hamptons beach houses from the new TV drama "Revenge," I've been getting emails about the chair in Victoria Grayson's living room. Everyone wants to know where they can get one like it. Well, I had no idea. But then a couple of readers told me they found something similar at HomeGoods.
So, like Veronica Mars, I grabbed my camera (okay, my iPhone) and set out to investigate! This is what I found…
Sure enough, my local HomeGoods had a chair that was upholstered in a similar fabric. Here's the photo I snapped of it: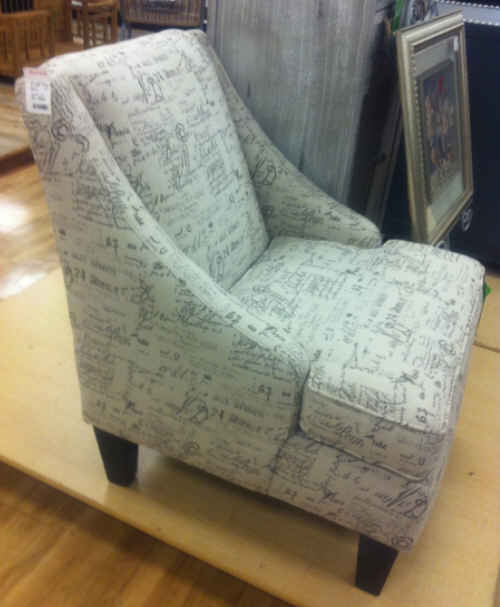 It's not as tall, and the shape of the chair itself isn't as dramatic as Victoria's, sadly, but hey. The price is right!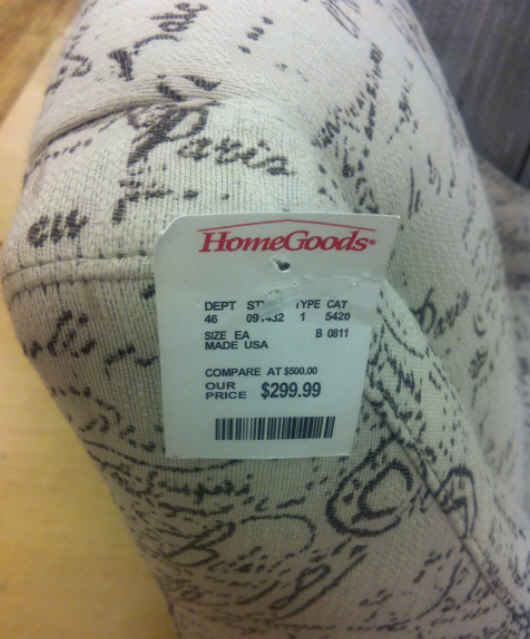 I bet Victoria paid more than $300 for hers. So if you're one of those readers who told me you were desperate to find one like it, run–don't walk!–to HomeGoods and see if they have any left. You know how fast their inventory turns over!
*This just in: Kathy tells me the one she found at HomeGoods is even closer to the one on the show, and she sent me a photo: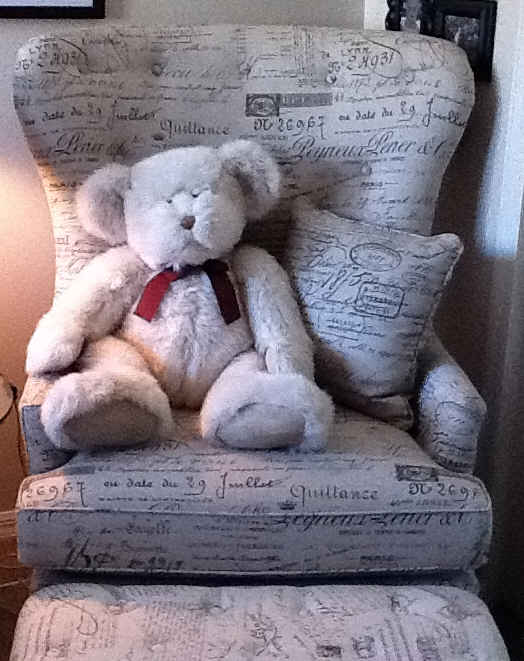 Kathy says, "Orig. $899; HG price $499.99; my clearance price $349.00!" Wow! She bought it before "Revenge" premiered. I imagine they're a lot harder to come by now that Victoria made it famous!
She adds that she found the matching footstool at Steinmart and the matching pillow at Ballard Designs. (Thanks, Kathy!)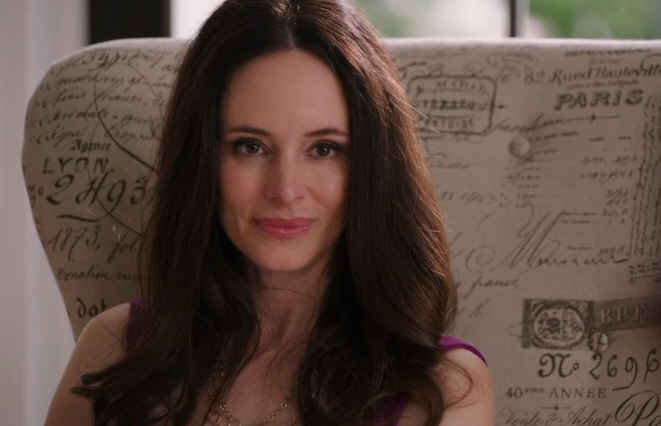 On a side note, I haven't been happy with the photos my new iPhone takes. They're all a little blurry as you can tell from these that I took of this chair. I was complaining about it to my husband Dave, who looked it over and said, "Well, it might work better if you took the plastic film off the back of the phone first." D'oh!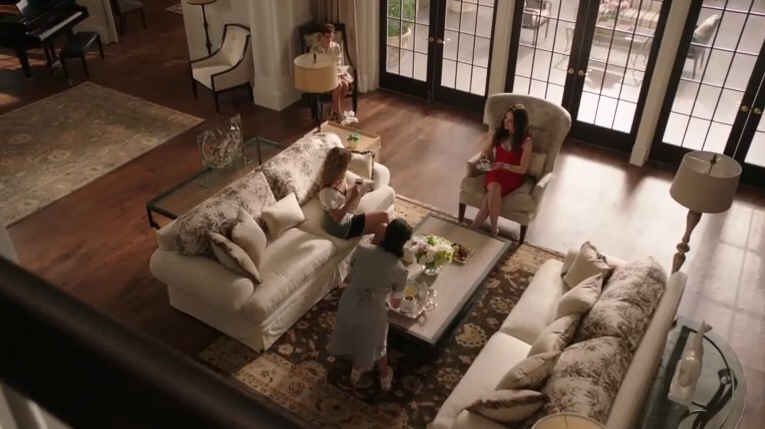 If you know where to find a chair that looks more like Victoria's, let us know! (Check the comments–lots of readers have spotted lookalikes and tell us where to find them!)
Oh, and for everyone who has written to ask where the real exterior of the Grayson mansion is located, I have been told by several sources that it was based on a real house (or houses), but most of it was Photoshopped. That would explain why it's been so hard to track it down! Here's how it looks on TV: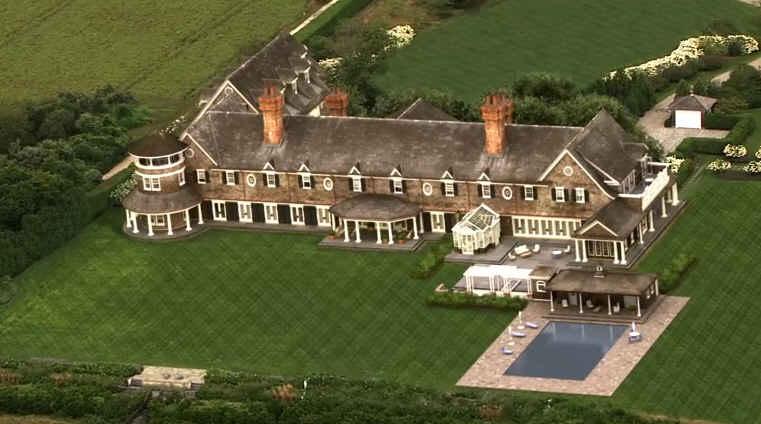 KatD tells me that they based it on a house designed by architect Peter Cook and then made it bigger for TV. They also added things like the solarium on the back. Here's the model of it that she referred me to:

But Jim Wolfe tells me the house they based it on is "located on the corner of Further Lane and Cross Highway in Amagansett. They just stretched it, moved the pool and added a few extras." Those of you who are familiar with that area will have to let us know if you've seen the one he means.
He pointed me to this photo of it (via Just Not Said):
In other words, the Grayson house probably doesn't exist. The one we see on the show is very possibly based on one or two real properties, but most of it appears to be TV magic. (If you know differently, fill us in!)
By the way, Emily's real beach house is in NC (not the Hamptons):
Emily Thorne's Beach House in Revenge, with a Behind-the-Scenes Video Tour.
You can see more photos of the "Revenge" beach houses here.
If you watch HGTV, then you've probably noticed that they've been trying to freshen up their image and attract younger viewers with new shows like…
This old house is haunted and known as "Murder House" on the TV show American Horror Story, but in real life it's the stately Rosenheim…