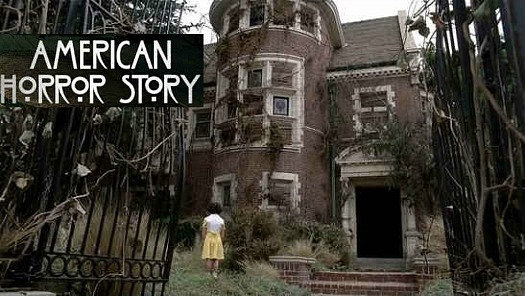 This old house is haunted and known as "Murder House" on the TV show American Horror Story, but in real life it's the stately Rosenheim Mansion in L.A. Architect Alfred Rosenheim built it in 1908 in Country Club Park as his own residence.
They gave the front of the mansion a serious "makeover" (makeunder?) for the opening scenes of the pilot, which supposedly took place in the 1970s when the house was standing empty.
The Real-Life Rosenheim Mansion in L.A.
According to Curbed, it was on the market for $4.5 million earlier this year. I tracked down the listing on Trulia, and it's now "Off Market," but the photos and information are still posted.
The Harmon family takes one look at the house and decides that–even though it was the site of a murder-suicide and their dog keeps barking at things they can't see–this is the perfect place for a fresh start: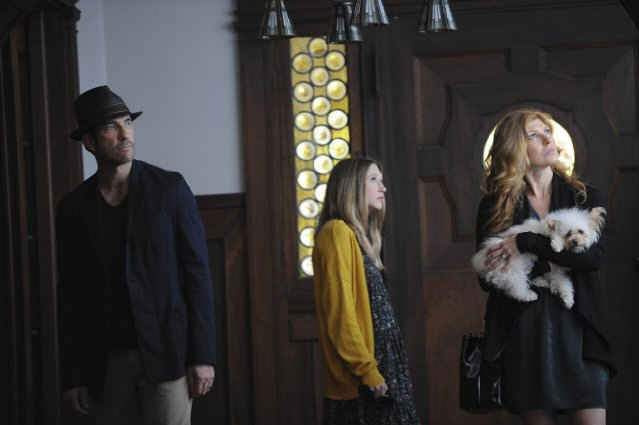 Entry hall in the listing:
"The three-story, 10,440 square foot house has six bedrooms, five bathrooms and sits on almost an acre of land alongside a former chapel that is now used as a recording studio," according to HuffPo (which has many more photos of the real house by Cameron Carothers, via the listing with Brad Downs, Rodeo Realty).
Set photos of the entry hall:
The hallway and staircase in the listing:

Staircase on AHS:
The living room in the listing with a Batchelder fireplace:
The living room seen on the show:
The dining room in the listing:
The dining room was used as Ben's office on the show:
You can see his office has the same unusual ceilings and paneled walls as the real dining room.
The dining room set seen on AHS:
The real kitchen shown in the listing:

I'm puzzled by this photo, which doesn't really look like a kitchen. I can see why they created an entirely new one for the show.
The kitchen set designed for AHS:
Connie Britton, who plays Vivien, added, "I think it's interesting how the house seems to be reflecting whatever their deepest, darkest fears are."
It's kind of disturbing to see "Tami Taylor" in a show like this with so many creepy and disturbing things happening all around her. If I were her, I'd high-tail it straight back to Texas and Coach Taylor.
Violet's bedroom on AHS:
The same room in the listing, painted a brighter blue:
Set photo of Violet's room:
There's a website for the house that says it's available for filming. Maybe it's off the market now because it's being used on "American Horror Story"?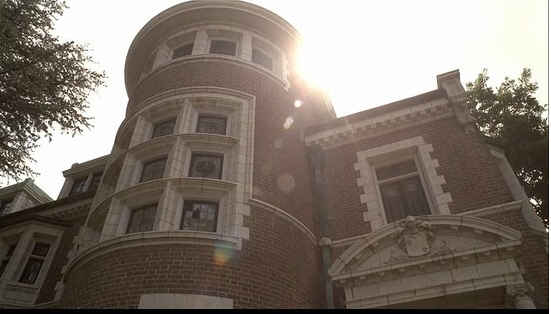 I collected these photos from all over the place: Set Decorator Ellen Brill's site and Plan It Locations have lots of set and house photos; Curbed, Huffington Post, Trulia, and Ugly Angel have listing photos and information. You can watch episodes online at FX.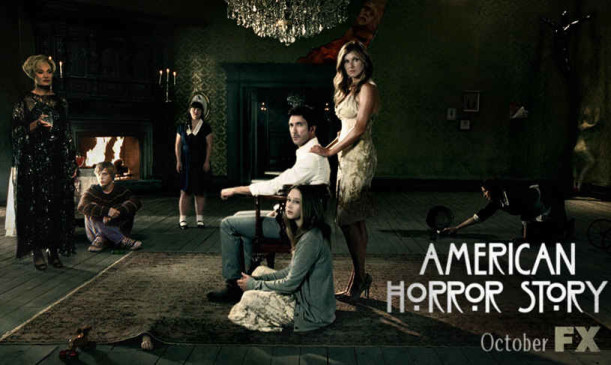 "The house is the star of the show," Dylan McDermott, who plays Ben Harmon, said in an interview. Hard to argue with that — love this one! 🙂

P.S. Visit Houses Onscreen to see more, including the one from "Coven:"
(Visited 4,316 times, 6 visits today)