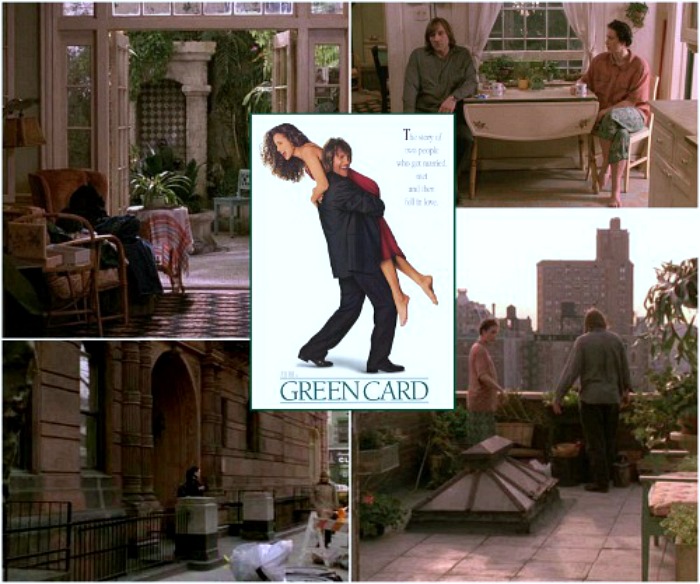 The 1990 romantic comedy Green Card is an example of a movie that is kinda cute, kinda funny, and would be kinda forgettable if it hadn't been for the apartment that Andie MacDowell's character Brontë lives in.
Until I watched again recently, I couldn't recall much about it other than the basic plot: woman marries Frenchman so he can stay in the U.S. and they (spoiler alert!) fall in love.
But who could forget her New York City apartment with the lovely greenhouse and rooftop garden? Let's take a look back the sets they created for the movie.
Note: There are Amazon affiliate links in this post that may earn me commission.

Andie MacDowell's Apartment in "Green Card"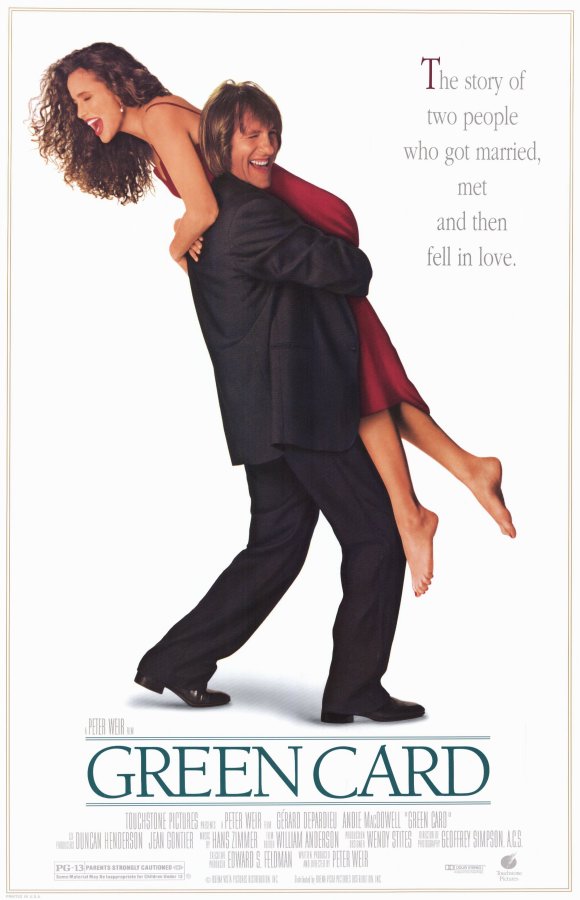 In the scene below, Brontë is leaving her apartment
and we get a glimpse of the outside of the building: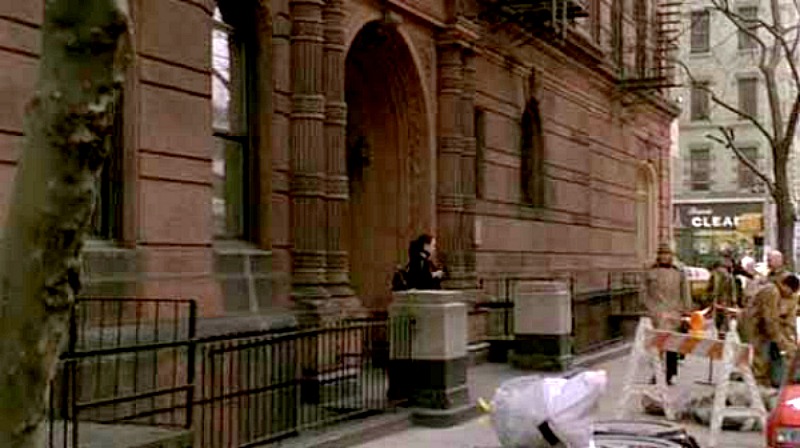 It's known as the Aylsmere in Manhattan and was built in the 1890s (the architect was Henry Andersen):
60 West 76th Street is a pre-war rental building in the Upper West Side's Central Park West neighborhood finished in 1900. Situated at 60 West 76th Street, between Central Park West and Columbus Avenue, the building contains 56 units and rises 7 stories. The elevatored building's amenities include: basement storage, washer/dryer in building, elevator and live-in superintendent.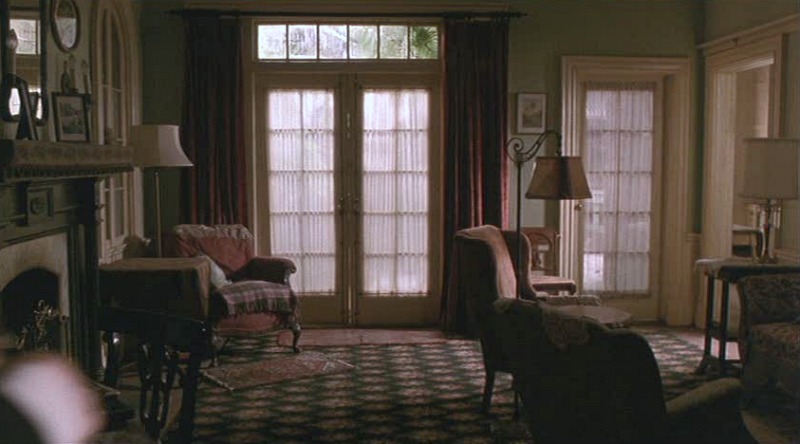 According to On the Set, it has an onyx lobby and marble floors throughout, and "The apartment building was used for interior and exterior use."
According to IMDb.com, the entire movie was shot in New York City, and there's no mention of a separate soundstage being used.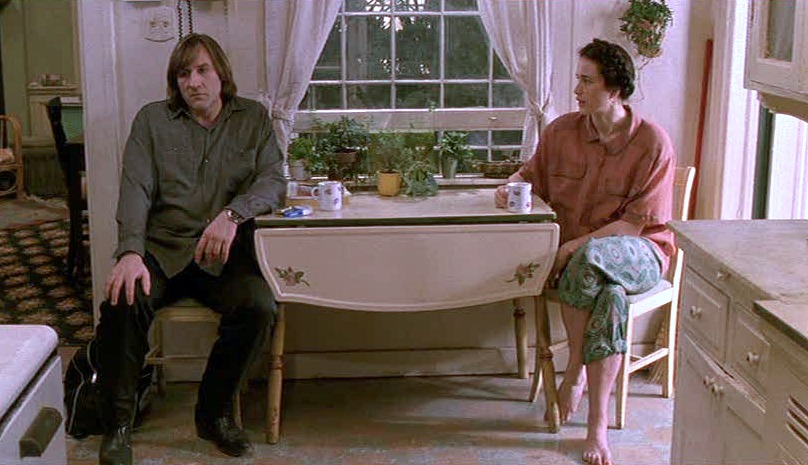 Gérard Depardieu played the Frenchman Brontë marries so he can get his Green Card and she can get her greenhouse.
She's a horticulturist who has found the perfect apartment in Manhattan with its own conservatory.
You'd think money would be the problem in securing a place like that, especially for someone who works with plants for a living, but no.
The dilemma: this apartment building is for "marrieds only," so she needs to find a husband, and quick. (Don't you hate when that happens?)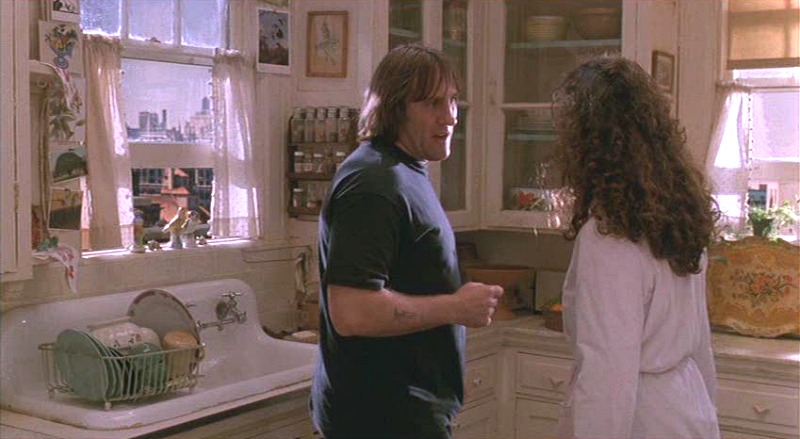 Brontë checks out the greenhouse and sees all the work that needs to be done out there,
but it doesn't scare her off. It has a fountain:
And a Skylight: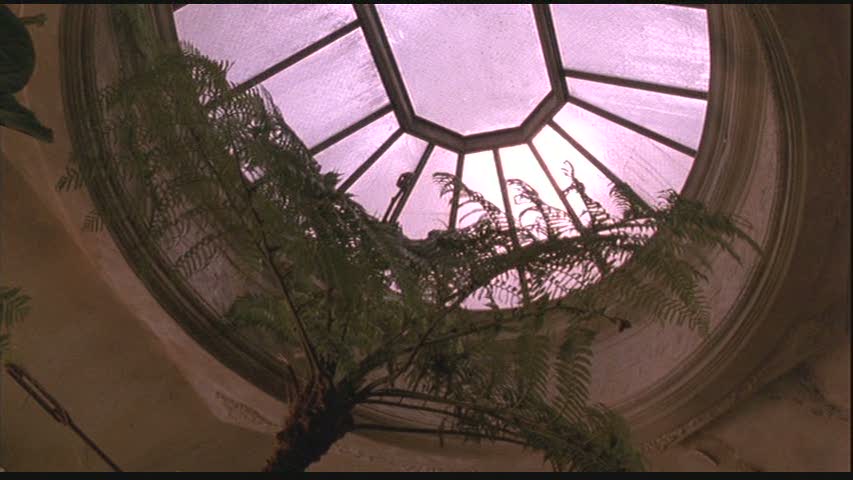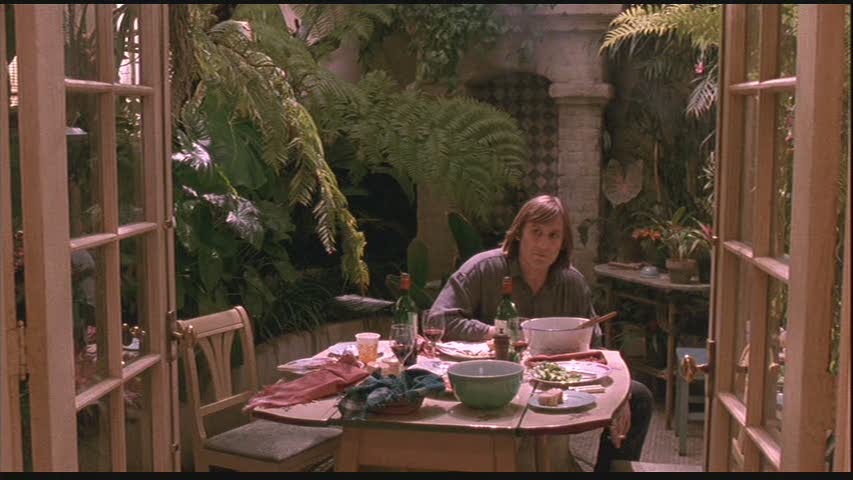 Looking from the conservatory into the living room: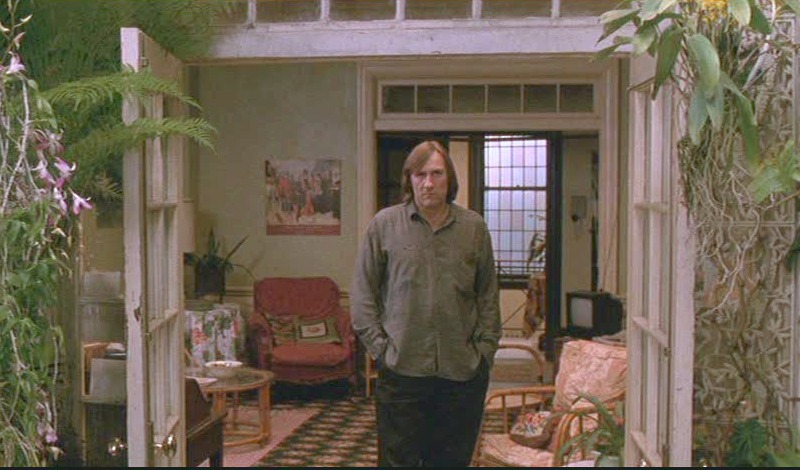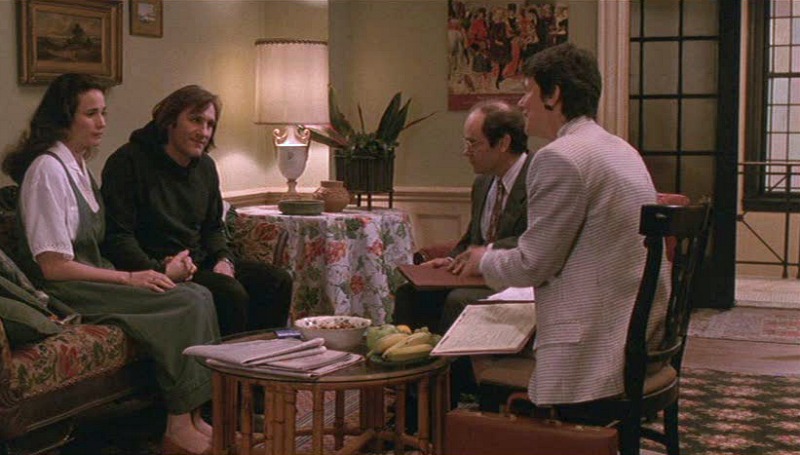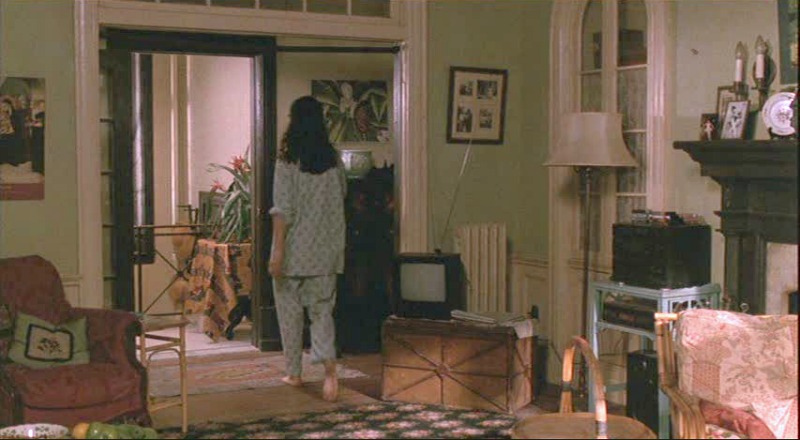 Georges sits at the writing desk in the living room, writing "love letters" that will hopefully fool the INS into thinking they've had a real relationship that spans more than a few days together: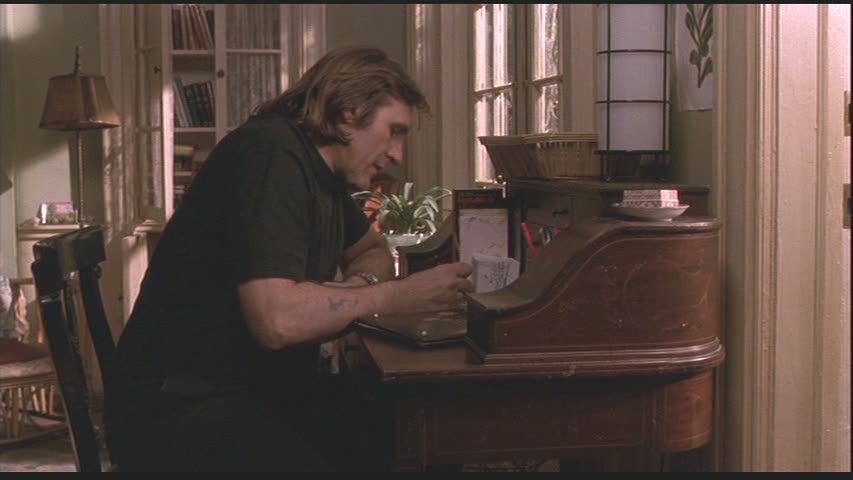 The kitchen is tiny but charming!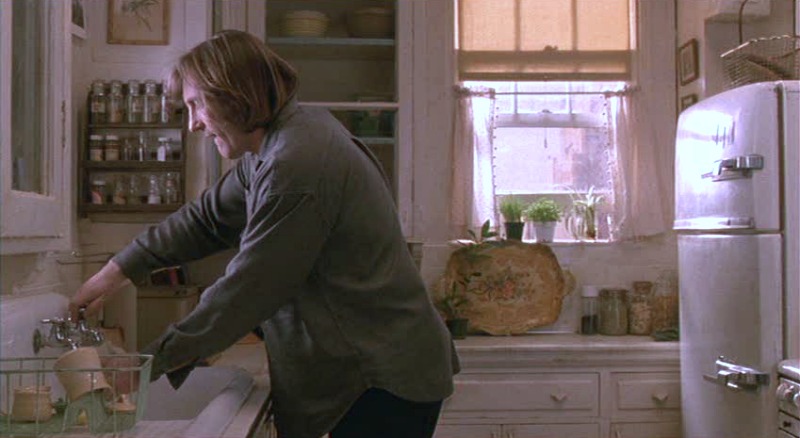 As if the greenhouse isn't enough, there's a door in the kitchen
that opens up to a rooftop garden: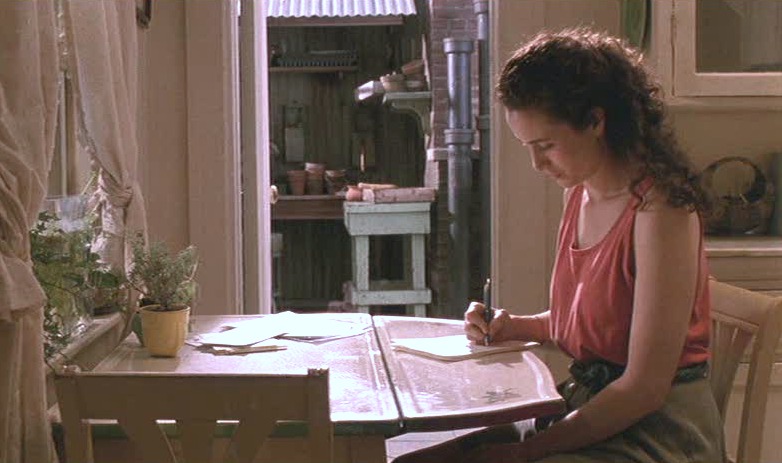 Green Card Set Decorator John Anderson also worked on the "Gilmore Girls," and you can see some of the same soft, feminine, and vintage look to them: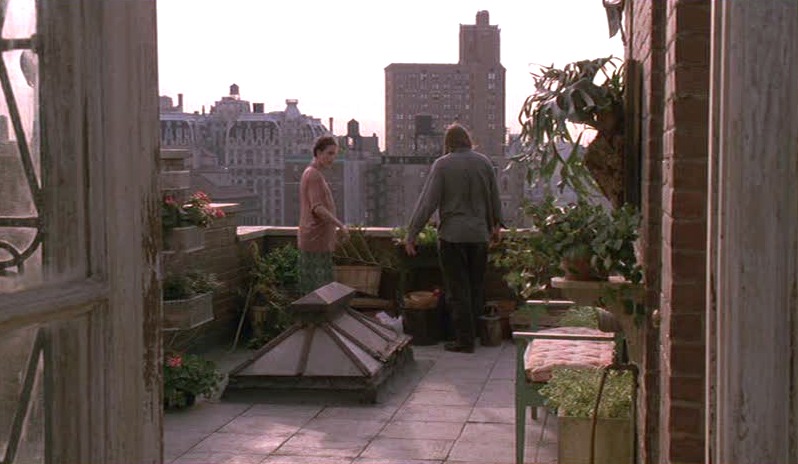 In the mood to watch "Green Card" again? You can get it on Amazon (affiliate link).

Visit my Houses Onscreen page to see the other movies I've featured, listed A-Z.