On the FX series "American Horror Story: Coven," this grand old house is known as "Miss Robichaux's Academy for Exceptional Young Ladies" (aka witches). In real life, it's a three-story, 20,000-square-foot landmark in New Orleans from the 1850s called Buckner Mansion. Let's take a look at both the real and onscreen versions…

Miss Robichaux's Academy on "AHS: Coven"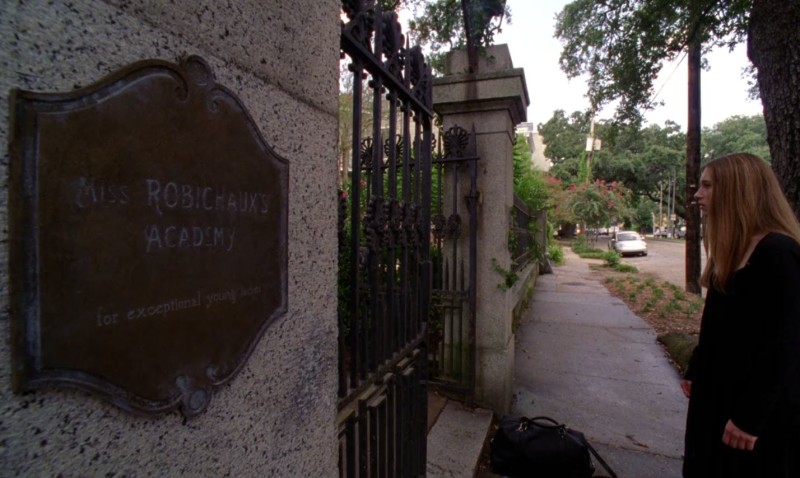 The exteriors were filmed at Buckner Mansion, but the interiors were created on an 8,000-sq-ft soundstage.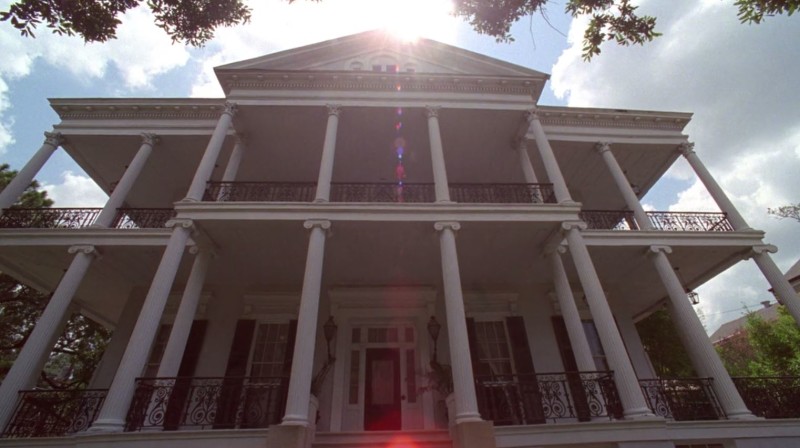 Front Hall: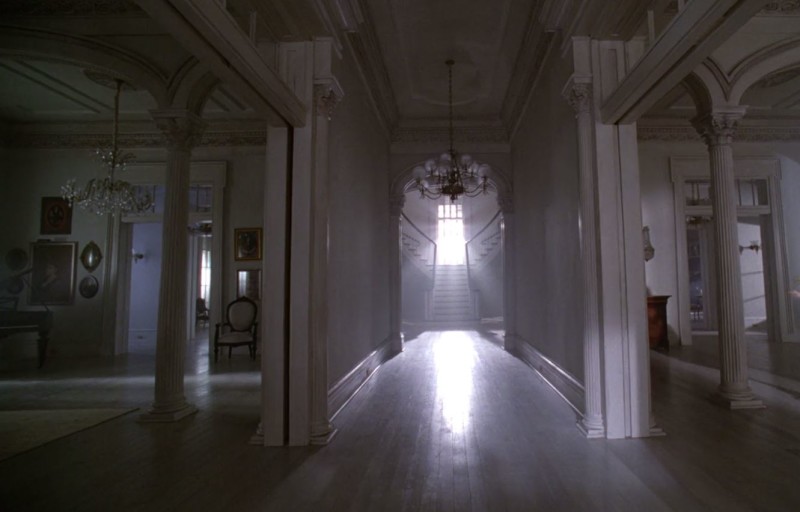 Ryan Murphy says, "Last year was so dark and grim and hard and I loved it, but this year was designed to be more, I think, fun. I wanted this year to be more light." And that dictated how they wanted the rooms to look.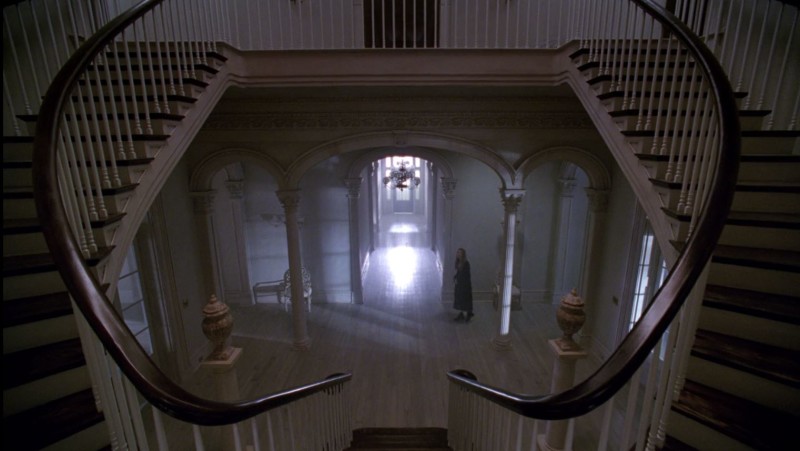 Production Designer Mark Worthington says, "We knew we wanted the rooms to be light in tone. So we came down to New Orleans and the idea was to find an old antebellum mansion in the Garden District, a Greco-Roman revival, which starts from a base of being lighter. I started pulling research (of) interiors that had a lot of white walls, white floor, lighter tones with darker furniture, creating contrast."
Set decorator Ellen Brill points out, "You can really see blood on white!"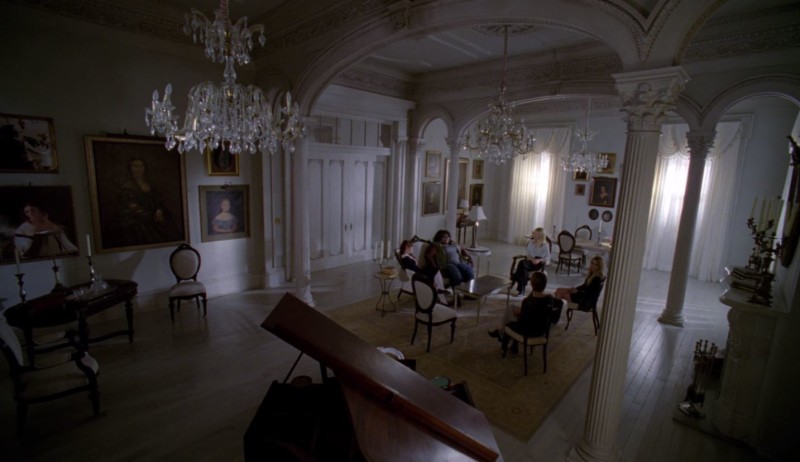 They built a working staircase with a real second floor for the "Coven" sets.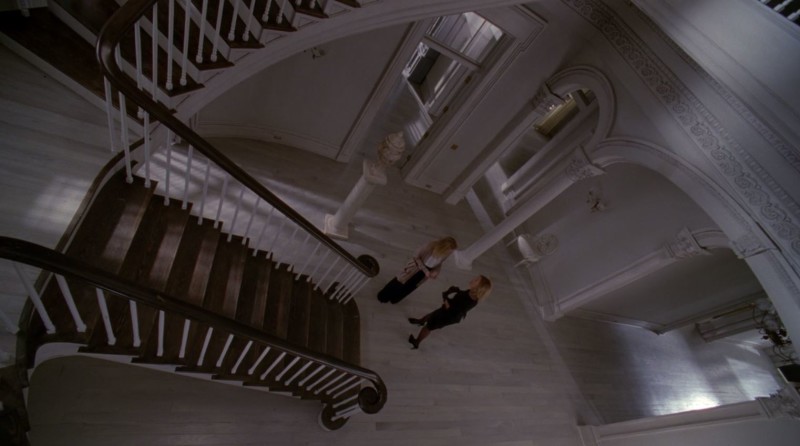 Upstairs hallway with the girls' bedrooms: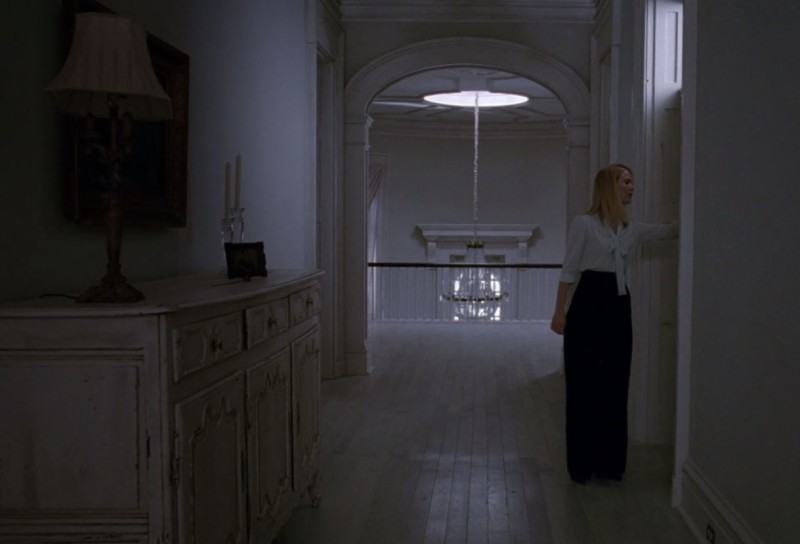 Fiona's Bedroom:
Jessica Lange plays Fiona Goode, the Coven's "Supreme," who is the head of the Coven. Definitely not someone you want to cross!
Black and White Bathroom:
Girls' Bedroom:
Attic:
Office:
Dining room:
Kitchen: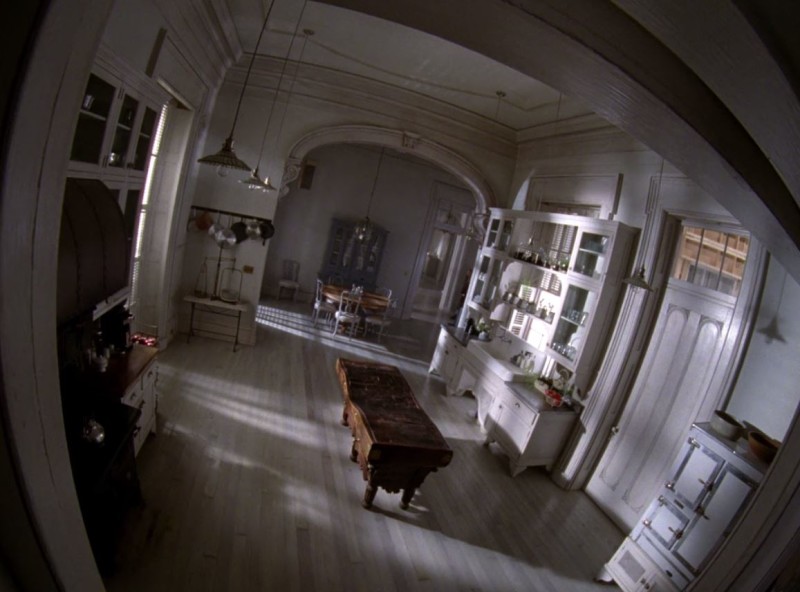 Not sure I'd want to eat any food served off that "kitchen island." 😉
Sarah Paulson plays Cordelia, Headmistress of Miss Robichaux's Academy, who's a master at potion work. She tries to guide young witches Zoe (Taissa Farmiga), Madison (Emma Roberts), Queenie (Gabourey Sidibe), and Nan (Jamie Brewer).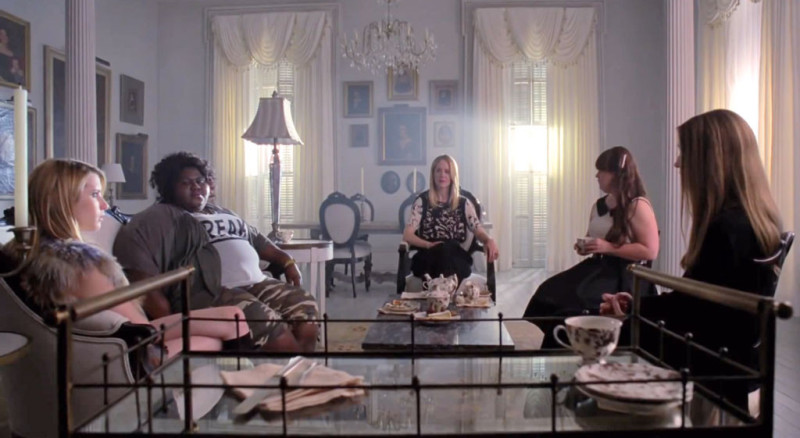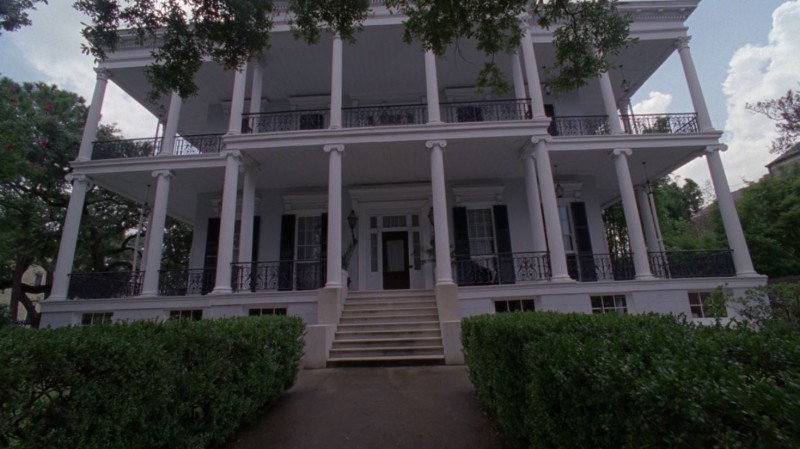 Inside the Real Buckner Mansion:
The real house is in the historic Garden District of New Orleans and was built in 1856 by cotton magnate Henry S. Buckner.
The house in the 1940s:
Buckner Mansion used to be a school, too, although it wasn't for witches. From 1923-1983 it was the site of Soulé Business College. This quote is still at the entrance to the main gates in front:
The cast-iron fence was designed with a honeysuckle motif:
The mansion is now a private residence you can rent for special occasions.
Photos from the Listing:
You can see how the sets were inspired by spaces like the "Triple Parlor:"
The VRBO.com listing says:
It is 1853. Cotton is King, New Orleans is the center of the universe, and you are Henry Sullivan Buckner. You commission renowned architect Lewis E. Reynolds to build the most beautiful and magnificent mansion in the very heart of New Orleans' Garden District. The result is one of the finest examples of Southern antebellum architecture, having a scale of elegance from the 19th Century that is rarely found.
The mansion has "over 20,000 square feet, 48 Ionic and Corinthian fluted cypress columns, endless verandas, ornate cast-iron, and floor to ceiling windows."
One of its 8 bedrooms:
Kitchen:
Set designer Mark Worthington didn't think the real house would work for the show because the proportions were "a little odd" with "long and narrow and tall" rooms for filming.
Dining Room:
View from the Porch:
For more photos and information about Buckner Mansion and the "Coven" sets: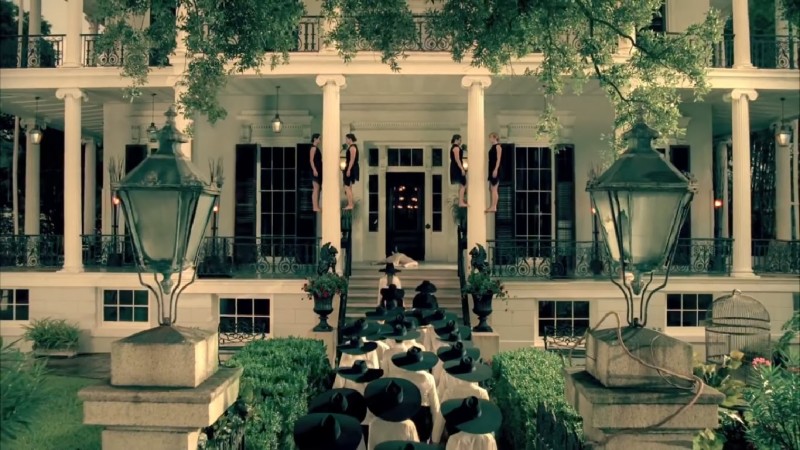 The new season, "American Horror Story: Hotel," premieres October 7. Will you be brave enough to watch? 🙂

P.S. I also featured the real Murder House from the first season of AHS: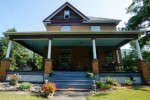 This Victorian in Pennsylvania is where the serial killer "Buffalo Bill" lived in the 1991 movie The Silence of the Lambs. It's on the market for…
The Cohen family's McMansion from the popular TV show "The O.C." is on the market, but the only thing you'll recognize is the front of…