After I featured Lena Dunham's new Greek Revival-style cottage recently, several of you recommended her show "Girls" on HBO. I caught an episode from Season 3 called "Beach House," and this is where it took place. It's a vacation rental known as the Tower at Rocky Point in East Marion, New York, overlooking the Long Island Sound.
Here's how it looked in the opening credits of the "Beach House" episode: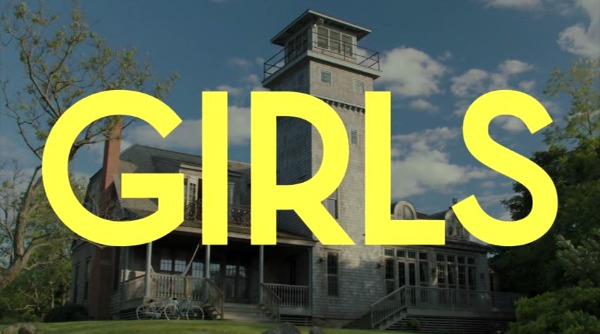 The listing for the rental describes it as a "Magical Tower and Romantic House with Private Beach and Pool. This six-bedroom house was originally built as a coast guard life saving station in 1895." Which explains the lighthouse-like tower that overlooks the water.
When the episode opens, we see Marnie arranging bouquets of flowers before her friends arrive and imagining how perfect their weekend together is going to be (spoiler: it doesn't go as planned).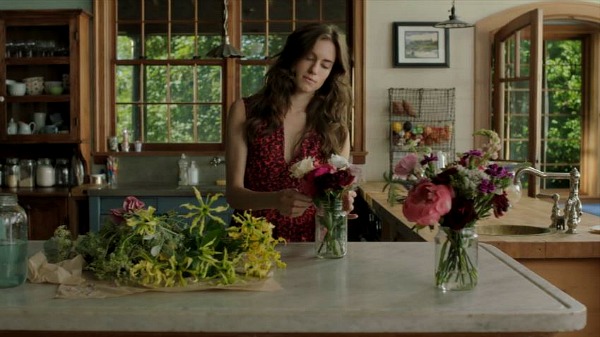 When they arrive, the girls race through the halls to claim the bedrooms they want, and Hannah leads the way: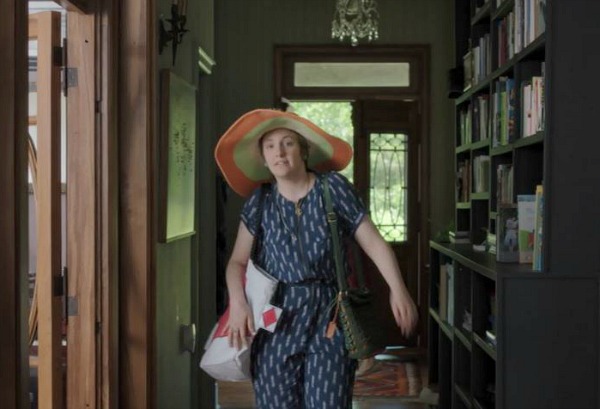 Marnie expected that and put name tags on each of the bedrooms beforehand, however: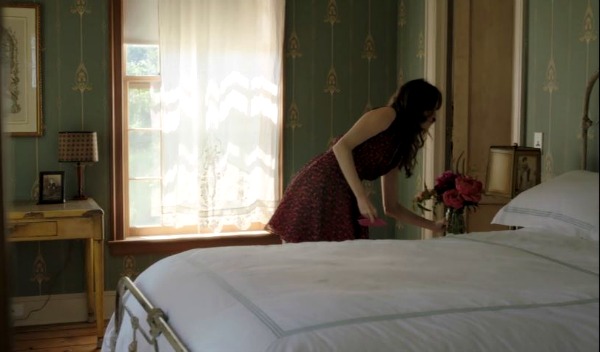 Here's how that bedroom looks in the listing:
The listing says, "It has been beautifully renovated to maintain its classic farmhouse charm, but with all the modern conveniences anyone would want.
The girls practiced and performed a choreographed dance routine in this living room:
How fabulous are these old glass doors and transom windows?
The listing says, "There is a huge kitchen and dining room with two sinks, two ovens, and a six-burner WOLF stove."
Here's how the kitchen looked on TV:
Marnie got annoyed because she planned a dinner for four, but then Hannah invited a bunch of guy friends to join them.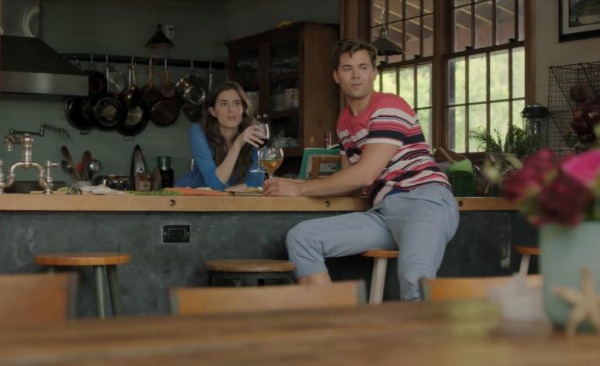 One of them was played by Danny Strong, who you can see standing at the kitchen counter below. Gilmore Girls fans will recognize him as Doyle, Paris's long-suffering boyfriend at Yale.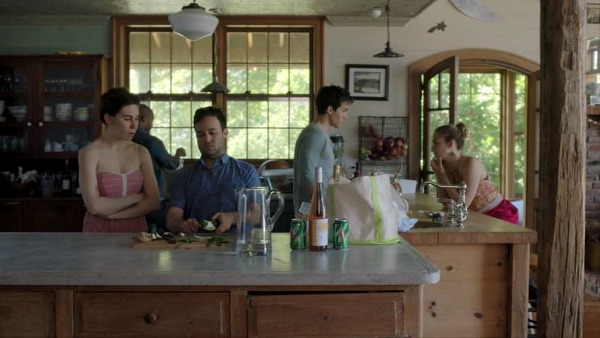 He's also an acclaimed writer and producer known for co-creating the runaway hit show Empire on Fox. (Lucious Lyon's house from that show is on the market, BTW. You can see the listing here.)
The VRBO listing says, "With abundant farm stands and fresh fish at your fingertips, this kitchen is the ideal place to cook and entertain. The large table seats 14, allowing everyone to gather around the dinner table. It's perfect for the ultimate dinner party."
From those big windows in the dining area you can see the Long Island Sound below:
The house sits on 3 acres of land with 300 feet of private beach on the Long Island Sound. The show shot some scenes there, too.
Lena Dunham says it was freezing cold the week they were there and hard to pretend it was fun splashing around in the water.
A guest named Diane left a review of her family's experience at the house, saying, "If you've ever wondered what it's like to live in another time, this house is for you. From the moment we arrived at the Tower at Rocky Point, we felt like we'd traveled back in time 100 years. We love historic homes this one does not disappoint. You feel as if you are staying in the home of friends."
"You cannot stay at this house without exploring The Tower! The first night we were there, we went right up to see it. It's fairly easy to climb the very sturdy stairs and we were amazed at the view. My husband loved it so much he even went up there one day to play guitar."
The tower, which was originally built as a coast guard station, is 5 stories high: "The fourth floor of the Tower has an optional 7th bedroom. Climb up the ladder from the third floor where you have a desk and work place and crawl into a cozy bed where you are greeted with panoramic views."
"Girls" characters Marnie, Elijah, Shoshanna, and Jessa hang out on the back porch and balcony: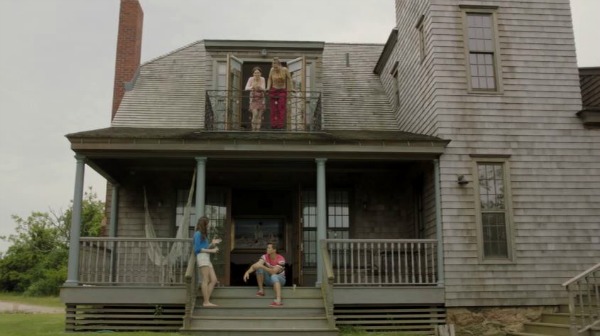 Did you catch this episode when it aired last year? I knew the minute I saw the tower in the opening credits that I'd have to track this house down! For more photos and information about how to rent it yourself, check VRBO.com. And if you missed Lena Dunham's new cottage in Hollywood, you can see it here.

The Gorgeous Victorian from "The Ghost & Mrs. Muir"
Sarah Richardson has a new series called "Sarah's Rental Cottage" on HGTV Canada (fingers crossed that they'll bring it to the States soon!). The show follows her and…
Designer and builder Clark Collins' adorable 2-bedroom home in Laguna Beach, California, was built in 1946, but many of its original details had been lost. His goal was to…