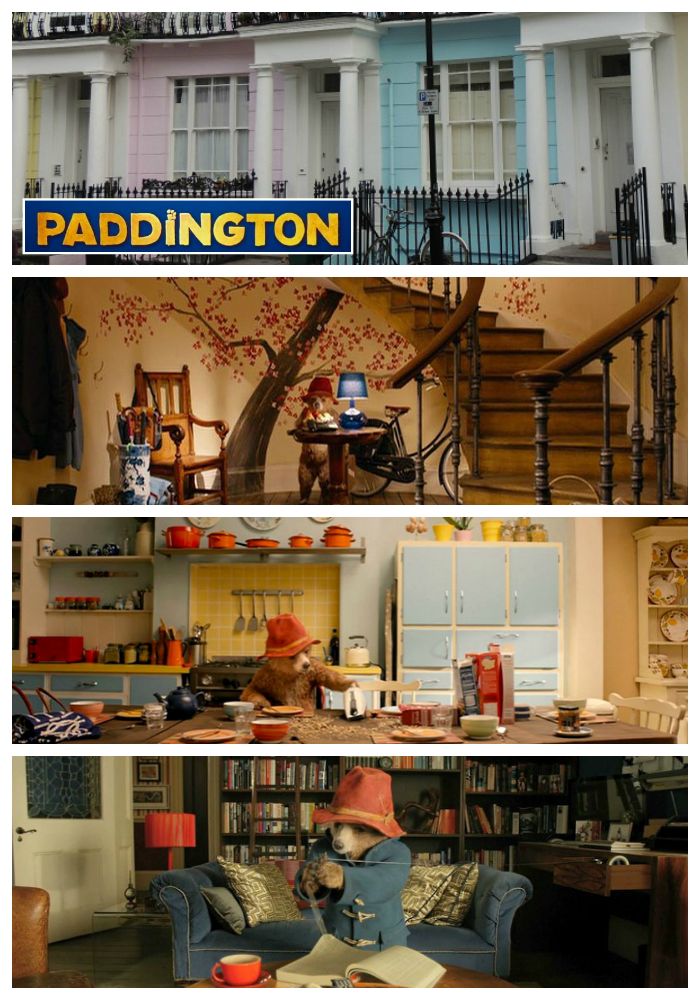 Raise your hand if you saw the movie Paddington and thought the Brown family's house in London was as much fun to see as the bear himself!
I was totally charmed by the colorful and creative sets they designed for the film and all the fun vintage details they decorated them with.
Let's take a closer look at them!

The Set Design in the "Paddington" Movie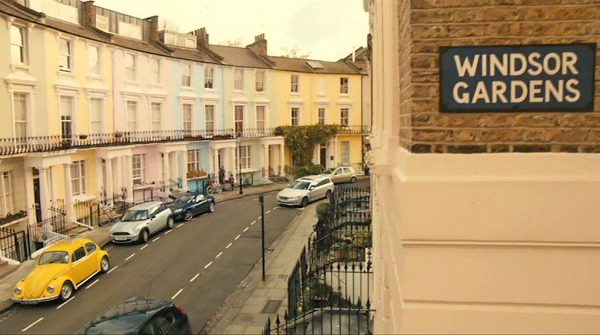 After an earthquake destroyed his home in the Peruvian rainforest, a young bear (voiced by Ben Whishaw) makes his way to England in search of a new life. The Brown family takes him into their home at Windsor Gardens and names him Paddington after the London train station where they found him.
According to Movie Locations, "It's implied that the Browns live in Notting Hill, but their pleasant home, on 'Windsor Gardens,' is in an even posher area. It's 30 Chalcot Crescent, Primrose Hill, NW1, just north of Regent's Park."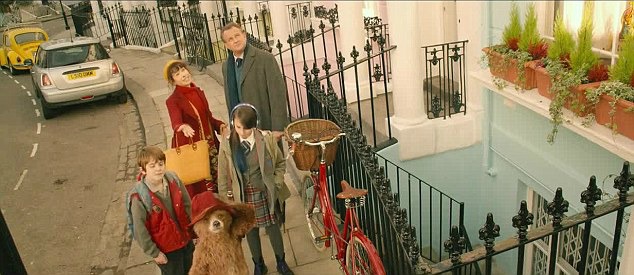 They live at "32 Windsor Gardens," and their nosy next-door neighbor is Peter Capaldi, also known as the current Doctor on "Dr. Who." Set designers commissioned a stained-glass transom window with the #32 to go above the front door: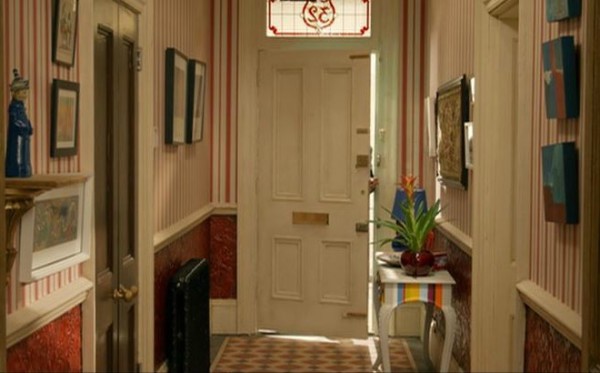 When Paddington walks into the house for the first time, he's in awe of the two-story mural of a blossoming cherry tree that winds its way up the spiral staircase (and so are we!):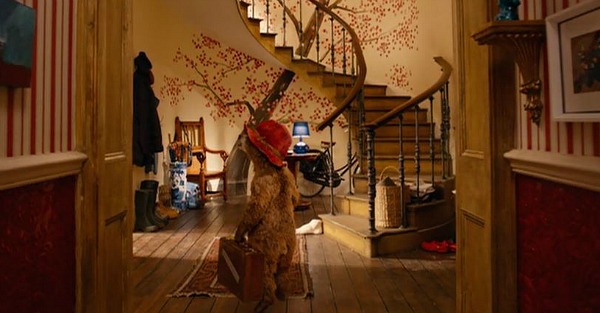 "The interior was built on a set at Elstree Studios. The aim was to create 'a heightened reality,' says production designer Gary Williamson — a place where a talking bear would feel right at home."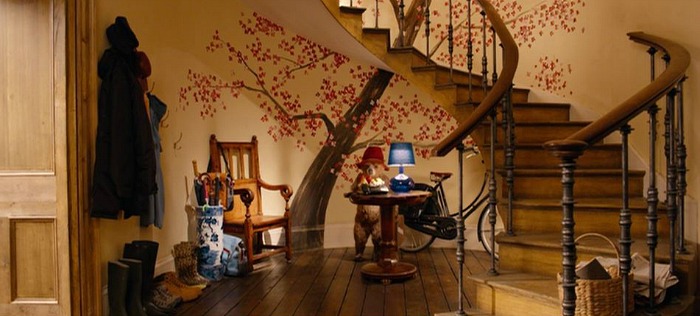 The filmmakers wanted to be true to Paddington's era.
The first book by author Michael Bond was published in 1956, and you'll notice some of the mid-century influences in the house, but they wanted it to be a modern-day story.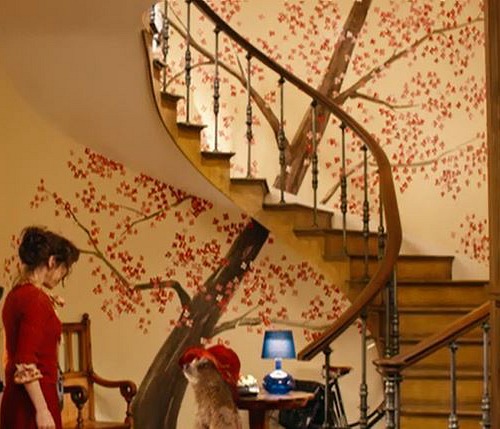 Mary Brown is an artist, and her creativity is evident throughout the house.
According to 3 Story Magazine, "Much of the art used was borrowed from artist friends of the set designers, or created for the film. Some of it is hung at deliberately kooky angles to drive home the idea of family and fun."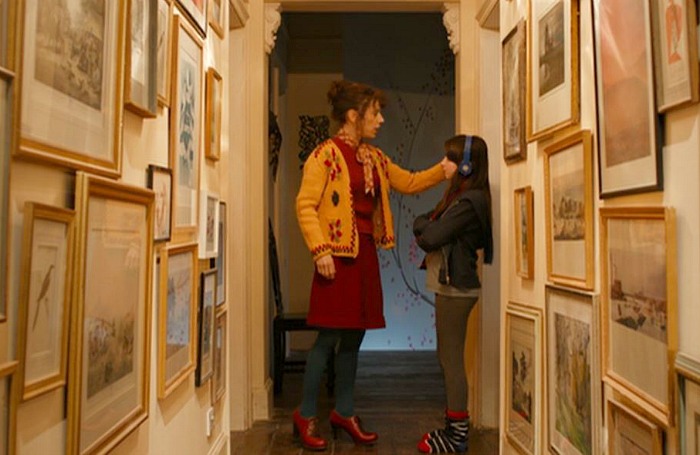 Production Designer Gary Williamson explains that each character was given a color motif for their rooms and wardrobe.
For instance, Mary Brown (played by Sally Hawkins) wears red and has a red bedroom, which visually connects her to Paddington's famous red hat.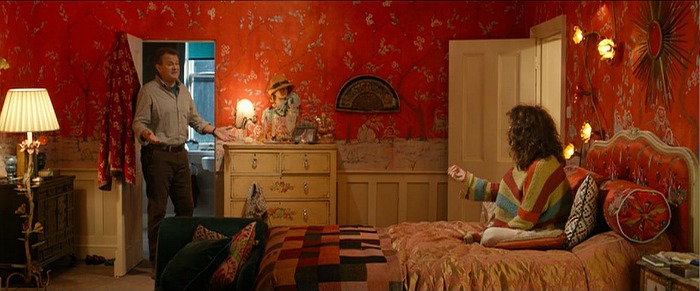 The headboard is upholstered to match: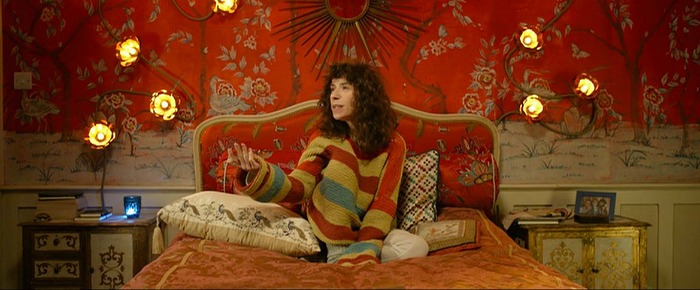 Daughter Judy's color is blue.
Her room has a wall covered in photos and magazine clippings: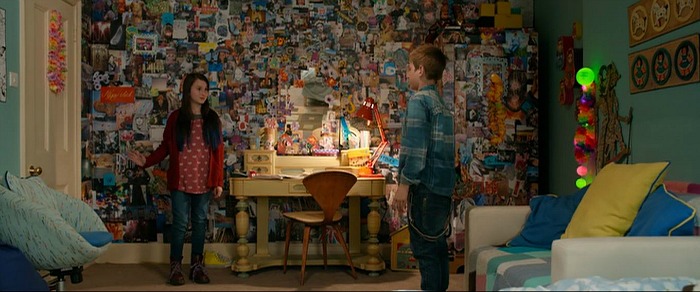 Son Jonathan has an outer space theme in his, and his color is red like his mother's: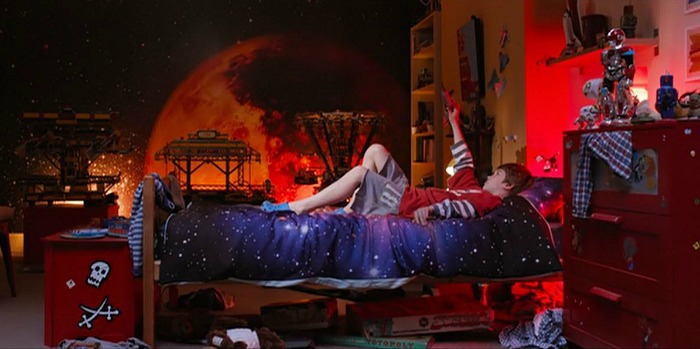 The Upstairs Landing: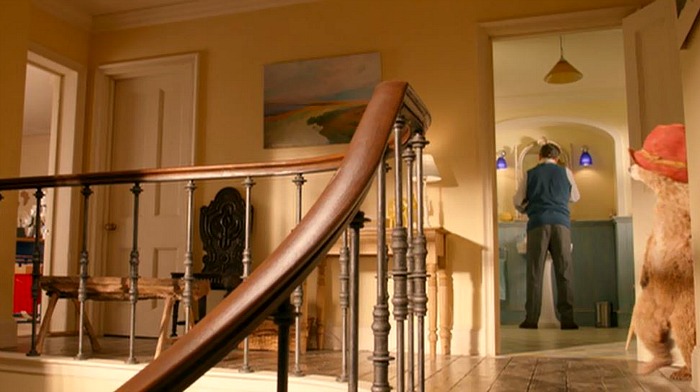 Paddington tries to wash up in the bathroom and chaos ensues.
The scene ends with him taking what looks like a fun ride
down the spiral staircase in the clawfoot tub: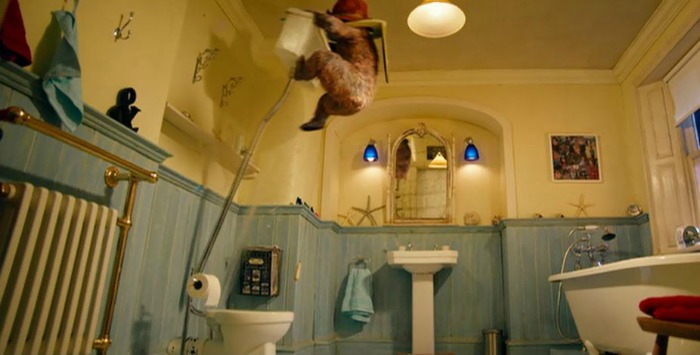 Did you know Colin Firth was originally the voice of Paddington?
He left late into the project and they had to scramble to find a replacement. You can read about it on Entertainment Weekly.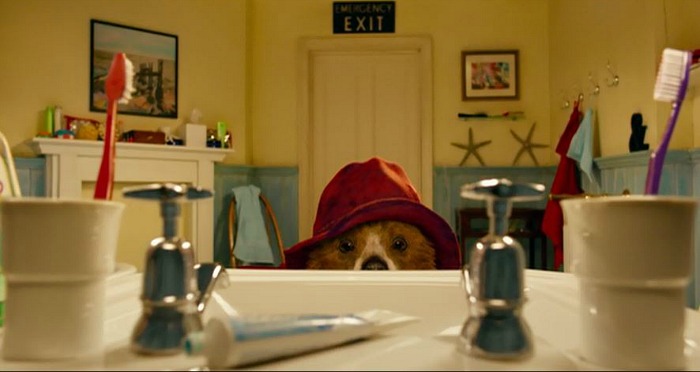 Paddington has a room in the attic, complete with a classic round window: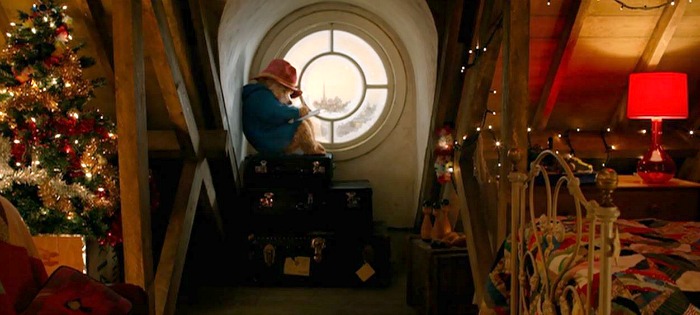 There's a dollhouse in the attic that looks a lot like their house, round window included: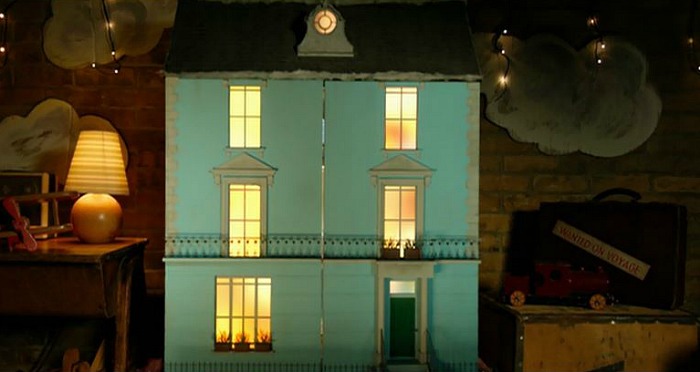 It opens to reveal what is going on in each room of the house at that moment.
Loved that!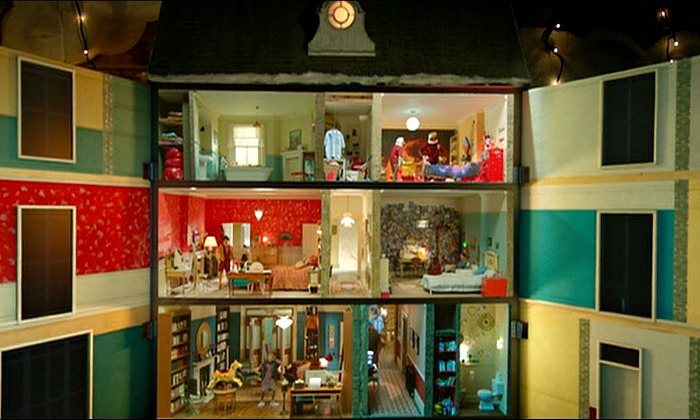 Looking down the spiral staircase from the third story: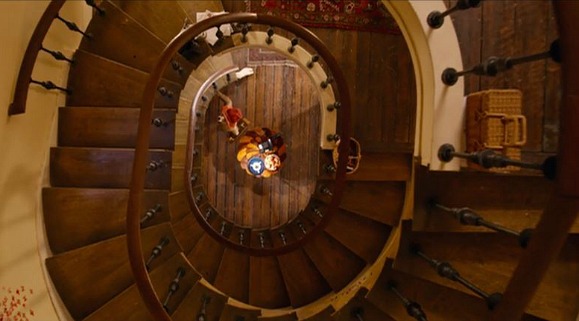 Henry's library looks fairly serious with blue walls and bookshelves, except for the carousel horse.
You get the feeling that was Mary's idea!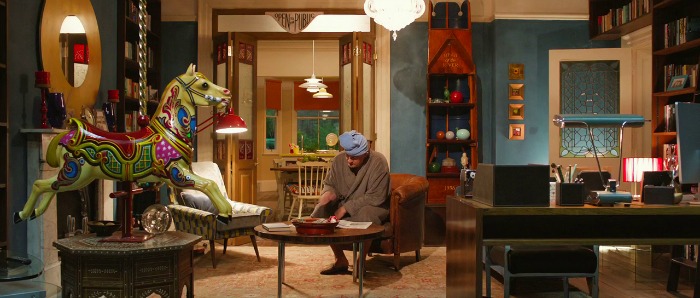 Henry Brown (played by Hugh Bonneville) takes longer to warm to the bear, and his conservative nature is reflected in the blue of his office and wardrobe, Gary Williamson explains.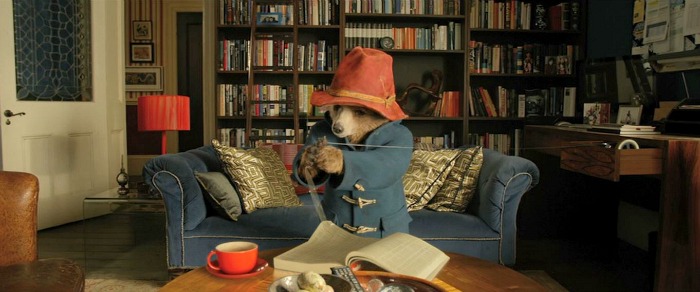 Some of the sets are so bright and fun, they look like cartoons or illustrations brought to life.
The kitchen is colorful, too, with pale blue and white cabinets, yellow countertops and tile, and orange accents:
Julie Walters plays Mrs. Bird
(I've loved her since seeing her in the movie Educating Rita years ago).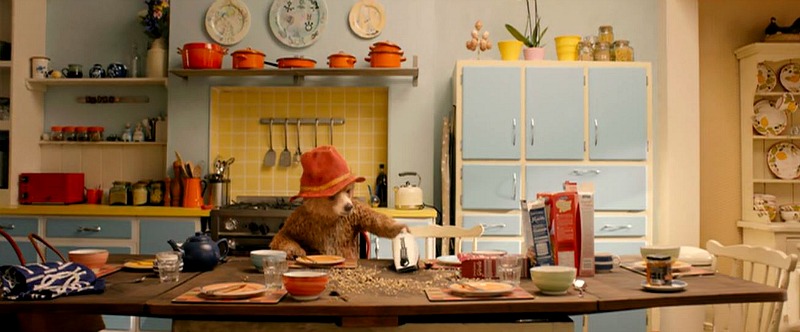 Toward the end of the movie, we get a quick glimpse of the opposite side of the kitchen: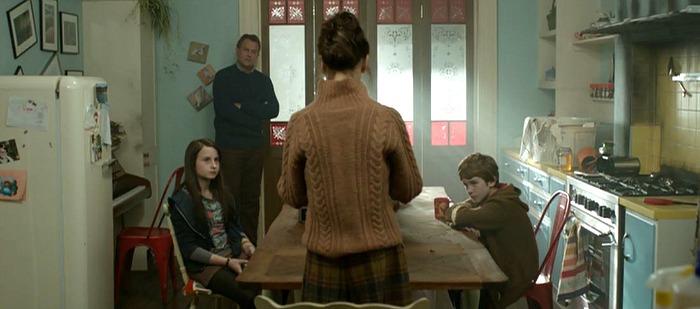 The tree mural was originally supposed to be a beech tree as a nod to the jungles of Peru where Paddington
came from, and it was going to be black and white.
Williamson suggested they paint a cherry tree instead.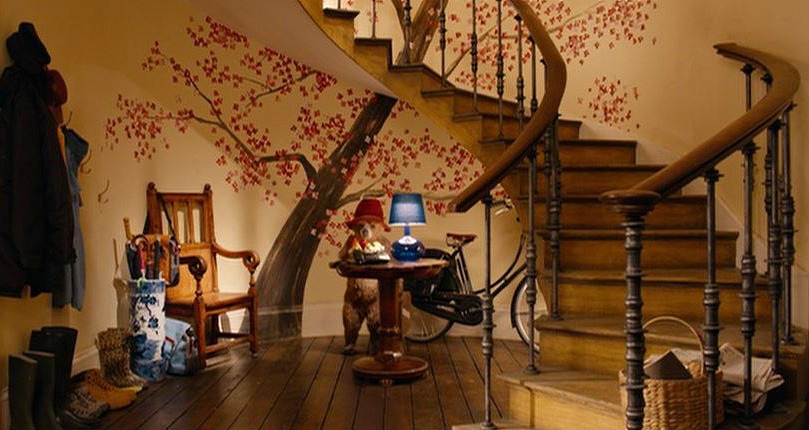 Director Paul King used CGI technology to have it reflect what was happening in the story,
like when Paddington leaves and the family is sad: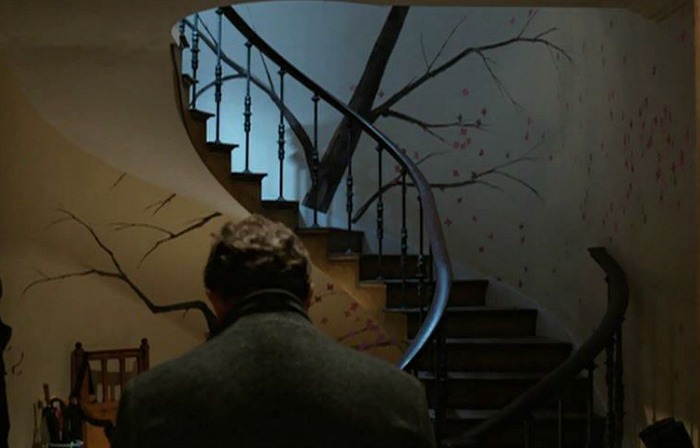 According to West End Extra, "Instead of returning to Westbourne Grove, where his fictional home of Windsor Gardens was believed to be set, production company Marmalade Films opted for picturesque Primrose Hill in neighboring Camden."
Here's a production photo that shows them shooting the snow scene in the street: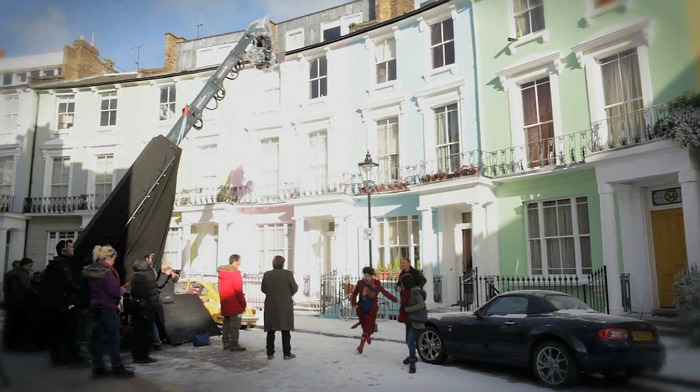 When we see it in the movie, the blue house has a round window and green door it doesn't have in real life:
For more photos and information about the sets and filming locations,