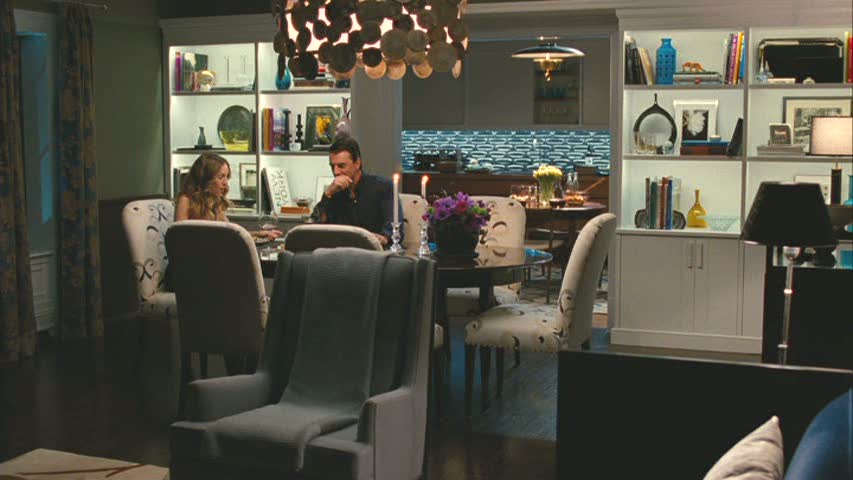 In the movie Sex and the City 2, Carrie quips that she's been cheating on fashion with furniture. And I thought the sets may have been my favorite part of this movie!
Let's take a closer look at the apartment that newlyweds Carrie and Big are living in now.

The Sets from "Sex and the City 2"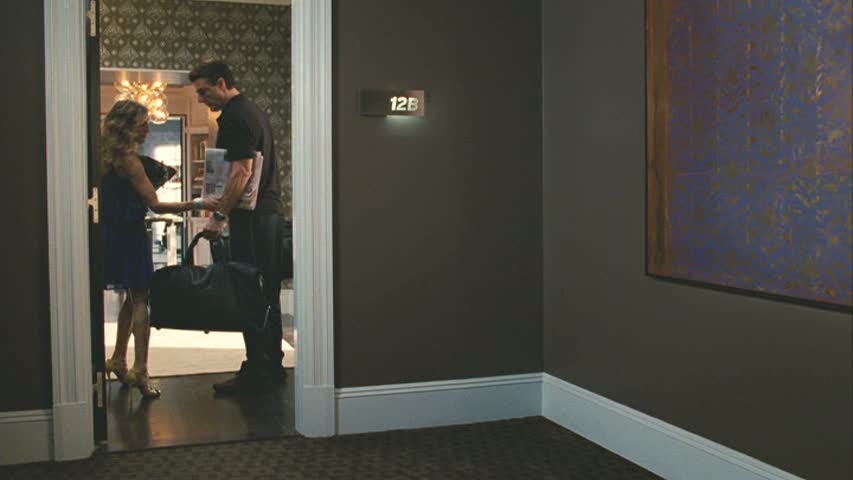 Set Decorator Lydia Marks says they took their inspiration from old movies, including Alfred Hitchcock films.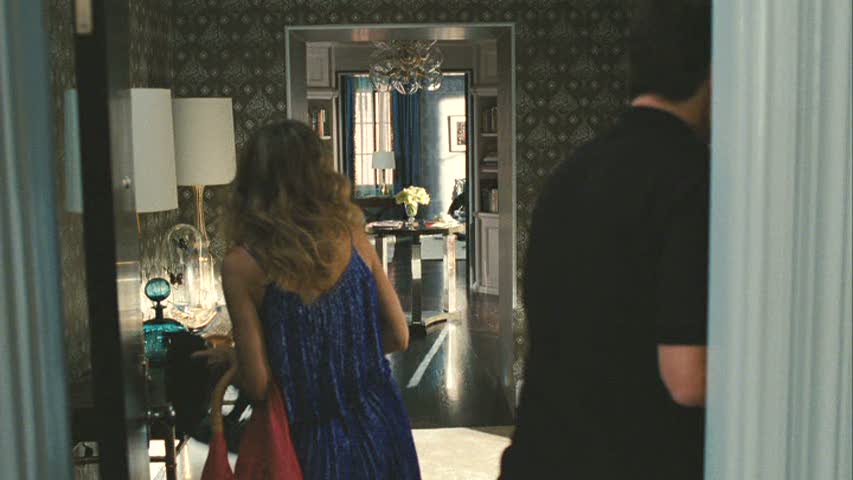 "We wanted it to feel very, very real to New York City."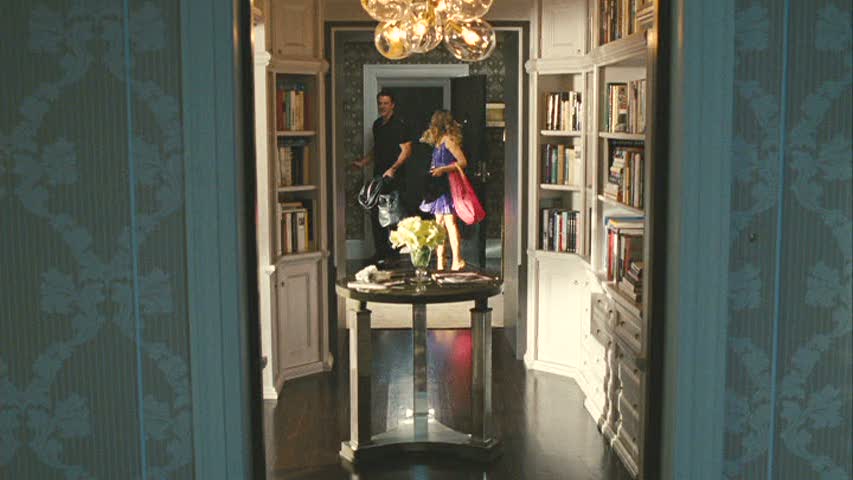 "A lot of fancy apartments that you see in movies tend to get a little bit large because it's easier to shoot in, and it's an instant read to the general public that it's a nice apartment," Marks says.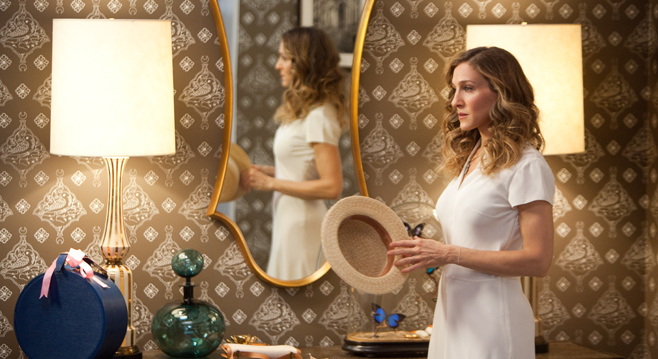 "But we felt really strongly that we could make an apartment on a scale that was realistic to the real New York and still have it be elegant and high-end and I think we did that."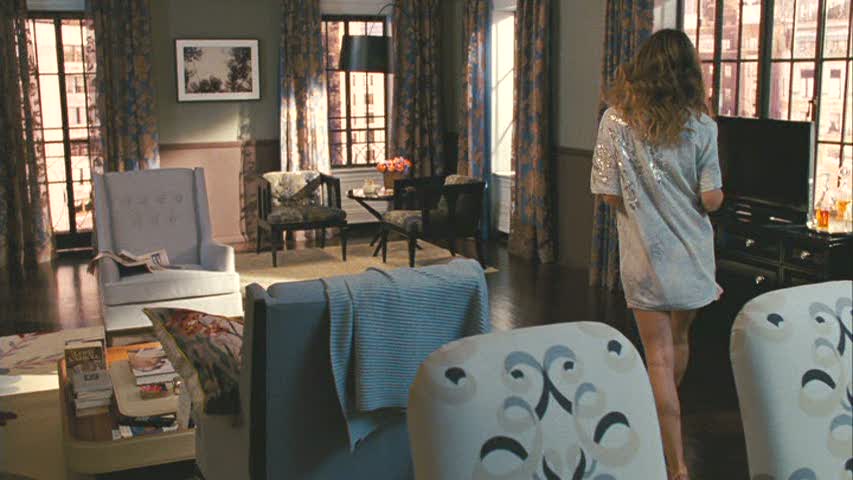 Because Carrie kept her old apartment, everything in the one she shares with her husband is new and was chosen so that it reflects them both. It's much more masculine and "grown-up" than the place she lived in as a single girl.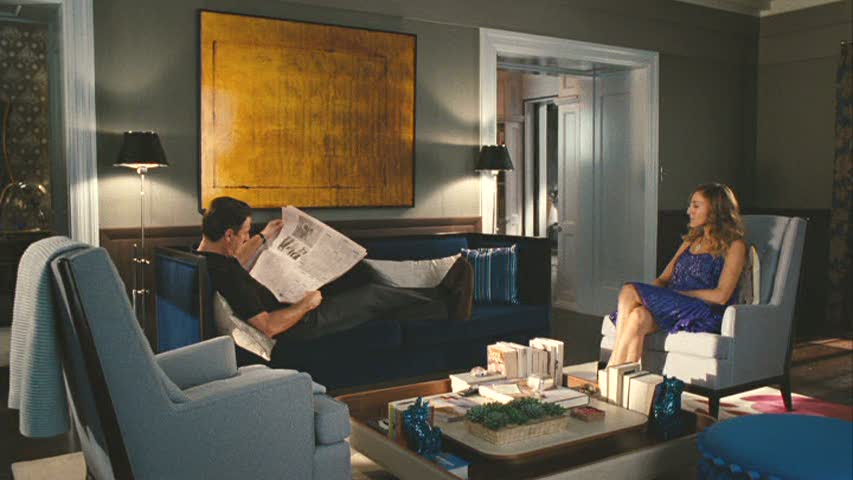 The living room includes a sofa by Montauk Sofa upholstered in blue wool-mohair
from Donghia and a pair of beige midcentury side chairs.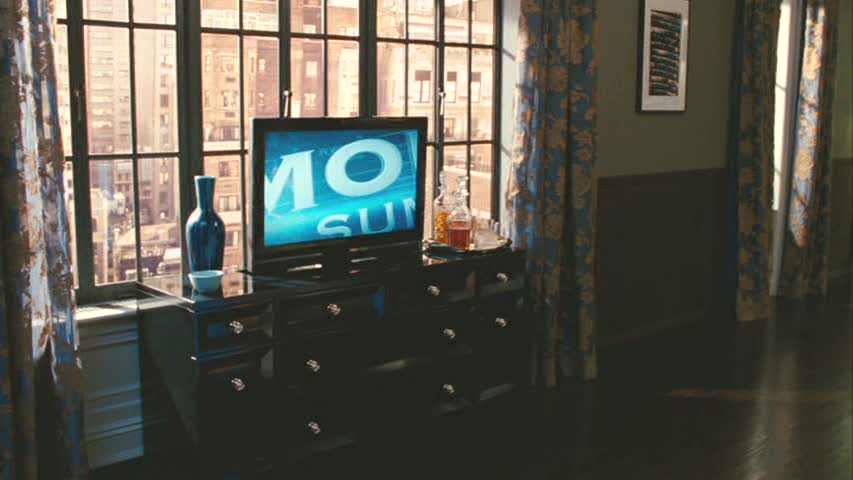 An oxidized-metal chandelier by Property hangs above
a French 1940s mahogany table from Alan Moss in the dining room: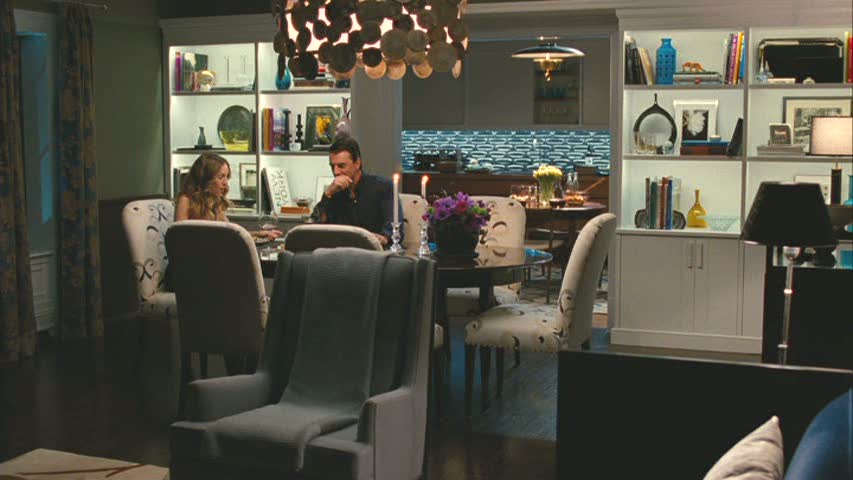 They wanted to design a space with both masculine elements, such as midcentury furnishings and whimsical rugs.
Elle Decor reports that the unusual blue tile in the kitchen is by Heath Ceramics from Ann Sacks.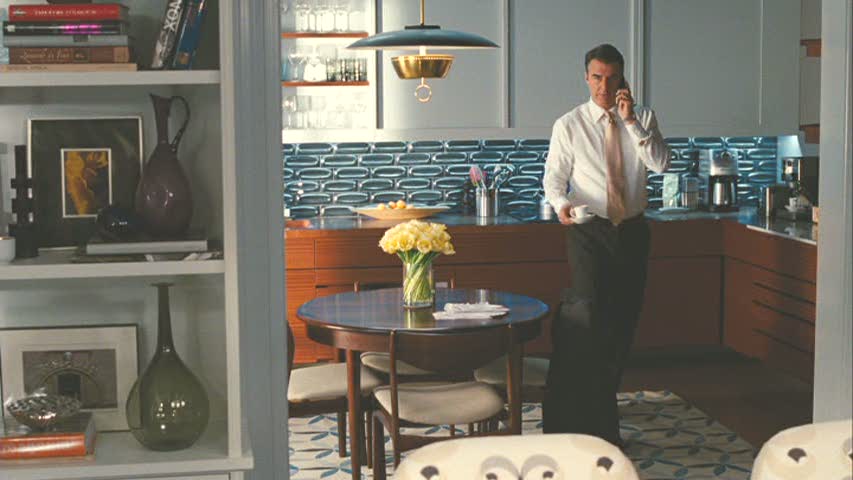 The Bedroom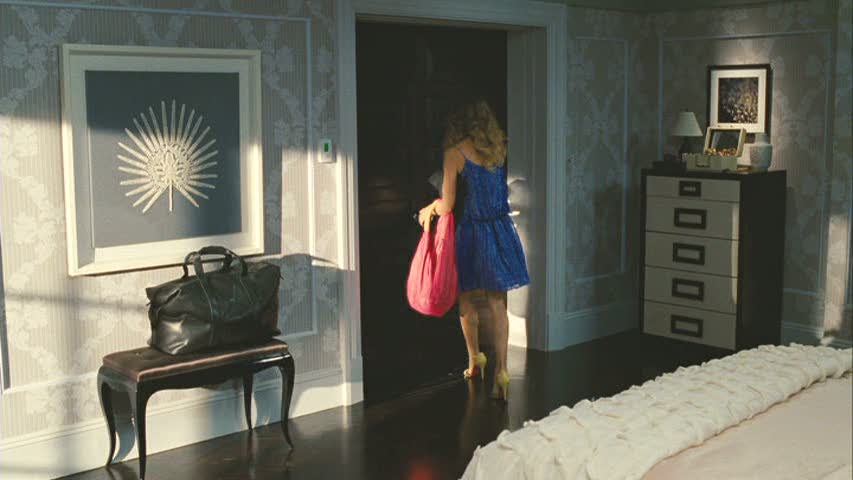 In the first half of the movie, when the characters are in New York, the colors are muted, in stark contrast to the sets and costumes when they're vacationing in Abu Dhabi.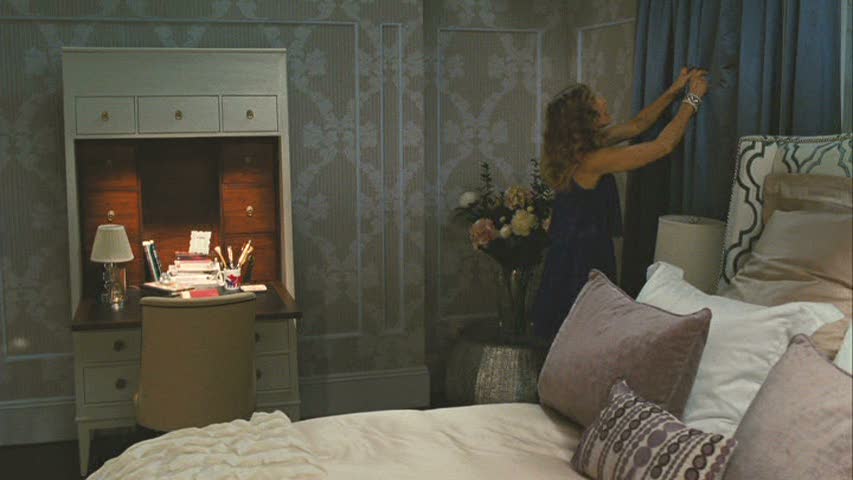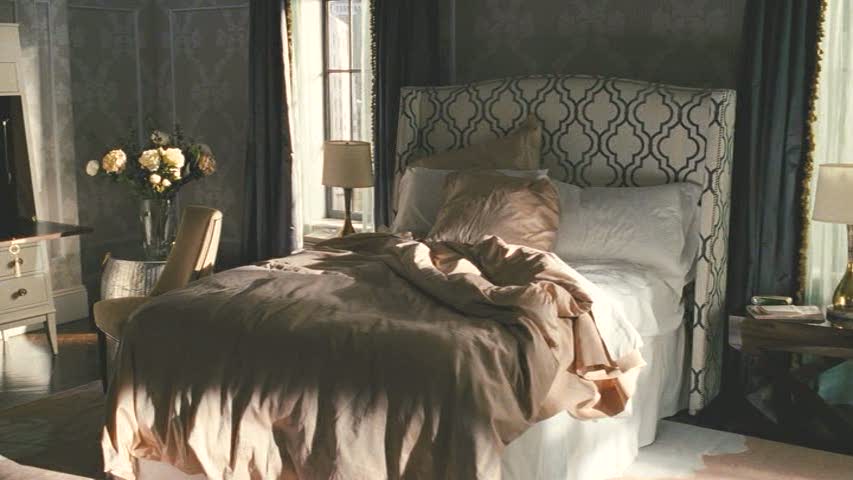 "Carrie is trying to make a new apartment for the two of them, not just for her,"
according to Production Designer Jeremy Conway.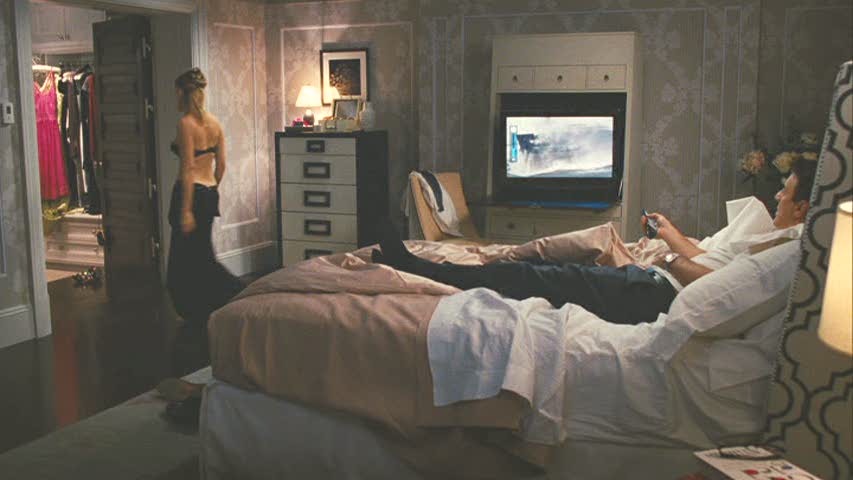 Carrie's Closet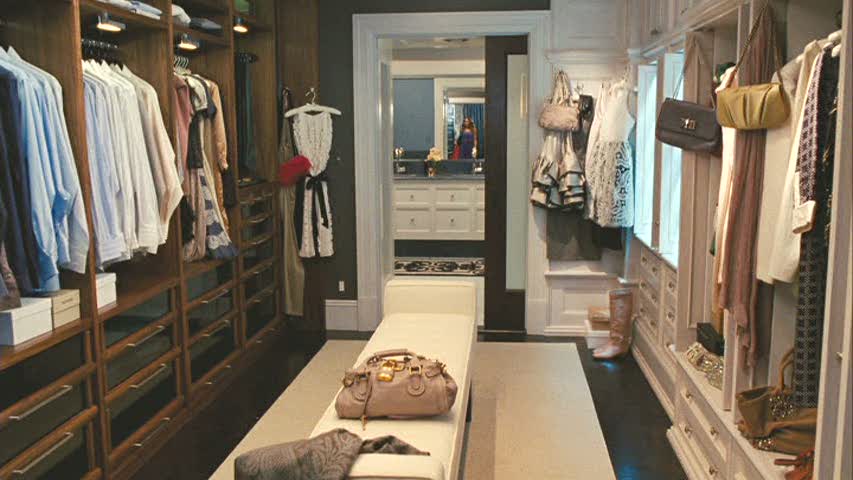 The closet isn't quite as dazzling as the one he built for her
in the first movie, but it's still pretty fabulous.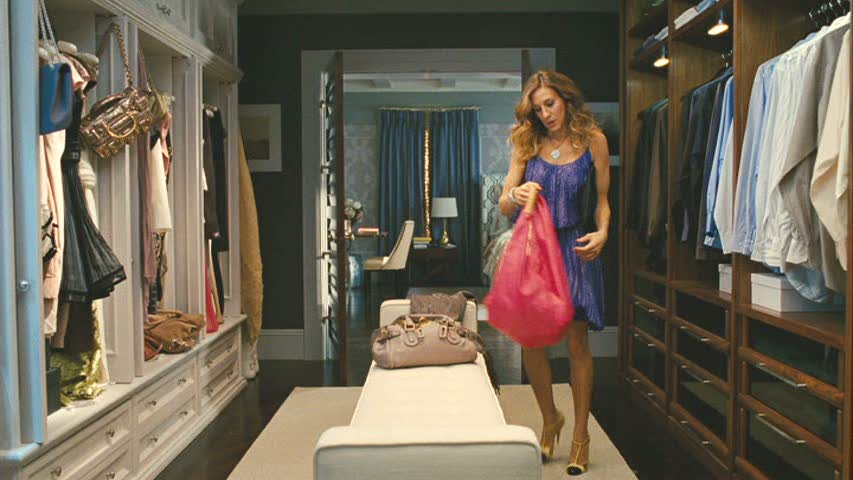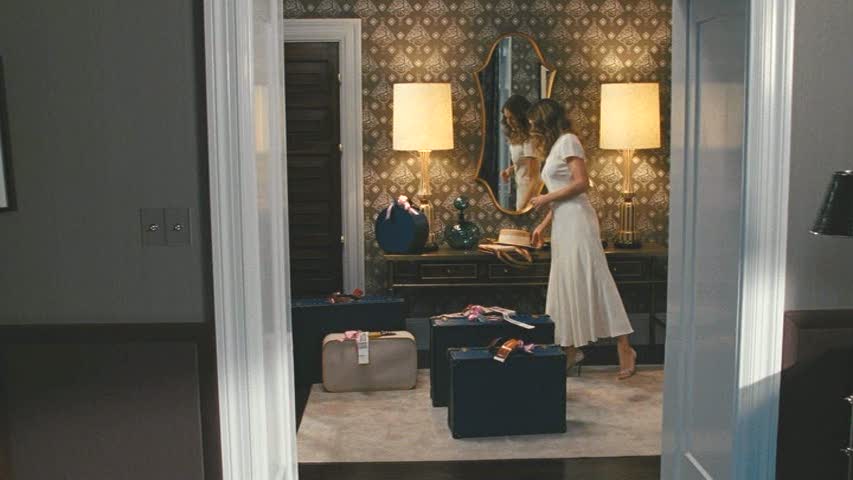 Charlotte's Park Avenue Apartment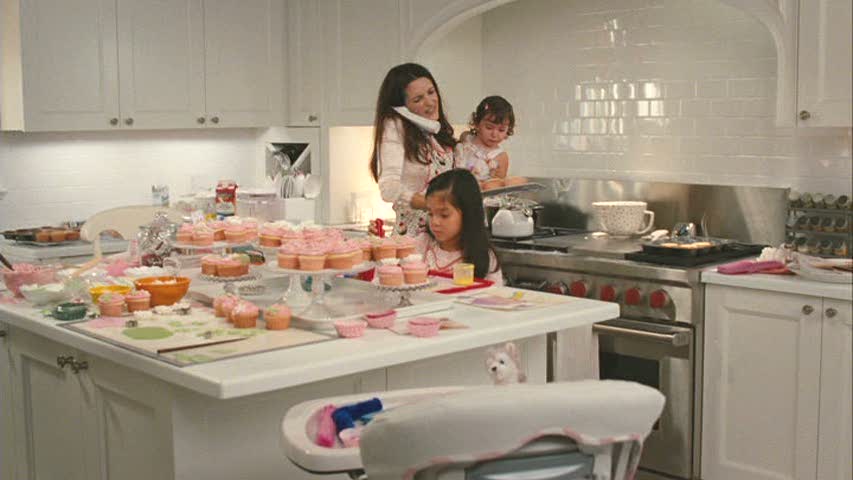 I can't resist throwing a few photos of Charlotte's Park Avenue apartment, too.
The kitchen looks exactly the way I'd imagine hers to be, pink cupcakes and all.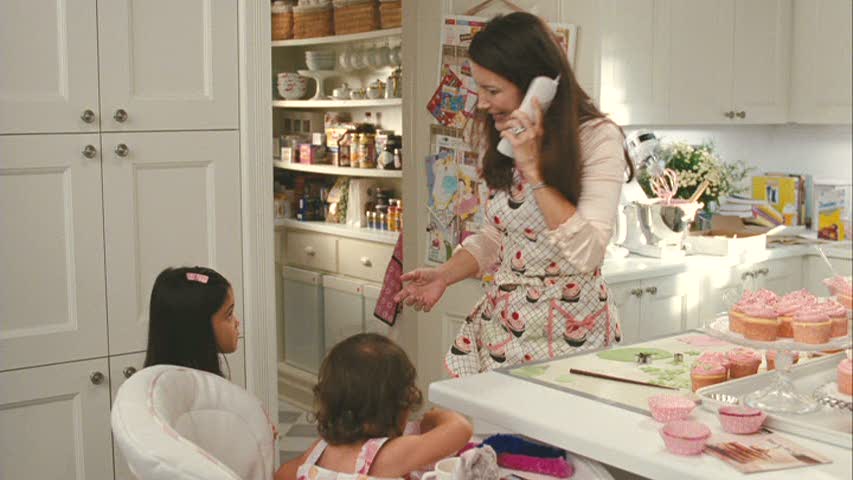 Set Decorator Lydia Marks says the kitchen was designed to show Charlotte's need for perfection.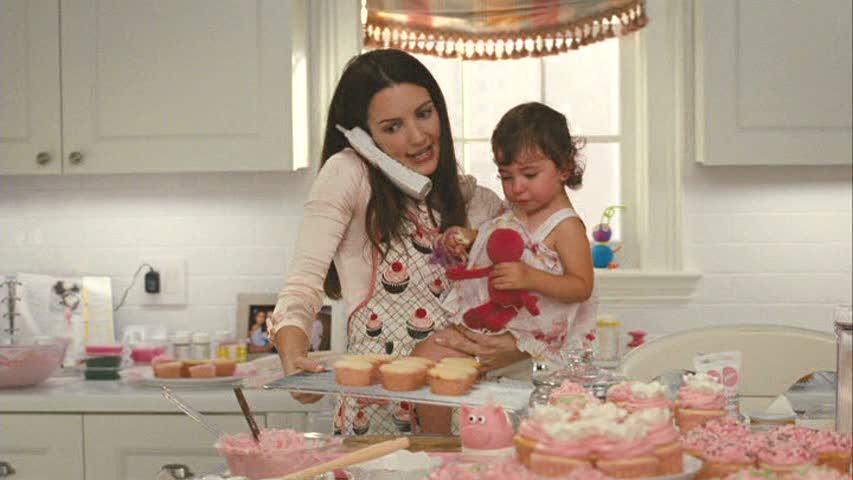 We get a glimpse of the bathroom, too, which also has lots of white and pink in it: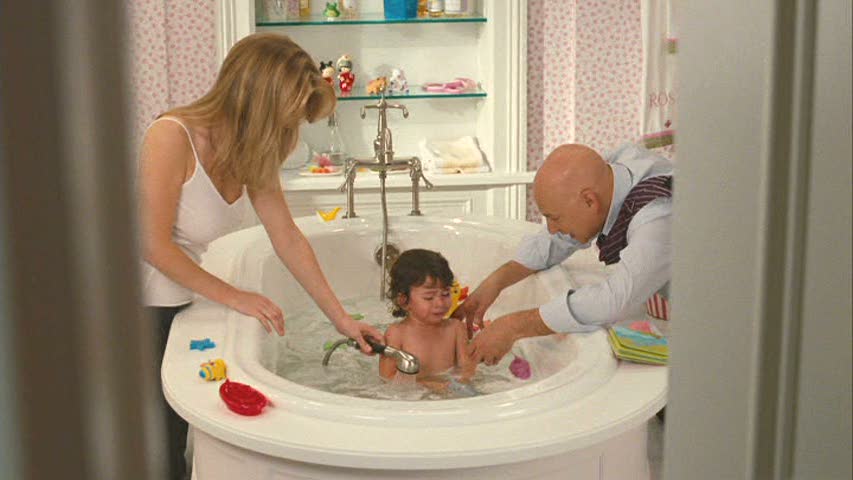 2017 Update: After all the rumors about a possible third "SatC" movie in the works, it sounds like it won't be happening after all. Which is a shame because I'd love to see where Carrie and her friends would be living today.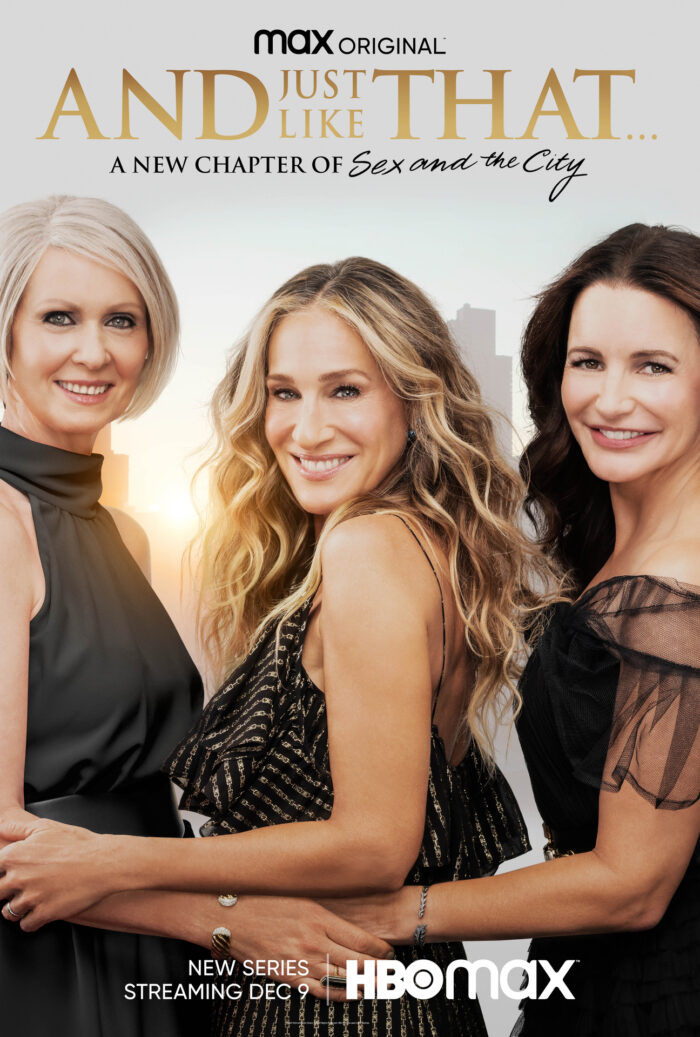 2021 Update: The new "Sex and the City" series "And Just Like That" is now streaming on HBO Max and so far the sets look much the same as they did in this movie…with the addition of a Peloton bike in the closet.
You can see set photos at Elle Decor.

Visit my Houses Onscreen page to see the other movies I've featured, listed A-Z.