Who could forget the Spanish hacienda-style ranch that Meryl Streep owned in the romantic comedy It's Complicated with the tile roof, the wide veranda, the beamed and vaulted ceilings in the living room, or the sumptuous kitchen? Not me! So I was excited to hear that the real house where the movie was filmed is on the market for $12 million.

Meryl Streep's House in "It's Complicated"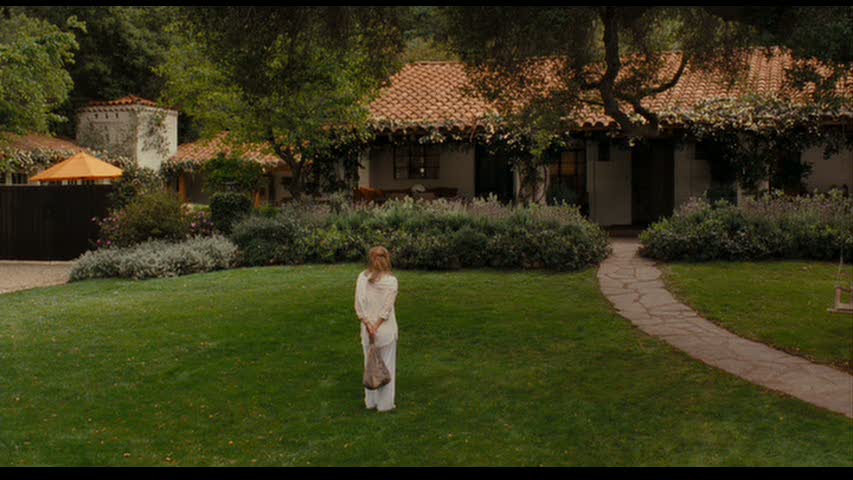 It was posing as a house in Santa Barbara in the movie, but the property is actually about an hour south of there, on an equestrian ranch with over 56 acres in Hidden Valley.
Here's how the house looks in the listing today:
Iamnotastalker tracked the property down and reports:
"Throughout the movie, Jane's house is shown to be surrounded by a long, white wooden fence. That type of fence pops up quite often in film and television productions and when it does, it is pretty much a dead giveaway that filming took place somewhere on Potrero Road.
"So, I decided to begin my search there. And sure enough, about ten minutes into the hunt, I located Jane's house! As it turns out, it is situated less than half a mile east of JMJ Ranch, which was featured in Win A Date With Tad Hamilton and the more recent Back-Up Plan with Jennifer Lopez."
The interior sets like this living room were shot on a soundstage in Brooklyn:
The real living room has a similar vibe with beamed ceilings and a window seat:
Unlike the movie house, the real house has a separate dining room:
This was Meryl's bedroom in the movie: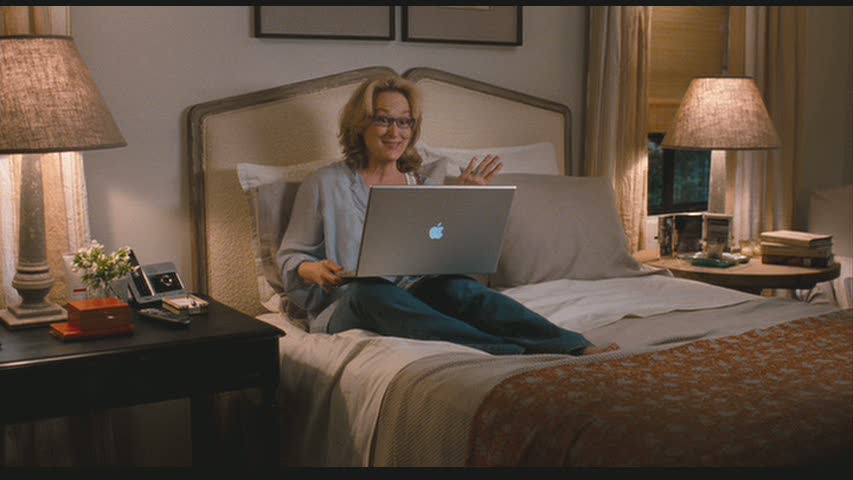 The master bedroom in the real house:
The bathroom in the movie looked like this:
There are 5 bedrooms in the listing:
The kitchen Meryl Streep cooked in was warm and cozy: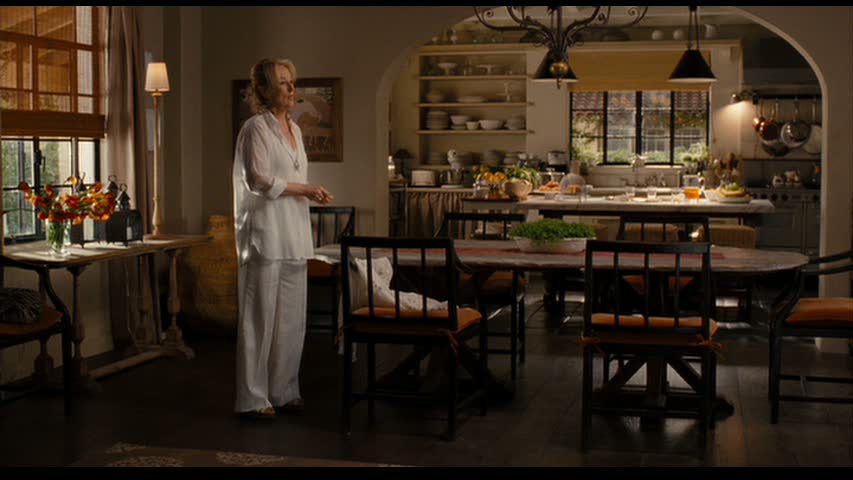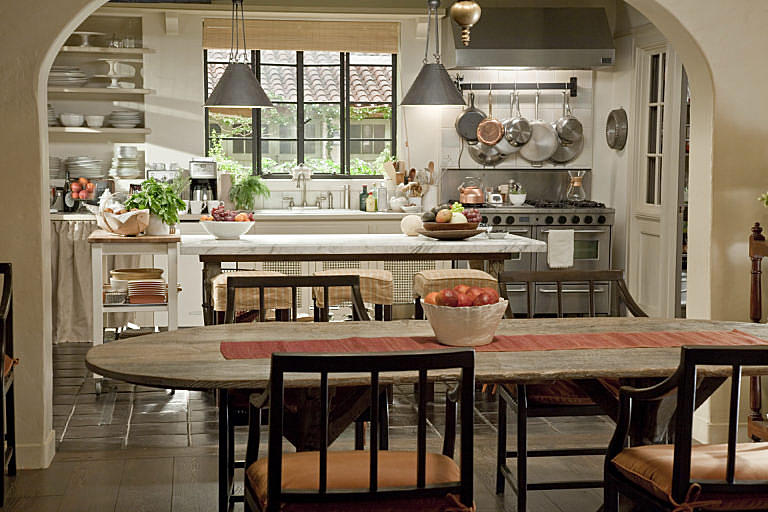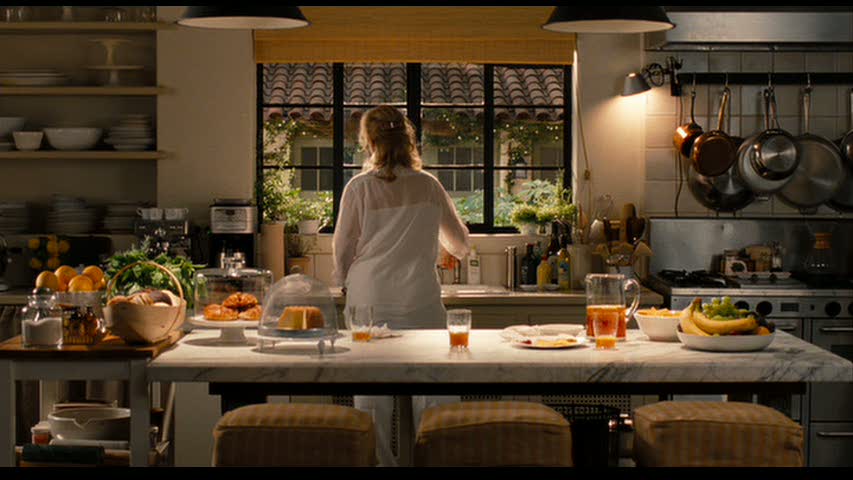 Here's how it looks in the listing:
The house was built in the early 1900s and has belonged to celebrities like W.C. Fields.
In the movie we see a hallway lined with windows that overlook the courtyard:
The real house has a similar sunroom space:
The real house is larger than the movie version looks with over 6,000 square feet.
Something we didn't see in the movie: the front gates that guard the long private drive to the house:
For more photos and information, check the listing by Nicki & Karen. (Sorry, it sold!) To see more photos of how the house looked in the movie? Check out my original post about the sets, including Streep's to-die-for bakery.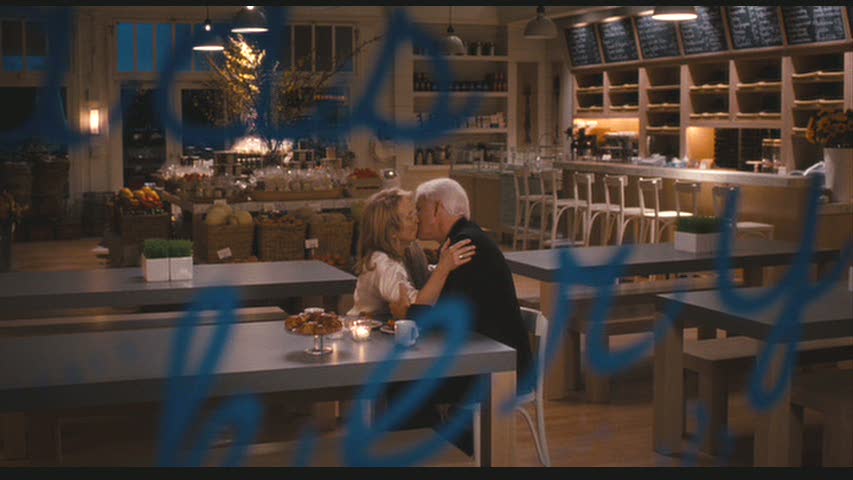 Writer and Director Nancy Meyers has built a reputation for movies that feature houses we'd love to live in. Check out the others I've featured on my Houses Onscreen page or by clicking the pics below: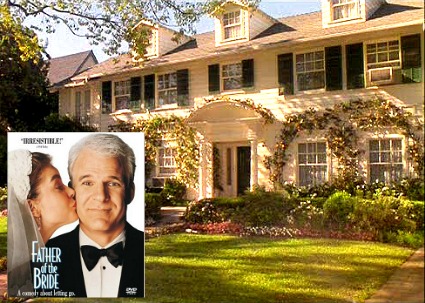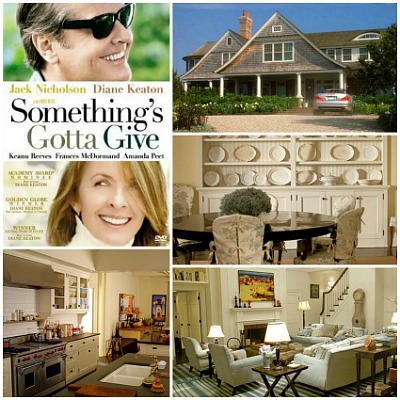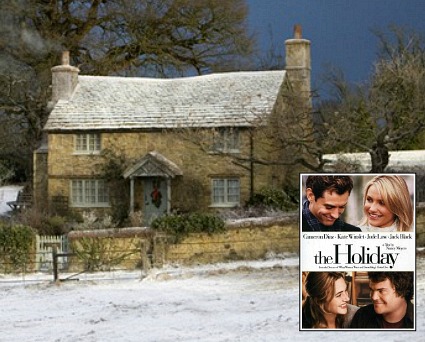 Do you have a favorite Nancy Meyers movie house? I don't think I could choose. I'll just take one for every day of the week, if that's okay… 😉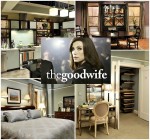 If you're not watching The Good Wife, then you're missing out on one of the best dramas on TV. Seriously. I was kind of put…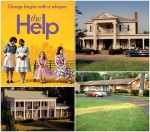 I loved Kathryn Stockett's novel The Help when it came out a few years ago, and they did a great job adapting it for the big screen. The…