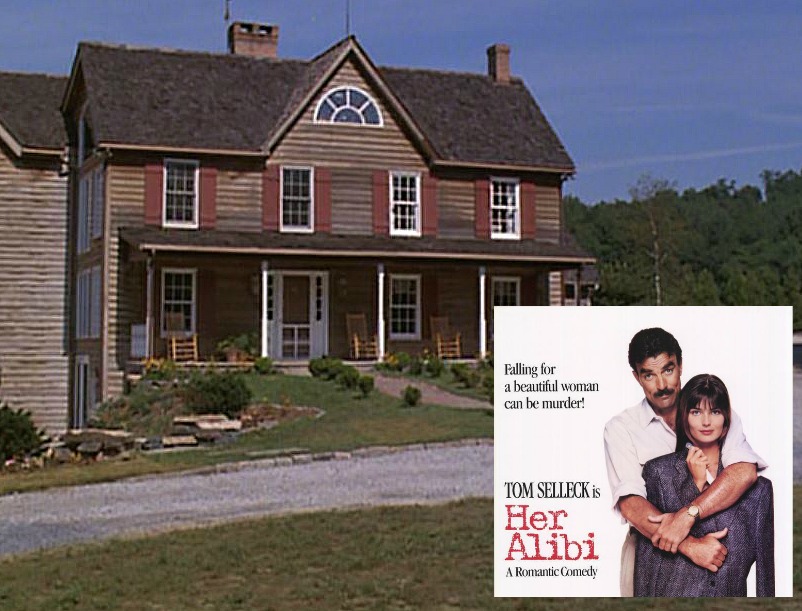 Remember the romantic comedy Her Alibi? Premiering in 1989, it featured Tom Selleck as a hilariously bad writer of best-selling detective novels. I watch it every time I come across it on TV and it still makes me laugh.
The house Selleck's character Phillip Blackwood lived in was so unusual and memorable that a lot of you have asked me about it over the years. I was excited to hear from the family that built it and learn that it's currently on the market in Maryland. Let's see how the house has changed since the '80s!

The "Her Alibi" Movie House in Maryland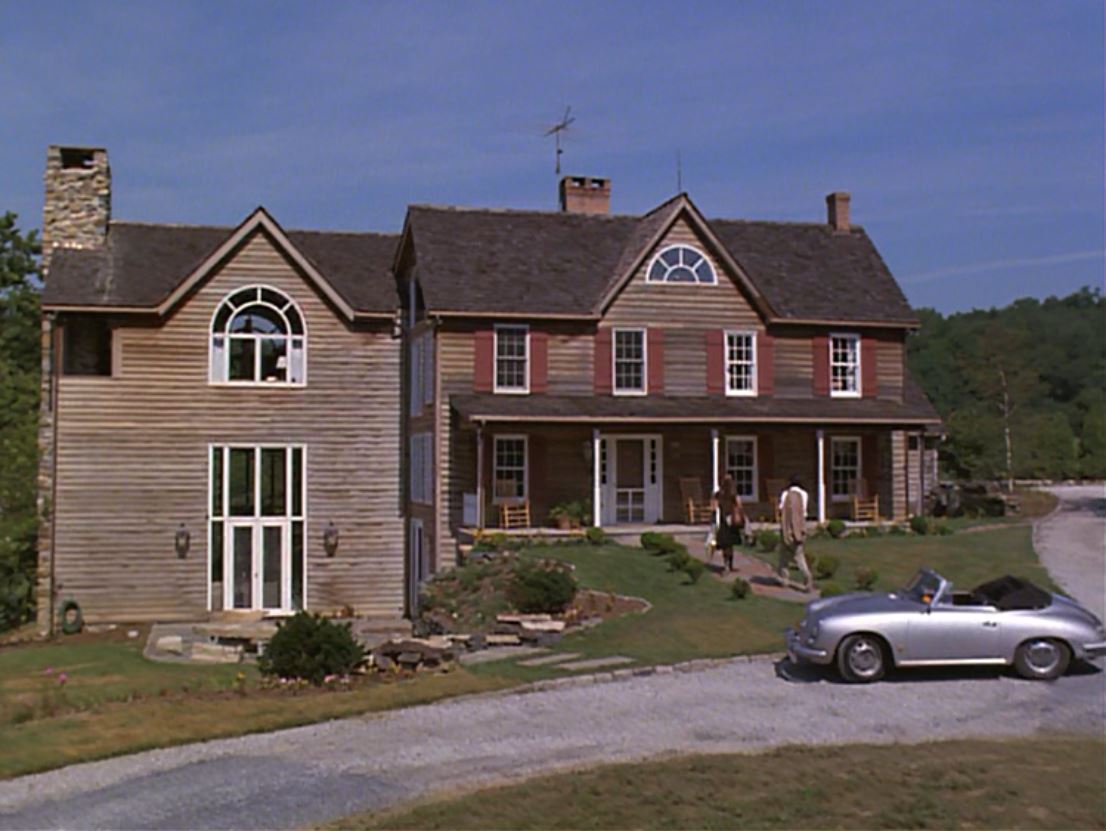 Even though the movie's set in Connecticut, the house is actually outside Baltimore. Here it is today:
The listing says "sections of the house date to 1852," but most of it was built in 1987.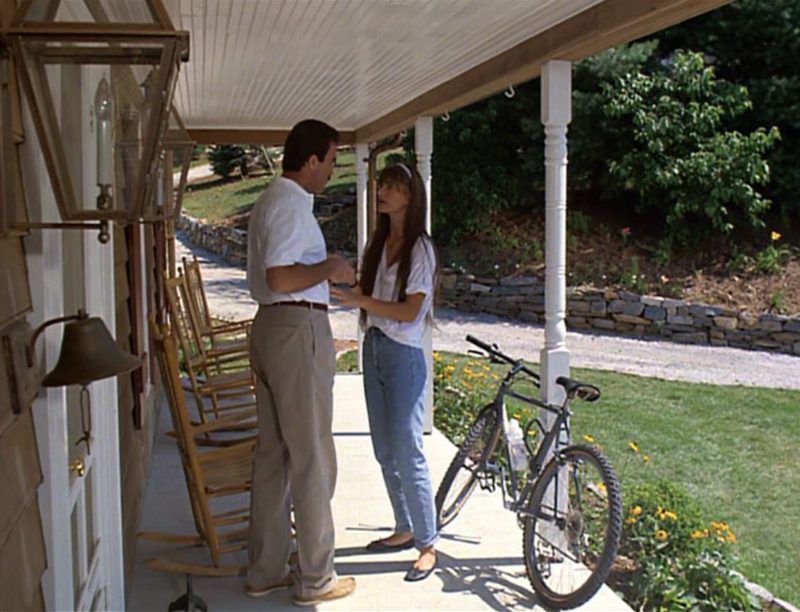 Paulina Porizkova played Nina, a beautiful Romanian arrested for murder. Selleck's character Phillip Blackwood is so sure of her innocence, he gives her an alibi. Living alone with her in his big house, however, he begins to wonder if he might be her next victim.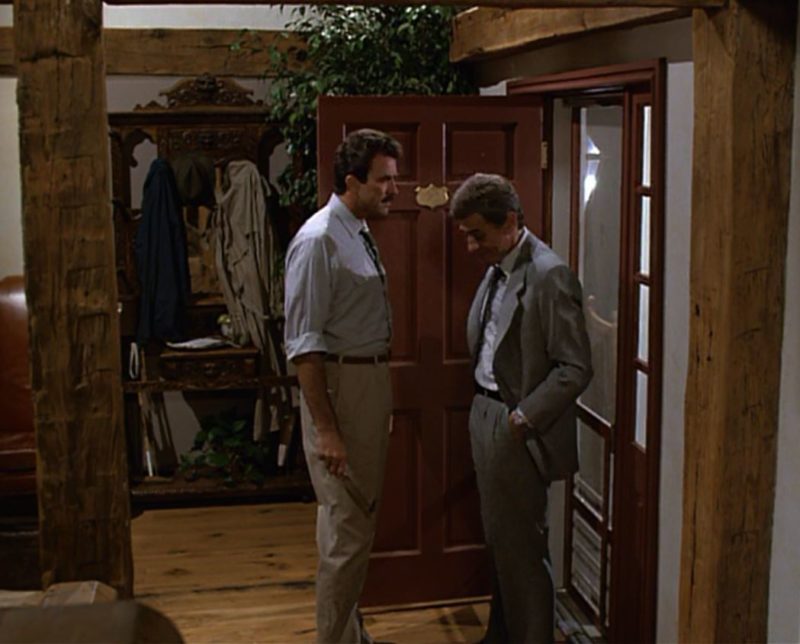 The first shot of the interior pans across the stone-walled great room and up the open staircase to the front door: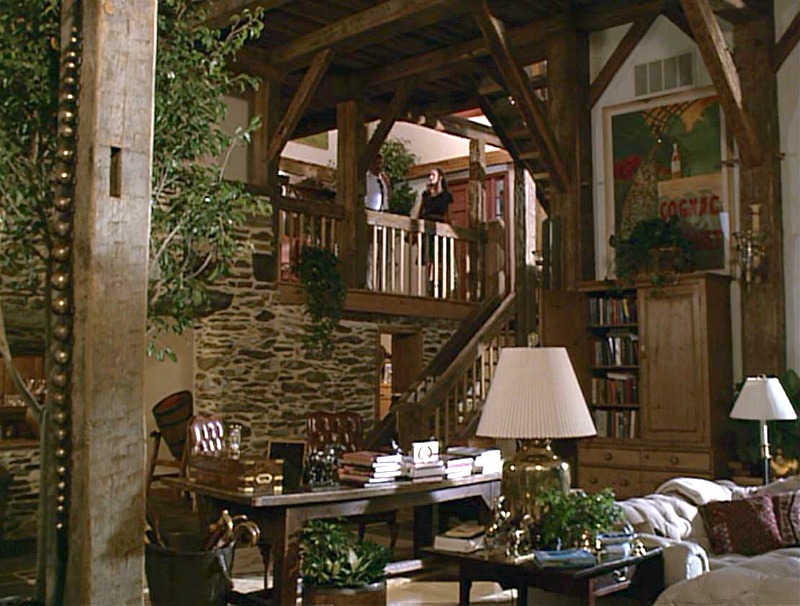 Here's how the room looks from the same angle in the listing today:
The other side of the great room has a large stone fireplace and walls of windows: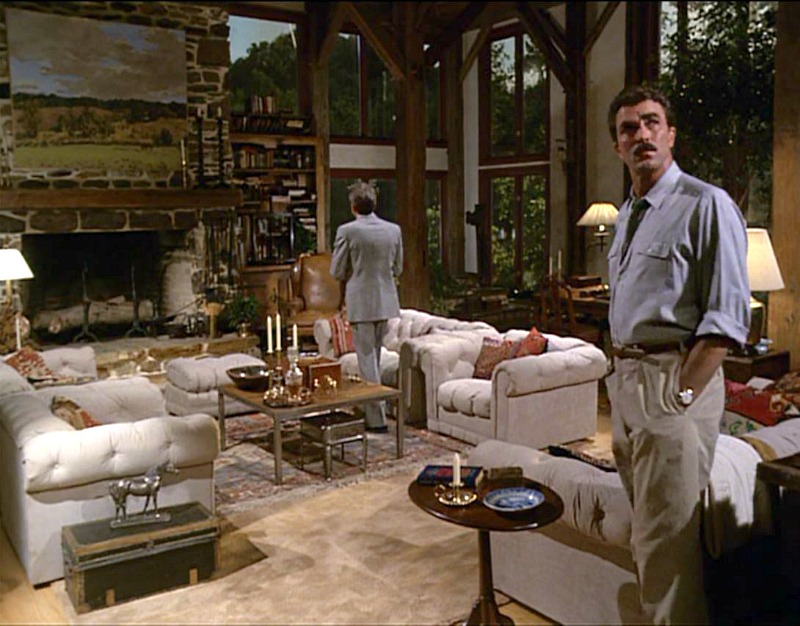 The great room with flagstone floor today:
The dining room is on the ground level overlooking the great room: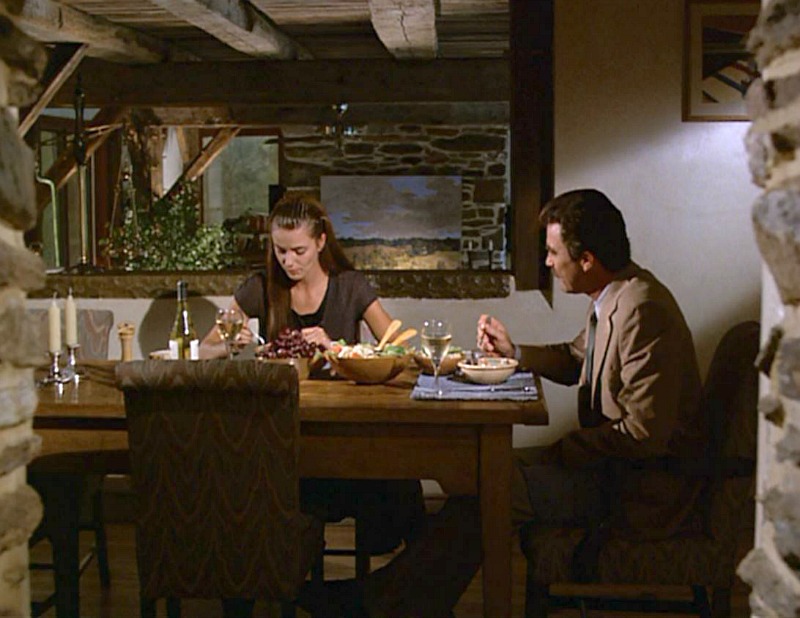 The dining room in the listing:
They must have filmed most of it here since the rooms look much the same as they did in the movie.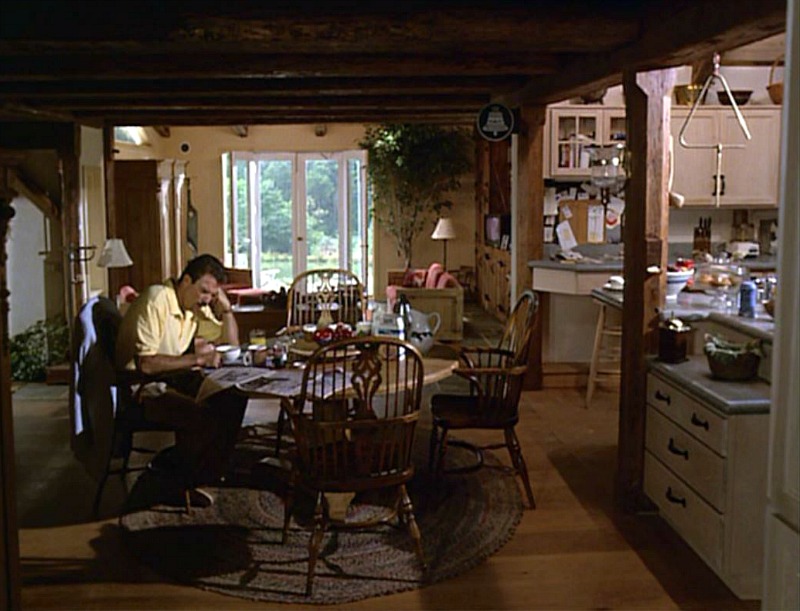 There are steps going up and down from room to room and varying ceiling heights to keep things interesting!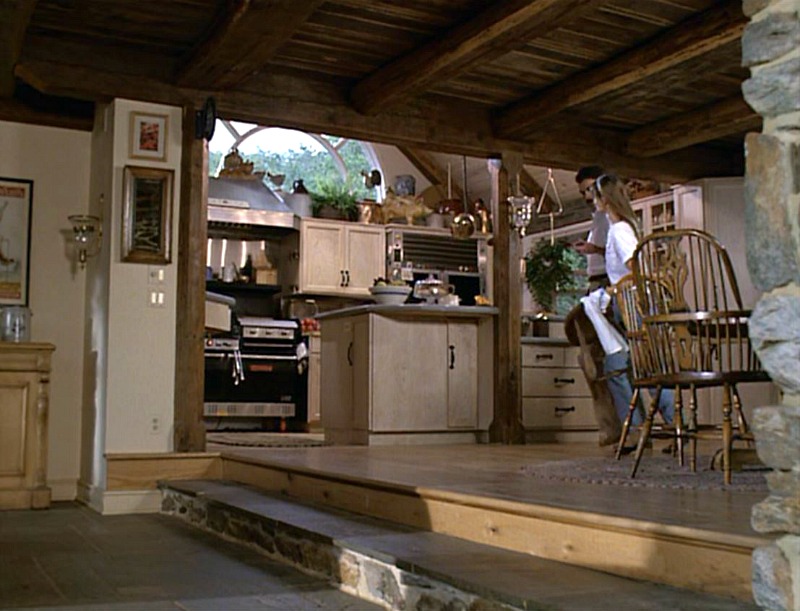 From a similar angle today: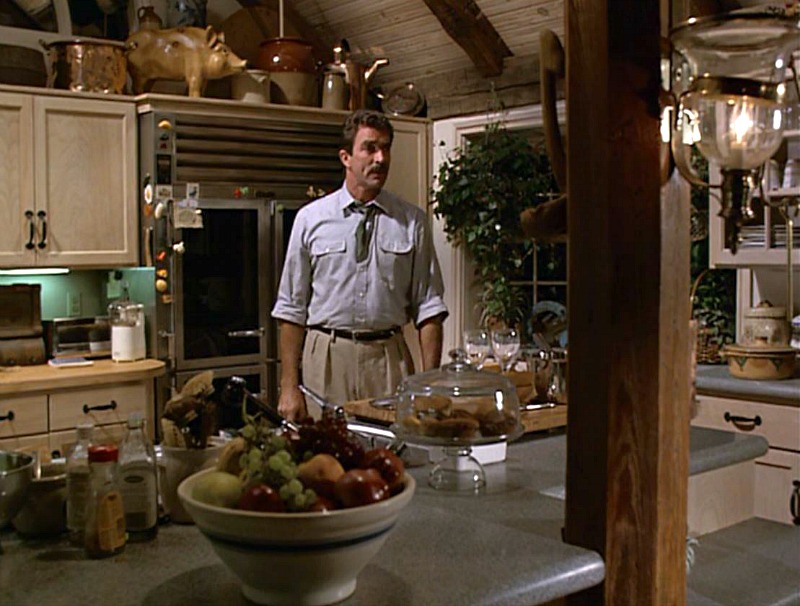 The kitchen in the listing:
In this shot you can see the windowseat behind Selleck: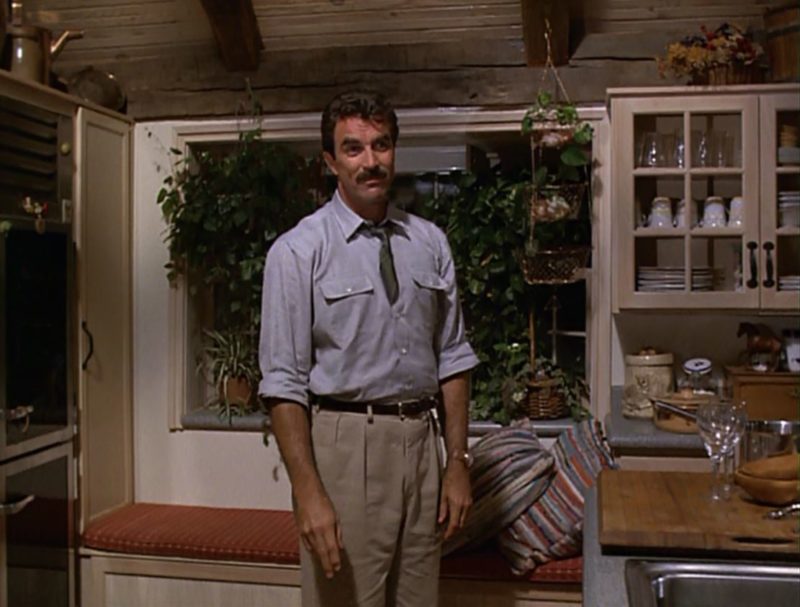 More stairs leading up and down to other levels of the house:
It's a big house with 4 bedrooms, 5 baths, and 8,000 square feet.
Production design was done by Henry Bumstead and James W. Payne, who also worked on Funny Farm: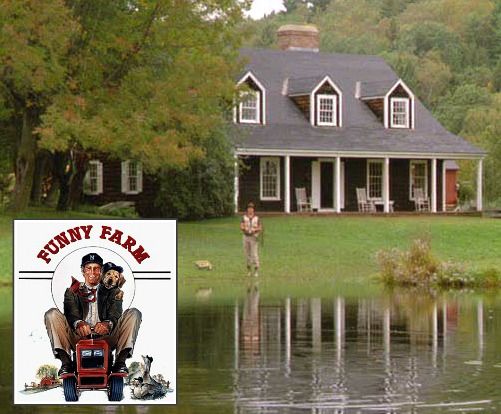 Phillip's bedroom featured a large four-poster bed: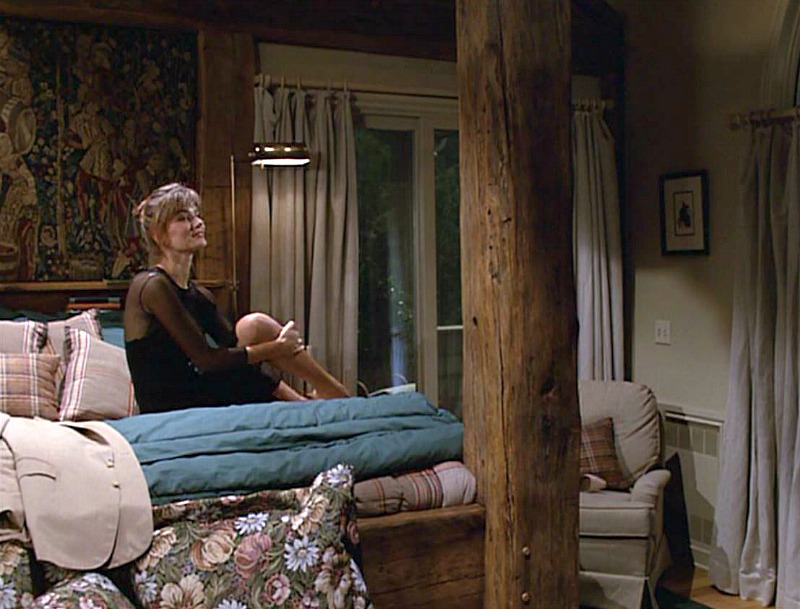 Looks like it's still being used today:
Through the third-story window we see Phillip's writing studio: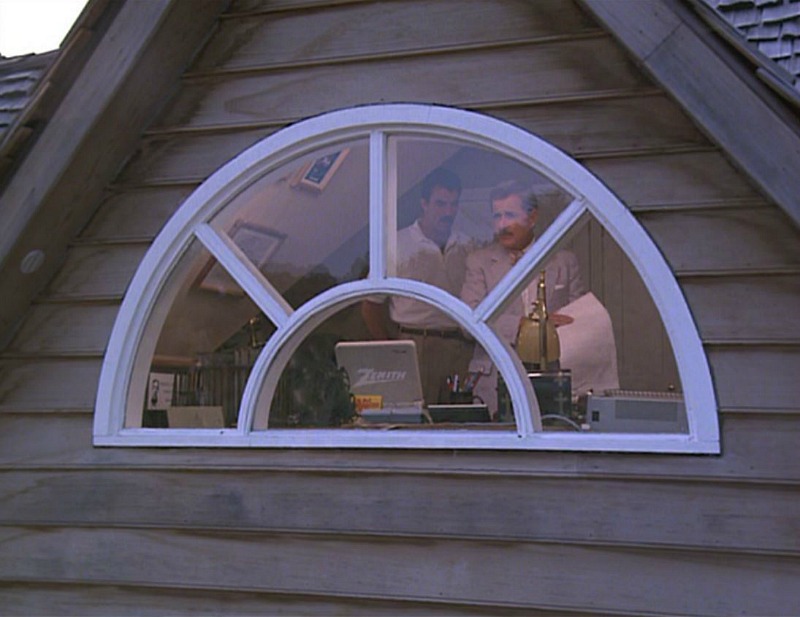 Some of the titles of Blackwood's novels:
Sayonara, Cyanide
Death, Game, Funeral
Bullets Never Forget
Guns I've Loved
Murder by Modem
One Down and Two Dying
Wake Me When I'm Dead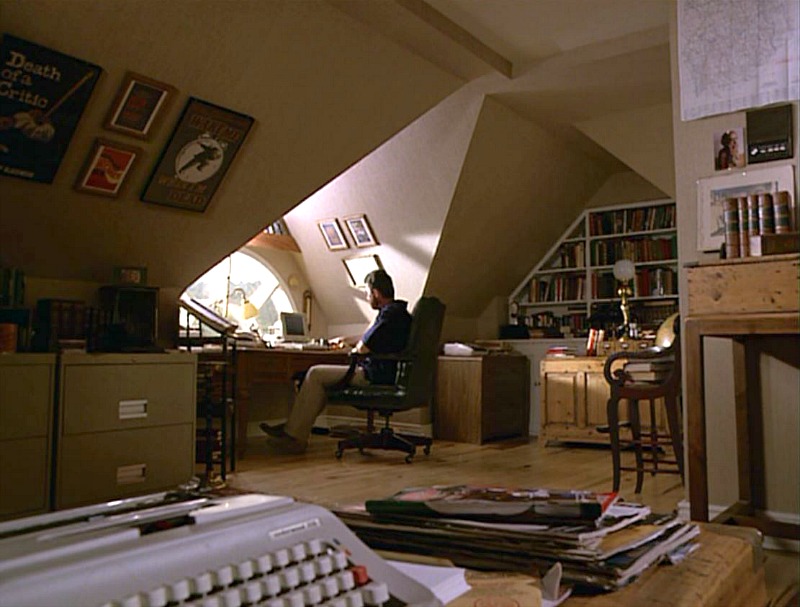 When he tries to delete the (lousy) first draft of his novel, the computer asks:
"Are you sure you want to delete this file?"
"Yes."
"Are you absolutely certain you want to delete it?"
He types, "Yes, goddammit."
The computer responds: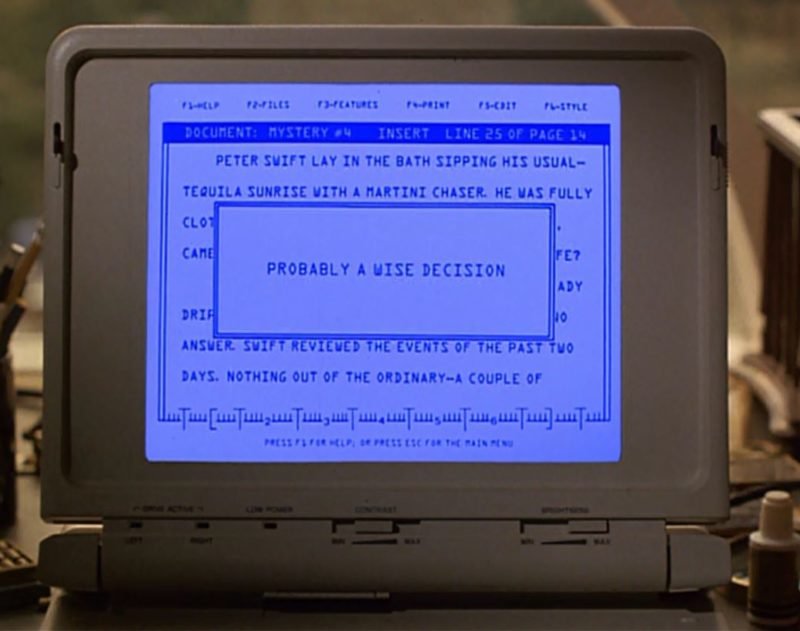 His office is filled with books and framed posters of his novels.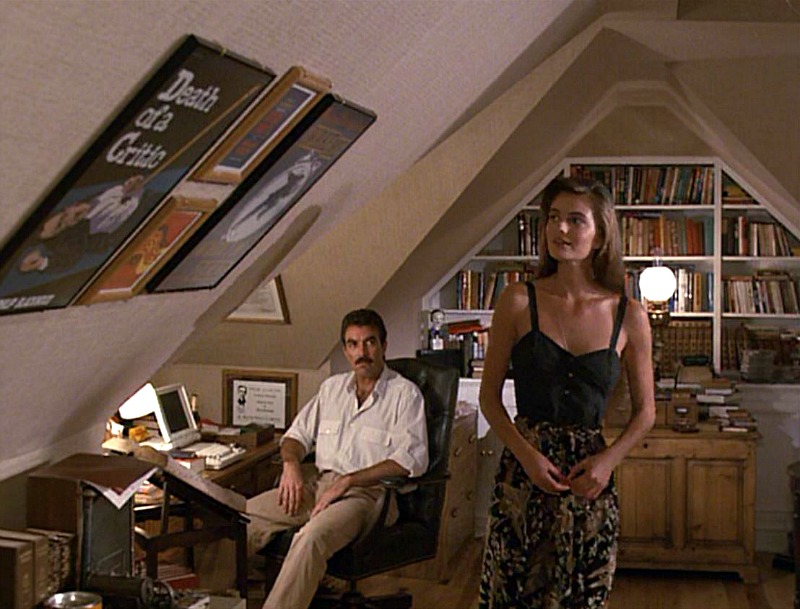 This is how the top floor looks today:
The lower level: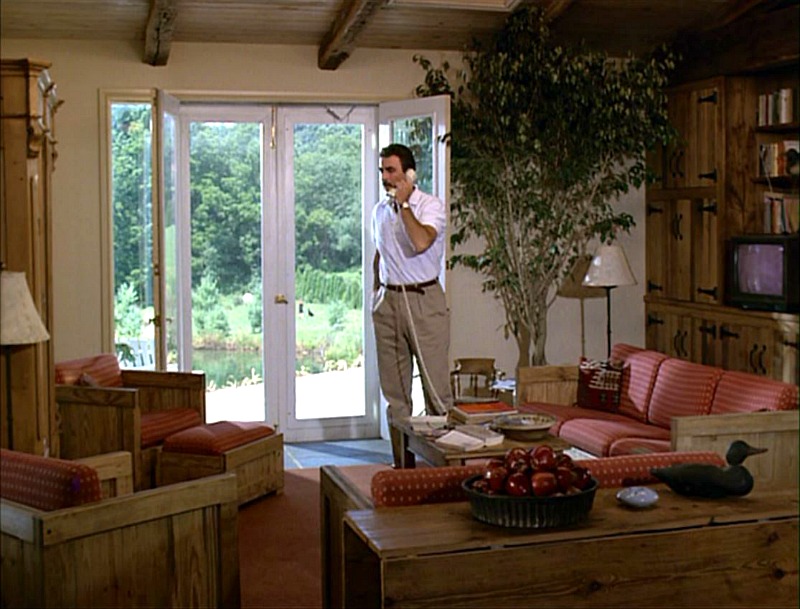 In the listing:
The pool, moments before the house "blows up:"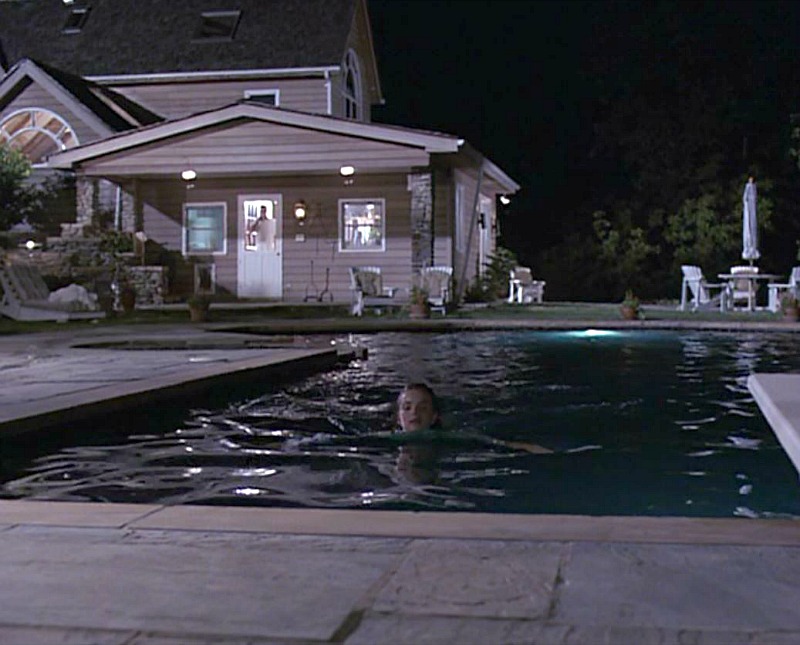 Paulina was born in Czechoslovakia (now the Czech Republic). She married Ric Ocasek in '89, the same year she made this movie, and they're still together today.
Note: This post contains Amazon affiliate links that pay me commission but won't change your price.
Selleck made this movie after "Magnum, P.I." had ended its 8-year run: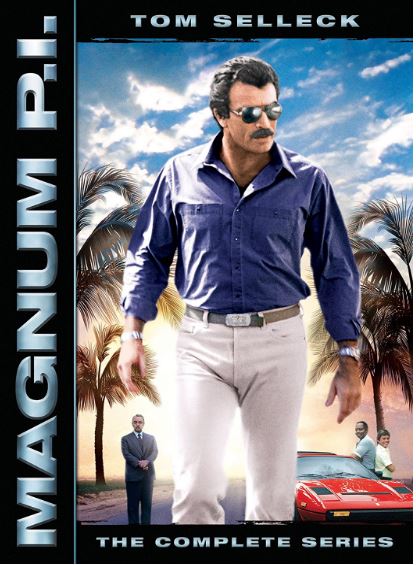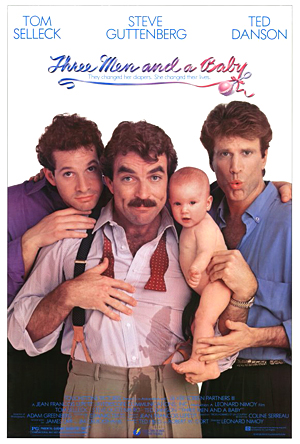 Now he plays Frank Reagan on the long-running drama Blue Bloods: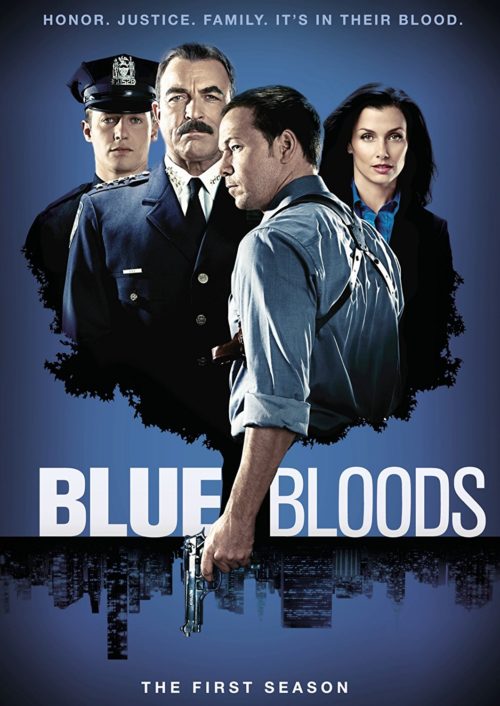 I get asked a lot about his house on that show, too, and tracked it down on Google Maps:
It's in the Bay Ridge neighborhood of Brooklyn. According to records it was built in 1930.
(Stephen Saint-Onge visited the Blood Bloods sets and wrote about them here if you want to learn more!)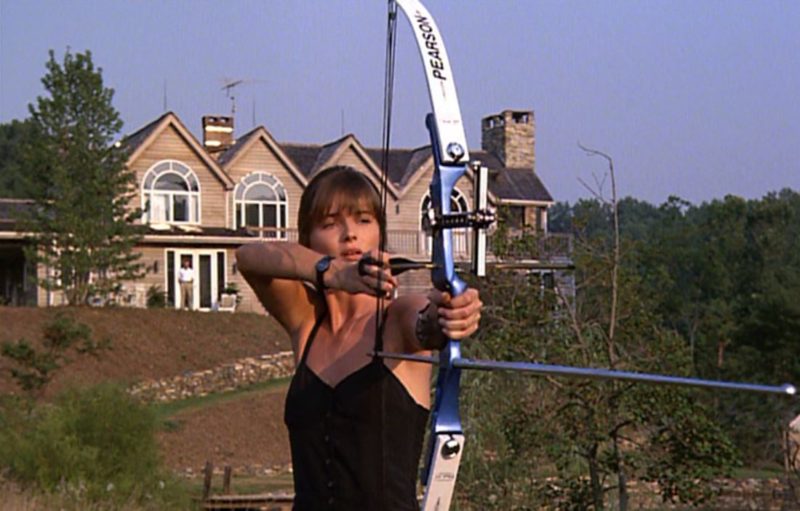 The back of the Her Alibi house looks very different today with a balcony and a pond:
A reader named Karie tells me that her father built the house:
"The gardens look terrible in the movie, but four years later they were incredible. Living there while the movie was being filmed was awesome for a 10 year old. It was hard to say goodbye to the house. It was a warm, welcoming, loving home to all who entered it.
"In the great room we used to hang an 18′ Christmas tree from the ceiling and use scaffolding to decorate it. We'd have tons of people over to help and mom loved cooking on the amazing stove.
"The walls and beams were my jungle gym. My hand prints and name are in an old wall we used to call the secret passage. I loved it so. I still do.
"It was a place safe for people and animals alike as we often had many rescues from cats to donkeys and even people. It was special indeed."
The property includes a barn, guest cottage, 20 acres of fenced pastures, pool, tennis court, and horse trails.
It sits on over 60 acres and backs up to the Liberty Reservoir Preserve.
Another family member named Kate also contacted me:
"It started as a small, unremarkable, and crummy little farmhouse, and the transformation was amazing. My brother did most of the work himself.
"He and his family lived there throughout filming. He has a lot of great stories about it. Whoopi Goldberg, who was dating someone involved in the production, was there a good bit of the time. The fire scene was a near disaster. And one of his daughters taught Paulina to juggle."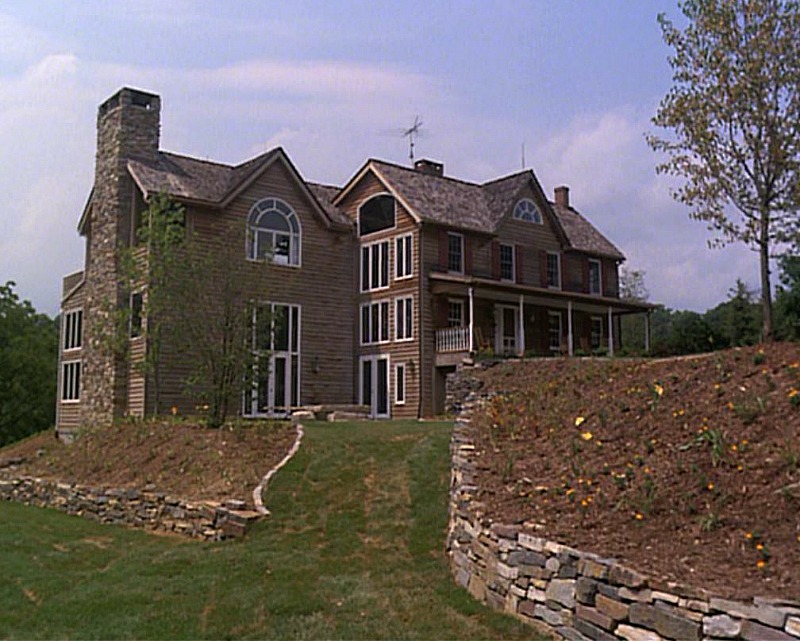 She adds, "During the screening we went to, when the detective looks around and says, 'nice house,' all of us family and friends cheered for about two minutes." Love that. 🙂
You can find the movie here if you want to see more of the house onscreen. It's always good for a laugh! They're asking $3.87 million for the property. Check the listing for more photos and information. Many thanks to Kate and Karie for sharing their personal stories about it with us! 

*There are affiliate links in this post — thanks!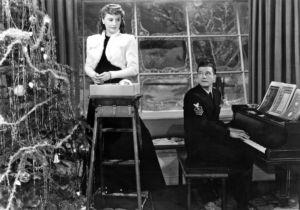 One of my all-time favorite movie houses is the stone farmhouse from Christmas in Connecticut. Every December I watch this classic Barbara Stanwyck comedy and daydream…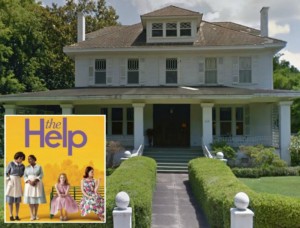 Hi guys! I know I haven't posted much lately, but when I learned that this 100-year-old house from The Help is for sale in Greenwood, Mississippi, and for only…