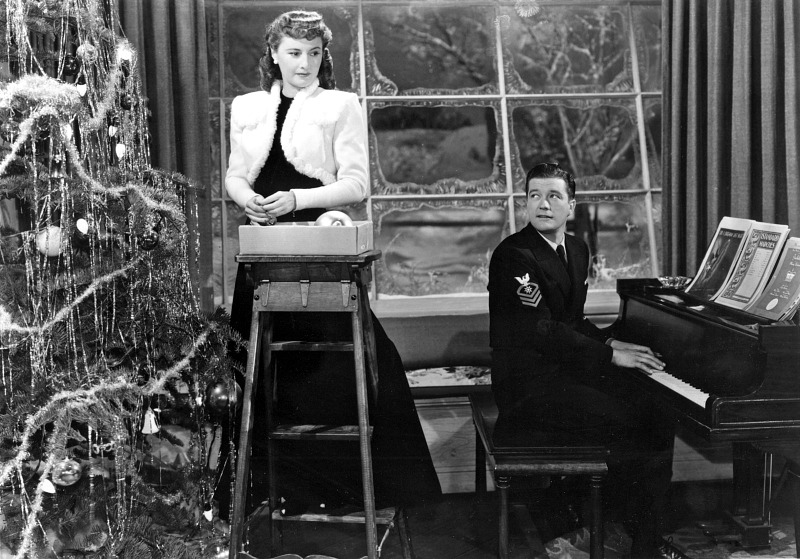 One of my all-time favorite movie houses is the stone farmhouse from Christmas in Connecticut. Every December I watch this classic Barbara Stanwyck comedy and daydream about celebrating the holidays in it.
It was one of the first onscreen houses I ever featured, but since many of you probably weren't reading my blog in 2008, I thought it was time to revisit it. Let's take a look back at this classic!
Note: This post contains Amazon affiliate links that may earn me commission.

The "Christmas in Connecticut" Farmhouse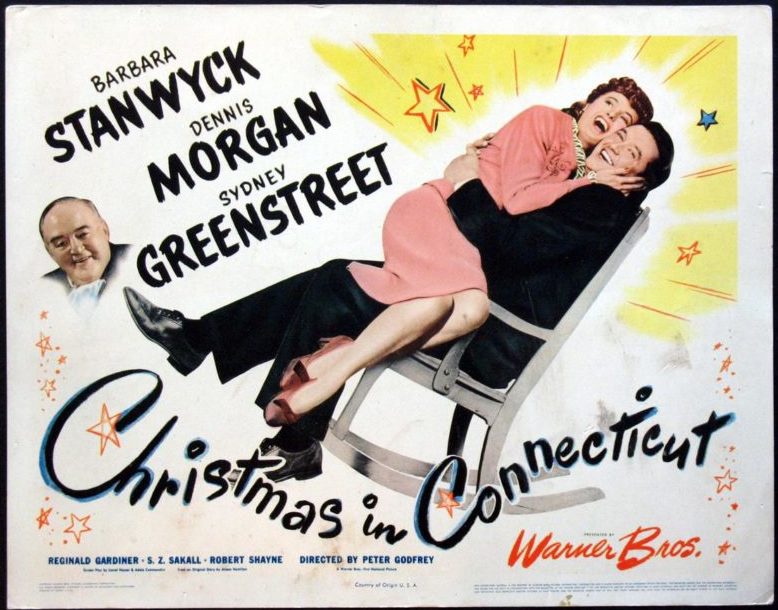 (Spoiler alert — I'll be talking about the plot!)
Barbara Stanwyck played Elizabeth Lane, a writer whose popular Smart Housekeeping magazine column describes her idyllic life as a wife, mother, and accomplished cook on her farm in Connecticut.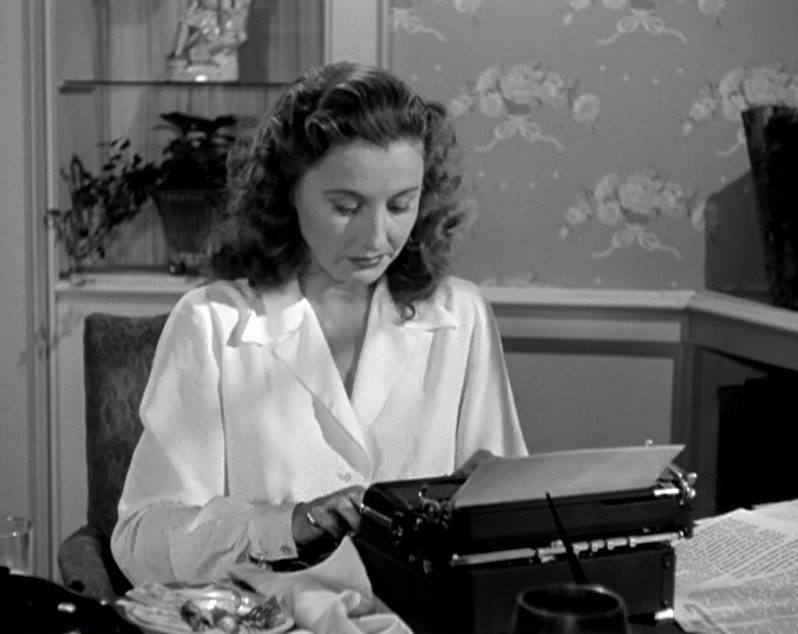 When the movie opens, we see her writing her column:
"From my living room window as I write, I can look out across the broad front lawns of our farm, like a lovely picture postcard of wintry New England. In my fireplace the good cedar logs are burning and crackling."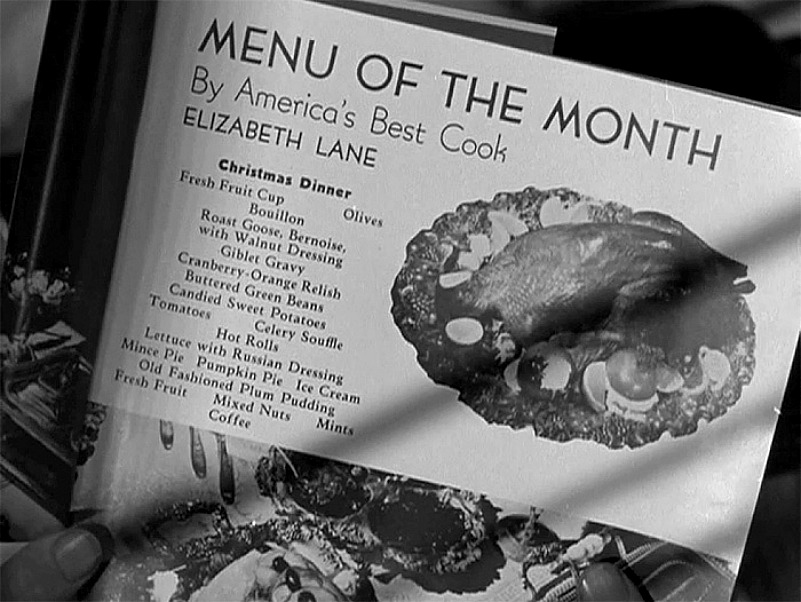 Truth is, Elizabeth needs a recipe to boil water, and this is the real view from her window: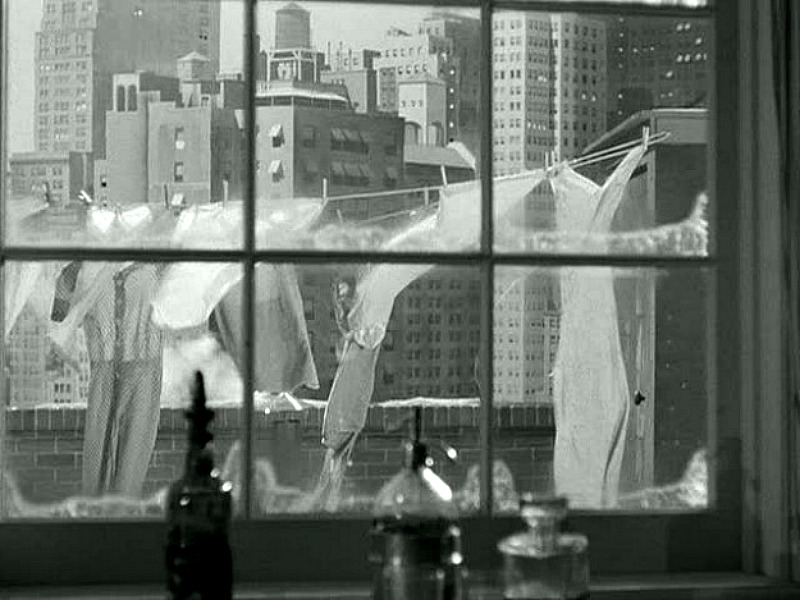 The Connecticut farmhouse belongs to the architect she's dating.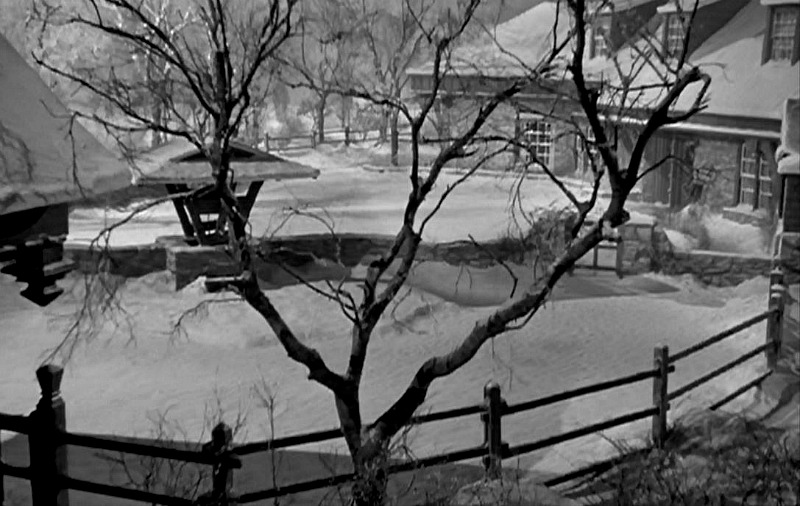 And what a farmhouse it is!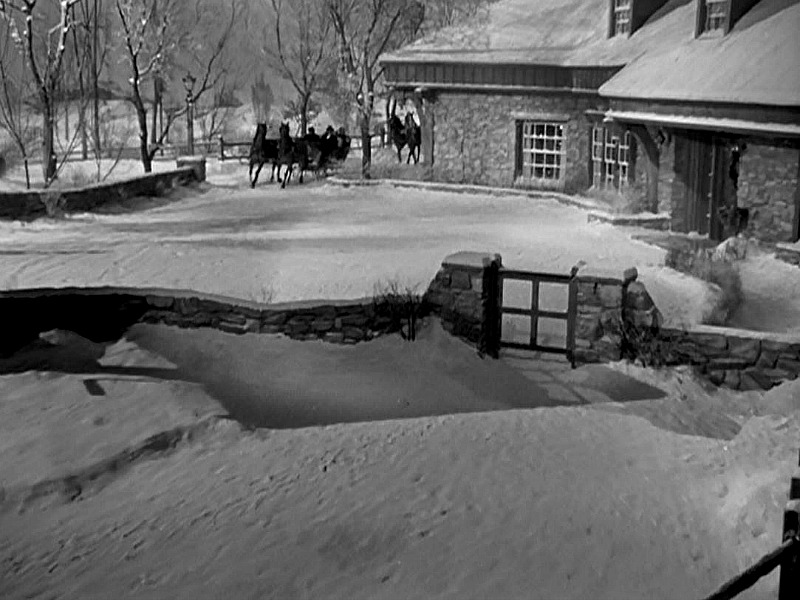 When publishing titan Alexander Yardley invites himself to Christmas dinner on the farm and wants to bring along war hero Jefferson Jones as a sort of publicity stunt, Elizabeth and her boyfriend — now fiance — have to pretend to be married. She brings along her uncle Felix, a chef whose recipes she uses in her columns, to do the cooking.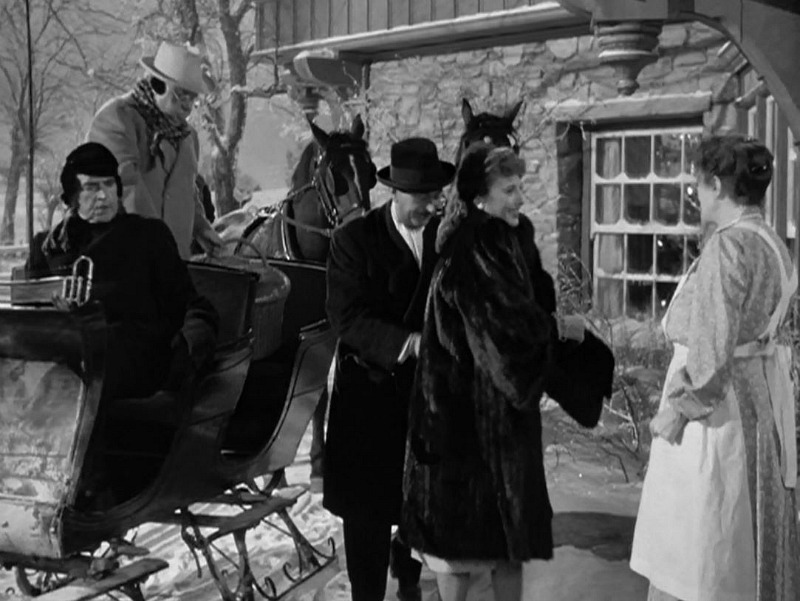 Sadly, the farmhouse wasn't real, and it wasn't in Connecticut.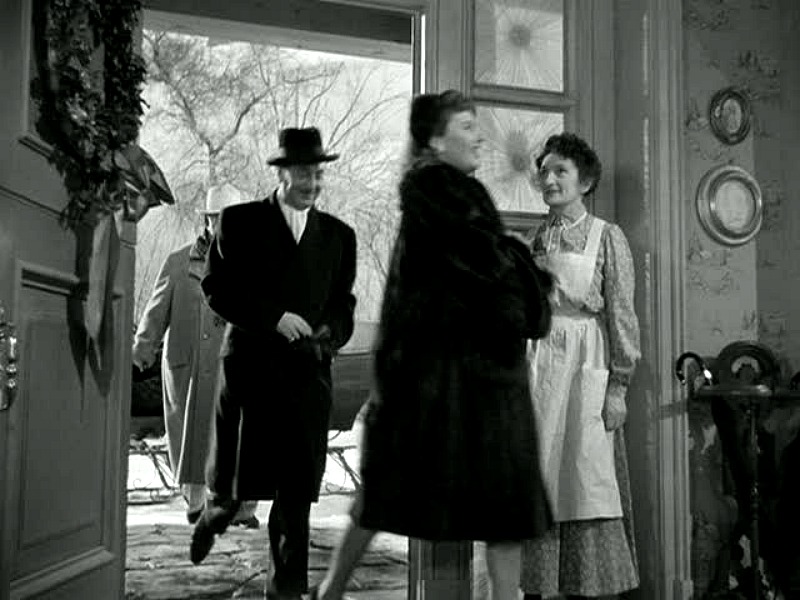 It was built on a Warner Bros. soundstage in Burbank, California.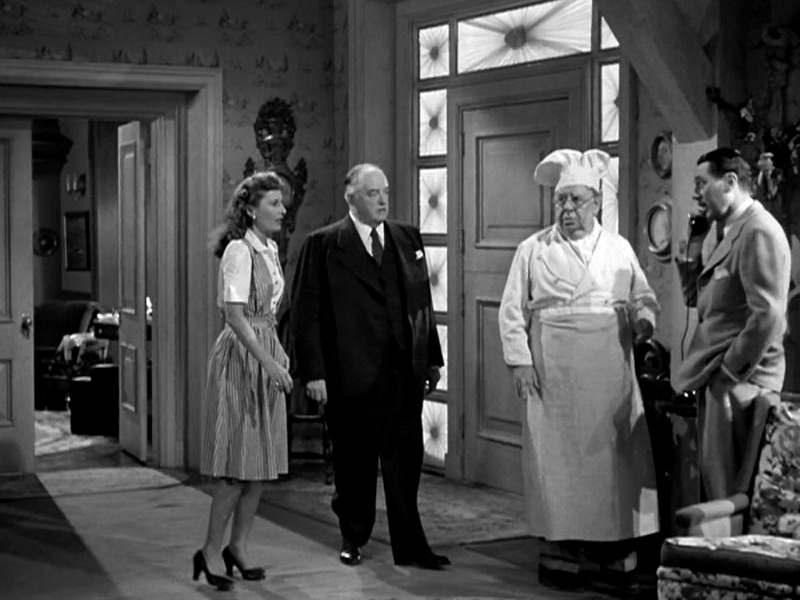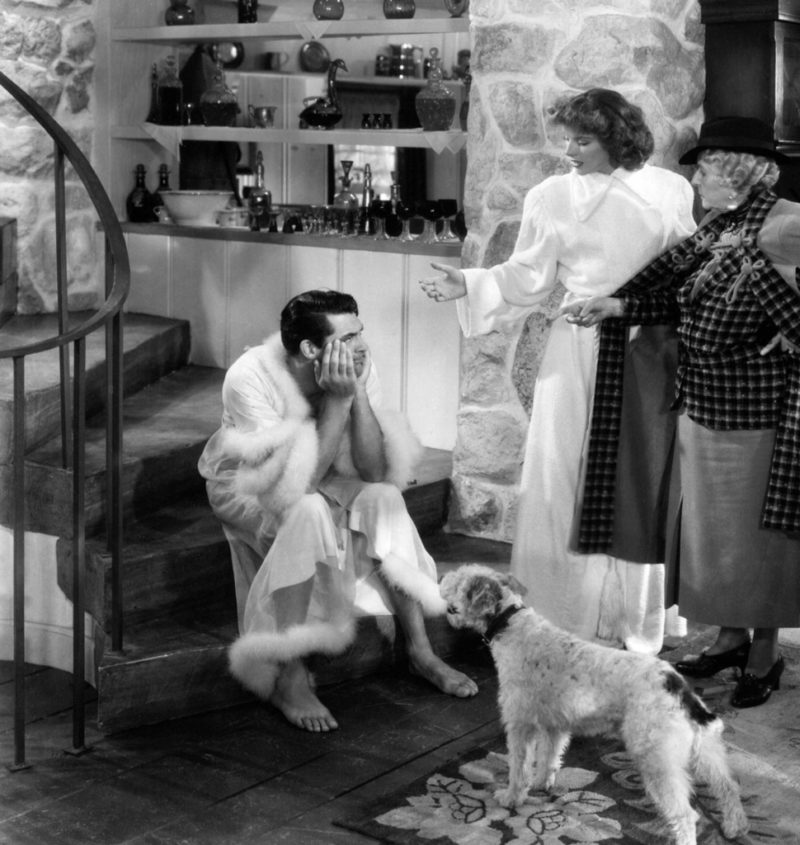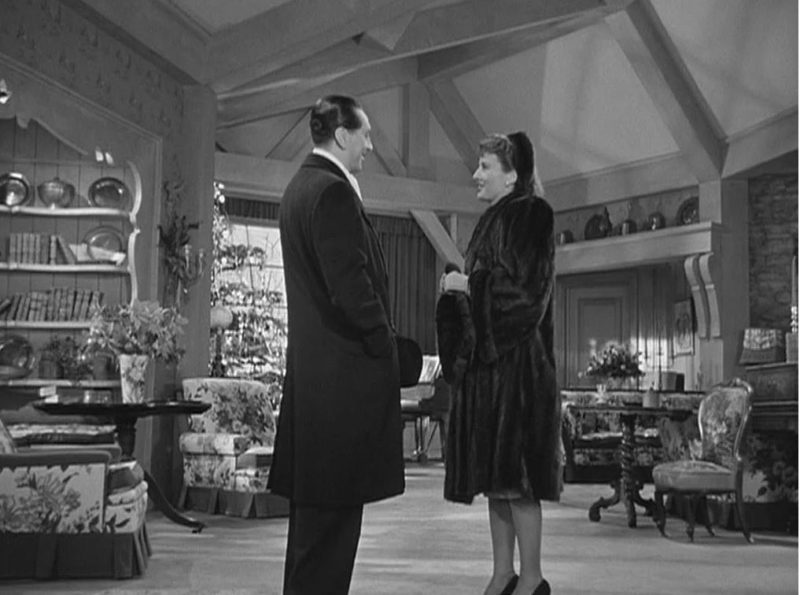 I like how Francis Levy describes the setting:
One wonders if the props for the movie are stored somewhere on the Warner Brothers lot, since the setting is an iconic never-never land and the ultimate house with the white picket fence. Sleighs are pulled by horses and sleigh bells announce the guests. But when all is said it functions a kind of magic retreat, like Shakespeare's forest in Midsummer Night's Dream.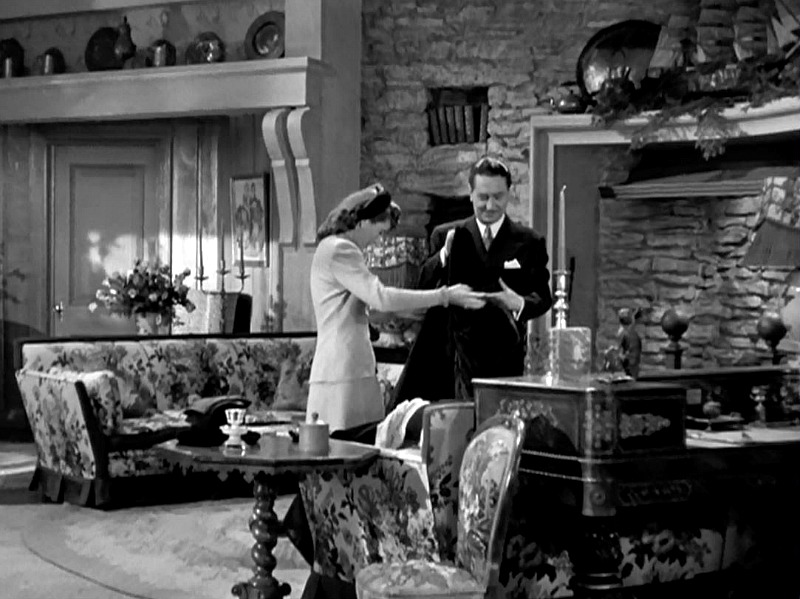 The grand stone fireplace in the center of the living room is so tall, the mantel is over their heads.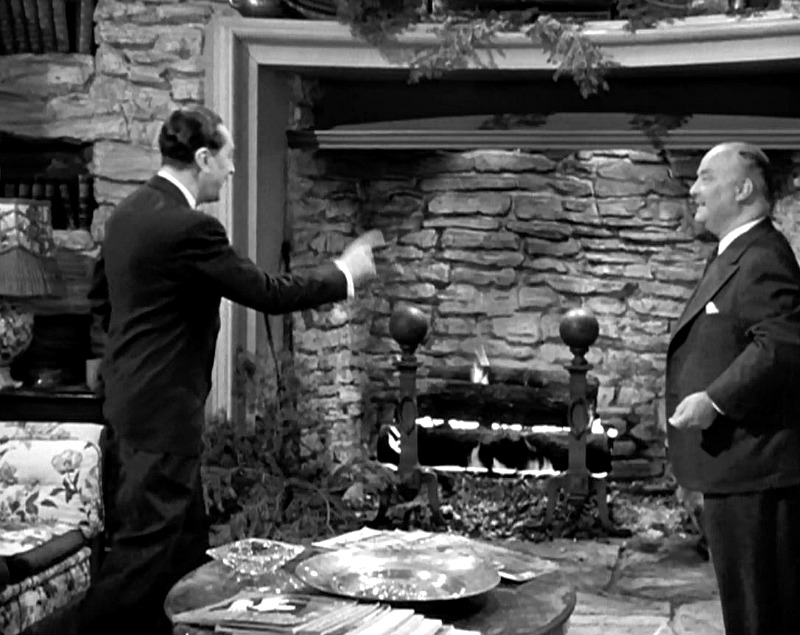 I hear from a lot of readers looking for floor plans to build this house. I wish I had them!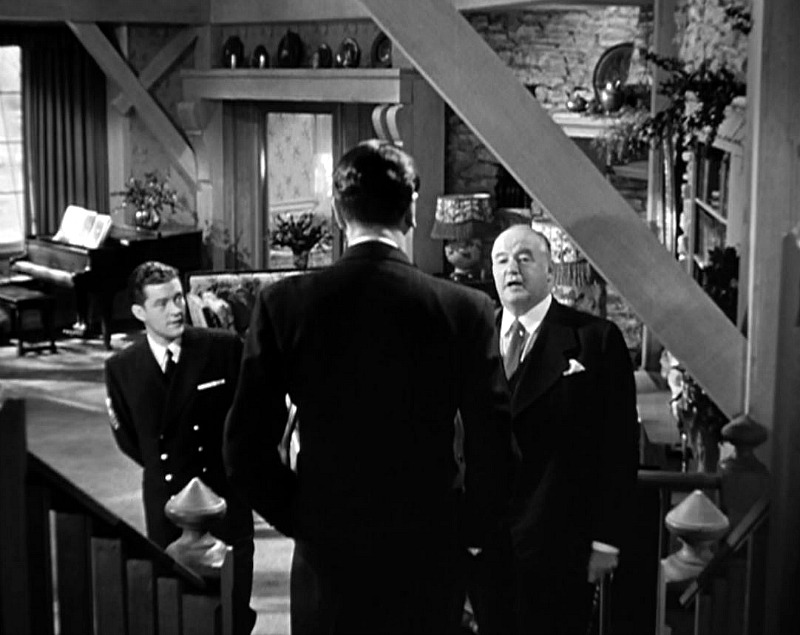 John borrows a neighbor's baby to pass off as theirs: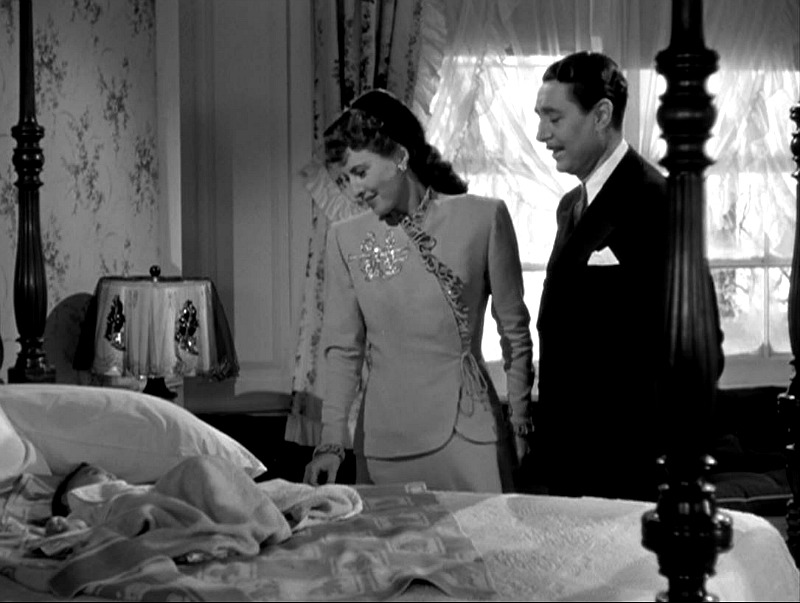 When Elizabeth meets war hero Jefferson Jones (Dennis Morgan), sparks fly and complications ensue!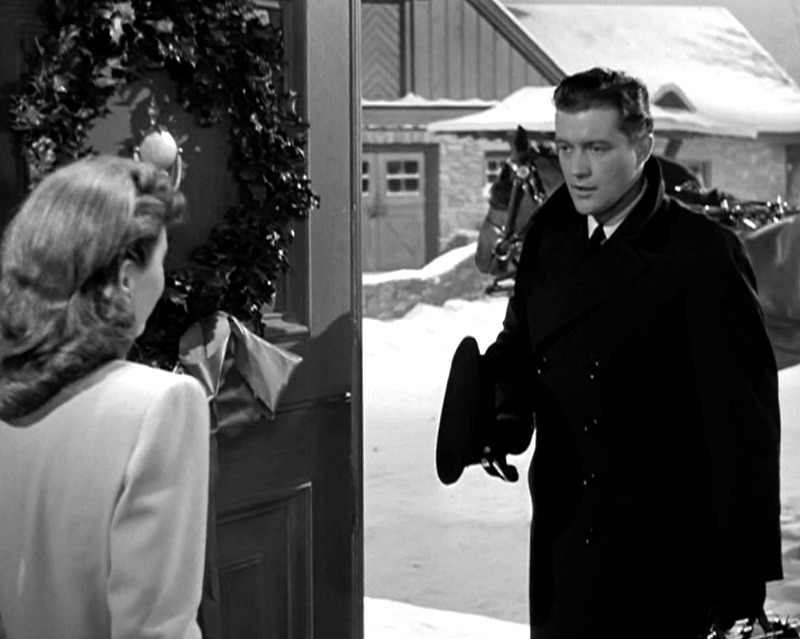 Elizabeth mentioned in her column that she was in search of the perfect rocking chair, and readers have been sending them to her ever since. Jefferson brings her one, too, bringing the total to 39: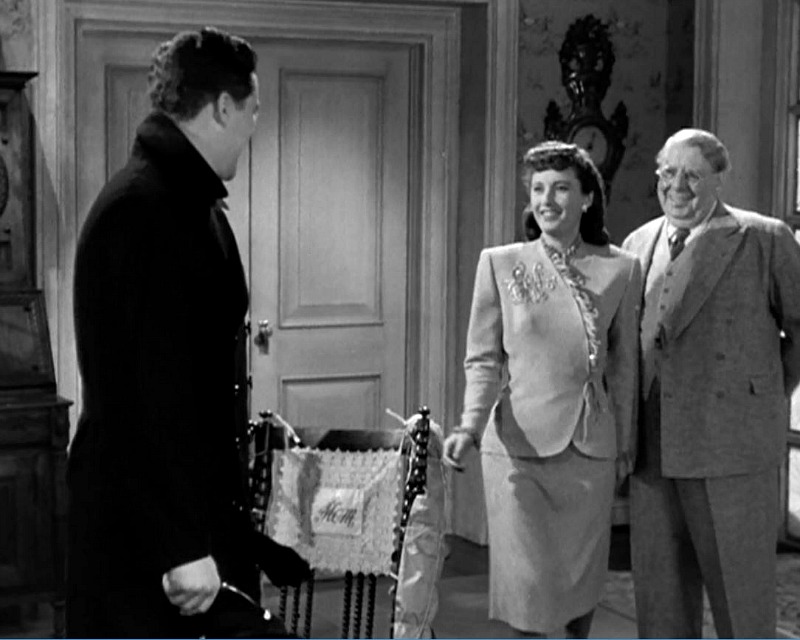 Jefferson helps Elizabeth bathe the baby in the bathroom. "You'd make a very good father!" she coos.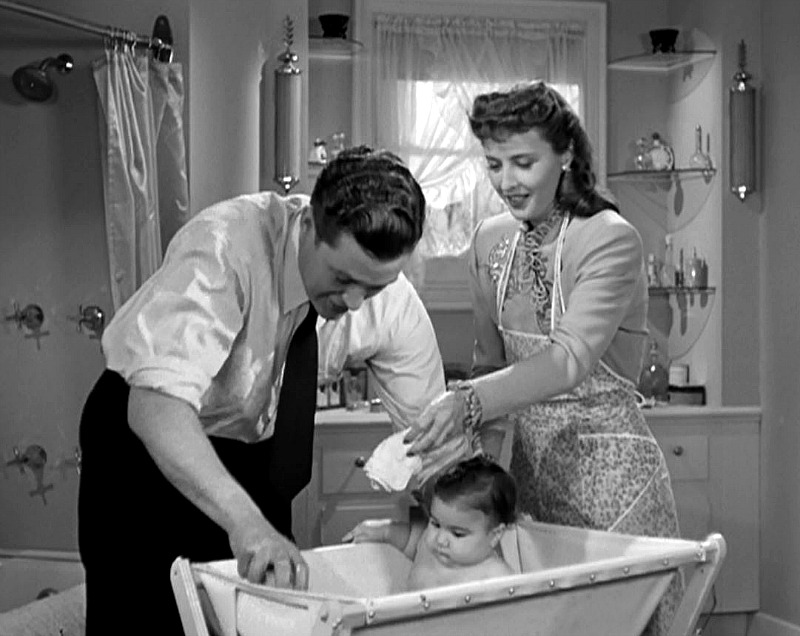 He continues to win Elizabeth over by playing Christmas carols while she trims the tree: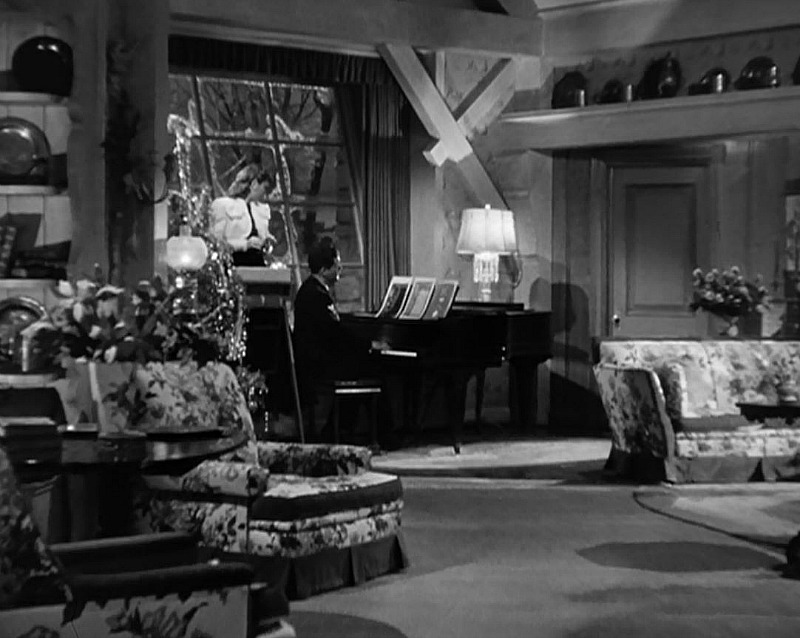 You can see her thinking: Handsome man in uniform (check!). Good with babies (check!). Plays piano (check!).

If only she didn't have that pesky fiance of hers hanging around in the background…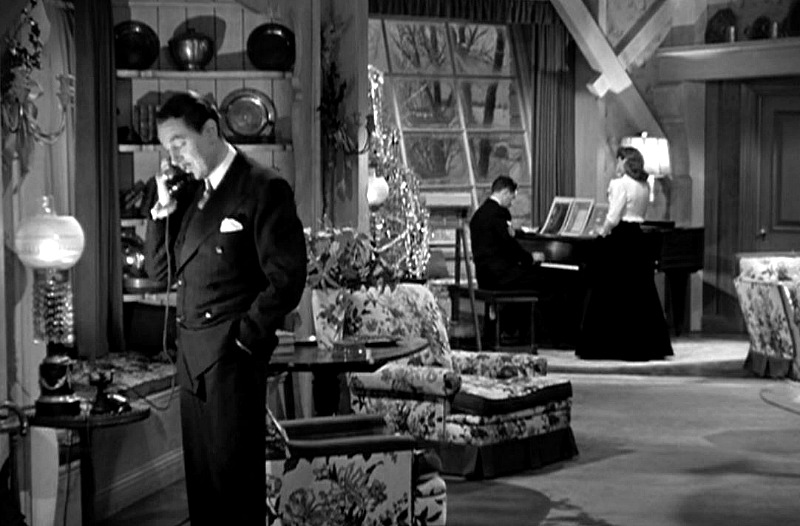 Elizabeth's character was loosely based on Gladys Taber, a popular magazine columnist at the time: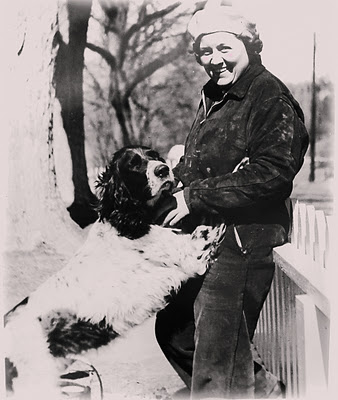 Unlike Elizabeth, Gladys was the real deal. She lived in a farmhouse in Connecticut called Stillmeadow.
(Amazon affiliate links)

When I mentioned the Taber connection in my original post, a reader named Susan commented:
Apparently this rumor came about many years ago when the IMDb.com website began annotating movies for readers. From late 1937 to the end of 1957, Gladys had a column entitled "Diary of Domesticity" that ran in Ladies Home Journal.
The family says they are sure the character of Elizabeth Lane was not based on Gladys, but the rumor has gone viral on the internet. I do feel that it doesn't hurt getting her name out to more people: our goal is to get more people reading her books.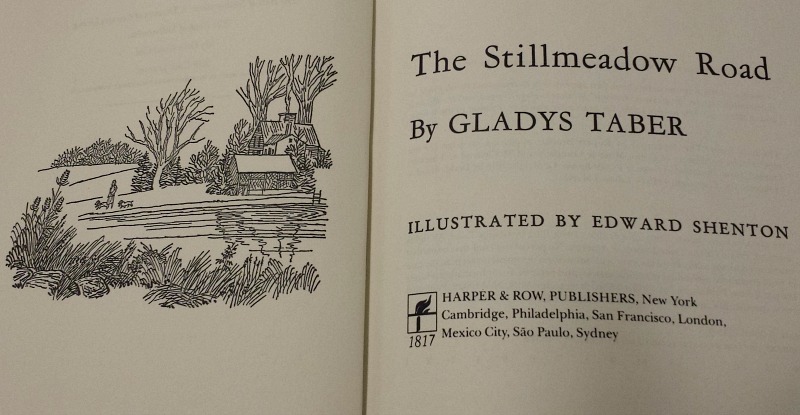 But in response, I got this clarification from Anne Colby, Taber's granddaughter:
Taber was my grandmother, and my family still owns Stillmeadow Farm. But I have to correct Susan's post a bit, since my family actually has always believed — and hoped — that the movie was indeed loosely based on my grandmother's Ladies Home Journal column "Diary of Domesticity."
Her column was one of the Journal's most popular ever, and in 1945, the monthly essay was nationally well-known and at the height of its success. Apparently during the war, copies of Ladies Home Journal were sometimes included in care packages sent to troops overseas, and my family has a wonderful fan letter sent to my grandmother from a WWII soldier who had read her columns while in the service, and wrote that the soldiers had found comfort in her portrait of hometown America.
Beyond the basic plot point, however, the similarity ends — since Gram really lived on her (very simple) CT farm, and her cookbooks, while delicious, were not exactly low-fat — so she would have envied Barbara Stanwyck's glamorous look!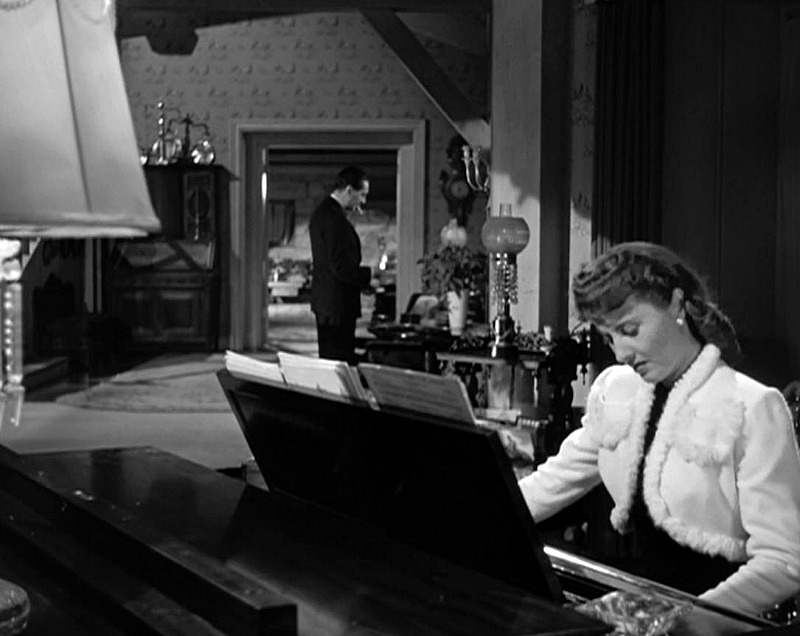 Elizabeth was a thoroughly modern woman for her time with a successful career as a writer.
At 38, she still hasn't married or had children, and she doesn't know how to cook (or care to learn). She buys her own mink coats, thank you very much. Interestingly, her boyfriend is the one who has created a home, not her. Her uncle does the cooking. And the war hero knows more about bathing and diapering babies than she does.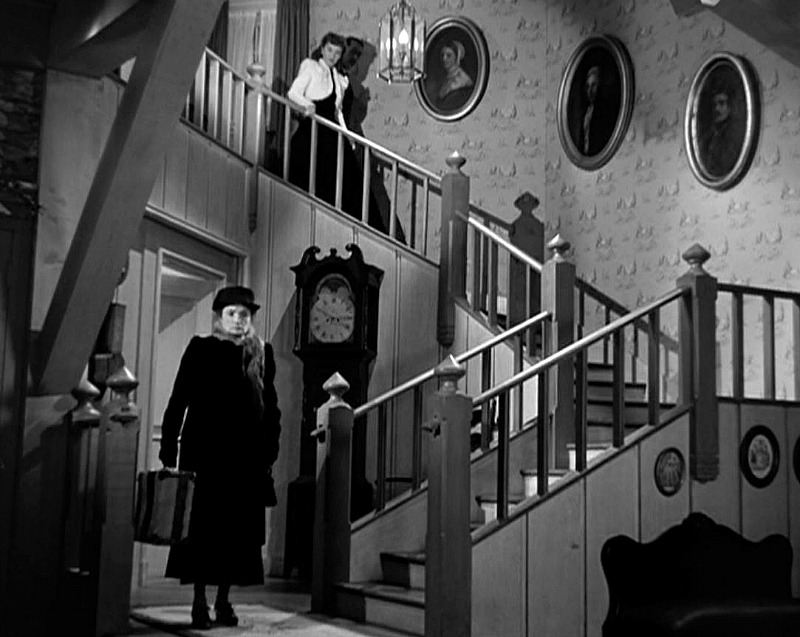 Housekeeper Norah proclaims this "The best kitchen in Connecticut!"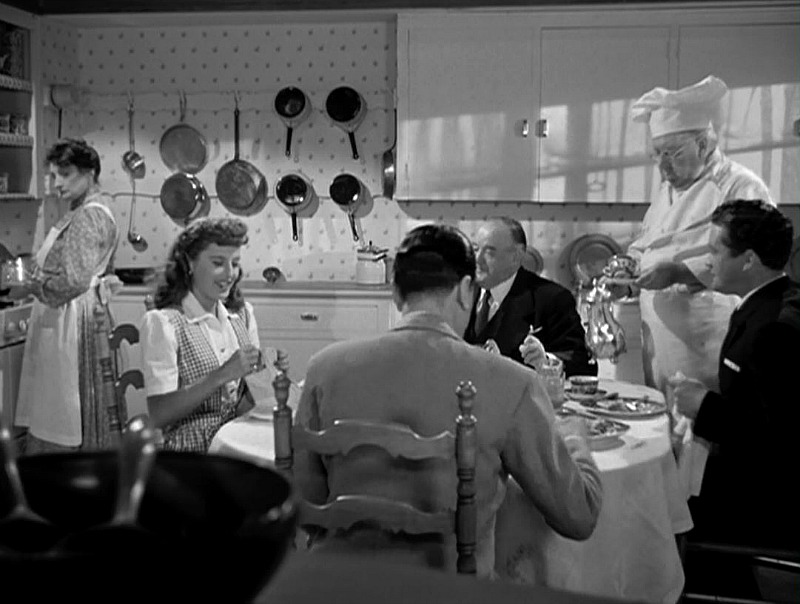 There isn't a dining room — just this big eat-in kitchen where everyone gathers.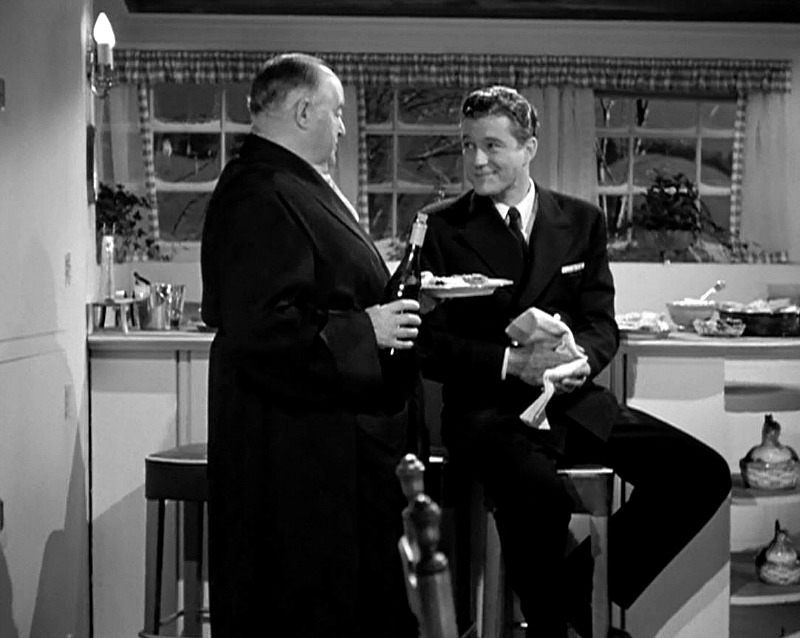 Elizabeth flips flapjacks for her guest in this promotional photo for the film: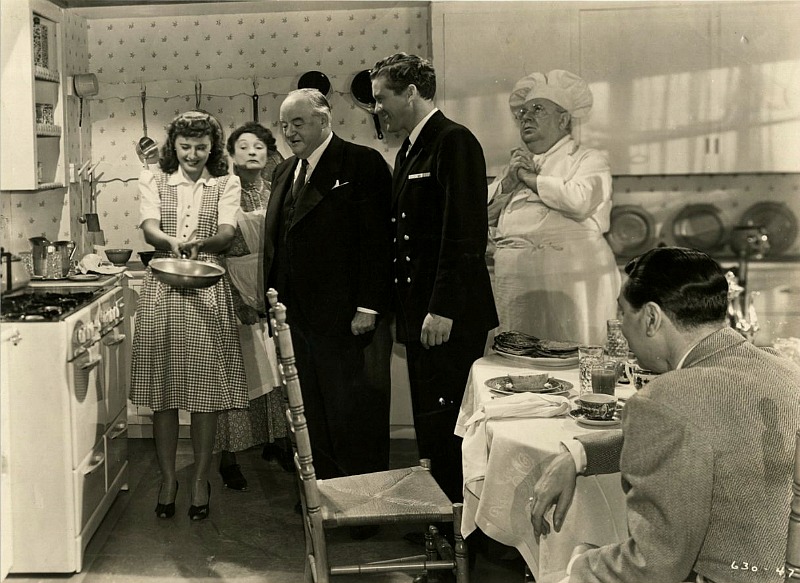 You know you're on a farm when a cow pokes her head through the kitchen door: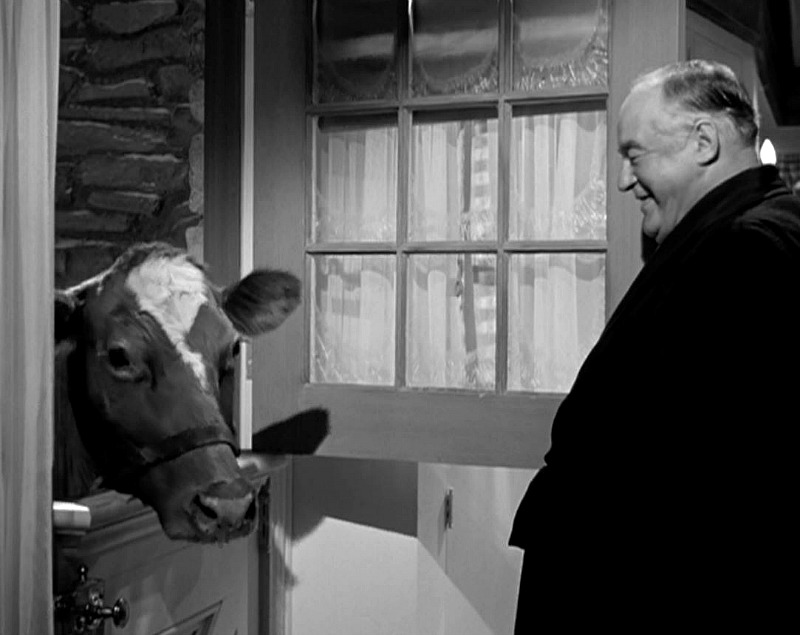 The war hero's fiancee shows up to complicate things further: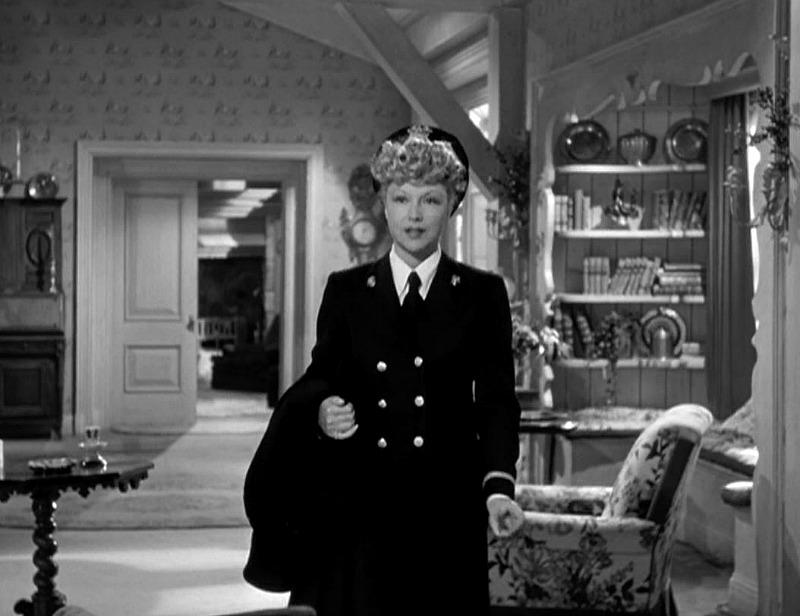 But in true romantic-comedy style, all the lies, mix-ups, and misunderstandings get straightened out before the credits roll.
 Unfortunately, when Elizabeth chooses Jefferson, she has to leave John's fabulous farmhouse behind, so I can't say the ending is an entirely happy one!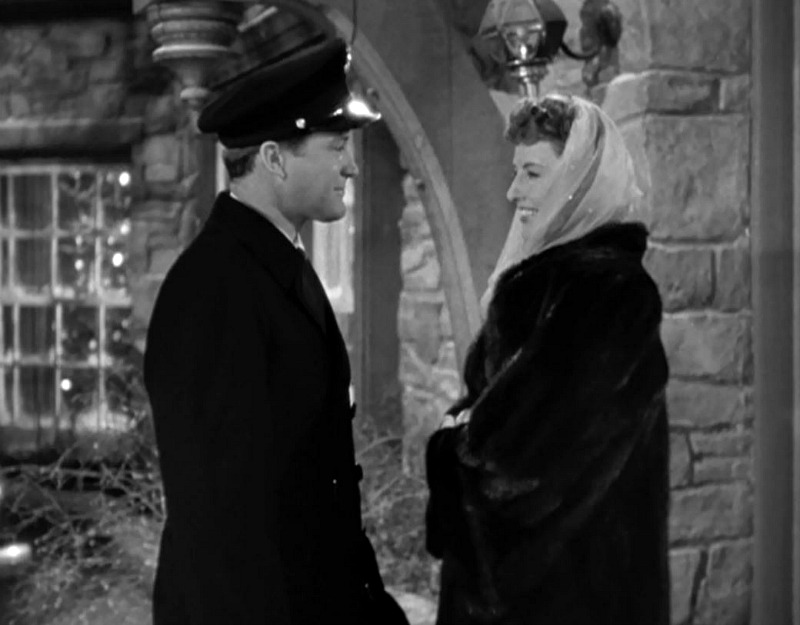 I bought the movie on DVD so I can watch it every December (Amazon affiliate link):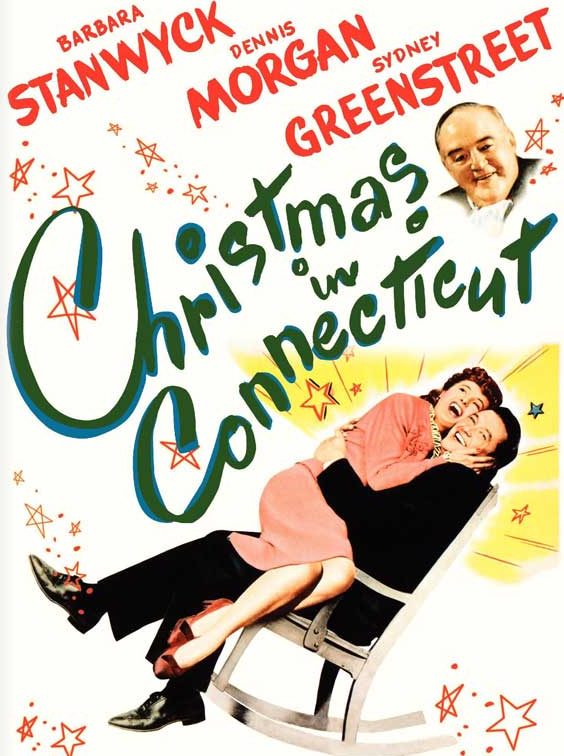 My Gladys Taber Books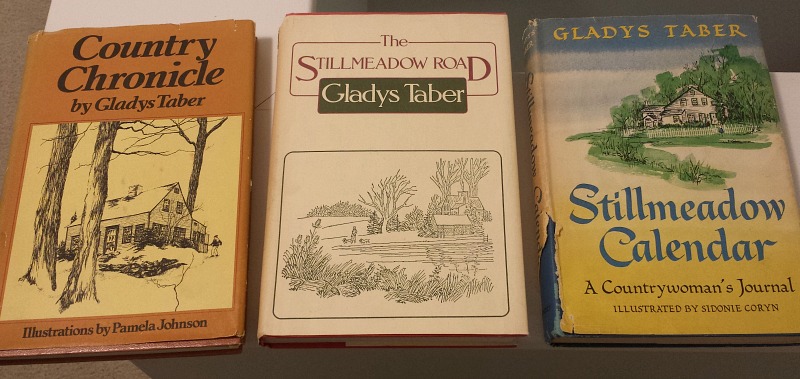 After writing my original post about the movie in 2008, a reader named Dave sent me a box filled with his late mother's wonderful vintage editions of Gladys Taber books, including Country Chronicle and Stillmeadow Road. (Amazon affiliate links.)
They have been such a joy to read. Taber's descriptions of country life are still as fresh and compelling today as they must have been for her early readers.
He said he wanted to give them to me "Like Elizabeth Lane's readers sent her rocking chairs."