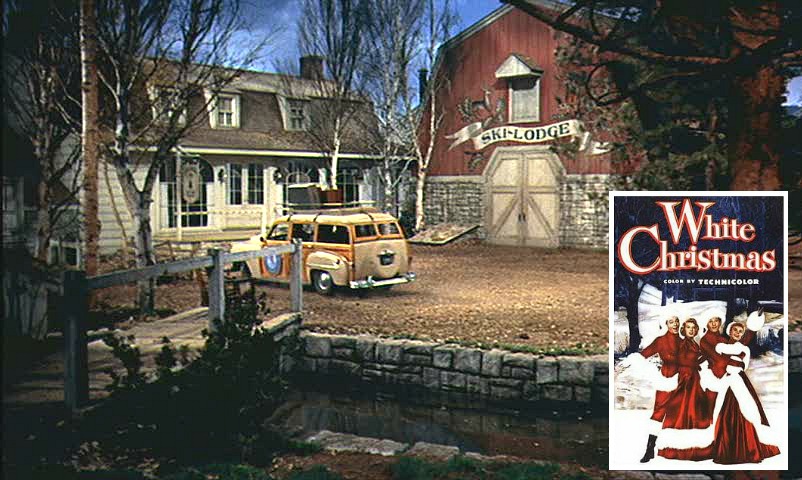 Watching White Christmas while we decorate cookies is a family tradition that never fails to get me into the holiday spirit. It's more than just the funny lines, the light-hearted romance, and the classic songs I love, though. For me it's all about the cozy ski lodge called Columbia Inn.

Columbia Inn in Pine Tree, Vermont: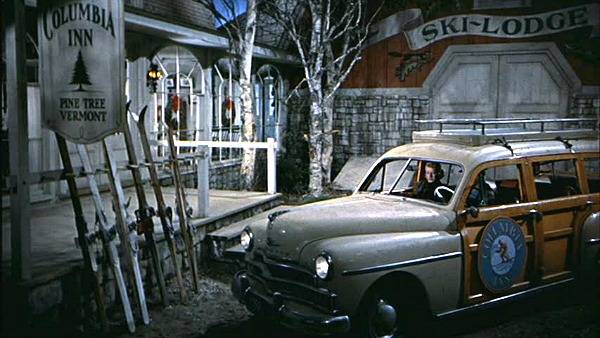 Sadly, the inn isn't real. The exteriors and interiors were all created on the soundstage at Paramount.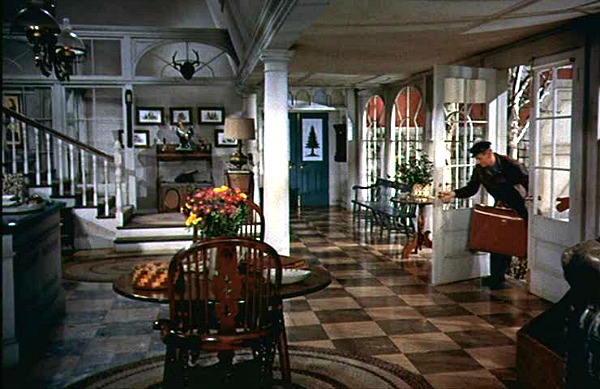 If I ever run an inn, my first priority will be to find a big-hearted, wise-cracking housekeeper like Mary Wickes who played Emma Allen.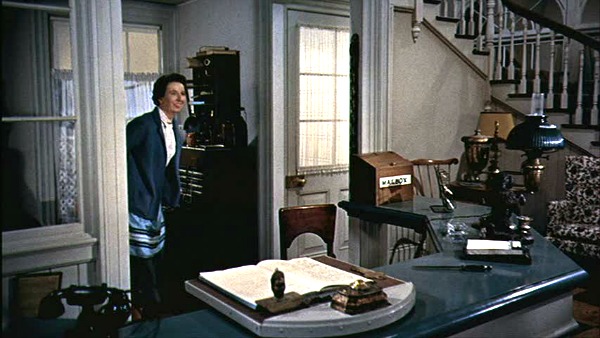 Rosemary Clooney was only 26 and her love interest, Bing Crosby, was 51 when they made the movie in 1954. Somehow I never really noticed the age difference when watching the movie.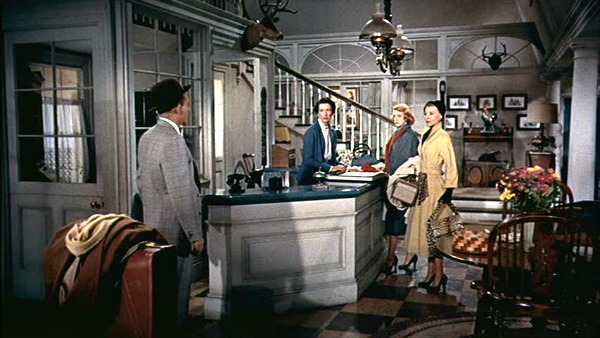 Bing Crosby and Danny Kaye play the successful song-and-dance duo Bob Wallace and Phil Davis, who met when they were in the Army together. They're startled when their former General walks in the door of the inn, carrying firewood. They think he's a janitor at the inn. "Worse," he says. "I own the place."
Dean Jagger, the actor who played General Waverly, was the same age as Crosby (51), but he's treated like a much older man in the movie.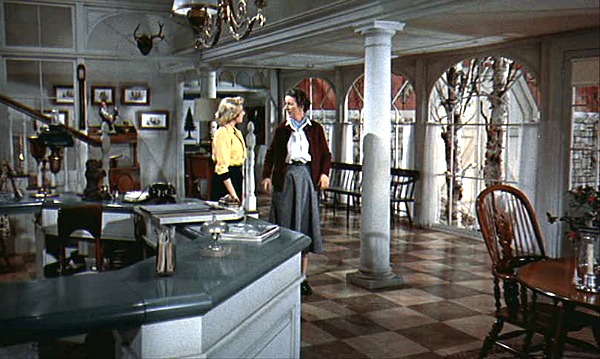 The barn beside the inn is actually a big dining room where Betty and Judy perform their famous number "Sisters." Vera-Ellen was an amazing dancer, but she couldn't sing. Her voice was dubbed in this movie by Trudy Stevens.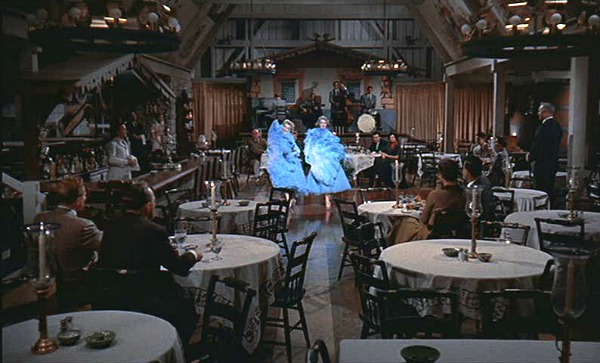 In real life, Rosemary had been part of a sister act with her real-life sister Betty that started in Cincinnati.
Vera-Ellen was born in Norwood, Ohio, a suburb of Cincinnati, and carpooled to dancing classes with Doris Day. That must have been some dance studio!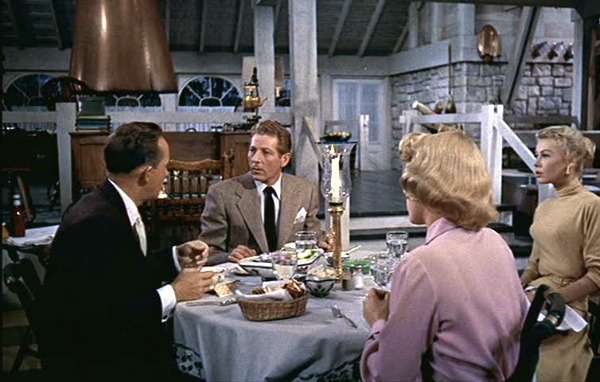 White Christmas was intended to reunite Crosby and Fred Astaire, who had previously co-starred in the classic Holiday Inn that came out in 1942 (you can see my post about those sets here). This was considered a partial remake. Astaire turned the project down after reading the script, though, and Danny Kaye was given the part.
Guest Cottages:
The concept for the movie came from the song "White Christmas" by Irving Berlin, which was hugely popular at the time (and still is!). He built the rest of the songs around what was a loose script, adding "Count Your Blessings," "Love, You Didn't Do Right By Me," and "The Best Things Happen While You're Dancing."
Vera-Ellen was 33 and 7 years older, but she played Betty's little sister Judy. Or "her little chick" as she referred to herself.
She reportedly suffered from anorexia, which is why she is wearing turtlenecks and some padding with all of her costumes in this film.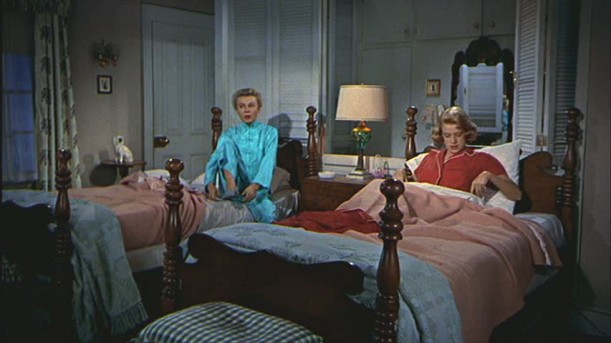 After White Christmas, Vera-Ellen only appeared in one more movie, 1957's Let's Be Happy, before retiring from the screen. She had crippling arthritis that made it difficult to dance when she got older, so she became a dance teacher. She died of cancer in 1981.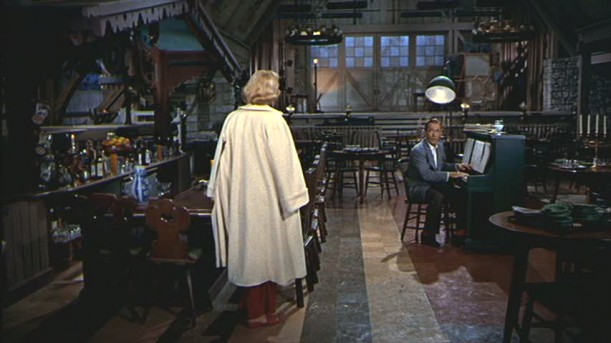 "Our shooting schedule wasn't hard," Rosemary Clooney later recalled. "Bing liked to get a little golf in while it was still light. He really didn't like to work all that much."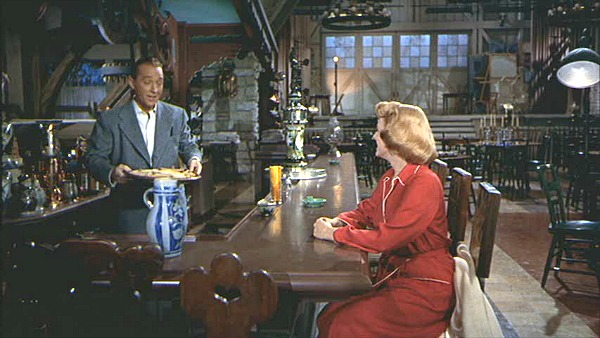 Clooney had grown up listening to him singing on the radio and signed with Paramount because they promised her she'd get to work with him. After this movie, they became close friends.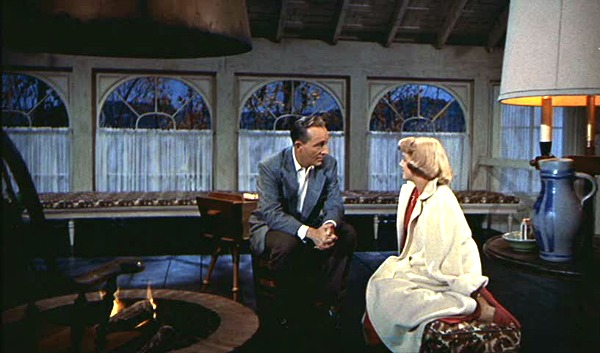 One of my favorite scenes is when Bob and Betty meet up in the dining room after hours and he sings "Count Your Blessings" to her by the fire. "Count Your Blessings" earned White Christmas an Academy Award nomination for Best Original Song.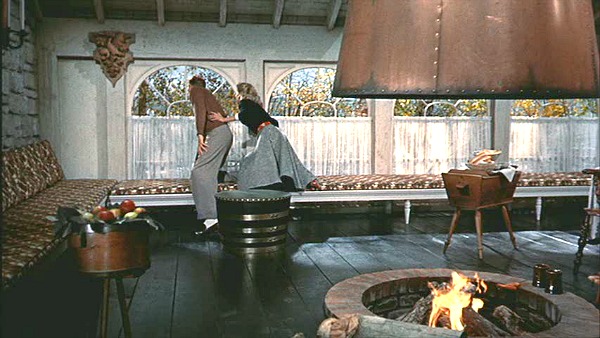 Cast Party at the Inn: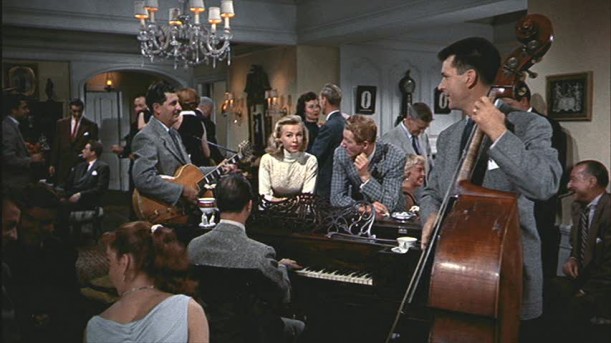 I'm in love with this velvet dress that Betty wears during the cast party (Edith Head designed the costumes, which is why they're all so fabulous):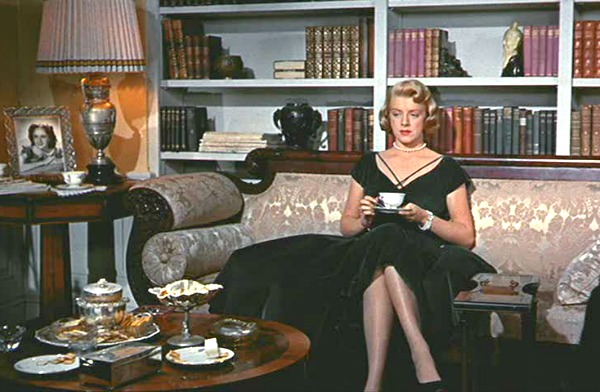 Clooney said Bing sang all the time throughout his daily life. If you visited him at his house, he'd be singing as he went up the stairs or walked down the hall. "He even sang on his bike. But he would sing parts of songs. The middle of a song, and then drop it," she laughed.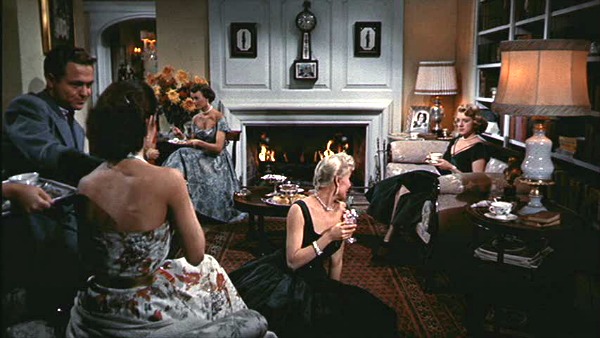 We get a glimpse of the kitchen after Betty hears about Judy and Phil's surprise engagement and leaves the party: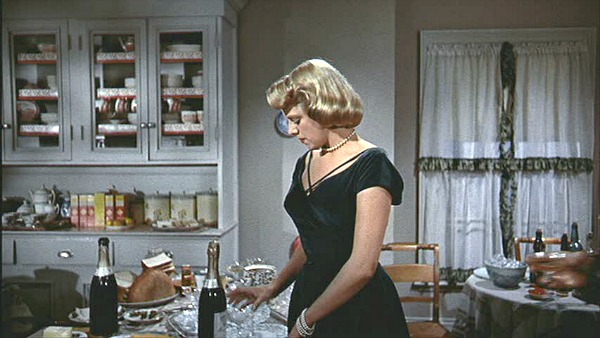 In the DVD commentary, when Betty gets mad at Bob because of a misunderstanding and goes to New York without telling anyone first, Clooney says, "I always thought I overreacted to this. I mean, come on. Why didn't she just ask him what was going on? Dummy!"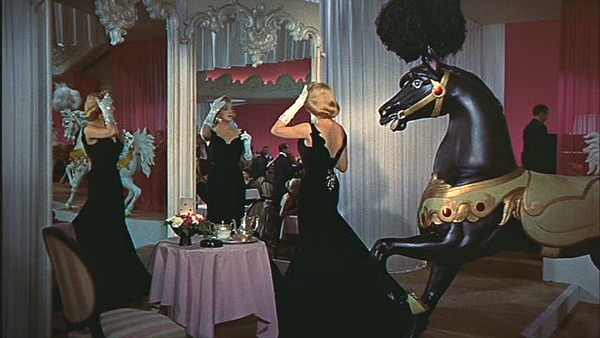 The Carousel Club in New York City where Betty goes after leaving the inn in a huff features not only another great set, but a great dress, as well, designed by Edith Head. Clooney remembered, "Those gloves were so uncomfortable. They were covered in rhinestones, so they would catch on anything I touched!"
Back to the Inn…it's the night of the big musical that Bob and Phil have put together in honor of General Waverly.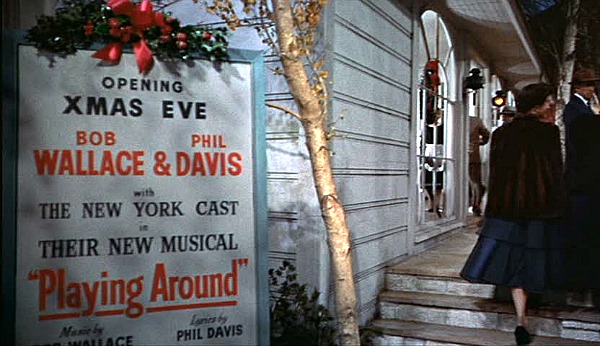 Emma Allen has to convince her boss to wear his uniform. He doesn't realize that they've invited his former unit to the show.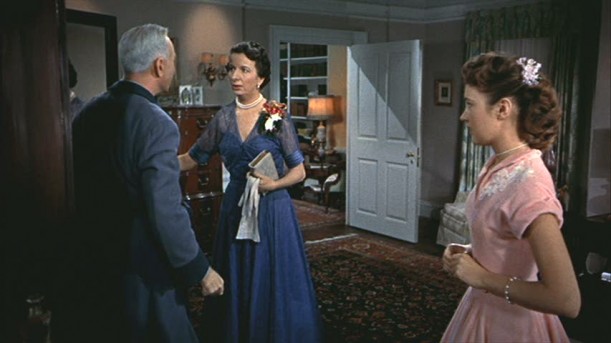 White Christmas was the first movie to be filmed in the new VistaVision process, with color by Technicolor.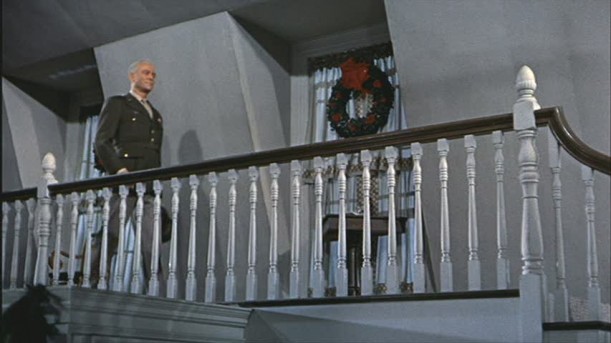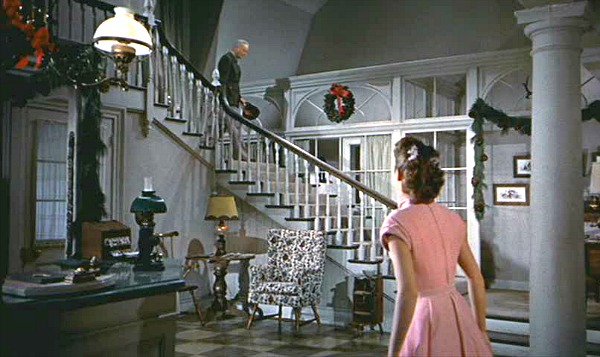 The General's granddaughter Susan was played by Anne Whitfield.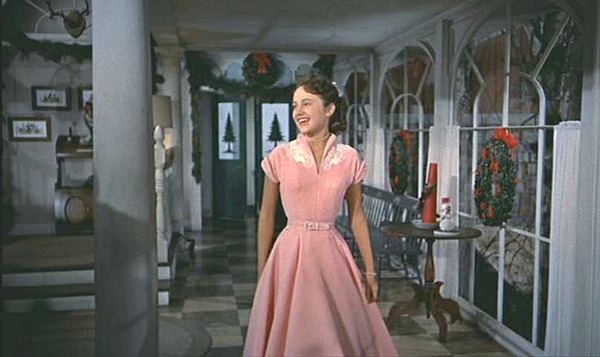 The General opens the door and walks outside, amazed that it's snowing at last: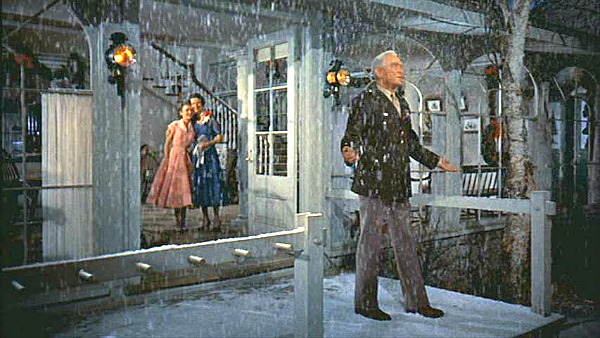 The dining room is packed for the show: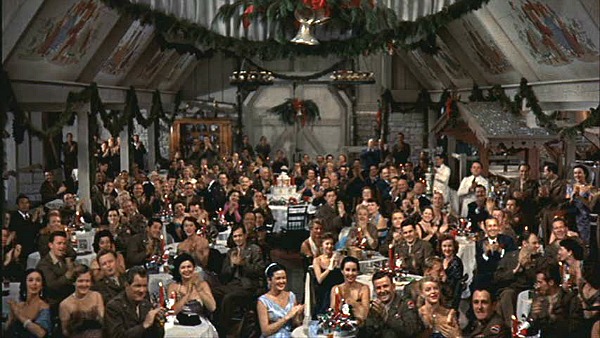 Clooney explained in the commentary that "There were two stages at Paramount, and when they opened up the back (when it was snowing), that was the second stage behind us."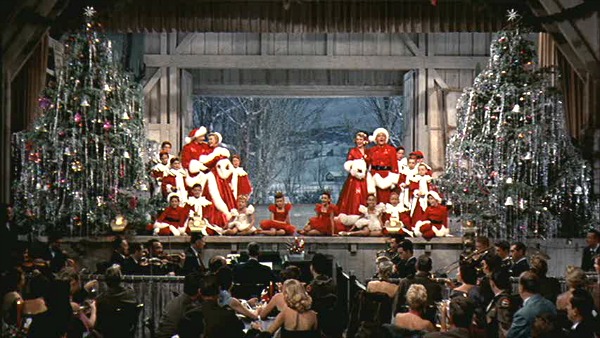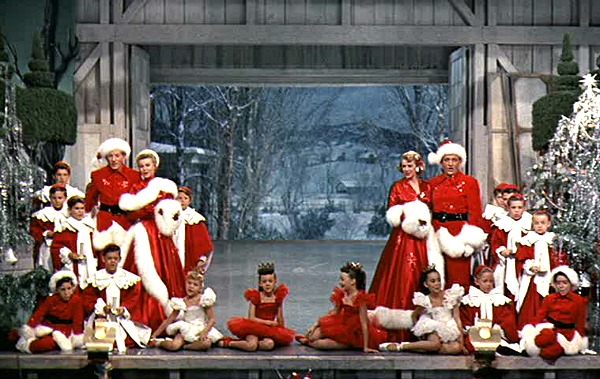 I always love that moment when they reach the finale, opening the doors to reveal the snow outside. Is this movie one of your holiday favorites, too? 🙂

P.S. Visit Houses Onscreen to see more, including…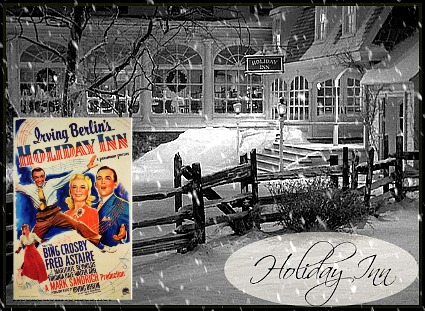 (Visited 446 times, 1 visits today)