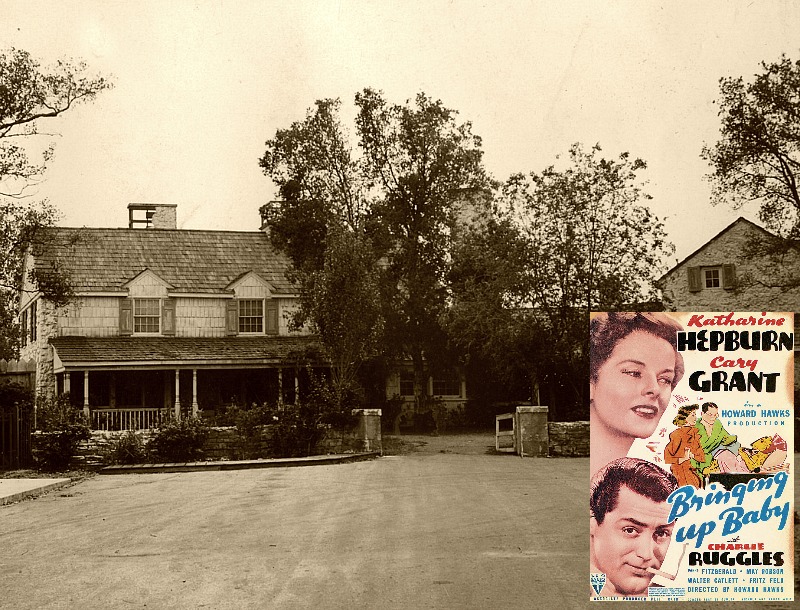 The classic 1938 madcap comedy Bringing Up Baby featured Cary Grant and Katharine Hepburn on the big screen as David and Susan, a zoology professor and a flighty heiress thrown together in a series of crazy mishaps involving her pet leopard Baby.
I'm a Katharine Hepburn fan and would watch her in anything, but the thing I love about this movie is her character's charming country house in Westlake, Connecticut. I remember watching it as a girl and deciding I would move to Connecticut and get a house just like it when I grew up. (Any day now…)
Let's take a look back at the house and the sets from the movie.

The "Bringing Up Baby" House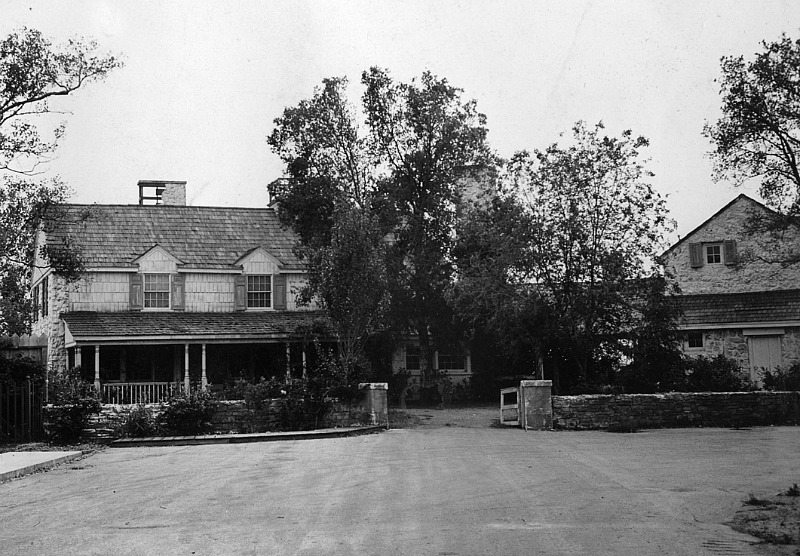 We don't see much of this exterior in the movie because most of the shots are close-ups, like the ones below: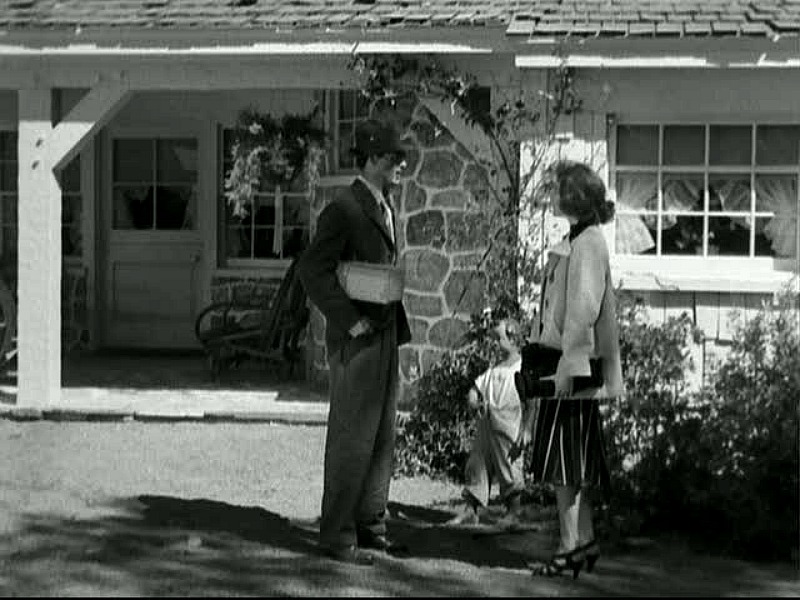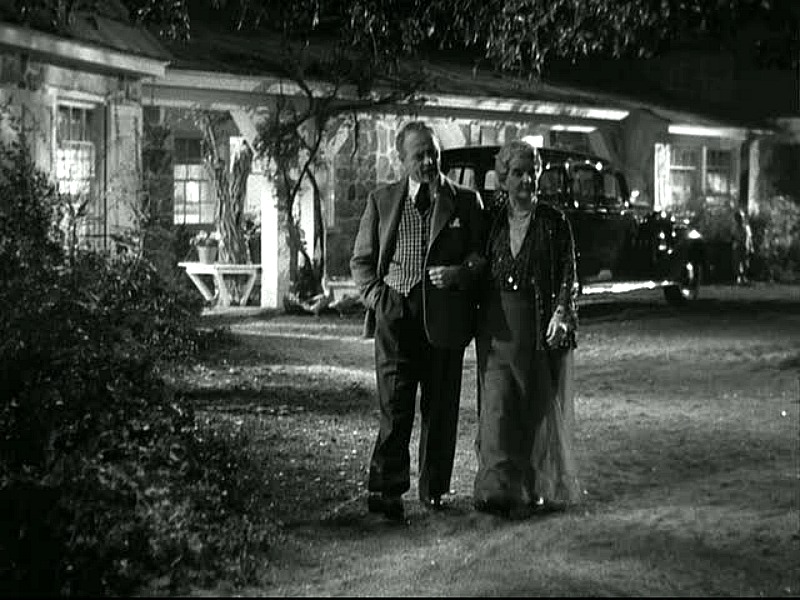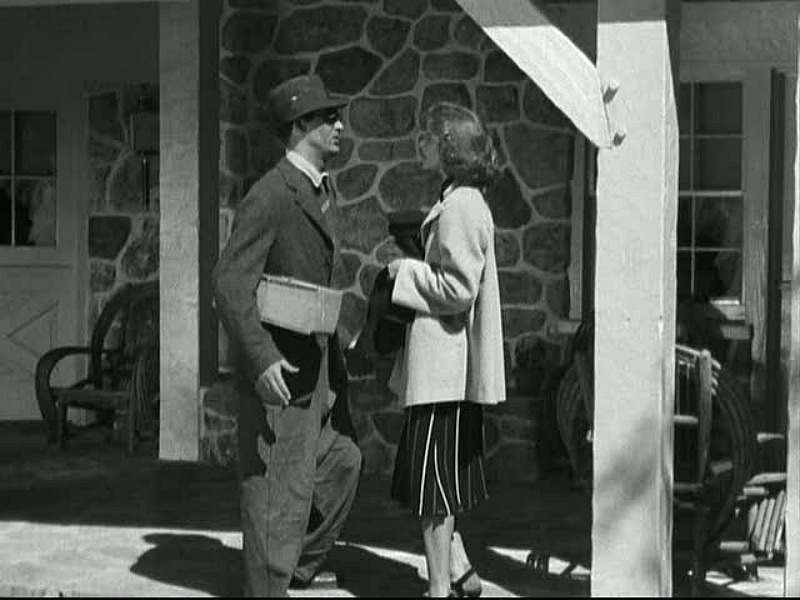 Susan's terrier George barks his way through the movie, adding to the sense of comic mayhem: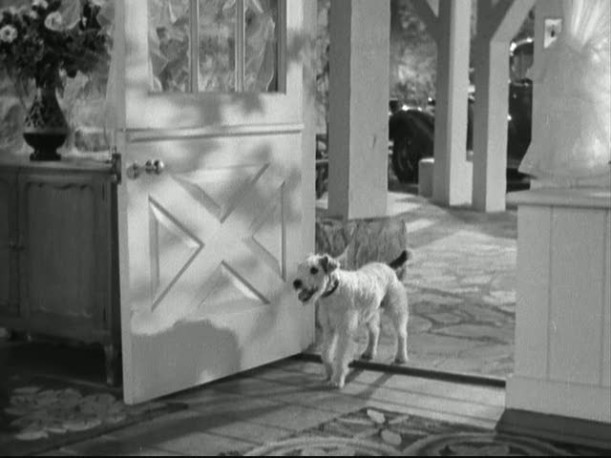 Director Howard Hawks liked his comedies to move fast. His characters talk fast, walk fast, and take pratfalls fast. He never paused for laughs in his movies, saying, "If they miss it, they can watch it again."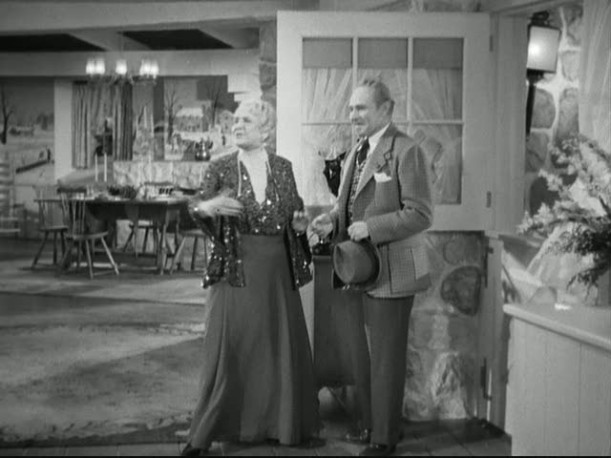 Howard Hawks and Dudley Nichols were inspired to create this movie by Katharine Hepburn's real relationship with the director John Ford during the making of Mary of Scotland.
She was the only person who was ever able to tease him on the set and get away with it, Peter Bogdanovich says in the DVD commentary. Grant even wore similar round glasses to Ford's in this movie.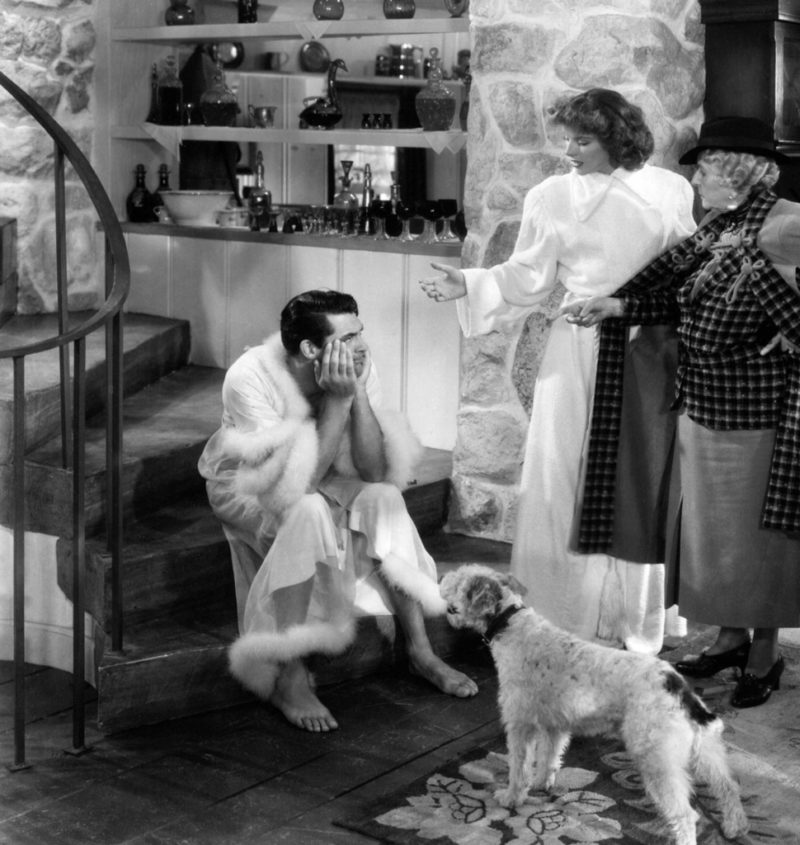 The gossip was that Hepburn and Ford had an affair, but there has never been any real evidence that it was anything more than friendship.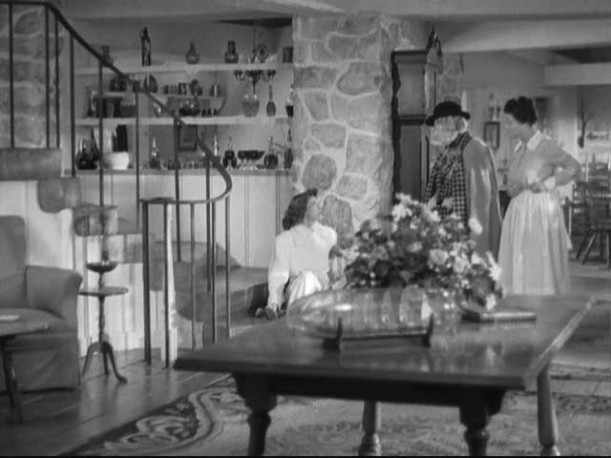 I found it interesting to learn that Howard Hawks was born in Goshen, Indiana in 1896, a town that had been founded by his family about 60 years before his birth. We have family living in that area and visit it often.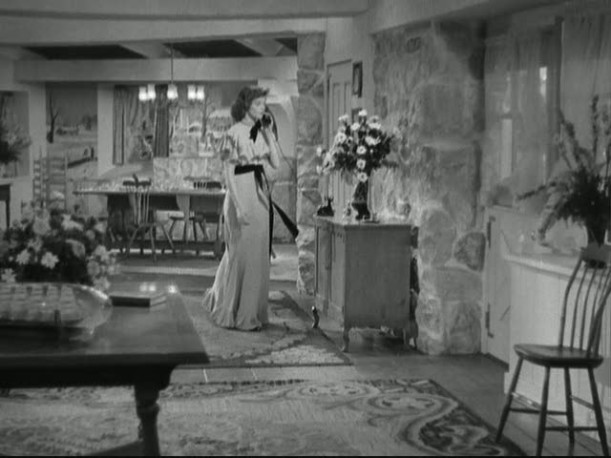 This was the first movie Grant made with Hawks, but it wasn't the last. They went on to make four more, including my personal favorites, I Was a Male War Bride and His Girl Friday.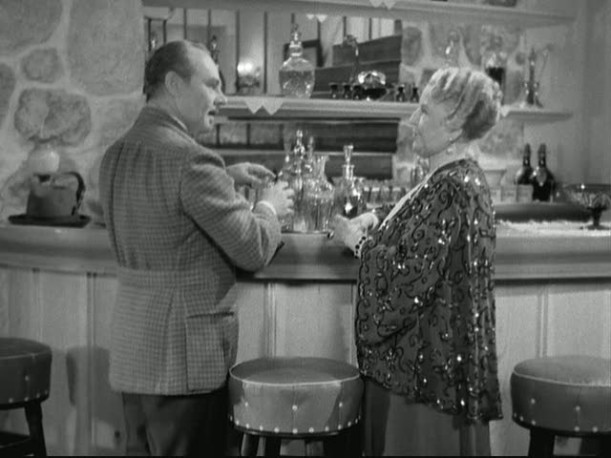 Grant did all of his own stunts in the film, including the part at the end when he pulls Susan up onto the scaffolding with him with one arm. (A stunt double was used for Hepburn in that scene, however.)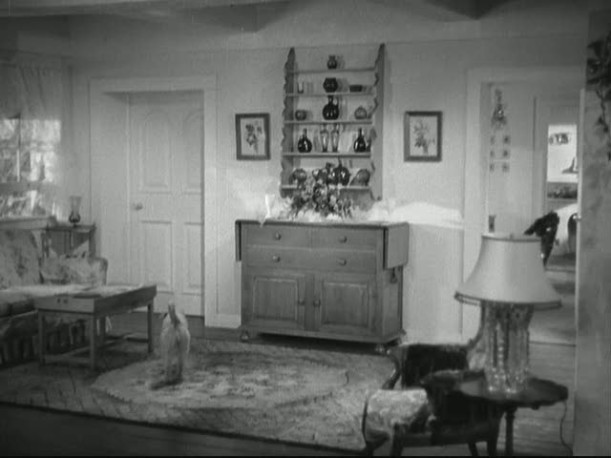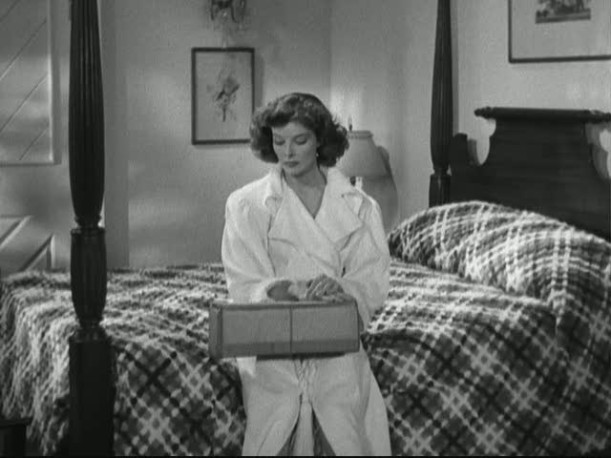 Hepburn was reportedly happy to work with the young leopard who played Baby, but Grant preferred to use a double for his scenes with her. Did you know Baby was originally written as a panther? I guess a trained leopard was easier for the filmmakers to find!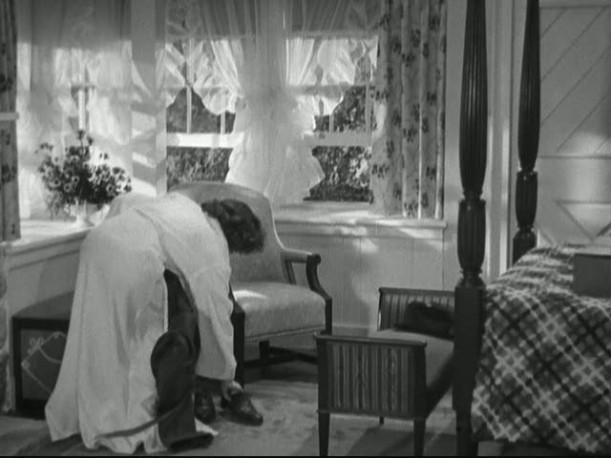 Hawks said he made the mistake of making everyone in this movie "screwball characters," and that it was an error he never repeated. He believed it would have done better at the box office if there had been at least one "normal" person in the movie.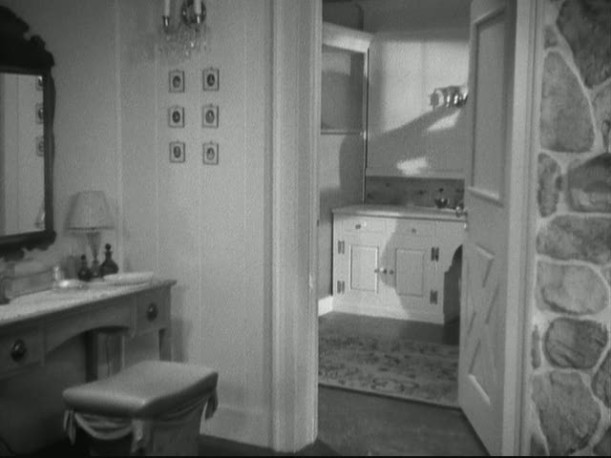 When Susan's aunt asks David why he's wearing a woman's dressing gown, Grant ad libbed the now-famous line, "I just went gay all of a sudden!"
Movie historians believe that was the first time the word "gay" was used in a film in a way that didn't mean strictly "happy and carefree."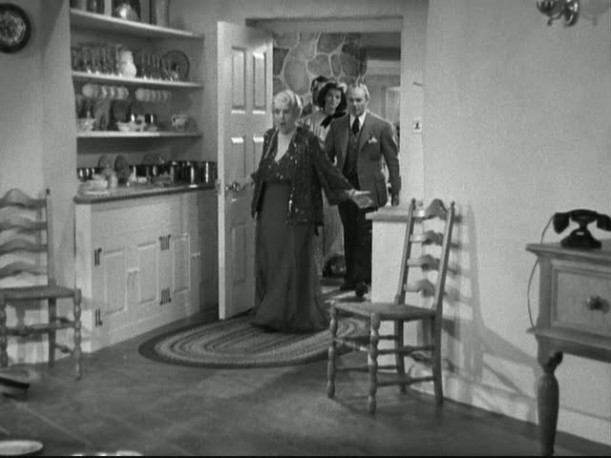 This is a strange screenshot (below) that I took after the cook drops everything, but it gives us a quick glimpse at the entire stone wall in the kitchen with the range:
I love that there is a back staircase off the kitchen, and that it appears to be a spiral one: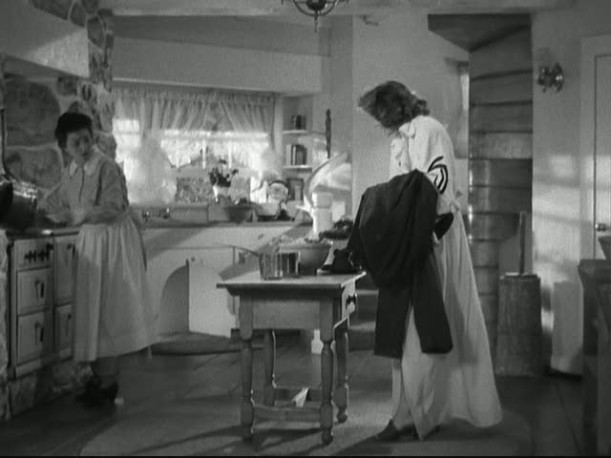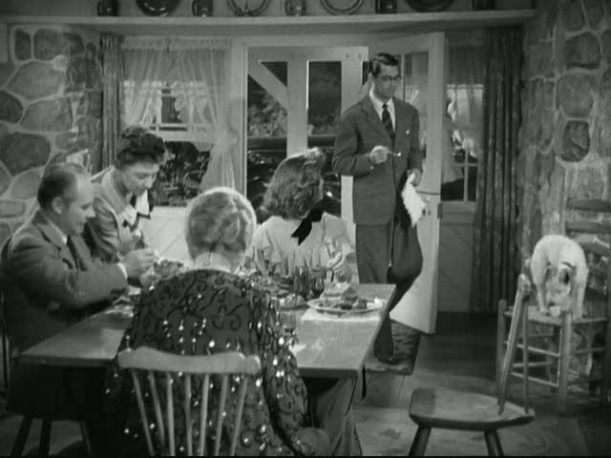 Cary Grant never said, "Judy, Judy, Judy," in a movie, but he did say, "Susan, Susan, Susan," in this one.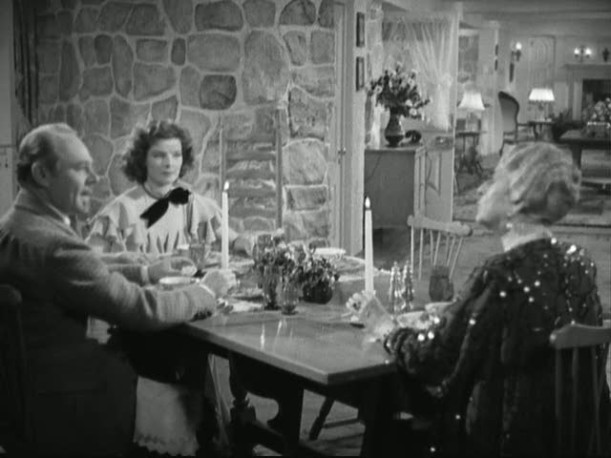 Howard Hawks' wife Nancy (known as "Slim") liked this house so much that when they
built a place in Bel Air, plans were based on these sets.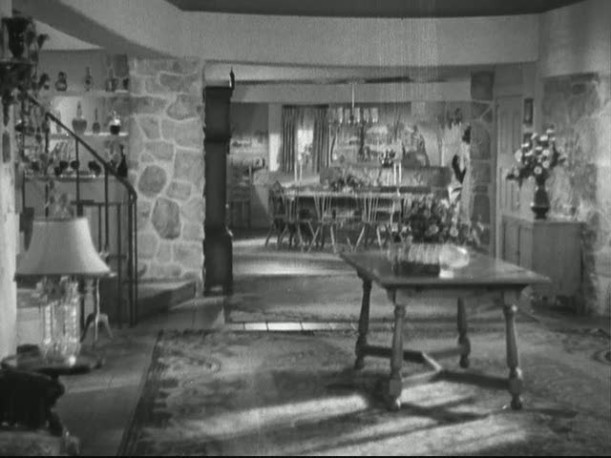 The comedy was not a hit in its day.
It was around that time Hepburn was infamously labeled "box-office poison."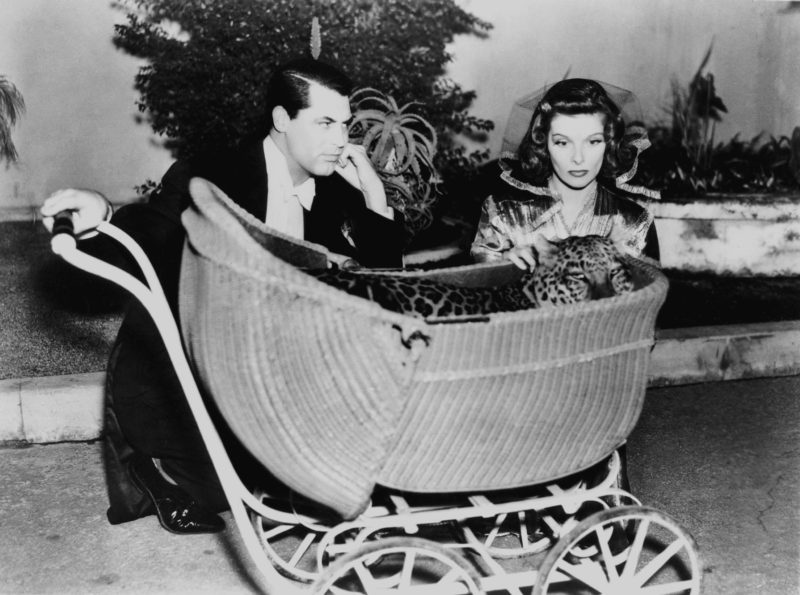 After this movie, Hepburn made another comedy with Grant called "Holiday." It didn't do well, either, but both films are now considered favorites among most of their fans!
Visit my Houses Onscreen page to see the other movies I've featured, listed A-Z.