Who could forget the cool Modernist house on top of Mount Rushmore in the classic Hitchcock thriller North by Northwest?
I get a lot of questions about the Vandamm House from readers, so let's take a closer look at it and the movie's other famous sets!

The Sets from "North by Northwest"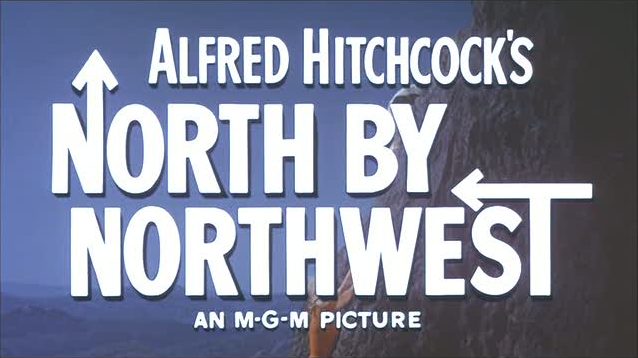 Old Westbury Gardens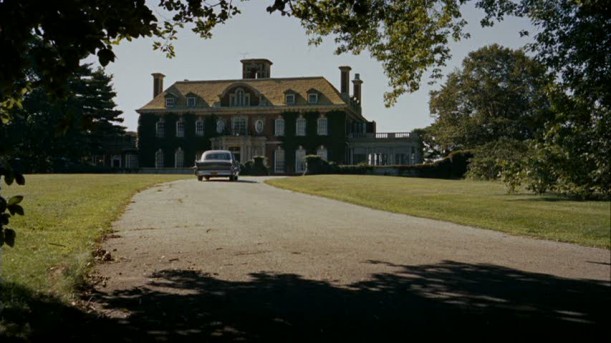 Cary Grant is a successful Madison Avenue ad man named Roger Thornhill, whose life gets turned upside down when he gets mistaken for an undercover CIA agent. He's first taken to this large estate on Long Island.
The estate where they filmed the exteriors for those scenes is Old Westbury Gardens, which is on the North Shore of Long Island in New York.
The interiors shown in the movie were sets built on a separate soundstage.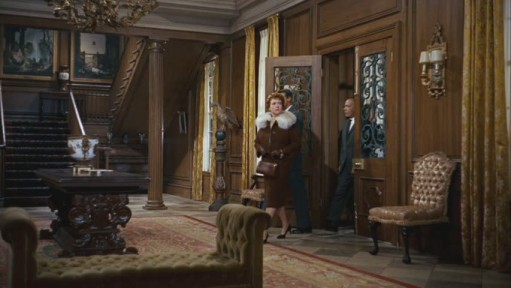 When Thornhill gets locked in the library, he quips:
"Don't worry about me. I'll catch up on my reading."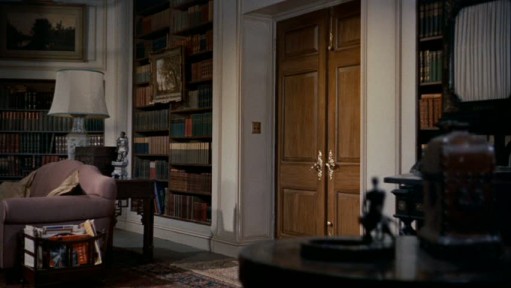 Screenwriter Ernest Lehman says Grant was a perfectionist who often complained about various parts of the script or the way things were being filmed and lobbied to get them changed.
North by Northwest turned out to be Grant's biggest box-office success.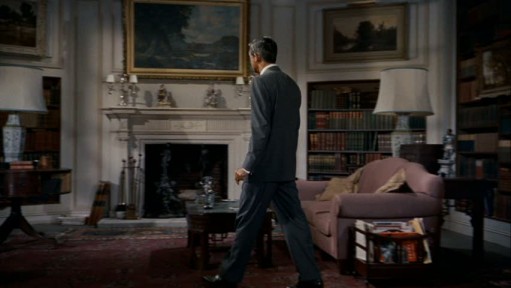 Scenes at the U.N.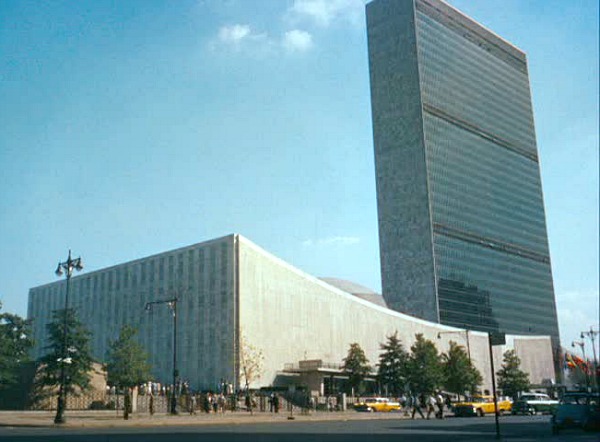 Hitchcock wasn't allowed to film outside the U.N. so they "stole" a shot of Cary Grant walking in.
The people walking around in the shot didn't know they were being filmed.
The interior of the U.N. was just a matte painting: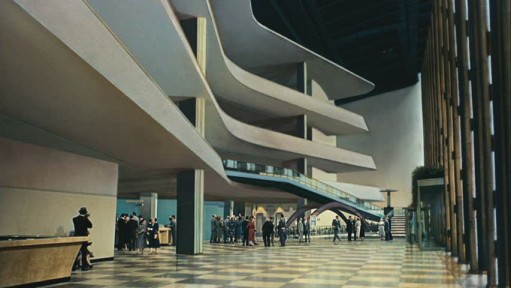 The backdrop was on display in Grand Central Terminal a few years ago, as part of a Turner Classic Movies exhibit on movies set in NYC.
A reader sent me this photo of the matte painting: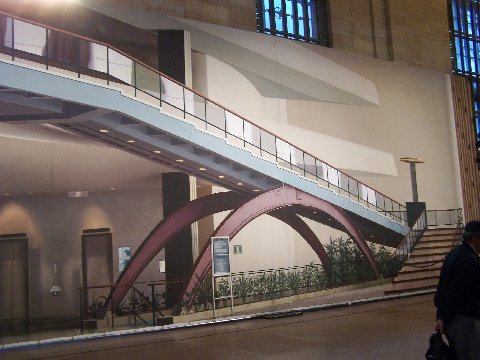 Mount Rushmore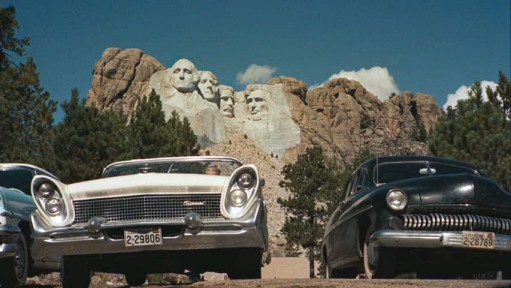 The screenplay was written by Ernest Lehman.
Hitchcock told him, "I always wanted to do a chase scene across the faces of Mt. Rushmore," and that was the starting point for the movie.
Lehman recalled, "I wanted to write the Hitchcock picture to end all Hitchcock pictures. I wanted something that had wit, sophistication, glamour, action, and lots of changes of locale."
After word got out that there would be a fight scene and a couple of deaths on the monument, government officials barred them from filming there.
The crew flew back to Hollywood, where Mount Rushmore had to be recreated at MGM.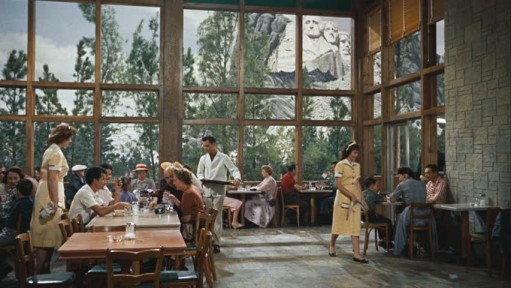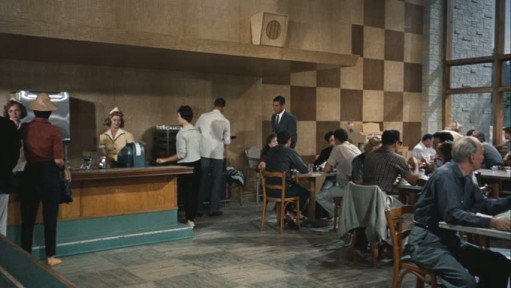 In the scene where Eve shoots Roger (below), can you spot the goof in the background?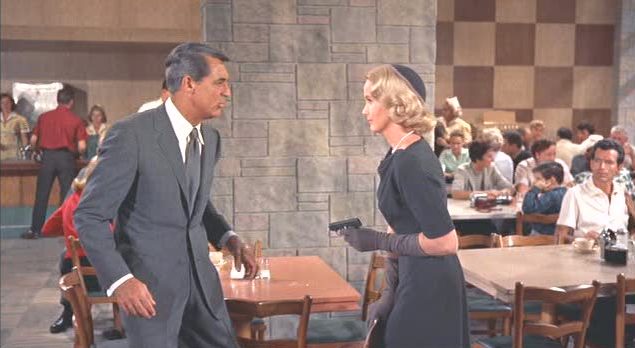 In the screenshot above, you can see the boy at the table behind Eva Marie Saint plugged his ears, knowing the gun was about to go off. 🙂

The Vandamm House on Mount Rushmore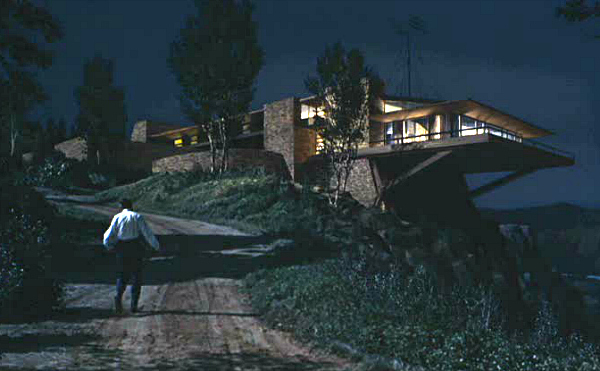 They needed to come up with a reason why all of the characters would be congregating at Mount Rushmore, so Lehman decided that the bad guys would have their headquarters nearby.
It's known as "The Vandamm House" after James Mason's character, Phillip Vandamm.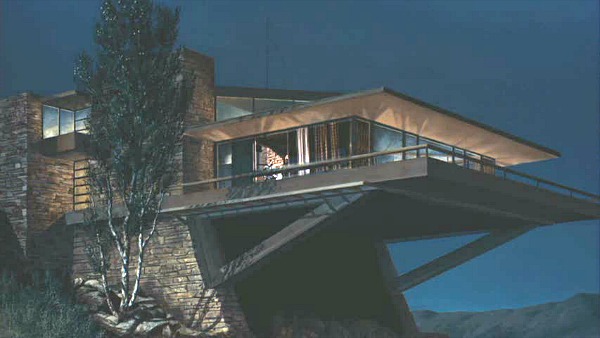 A lot of people have asked me whether it's a real house, and if it's really on top of Mount Rushmore.
I hate to disappoint you, but the exterior was a matte painting (a pre-digital effect when a real set or location was combined with a painting), and the interior rooms were built on a soundstage.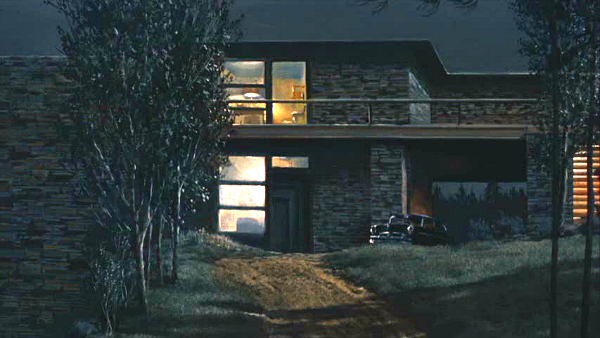 Nothing could be built on top of the monument, even temporarily.
The MGM researchers had to get special permits and Park Service escorts just to visit the area in order to photograph and measure it.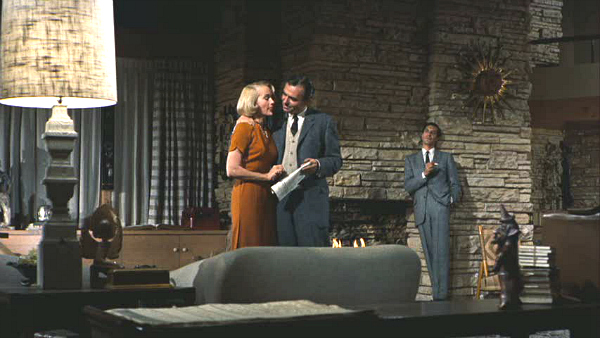 Hitchcock knew he wanted it to be a Modernist house.
In the late '50s, Frank Lloyd Wright was the most famous Modernist architect in the world.
Any house he designed for the film would have been instantly recognizable to audiences.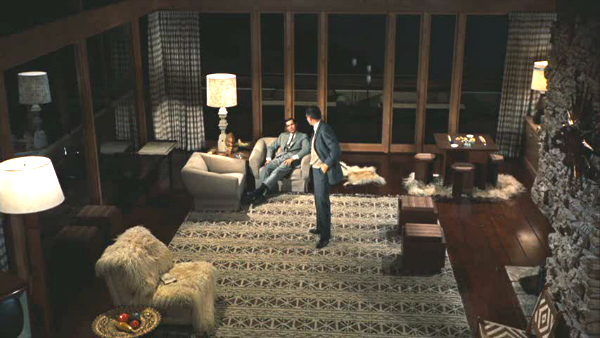 The problem: they couldn't afford Wright's fee.
So Hitchcock decided they'd just build a house that looked like one Wright would have designed.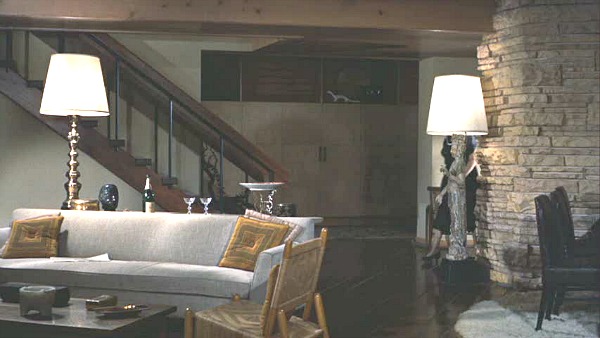 According to Sandy McLendon:
The house would be created entirely in Culver City, where MGM was located.
It would consist of a few sections built at full-scale, as movie sets.
The exterior shots would depend on special effects. Certain shots would blend the sets together with the special effects, to create the illusion that the house was real.
The final design was of a hilltop house of limestone dressed and laid in the manner made famous by Wright, along with a concrete cantilever under the living room area.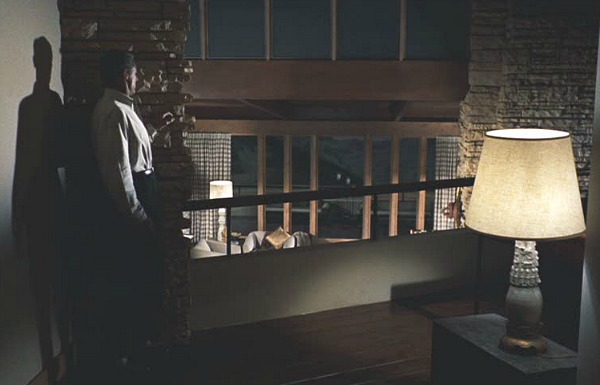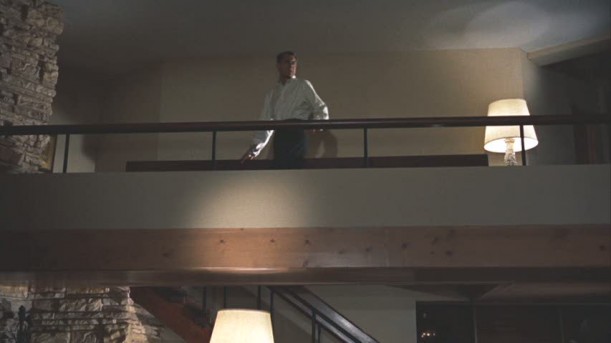 The set designers for the film were Robert Boyle, William A. Horning, Merrill Pye, Henry Grace, and Frank McKelvey.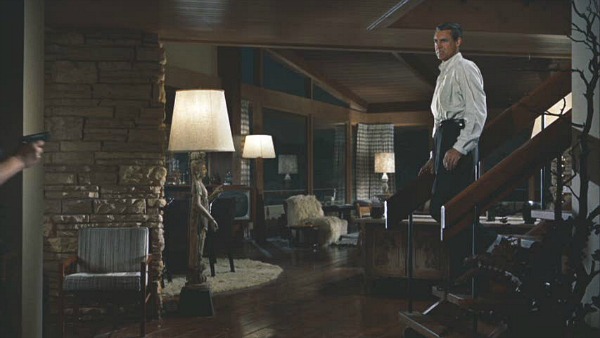 McLendon explains how the set was designed:
Certain areas like the outside of the bedroom wing had their exteriors finished, so that they could be shot from inside looking out, or outside looking in.
The interiors were masterpieces of deception: nearly nothing was what it appeared.
The limestone walls were mostly plaster, real limestone was used in a few places where the camera would be very close.
The expanses of window were mostly without glass; glass reflects camera crews and lights.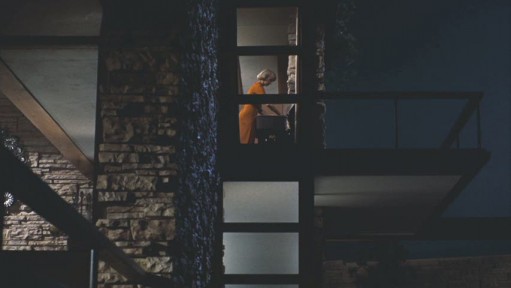 All of the scenes of the house were shot at night so that the effects would look more realistic.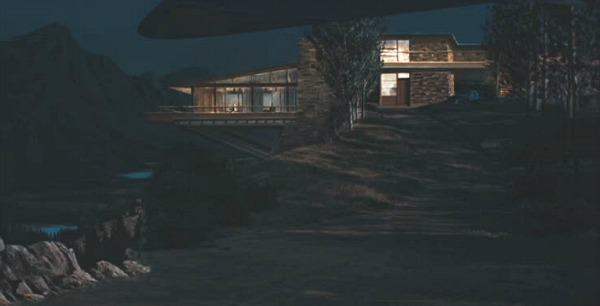 Fun Facts About "North by Northwest:"
North by Northwest was the working title, but they never came up with anything they liked better. One they considered: The Man in Lincoln's Nose. (Seriously.)
Jimmy Stewart was originally considered for the role of Thornhill, but Hitchcock decided he looked "too old." Cary Grant was 55 when he filmed it (4 years older than Stewart).
Jessie Royce Landis, who played Grant's mother, was only 8 years older than he was.
MGM designed an entire wardrobe for Saint's character, but Hitchcock threw out almost everything. She says he took her to Bergdorf-Goodman and selected clothes for her "right off the models."
Hitchcock gave Saint three basic directions: 1) Lower your voice. 2) Don't use your hands. 3) Always look directly into Cary Grant's eyes.
North by Northwest was nominated for 5 Oscars but lost in every category.
Visit my Houses Onscreen page to see the others I've featured, listed from A-Z.