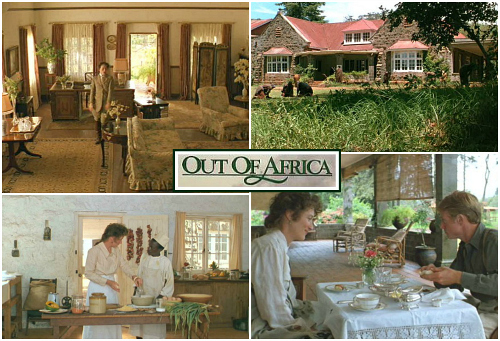 Each time I watch the Academy Award-winning romantic drama Out of Africa, I get swept up in the sheer beauty of it all — the scenery, the sets, the music and the love story.
It's hard to believe it was filmed in 1985 because all these years later, it feels timeless.
The house they used in the film was once owned by the widow of Jomo Kenyatta, the first Prime Minister and President of Kenya. The film crew added onto the house in order to make it resemble Blixen's.
Her actual home was still standing, but it was being used as a government health training facility and wasn't available.
Let's take a look back at Karen Blixen's house in Africa at the foot of the Ngong Hills…

Karen Blixen's House in "Out of Africa"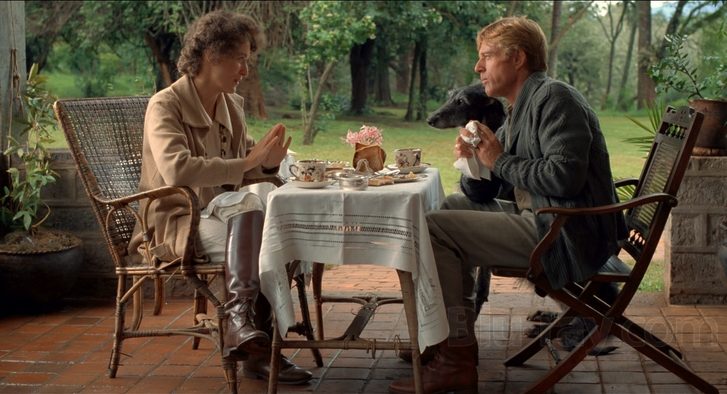 The only scene shot outside Africa was of the hunting party in Denmark, which was actually filmed in Northern England.
Director Sydney Pollack says they got lucky when it snowed because it doesn't snow that often there.
The rest of the filming took place on two sites about 30 miles from Nairobi.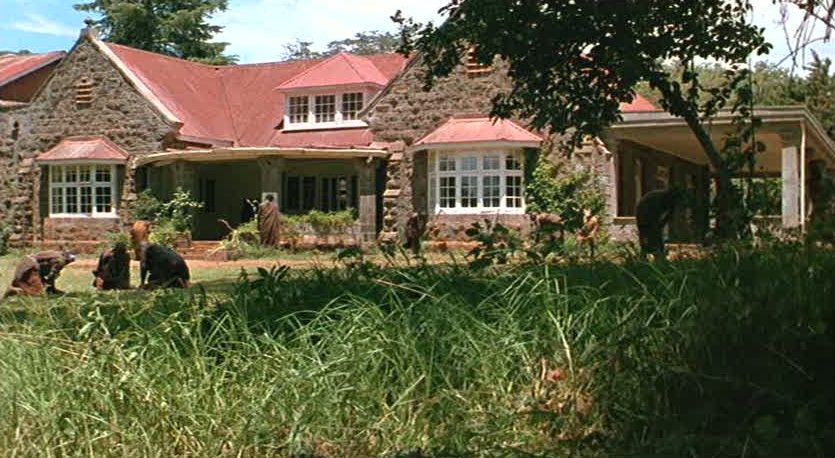 According to the Production Notes:
The Ngong Dairy in Karen (named after Blixen), with areas of lush farmland and a magnificent view of the Ngong Hills, provided a fitting location for a replica of Blixen's home.
An existing farmhouse on the property was renovated to duplicate the original.
Thick ivy was stripped from its walls, and a cookhouse and paved veranda the full length of the house were added.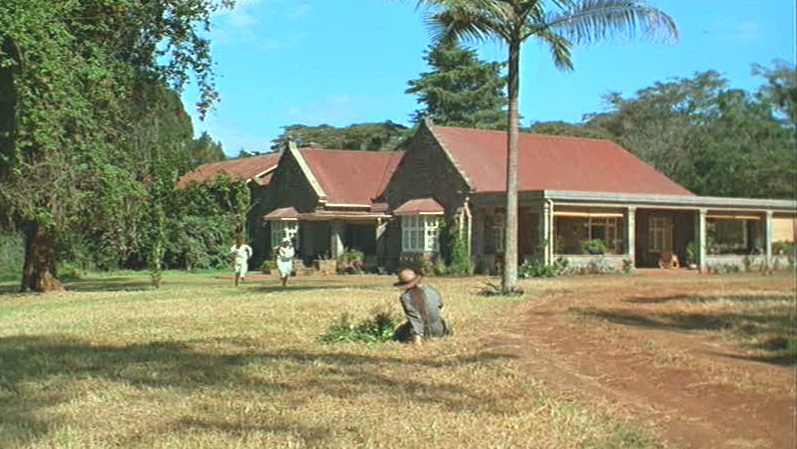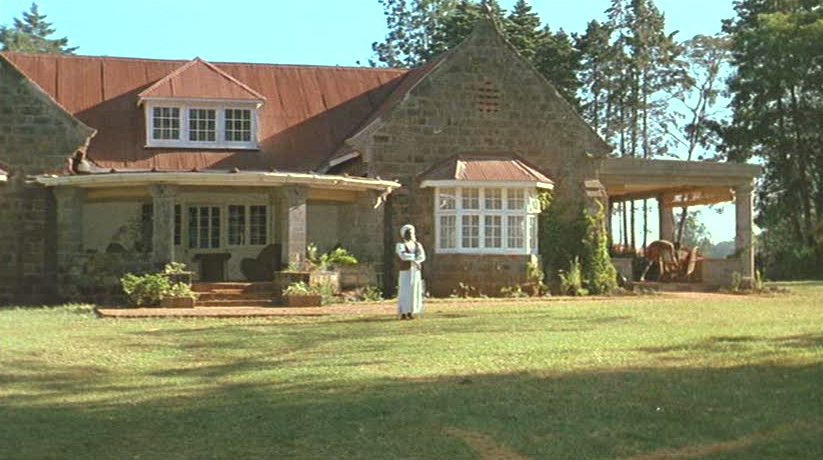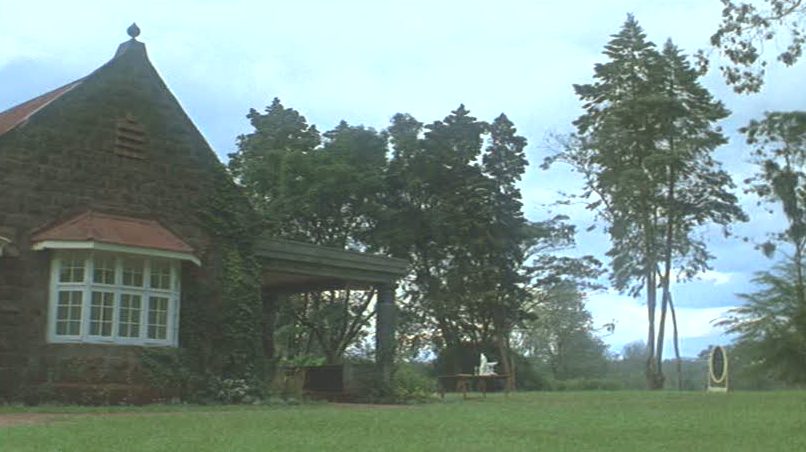 They also had to dig wells and irrigate because there had been a drought and everything was "pretty dried up" when they got to the house, which had been abandoned.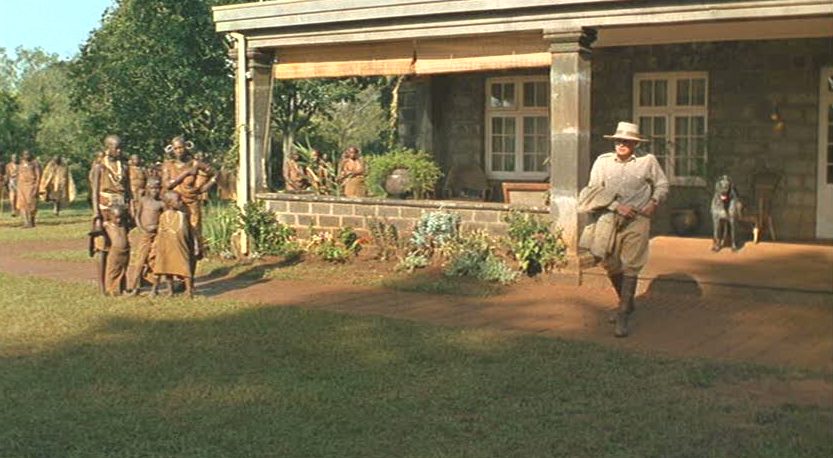 Director Sidney Pollack says Production Designer Stephen Grimes "saw past all the crumbling stones of the house and the dried grass and the abandoned place and turned it into a really lovely house that was very close in spirit to the one she lived in with the same view of the Ngong hills in back."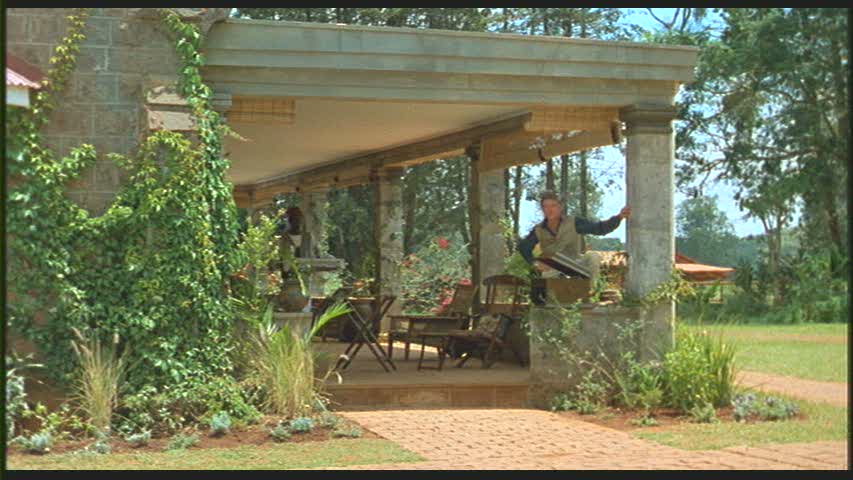 Regarding the difficulty of filming with wild animals, Pollack said, "I'm not sure you can ever really train a lion, so whenever we were filming a scene with one, there were several big guys standing nearby with (industrial sized) fire extinguishers, just in case."
They also planted coffee in various stages of growth around the house so they could film the progression of the crop through the story.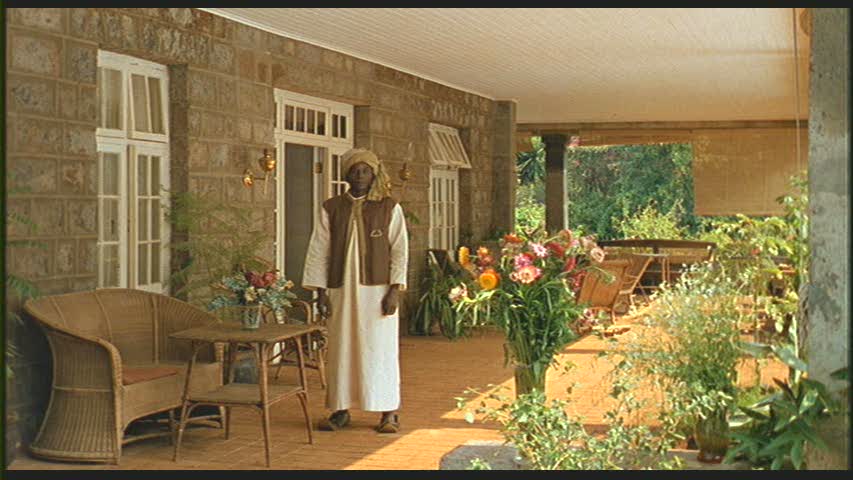 According to the Production Notes:
A Kikuyu village consisting of circular cottages made of mud bricks and thatched with reeds was also built within the grounds, for the most part by a group of women.
These were known as Shambas, Swahili for a patch of cultivated land, and were quickly inhabited by local people, which gave them a lived-in look by the time filming got underway.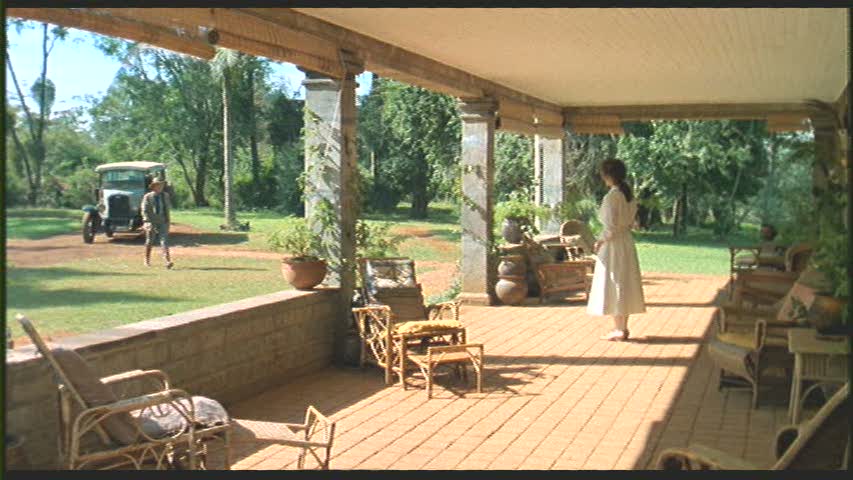 Robert Redford was the actor they had in mind for the role of Denys Finch Hatton from the beginning.
The problem was that Finch Hatton was an Englishman.
Redford used an English accent at first, but those scenes were later dubbed because Pollack decided the role would play better as an American.
He felt that Redford was such an American icon that it might be difficult for audiences to believe his character was British.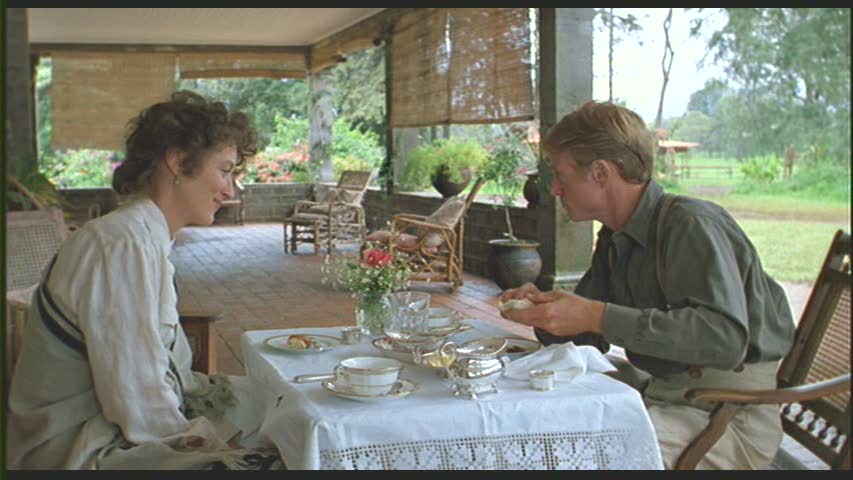 The Living Room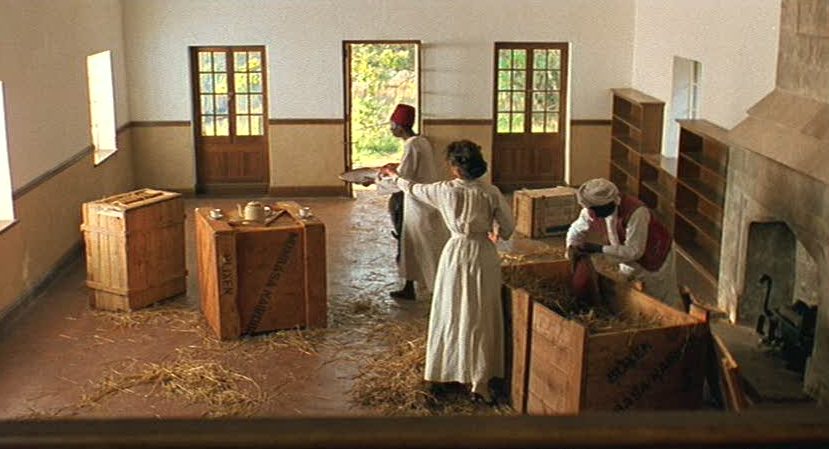 A few scenes later, after the room has been furnished and decorated:
Pollack says in the Director's Commentary that it was convenient having the house set to use for both exterior and interior scenes.
If the outside conditions weren't working (too dark or rainy, for example), they could easily move a scene indoors.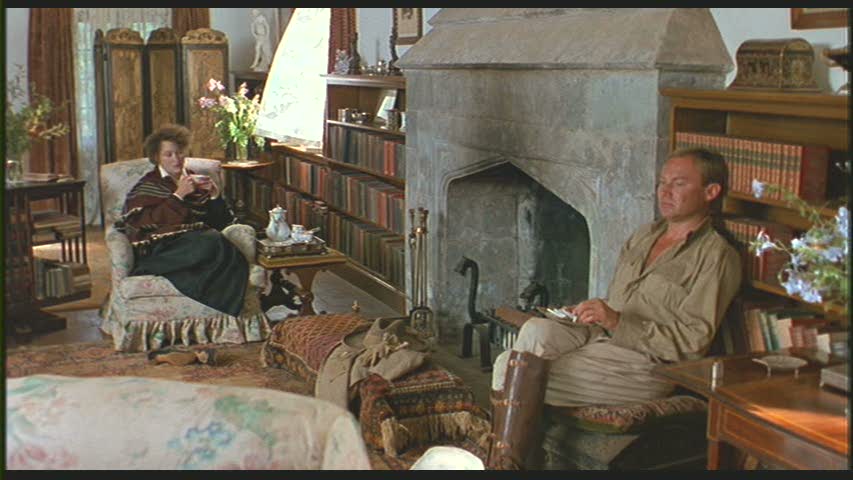 The screenplay was written by Kurt Luedtke, inspired by Judith Thurman's
book Isak Dinesen: The Life of a Storyteller.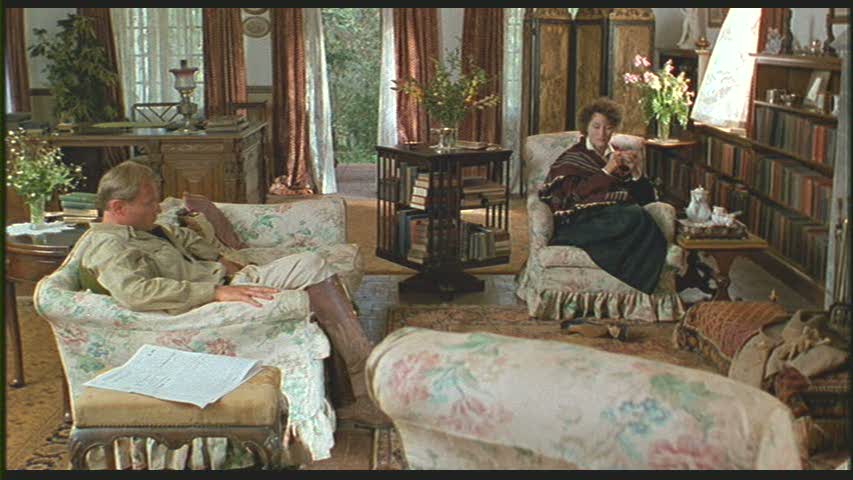 The living room at night has a warm glow: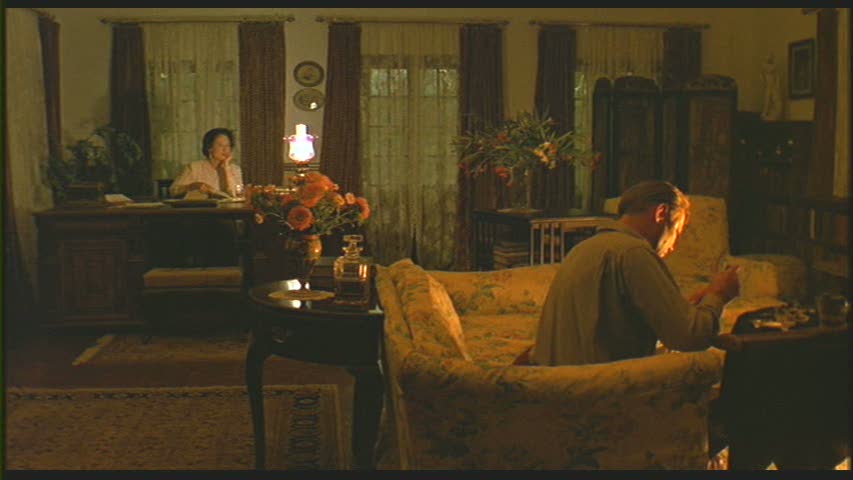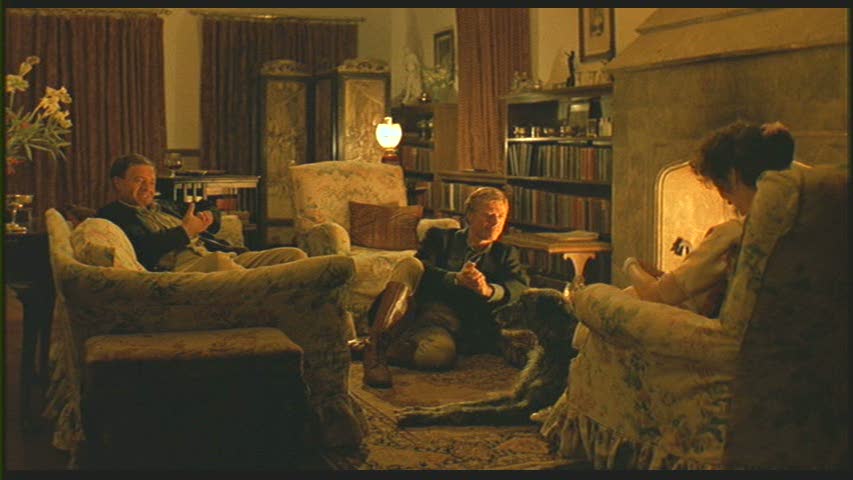 Karen entertains Berkeley Cole and Denys Finch Hatton in the dining room: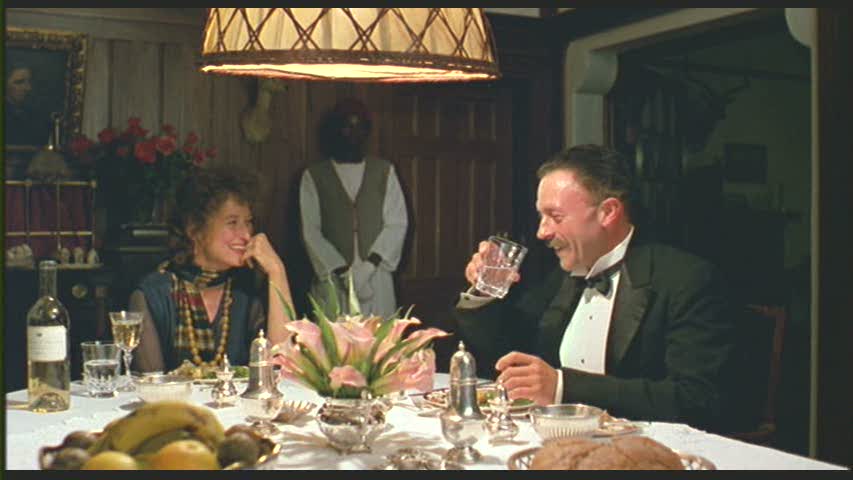 I've read differing accounts about the real-life Berkeley Cole (played by Michael Kitchen, below).
Some believe he was gay. Others insist he was in love with Karen but couldn't compete with Denys.
The Karen Blixen website says he died of heart failure.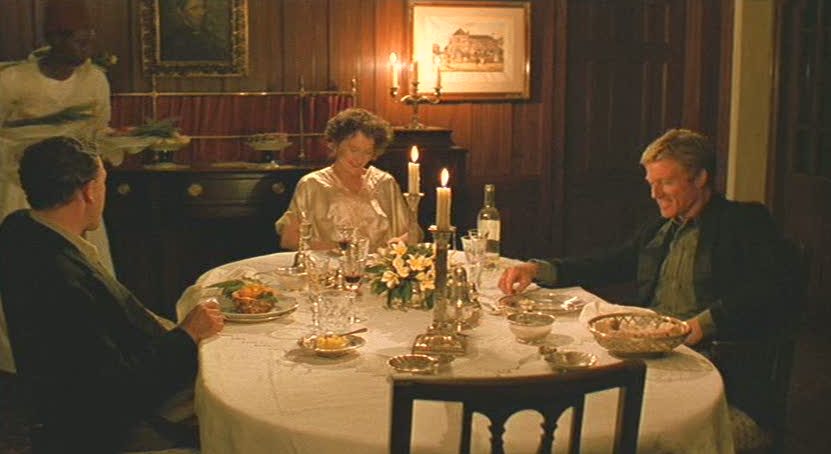 The Kitchen: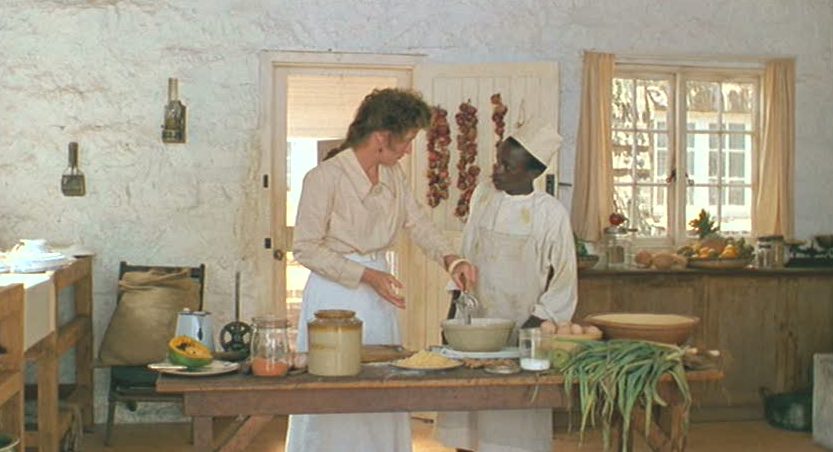 Karen's Study: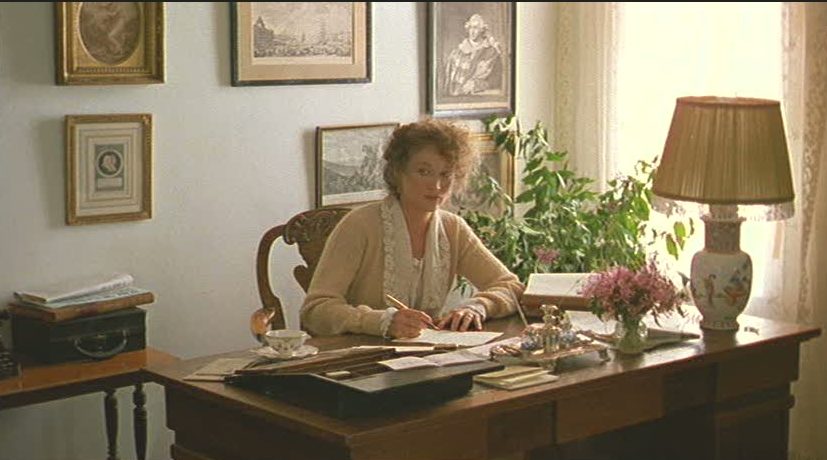 It's amazing how the scenes were all lit from outside. No interior light sources were used.
They had to use a "very, very fast film," according to Pollack, to capture the African light in a way that was pleasing, and not too harsh.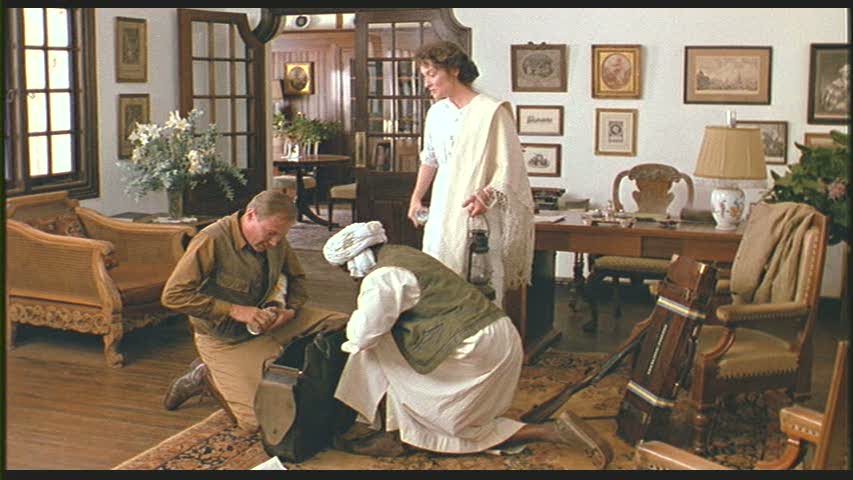 Her dreamy bedroom with mosquito netting:
Out of Africa won seven Academy Awards, including Best Picture, Best Director, Best Art Direction-Set Decoration, and Best Cinematography.
Meryl Streep lost the Best Actress Oscar to Geraldine Page that year, though.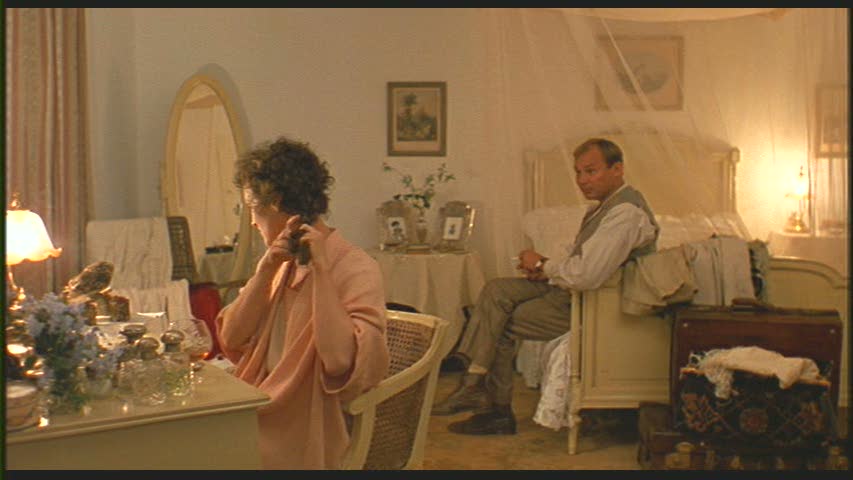 The Muthaiga Club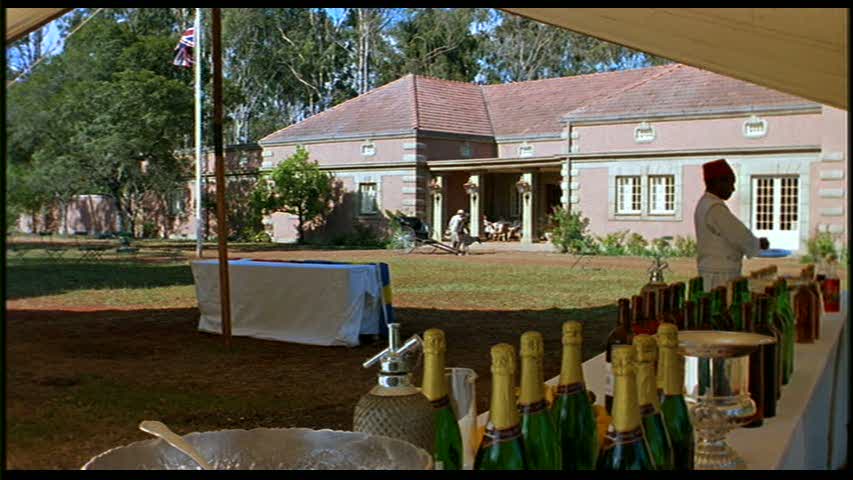 The building where Karen and Bror Blixen were married in 1914 still exists in a wealthy residential suburb of Nairobi. It was created as a bastion of European tradition in the midst of colonial Africa.
The one used in the movie is not the same one, though. It was built in a field across from the house.
The club didn't serve women. One of my favorite scenes is when they invite Karen in for a drink to toast her before she leaves Africa.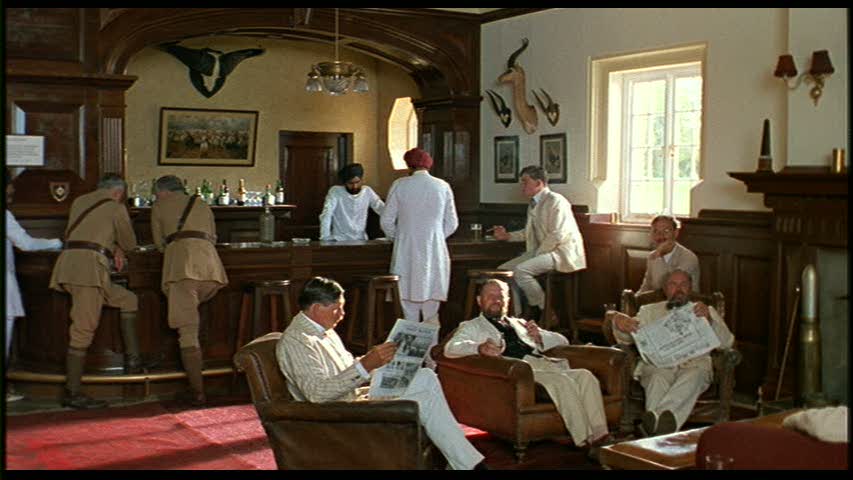 Beryl Markham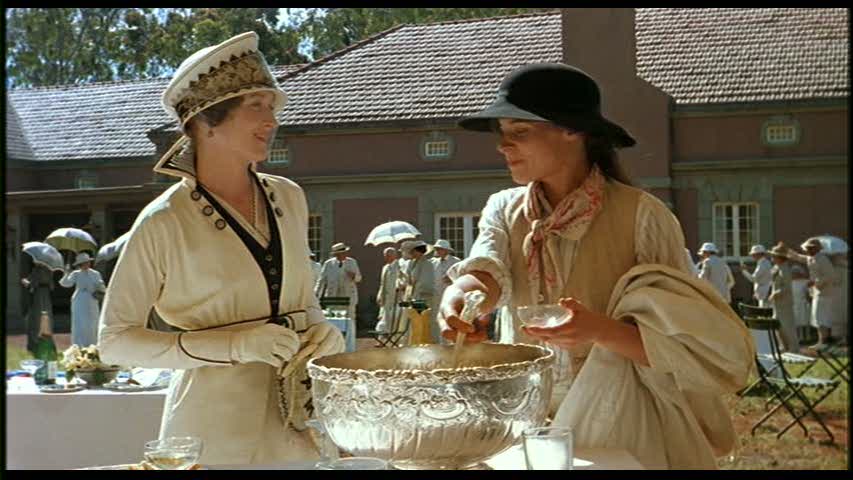 Suzanna Hamilton played Felicity, the film's version of Beryl Markham, another author who was a part of that group of Colonials. She wrote about her time in Africa in a book called West with the Night (1942).
In real life, when Karen Blixen's romance with Denys Finch Hatton ended, Markham became involved with him.
He invited her to tour game lands on what turned out to be his fatal flight, but Markham had declined (so the story goes) because of a premonition that her African servant had that something might go wrong.
Markham was the first woman to cross the Atlantic from east-to-west on her own.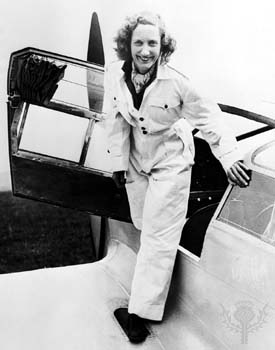 Ernest Hemingway wrote about Markham in his published letters:
"Did you read Beryl Markham's book, West With The Night? She has written so well, and marvelously well, that I was completely ashamed of myself as a writer. "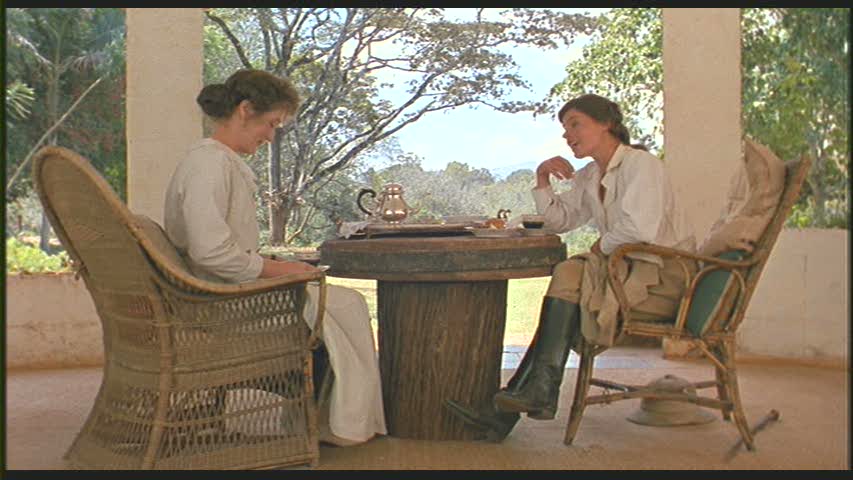 The coffee farm Bror bought instead of the dairy farm Karen told him to get never did make a profit.
As everyone warned them from the beginning, it wasn't possible to grow enough coffee in that area.
It was financially devastating for Blixen. In this scene she packs up her house to return to Denmark.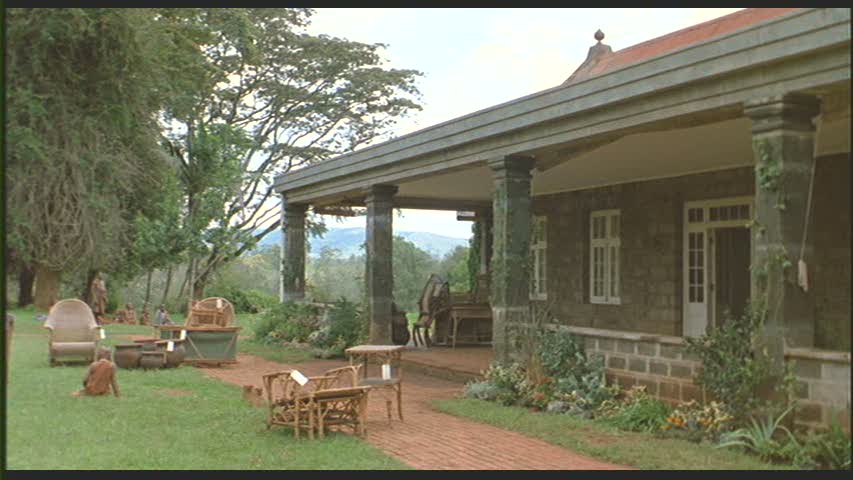 In the movie, Bror tells Karen about Denys's death.
In real life, she learned about it when she went into town and no one would speak to her.
Everyone was staring and acting oddly, so she finally pulled someone aside and asked what was going on.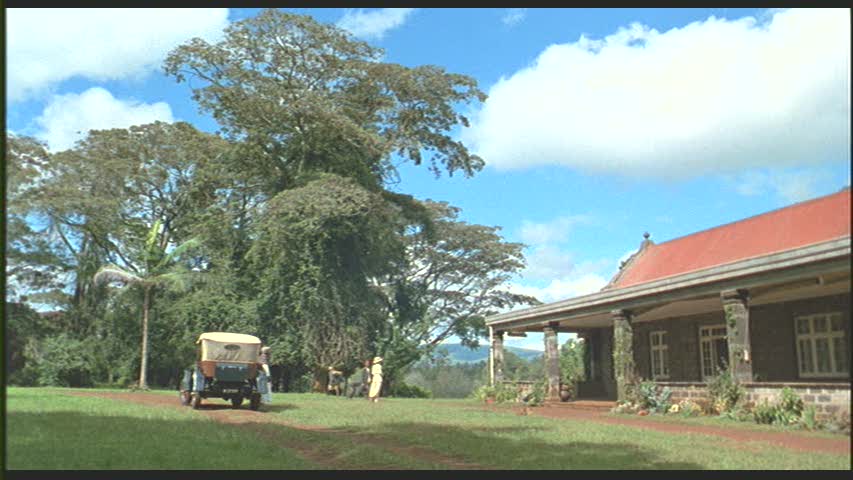 Want to see the real thing? Her former home became open to the public as the Karen Blixen Museum in Nairobi, Kenya, in 1986.
The stone farmhouse was built in 1912 by Swedish engineer Åke Sjögren. Karen and Baron Bror von Blixen bought it in 1917. Although they separated in 1921, she continued living there until 1931.
Karen's career as a writer didn't begin until she moved back to Denmark and began writing about her experiences there under the pen name of Isak Dinesen.
The movie ends with these words: "She wrote her first stories in 1934 under the name Isak Dinesen. She never returned to Africa."
Visit Houses Onscreen to see the others I've featured, listed A-Z.