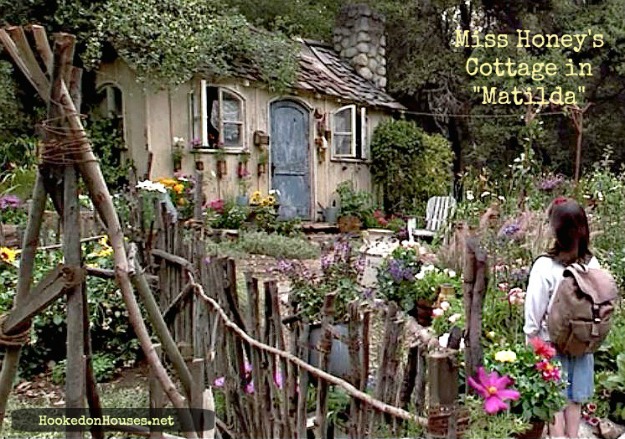 The 1996 movie Matilda, based on the Roald Dahl children's book about a gifted girl born into a family that doesn't love her, can be a little disturbing to watch at times. Like when her parents, played by Danny Devito and Rhea Perlman, leave their newborn in the back of the station wagon, or when the evil Principal Trunchbull throws a sweet little student out of the playground by her pigtails.
But what keeps it from playing like a horror movie are the sets. We've got Miss Honey's sweet cottage that becomes a safe haven for Matilda. Miss Trunchbull's big old house gets fixed up by the end and becomes beautiful again. And even Matilda's family home, which is over-the-top tacky, is colorful, retro fun. Let's look!
THE WORMWOOD FAMILY RANCH HOUSE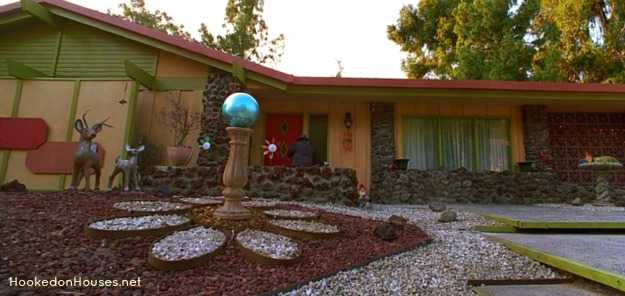 Matilda's family–shady car salesman Mr. Wormwood, daily BINGO player Mrs. Wormwood, and her bullying big brother Mikey–live in this colorful ranch.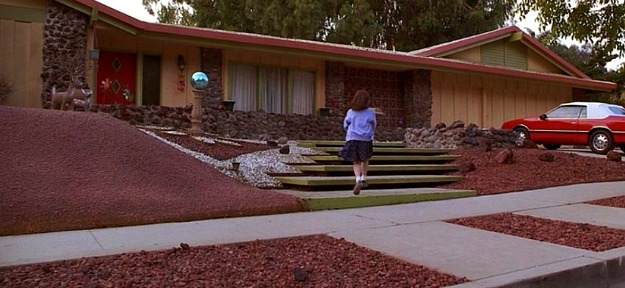 The Production Designer for this film was Bill Brzeski. Set Decorator was Jennifer Polito, who also worked on another fave of mine, Gilmore Girls, as well as Ferris Bueller's Day Off.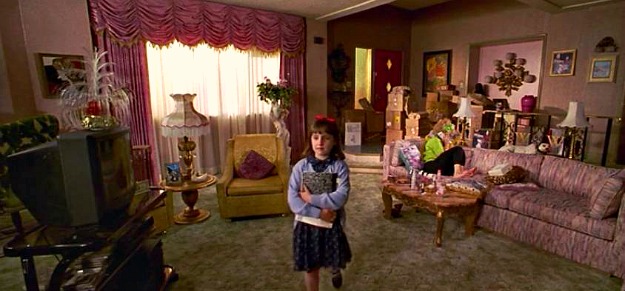 They did an amazing job creating houses that were like characters in the movie–and that reinforced our ideas about the people who lived in them.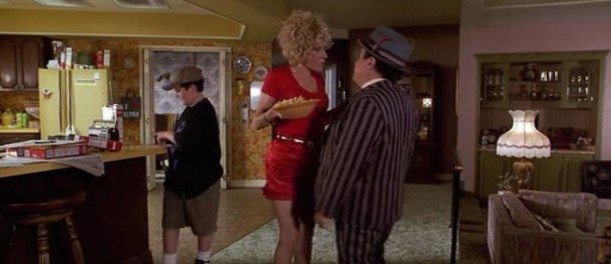 Matilda was left to fend for herself from the day they brought her home from the hospital.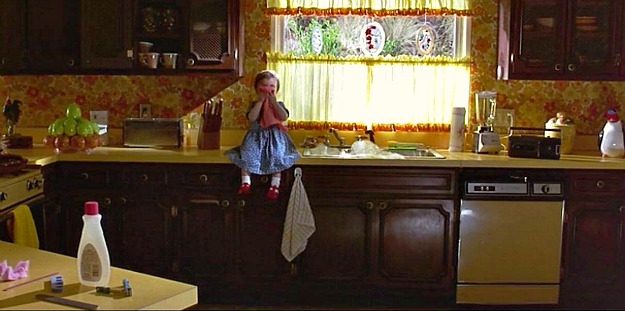 I had to get a close-up of this orange flowered wallpaper in the kitchen because I grew up with something similar in mine. Brings back memories! My mom was so happy to finally get rid of it.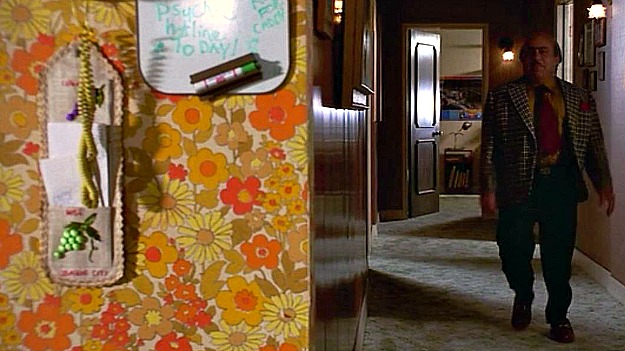 Gotta love these giant lamps in the living room. The set decorators must have had a blast putting together the Wormwood sets!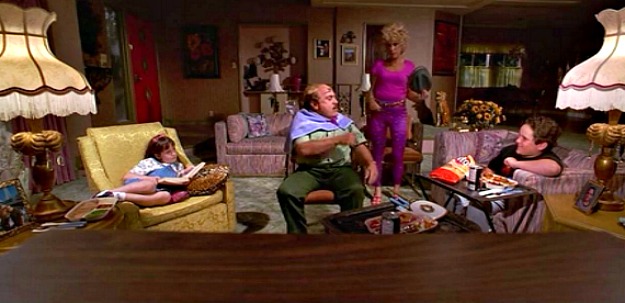 The Wormwoods chide their daughter for reading books instead of watching TV with the rest of the family.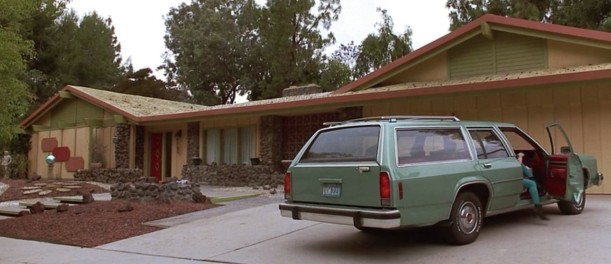 MISS HONEY'S COTTAGE
My favorite set in the movie had to be Miss Honey's cottage. Matilda's teacher is the first adult who recognizes that she's special. She tells Matilda that she had a difficult childhood, too, but she's happy now. After she grew up and left home (and her evil step-aunt), she got her own little house with its own little garden. Who wouldn't be happy here?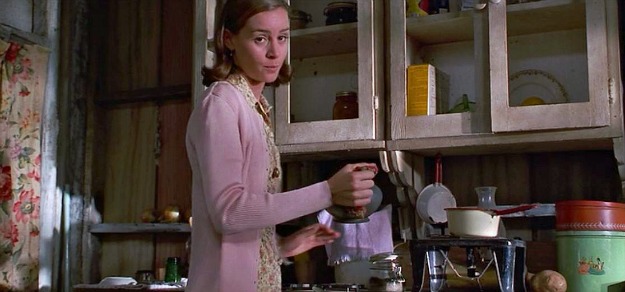 If only we had gotten to see more of it! This little scene where they have tea in the kitchen is our only peek inside.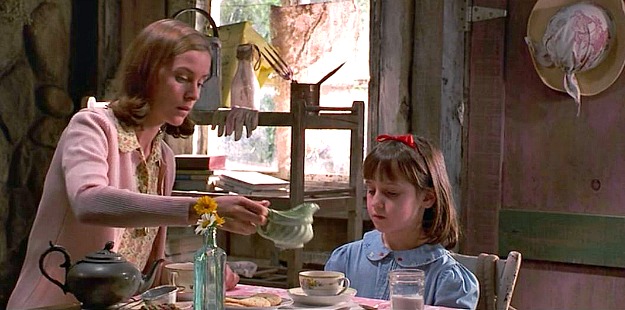 The story of Matilda has a definite fairytale quality to it, so this cottage fits right in.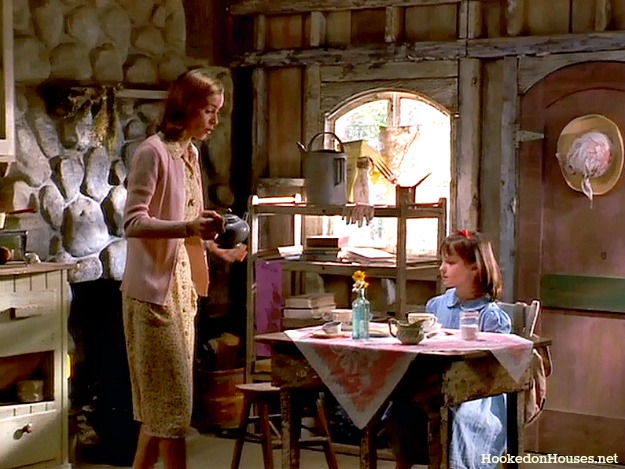 THE TRUNCHBULL'S HOUSE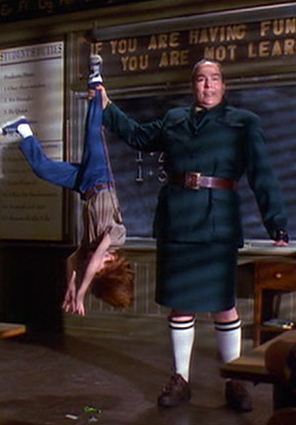 Miss Honey's horrible Aunt Trunchbull runs the Crunchem Hall grade school. The actress who played her is Pam Ferris, who you may recognize from Harry Potter.
There are some similarities between Matilda and Harry Potter, if you think about it. The Wormwoods are basically an American version of the Dursleys, the nasty Muggle family Harry had to live with. Soon after they discovered their powers, Matilda and Harry are sent off to school where they are recognized for being special. And they both do the whole fighting-against-evil thing, too.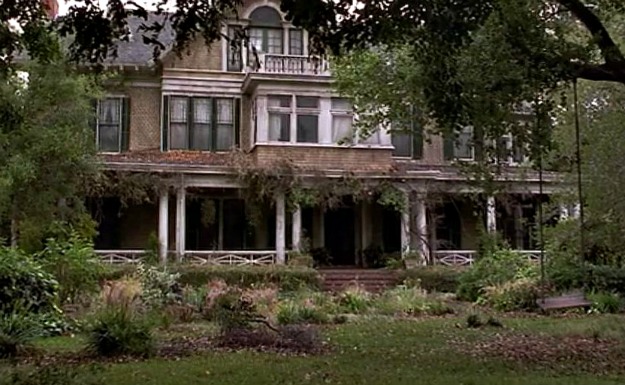 "The Trunchbull," as they call her, took over her brother's house after his death. The grand old house is looking pretty sad under her care.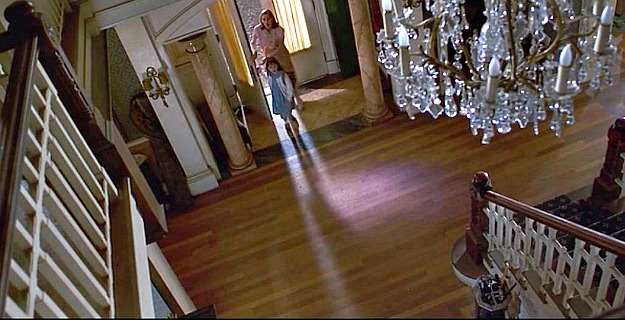 Miss Honey and Matilda sneak into the house when she's gone to retrieve some of her things, like a treasured doll named Liccy (which was the name of Roald Dahl's wife).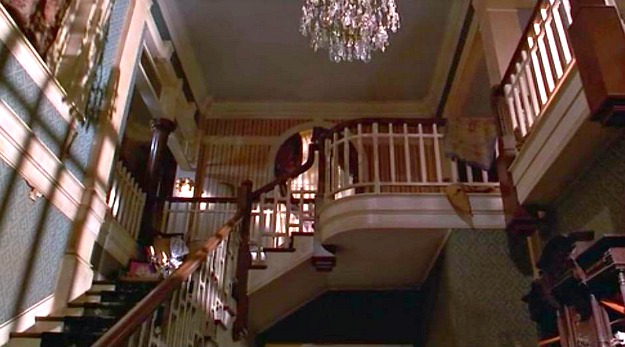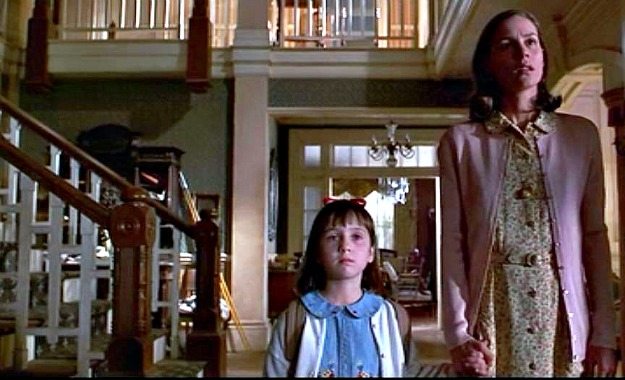 Where a painting of Miss Honey's father Magnus used to hang over the fireplace, they find one of the Trunchbull from her track and field days instead: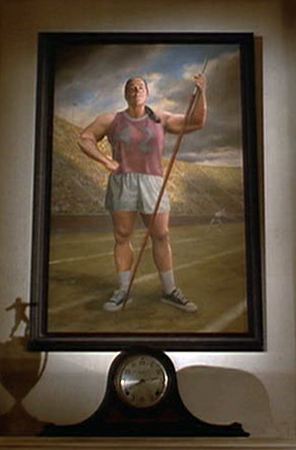 (Have to add–Ferris also appeared on one of my favorite British sitcoms, Gavin & Stacey.)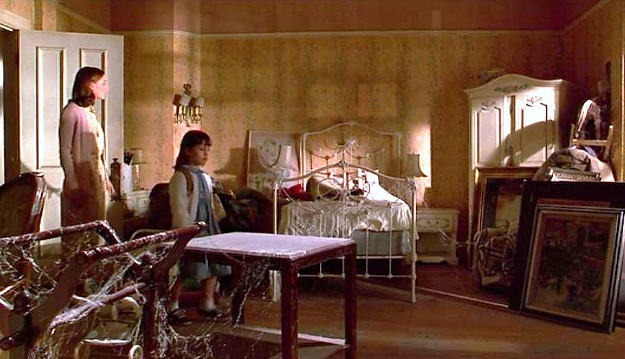 Mara Wilson, who played Matilda, sadly lost her own mother to breast cancer during the filming of the movie. She bravely finished out her shooting schedule anyway, and the film was dedicated to Suzie Wilson in the credits.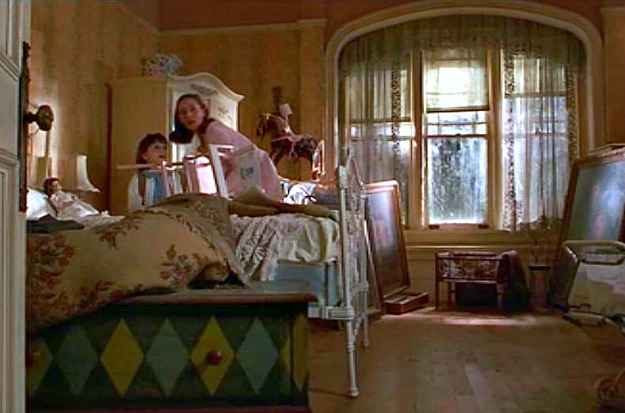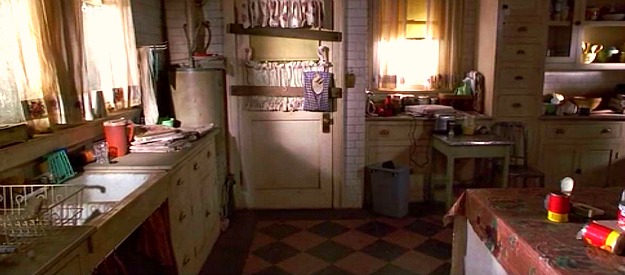 Mr. Wormwood sold Trunchbull a clunker–this 1970 Buick Electra 225 sedan–and she vows revenge: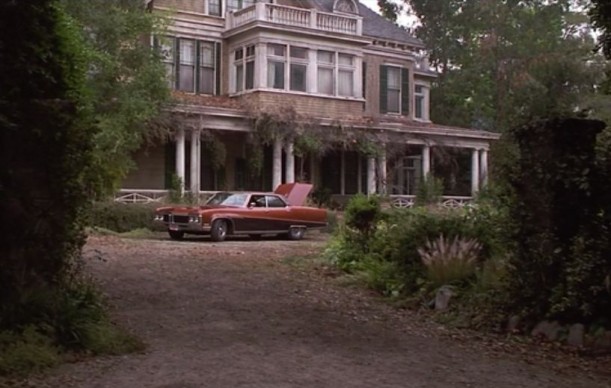 After Miss Honey returns to the house, it comes to life again: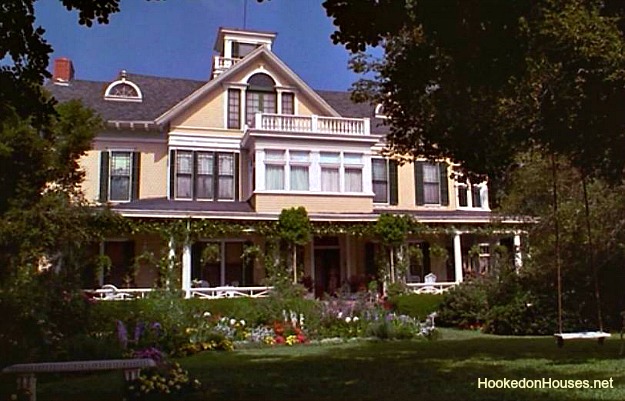 She and Matilda have tea on the front porch.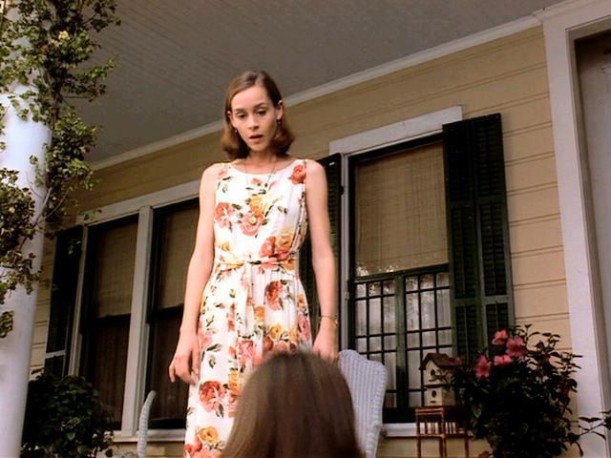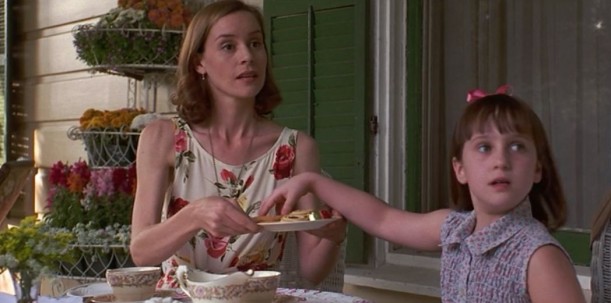 Danny Devito directed and narrated the film.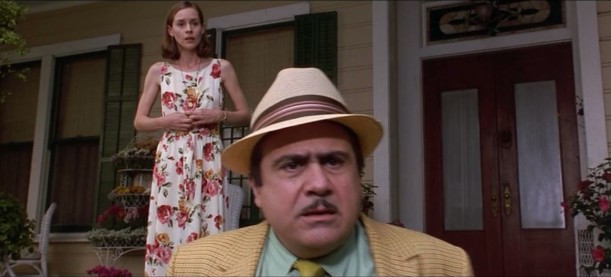 The Wormwoods sign the adoption papers giving custody to Miss Honey without a second thought.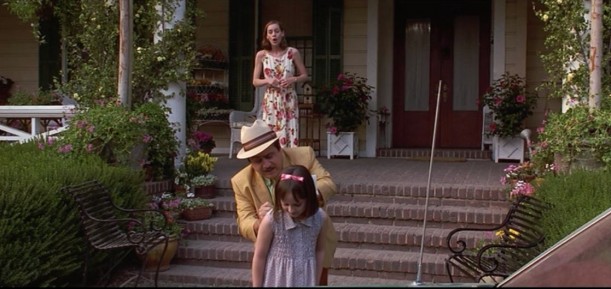 Her father's painting has been restored over the mantel now: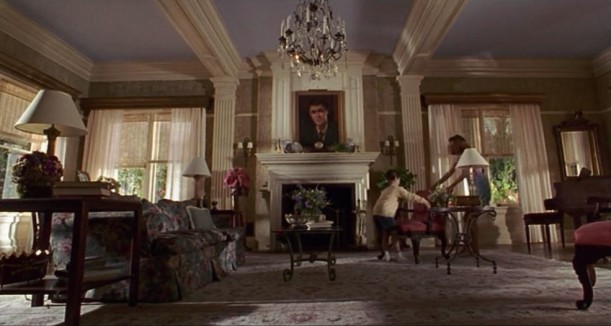 And Matilda gets to sleep in Miss Honey's old bedroom: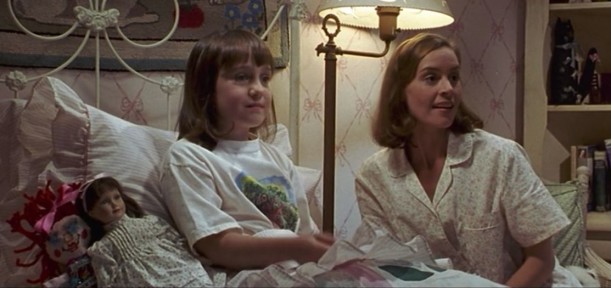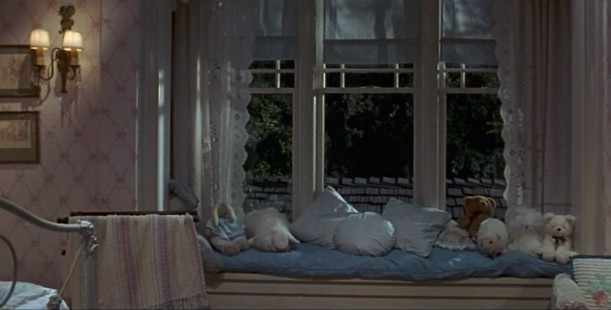 If the house looks familiar, it may be because it has appeared in other movies and TV shows. For instance, it was the Omega Beta Zeta sorority house in Scream 2 and the site of Frank and Brenda's engagement party in Catch Me If You Can.
2016 UPDATE: I recognized this house in the Lifetime movie Sister Cities!
In real life, it's known as Fair Oaks Ranch in Altadena, California. It has 7 bedrooms, 4 baths, and nearly 6,500 square feet. Iamnotastalker has all the deets and took this photo of how it looks today. Visit her blog to learn more about it.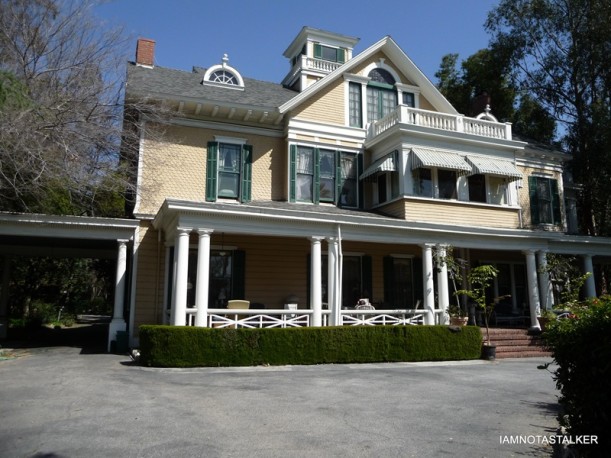 Visit my Houses Onscreen page to see the other TV and movie filming locations I've featured!


 P.S. Mara Wilson also appeared in two other "house movies:"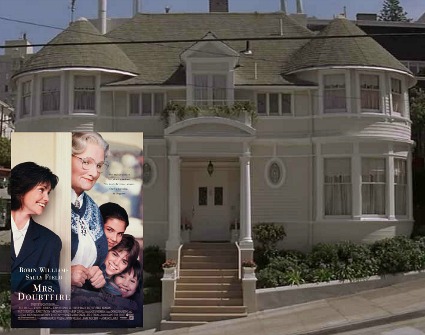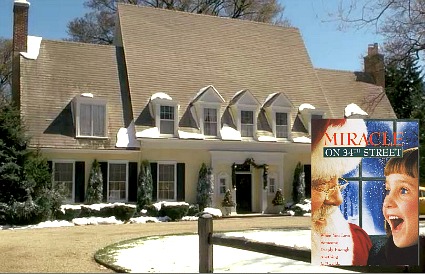 (Visited 827 times, 1 visits today)