Sharon Osbourne loves real estate. She told Architectural Digest that she frequently gets "itchy feet" to move: "We've never stayed in any place longer than seven years." After Kelly and Jack left the nest, they sold their "Contemporary Goth" house in Beverly Hills (made famous by their reality show on MTV) and bought a place in L.A.'s exclusive gated Hidden Hills community.
"I wanted a house with the best views," Sharon said, "and I got it."

Last year it was reported that the Osbournes owed over a million dollars in unpaid taxes and might lose this house or the one they own in Malibu if the IRS chose to seize them. They were able to settle their debt in time, but they put both houses on the market.
The asking price for this one: $12.999 million.
The listing describes it as a "sophisticated Cape Cod-inspired estate" set on an "awe-inspiring 2.25 acre promontory with breathtaking city light and mountain views. Re-imagined by legendary interior designer Martyn Lawrence-Bullard, this magnificent home spans approx. 11,000 square feet."
It's always interesting to compare listing photos to how the same spaces looked in a magazine. For example, here's the staircase in Architectural Digest:
The living room has trendy sliding barn doors and a reclaimed-brick fireplace.
Sharon collects antique Italian dolls and puppets that are on display. Here's a photo of the room from AD:
I loved watching Martyn Lawrence-Bullard work his magic on houses on the reality show Million Dollar Decorators last year (and I was excited to hear that Bravo renewed it for a second season).
The house has 6 bedrooms and 10 baths. At first glance, the large Marie Antoinette chaise in the master looks like a second, smaller bed:
There don't seem to be many area rugs in the house. Wonder why?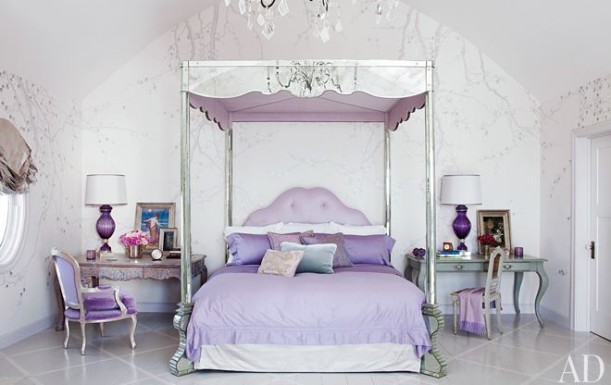 Sharon collects vintage Americana and displays some of it in the kitchen, including the antique cash register on the island:
The kitchen as seen in Architectural Digest: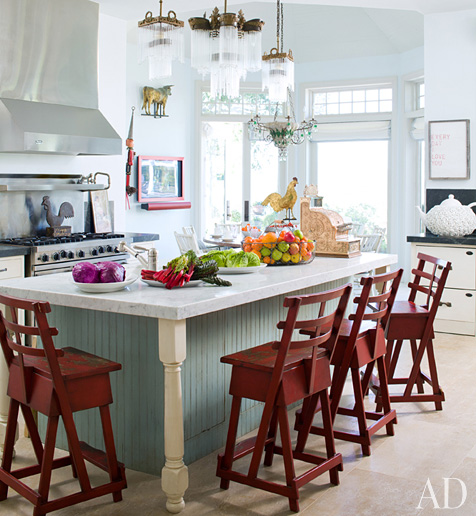 There's a cozy eating area with windows all around:
Sharon's home office (and her Pomeranian named Bunny–one of their 12 dogs which, come to think of it, may be the reason there aren't a lot of rugs in the house!):
Martyn Lawrence-Bullard also decorated Grey's Anatomy star Ellen Pompeo's house in the Hollywood Hills.
Want it? Check the listing by Jonah Wilson for more photos and information. The magazine photos were taken by Roger Davies.
Earlier this year, the Osbournes also had their vacation spot in Malibu on the market for $8.795 million, but it sold last week.
It featured a very shiny stainless-steel kitchen…
…and some pretty fabulous ocean views.
While we're dishing about Osbourne family real estate…remember the house they lived in when they were filming their reality show for MTV?
They sold it to Christina Aguilera in 2007 but it's on the market again. Check out photos of how it looked then and then compare it to pics of how it looks now that Christina Aguilera owns it.
*UPDATE*
Jessica Simpson reportedly bought the Osbournes' house and is selling hers:
(Visited 14 times, 1 visits today)