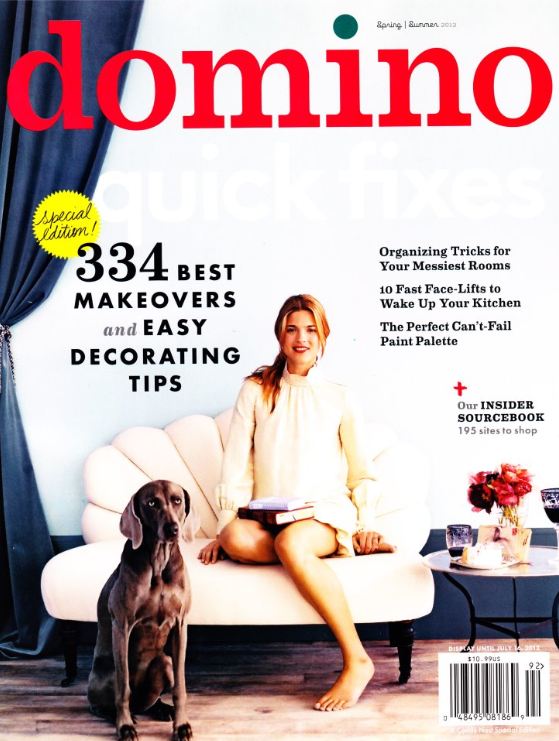 Last night while standing in line at Lowe's, I spotted a copy of Domino Quick Fixes, the first of a series of special editions based on the popular (but dearly departed) shelter mag. According to the press release I saw, it wasn't supposed to hit the shelves until April 17. So for those of you who have been waiting for it, I thought I'd let you know it's out there now!
There are rumors that it's already selling out at some stores.
Publisher Condé Nast says the special edition features "Domino's best home decorating stories, focusing on easy, often inexpensive changes that make a big difference—from quick spruce-ups of dowdy furniture to more involved DIY projects."
From what I could tell by flipping through it, it doesn't look like any of the original staff had much to do with it, and there are "repeats" of some old photos you might recognize. It looks great, though.
A second special edition is in the works for fall. Some fans are hoping that if the special editions sell well, it might convince the publisher to bring it back on a regular basis, which is something readers have been clamoring for since it was shuttered in 2009.
But more magazines are turning to the special edition format, which is less expensive for them to produce than a monthly, so this may be as good as it gets. Guess we'll have to wait and see!
Do you miss Domino? Enough to shell out $11 for a special edition of the mag?
I have to admit that after my initial excitement at seeing it and flipping through it, when I saw the price tag I slowly…put it back…on the shelf.
P.S. Curbed has a detailed first look at the mag if you want to get a peek inside.