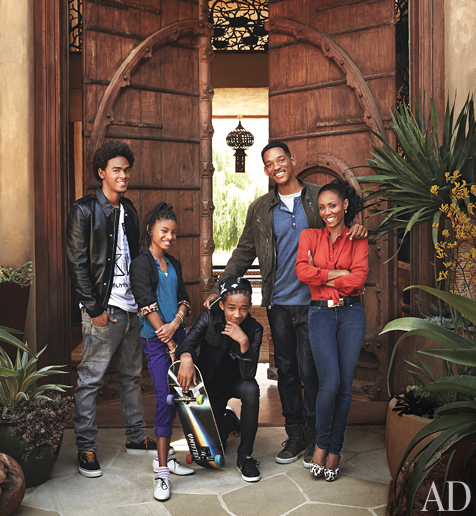 When I heard from my friends over at Architectural Digest saying they had snagged Will and Jada Pinkett Smith's mega Malibu mansion for the September cover, I couldn't wait to see the photos. It'll be out on magazine racks near you August 9th, but here's a sneak peek at the house tour.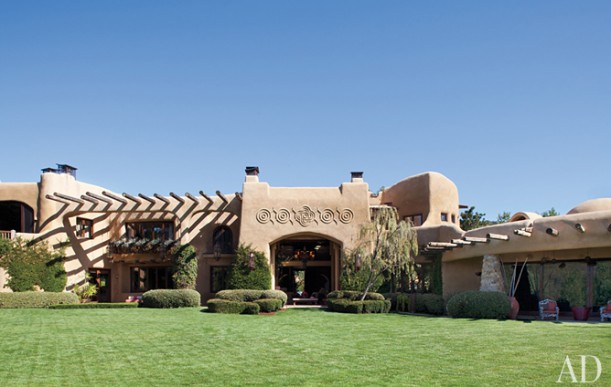 The 25,000-square-foot adobe-style house was designed by architect Stephen Samuelson, with interiors by Judith Lance.
Jada told AD: "For Will and me this home was always a spiritual endeavor. We're very earthy, organic people. We wanted to create a family retreat, something made by hand and as natural as possible, something that ties back to the land."
This is labeled as the living room, but it looks like an outdoor kind of living space, doesn't it? I thought it was a long covered porch at first.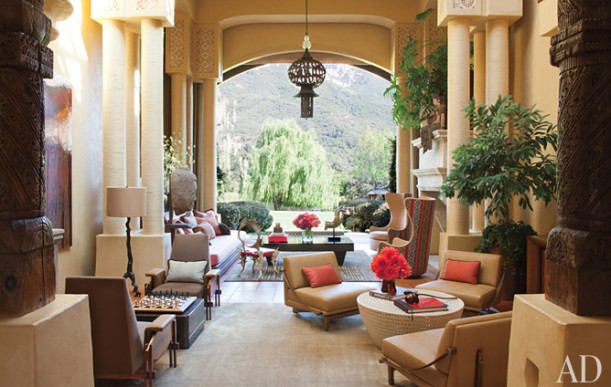 Will says he was inspired to build a house like this after seeing Gene Hackman's adobe-style home in Santa Fe. (Hackman was his costar in the late 1990s thriller Enemy of the State.)
This is the "bedroom terrace:"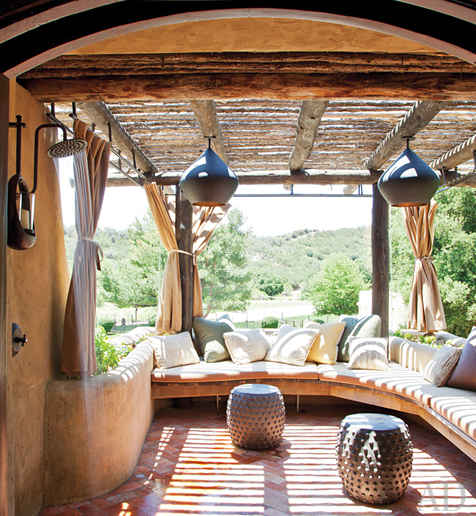 "The Today Show" ran a segment about it on Tuesday and showed more of the house. These are just some small screenshots I took while watching it, but they give you an idea of how some of the other rooms in the house look:
It's interesting to read the comments on various message boards about the property now that the photos are coming out. The recurring theme seems to be "Way too big!" One person questions why any family–even a famous one–would need a place "so obnoxiously huge."
Obviously, the Smith family has privacy issues and entertaining needs that most of us don't, but it's hard for us regular folk to imagine feeling at home in this much space. I might need a map to get back to my bedroom at night (maybe some of those helpful "You Are Here" floor plans they have posted in malls).
Here's the bird's eye view of the estate that gives you a better idea of just how massive this place is, sitting on 150 acres: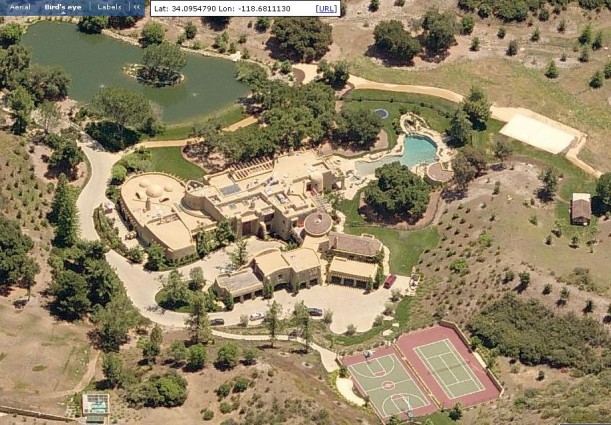 For more information, visit Architectural Digest or grab the new issue when it hits stands next week. (Photos by Roger Davies and Art Streiber.)

P.S. Visit Celebrity Houses to see more, including…
(Visited 8 times, 1 visits today)