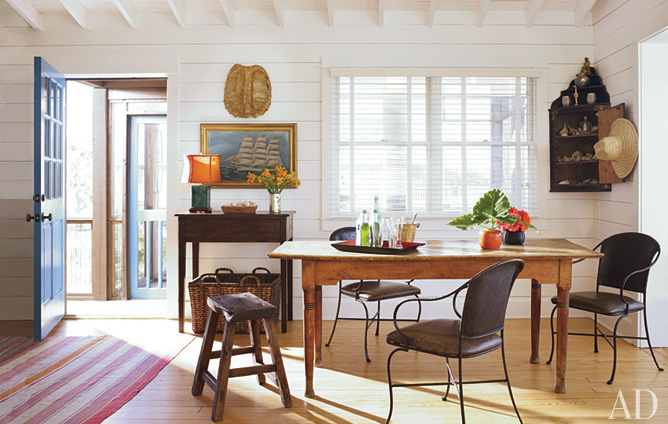 The new issue of Architectural Digest features a 1940s bungalow on Folly Beach in South Carolina that caught my eye.
A lot of times the houses they feature in that mag are a little too formal for me, but this is more my style.
And really, just seeing the words "1940s bungalow" made my heart beat faster!
The beach house belongs to designer Amelia T. Handegan, who says that she and husband John Roven chose Folly Beach because of its bohemian appeal:
"This place was full of renegades, and people used to come here to hunt. Writers and artists followed, and lots of surfers. It's a little eccentric, frankly."
Helping them with the reno and expansion of the house, which started at a modest 950 square feet, were Stumphouse Architecture + Design and Glenn Keyes Architects.
They say they wanted it to retain its relaxed character.
"We wanted the house to seem really established, so there's no Sheetrock," Handegan tells AD. "I liked the idea of exposed rafters and painted-pine walls, so the place feels more special than it probably is."
(Photography by Pieter Estersohn.)