Singer-songwriter Sheryl Crow opened the doors to her 1920s Spanish Revival home in the Hollywood Hills for a spread in Architectural Digest last year. Now she's selling it and the two other houses on the 11-acre property for about $16 million. I always love it when we get to see more of an estate like this. Let's look!
The main house, where Sheryl lives with her sons Wyatt and Levi, was built in 1924. She bought it first, in the late 1990s. Two years later, she acquired the bungalow and cottage nearby and created her own private compound.
In this photo from AD, Sheryl's dog Oscar guards the front door: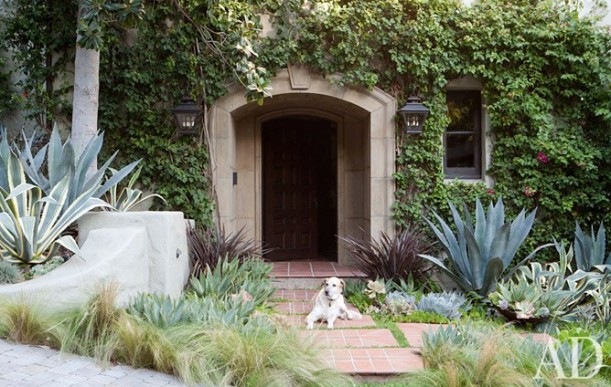 The Spanish tile on the staircase is original to the house:
I'm a "book person," so I love the little library with the windows:
No sign of the dining room in the listing photos, but here's one from the magazine shoot:
The listing boasts a "chef's kitchen." I'm kinda baffled by this one and only photo of it, which doesn't do it any favors:
I had to go back and see how it looked in AD. I guess it's the same one, but I had to scroll back and forth a lot of times trying to figure it out:
The house has 4 bedrooms and 3.5 baths.
What we didn't get to see in Architectural Digest was the Craftsman guest house on the property, built in 1909. In my original post about the estate I wrote, "Wish we could see that one!" I had to wait a year, but here it is…
It has 3 bedrooms, 3 baths, and "vistas of Hollywood."
They must have been having a sale on rugs when she was furnishing the living room. All the woodwork in the house is beautiful.
For more photos and information, check the listing by Myra Nourmand of Nourmand & Associates and read the article by Mayer Rus in Architectural Digest (photography by Roger Davies and Jim McHugh). You can see my original post about it here: Sheryl Crow's Romantic Hollywood House.
P.S. I also wrote about Crow's Cross Creek Farm in Nashville.

When I think of that house, it's the fish tank in the kitchen that I remember!

(Visited 23 times, 6 visits today)