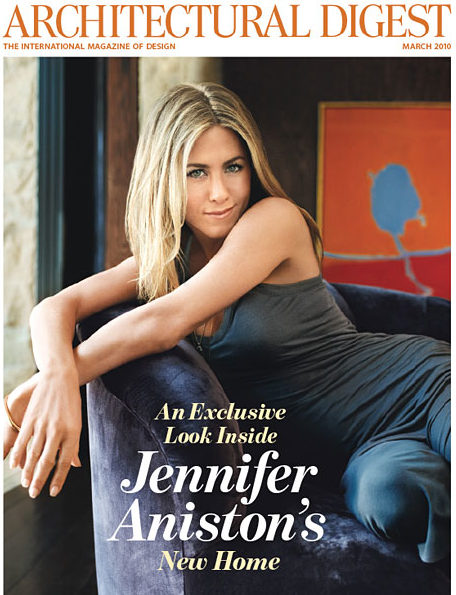 Jennifer Aniston just turned 42, and now she's selling her mid-century mod house in Beverly Hills known as "Ohana" for that same magic number: $42. Million, that is.
She told People magazine about her decision to sell the house: "I couldn't sleep and I sort of had one of those moments where I went, I really need to simplify… and clear out the clutter. And along with that thought came, 'I should sell my house.' … I had the realization that this is just too much for me. I'm not this person."
The nearly 10,000 square-foot house is the same one that we saw in the March 2010 issue of Architectural Digest that everyone seemed to be talking about.
"This property is sheer perfection," explains listing agent Jade Mills.
"In decades of representing some of the leading homes in Los Angeles, rarely have I seen anything that compares to this zen-like oasis which leaves absolutely nothing to be desired.
"For those who appreciate the significance of a home by one of LA's most noted architects whose work helped define an era, this property will be considered the ultimate find.
"Not only is it an original by an important architect masterfully updated for today's lifestyle, but it features exquisite craftsmanship and represents the pinnacle of quality, style and taste."
Aniston reportedly named it Ohana because it means "extended family."
The house was designed by architect Hal Levitt in 1970.
Aniston bought it in 2006, shortly after her split from Brad Pitt, for $13.5 million.
She then spent nearly 3 years renovating and expanding it with the help of designer Stephen Shadley.
He says it was in such bad shape that they "essentially tore the house apart and rebuilt it."
The listing says:
Coldwell Banker Previews International announces that the unmatched Beverly Hills residence created by renowned mid-century modern architect Hal Levitt and meticulously restored and redesigned under the direction of Hollywood's leading lady Jennifer Aniston will be introduced to the market at $42 Million by Estates Director Jade Mills.
The rare property, which offers the ultimate urban sanctuary in the middle of LA's most desirable neighborhood, is located in the highly sought-after Beverly Hills real estate vicinity of Trousdale Estates. The property offers the best of both worlds: an inviting home designed for entertaining, embodying the Hawaiian concept of extended family known as "Ohana," combined with the peacefulness of an island retreat. The water features, which include a pool, spa, ponds, and fountains, flow gracefully throughout the property and cultivate an atmosphere of relaxation and rejuvenation.
Reached via a long gated drive, the estate offers the ultimate in privacy and security, as well as the feeling of being transported a world away from Hollywood.
The estate represents the epitome of indoor/outdoor living with effortless flow between the home and the grounds that lends itself to hosting a wide array of events, from intimate gatherings of friends and family to large-scale celebrations. The scale of the home is striking, with large rooms and soaring ceilings that foster a sense of freedom. Constructed with Green consideration and smart house technology, the residence features a cohesive blend of wood, glass and stone which flow seamlessly out to the grounds. The outdoor entertaining areas include fireplaces, an outdoor living room, and a kitchen set on approximately 1 acre.
For photos and information, read the article at Architectural Digest