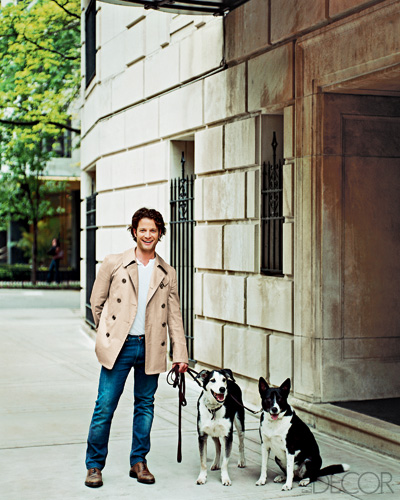 Oprah-approved designer and fledgling talk show host Nate Berkus is selling his 3-bedroom condo in the historic Chicago Gold Coast neighborhood for $2.39 million (it was originally listed at $2.65 million but was recently reduced).
It's in a small, "vintage" 12-unit building built in the late 1920s, and was featured in Elle Decor.
Because "The Nate Berkus Show" tapes in New York, he's been spending more time out there than in Chicago these days. He mentioned his small one-bedroom apartment in Manhattan's West Village neighborhood on "Oprah" back in 2008.
His listing agent, Katherine Chez of Coldwell Banker, says, "It's more sensible for him to move some of his assets to New York."
The condo was first renovated in the 1940s by architect Samuel Marx, and the original fireplace and paneling that he installed are still intact.
Zillow reports that Nate just bought a $3.35 million co-op in NYC. It doesn't look like his style to me, so I wonder how he'll Berk-ify it? You can see the photos here.
Public records show he bought the nearly 4,000 square-foot condo in 2003 for only $500,000, but Crib Chatter insists that must be a typo. They believe it was actually $1.5 million.
Do you like Nate's style? See the photos at Elle Decor and the listing.

Photo credit: Pieter Estersohn for Elle Decor.