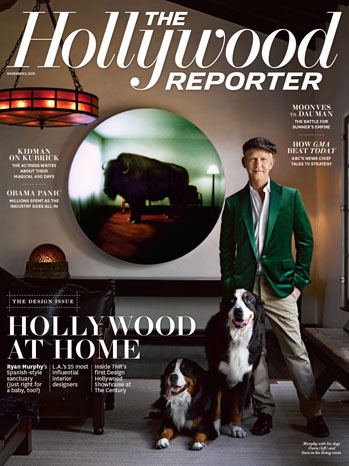 Remember Diane Keaton's beautifully renovated Spanish Colonial? It was designed in 1927 by Ralph C. Flewelling and was featured in Architectural Digest in 2008.
Keaton sold it in 2010 to the Glee and American Horror Story creator Ryan Murphy, who redecorated it with help from designer Cliff Fong. The Hollywood Reporter has a tour of it in their current issue.
Keaton's designer Stephen Shadley came up with the idea for the inverted, upside-down shades in the kitchen that were so striking and memorable.
Here's how the kitchen looked when it was hers:
Murphy says he liked how she had the house so much that he begged her to sell him all the furniture that came with it, but she declined. She did, however, let him spend a day photographing all of her things so he could replicate as much as possible.
You can see he kept the kitchen looking pretty much the same as when she lived there:
A shot of Keaton's kitchen from Architectural Digest shows the colorful pottery she had in the room:
Murphy has a vintage "CALIFORNIA" sign in the kitchen and everything looks a little more masculine
and subdued than it did when it was Keaton's:
Here's the library that was pinned and posted a million times when it was Diane's (and featured in AD):
Ryan loved the daybed so much he searched until he found something similar.
It's a rare Monterey of California daybed with its original paint that looks almost identical to hers:
with photos by Douglas Friedman. Architectural Digest photos by Scott Frances.

You can see how it looked when Diane Keaton lived in the house here.