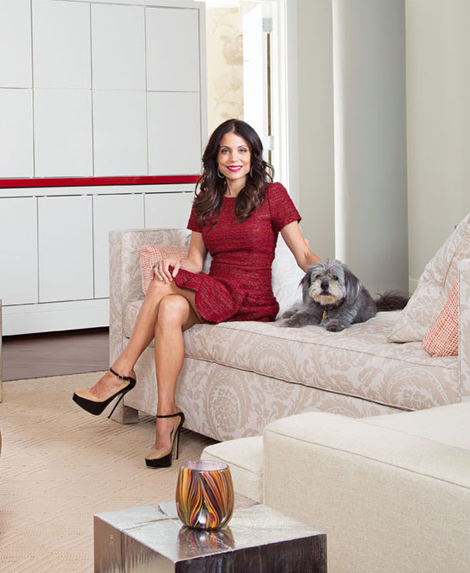 It's funny. Over the years I've featured the houses of some major movie stars, but it's the homes of reality-TV personalities that readers request most. Those of you who asked to see photos of Bethenny Frankel's newly remodeled loft in TriBeCa are in luck because Traditional Home magazine featured it in their current issue.
The 3,400-square-foot luxury apartment is in Manhattan's TriBeCa neighborhood. When she bought it, it was kind of a blank slate. She hired the mother-daughter design team Mariette Himes Gomez and Brooke Gomez for the remodel. "I loved the film Something's Gotta Give, which reminds me of their style," Bethenny told the mag.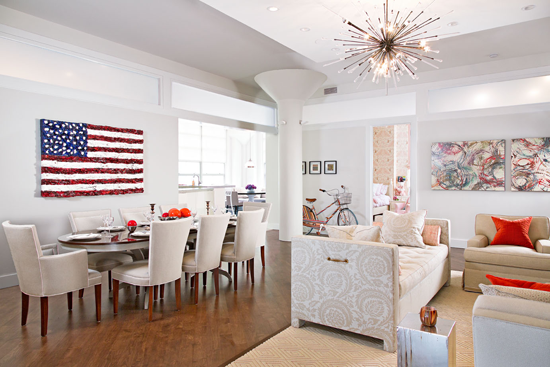 Does anyone else remember watching Bethenny almost win The Apprentice back in 2005 when Martha Stewart was the one hiring and firing instead of Donald Trump? She came in second. I wonder where the winner is today? I couldn't pick him/her out of this cast photo, I'm afraid…
Since then she starred on The Real Housewives of New York City…
…and became such a break-out star that she got her own shows, Bethenny Getting Married? and then Bethenny Ever After. She married Jason Hoppy in 2010 and they have a daughter named Bryn.
The remodel was filmed for her Bravo reality show Bethenny Ever After last year so viewers could follow along.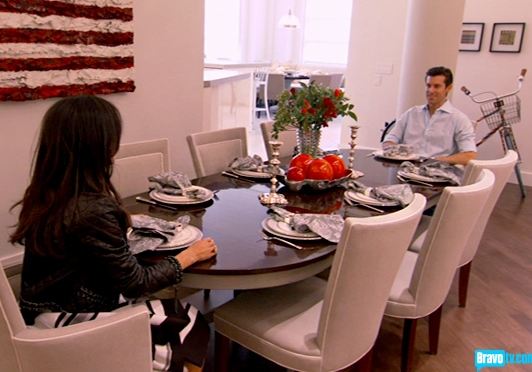 Sadly, they announced their split in December, and so far it doesn't sound very amicable.
Bethenny's current project: her own talk show. She has a dedicated office in the loft and says, "Every single inch is utilized, and it's very organized. It's one of the most alive places in the apartment."
Bryn's bedroom is sweet and pink with monkeys climbing the walls: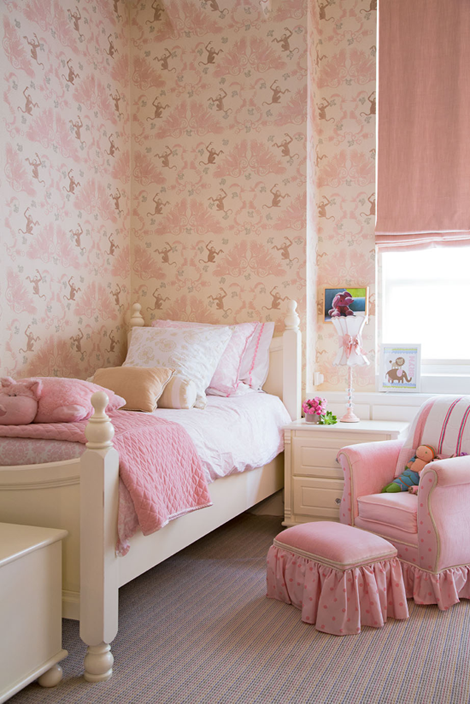 The wallpaper in the master bedroom is by Ted Tyler.
They turned what was a den into a large closet, which she calls her favorite room. "I wanted a closet like this my whole life, and finally, I don't have to shove things under the bed."
Check the Feb/March 2013 issue of Traditional Home to read the article by Cathy Whitlock and see the rest of the photos by Joe Standart. Story produced with Jo Ann McVicker. 

P.S. Visit Celebrity Houses to see more, including:
When February rolls around and Valentine's Day with it, I suddenly start craving more red in my house. Anyone else? I used to have red…
Who knew? Jeremy Renner, who got 2 Oscar noms for his roles in The Town and The Hurt Locker, has a second career as a…