Last summer Drew Barrymore got hitched in the backyard of her Montecito home to art consultant Will Kopelman. Now they're selling the traditional-style estate, which was built in 1937 and sits on 2 acres, for $7.5 million. Take a look!
Although they maintained the traditional look of the house for the most part, there are definitely some quirky touches here and there.
I'd love to get a closer look at the collection of silhouettes on the mantel:
The rug (above) looks a bit small for the space. And the ones in the dining room (below) seem like an odd choice, don't they?
There are 6 bedrooms and 7.5 baths.
Her daughter Olive's nursery is painted–what else?–green!
Gotta say I never figured Drew for a zebra-skin rug type of girl…
I love how cheerful her kitchen looks with the side-by-side vintage (or at least vintage-looking) refrigerators and the yellow and white checkered floor.
The listing says: "A walking path winds through the abundant gardens, citrus and avocado trees and expansive lawn to create a one of a kind setting. Mountain views."
One of the garages has been turned into a casual hang-out space:
Like it? For more photos and information: Suzanne Perkins of Sotheby's Realty. Sources: Zillow, Daily Mail, and Trulia.
P.S. Visit Celebrity Houses to see more, including…
Reese Witherspoon's Place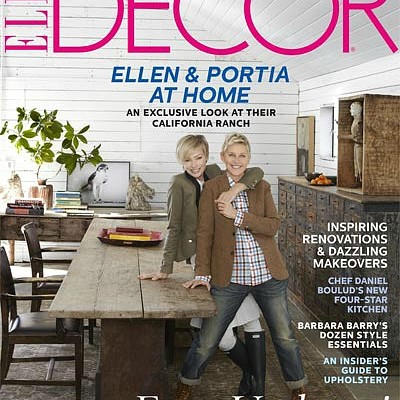 After I showed you an historic house in Vermont that Michael J. Fox once owned, a couple of you asked why some celebrities move so…
Olivia Newton-John, who sang her way into our hearts as Sandy in Grease (and doesn't look like she's aged at all since the 1970s!), has…