Nate Berkus is back on TV with American Dream Builders, a show that's kinda Extreme Makeover: Home Edition-meets-Design Star. Each week two teams of designers renovate and decorate a house, and someone from the losing team goes home. The Designer Drama threatens to derail the show at times, though. Take last night's ep, which had them renovating two Spanish-style bungalows. The Blue Team, led by Elaine Griffin, tackled this one…
One thing I like about the show is that they're fixing up smaller-sized houses and aren't increasing the square footage. So the houses aren't magically transformed from, say, an old Spanish bungalow into a McMansion by the end. They just look like better versions of themselves in the end.
Nate Berkus, whose talk show was canceled last year, says, "We're forcing these people who have 12 massive egos to work as teams. When they don't work well together, [fellow judge] Monica Pedersen and I are, like, hiding under the desk." I'm afraid a lot of their viewers are, too.
It's fun to see the houses get transformed by the end of each episode. And I think the show has promise. But right now it has an "Elaine Problem." If you watch it, then you know what I mean. She's so rude to her teammates at times that it's almost painful to watch.
To be fair, she's not the only designer bringing the drama. But based on what I'm hearing from those of you who write me after each show ("Can you believe her?!"), viewers are having a hard time getting past her bad behavior.
In last night's episode she actually pulled a designer from the opposing team into the house and asked what he thought they should do with the fireplace in the living room. When her teammates objected, she didn't seem to understand why it was a big deal.
Elaine Griffin is a fairly well known designer who is a contributor for Better Homes & Gardens and makes regular appearances on the Today show. She has talent. They raved about her living room makeover this week:
But the show is highlighting her bad attitude more than her design skills. Here's a typical comment posted on their FB page by irate fans after last night's show:
"I loved Nate's talk show and had high hopes for this one but I'm so disappointed. Elaine is a bully. I can't believe she didn't get eliminated tonight when her team lost. I won't be watching again until she's gone!"
Last night Elaine pooh-poohed every creative idea Christina Salway had for the kitchen makeover. She wanted to use colorful Spanish tiles but her team leader wasn't having it. Here's how it turned out:
Nice enough, but very "vanilla," as Nate put it. There was nothing Spanish bungalow or remotely interesting about it.
When Elaine's team lost last night, it looked like she might be going home, but they banished Christina for her kitchen instead.
Over on the Red Team, things went more smoothly this week. Here's the bungalow they had to renovate:
I love how they created a front courtyard with a wall and door.
Dann Foley's living room makeover involved some beautiful Spanish tile on the fireplace:
Lukas Machnik was in charge of the kitchen makeover and he used some interesting tile, too:
To see all the before and after photos and get more details about the makeovers, visit American Dream Builders on the ADB website.
Have you been watching? Are you sick of the drama on reality shows like this or do you keep tuning in to see what crazy things the contestants will say or do next? 🙂
P.S. Hooked on Design Shows?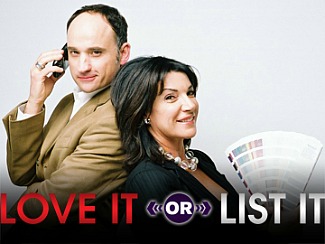 (Visited 29 times, 1 visits today)