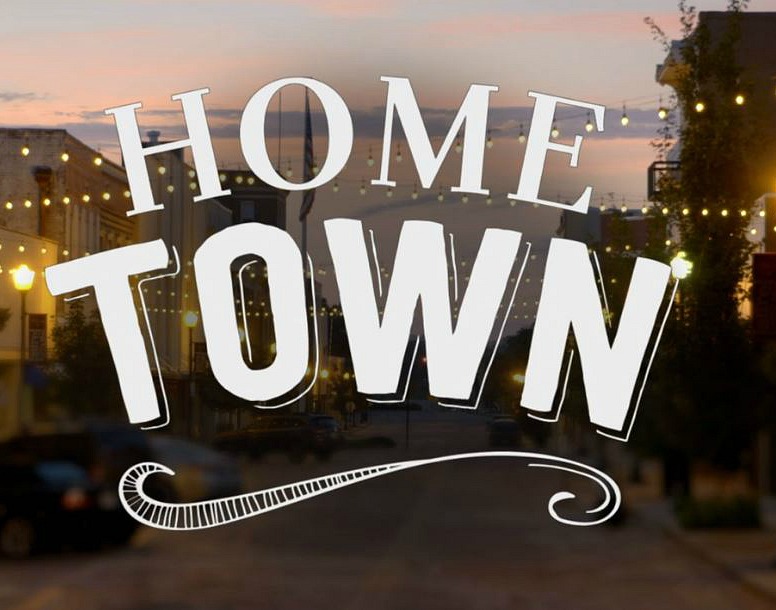 Four years ago I featured Erin and Ben's Craftsman Cottage in Laurel, Mississippi.
Since then they were asked to shoot a pilot for HGTV called "Home Town," and it premieres January 24th.
Today they're telling us how they got noticed by the network, the things they learned about taping a show, and what it was like to be mentored by Chip and Joanna Gaines!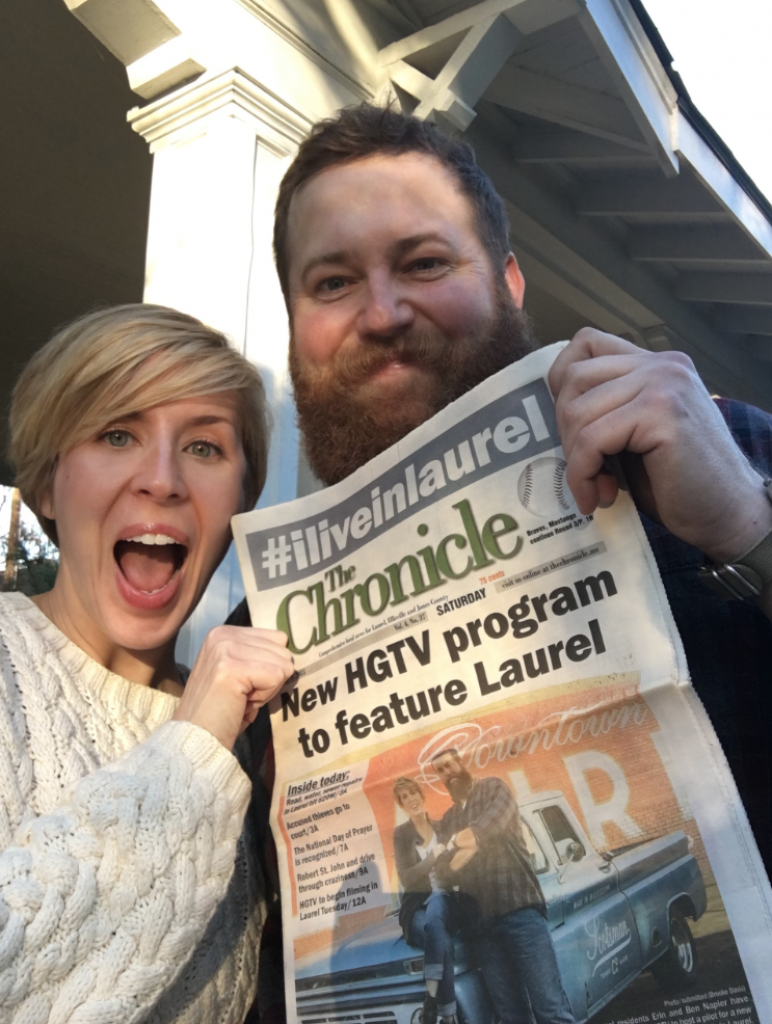 Ben & Erin's "Home Town" Story in Their Words:
You never expect to get an email at 10 pm at night from an HGTV executive that says "I've been stalking your Instagram for a long time, and I'm in love with your town, your business, and your love story. I think there's a show there. Have you ever thought about doing TV?"
Well, no, we definitely hadn't!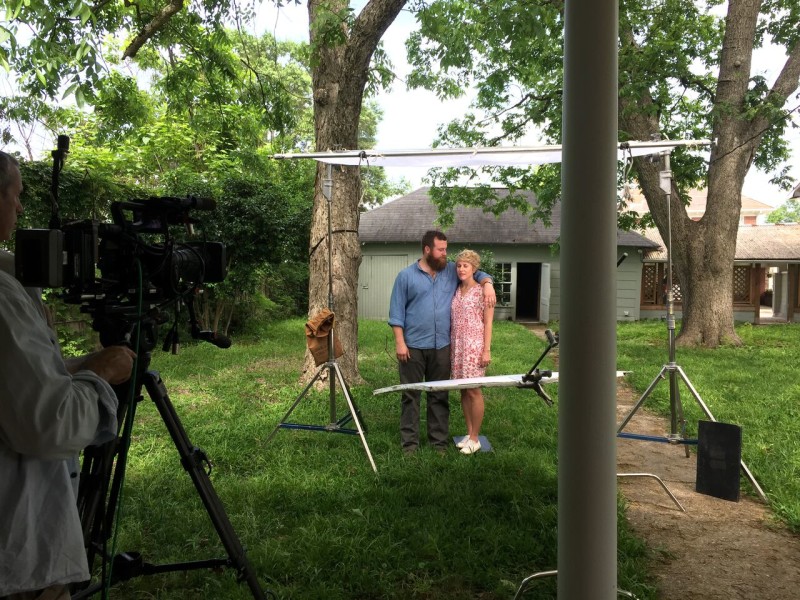 We've been involved in downtown revitalization and historic preservation efforts in our town since we finished college at Ole Miss, got married, and moved to my hometown of Laurel, Mississippi, in 2008.
We got her email in July of 2014 when my husband Ben was preparing to leave his 10-year career in student ministry to focus on his woodshop, Scotsman Co., and our company, Lucky Luxe.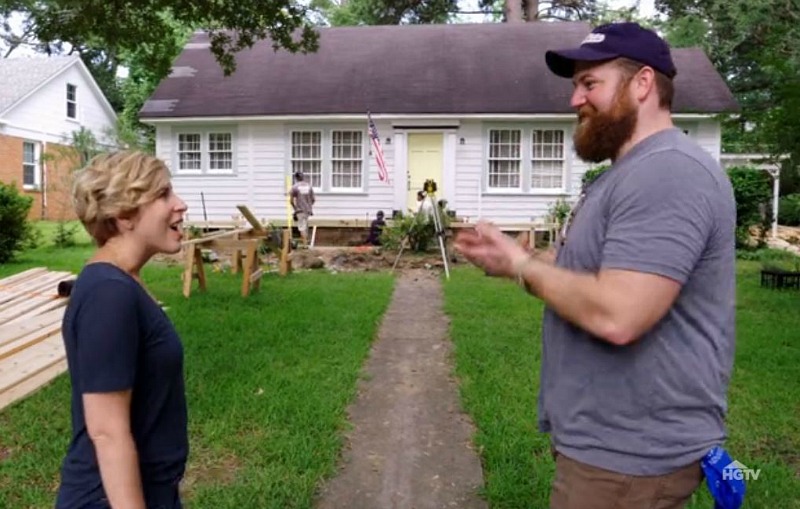 Ben presides as our historic old lumber town's larger-than-life mascot—the Loblolly Lumberjack, and I'm an artist who's happy to do pro-bono design work for the city with vintage-inspired murals and banners. I've had fun sharing our journey on Instagram but certainly never thought the eyes of a network like HGTV might be watching!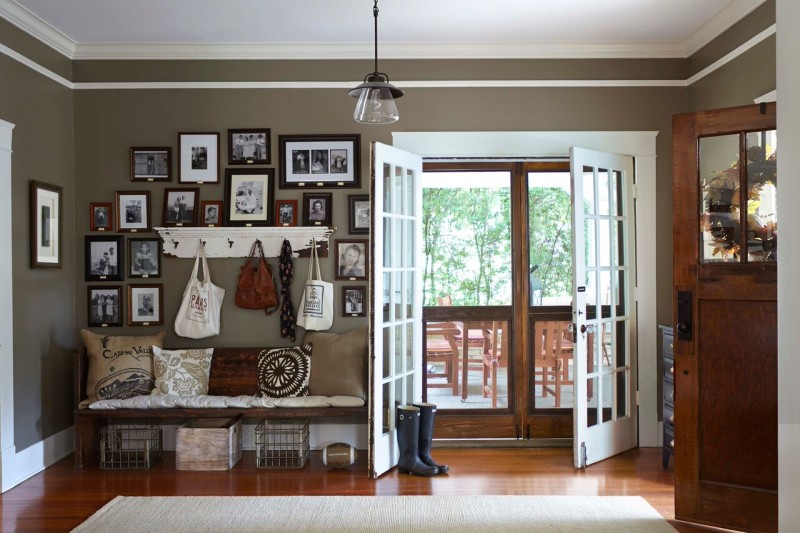 They had seen the renovation of our 1925 craftsman (featured right here at Hooked on Houses in 2012!) and the 1910 flatiron loft we use as our work space.
We thought we were just documenting our newlywed life, but they saw the story of young people going home and doing their best to make a difference in their small Southern hometown.
Grateful doesn't begin to scratch the surface of how we feel.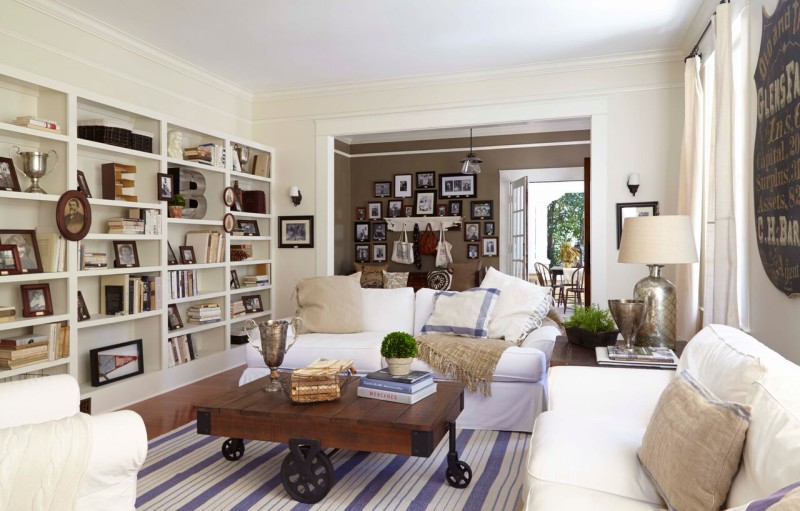 After months of Skype interviews with our production company, then creating a "sizzle" (a 5-minute mini-episode for the network to see and then decide if they like "the talent" enough to order a pilot), we got the phone call that HGTV was ordering one in December 2014. Then things started moving fast.
Pre-production began and in May we started the two-month adventure of filming our pilot, "Home Town," a show about how you don't have to leave your small town to make a big difference.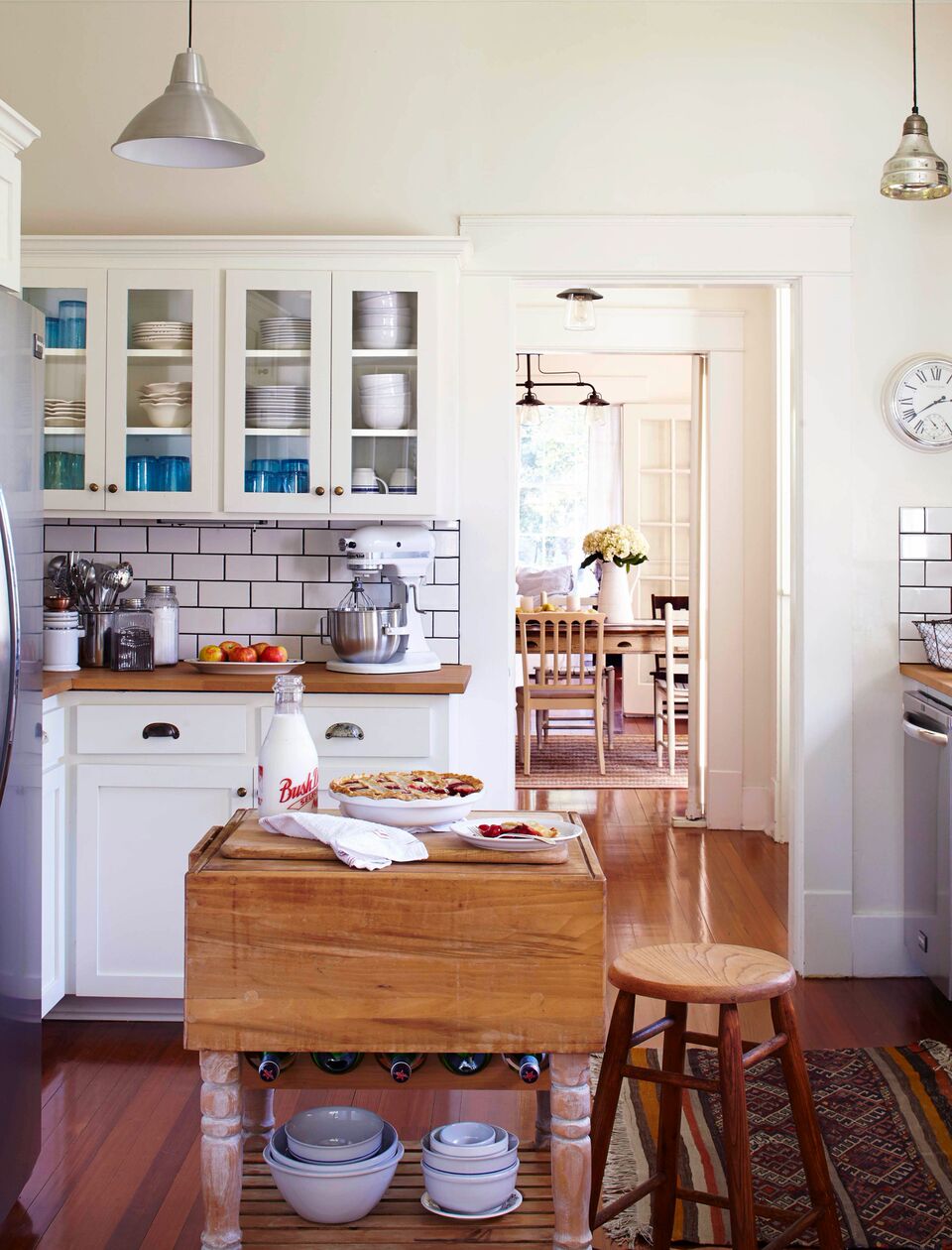 On the show we welcome a new family to town and help them find an old house. I do paintings to show them our design ideas, and then we gather a team of local expert craftsmen, architects and builders and make it their dream home while bringing them into the fold of our quirky, funny neighborhood.
It's a renovation show on paper, but it's a show about finding your place in a small town at its heart.
We quickly realized that there's so much you don't know as a viewer of a TV show. It takes an army to cover all the bases of filming a major network pilot, and we felt like we were in the absolute best hands from beginning to end with our production company, RTR Media out of Canada, and our crew, who were such pros and artists.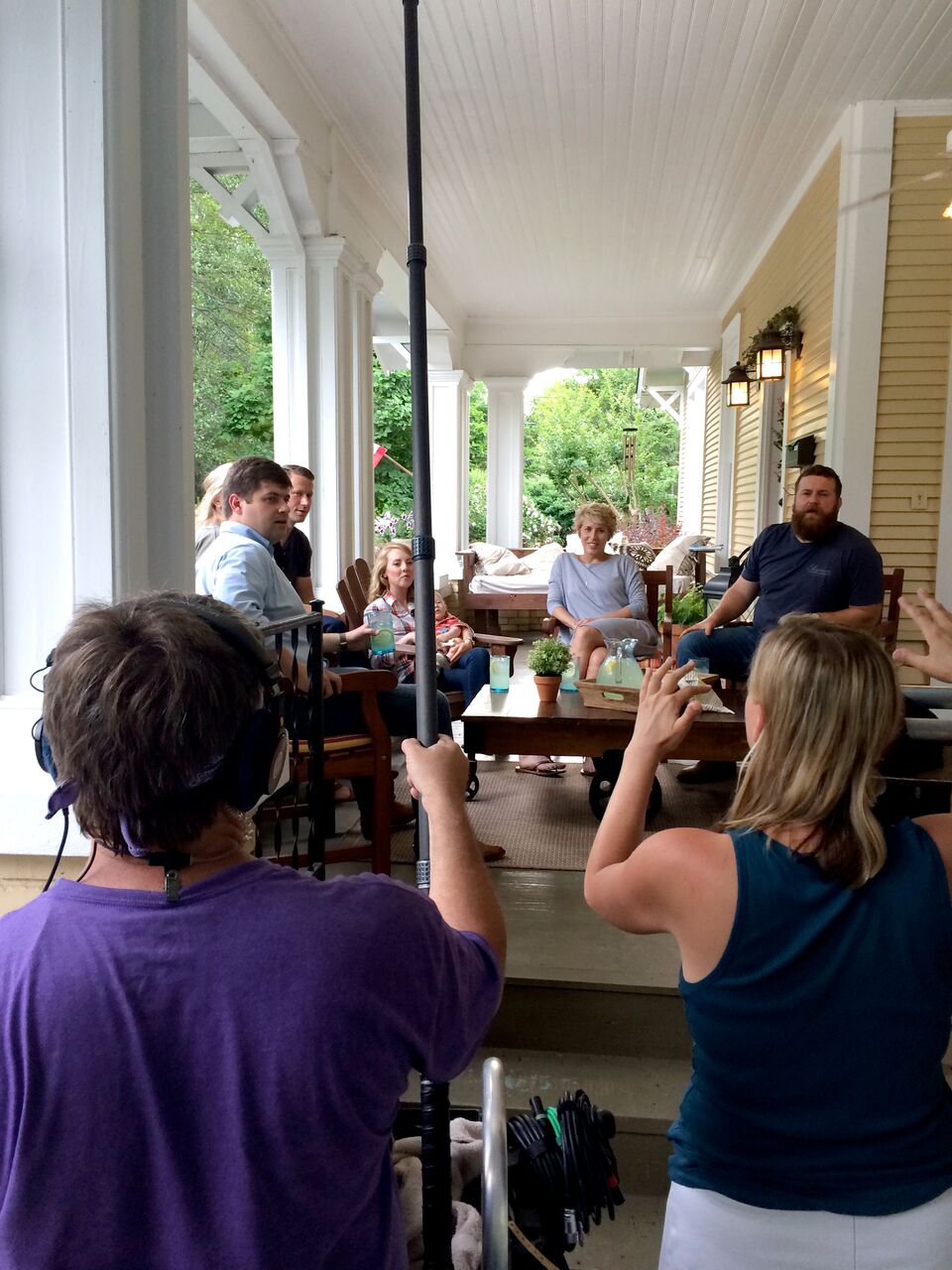 5 Things We Learned About Taping a TV Show:
1. There are a lot of wardrobe restrictions! You can't wear clothes with thin stripes or small check patterns (because it creates a crazy psychedelic effect on film), words/logos (without permission from the business etc.), or white.
The "no white shirts" issue was the toughest for us during the Mississippi summer when literally the only thing in my closet is white linen and Ben only wears plain white v-neck t-shirts. It's like his uniform. But they attach tiny little microphones to your body that can show through white, and you look super washed out on TV.
2. The microphones you wear record all. Day. Long.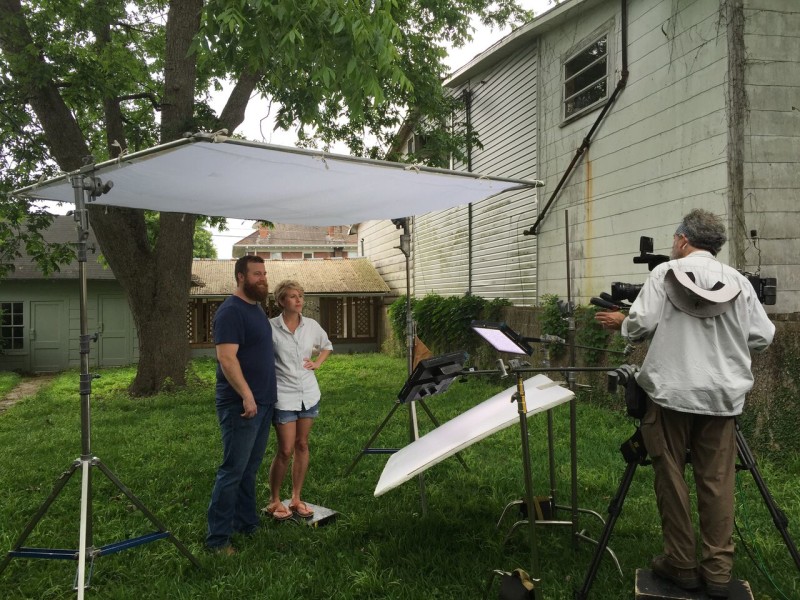 3. When you talk to the camera about what's going on, they're called 'on the fly' interviews, or OTFs. We did an OTF after every scene, no matter what.
There is nothing scripted about shows like ours and "Fixer Upper" — they asked us questions and we answered 'em on the spot. We were very lucky to have such smart producers who know the right way to ask a question to get a halfway interesting response.
4. Real estate day, when you show the homeowners houses, is EXHAUSTING. It's hard to be really enthusiastic while discussing (and repeating) design ideas for hours on end.
5. Because Ben is 6'6" and I'm 5'5", I had to stand on a crate called a 'half apple' so we would fit in the frame together nicely in every OTF. There's a formula for who stands on which side, and you never deviate from it.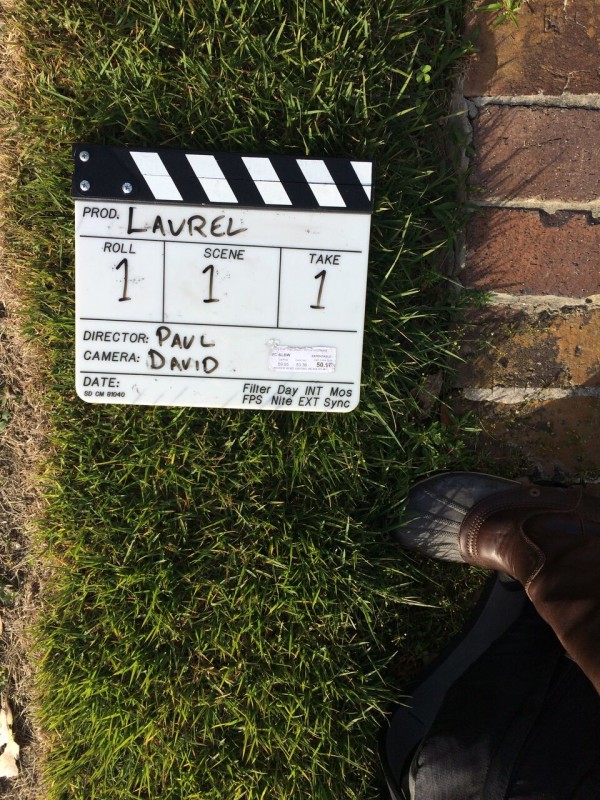 Meeting Chip & Joanna and the "Fixer Upper" Crew:
We've been incredibly lucky to share some of the same great people who created Fixer Upper, and they were gracious enough to connect us with Chip and Jo Gaines and Kelly and Clint Harp. They have been like big brothers and sisters and mentors to guide us along this really weird journey into TV renovation.
It's like Chip told Ben — this work creates a kind of fraternity that your family and friends can't understand if they're not in the middle of it.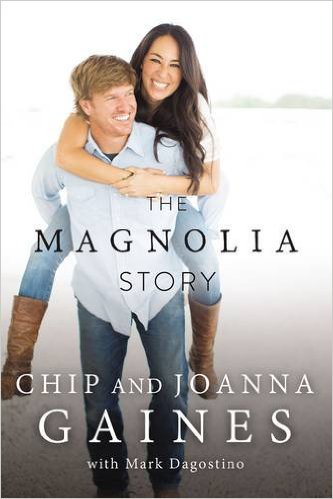 Chip and Jo have definitely been a great support system for us "kids," green in matters of TV and life in general, always calling and texting them with questions.
In February 2015 we took a trip to Waco and spent the weekend with the whole Fixer Upper gang, eating Texas-sized steaks and BBQ, celebrating the wrap of their second season.
We were in Texas again for my birthday in August 2015 after we wrapped our pilot. One day ended with a 2-hour ride around Waco with Chip. We talked a lot about how fortunate we all feel, even though Ben and I are still nobodies with just the hope of helping save our town.
If you love old houses and small towns like we do, tune in to "Home Town" on HGTV Sunday, January 24, at noon EST/11 am Central. We hope it'll be a catalyst that brings other young families back home to their small towns all over America! -Erin & Ben Napier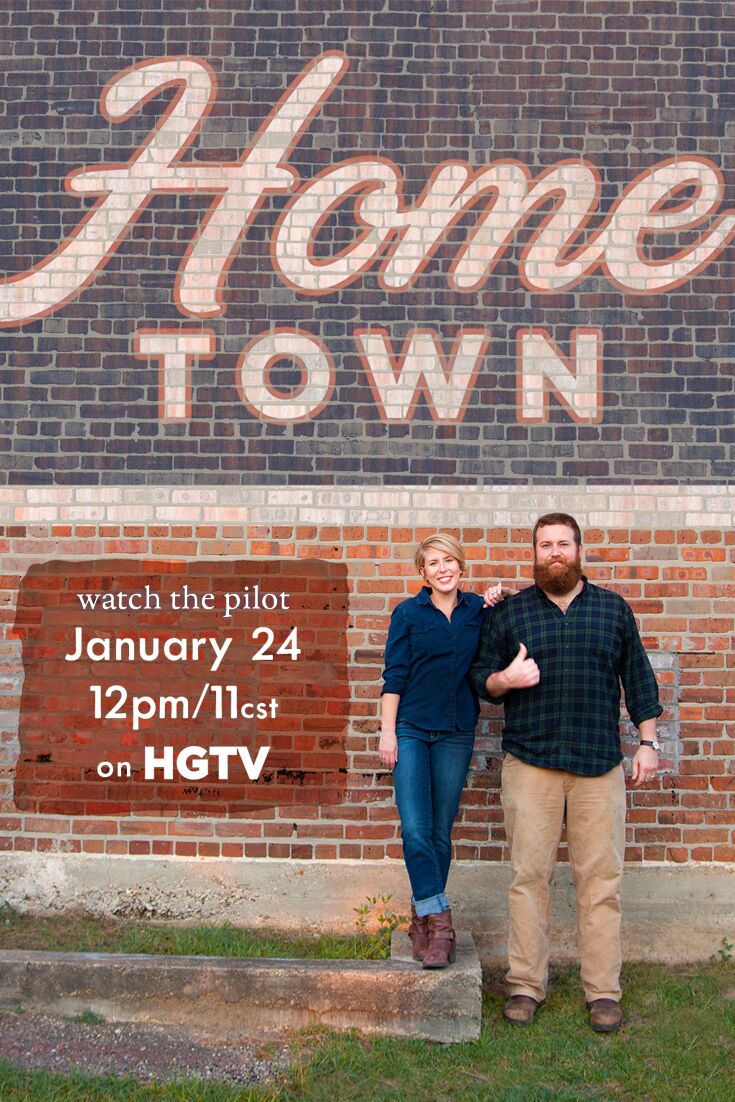 Thanks to Erin and Ben for sharing their story with us!

I can't wait to see the show. In the meantime, you can check out my original post about