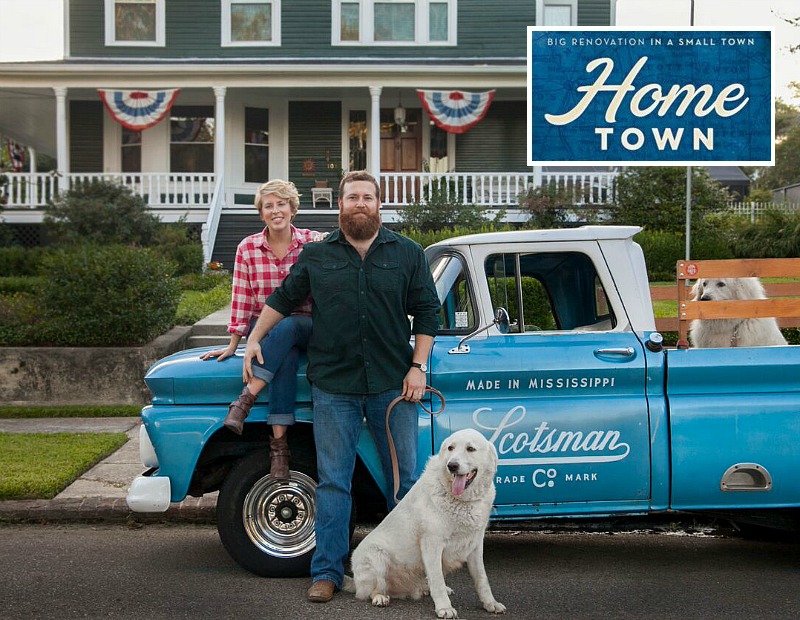 When a reader named Erin Napier sent me photos of her 1925 Craftsman Cottage in Laurel, Mississippi, I got a case of serious house envy. (Note that the house above is not theirs but is a publicity shot from HGTV. Their home's exterior is not shown for privacy reasons.)
Today she's sharing the story of how she and her husband Ben came to own the George F. Haynes House, as it's known, and have made it their home.
Take a look!
2017 Update: Since I wrote this post, they got their own show on HGTV called Home Town! Read all about their experience filming the pilot for it, in Erin's words, here.
Note: There are Amazon affiliate links in this post that may earn commission.

Erin & Ben Napier at Home in Laurel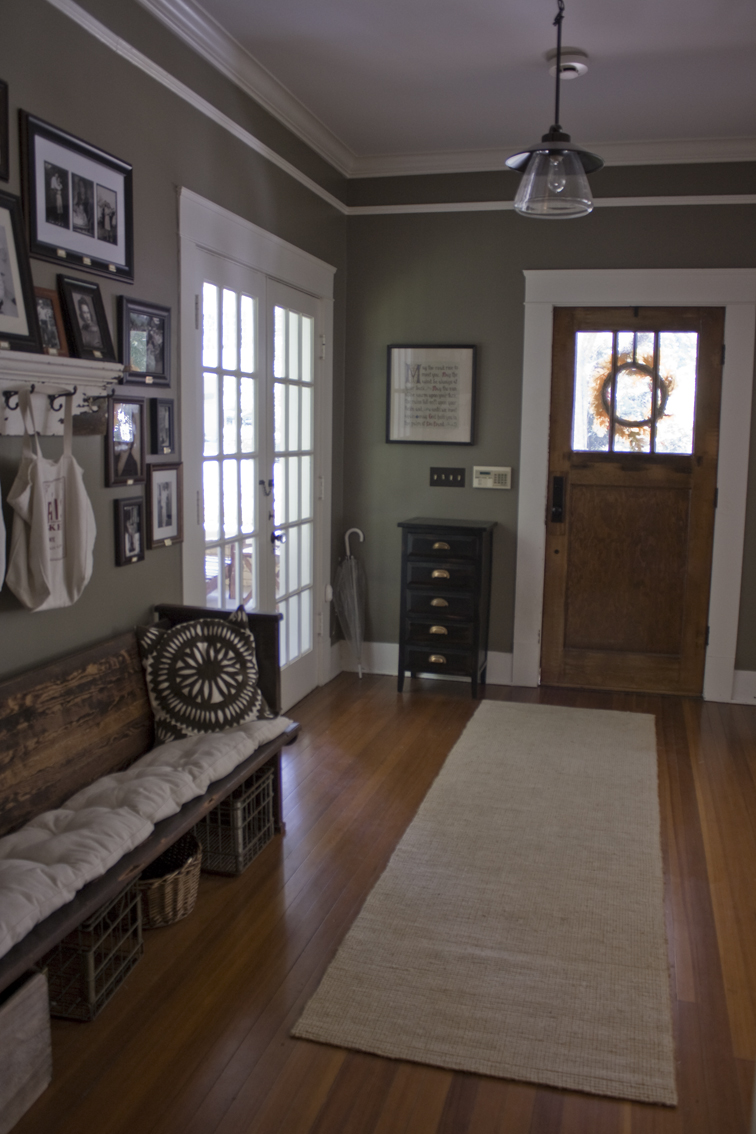 Erin told me the story of their home and how they fell in love with it:
When I was in junior high school, I fell in love with the yellow craftsman cottage in Laurel's historic district, just across from Mississippi's first art museum, Lauren Rogers Museum of Art.
As a budding artist in my high school years, I would come downtown to draw the beautiful architecture, and I would daydream about making that unassuming yellow cottage my home one day.
When I would come home to visit during college, I would take long walks in the historic district with my boyfriend, Ben, who would later become my husband, and we would choose our dream houses.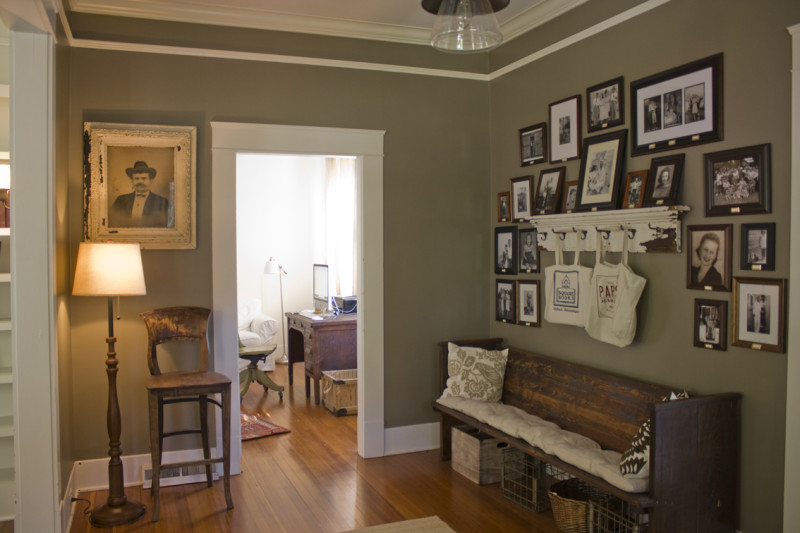 When I graduated with an art degree from Ole Miss in 2007, we were soon married and before long I started Lucky Luxe Couture Correspondence, a letterpress wedding stationery studio from our loft apartment just 2 blocks from the yellow cottage.
We loved our loft, a former toothpaste factory in WWII, but before long the business outgrew the confines of a home office and Lucky Luxe became an international success in the wedding world.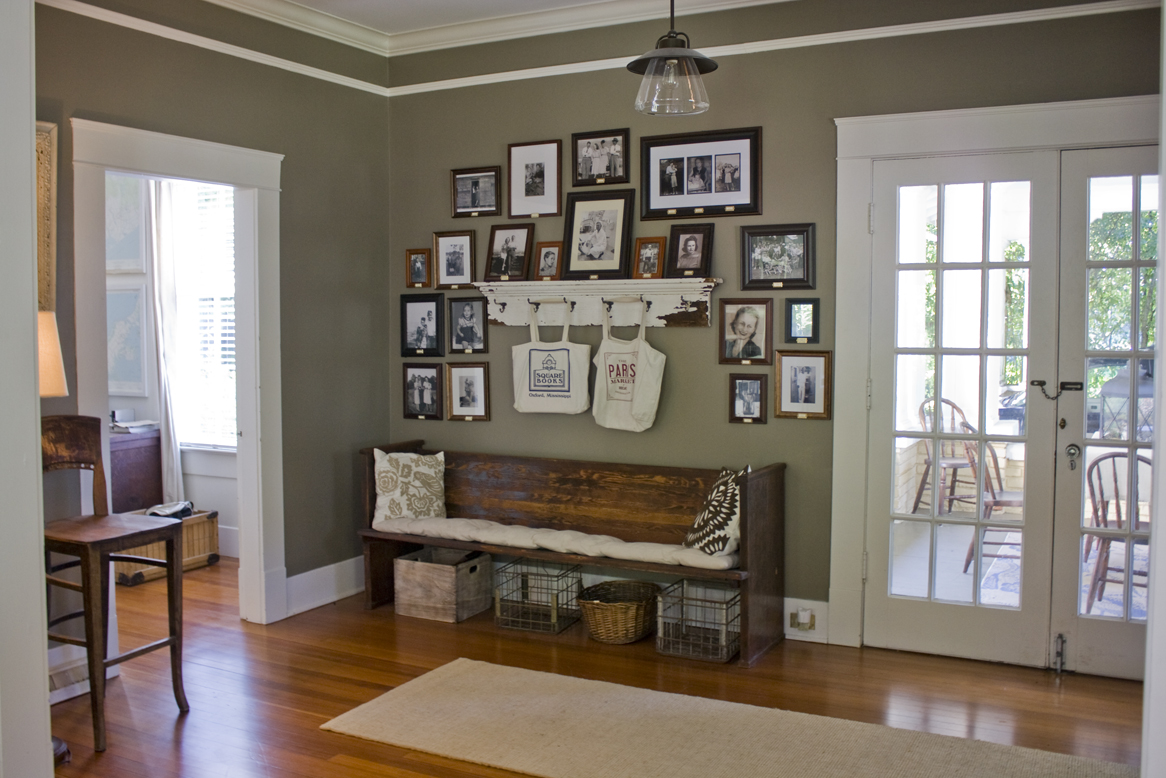 We idly began thinking of buying houses. Daydreaming, really.
My husband is the student minister at our church in downtown Laurel and we learned that one of our favorite parishioners was the owner of the yellow cottage.
For fun, we knocked on her door one day and she invited us in to take a look around.
It was a like a brand new house since its remodel after hurricane Katrina, and she had it decorated in a beautifully formal, Southern style with buttery yellow walls.
We jokingly told her if she ever wanted to sell the house to call us because we'd love to buy it.
She called us a week later with a price we couldn't refuse.
We bought our dream house, the yellow craftsman cottage, in September 2011.
We learned the fascinating history of the home. Lauren Eastman Rogers, son of one of our city's affluent and industrious founding fathers, was newly married in the early 1920s and shortly thereafter died tragically of appendicitis at the age of 23.
They were in the midst of building a home on the site of the art museum at the time, and his heartbroken bride couldn't bear the thought of living in it alone or anyone else living in it either.
Rumor has it that she ordered the partially completed home to be dismantled, and a local contractor used the salvage of the Rogers' home to build our house for the city's first dentist, George F. Haynes, in 1925.
The home is now in the directory of downtown Laurel's architectural styles as the best example of craftsman architecture in our city. Lauren Rogers became the namesake of the first art museum in Mississippi, which was built on the site of his home as a memorial.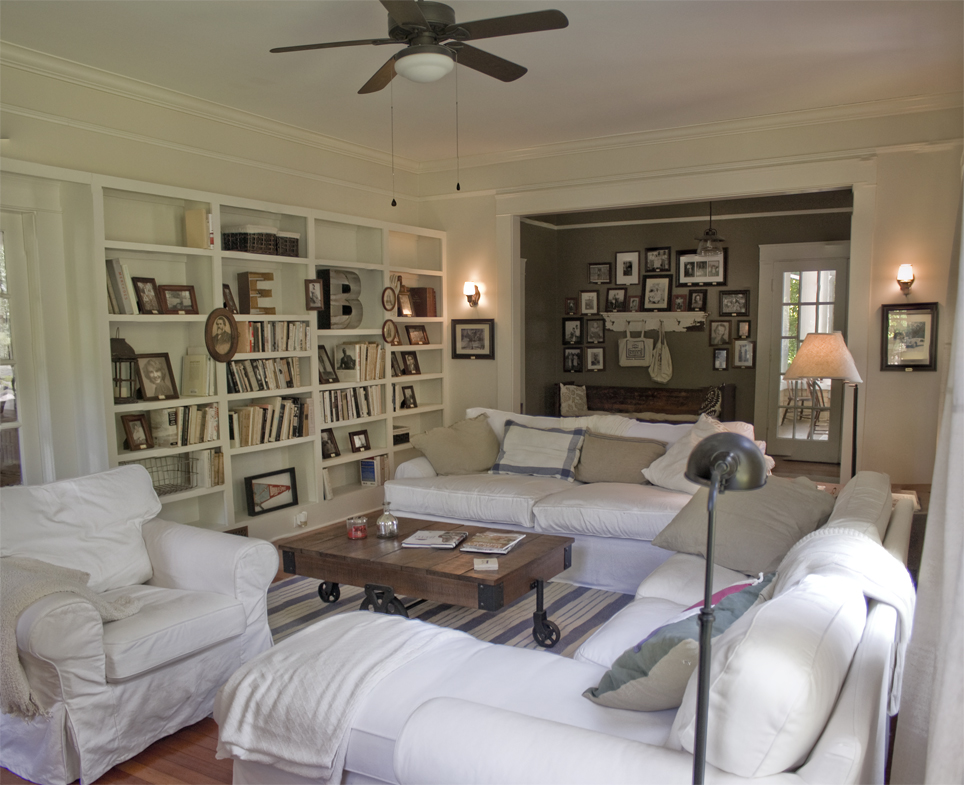 In the living room, we had a contractor build simple bookcases the entire length of the wall, which we are slowly filling with white and cream hardback books and objects from our travels and from our family history.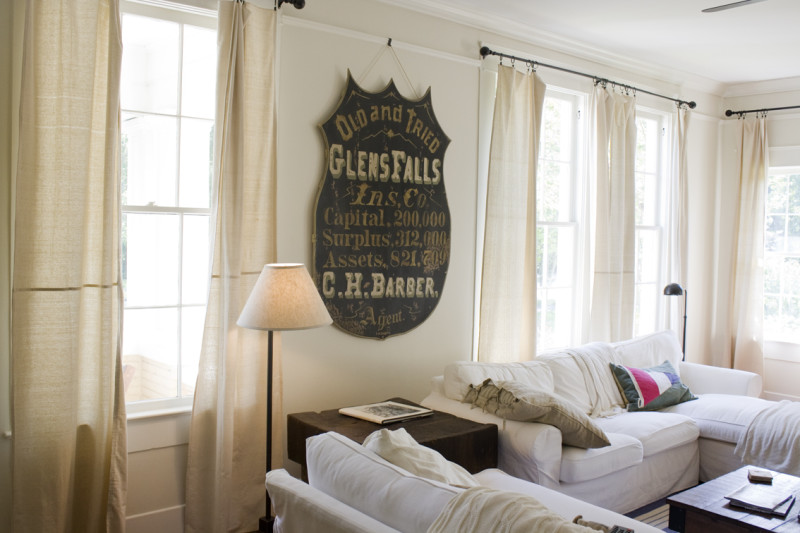 Books are especially important to us and act as decor just as much as literature in our home.
The coffee table is a factory cart, the striped cotton rug is from Dash and Albert, and the end table is an old chopping block found at the Salvage Market in Jackson, Mississippi.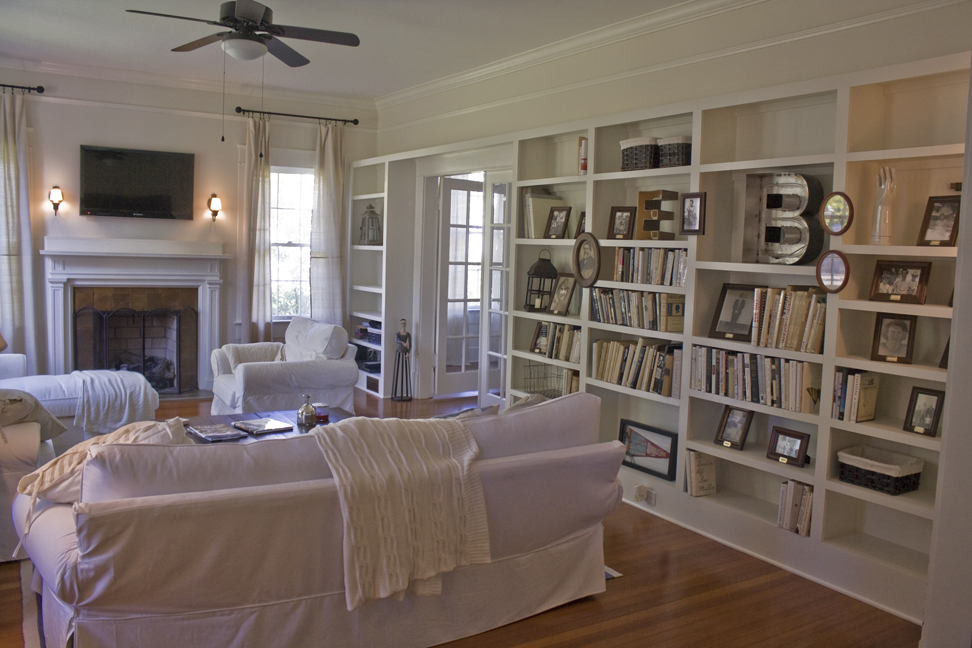 The kitchen wasn't damaged in the hurricane and thus had not seen a remodel since the 1980s, so that's where we began.
The room was dollhouse cutesy, with scalloped cutouts framing the windows and Formica countertops, white appliances placed awkwardly in the layout, with the refrigerator sticking out in the walkway.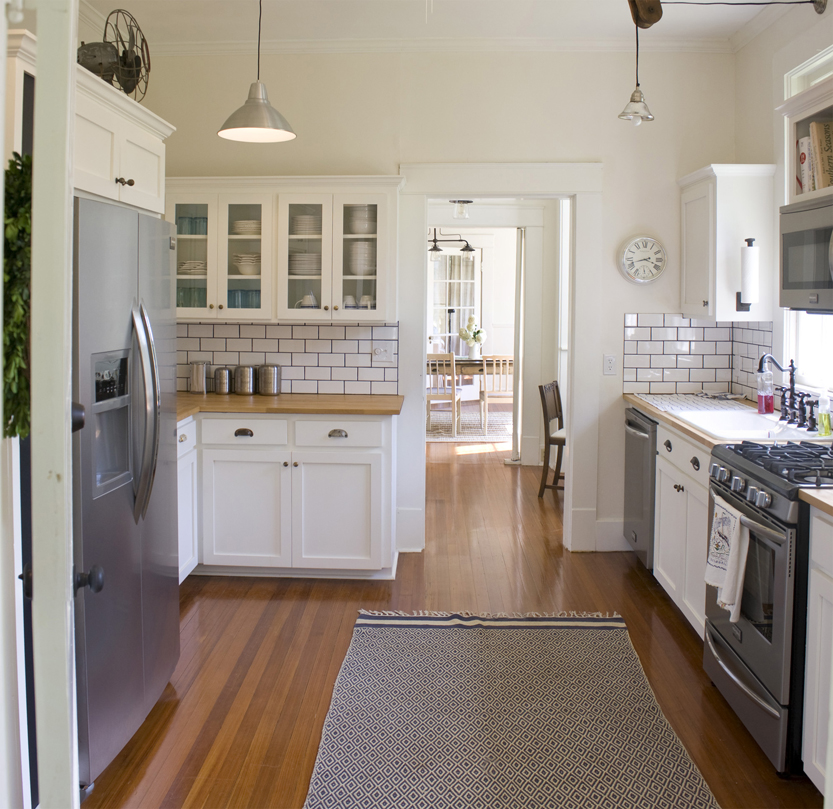 We did as much of the renovation as possible ourselves, keeping with a simple, basic timeless style that would (hopefully) be in style forever.
We did absolutely everything for as little money as possible, and all of our decor was either found (free) or from a flea market. We're pretty thrifty.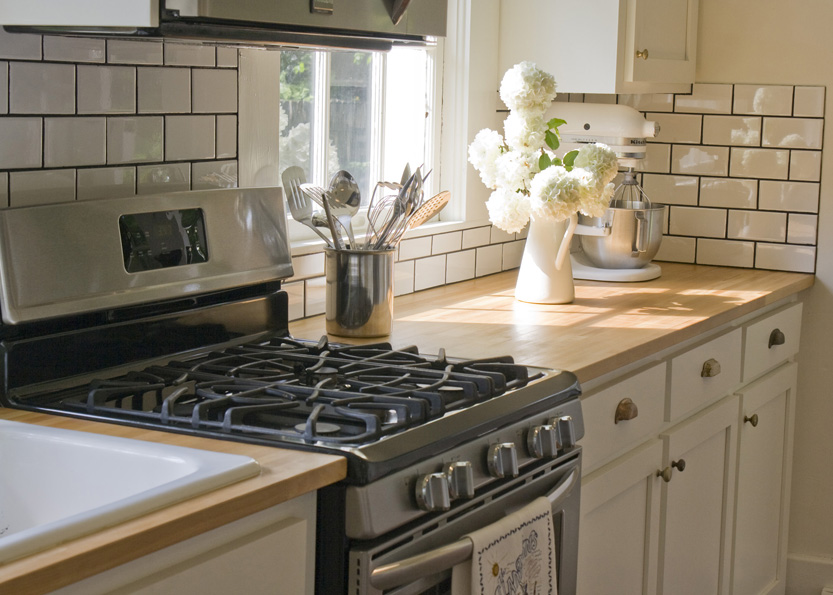 Ben built a custom cabinet around our new stainless refrigerator, the butcher block countertops were a bargain from IKEA, the cast iron enamel sink was a vintage find from Ben's mom, the mercury glass pendants are suspended from old cotton factory pulleys, and the subway tile was a closeout steal for $60.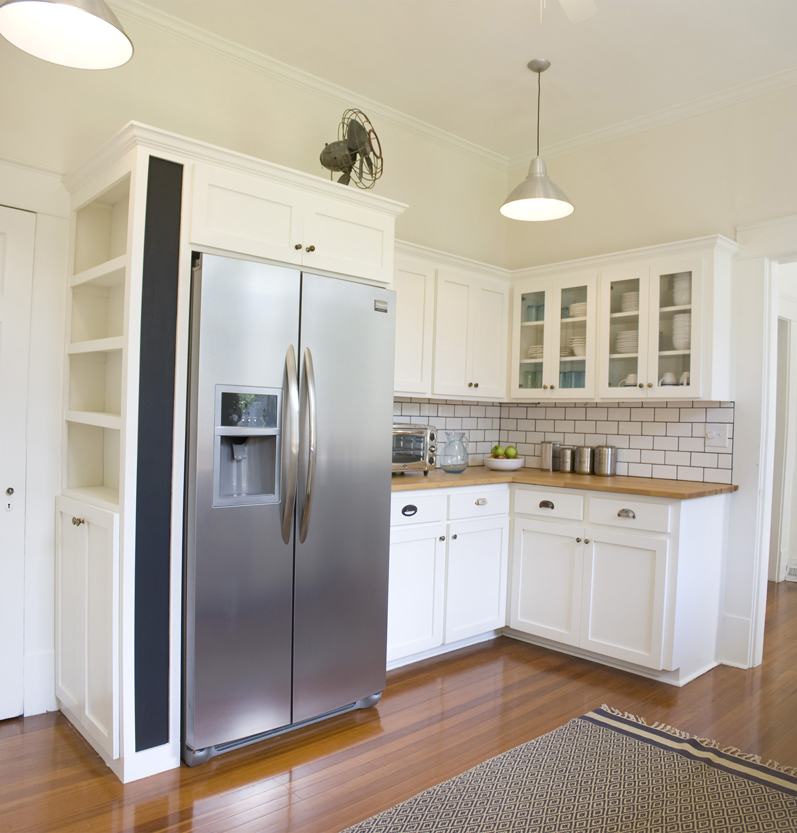 All of the knobs are mismatched and from an architectural salvage shop in Boston.
The owner tells us the pulls and knobs came from pharmacies and schoolhouses around New England, our favorite vacation spot every fall.
Some are copper, some are painted and chipping, and each one is my absolute favorite one.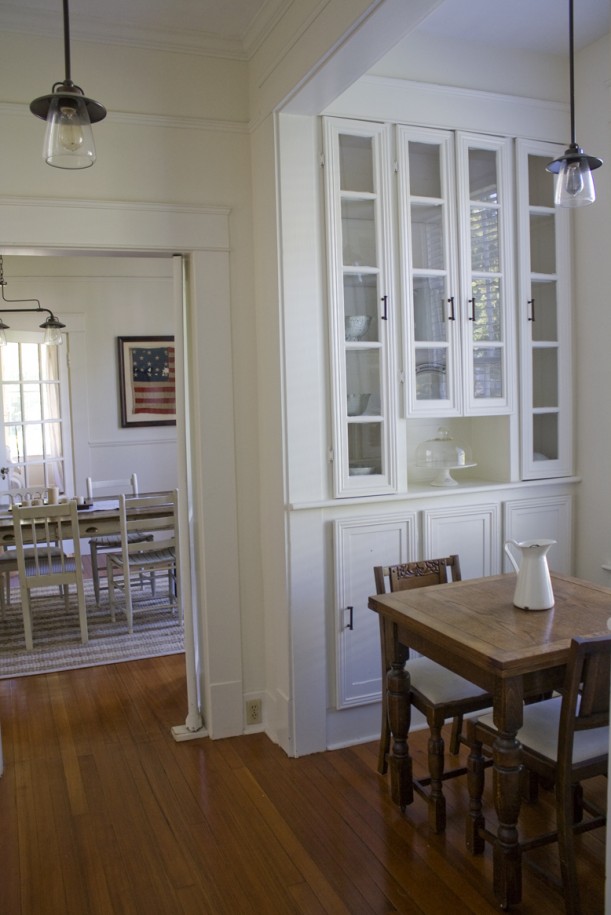 The 8′ dining room table was built by Ben from old deck boards
and my parents' old front porch columns:
The chairs were collected at flea markets and the
1876 centennial flag was an estate sale find for $3.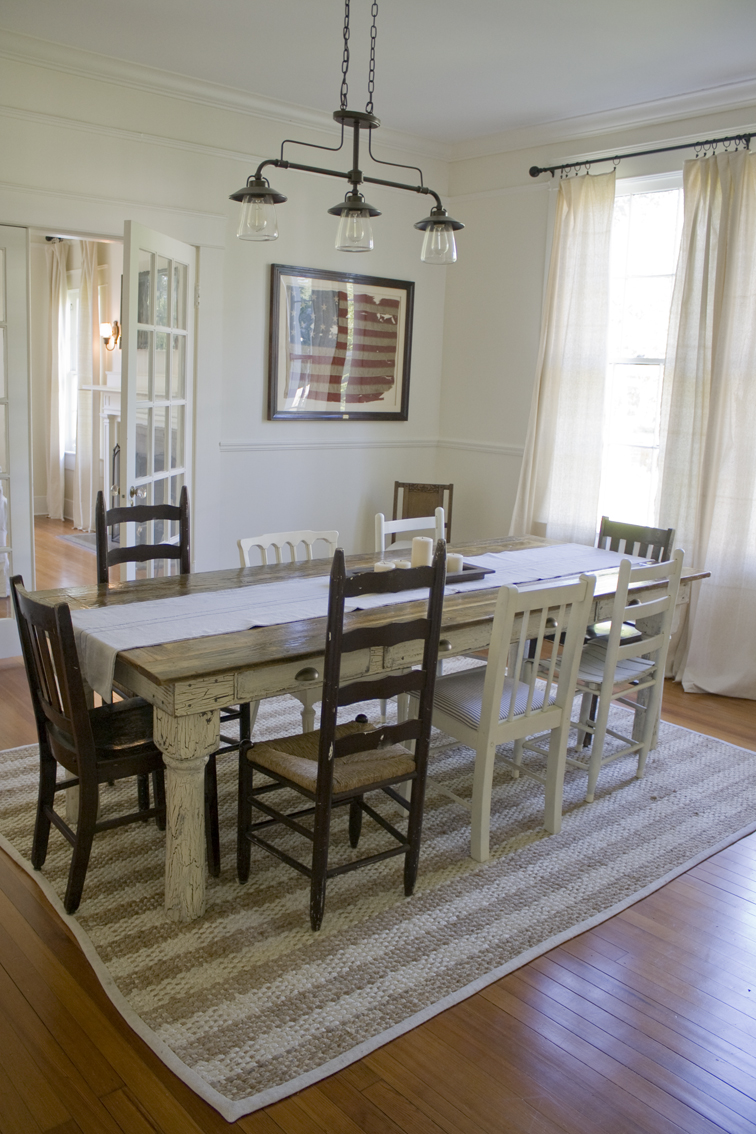 An oil portrait of my daddy's dove hunting dog from the 1970s hangs in there, along with a WWII red cross poster and a watercolor drawing of our house that I made earlier this year.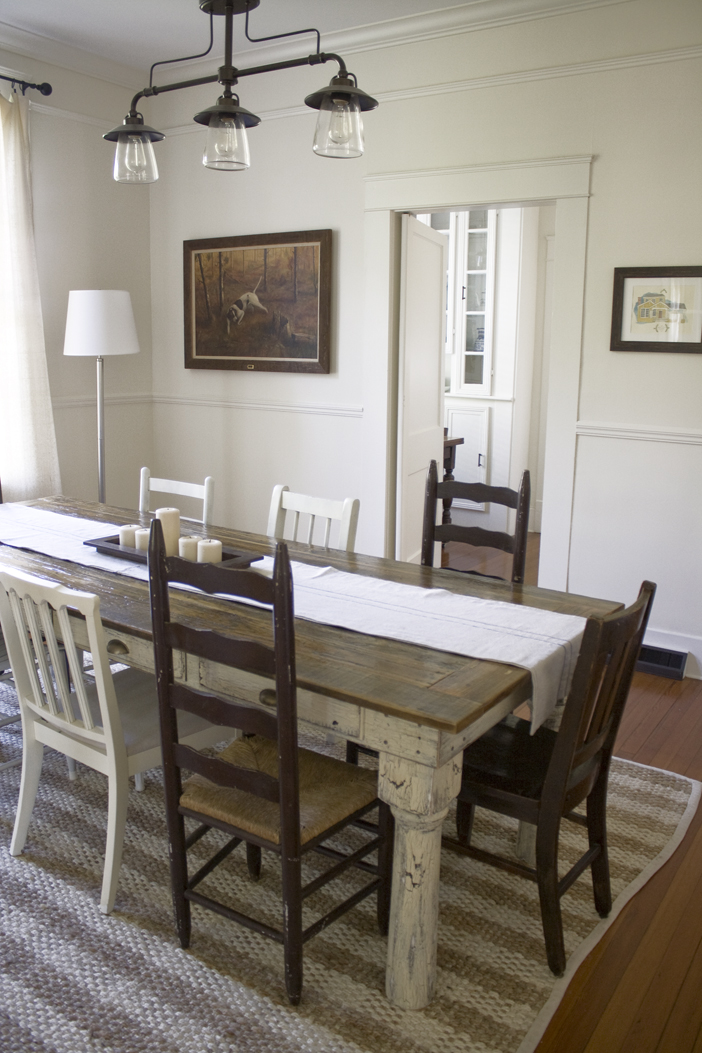 The stairwell had a bold floral wallpaper above the handrail and faux leather wallpaper below with carpeted stairs, and Ben made panel molding that we painted to match the rest of the trim in the house.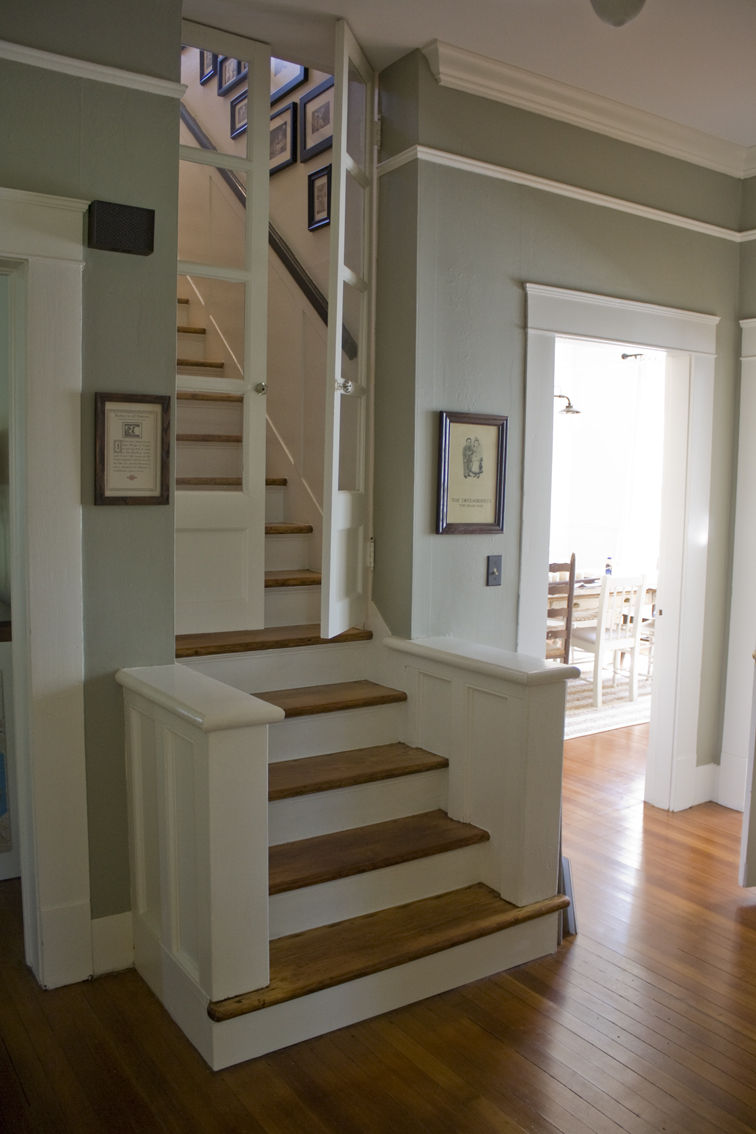 How the stairwell looked when we were working on it: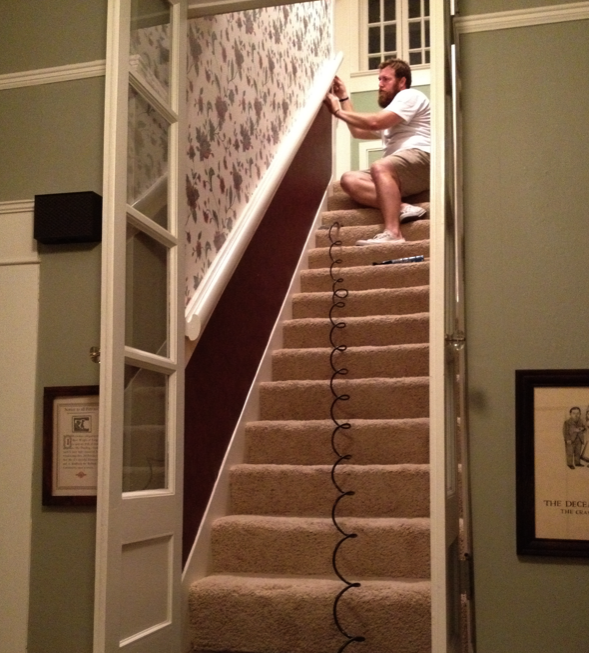 We hired a specialist to refinish the heart pine stair treads, and the stairwell became a bright, sunshiny space in the center of our cottage, leading to 2 bedrooms and a Jack and Jill bath upstairs, which we are currently working on finishing.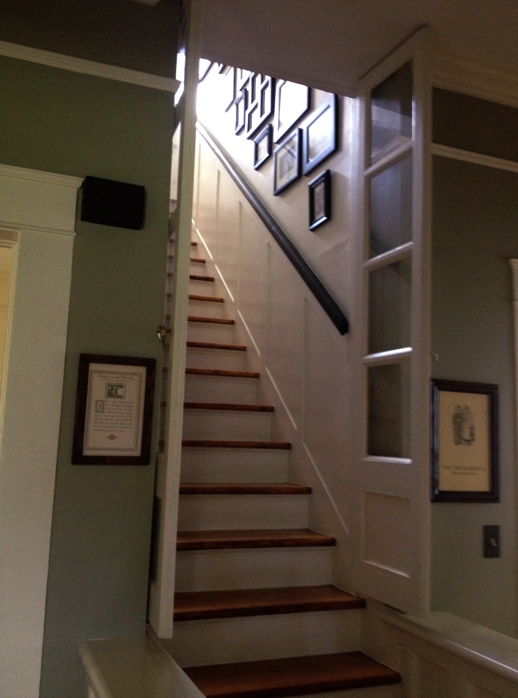 We painted the wooden handrails black and hung a pendant lantern from Ballard Designs:
A collection of vintage mirrors hang grouped in our bedroom, and an armoire built by my daddy and Ben from a door that was in my grandfather's barn, houses his clothes.
We found the old painted cedar chest at a flea market in Meridian, Mississippi.
The bed linens are mismatched textures in shades of white and cream.
Two antique cameos sit perched on an old door frame above our iron bed.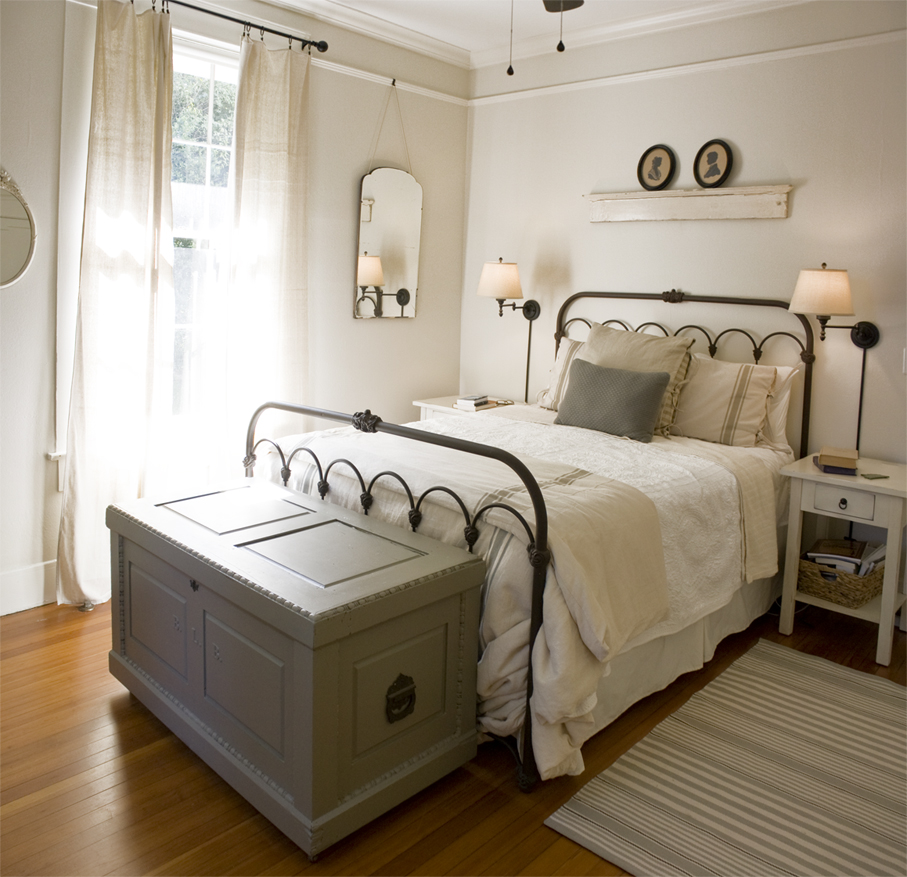 We painted each room in Sherwin Williams' Dover White with the exception of the Entryway (Java, Eddie Bauer) and the hallway (Nantucket Grey, Benjamin Moore).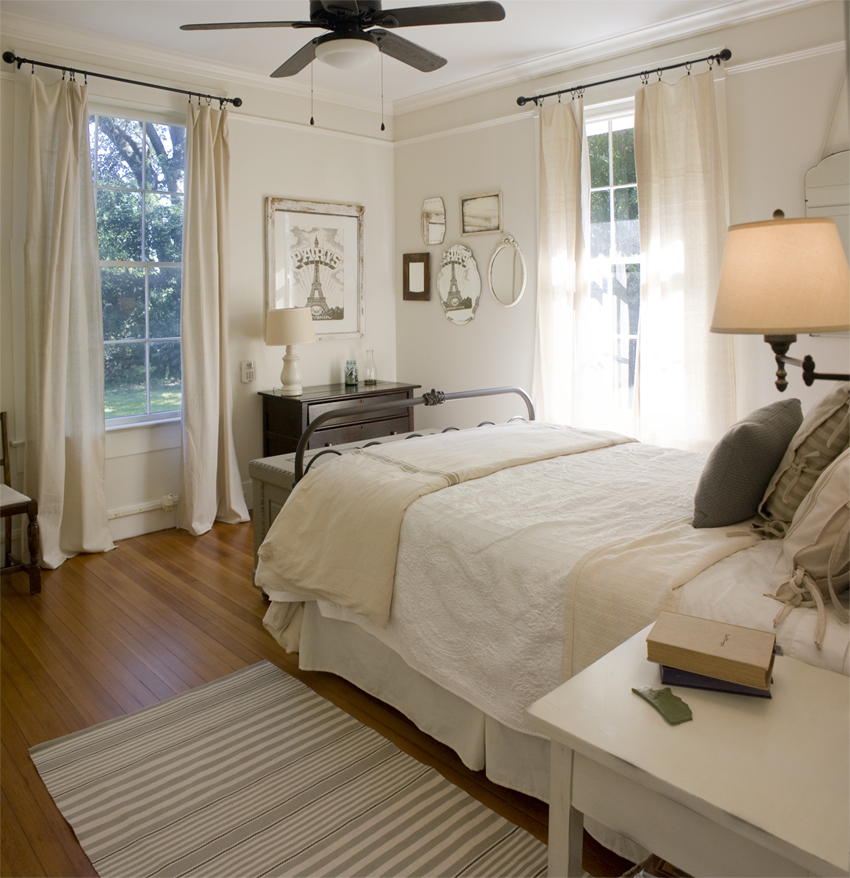 "We were careful to choose every decorative element with a story personal to us, nothing pretty for the sake of it, but because we have some personal connection to it."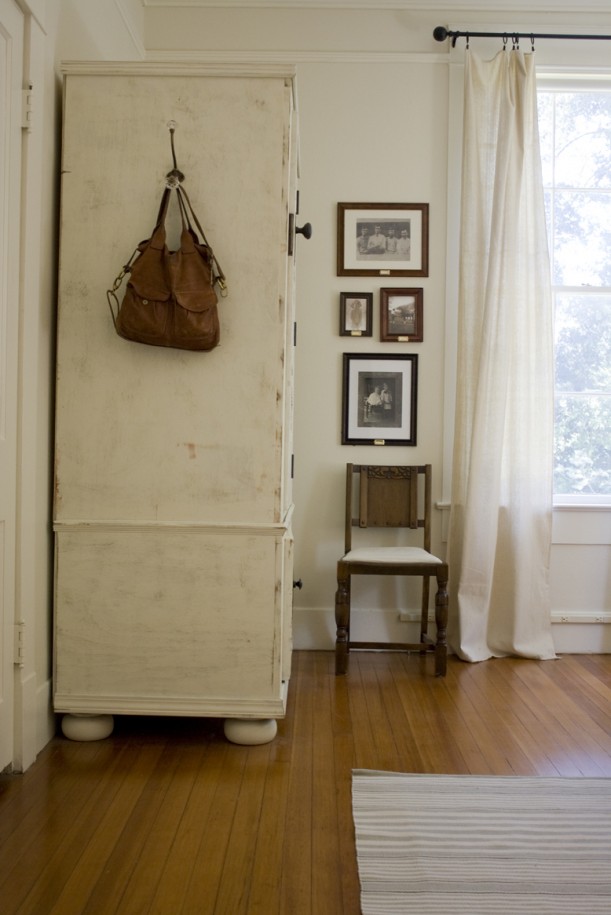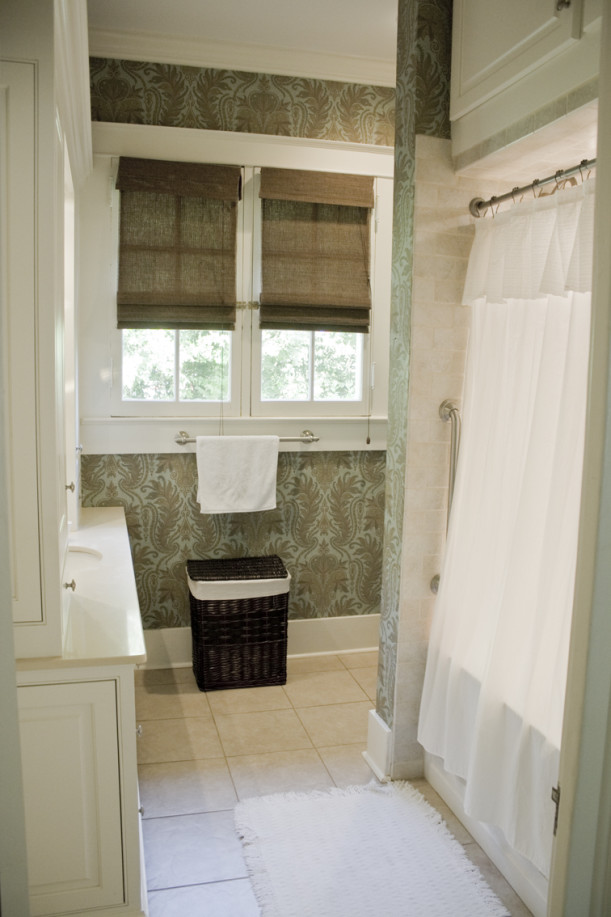 Nearly every wall in our house displays sepia photos of our grandparents and ancestors, reminders of who we come from.
We see each other everyday, so rather than hang photos of ourselves we wanted to surround ourselves with the loved ones who made us into who we are now, whom we can no longer see.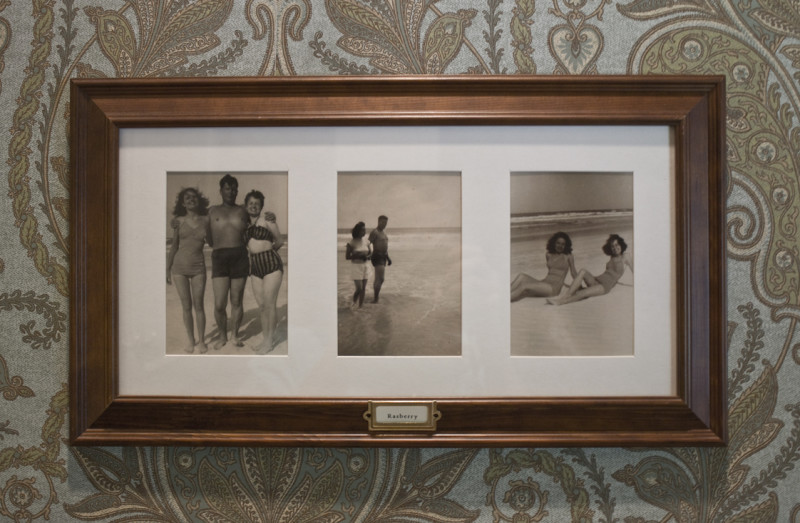 In the office, we hung some of our collection of vintage maps, places we loved so much we had to bring home a little of it to Mississippi.
IKEA's affordable slipcovered Ektorp sofas are in our living room and office along with an old oak teacher's desk found on Craigslist for $50.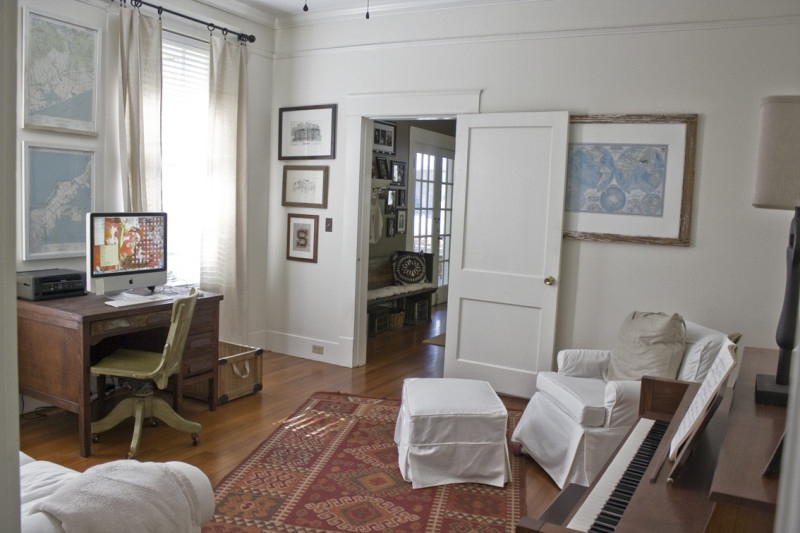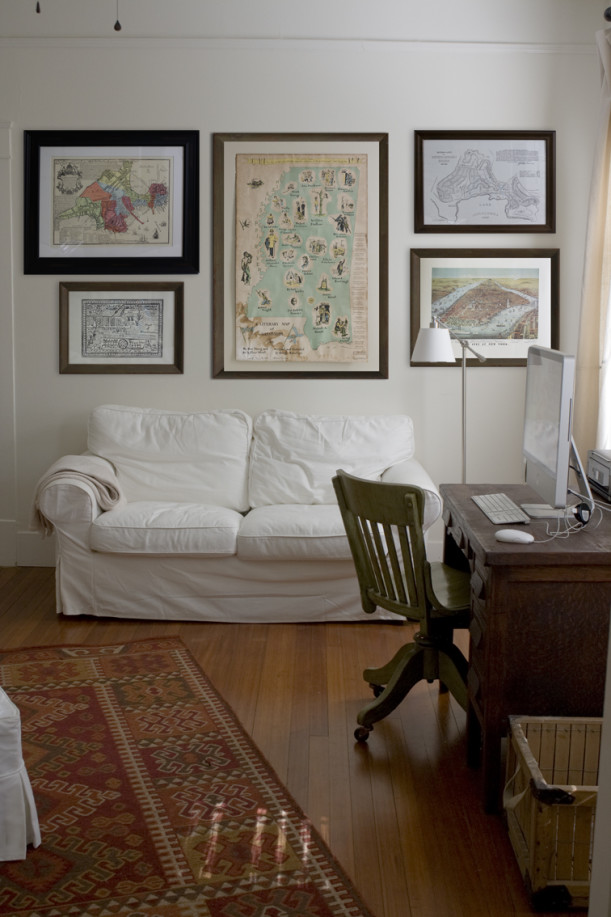 Off the kitchen is the laundry room, which was a small porch that was taken in decades ago, with tile floors and clapboard walls.
Ben made built-ins for storage and a bench with space for shoes and boots beneath.
It is now a laundry/mud room that's much more usable.
Ben built this screen door himself because the opening isn't a standard size: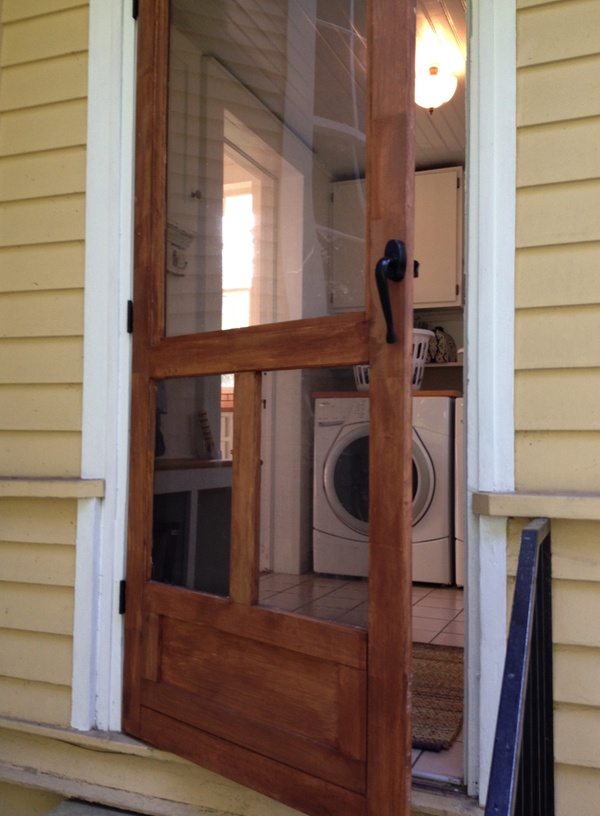 I've been compiling inspiration images for my dream home since 9th grade, and I was amazed when I discovered my idea folder last year. My taste hasn't changed at all, with airy white interiors and solid, wooden pieces anchoring the rooms.
I think I'll always be happy with our design choices since our style is not inspired by trends but by history.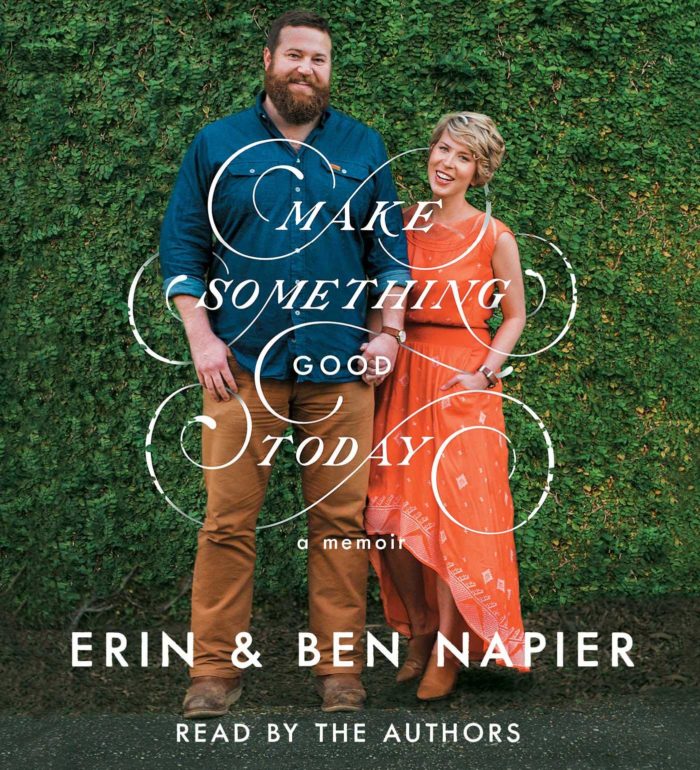 Wasn't that a fun tour? Thanks to Erin for sharing their story with us!

Update: Ben and Erin now have their own show on HGTV called "Home Town."

They also have a book out called Make Something Good Today (Amazon affiliate link).