Have you been watching the new show "Home Town" on HGTV? It claims a space on my DVR schedule so I never miss a makeover.
I love a good porch, so it was fun to see how Ben and Erin Napier added one to this small white house in Laurel, Mississippi.
Known as the Polk House, it was cute to begin with, but the new porch gave it the extra bit of Southern charm their client Amanda Matthews craved. Take a look!

The Polk House on "Home Town"
Here's how the Polk House looks now with the new porch the homeowner asked for (below):
It's great to have some outdoor living space with a smaller house.
Here's the yellow door before:
Here is is after they painted it coral and gave the trim a coat of soft green:
The interior got a makeover, too. Here's the kitchen before and after:
They opened the wall to the dining room to give the room a little more breathing space:
The new kitchen gave me a flashback to the one in designer Brooke Giannetti's former home, so I looked it up:
The layout is pretty similar! That was from 2012. When I originally featured it in '09 it had more soft green accents:
You can see the rest of Brooke's charming home here. But I digress! Back to the kitchen at hand:
The whole house looks cozy and feminine.
One more look at the exterior before and after:
Ben & Erin also gave us a tour of their charming cottage in Laurel a few years ago, before they became TV stars, and it continues to be one of the most popular posts on my blog. For more photos and information about the Polk House (now Matthews House) makeover, read the article about it on HGTV.com.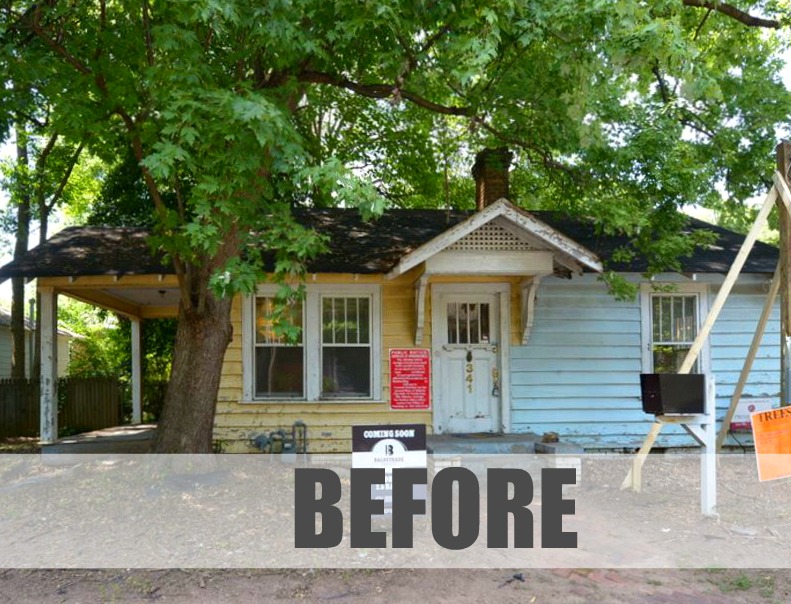 (Visited 69 times, 3 visits today)