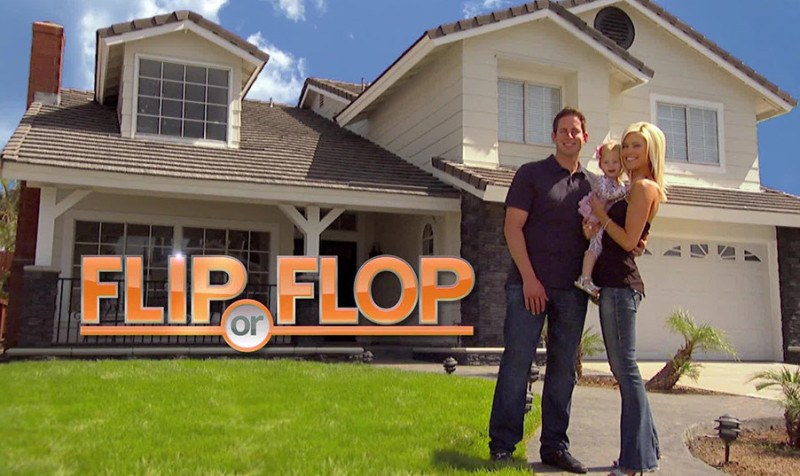 I just got a flyer in the mail from Tarek and Christina El Moussa of HGTV's "Flip or Flop." They say they want to teach me how to "have the courage to retire rich" by flipping houses like they do through a Success Path real estate seminar.
UPDATE: They demanded that I take down the photo I snapped of the brochure because it's "proprietary material." It had a large photo of the couple and said "The Stars of America's Favorite Real Estate Reality TV Show, Tarek & Christina, Are Now Flipping Ohio!"
I was invited to attend "an exclusive real estate success event to gain insider access and information" at a nearby hotel. So I looked into it, and this is what I learned…

Success Path Real Estate Events
The Success Path website says:
"Tarek and Christina El Moussa have over a decade of professional real estate experience and have been featured in national print publications, online media outlets, and HGTV's Flip or Flop. The dynamic couple has created unique strategies that give them an edge in today's real estate market. Now, Tarek and Christina have turned these strategies into an educational program that has helped people, just like you, start their own real estate business."
Not only is the seminar free, but they hand out MP3 players and "educational CDs" to anyone who attends. I would imagine the chance to meet HGTV superstars Tarek and Christina would be enough to motivate a lot of theirs fans to show up even without the door prizes, though.

What I Learned About the Seminars
The workshops have been given in cities around the country (the U.S.) since 2013.
The flyer might have their faces and names on them, but that's as close as you're going to get to them. They don't actually attend, let alone teach, the seminars.
The point of the free seminar is to get you to sign up for a longer weekend training for $2,000.
For $2,000, they promise to teach "Tarek and Christina's methods of finding properties that are so very unique that others don't know about."
After attending the $2,000 seminar, they invite you to spend more — one source says "up to $40K" — on additional training.

Melissa, who paid $2,000 for one workshop and $10,000 for another, explains:
At each stage, you get nuggets of gold (info, details, how-tos, tips) but you have to sit through a lot of "rah-rah" nonsense. And, of course, you get what you pay for. If you have some money to invest in real estate but do not have a background as a realtor or landlord or builder, you get a great deal of education, inside connections to sources of funding and other connections.
My advice is to not attend the free seminar unless you want to invest in some training. And don't expect to meet Tarek and Christina in person. It's a franchise, they are selling training, and you get what you pay for. The info is readily available, most for free, you just have to know where to look.
I got good solid info, once they stopped selling the next level of classes, good connections to local people, and access to databases of info not easily available to those of us not already in the industry.
Gail paid to attend additional workshops, too, and reports:
Presenters are not high pressure but make you believe it is all easy. If it was easy we would all be rich from real estate.
They will want you to call all of your credit cards to increase the available limits so you can pay for the "training."
They have a software that is free for the first 6 months. It really does nothing for me. It lists other lists that if you do your own research you can find them in public records.
(You can read more reviews on the Bigger Pockets forums.)
Amanda complained to HGTV on Facebook after her mother attended:
The whole thing is a scam where the speaker tries to make people feel badly about not investing. It is sad to see that these people on your network actually endorse people being taken advantage of in this way.
There is a video of Tarek and Christina in the beginning of the seminar, so they cannot deny they are a part of the scam.
I would like to see their show suspended until an investigation is done about them profiting from this. It is a shame to have people attached to your network that would try to take advantage of your viewers and I hope this situation is rectified in a timely manner.
Portland Workshops Canceled After Backlash
When they promoted one in Portland and surrounding cities last December, there was so much backlash online that the seminars were canceled. Residents objected to the idea of teaching people how to flip houses there when they're already dealing with a lack of affordable housing and sky-high rent in the area.
Christina issued this statement:
We get asked a ton of questions about house flipping. That's one of the reasons we started coaching and mentoring. People are genuinely excited to learn what has worked for us.
We cancelled the Success Path training tour through Oregon and Washington due to a vocal group who somehow linked us to the issue of affordable housing. We are very accustomed to being on the receiving end of people's opinions. My hairstyles, my mothering, and my interior design choices in flip houses — all are discussed.
Rent affordability is not a local issue. All across America, and abroad, it is a serious topic worthy of discussion. There is no simple solution to such a complex and sensitive situation. When demand exceeds supply there is tension.
A local news station in Pittsburgh investigated Success Path and you can watch their segment on it here. On Reviewopedia, the program has an average of 1 1/2 stars, with some reviewers calling it a scam. So did a lot of people on Scam.org and on this Facebook post.
But I found others who insisted it was worthwhile for them to learn more about real estate investing and to make contacts with other investors in their area, even if they were disappointed that Tarek and Christina didn't show up to teach the classes themselves.
Has anyone else gotten an "invitation" like this and wondered if it was legit? If you attended any of the seminars, let us know what you thought and if they were worth the $$$!
2019 Update: "The FTC Acts Against Company Using Celebrity Endorsements, Bogus Earnings Claims to Sell Real Estate Seminars." Read their full statement.